Hiking in Andalucia is definitely worthy of your Spain bucket list! With a large variety of landscapes boasting coastal hikes like no other, rivers, ravines, waterfalls, and bare rugged 3000-meters peaks, it's a wonderful destination for outdoor lovers!
Having lived in the region for over 10 years and hiked in all 8 provinces, here are my top pics for the best hikes in Andalucia that you should add to your bucket list.
I've divided them into hikes only for summer, hikes for the rest of the year (autumn, winter, spring), and finally, hikes that you can do all year round to make it easier for you to plan.
Disclosure: This post may contain affiliate links. That means that if you make a purchase through one of those links, I will get a small commission at no extra cost to you.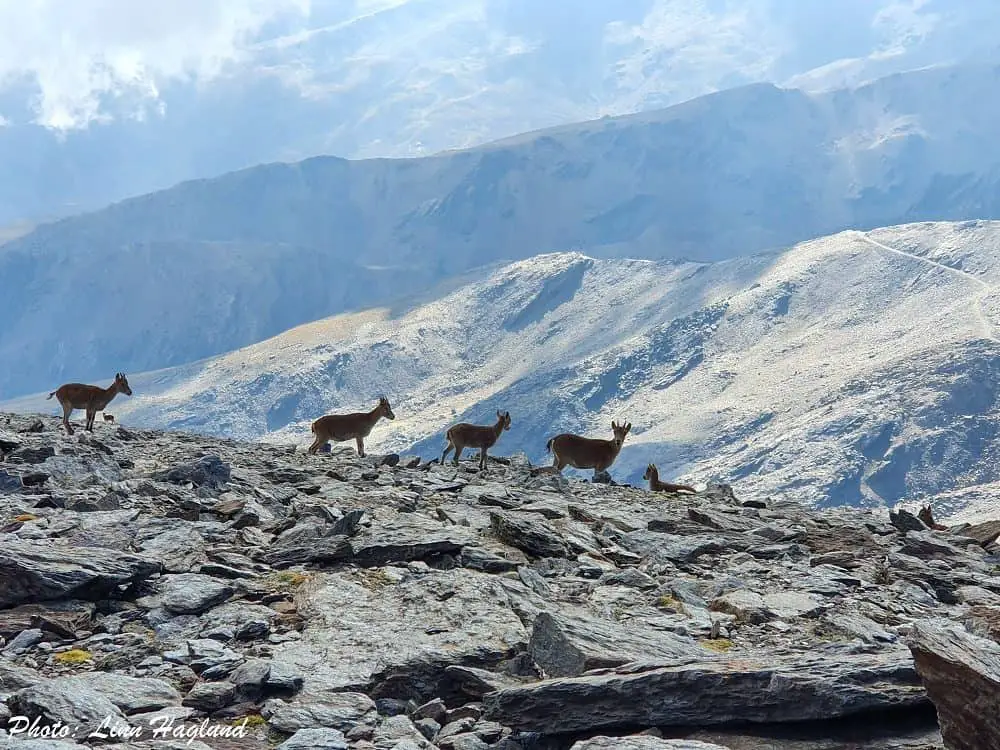 What to know about hiking in Andalucia
With the large variety of trails and the enormous temperature changes you can experience between summer and winter, it's important to make sure you're well prepared and that you choose the right trail for the season. If you're new to hiking, you can read my beginner hiking tips here and if you're hitting the trails by yourself, check out this post.
Here are a few tips to keep in mind:
In summer – only hike where you can walk in rivers and go swimming along the trail OR at high altitude in Sierra Nevada
Avoid hiking in the higher Sierra Nevada in winter when it's snow unless you go with someone that knows the mountains, eg. a guided hiking tour
Always bring more water than you think you'll need
Always bring sun protection and wind protection on your hikes
Hike in proper trainers/hiking shoes/boots (no flip flops!)
Wild camping is not allowed in Spain, but you can set up a tent overnight on a through-hike with permission. (Read how to do this here)
Even the winter months can be scorching hot in Andalucia, so you need to check the forecast. If you wear shorts, bring pants in your backpack and if you wear pants, bring shorts in your backpack. I can't count the times I've had to change during a hike because I evaluated the temperature wrong.
If you hike with dogs or small children, you need to read up about the pine processionary caterpillars and avoid hikes with pine trees in the season.
A lot of the Andalucia hiking routes are hard to get to by public transport. You are better off renting a car or even see if you can get there by BlaBlaCar when you go hiking in Andalucia's remote areas.
You should also familiarize yourself with the 7 Leave No Trace Principles before heading out hiking in Andalucia or anywhere else.
Best hikes in Andalucia for summer
NEED TO KNOW…
Mulhacen, Granada
Mulhacen (3479m) is the highest peak, not only in mainland Spain but in the entire Iberian Peninsula. And though there are many multi-day routes to reach the top of this southern Spain bucket list hike, you can actually reach it on an easy day trip during the summer months.
The Sierra Nevada National Park bus drives you all the way up from Capileira to Mirador de Trevelez where you have a 4-6 hour hike up and down where they pick you up for your return. This makes for a perfect Andalucia walking adventure even for less experienced hikers.
The peak of Mulhacen is an important Muslim destination as legend says that Abu l-Hasan Ali, one of the Moorish kings of Granada was buried there. He was known as Muley Hacén in Spanish, thereof the name of the peak.
You can read my complete hiking guide to Mulhacen here.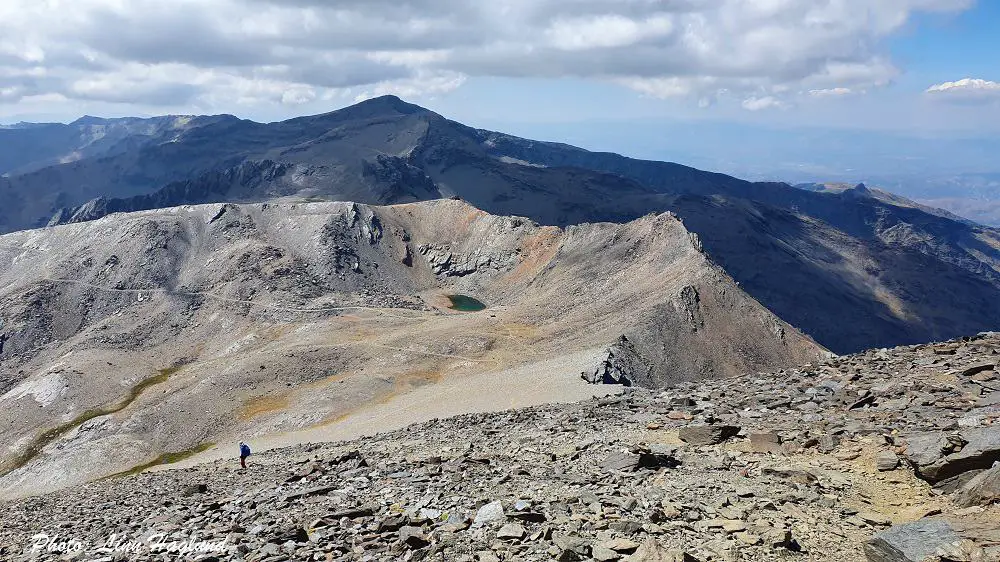 Pico de Veleta, Granada
Pico Veleta (3398m) is the second-highest peak in Sierra Nevada National Park and can easily be done in a day from Hoya de La Mora. Yet many hikers take on a two-day excursion hiking both Veleta and Mulhacen.
Pico Veleta is where the highest skiing slopes in Sierra Nevada are in winter and in summer, it's actually possible to take the ski lift almost to the top. This is a great opportunity if you hike with kids, though the drop on the edge is unforgiving, so make sure they don't walk on the edges.
Hiking Pico Veleta is one of the best hikes in Sierra Nevada, especially due to the easy accessibility to such incredible high sierra views.
Read my complete hiking guide to Pico Veleta here.
Siete Lagunas, Granada
The hike to Siete Lagunas (Seven Lagoons) in Sierra Nevada National Park is a wonderful but demanding hike that ascends 1500 meters over less than 9 kilometers from the village of Trevelez. You can expect to use at least 7-9 hours on this hike, depending on your fitness level and on the weight you carry.
The hike takes you through a small pine forest before it continues through green meadows, glittering rivers, and the final ascent to the lagoons goes along a mesmerizing waterfall. This is the only place where the trail is unclear, but you just need to aim for the top of the falls.
Siete Lagunas is a popular place to wild camp for hikers that take this route as a part of their trek to Mulhacen or Alcazaba. If you plan to do so, make sure you read the guidelines for wild camping in Sierra Nevada first, so you do it legally.
This is without a demanding but rewarding hike that you should take on if you're fitness level allows it as it's one of the most rewarding hiking trips in Granada's Sierra Nevada.
Read my complete guide to hiking Siete Lagunas here.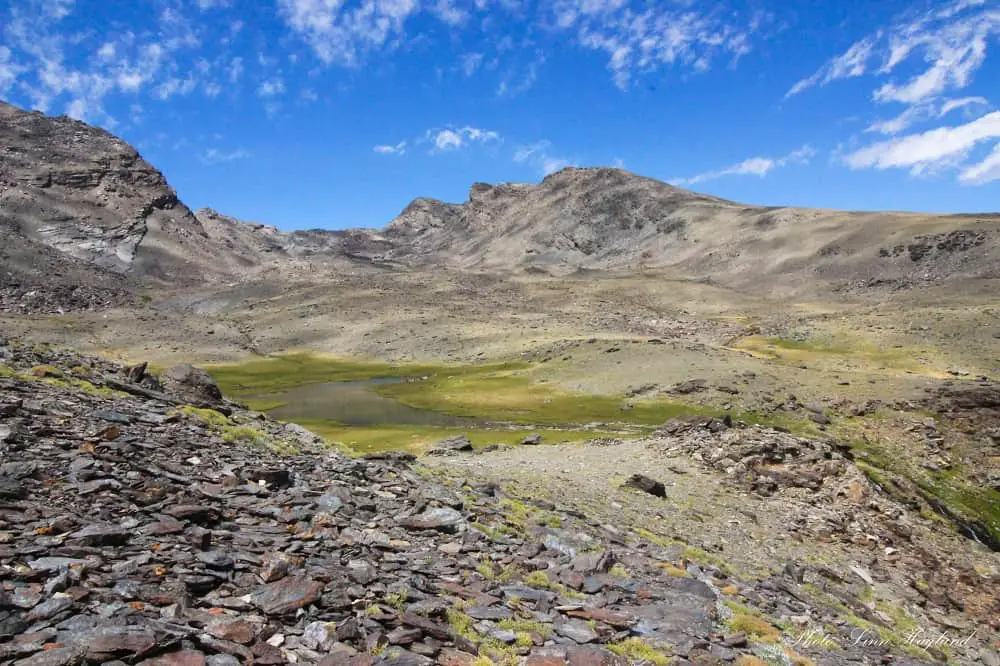 Rio Chillar, Malaga
When it comes to river hikes, it's hard to beat the popular Rio Chillar that winds through a narrow slot canyon forcing you to walk in the water for large parts of the hike. This is the ideal summer hike when other trails are too hot to even consider, and among the best walking in Andalucia.
You can swim in water holes, but you're also walking mostly in the shade which is refreshing on a hot Andalusian summer day. There is no doubt, during summer in Andalucia, walking in water is the best way to explore trails.
As this is a heavily trafficked trail from Nerja, Malaga, in the warmest summer months, I recommend that you go early or late in the summer or hike on the weekdays if possible. The hike takes about 6-8 hours return including stops for food, snacks, and swimming.
Read my complete hiking guide to Rio Chillar here.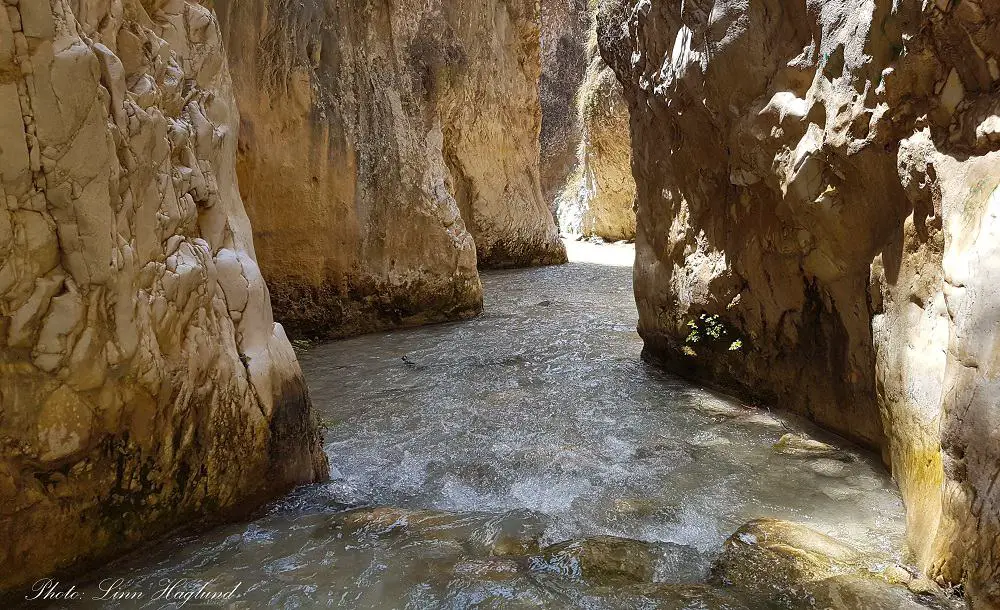 Gear for river hiking
Rio Verde, Istán, Malaga
Rio Verde in Sierra de Las Nieves in Malaga is one of the most beautiful summer hikes in Andalucia. Wading through the river, passing multiple waterholes where you have to swim to get past, makes this a wonderful adventure on a hot summer day.
You'll be constantly in the water until you get to the popular Charco del Canalón where you'll encounter various waterholes leading up to a small gorge with a big waterfall.
It's possible to swim under the waterfall and walk a little farther, past some smaller waterfalls too. The loop back goes mainly on a dirt track where most people walk to visit the waterfall. This is seriously a must-hike in summer!
You can read my complete hiking guide to Rio Verde in Istán here.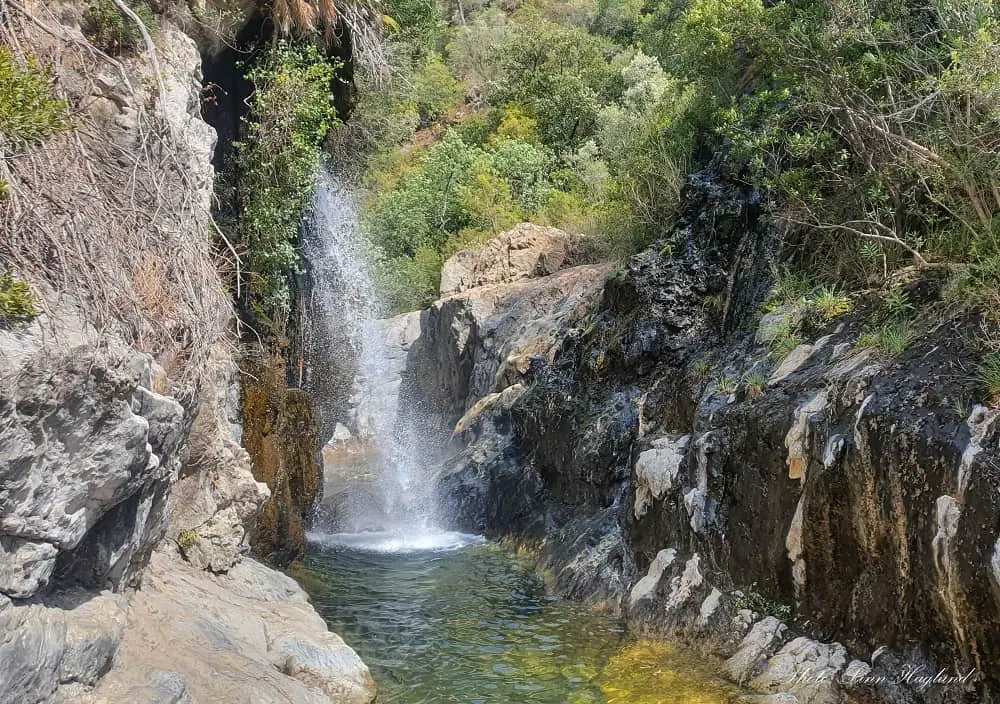 Hikes in Andalucia for autumn, winter, and spring
Los Cahorros, Granada
If you're up for a fun hike, this is for you! Los Cahorros trail offers a great variety going along a river, crossing various hanging bridges, passing swimming holes, and waterfalls.
But the most unique parts are where it goes through a narrow gorge and the rock walls cover the trail so you have to crawl under it or hold on to the metal handles that are pinned into the wall to get past.
This is definitely one of the best hikes in Andalucia. Though anyone with vertigo might reconsider it, it's actually one of the most fun beginner hikes in Andalucia as it's highly frequented and impossible to get lost.
You can read my complete hiking guide to Los Cahorros here.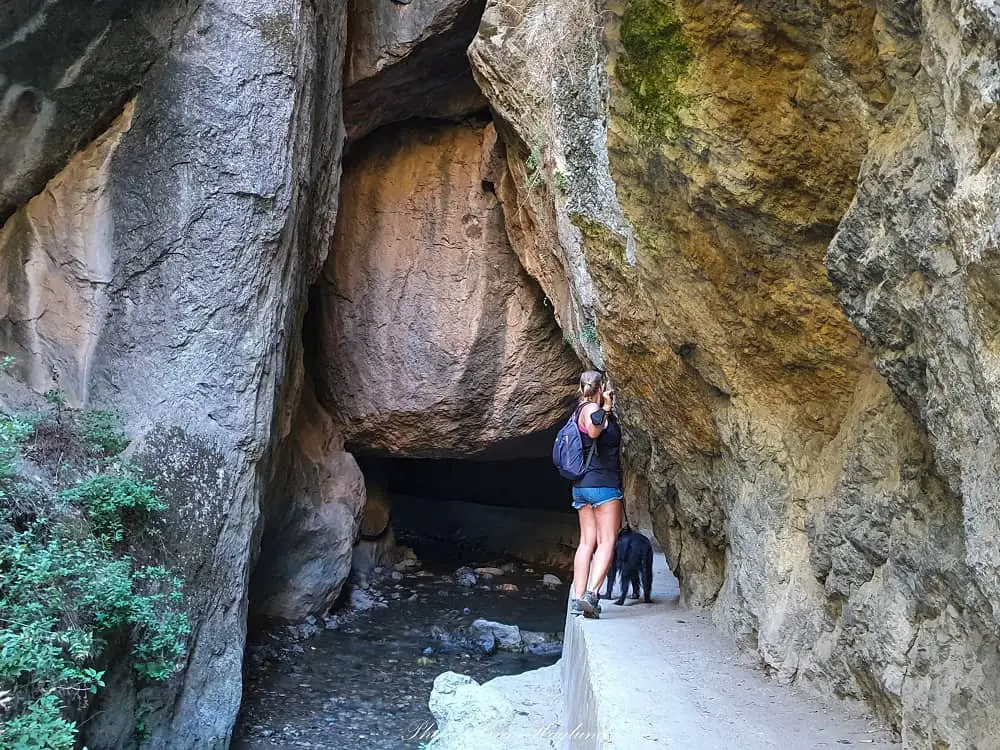 El Pinsapar, Cadiz
This might be one of the most unique hikes in Andalucia. The Pinsapar, Spanish Fir, is unique to southern Spain and Northern Morocco and can't be found in such density in any other place in Spain as on this trail.
The path goes through a protected area of Sierra de Grazalema Natural Park, thus you need a permit to do the hike, and over the fire hazard months, it's mandatory to go on a guided hike, but it's well worth it!
The views along the trail are amazing on top of the uniqueness of the Spanish Fir forest you'll be walking through.
You can read my complete guide on hiking El Pinsapar and how to get a permit here.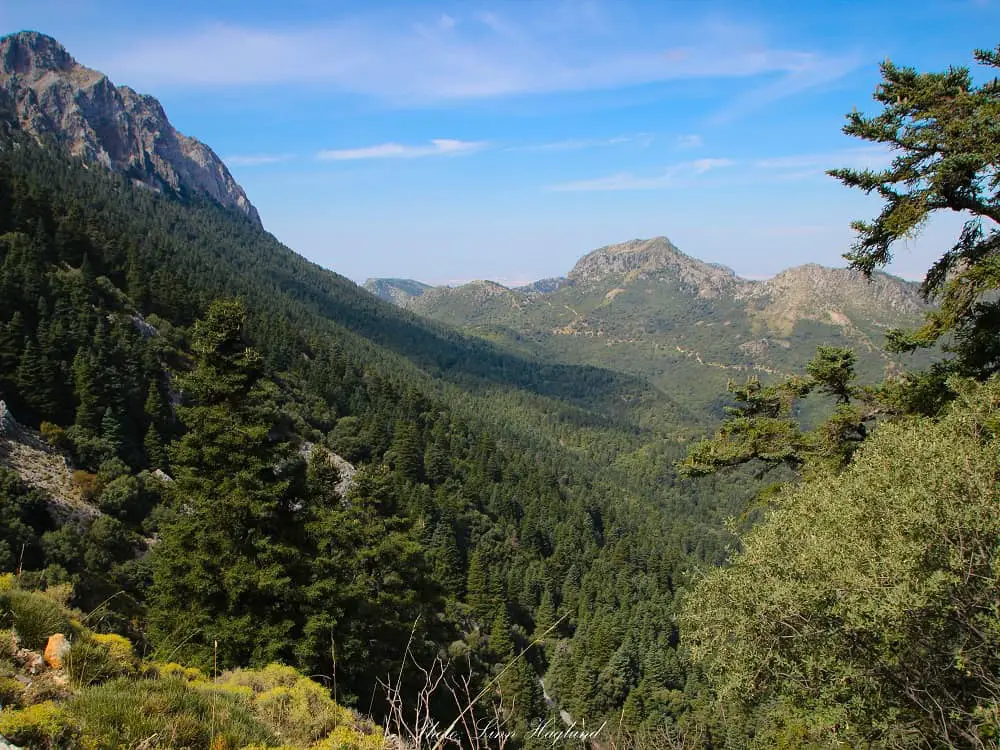 Pico Terril, Seville
Pico Terril (1129m) is not only the highest peak in Seville Province, but it's situated right on the border to Cadiz and Malaga so you get a wonderful 360 view of three provinces from the top.
For being the highest peak in the province, it's an easy hike without extreme elevation so it's possible to walk for beginners and children that are used to hiking too.
It can be a little clumsy to find the actual trailhead, but I've described it all in my hiking guide so that you can comfortably hike this Andalucia bucket list hike.
Read my complete hiking guide to Pico Terril here.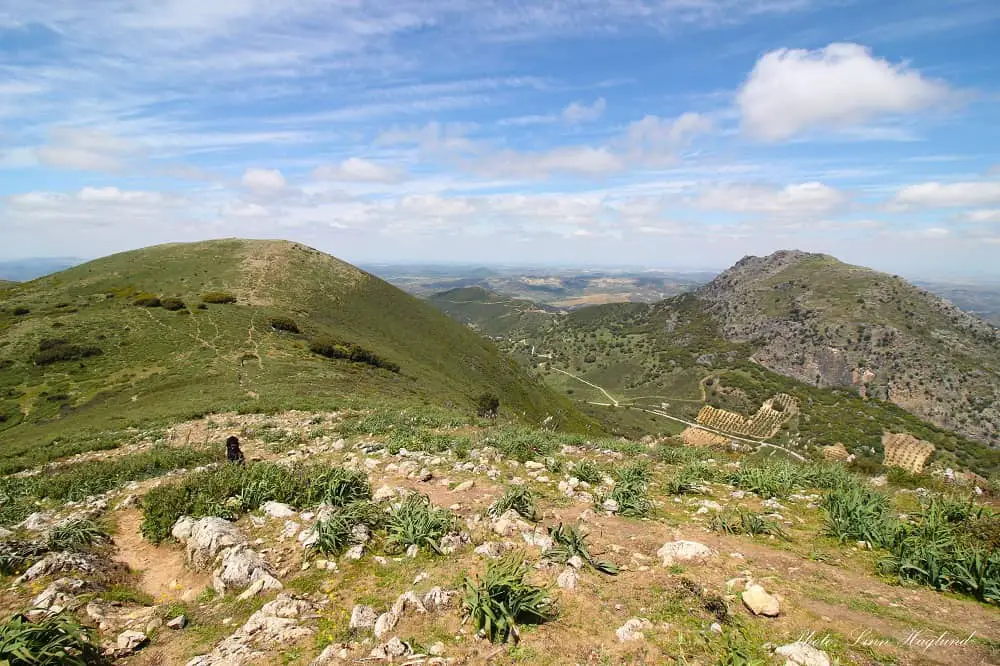 Torrecilla, Malaga
Torrecilla (1919m) is by definition the best peak to climb in Malaga province, so there is no way this list of hikes in Andalucia is complete without mentioning this iconic hike.
It's a long day hike that starts through a pine forest with a cluster of Spanish Fir trees, crossing kilometers of open landscape before you finally climb the actual peak.
The views are astounding – you can expect 360 views from the top of never-ending mountains on one side and the Mediterranean and across to Africa on the other.
You can read my complete hiking guide to Torrecilla here.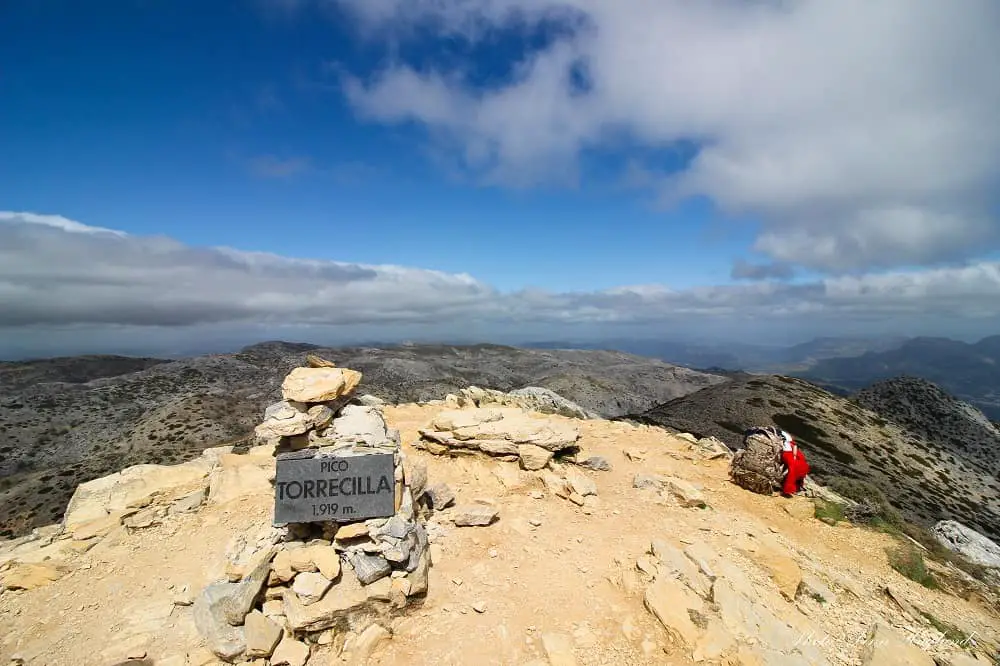 Bonales, Huelva
Bonales peak in Huelva is the lowest of the 8 provinces' top peaks with only 1055 masl. Yet it's a beautiful walk from through farmland and oak forests with astounding views.
There are no steep inclines, but the route is 16 kilometers return and not well marked. At the same time, it's a route that is less frequented so I wouldn't recommend it if you're not used to hiking as it can be confusing to follow at times.
If you go in spring, you'll be rewarded with a myriad of wildflowers that brighten up the landscape, but it's a great hike from autumn to spring.
See my complete hiking guide here.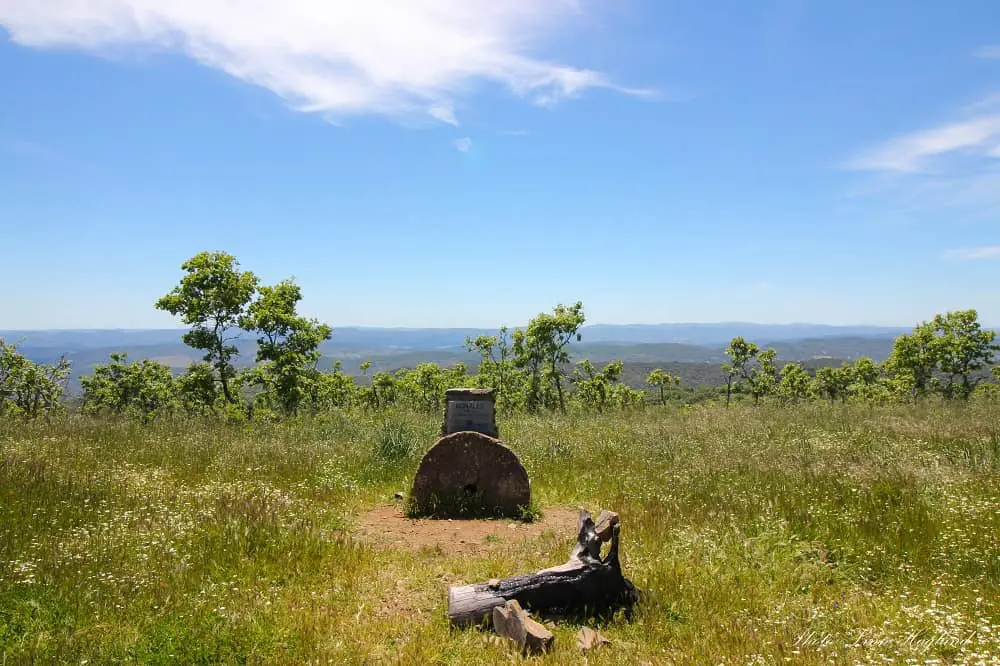 La Maroma, Malaga
Malaga's highest peak, La Maroma (1417m), might just be one of the best hikes in Spain with incredible views along the hike. There are a few different routes to La Maroma. You can hike El Robledal from Alhama de Granada, which is the easiest route, a couple of routes that go from Sedella, and finally the longest route from Canillas de Aceituno.
No matter which route you choose you're doomed to have a magnificent hiking adventure. The peak itself is widely rounded and feels flat, which makes it a great place for a picnic. If you're lucky, the local residents, the mountain goats, will accompany you!
Read my complete guide to La Maroma here.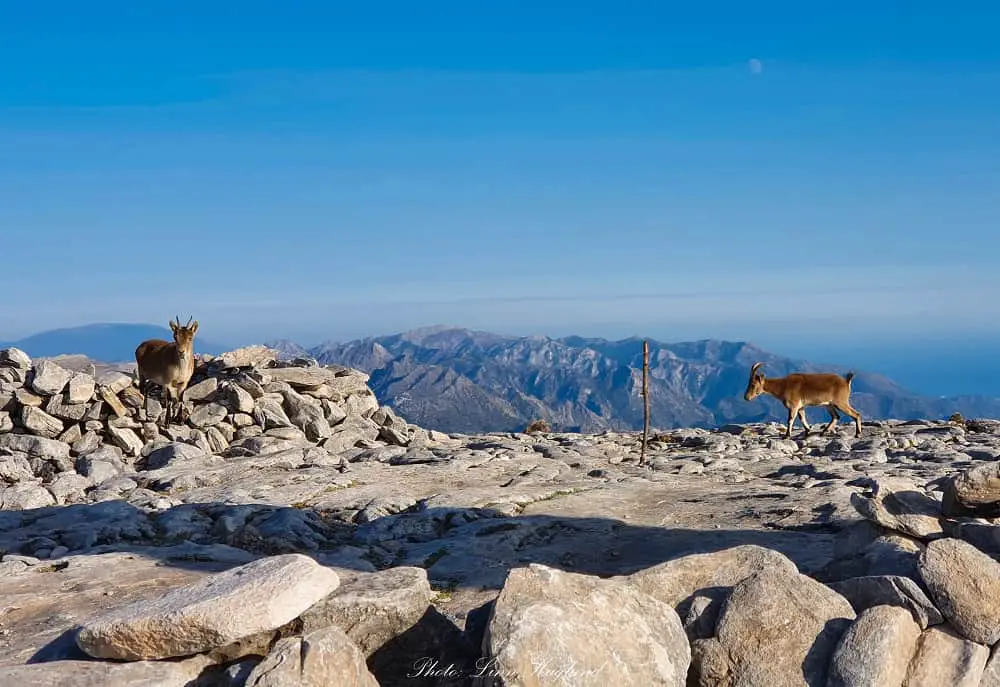 El Saltillo, Malaga
El Saltillo trail, going from Canillas de Aceituno, is one of the most spectacular hikes in Andalucia, featuring the third-longest hanging bridge in the country. The bridge was built in 2020 and connects the hike with Sedella.
Most of the walk follows the water pipes along a narrow trail on the side of the mountain with a tempting, whitewashed La Maroma towering in front of you. The whole hike, crossing the hanging bridge, ascending a steep but beautiful part continuing to a viewpoint where it's tempting to reach out to touch La Maroma.
From here you have to turn around where you came from to return. The whole hike takes 4-5 hours and is part of La Gran Senda de Malaga.
Read my complete guide to hiking El Saltillo here.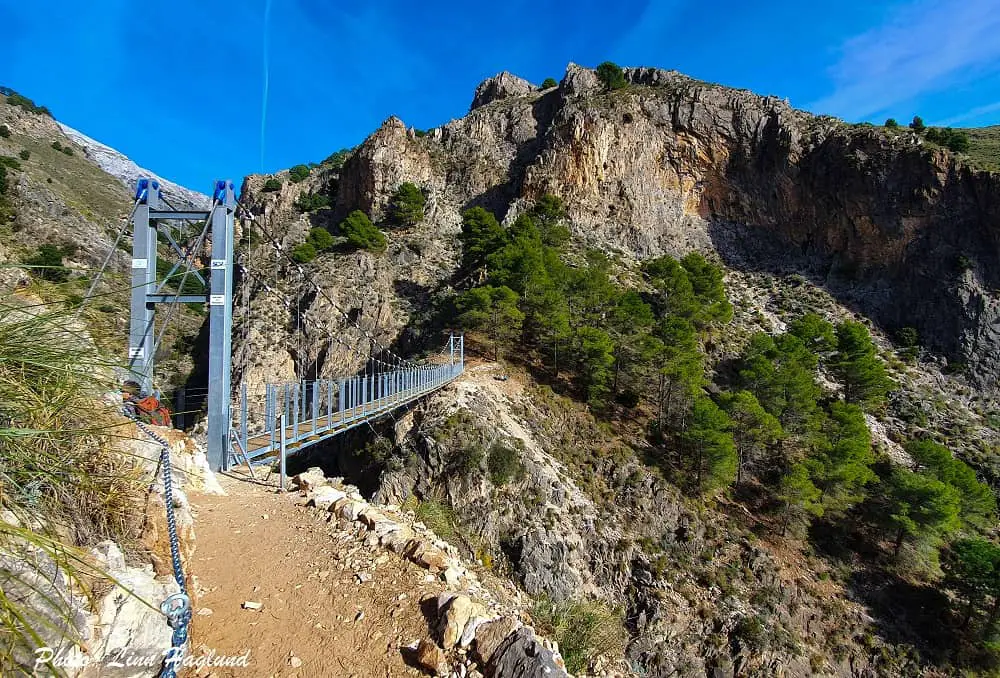 Rio Bailón, Cordoba
One of the most beautiful hikes in Andalucia is the circular trail to Rio Bailón from Zuheros village in the heart of Andalucia.
It is a medium-difficulty hike taking you to the most epic views of the village before it continues through the Bailón River Canyon in the UNESCO-listed Serranias Subbeticas.
Continuing past caves and through mossy fairytale forests, it finally crosses a large meadow before it enters the forest to two dreamy waterfalls (note that they dry up if there isn't enough rain.)
The loop back, crosses rocky terrain that is hard to navigate without following the track on an app like Wikiloc, but rewards you with mesmerizing mountain views, and eventually, as you get to the last bit of easy-to-follow trail taking you back to civilization, you have the entire valley at your feet.
The hike takes 5-6 hours with breaks for food and snacks and is an incredible introduction to hiking in Cordoba!
Read my complete hiking guide to Rio Bailón from Zuheros including how to get a permit here.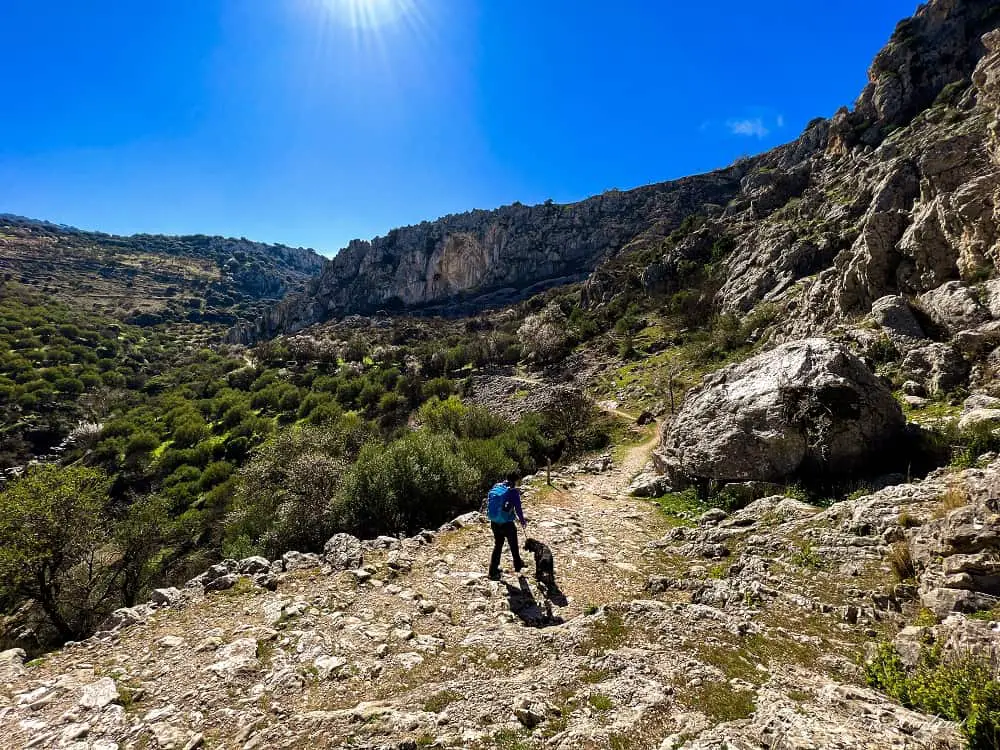 La Concha, Malaga
La Concha, the powerful ridge overlooking Marbella in Malaga, makes for some of the best coastal views hiking Andalucia has to offer.
Starting off through olive groves and up a dense pine forest, you'll get up to breathtaking coastal views in less than an hour. The rest of the hike is mostly following the ridge alongside the views.
Towards the end of the hike, you'll meet a couple of steep sections where there are ropes to hold onto. Other than that, the hike is set on safe ground. The whole hike takes 7-8 hours, depending on your fitness level.
Many hikers choose to take a short detour to the peak of Cruz de Juanar along the way too for more coastal views.
Read my complete hiking guide to La Concha here.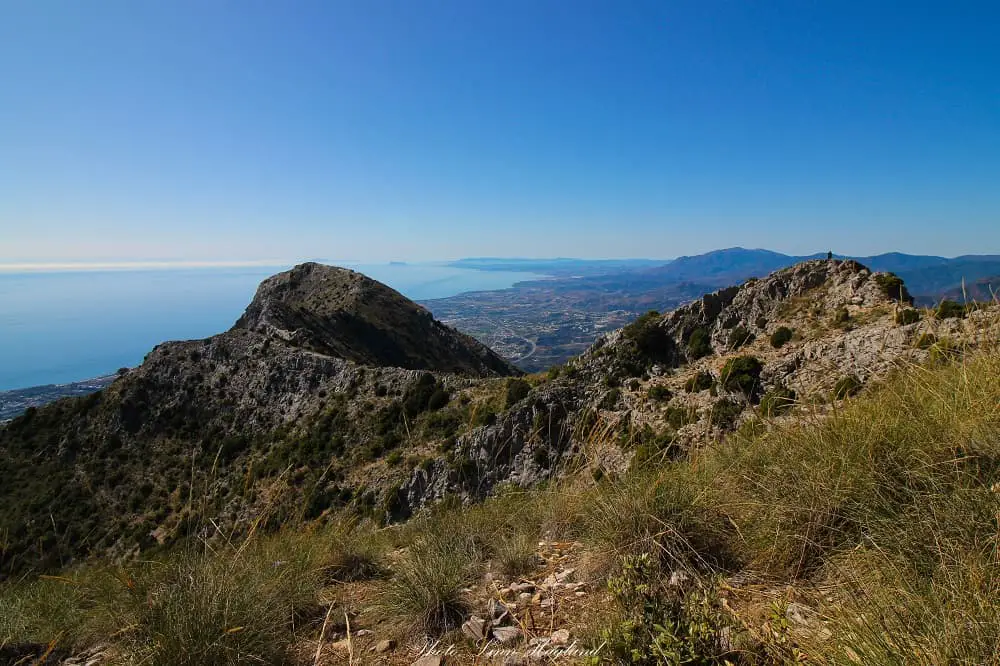 Pico Gilillo, Jaen
The highest peak in Sierra de Cazorla (1847m) is without a doubt one of the greatest hikes in Andalucia! Set in the Sierra de Cazorla, Segura y Las Villas Natural Park, this is a good 7-9 hours hike that requires a basic level of fitness as it's a fair bit of climbing.
The hike starts in Cazorla and shares trailhead with Rio Cerezuelo and you can add the first part of the river hike to your walk to make it more scenic.
Hiking through pine forests before you get to bare, rocky mountains opening up to amazing views of valleys and farmland, there is a lot of variety. The small, light scramble to the actual peak adds to the adventure.
Read my complete guide to hiking Pico Gilillo here.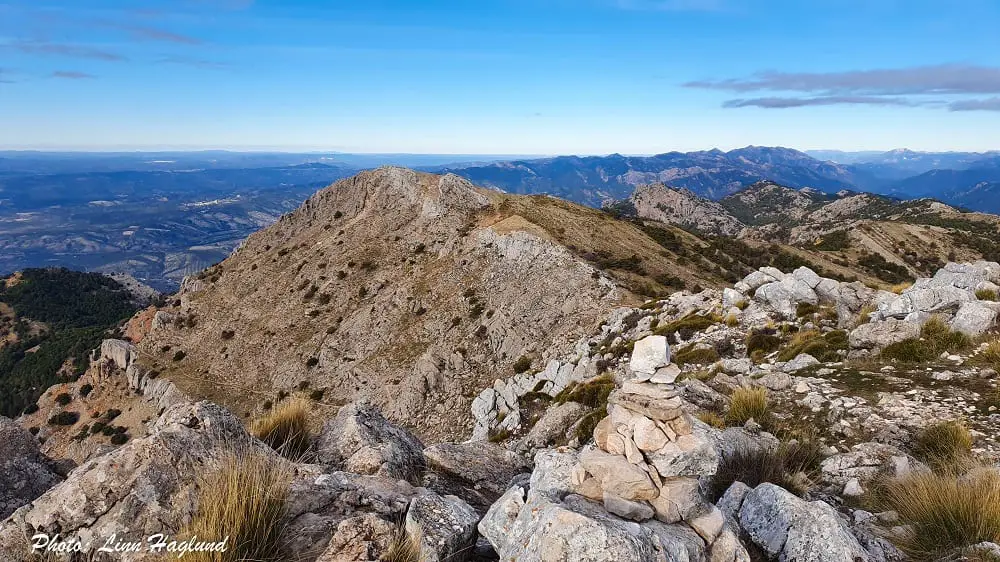 Best hikes in southern Spain for all seasons
El Chullo, Almeria
Yet another top peak that's easy to hike. El Chullo (2613m) is Almeria's highest peak, situated in Sierra Nevada's National Park, the easy 4-hour return hike starts at Puerto de la Ragua.
The ascent is moderate and even throughout the hike with mesmerizing views of the 3000-meters peaks along the side, so everywhere you stop for a break is perfect. The top boasts astounding 360 views of the Almeria coast, Granada's Sierra Nevada peaks, and even Jaen's highest peaks.
This is definitely a top peak for beginners and even children used to walk in the mountain can take on this without problems. While it does get snow in the winter months, it's still possible to walk as the path is plain and there are no dangerous drops that can be a hazard.
Read my complete hiking guide to El Chullo here.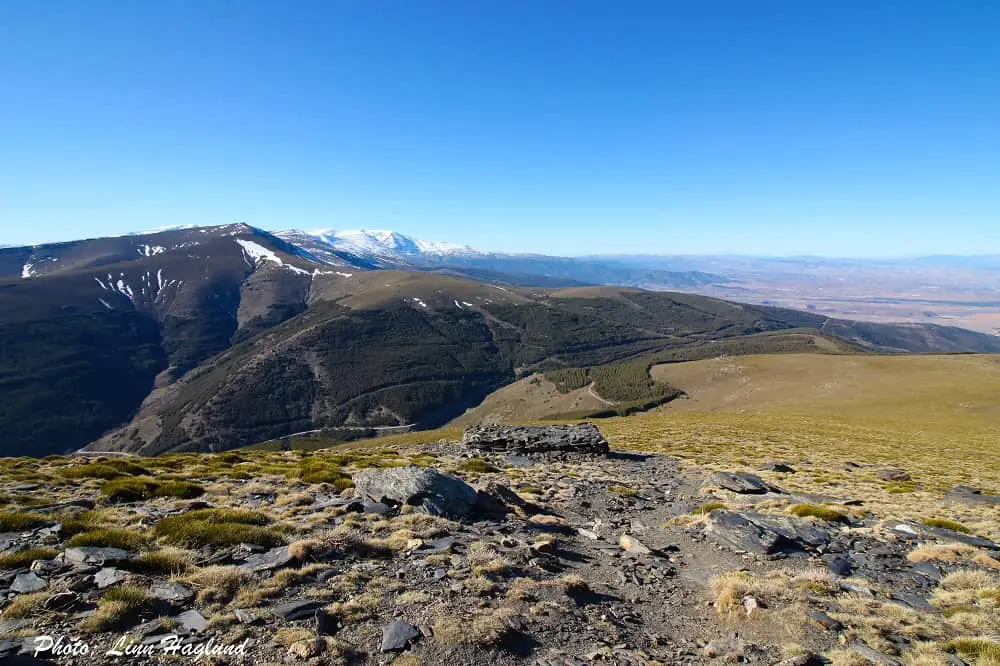 Rio Molinos, Almeria
Hidden outside the highest villages in Almeria, Bayárcal, in Sierra Nevada, you find this stunning river hike with old mills, waterfalls, and mesmerizing views. It's a local gem that not many tourists know about, but it's well marked from the village.
Rio Molinos hike is the perfect family hike all year round, but especially beautiful in late spring when the snow has melted from the higher Sierra Nevada and fills up the river while the wildflowers bloom. Definitely a favorite hike in Andalucia.
Read my complete hiking guide to Rio Molinos here.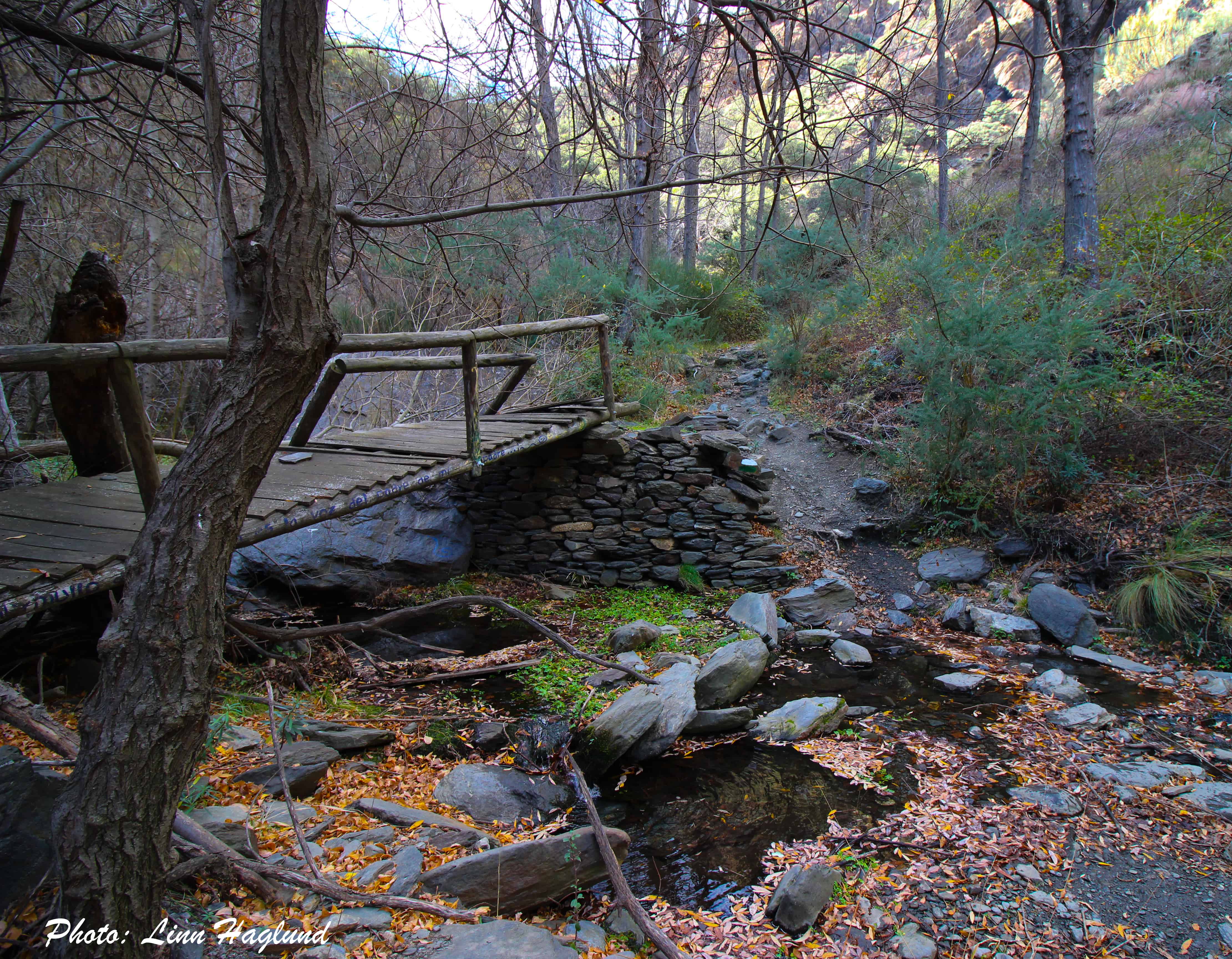 El Caminito del Rey, Malaga
El Caminito del Rey is probably Spain's most famous hike and once one of the most dangerous in the world. No wonder it's one of the best hikes in Malaga with the path pinned 100 meters up on the gorge wall.
The Desfiladero de Los Gaitanes Gorge is absolutely mesmerizing and as long as you don't suffer from vertigo, this is a must-do-hike!
It's now renovated, though the old trail is under the new one so you can still see the bad shape it was in. You need to buy an entrance ticket in advance for a given time and you'll get a mandatory helmet to walk the 2-hour route. There are also buses taking you back the opposite way as it's a one-way only path.
You can read my complete hiking guide including how to get tickets here.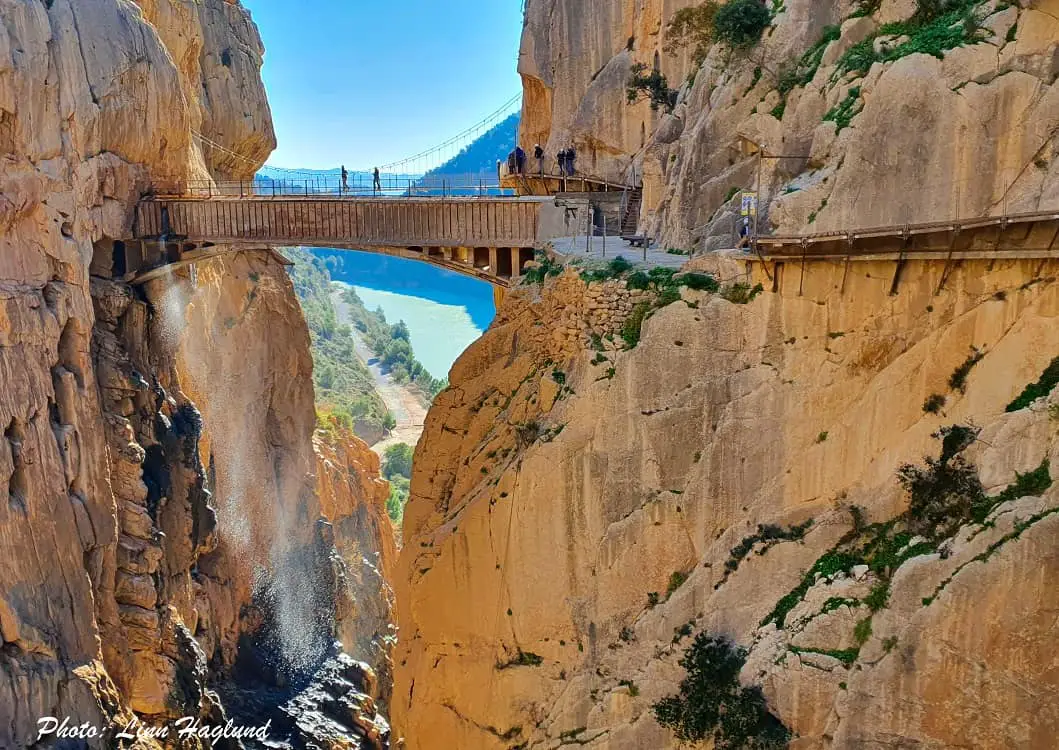 Rio Borosa, Jaen
Rio Borosa is one of the most spectacular Andalucia hiking trails that you can enjoy all year round. Though spring and summer are the best times as it's a river with multiple waterfalls and water holes.
This is a nice hike for the whole family and the first part of the trail follows the river mainly on track and boardwalk. After the boardwalk finishes, you'll soon start an ascent and encounter several mesmerizing waterfalls before walking up the mountain where you'll have to go through a couple of tunnels in the mountain wall.
At the end, you'll get to the reservoir Embalse de Aguas Negras where you'll turn around and walk the same way back. The whole hike will take you at least 8 hours. Yet, I think it's hard to argue this is one of the best day hikes in Spain!
You can read my complete hiking guide for Rio Borosa here.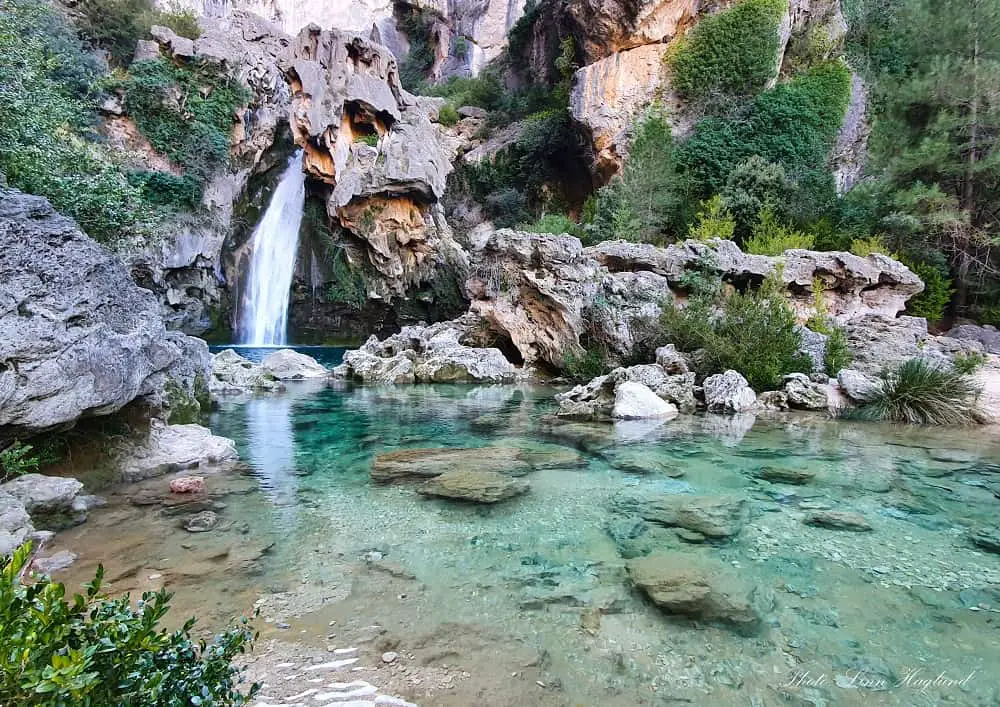 Rio Cerezuelo, Jaen
Rio Cerezuelo is a wonderful river and waterfall hike starting in the quaint whitewashed village, Cazorla, the gateway to Sierras de Cazorla, Segura y Las Villas Natural Park. It's a great 2-3 hour hike for the whole family all year round, though spring might be the most beautiful, and summer is great for cooling down.
The hike starts by ascending the river, passing a few waterfalls, before it leaves the river and gets to Malena waterfall. From there it loops back to stunning views of the village.
The hike can be combined with a walk up to the Castillo de Las Cinco Esquinas castle ruins overlooking Cazorla from a hilltop.
Rio Cerezuelo is an amazing walk, Andalucia at its best for such a short loop if you ask me!
Read my complete hiking guide to Rio Cerezuelo here.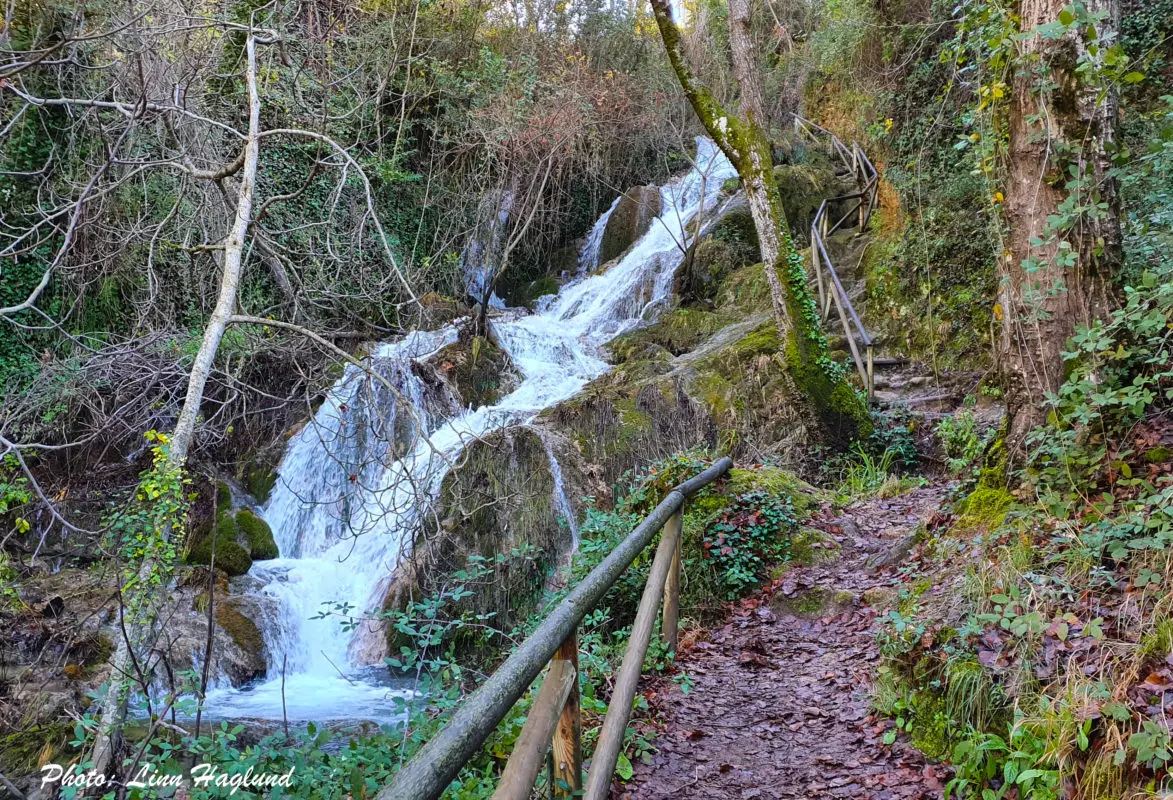 Sendero Repilado to Los Romeros, Huelva
The river hike from the village of Repilado to Los Romeros in Sierra de Aracena and Picos de Aroche Natural Park is without a doubt one of the most beautiful, easy hikes in Andalucia worthy of your bucket list.
This 3-hour return hike follows the river and has hardly any elevation. The trail is well marked and there are so many beautiful small waterfalls and waterholes to stop at along the way. A perfect walk to disconnect from a busy life without much effort.
Arriving in Los Romeros, you can check out the washing place and have a cold drink in the village before turning around.
Read my complete hiking guide for this hike here.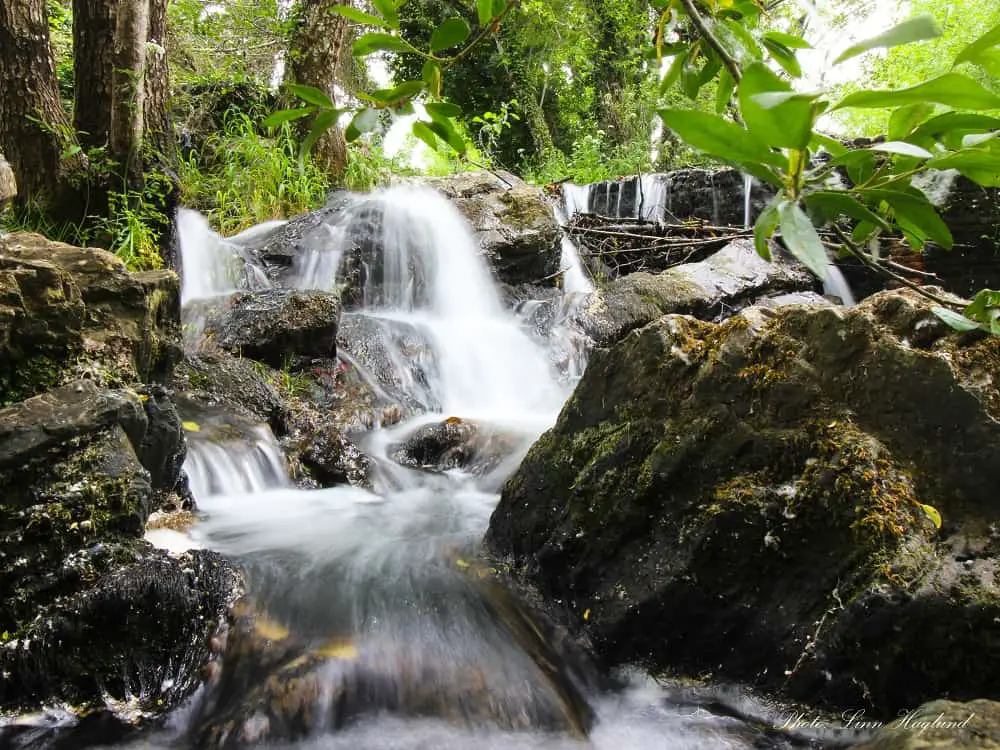 Reflections on walking in Andalucia
There is no doubt a walking holiday in Andalucia will be filled with adventures no matter what time of the year you travel. Andalucia has such varied vegetation that I'm sure it will blow your mind away! I still get mesmerized whenever I find a new area to go hiking as nature changes so much.
In my opinion, the best hiking in southern Spain is rounded up in this post, but as I stumble over new walks in Andalucia that deserve to be added to this post, be sure I will!
Finally, and once again, remember to make sure you leave no trace and happy hiking!
READ NEXT: Best hiking gear
Like it? Pin it for later!