When you're just starting out with hiking it can feel a bit frustrating and scary heading out in the outdoors. How can you know you've got everything you need and what hikes should you start out with? This might even put you off heading off on your first hiking expedition.
There are so many incredible benefits of hiking, both physically and mentally, that if you've been putting it off for a while, after reading this beginner hiking guide, there are no good excuses not to get started.
As an experienced hiker, I've put together the top hiking tips for beginners so that you can get out there confidently too. It's all about taking that first step out of your comfort zone and I promise you that you'll be hooked!
There's no better way to spend a day than out than wandering in nature and as you get more comfortable, you'll take on bigger and bigger challenges. But let's start small for now.
Disclosure: This post may contain affiliate links. That means that if you make a purchase through one of those links, I will get a small commission at no extra cost to you. As an Amazon Associate, I earn from qualifying purchases.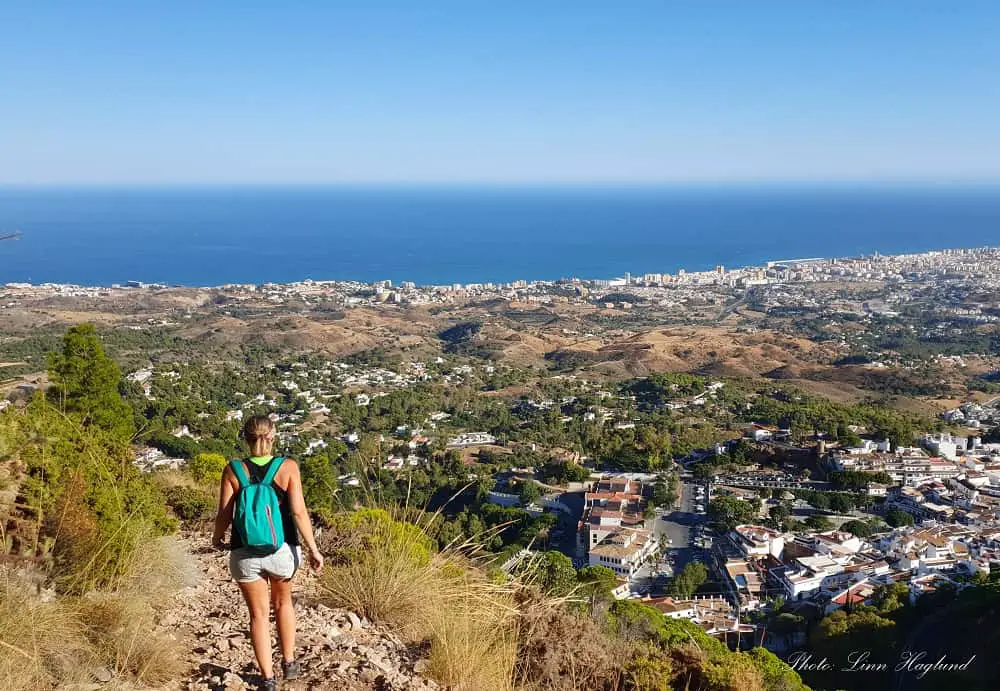 "On a hike, the days pass with the wind, the sun, the stars; movement is powered by a belly full of food and water, not a noxious tankful of fossil fuels. On a hike, you're less a job title and more a human being. A periodic hike not only stretches the limbs but also reminds us: Wow, there's a big old world out there."

Ken Ilgunas
Read more of my favorite hiking quotes here.
Hiking tips for beginners
Let's have a look at the top tips for beginner hikers so that you can comfortably hit those trails and take advantage of all the incredible benefits right now!
Leave no trace
You've probably heard this term before, and it's one of the most important things every hiker does.
We're all responsible for the natural spaces we use, to preserve them and the wildlife. But also to pay respect to fellow hikers. So make sure you familiarize yourself with the 7 Leave No Trace Principles before you head out on your first hike.
Plan ahead and prepare
Travel and camp on durable surfaces
Dispose of waste properly (including fruit rests)
Leave what you find
Minimize campfire impacts
Respect wildlife
Be considerate of others
It's mostly common sense, but I think we can all be reminded about them.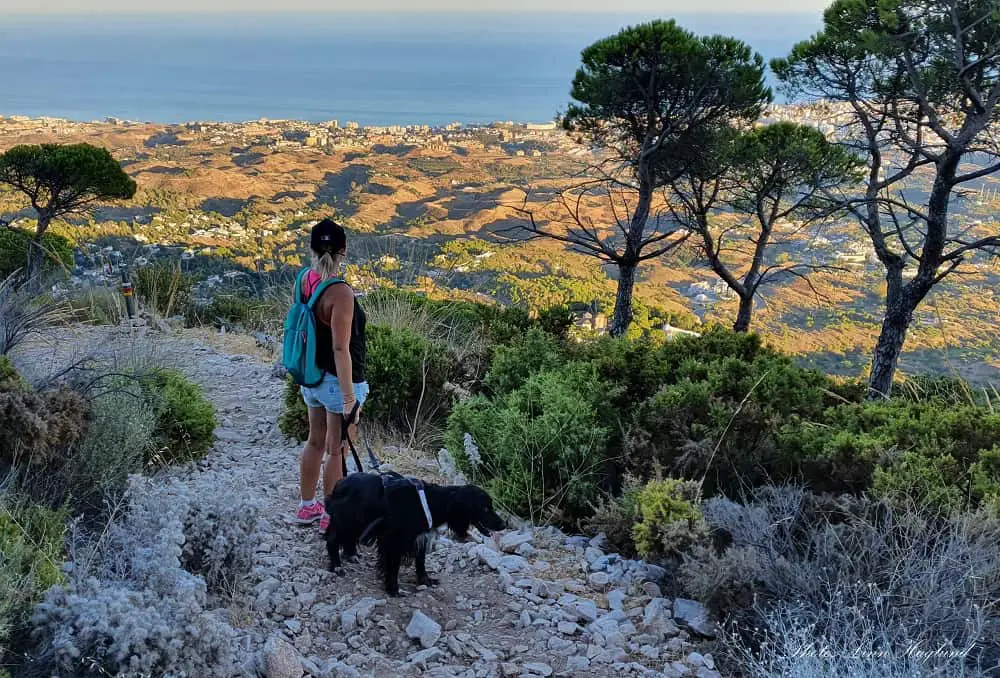 Start with an easy hike
When you first start out, it's a good idea to start with an easy hike, preferably in an area you're already comfortable with. It could be the outskirts of the city you live in or just up the hills from your home if you live close by nature.
Hikes that are 2-3 hours long, easy to walk, and well marked, are perfect hiking trails for beginners. I would avoid any technical hikes and steep, slippery paths before you get more comfortable on the trails.
You should also consider your fitness level. If you're generally fit, you can start off with steeper hills and longer hikes than if you haven't done any exercise in years.
For your first hikes, it's also a good idea to make time for an extra hour or two on the trail in case you need to stop often.
Here are some easy beginner hikes in Andalucia.
Start early
As mentioned above, you might use longer time when you first start out hiking. Beginners often use longer time for different reasons.
If you're not fit, you'll probably take a lot of breaks and maybe even walk slower before you get worked up on those leg muscles and lunge capacity. The good news, though, is that you'll notice a huge difference just after a few hikes.
As a hiking beginner, you might also spend more time navigating the trail while you get used to walking in different terrains. This is also something you'll pick up on quicker than you believe.
So make sure you start early in the morning so that you don't have to rush back before dark. You don't want to use your headlamp on your way back on your first hikes. Before you get to that, you want to get more comfortable in the outdoors. With that said, you should always bring a headlamp in your emergency kit just in case. But I'll get back to that later.
Check the weather forecast
This is not only a super important tip for beginner hikers but for any hikers. Not only is it important to consider the weather where you're going. Make sure you read this guide to hiking in hot weather.
Be aware that you often can't check the weather on the actual peak you're going to but in a nearby village or town. This means that the weather can differ from what you see in the forecast.
If it says hot, sun, and no wind, there's a big chance your hike will look like that. But there's also a chance that there'll be wind in some parts of the hike, especially in higher altitudes or open landscapes. Maybe even drops in temperature.
So make sure you always have backup layers, especially a windbreaker. I often find it useful to bring mittens, buff, and hiking pants even though I set off in shorts. Most of the time I don't need them, but the few times I've needed to, I've been so grateful!
If there are chances of rain on the hike, make sure you bring the necessary gear for hiking in the rain.
POPULAR HIKING GEAR REVIEWS
Choose popular routes
One of my best hiking tips for beginners is to choose routes that are moderately to heavily trafficked by other hikers. This way you always have people to talk with or ask for directions if you feel unsure.
It could be anything from how long time you have left or any other concerns you might have. It's always safe to know there are more people around even if you don't hike solo.
Hike with friends
Hiking with friends or family that's used to hiking is a great tip for beginner hikers. It always feels more comfortable when you head out with someone who has done it before and who even might know the route you're taking.
This adds to the feeling of security I mentioned in the tip above.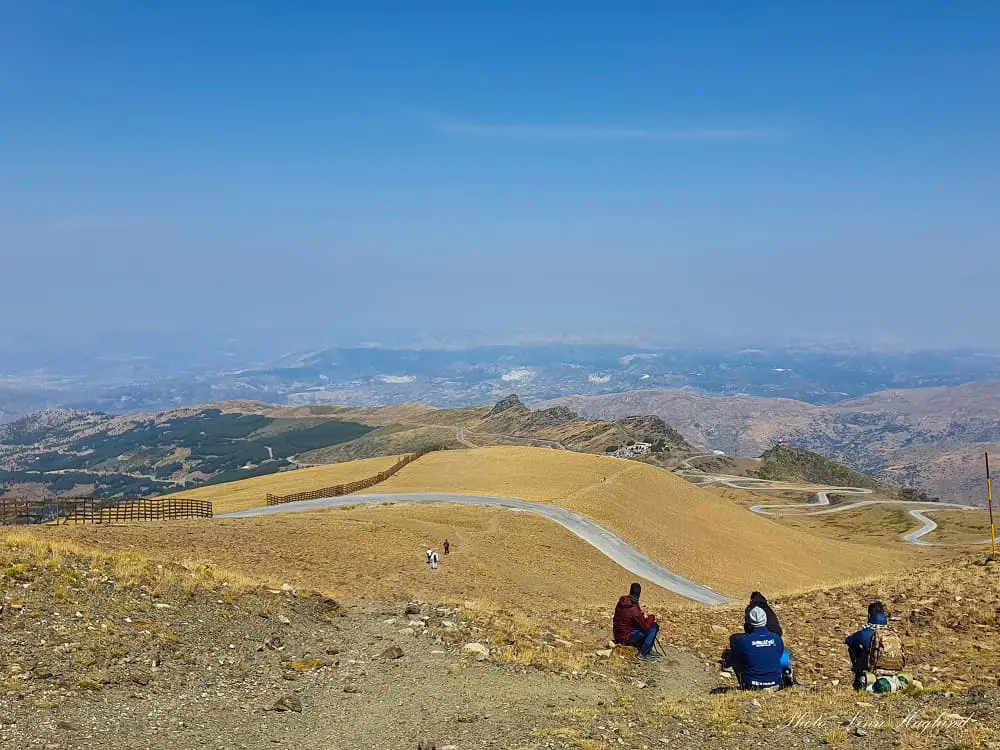 Download a map of the route
One of the greatest trekking tips for beginners is to familiarize yourself with the route before you go. Downloading a map of the route is a great way to do so. But you should also read up on all the information you can find about the hike. This way you know the different landmarks to look for, which turns you need to take, etc.
I like to look at a map before my hike and then use Wikiloc to record the route as I go. This is useful for several reasons.
You can compare the map you're recording to the map you've downloaded to see if you're on the right track
You can keep track of your actual moving time to get an idea about how much longer you have to walk
If it's a loop, you can see when you get closer to the end of the trail and make sure you're walking in the right direction
You can always track back to the trailhead in case you get lost
Bring enough water and food
I can't say this enough! Make sure you bring more water and food/snacks than you think you need. It's nothing worse than having to turn around because you underestimated the amount of water. Trust me, I've done this so many times. Even as an experienced hiker.
Especially on longer hikes, it's not only important to stay hydrated with enough water, but you need the energy from food to keep you going. I find it great to eat a little bit at a time but often so I don't feel heavy after eating when it's time to keep walking.
Snacks like dates, nuts, seeds, bananas, and other fruits are superb for an energy boost on short stops and will keep you going for longer. If you're a fan of energy bars, bring them with you!
Bring layers of clothing
As mentioned before, bringing enough clothes is super important. Layering well is a great tip as it makes it easy to take off and on clothes as you go.
If you start early in the morning it might be cold, but as you start walking, especially uphill, you'll soon start sweating and need to take off layers. Then maybe you get to an open area with wind, or the peak is higher up and temperatures drop and you need to put on more clothes.
It happens on most hikes so better be prepared so you can enjoy it. It's nothing worse than being too hot or freezing cold on a hike, it can really ruin your day.
My favorite, and probably the most versatile clothing that I bring on every hike is a buff. Use it as a bandanna, headband, for your neck, or to cover your head. You can even use it to warm your hands if you don't have mittens. Genius!
Wear good hiking shoes or boots
Another of the absolute top trekking tips for beginners is to wear the right footwear. Make sure you have comfortable shoes to walk in and that they have good cushioning and grip. Trainers are often good enough for easy beginner hikes.
If you buy new hiking boots, that's great, but make sure you walk in them before you bring them on your first hike. If you don't, there's a 99% chance you'll blister and can't finish the hike.
Trust me, this is one of the biggest beginner mistakes when it comes to hiking.
You don't really need to spend a lot of money on new hiking gear and gadgets when you first start out, a pair of old trainers (that still have grip) will do unless you're conquering a massive peak, which you probably won't do anyway before you're a bit more experienced.
But please, guys! No Converse! That will only hurt your feet.
If you plan on hiking in water, you should look into a pair of versatile water hiking shoes.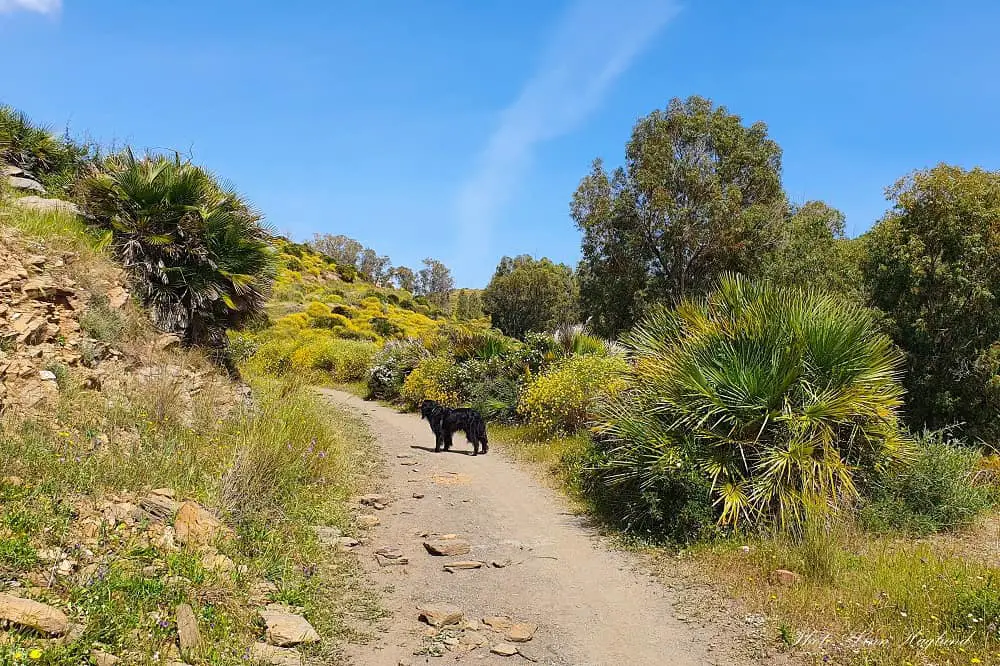 Bring a good hiking backpack
A good hiking backpack, however, can make a huge difference. You might even already have one at home that you can use. But it's preferred to have one with a waist belt and chest strap. This helps transfer some of the weight from your shoulders to your hips and to avoid the backpack sliding off your shoulders.
A backpack with straps is also easier to move around with as it's attached tighter to your body. This can make a huge difference in how you experience your hike.
Another good feature in a backpack is to have various pockets so you can stash the little things you need handy in smaller pockets and don't have to search in the big compartment (you ladies know what I'm talking about!)
Mesh pockets for water bottles on the sides and attachments for hiking poles also come in handy, but no must if you can avoid buying a new backpack just yet.
If you need to get a new hiking backpack, though, you can check out my top picks here.
However, if you plan on doing a river hike that involves water splashes or swimming, make sure to read my top recommendations for waterproof backpacks and dry sacks for hiking here.
Bring sun protection
One of the most important beginner hiking tips is to always bring sun protection when you hike on a sunny day. Especially in warmer countries and areas like southern Spain, it's crucial.
It's so easy to underestimate the heat and the sunburn you can get from a day out. Make sure you take sunscreen with you but even put on a layer before you go in the morning.
However, if the sun is strong, it doesn't only help to put on sunscreen for protection. When hiking, you start sweating and it's important to cover your head, especially on hikes where you can't dip your head in any water. Make sure you bring a cap or a hat to protect your head from the heat so you avoid getting dizzy.
Bring a portable charger
Whenever you go hiking the last thing you want is to run out of battery on your phone. Being able to call if there is an emergency and to check where you are on the GPS (when there are signals) is crucial.
But if you use your phone to take pictures as well, it can be quite annoying to run out of battery. Check out prices here.
Hike at your own pace
I can't say this enough. Don't worry about how fast other hikers go. If you're new to hiking, and especially if you're not used to physical activities, you can't speed it. You'll burn yourself out before you get halfway through the hike.
Walking at your own pace and stopping often helps with endurance. I promise you after only a few hikes you'll notice your endurance and strength increase.
It's just as important to stretch after your hike. A lot of beginner hikers underestimate how important it is to stretch afterward and end up with pain for days.
It's never too late to turn around
If you notice that you use a longer time than estimated (reason one for starting early) and might not make it before it gets dark, it might be safer to turn around. Especially if hiking a loop.
It's always safer to walk where you're familiar if it gets dark instead of walking in new places where you don't know what to expect.
Further, if the weather changes to the extreme, you should always turn around and get back to safety as soon as possible. Especially with strong wind, snow, or rain – or a combination of these, make sure you get back to safety.
Other reasons to turn around could be if you're not prepared for the sun and start feeling dizzy or if you start to run out of water.
Wildlife encounters
Whenever you encounter wildlife on a hike, remember the leave no trace principles. Be quiet, do not disturb or follow the animals, and never feed them.
Read up on the animals you can find on the route you're choosing so that you know how to behave if you meet bears, wild boar, or other species that can get aggressive when feeling threatened.
You should also be aware of any dangerous animals or bugs that you can encounter on the way. Especially when hiking with dogs, make sure you know if you can encounter dangers for them like scorpions, snakes, processionary caterpillars, etc.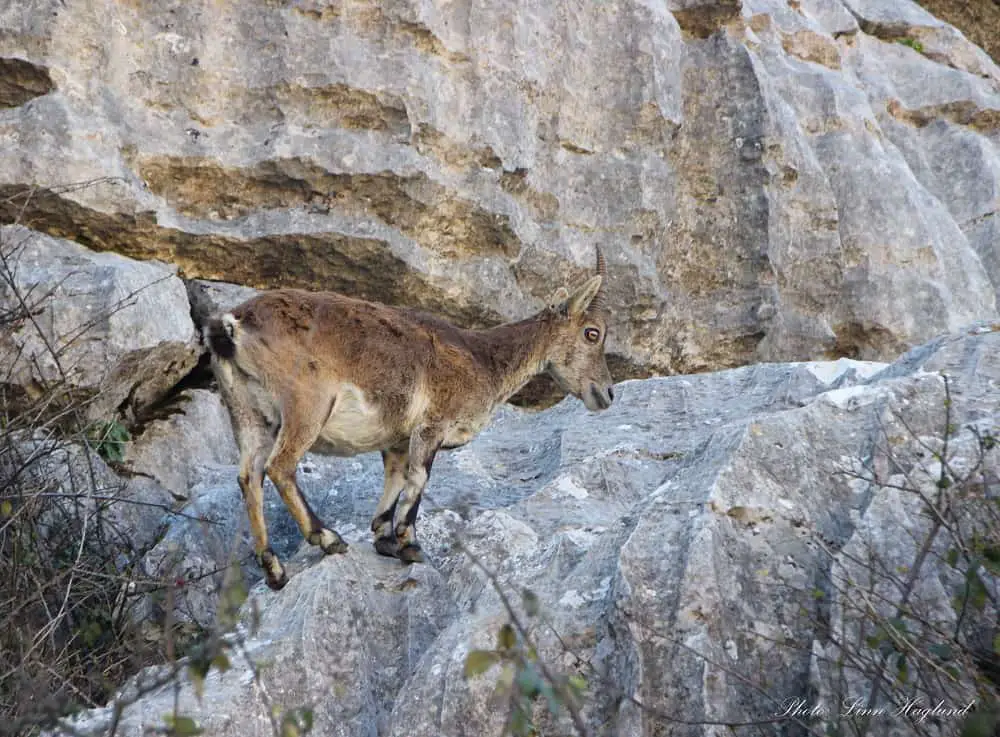 Emergency kit
Finally, another of the most underrated hiking tips for beginners is to always bring an emergency kit. I've slightly touched in on it throughout the post.
This should also include an emergency blanket, multitool knife, head lamp, and blister plasters.
Reflexions on trekking tips for beginners
It might seem like there are a lot of things to think about, but trust me when I say these are typical beginner mistakes. And I've forgotten one or the other plenty of times myself so I know how painful it can be to go unprepared.
You can make it or break it so I highly recommend you follow these tips for beginner hikers. This way you make sure you have a pleasant experience so that you'll want to continue getting out in nature.
Soon enough, these tips will be a natural part of your routine when you go out hiking. It's like with everything new, you need to get used to it.
Happy hiking!
Pin it for later!