Heading out on a river hike or trekking in the rain, you'll need a comfortable waterproof backpack or dry bag for hiking to keep your hiking gadgets dry. There are a plethora of dry bags for hiking and waterproof hiking backpacks promising to do exactly this, but not all of them are really as good as they say.
You need a durable pack that doesn't rift open at any minor brush against the rocks and canyon walls you'll be passing. Maybe you'll be swimming and need it to float, maybe you'll be scrambling up cliffs and you need it to sit snug on your back. It can be hard to find the right one.
But don't worry, I've got you covered!
After doing my share of hot weather hiking in water, I know exactly what to look for and in this guide, I've compiled the best waterproof hiking backpacks and dry bags for hiking so that you can comfortably hit those watery trails.
Disclosure: This post may contain affiliate links. That means that if you make a purchase through one of those links, I will get a small commission at no extra cost to you.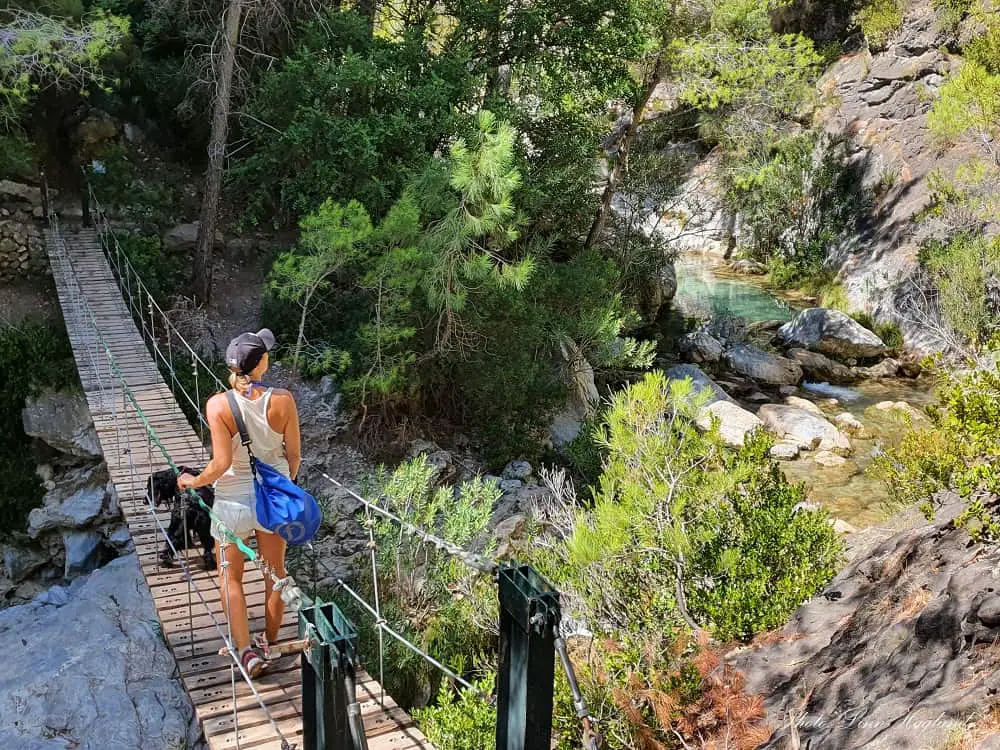 How to use a roll top dry bag for hiking
Before looking at the hiking dry bags and backpacks, I'll give you my top tip for use in case you've never used one before.
A roll top dry bag or backpack needs air inside to be able to float. Just like an inflatable life west.
So avoid emptying the bag of air before rolling it.
It took me a few rounds of using my first dry bag, hiking and kayaking in the Philippines, before I realized that it was no good in releasing the air just to fit more inside and still be able to roll it closed.
The dry bag will sink like a rock. With all your stuff in it.
If you need space for more stuff, opt for a bigger waterproof hiking bag. You should roll the top 3-4 times before clipping it together for it to not leak in water.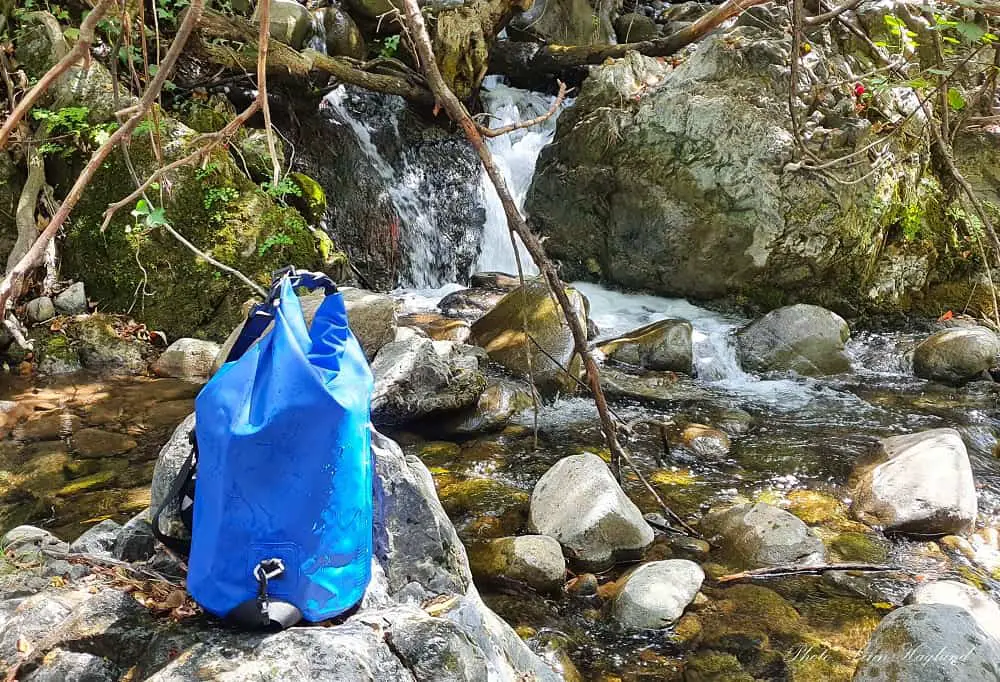 Best waterproof hiking backpacks
Earth Pak Waterproof Backpack 35L
Pros
Small pocket inside and outside the bag for small items like keys and phone
Comes with a waterproof phone bag
Padded back for comfort
Adjusted shoulder and wait straps
Cons
No place to store water bottles for easy access
One of the best waterproof backpacks for hiking you can get is without a doubt this one from Earth Pak – which has grown into a reputable brand when it comes to dry bags for a reason.
Not only is this pack snug and durable, it's also comfortable to carry with adjustable shoulder straps and waist traps. I especially like the padded back on this pack.
There are pockets inside but also a small zippered pocket outside where I'd usually store my lip balm and phone – inside the dedicated phone that comes with this waterproof day hiking backpack.
Like so many other dry packs and bags, there are no place to store a water bottle outside the backpack which would have been a great feature when river hiking in hot weather.
Skog Å Kust waterproof floating backpack 25L and 35L
Pros
Adjustable shoulder straps
Can be locked downwards for a snug fit and upwards as a handle to carry easily
Small pockets for personal items outside and inside
Clip for hanging keys
Vegan
Cons
Skog Å Kust is a Swedish brand that makes high quality vegan dry sacks and backpacks. This pack is available in 25L and in 35L and is a comfortable choice for any river hike that will protect your gear from getting wet.
Small inside pockets help you organize your smaller items like wallet and phone from the other stuff and you can hang your keys on a clip so you don't have to dig through everything to get hold of them when back at the car.
On the outside, there is a splash-proof pocket for any small things you might want to keep handy during your hike.
IDRYBAG Roll Top Waterproof Backpack 45L
Pros
Large size for longer river hikes
Sturdy
Looks and feels like a backpack
Other mesh pockets for easy and quick storage
Comes with a 2L waterproof bag for small items
Cons
The lid makes it a bit more complicated to enter the backpack than other waterproof hiking backpacks
This is one of the most sturdy waterproof hiking backpacks out there. It's got a comfortable fit with both padded and adjustable shoulder straps. The roll top is covered by a lid which makes it look more like a backpack than a dry sack.
While this looks cool and gives an extra layer of protection, it also makes it harder to get to your stuff when you want to get out something on a short break. Nonetheless, the outer mesh pockets make up for it as you can store things quickly that you use, as long as they can get wet (like water bottles.)
This waterproof hiking backpack also has a lot of pockets for storage inside, including a zipper pocket. On the outside, it has mesh pockets for water bottles on the sides and a mesh pocket on the front, perfect if you need to store things quickly (that can get wet.)
I also love that this waterproof hiking pack comes with a small waterproof bag to store small items like keys or phone.
Best dry bags for hiking
KastKing Cyclone Seal Dry Bag 20L
Pros
Comes with a side handle
Zippered splash proof pocket on the outside
Small outside splash proof pocket
Cons
No extra pockets to organize inside
Single shoulder strap makes it uncomfortable for longer hikes and scrambling
When looking for the best dry bag for hiking, the KastKing Cyclone Seal comes high up on the list. A clean design roll top that still has a few neat extras like a zipper splash proof pocket for small items on the outside, an extra handle on the side, and a separate mobile phone case.
This is a great dry bag for hiking shorter distances and with swimming involved. Personally, I wouldn't fill it up too heavy as the strap will uncomfortably dig down your shoulder the heavier it gets.
It's also not ideal if you have to scramble as the bag won't sit snug on your back unsteadily move back and forth.
Earth Pack Waterproof Dry Bag 20L
Pros
Simple for shorter walks
Comes with a waterproof mobile phone case
Easy to store and pack down into a bigger backpack when traveling
Cons
Single shoulder strap makes it uncomfortable for longer hikes and scrambling
No extra pockets for small items
This simple Earth Pack waterproof dry bag is perfect for shorter hikes where a swim or some splashing in water is expected.
It's comfortable to carry across the shoulder if it isn't too heavy. Typically a towel, water bottle, and a sandwich is perfect to carry in this one. Due to its simplicity, this is one of the best dry sacks for short days out and even to take paddleboarding.
Alternatively, get the 30L bag which comes with shoulder straps.
IDRYBAG Waterproof Bag for Hiking 20L
Pros
Otside pocket for water bottle
Shoulder straps more comfortable than other dry sacks
Cons
Shoulder straps are not as comfortable as other waterproof day hiking backpacks. However, they are much better than other waterproof bags for hiking.
This is one of the best dry bags for hiking. It's a bit of a cross between a backpack and a dry bag with the shoulder straps being much more comfortable than the bags you hang across one shoulder.
Yet it doesn't earn the badge of being a backpack. The removable shoulder straps are reinforced to give more comfort over your shoulders.
What I love the most about this waterproof dry pack is that it has a lot of extra pockets to organize your things. This is the only hiking dry bag with an outside pocket for your water bottle and there is a splash proof pocket outside for items that can get wet.
This IDryBag also comes with a small 2L dry pack that you can clip on the outside for easy access to small valuables like phones and small cameras that can't get wet.
Final thoughts on hiking dry bags and waterproof backpacks
Depending on your need and use, there are some pretty good waterproof bags for hiking now and the backpacks especially are getting much better than what they used to be.
There's no questioning these are excellent companions on a river trek or a short walk including a swim through a narrow ravine or under a waterfall.
You might also like: Best shoes for hiking in water