If you're not quite sure what shoes to wear on that river hike you're planning, you're in the right place! It's so easy to wear the wrong footwear and there's nothing worse than ruining your hiking adventure with the wrong river hiking shoes – simply because they weren't meant for it.
Sliding rocks or water not pouring out fast enough can be a challenge, but don't worry. I'm here to help you pick the right water hiking shoes so that you can enjoy your adventure!
Before we look at the best shoes for river hiking, I'll go through the most important things you need to know before choosing the right ones for you.
Disclosure: This post may contain affiliate links. That means that if you make a purchase through one of those links, I will get a small commission at no extra cost to you. As an Amazon Associate, I earn from qualifying purchases.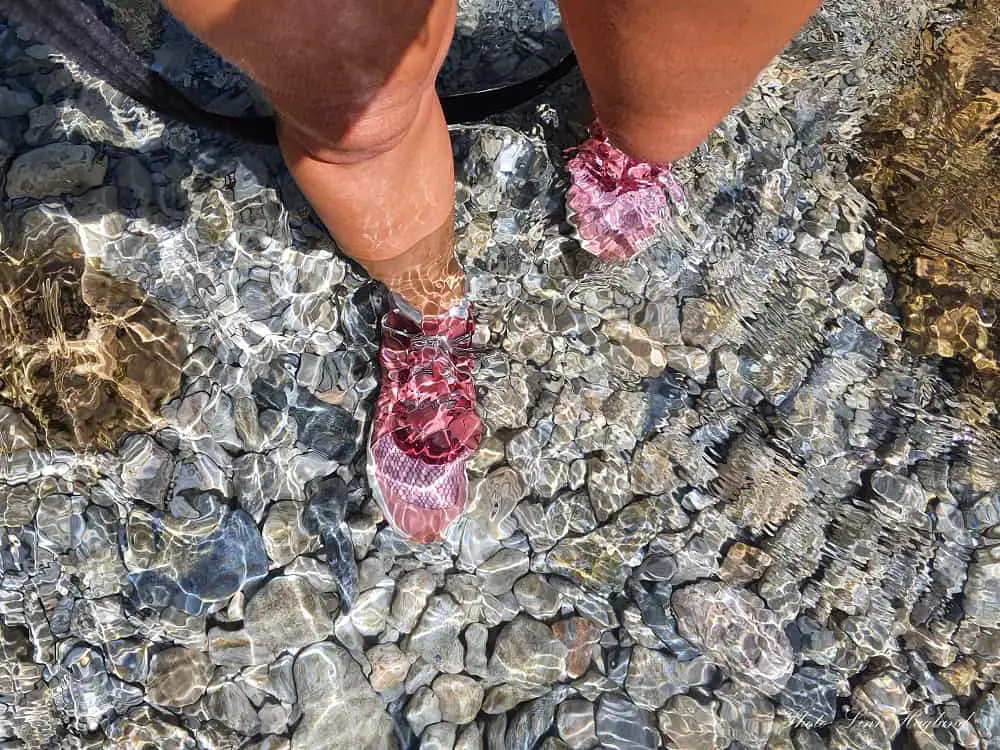 MY TOP PICKS
⭐Best overall water hiking shoe: Merrell All Out Blaze Sieve Water Shoe
💰Best budget river hiking shoes: Salomon Crossamphibian Swift 2 Hiking Shoes
🌞Best water sandals for hiking: KEEN Newport 2
How to choose the best water shoes for hiking
When picking water walking shoes, there are a few things you should take into consideration before you make your choice. I'll go through them here so that you can make a sound decision without too much fuss.
But first of all, let's make it very clear. Water shoes are not the same as waterproof shoes. Waterproof shoes are meant to keep the water out of the shoes to keep your feet dry – usually the best choice when hiking in the rain.
Water shoes, on the contrary, let in water just as easily as it lets it out again.
When you hike in a river or stream, your waterproof shoes won't do you any good. They will fill up with water that won't drain, thus making your feet heavy and the hike or swim unbearably uncomfortable.
What you need, are hiking and water shoes that drain water out quickly to avoid any extra weight and that dry fast. Usually, you'll use water trail shoes when hiking in the summer months when it's not too cold, so you don't need to think too much about how warm they are. After all, they'll get wet anyway!
It's also important to choose comfortable water shoes that protect your feet when walking on slippery and uneven terrain. And there I just touched into another super important feature. The best water walking shoes have a good grip and don't slide easily on rocks covered in slippery algae.
If you're generally active outdoors, you can use your water hiking shoes for water activities like kayaking and paddleboarding too. In that case, keep it in mind when you choose the right shoes for river walking – lightweight is always key.
Here are some of the main specs to look for when searching for the best river shoes:
water drainage
lightweight
quick dry
good grip
protective/support
comfort
Best shoes for river hiking
Merrell Women's All Out Blaze Sieve Water Shoe
Weight: 482g/1lb 1oz
Type of sole: Vibram synthetic outer sole and Unifly cushioned midsole
Lacing system: Bungee lacing system
Merrell Women's All Out Blaze Sieve Water Shoe is one of the best shoes for river hiking. With a sturdy, comfortable sole it's comfortable to walk on a rocky river bed. They don't slip as easily as many other river water shoes either.
The drainage is excellent when walking in water, but these water hiking shoes are also great for hiking outside the water. Their versatility makes them a top pick as you can use them on hikes like Rio Higueron without having to change shoes when you're hiking outside and in the water.
Finally, if you ask me, these are pretty cool water shoes and one of my favorite designs.
Pros:
High-quality water shoes
Comfortable
Great for hiking on pebbles and rocky river beds
Versatile
Cons:
These Merrell water shoes have a layer of leather, though they do have several vegan shoe models. I'd love to see them design a model of water shoes as cool as this without harming animals in the making.
Aleader Men's DrainPro XT water hiking shoes
Weight: 363g/0.8 lb
Type of sole: High-traction EVA and rubber outer sole and cushioning, shock absorbing EVA midsole + anti-slip sole with holes to assure water flows out quickly
Lacing system: Bungee lacing system
If you're looking for super lightweight water shoes, that drain water quickly, AND have great grip, Aleader has done a great job with the DrainPro XT water hiking shoes.
These are definitely among the best water shoes for hiking in rivers and are versatile so that you can walk with them on dry terrain too. But if it's cold, you can change into dry shoes and they won't exactly make your backpack heavier.
Pros:
Easy to slip on
FluidFlow Technology with holes in the bottom that makes water flow out quickly
Anti-slip sole
Lightweight
Budget friendly
Cons:
Thin material gives little protection when walking on river beds with a lot of loose rocks that can roll over your foot.
Salomon Women's Crossamphibian Swift 2
Weight: 454g/1lbs
Type of sole: Rubber outer sole and Synthetic textile upper sole
Lacing system: Regular laces
The Salomon Women's Crossamphibian Swift 2 are versatile, good water shoes that look like sneakers that both drain and dry quickly. This means they're great for those hikes where you are a lot in and out of water.
They're also made from both recycled and natural materials, which makes them one of the more sustainable of Salomon's shoe range. Big plus!
One of the things I really like about these, that makes them some of the best women's shoes for hiking, is that they keep debris out and the elastic ankle cuff wrapped around your Achilles heel protects it comfortably.
The Salomon Women's Crossamphibian Swift 2 are also very lightweight, which is great when they get wet as they don't pull your feet down as much as other water hiking shoes can do.
The only thing I've noticed that I don't like so much is that they feel a little slippery on rock outside the water (I never slipped, but it felt like I was going to slip.)
Finally, I think we can agree that they are cute and work perfectly for hiking, running, and going to the supermarket, which is a quality I adore, as I'd probably like to wear the same shoes for everything I do (not typically ladylike, I know!)
Pros:
Drain and quickly
Lightweight
Comfortable to wear
Versatile
Made from sustainable and recycled material
Keeps debris out
Cons:
They slip easier than other water sneakers on wet rock (eg. in riverbeds etc.)
Can feel rough on the inside without socks (you easily solve this by wearing low-cut socks)
Laces loosen easy without double lacing
Merrell men's Choprock
Weight: 765g/1lb 11oz
Type of sole: Kinetic Fit BASE removable contoured EVA inner sole, compression-molded EVA midsole, and Vibram Megagrip outer sole
Lacing system: Regular laces
Another one of Merrell's river walking shoes that are great on slippery riverbeds and drains and dries out quickly.
These are a winner with their toe protection which is excellent when walking on riverbeds with loose rocks. They perfectly protect your toes from getting hurt by those frequent stumbles on the path.
The soles have small holes letting the water out together with the mesh upper part of the shoes. Together with letting water run out quickly it also allows airflow through the shoes.
All in all good outdoor water shoes.
Pros:
toe protection
good grip on wet surfaces and on slippery river beds
drains out water and dries quickly
versatile
Cons:
heavier than other river water shoes
Laces loosen easily if not double laced
SOBASO Water Shoes
Weight: N/A
Type of sole:
Lacing system: Bungee laces
This is a decent budget option among the water shoes good for hiking in the summer. They're easy to slip on and off and lightweight so you can easily store them in your backpack if you need to change to other shoes along a longer trek or backpacking adventure.
The thick and flexible rubber sole offers cushioning and protection from whatever uneven ground you might step on. They also have a surprisingly good grip on slippery riverbeds considering the price.
Due to their easiness of slipping on and off, these shoes are great for using if you're heading to the shop a quick trip or working in the garden too. It can't be only me that can't be bothered with wasting time lacing my shoes if I'm off on a short trip out the door?
Pros:
Budget friendly
Quick dry
Drains quickly
Lightweight
Good grip on riverbed
Versatile summer shoes
Cons:
Open mesh shoes make your feet vulnerable to bumping into rocks and sticks in the water
Debris enters easily
Not as durable as the more expensive alternatives
KEEN Women's Newport H2 Sandal
Weight: 297g/10.5oz
Type of sole: Compression Moulded EVA midsole and rubber outer sole
Lacing system: Quick lace system
The KEEN Women's Newport H2 Sandal is a great option if you're looking for sandals for hiking in water. These close-toed water hiking sandals have a strap on top and soles that are made to support your feet even while walking on rocky river beds. They are easy to slip on and off which makes them perfect for everyday use in the summer too.
A good grip is also a plus with these. The only minus is the weight which is a little bit on the heavier side, but with the comfort of these sandals, almost feeling like hiking shoes, you get a great water hiking shoe.
While I personally prefer closed shoes for river hikes, these are without a doubt among the best water sandals for hiking.
Pros:
Easy to slip on and off
Good water drainage
Great grip
Toe protection
Odor repellent
Cons:
A little bit on the heavier side
Can feel tight when you wear socks in them, so if you like wearing socks, you should order half a size larger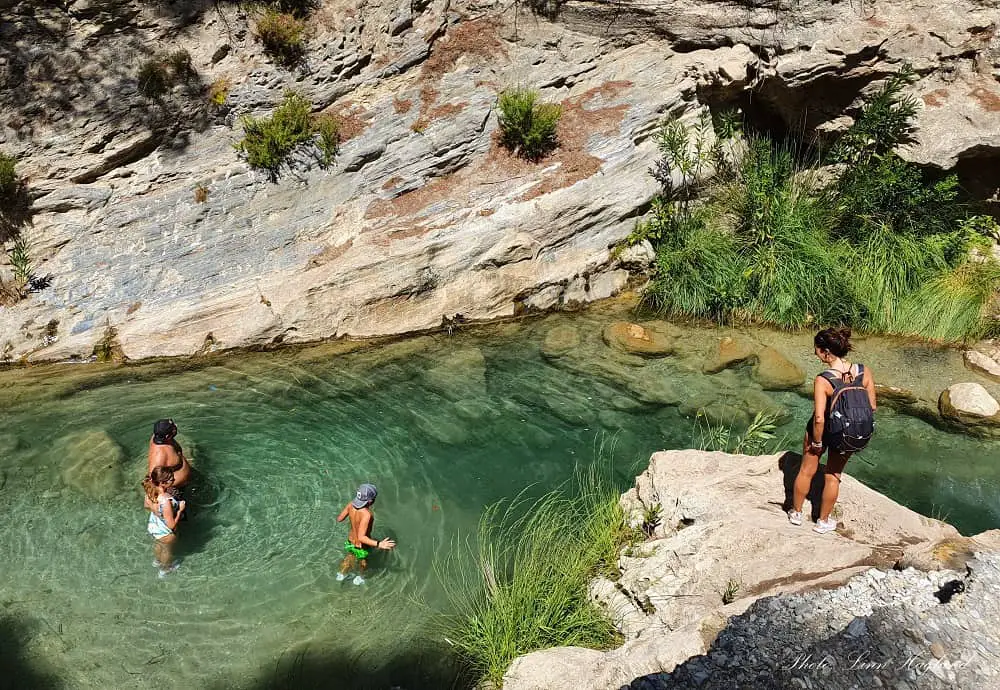 Reflections on water hiking shoes
Whether you're heading out on a river hike or a coastal walk that includes getting in the water, there is no doubt you need a pair of good water shoes.
When considering the price, quality, and different features, keep in mind what you'll use them for and how often you expect to use the shoes for walking in water. Maybe it's best for you to get a versatile pair of water shoes that look like sneakers so that you can wear them for anything?
YOU MIGHT ALSO LIKE: Best dry bags and waterproof backpacks for hiking