It's one of those unbearably hot days but you're too restless to go to the beach, or maybe you're just in need of a change from the saltwater. What you need is a proper river walk where you stay cool all day, feet and legs constantly immersed in freshwater combined with frequent swimming. Head up to Rio Verde in Istán, right behind Marbella in Malaga Province, and you'll get all that.
This is as good as Sierra de Las Nieves Natural Park gets in summer. With the mesmerizing Charco del Canalón at the end of the hike, a set of natural pools formed by an aggressive waterfall you can only reach by swimming through the rock walls.
Whether you hike with your family, friends, or you take your date on a hike, Rio Verde is a winner!
This hike is not to be confused with Rio Verde in Otívar, Granada, though. Rio Verde, Malaga, is a different, yet just as bewildering. And here is everything you need to know to hike Rio Verde, Istán.
Disclosure: This post may contain affiliate links. That means that if you make a purchase through one of those links, I will get a small commission at no extra cost to you. As an Amazon Associate, I earn from qualifying purchases.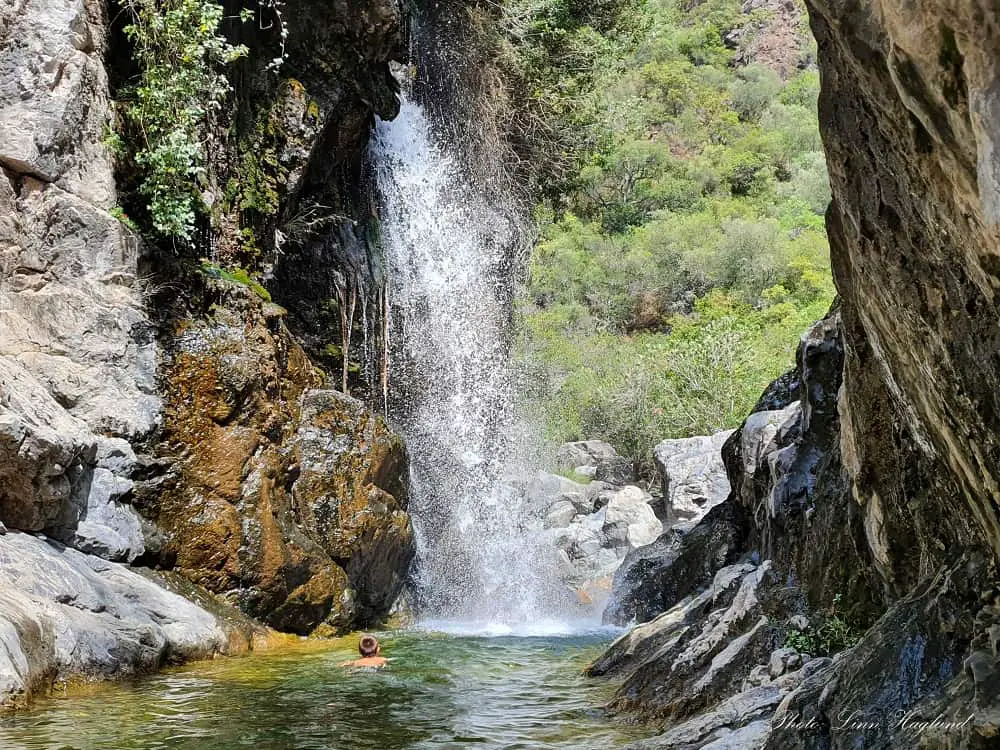 Practical information
Province: Malaga
Mountain range: Sierra de las Nieves
Length: 5 km
Time: 2-3 hours
Elevation: 159 meters
Route: Circular
Difficulty: Medium (includes swimming)
Hiking season: June-September
Hiking with dogs: Hiking with dogs is allowed, but it's only recommended if they're confident in water. There are several distances you have to swim, though there are alternative trails most places to get around, I did find one water hole without any trail to get onto from the water. The final bit to the waterfall in Charco del Canalón has to be done swimming and you might not be able to get passed the waterfall as the water falls heavy for the dog. Ayla didn't want to swim under it and I don't blame her.
How to get to Rio Verde, Istán
The only way to reach Rio Verde, Istán, is by car. By putting "Istan-Charco del Canalón" in the GPS it will take you through Istán village. When the road forks in 3, you take the far left, continuing past the Nacimiento del Rio Molinos.
After a while on the winding mountain road, it will lead you down a road to the left towards Las Vegas del Colmonar before you reach the parking.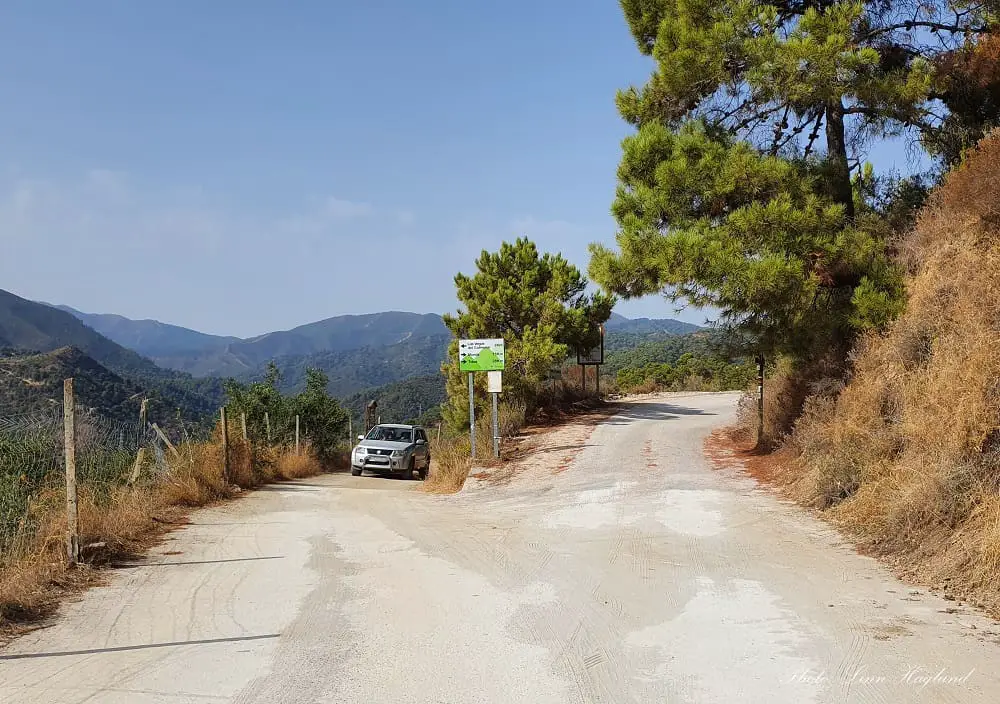 You better get there early as it fills up pretty quickly and there are limited spots available. If it's full, you can look for a spot on the side of the road where you came from, but make sure there's enough space for cars to pass.
It takes nearly 1.5 hours to drive from Malaga and 45 minutes from Marbella. That said, it can take longer up the narrow mountain roads. From Istán, it's a 20-minute drive.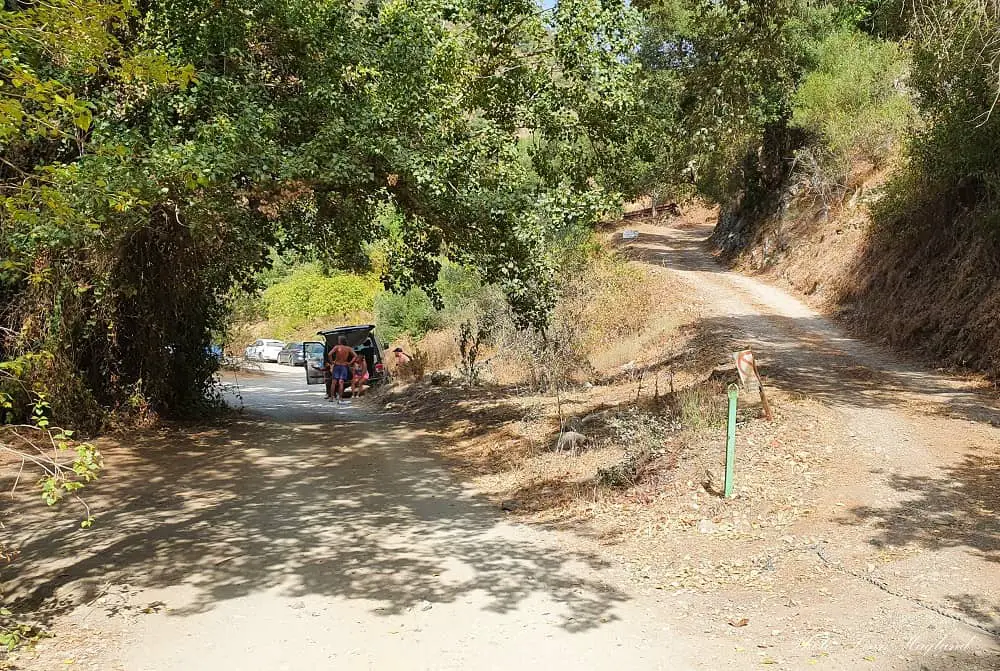 NOTE! When driving to Istán, you might pass a lot of cyclists pedaling up the curvy, narrow mountain road, so drive carefully and only surpass cyclists when it's safe to do so!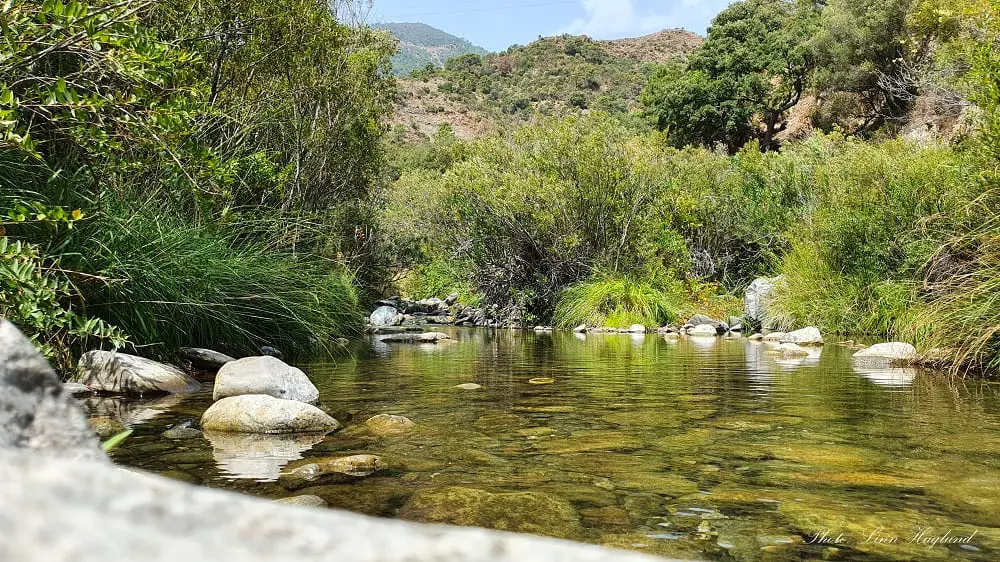 When is the best time to hike Rio Verde in Sierra de Las Nieves
Since this is a hike where you'll be constantly in water, you want to hike Rio Verde in the hot summer months. The best months are between June and September. However, if the heat stretches until October or November, you can enjoy this trail with fewer people. Just remember that river water is cold.
The month of August is usually the busiest, as it's the national vacation month, but before and after, you can encounter fewer people during the weekdays. If you can, avoid Sundays as they're usually the busiest.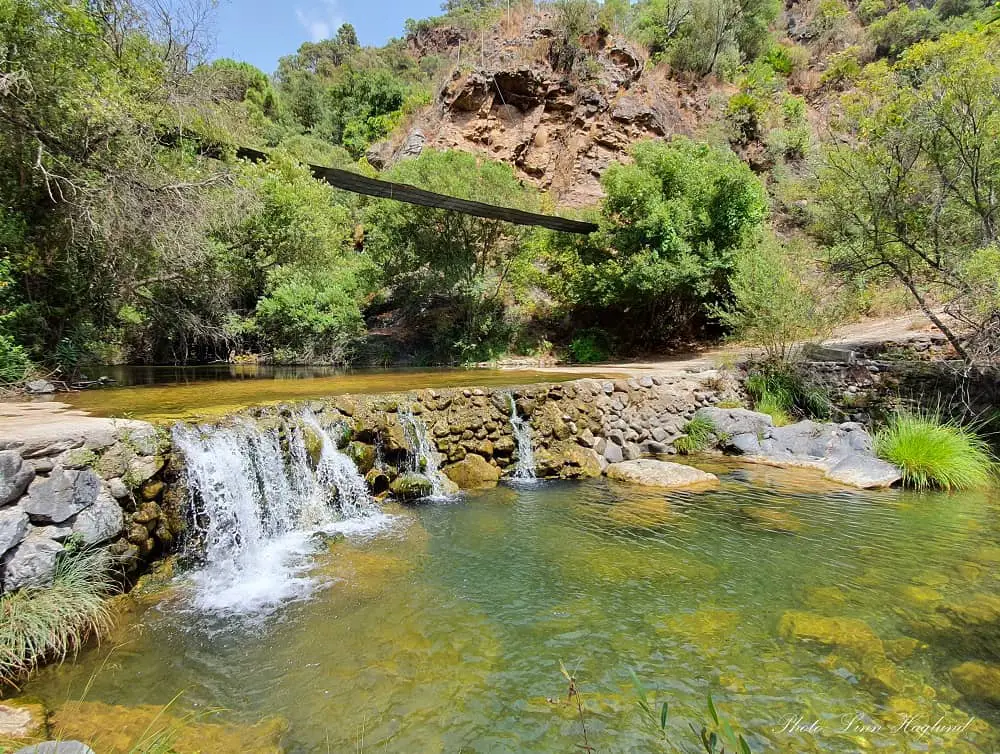 What to bring when hiking Rio Verde
To hike Rio Verde, Malaga, you need to be aware that you'll have to swim across several waterholes to get to the waterfall at Charco del Canalón. For this reason, bring a good waterproof hiking backpack or dry sack to keep your valuables dry. It's also very slippery to walk on the rocks in the river. Some places more than others.
This means you need to wear shoes with a good grip that lets the water out easily. So no waterproof shoes and no flip-flops. Read my recommendations for the best water shoes for hiking.
Another thing I can't stress enough! To protect the natural environment and the microorganisms living in the river, avoid wearing sunscreen, perfume, and other skin creams. If you need to protect yourself from the sun, wear a t-shirt or eco-friendly reef-safe sunscreen.
Altogether, it's advisable to bring as little as possible when hiking through a river so that you don't have to worry about things getting wet. That said, make sure you bring a t-shirt, not only to protect yourself from the sun but also to walk back again on the track. And maybe shorts too.
THINGS TO BRING:
dry bag
lunch
fruit or other snacks
water
GoPro
In the car: change of dry clothes and shoes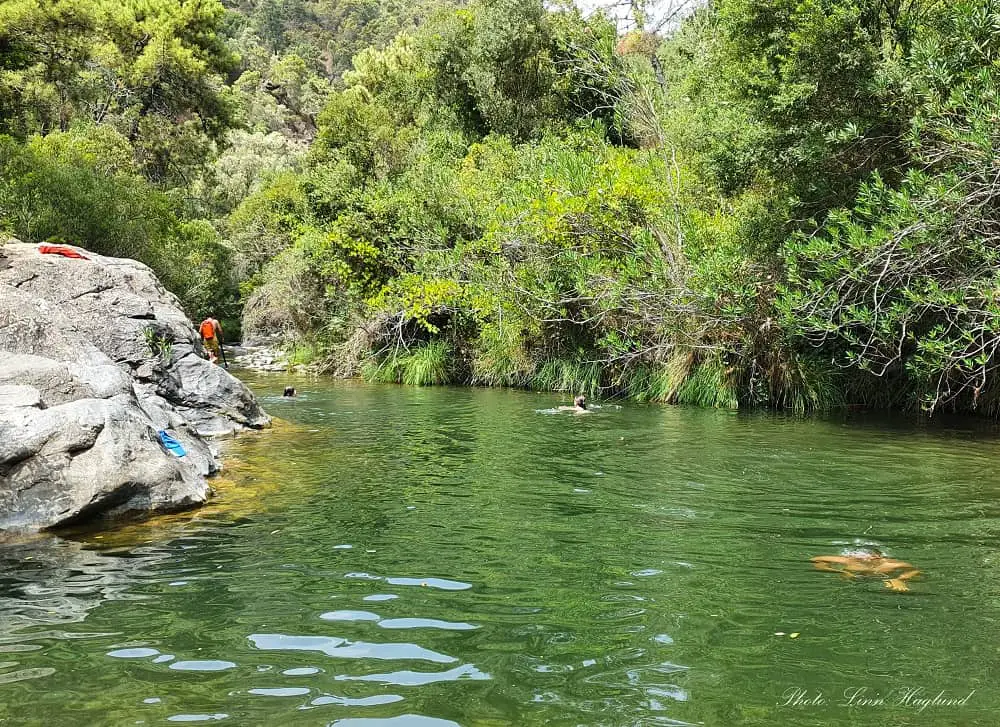 Where to stay when hiking Rio Verde – Marbella or Istán?
The closest place to stay when you hike Rio Verde is the white village of Istán. This is a great place if you're looking for a peaceful stay and emerge yourself in local village life.
The bars and restaurants are intimately busy and if you speak a little Spanish, you can connect with the locals and listen to engaging stories about the village's history and maybe even get some inside hiking advice.
Stay at Hotel Rural Los Jarales or look for an apartment for rent.
Marbella, on the other hand, is perfect for you who want a vibrant nightlife, a wide range of restaurants and bars to choose from, beaches, and altogether lots of things to do right outside your hotel door. Marbella is also a great place to be based if you plan on hiking other places along Costa del Sol.
For a luxury hotel on the beachfront, book your stay at Hotel Fuerte Marbella. They have private parking so that you can easily get around on the hiking trails you want and the luxury of a swimming pool if you can't be bothered to walk the few meters down to the beach after your hike.
A great budget alternative is the Hostal Tak, with light rooms that feel like a home away from home, also centrally situated with parking. You'll only be a minute away from the beach and the old town.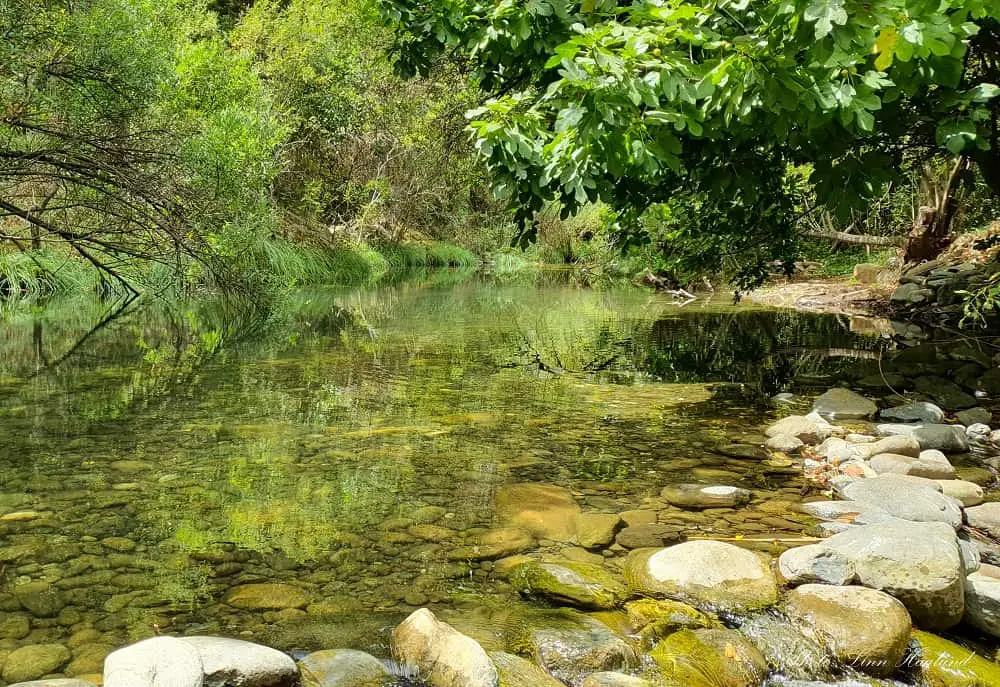 Other epic river hikes in Andalucia
Hiking Rio Verde, Istán
Start to hike Rio Verde, Istán, from the parking lot. Before it ends, take a turn left and walk the few meters down to the river. You'll be walking upwards, which means to the right. Once you've set foot in the river, you won't need to get out before you get to a wide cascade under a hanging bridge.
Just walk up on the side of the cascade and continue up the river above it. There are plenty of nice spots to sit down for lunch or a snack, not to mention photo opportunities!
Be careful when you walk, as the algae on the rocks on the riverbed get incredibly slippery, so you can't relax too much. When stopping for a photograph, make sure you stand steady before you start clicking around. I've been close to falling a few times because I got too excited about taking out my phone.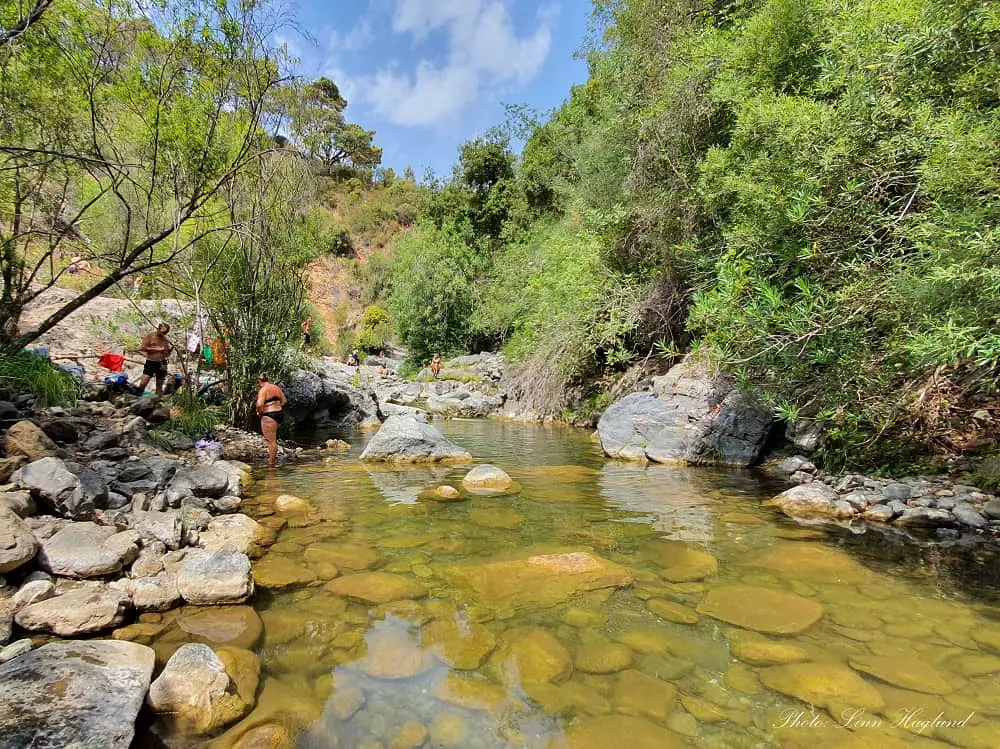 You know you're nearly there where you see more people and you come to steps of larger pools where you can even cliff jump because the water is deep enough. Just a few pools ahead, you'll swim into a small gorge towards the final waterfall.
It's possible to walk a little further, past the waterfall, where you'll find more smaller waterfalls, but not long after you'll have to turn around. If you hike with your dog, you probably have to skip this last part. The waterfall cascades over the entire river and it feels pretty hard on your head. Ayla didn't want to swim under it, and there's no way around.
When you're done bathing and soaking in this natural spot, it's time to walk back the trail. Swimming back from the waterfalls to the next pools, you have to walk up on the right side of the river to find the path. It's well marked once you get on the dirt track with wooden poles saying Sendero Charco del Canalón.
After crossing the river, you'll just keep walking on the same track until you see a handwritten sign saying Camino/Way. Turn down this trail to get to the parking.
You'll notice that the return goes a lot quicker, not only because of all the photo breaks but because you have to walk slowly in the river.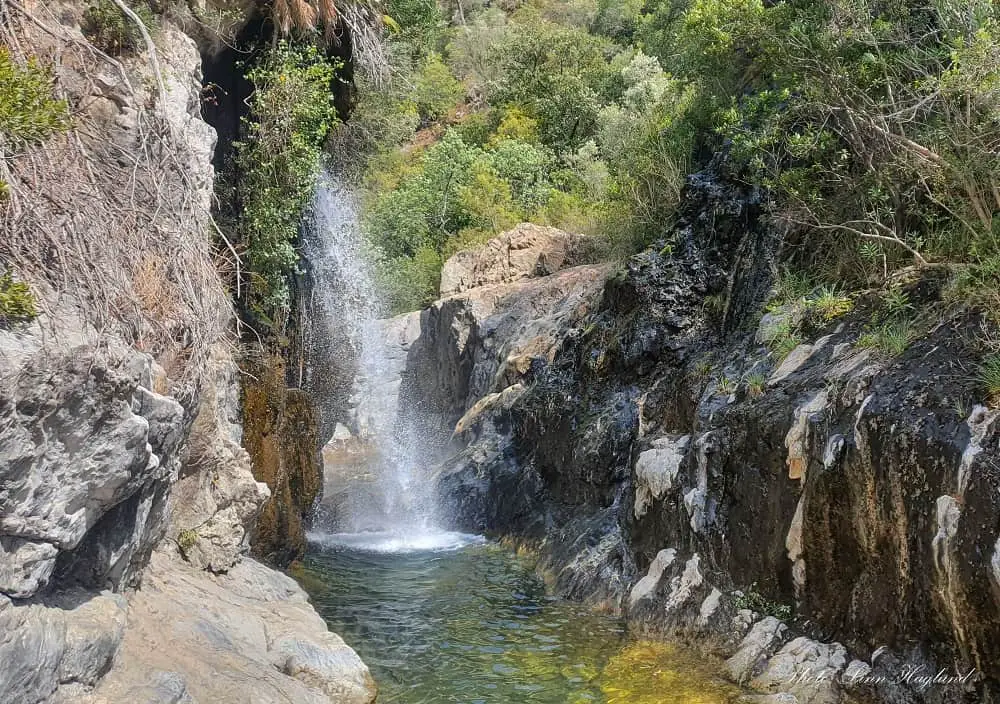 Reflections on hiking Rio Verde, Malaga
I'm sure that you're super excited about taking this river hike if you've already read this far. Of all the river hikes there are, Rio Verde above Marbella's busy beaches is a true treasure. There's no denying, this is one of my favorite hikes in Malaga in summer.
Even though the Charco del Canalon gets busy, especially in August, the river hike itself is often less crowded which makes it totally worth it. I'm sure you won't get disappointed, so strap on your river hiking shoes, and pack a nice lunch into your dry bag. And of course, make sure you leave no trace!
Happy hiking!
READ NEXT: Best hikes in Andalucia