Deep in Cazorla, Segura y las Villas Natural Park in Jaén, you find an intriguing path and boardwalk crisscrossing the vivid Rio Borosa and Cerrada de Elias gorge, followed by glittering, turquoise water holes that are home to mesmerizing cascades. If you want to find out how to explore this natural wonder, you're in the right place.
Rio Borosa in Cazorla is not only one of the most popular hikes in the park, but also by far one of the most spectacular! It's a long full-day hike, but the first half, through the gorge, is level, so it's fairly easy.
If you choose to continue up to the waterfalls, you'll have to expect steep ascents on uneven ground. However, the reward is beyond magic!
The last part of the trail takes you high up in the mountain and leads you through not one, but two tunnels along the side of the mountain only partially lit up by the outside light from small, carved windows in the rock side. You should definitely bring a headlamp to lead the way.
There's no questioning Rio Borosa is one of the most stunning hikes in Andalucia, and this hiking guide will give you all the information you need to explore it yourself.
Disclosure: This post may contain affiliate links. That means that if you make a purchase through one of those links, I will get a small commission at no extra cost to you.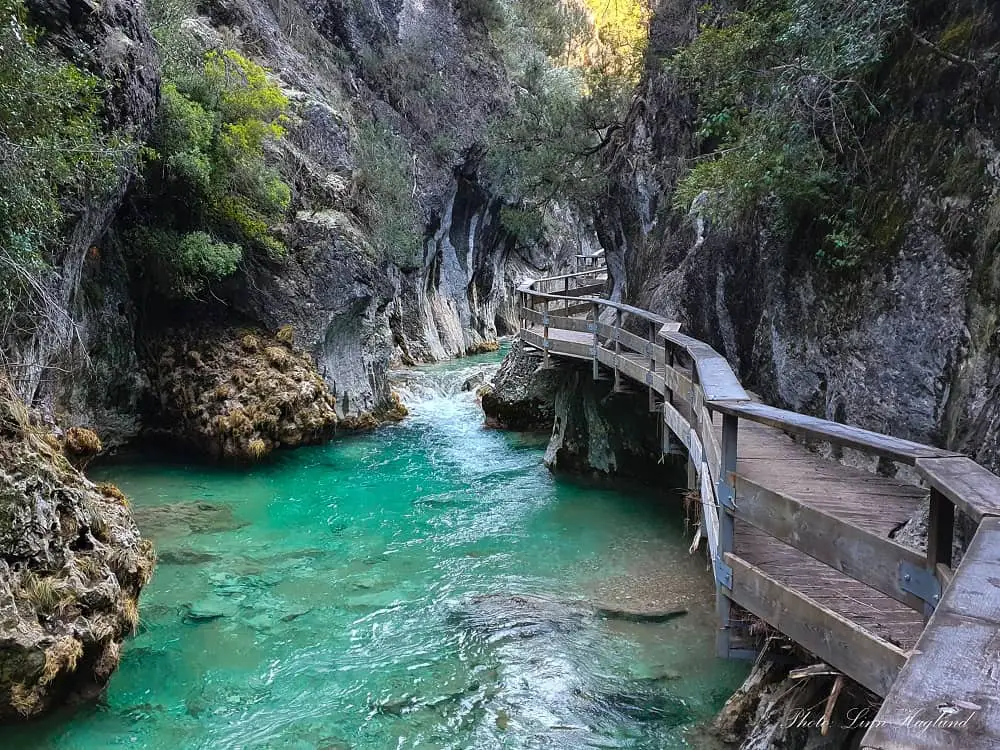 Practical information
Province: Jaén
Mountain range: Sierra de Cazorla
Length: 25 km
Time: 8-9 hours
Elevation: 650 m
Max altitude: 1285 m
Route: Linear return
Difficulty: Medium
Hiking season: All year round
Hiking with dogs: It's allowed to hike with dogs, but between late December to early summer it's recommendable to not take them as it's the season for processionary caterpillars. Though it gets reasonably cold in this area and the caterpillars usually come out later, you should look up for nests. If there are nests, there's a chance they're out marching. There are natural water sources for the dog throughout the hike even for the hot summer months.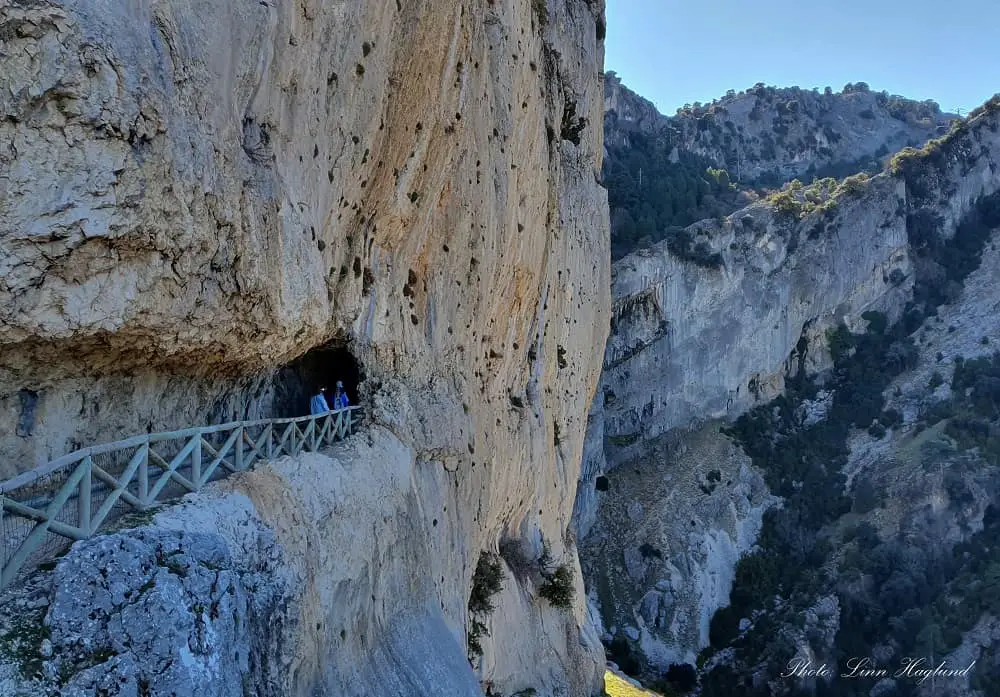 Taking your date on this hike? Make sure to read my top hiking date tips!
How to get to Rio Borosa, Cazorla
Rio Borosa trailhead starts 12 kilometers north of Arroyo Frío in Sierra de Cazorla. It's a 20-minute drive up the A-319 and you can easily write in Rio Borosa on the GPS and it'll take you to the trailhead and Rio Borosa Visitor Center.
There are two parking spots, one large one by the visitor center and one smaller one by the actual trailhead. If you opt for the first one, it's a few minutes walk along the road to get to the trailhead which is well marked on your right where the road turns left.
Driving from Cazorla village takes just over an hour and from Jaén, it's 2 hours and 15 minutes. Because of the length of the hike, I highly recommend staying in the natural park and not in the city.
There is no public transport taking you to Rio Borosa, so it's necessary to bring your own car.
When is the best time to hike Rio Borosa
Rio Borosa is possible to hike all year round, though the different seasons bring very different experiences. Layers are recommended no matter what time of year you hike, as you can get different temperatures from early morning to midday to the late evening, especially considering that you'll walk in the shade during large parts of the trail.
In winter, temperatures can get below freezing point, especially in the early morning – and you need to start hiking at dawn so that you reach back before dark. The hike is still impressive and once you get out of the gorge and the sun shines, it gets quite comfortable to walk.
During autumn and spring, temperatures are more comfortable, though it can still be cold in the morning. You need to have extra clothes for the morning even though it seems to be hot during the day. These seasons are beautiful here with colorful flowers in spring.
In summer, you'll experience Rio Borosa at its busiest, particularly in August when the Spanish take their vacation. However, this is when the water is most comfortable to get into and you can dress lighter as it's warmer. Read my tips for hiking in summer.
What to bring on your Rio Borosa hike
As mentioned above, you need to bring layers of clothes when hiking Rio Borosa. Since it's such a long hike and partially in the shade, you need to have those long pants and long sleeves with you, even in summer.
A good option is to wear pants that you can zip off to convert into shorts when you need them. They're lightweight and you don't have to find a hideout to change.
Alternatively, a pair of light, breathable leggings will do the trick. You can see my top picks here.
You'll also need a good pair of hiking shoes. I love these from Salomon. However, if you'll be walking in the water too, check out my top recommendations for shoes for hiking in the water here.
Hiking poles are ideal for the second part of the hike where the path is ascending and becomes more uneven. You could even bring a hiking knee brace if you struggle with a hiker's knee.
You can check out my favorite vegan hiking socks here or other recommended hiking gear here.
Finally, make sure you have a good backpack since this is a long walk. You can find my recommendations in this post.
My most popular gear reviews:
Here are the most essential things to bring when hiking Rio Borosa:
water
lunch
headlamp
neck gaiter
camera
In summer:
In winter:
gloves
beanie
scarf
warm layers of clothes
thermos with a hot drink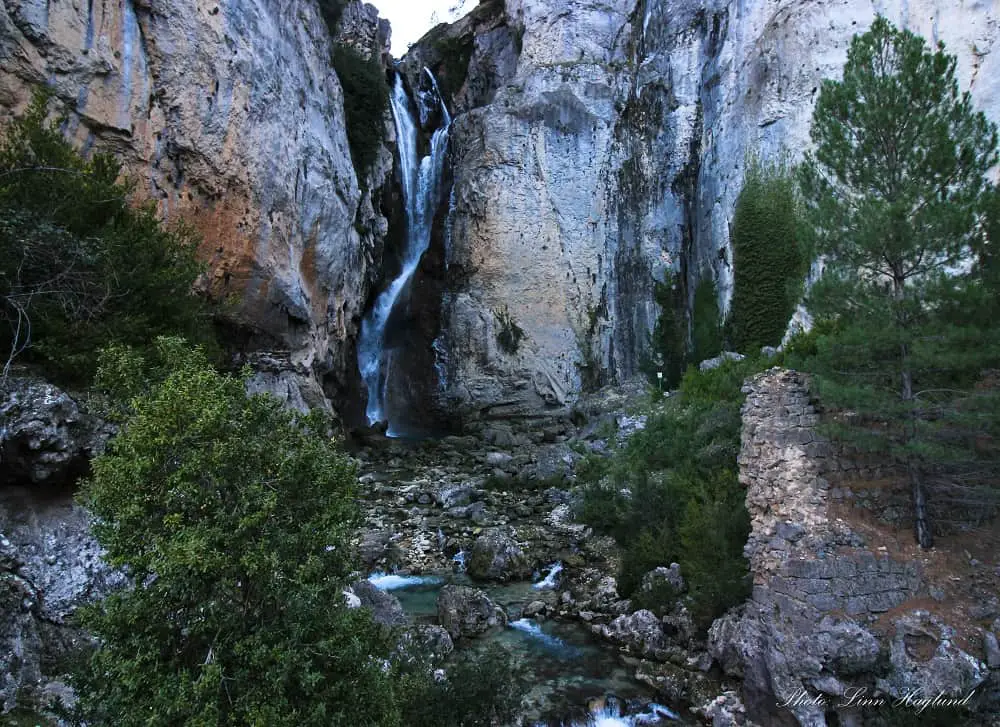 Top Amazon picks for this hike:
Where to stay
The best places to stay when you hike Rio Borosa are either Arroyo Frío or Cazorla. Arroyo Frío is closer, but there is less to do. And by the name of the place, "cold stream" you'd think it can get cold – I can assure you it does! Especially in winter.
However, if your sole goal in the natural park is to hike Rio Borosa, Arroyo Frío is the best place to stay and there are enough bars and restaurants to have a good time.
Cazorla, on the other hand, gets sun even on short winter days and there are endless things to do in and around the village. This is without a doubt my favorite place to stay with medieval castles and epic hikes like Rio Cerezuelo and Pico Gilillo going straight from the village.
Where to stay in Arroyo Frío:
Pensión Rural Arroyo la Teja is a cozy, rural hotel that'll make you feel at home. In the summer months, you can enjoy the outdoor pool. Book here.
Hotel Rural Montaña de Cazorla is another great option in Arroyo Frío. This cozy hotel also has an outdoor pool for hot summer days and breakfast is wonderful! You can book this hotel here.
Where to stay in Cazorla:
Albergue Inturjoven Cazorla is a wonderful option in Cazorla, situated in an old convent with spacious rooms and comfortable beds. You can relax in the outside pool in the summer months. Book here.
Andalucía is a great budget option with walking distance to the historic center of Cazorla. They even accept dogs. You can book here.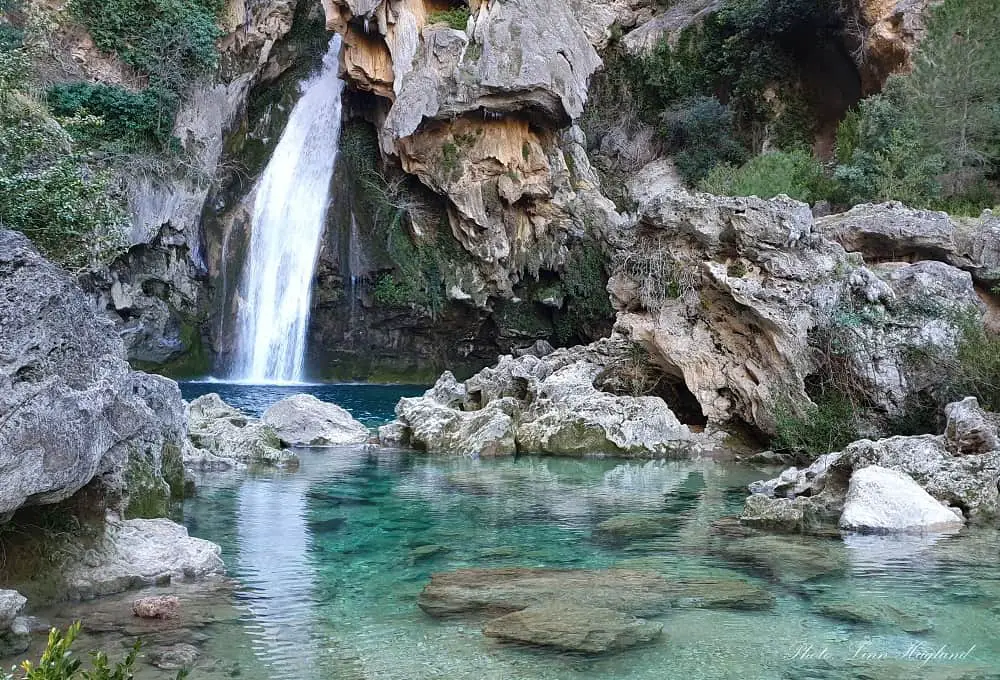 READ: Useful gifts for hikers
Hiking Rio Borosa, Cazorla
The hike starts on a broad dirt track along the Borosa River glittering as it forms small waterfalls and streams along the way. After only a few kilometers crossing the river several times, the track ascents towards the left where it forks with a path on the right side, that's signposted Cerrada de Elías.
Take the trail on the right side. You'll enter a nice forested area beside the river before the path opens up and crosses the river, where it turns into a wooden boardwalk along the impressive gorge you're about to walk.
When the boardwalk ends and you get onto the track again, it soon starts to ascend. 4 kilometers later, you'll cross a bridge towards a small hydroelectric station. There's a sign saying it's the end of the trail.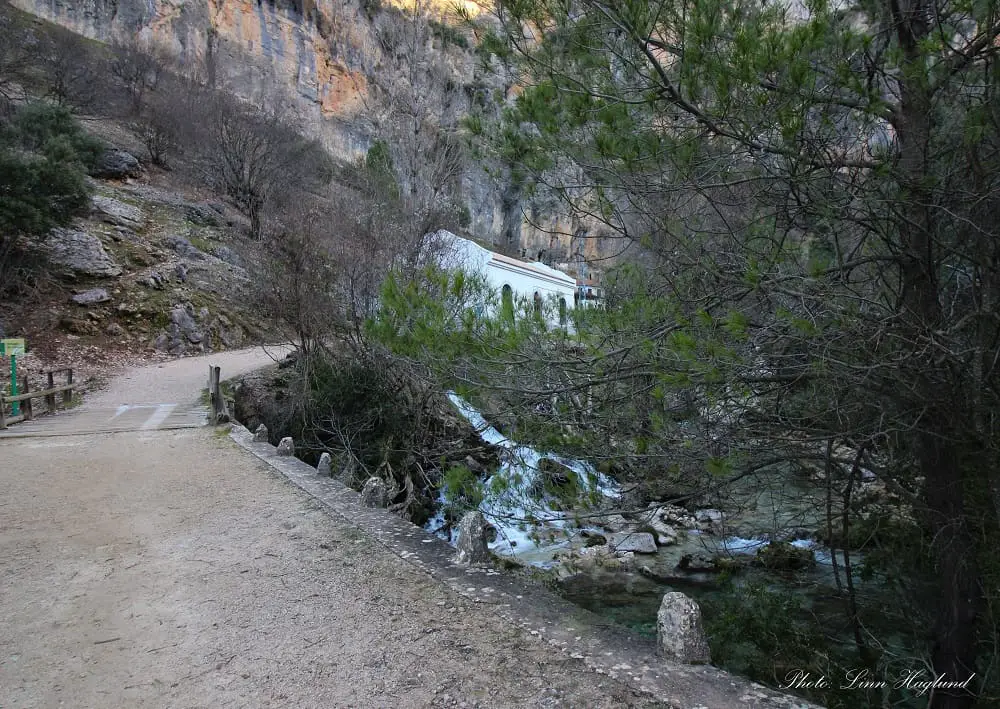 But just to the right of the hydroelectric station, there's a small path you can continue on. The trail turns into a rocky, uneven trail, as it steepens up on the side of the mountain.
You're just about to get to another spectacular part of the trail where you'll pass several waterfalls as you follow the winding trail upwards. There are even small caves in the rocks that are fun to walk through, especially for children (and big children like myself.)
After the last waterfall, Cascada de la Calavera, the trail turns left and climbs quickly up the mountain. You're soon about to enter the first of two tunnels that are carved into the mountain wall.
Though there are small windows that you can see out on the dramatic views, they don't give enough light to see well where you walk. So make sure you bring a headlamp for this part as you'll walk nearly 1500 meters through both tunnels.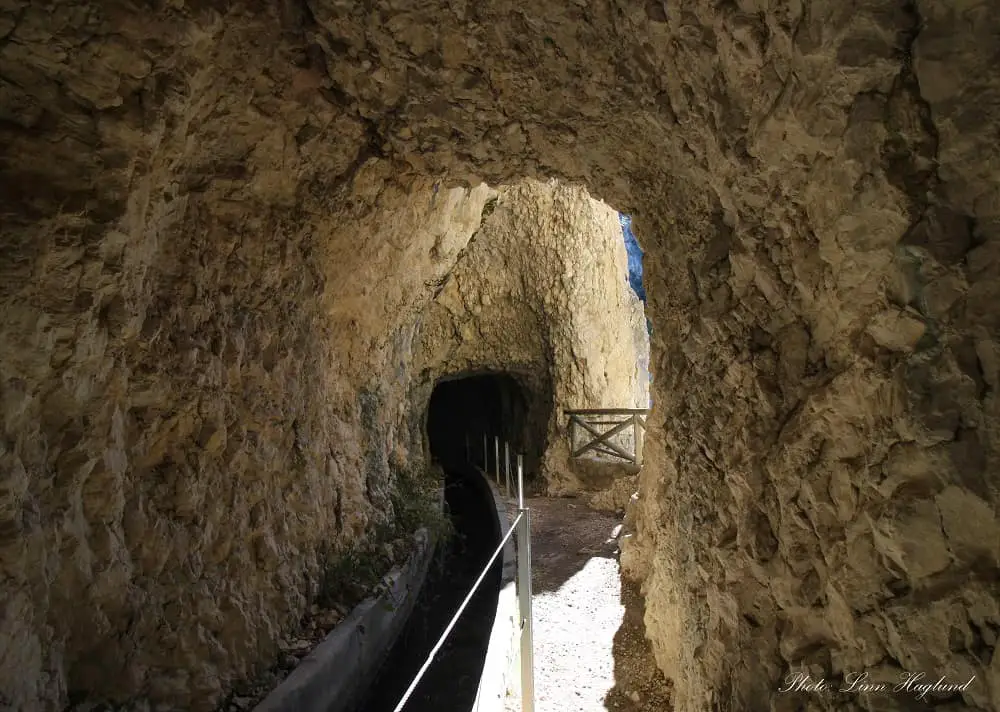 When you walk out in daylight again, there are only a few minutes until you get to the Embalse de Los Organos reservoir. The dam makes the perfect spot for lunch before turning around.
You can also walk to the left around the dam to get to the point where Rio Borosa comes to life from underground, the Nacimiento de Aguas Negras.
Return the same way you came from.
Reflections on Rio Borosa walk
Rio Borosa walk is without a doubt a long one, but with so much beauty along the way, time goes flying! It's such a rewarding hike with big chances of seeing mountain goats. Make sure you read up on the 7 Leave No Trace Principles before you head out in nature to make sure you protect this special place.
Families with younger kids can do parts of the hike and turn back whenever it feels right. The first part of the hike can be done with a stroller, but you won't be able to enter the gorge. Even so, it's a beautiful walk with wonderful places to stop along the river.
This is even a good hike for beginners if you're generally fit as the path is easy to follow and it's usually trafficked so you have the security of other people around you. Nonetheless, if you're new to hiking, you should read my tips for first-time hikers before you go.
---
Other river hikes in Andalucia you might like:
---