When going on a day hike, a 24L backpack is an ideal weight to carry all you need to make it through the journey. One of the big contenders on the market is the Osprey Sirrus 24 women's backpack.
When looking for a good day pack for hiking, there are a few things you need to consider; you'll need plenty of space for water, snacks, spare clothes, and gear. But you also need to make sure it's comfortable, durable, and will be fit for the purpose of the hike you're preparing for.
The Osprey Sirrus 24 pack is one of the most popular day packs on the market right now and I've been using it for quite a while for both short and long day hikes.
So, is it actually any good? Well, let's find out in this ultimate Osprey Sirrus 24 review.
Disclosure: This post may contain affiliate links. That means that if you make a purchase through one of those links, I will get a small commission at no extra cost to you. As an Amazon Associate, I earn from qualifying purchases. However, I bought and paid for my Osprey Sirrus backpack myself and I am not being compensated by Osprey for writing this review.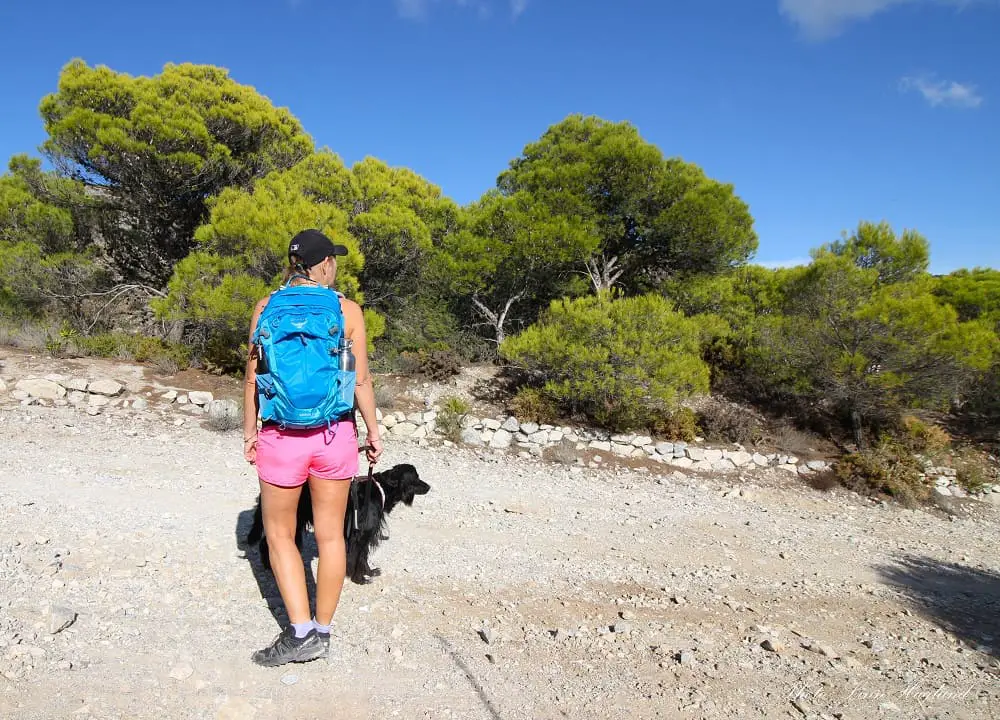 Specs
Before we get into the pros and cons of this backpack, here is a quick list of all the specifications of the Osprey Sirrus 24L pack:
Volume: 24 liters
Weight: 1.2kg
Dimensions: 49L / 30W / 30D
Fabric: 210D Nylon Crosshatch
Pockets: twin zippered hipbelt pockets, vertical centred zippered pocket, water bottle pockets on each side, internal pocket for water bladder
Internal key attachment clip
Sternum strap with emergency whistle
Single ice axe loop
Side compression straps
Zippered panel access
Adjustable and ventilated suspended mesh back panel
Adjustable torso length
Internal hydration bladder storage
Integrated & detachable rain cover (not waterproof without it)
Straps for trekking pole attachment
CHECK OSPREY SIRRUS 24 ON AMAZON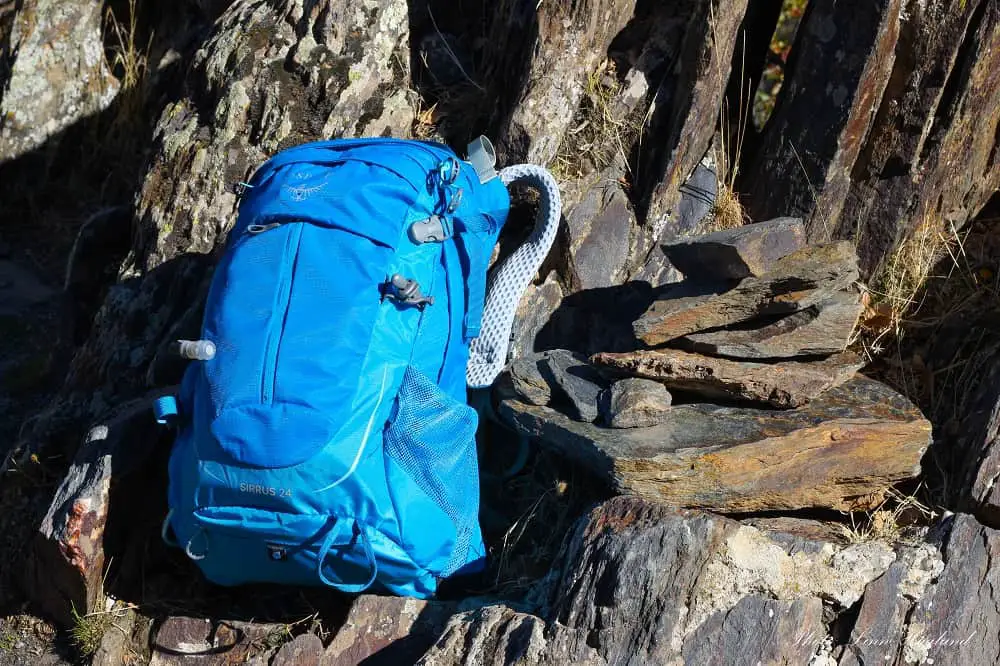 Osprey Sirrus 24 Review: Is this backpack for you?
First of all, if you're a man, I'll stop you right away – because this is a women's backpack, but don't worry – I then recommend the Osprey Stratos 24L, which is the male version of the Sirrus.
One of the key features of this backpack is the open mesh design, which means that while you're hiking on scorching hot summer days, your back is able to sweat without causing any irritation – it sounds gross, but if you know, you know.
And it really is a summer bag. The cabin is quite small and doesn't allow you to carry too much – so if you're hiking in cold weather, you couldn't fit any extra warm clothes in there, for example.
For Andalusian winters, it's good enough for even a long day hike unless you go hiking in the high, snowy peaks of Sierra Nevada.
If you're a photographer, you might find there's not enough space for all of your gear, yet I bring my DSLR camera with one extra lens. For those who need to carry a lot of equipment, I then recommend the Osprey Sirrus 36L pack which is more spacious.
It also has an adjustable torso length which means you can add an extra four inches (from 15 to 18 inches.) This means that if you've got a longer torso length, you might be better off with the male version of the Sirrus, the Osprey Stratos 24L.
In short, I would recommend the Osprey Sirrus 24 to any female hikers wanting a day pack for warm-weather hiking or short day trips in winter.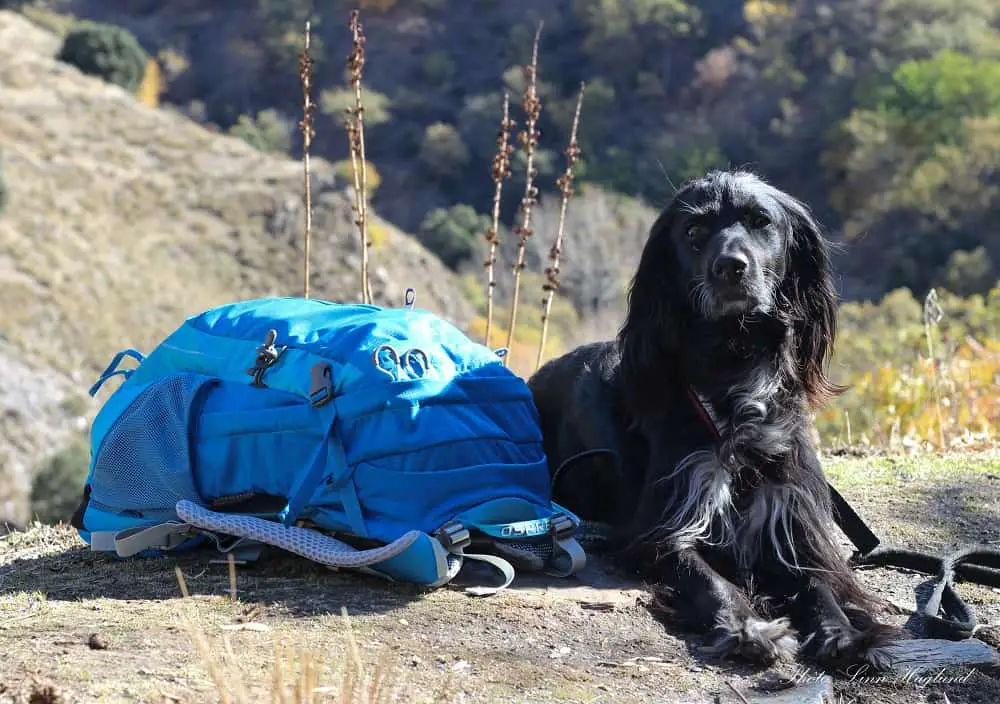 Osprey Sirrus 24 pack women's review
Now that you're sure this backpack is for you, let's have a closer look at it in this Osprey Sirrus 24 review.
Usability
Overall this pack is pretty easy to use. It has a ton of useful features, and none of them are complicated or difficult to use. The detachable rain cover folds up neatly and can be tucked away into a pocket on the bottom of the bag, making for easy storage, ready to pull out whenever you end up hiking in the rain.
I've tested it in the pouring rain and it passed the test perfectly keeping the pack nice and dry!
All the straps are adjustable so you can fit it to however is most comfortable for you – and the straps are easy to loosen and tighten. You can even adjust them as you're walking.
What I found, is that the back mesh pressed a bit too hard towards my shoulder blades when I strapped the backpack too tight to my back, but it was easy to loosen it slightly and the pressure vanished directly.
There are lots of pockets so you can easily organize your gear, but some users have reported that they find accessing the bladder pouch a little difficult.
The corners of the pack are very rigid, which prevents you from being able to open the pouch as wide as you would need to fit a 3L water bladder. Personally, I didn't find it very hard, but again, there are other backpacks that fit a fully filled 3L hydration bladder easier.
The hose hole was also designed for Osprey water bladders, so if you're using another branded one, some hikers have reported that the hole was too small for the hose to fit through.
I've used 3L hydration bladders from Decathlon and they fit perfectly. You can also get the Osprey Sirrus 24 Hydration Reservoir which is designed for their backpacks.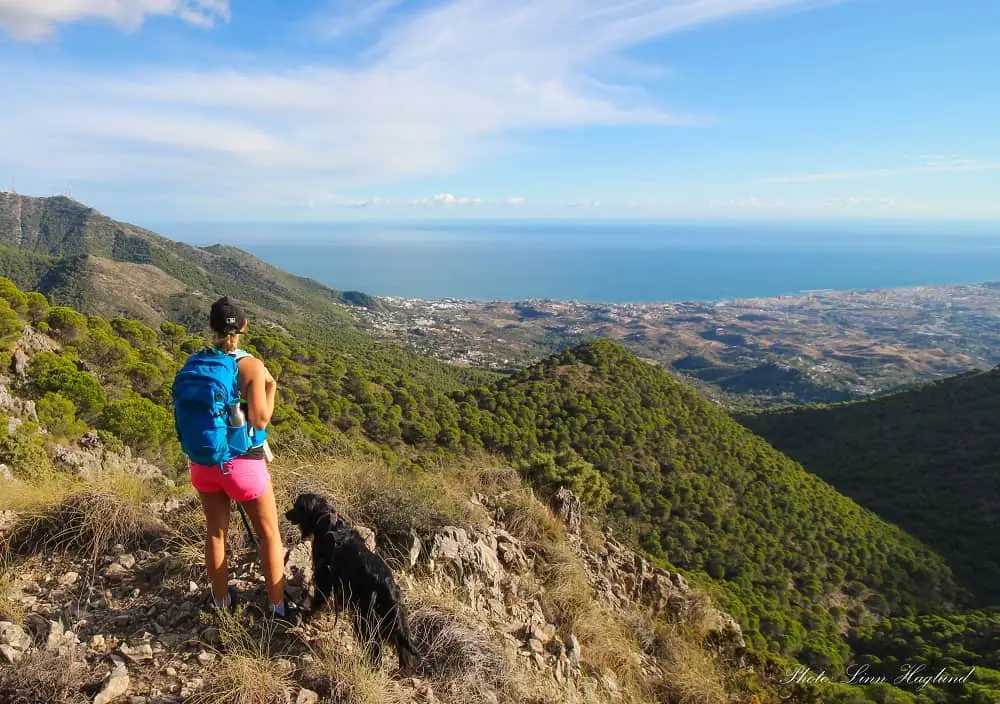 Versatility
There are some great features of the Osprey Sirrus 24 that make it a versatile backpack. There are side compression straps and a top compression strap that allow you to attach things to the outside of the bag such as ropes or caliber clips.
It also comes with an ice ax loop which can be used to attach other essential gear, too. The two side pockets are large enough for water bottles or any other gear you need to access while hiking.
I particularly like the "stow on the go" trekking pole attachments that allow you to store your poles on your shoulder straps, so when you need to do a bit of scrambling, you don't need to stop and put your poles away.
There are several pockets, both inside and outside the backpack, which makes it easy to organize your gear. If you're a photographer, there might not be enough room to store your camera inside the bag if you bring a lot of gear.
However, you could easily attach a Peak Design Camera Clip to the strap so you don't need to pack your camera away. To be honest, this has been on my gear wish list for a long time as I always carry my camera with me, and is so handy no matter how much space you have in your backpack.
Overall, there are many features on this backpack that can be multi-use and have been designed to give you quick access to your gear and stow it away without having to stop.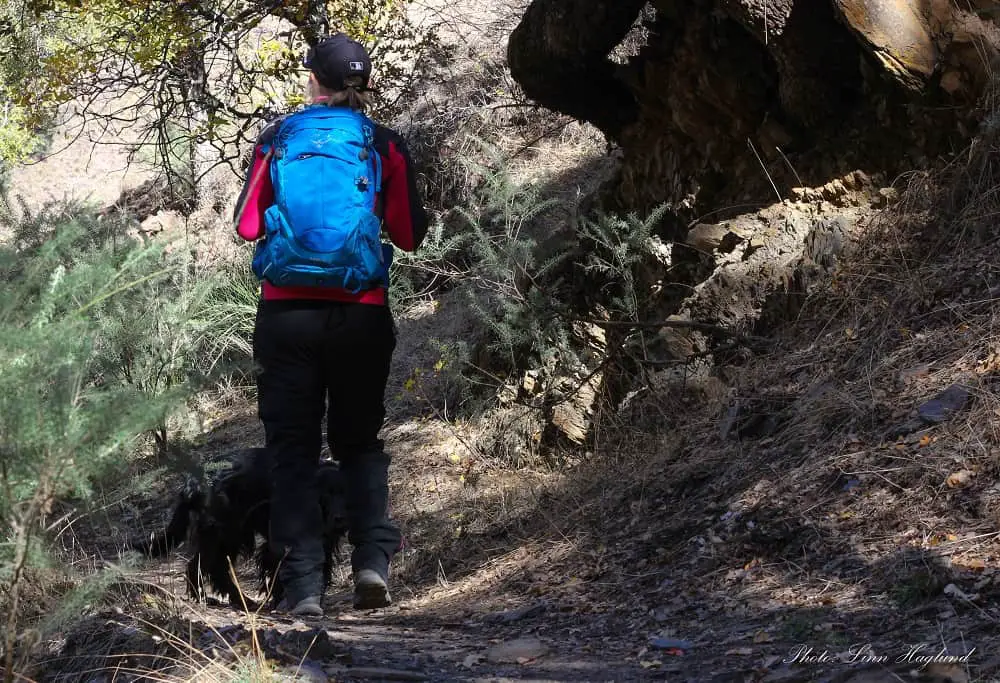 Durability
When it comes to durability, this backpack gets an A+. It's made from 210-Denier nylon on the body and a 420-Denier panel on the bottom for extra durability.
This material is slightly heavier than other packs, but it does mean that it's much harder to penetrate by thorny bushes, spiky plants, or sharp rocks. And believe me when I say I've put it to the test!
Yet, if you should be unlucky, the pack is covered by Osprey's all-mighty lifetime guarantee, so if anything did manage to tear a hole in it, they will repair the damage or replace it if they can't fix it (but not damage caused by general wear and tear.)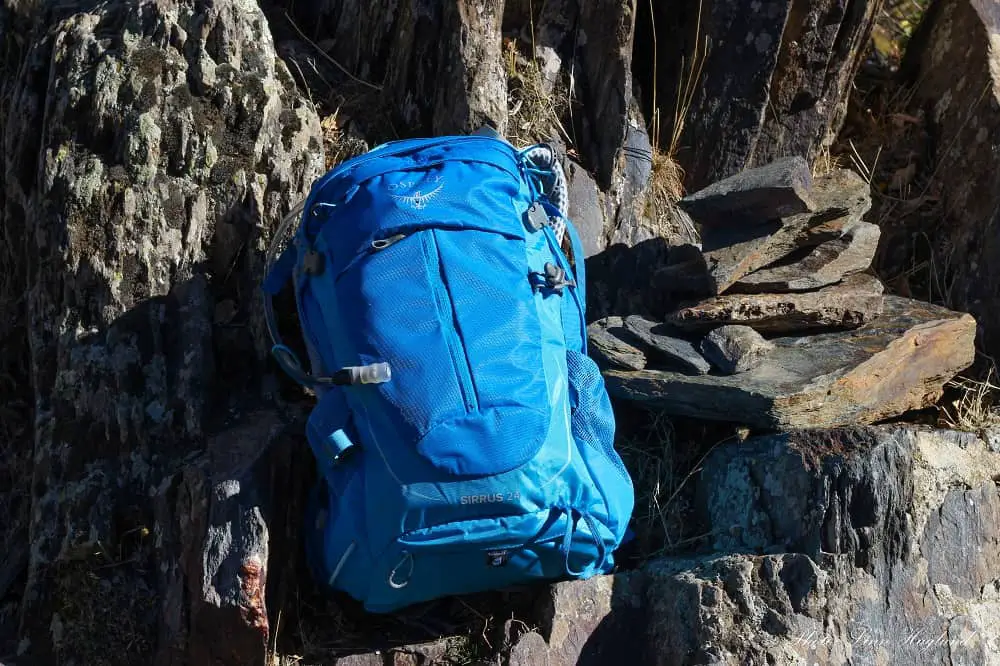 Comfort
In this one as in other Osprey Sirrus reviews, this backpack scores high marks for comfort. There is adequate padding in the shoulder straps and the suspended mesh back design means it doesn't dig into your skin.
But, as mentioned before, don't strap it too tight, at least in my experience, it hurts the shoulder blades. Anyway, if you notice it, it's easy to release the pressure with the straps.
The mesh back also means that when you are hiking on hot days, your back can breathe and allows ample airflow behind the panel.
The adjustable torso length means that you can extend the backpack to fit your height, though taller hikers should rather look into the male version Osprey Stratos 24. It has all the same features but is slightly heavier.
One potential drawback is that the bag by itself is quite heavy, weighing 1.2kg. Considering it's such a small size, this is quite heavy and mainly due to the metal frame.
That said, I find the Osprey Sirrus 24 backpack to feel very lightweight on my back. Even when it is heavily loaded, once on my back it feels much lighter. This means that it is distributing the weight well when adjusting the hip straps properly.
This pack is also slightly wider than other Osprey models, so it covers your hip bones and ensures there is no irritation there when hiking.
One minor flaw with the hip strap though is that some hikers reported in other Osprey Sirrus 24 reviews that the waist belt rides up when they are hiking.
This could be because the backpack is very rigid, which does add to the overall strength of the pack, but it can cause the bag to rise up when you're walking. I did notice it at times, but this little flaw can easily be fixed by loosening the straps around the waist.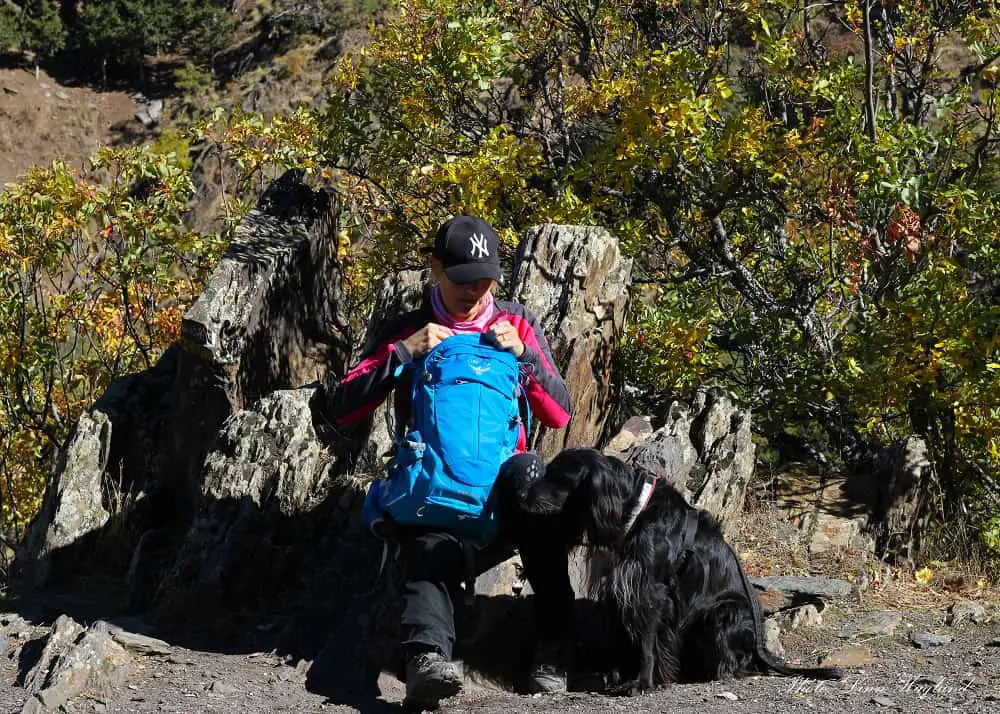 Pros and Cons of the Osprey Sirrus 24 women's pack
To summarise, here are all the things I love and the things I don't love so much about the Osprey Sirrus 24L women's pack:
What I like about the Osprey Sirrus 24 Pack:
Super comfy to wear thanks to the mesh back.
The open mesh design also means it is comfortable to wear when hiking during the heat as it allows your back to sweat and breathe while you hike.
The fitting is great. You can adjust to height, back, waist, chest, and shoulder straps which can give you four inches of extra space and make it a custom fit.
The shoulder straps are also super comfy.
There are heaps of pockets, which makes it easy to organize your gear, food, drinks, and other gadgets you need.
There's room for a hydration bladder and the tube fits so that it isn't in the way while hiking, but still easily accessible.
It has an integrated rain cover.
There's an accessible and easy to use trekking pole attachment.
It feels lightweight on the back even when there's a lot of weight in it.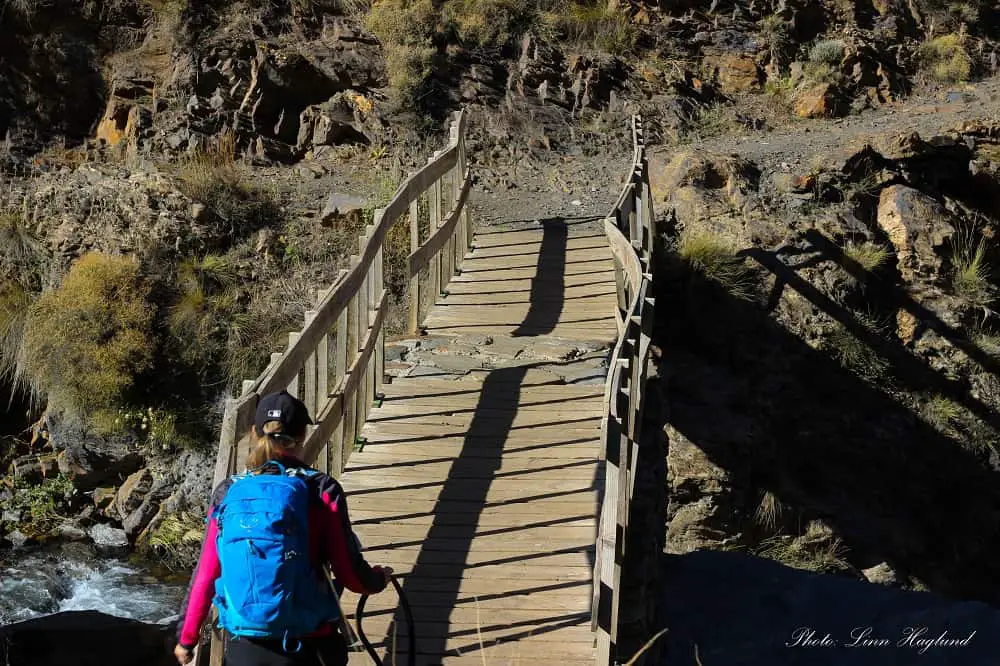 What I'm not so much a fan of:
The bag becomes a bit small when a full 3L hydration bladder is fitted – the bladder eats up quite a bit of the room in the backpack, which could have been used for extra layers of clothes, especially when hiking in colder conditions.
Not all hydration bladder hoses fit through the hose hole – though I haven't had this issue personally, this is a doenside for anyone that have to buy a new one just to fit the backpack.
When strapped very tight on the shoulder straps, the mesh back presses pretty hard onto the shoulder blades. However, you can loosen this a bit and the issue is gone.
The internal frame holding the mesh back makes the backpack bulky to store, so if you're traveling and need a lightweight back to use for a day hike, this isn't the ideal choice.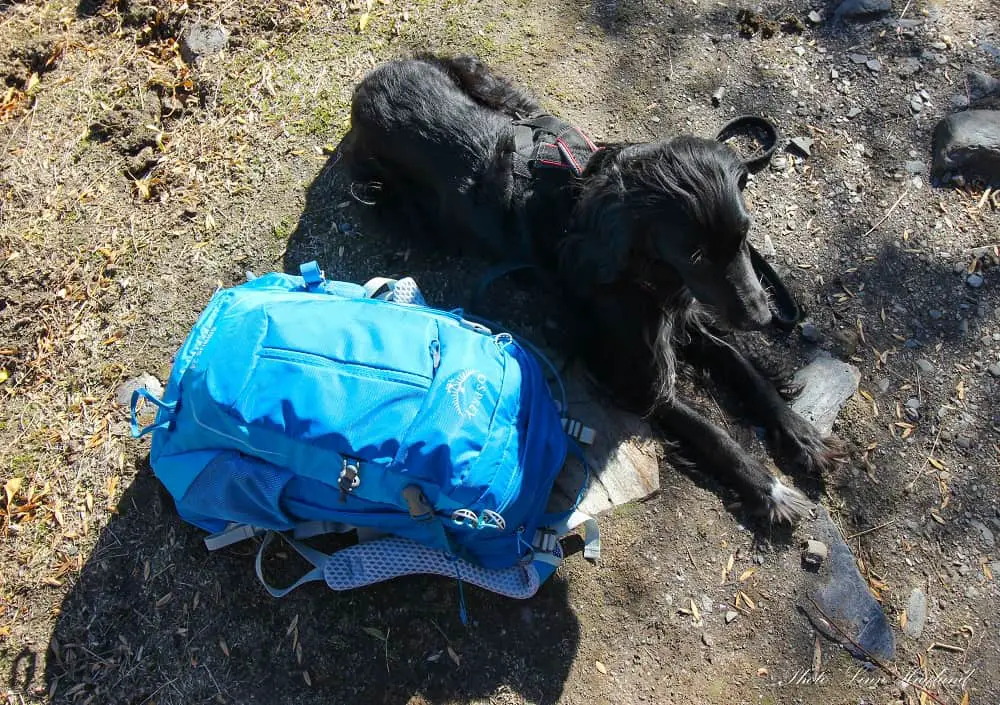 The Verdict: Reflections on the Osprey Sirrus 24 pack women's
Overall, the Osprey Sirrus 24 pack women's is a great backpack that's comfortable to wear and has plenty of storage space for all the important items you need on your day hike packing list.
I especially love the adjustable straps, so it doesn't matter what your height or size is, you can make it so that it feels good for you. Once properly strapped on your back and hips, it also feels light even with a heavy load.
The only minor downfall of this backpack is how much space the Osprey Sirrus 24 allows for a hydration reservoir to eat up.
However, there is a pocket on the outside for a large water bottle which creates more space inside, solving this little issue on hikes where you don't need a hydration bladder or where you can fill up with water regularly.
So, all in all, there is plenty to love about this day pack and no major issues. For that reason, I would highly recommend it for warm weather day hikes or even in mild winters.
Looking for more hiking gear?