If you're planning for a day hike and wondering what you might need, don't sweat, I got your back.
Knowing what to take on a day hike is not a simple task, it largely depends on the type of hike you want to do and what the weather conditions are.
Being a seasoned hiker, I've made all the mistakes and I've figured out the hard way what is a must, what is good to have, and what is nice to have on a day hike. Especially hiking solo a lot, it's even more important to bring everything that is necessary and to be prepared.
So that you can confidently get out there without making all the same mistakes, I'll share everything you need to know in this post.
This day hike packing list will detail all the things to pack for a day hike from the bare essentials, absolute emergency items, and the things that are just nice to have.
Disclosure: This post may contain affiliate links. That means that if you make a purchase through one of those links, I will get a small commission at no extra cost to you. As an Amazon Associate, I earn from qualifying purchases.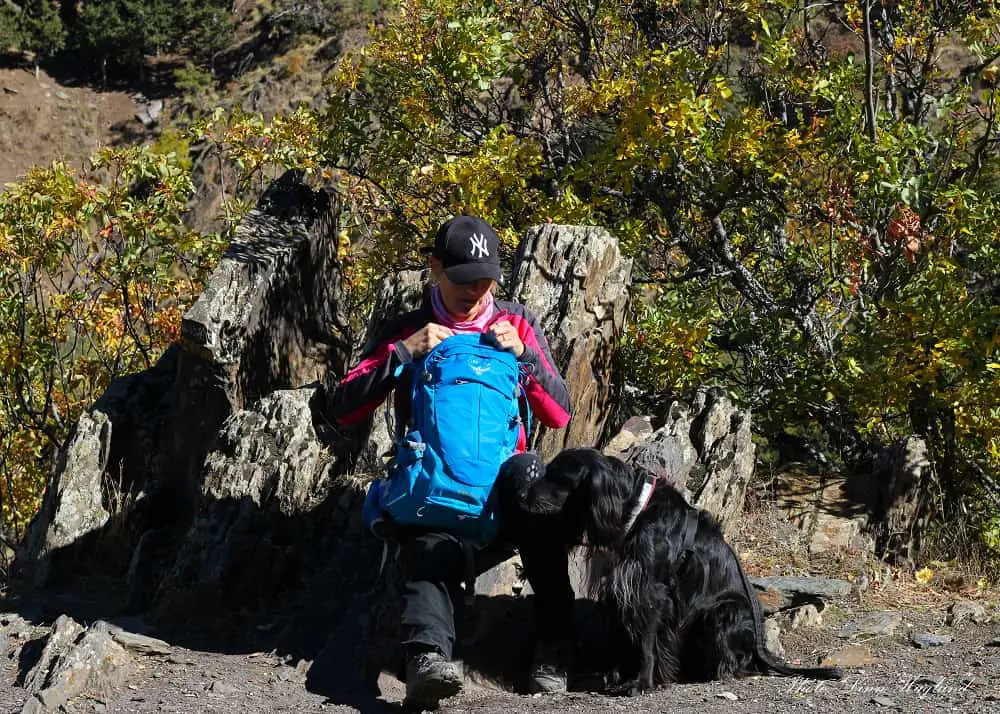 BE A GREEN HIKER!
Tips for packing for a day hike
If you're new to hiking and you're not sure what to pack for a day hike, don't worry, I got your back. Before you can start packing your bag, there are a few tips to make sure you pack the right gear and don't leave any essentials behind.
Plan your route
The duration, length, and difficulty of your hike will largely affect what you pack. If you are planning a short and easy day hike, then you might not need to pack as much water (see below on the amount you should take), and you might not need such a big survival kit.
However, if you're route is arduous and long, with a steep elevation, don't even think about leaving your trekking poles at home.
I suggest using the Wikiloc or AllTrails App to plan your route before you go. What I love about these apps is that you not only see a detailed map of where to go, but you can see other hikers' recordings to judge how long your hike will take, plus the elevation required.
By downloading the trail, you can follow it to assure you don't get lost. Other hikers can also leave reviews and tips for the hike, so you'll know what to expect before you embark – this is especially good for assuring the accuracy of the recorded trail that you choose to follow.
Get a decent backpack
Before you can start packing, you should definitely make sure you have an adequate backpack that can not only fit all the items you need but is comfortable and durable too.
I highly recommend the Osprey Stratos 24L for men and the Osprey Sirrus 24L for women. You can read my review here.
But I also have a complete guide to picking a day hike backpack and I've rated the top ones in this post.
If you're heading out on a river hike or a trail that includes swimming, you need a waterproof hiking backpack or dry bag. Here are my top recommendations.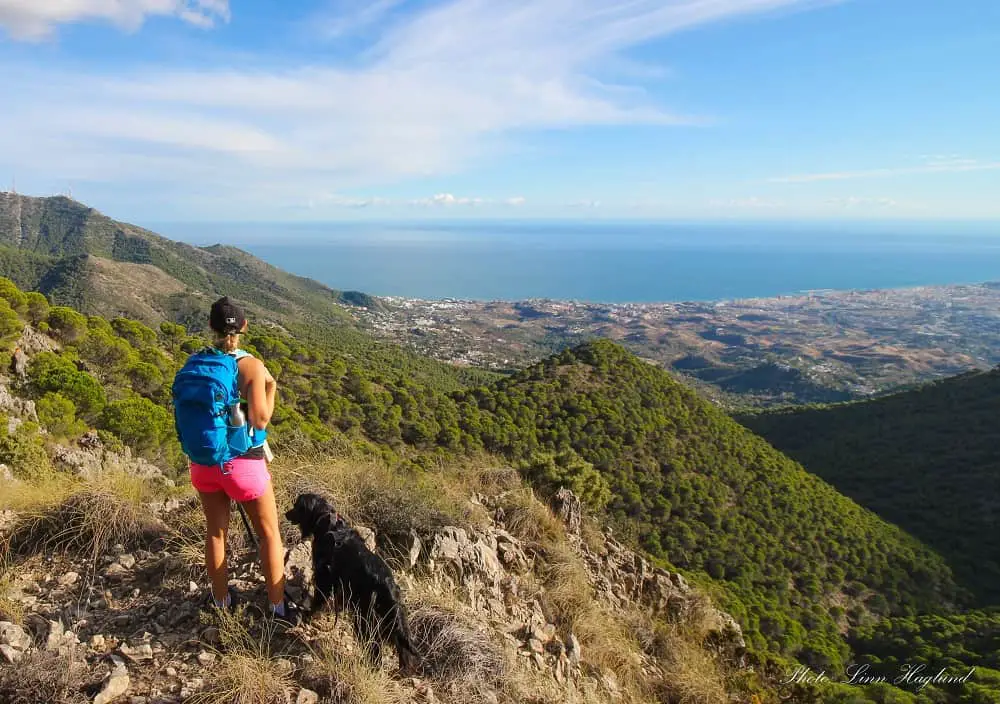 Write down your list
If you're someone who is constantly forgetting items, before you start packing, write down a physical list and tick it off before you pack.
Personally, I never tick off the item before it is physically inside the backpack. It is a legit tip that you should not underestimate. I have burnt myself so many times ticking it off and then forgetting it on the table at home right next to where my backpack was.
Check the weather
Before you start packing up warm clothing which will weigh your bag down, take a look at the weather before you go.
What are the odds of rain and wind?
Remember when you are high up in the mountains, the sun can beat down on you, even in the winter – however, the wind can make you feel cold.
It's a good idea to check these conditions before you pack. A cap or hat and sunscreen can be invaluable when hiking on a hot day while a windy day without buff and a windbreaker can ruin your entire day and force you to turn around.
If it's going to rain, make sure you're up to date on these tips for hiking in the rain.
Make sure you have the right footwear
Having the right footwear is so important and can't be stressed enough. For some hikes, you'll be fine with a good pair of sneakers, but for others you'll need good hiking boots for ankle support.
If you hike on muddy ground or there is a chance for rain, you need waterproof shoes, while hiking in rivers, you'll need river hiking shoes that let in and drain the water quickly.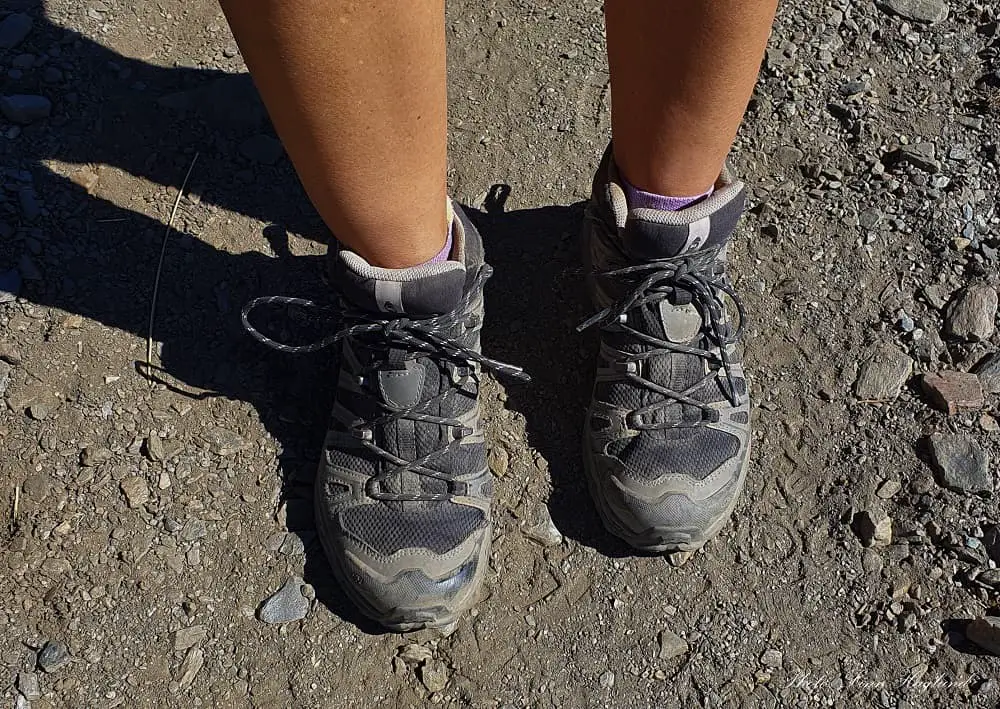 Don't pack jeans!
Whatever you do, do not pack jeans! They are too heavy and bulky to carry, plus they will be uncomfortable for hiking.
This might sound obvious, but every hike I do I always see someone in jeans and I can't help but feel sorry for them.
And as the travel addict that I am, I have to admit that I have ended up on unexpected hiking adventures wearing jeans.
Like the time I took the bus to a mountain village outside Tehran in Iran and just planned to see the village, and ended up hiking for hours in the Alborz mountains with Salomon hiking shoes (luckily I usually wear them when I travel) and with jeans and my handbag across my shoulder.
Admittedly, I felt a bit embarrassed when a group of local hikers came to the rescue when I asked for the way back down (I had taken a shortcut up.) They probably thought it was my first time hiking and that I had no idea of what I was doing.
And with my looks, I completely understand them!
Nevertheless, it resulted in new friendships and a lot of laughter.
But this was not planned. So when you plan, plan well!
Versatile items rock!
On the other hand, versatile items can rock your hiking world!
Take a buff for example. I always bring two when I go hiking. You can use them for so much. Use them on your head, to keep your hair away, to warm your ears or leave the wind out, use them around your neck, you can even use them to warm your hands if you happen to forget gloves.
In the worst-case scenario, it can even be cut up and used as a bandaid for pressure in case of an injury. I just came up with that and I hope I won't have to use it.
Another excellent versatile item I love is the zip-off hiking pants that convert to shorts. It's lightweight and you have two pieces of clothes in one which is awesome whenever it's hot in the daytime and it gets colder on the way back.
Hiking with your dog?
What to pack for a day hike
When packing for a day hike, these are a few items that I always make sure I bring. These are not day hiking essentials, but nice to have.
A good camera
It goes without saying that any day hike packing list would be incomplete without a decent camera. Imagine getting to the summit, being presented with stunning views after a strenuous hike, and, oh, I don't have a camera to photograph this moment.
Personally, I carry my Canon DSLR camera with a wide-angle EF-S 10-18mm lens, and sometimes I even bring my 50 mm lens to shoot details. While these alternatives mean I have to change lenses often, they weigh less than many zoom lenses, and the 50 mm lens literally takes up no space, while my zoom lens is very bulky.
However, when it comes to choosing a camera, it is not for everyone to carry all that gear, so a great alternative is the Sony Cybershot RX100 Vii compact camera, which has all the functions of a DSLR camera but it's much smaller and lighter to carry, perfect for day hikes.
Last but not least, a good mobile phone camera comes a good way these days. I always carry my phone additionally to my DSLR camera. This is easier to take pictures with, especially where there is a lot of contrasts between shade and sun.
Hikes like El Caminito del Rey, where you are walking inside a gorge, is typically a hike where a good quality mobile phone camera will be of great value if you are not a photographer.
Personally, I use the Samsung Galaxy S10+ and am about to upgrade to the Samsung Galaxy 21 Plus.
Hiking poles
For me, a good pair of hiking poles is an excellent addition to your day hike packing list for any hike that requires steep uphill (or downhill) climbs as they help to take the weight off your knees and avoid injury.
But for some hikes, it also helps keep balance on steep or uneven sections or push away spikey branches and bushes that might be covering the trail.
If you're not sure whether you'll need hiking poles, the Hiker Hunger trekking poles are a great quality budget option for your first pair of hiking poles, and they're pretty lightweight too.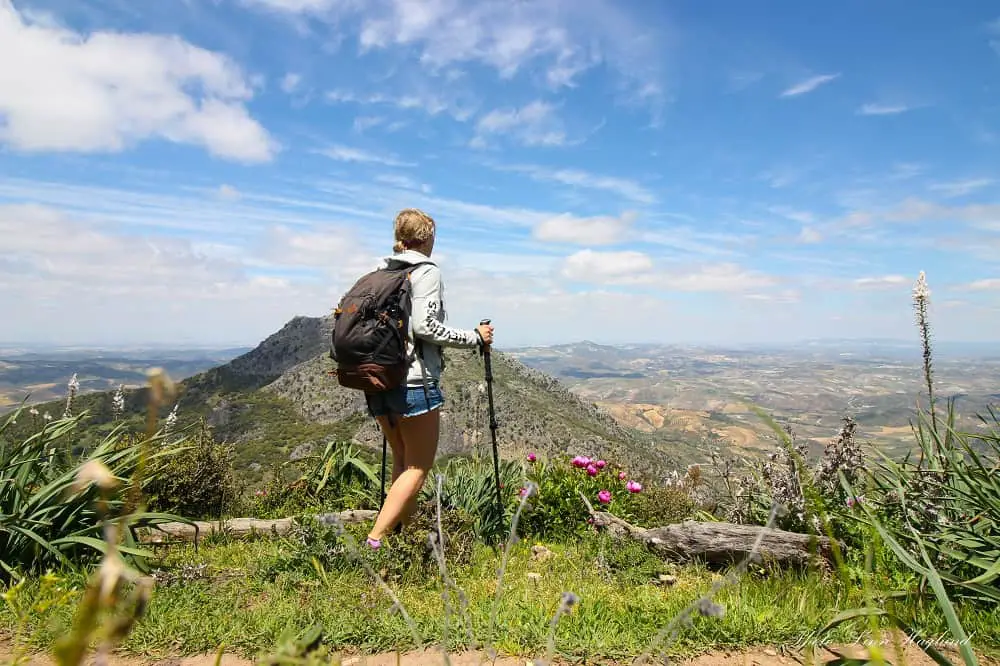 Binoculars
Binoculars are one of those items you never think to pack but when you have them, you use them all the time. If you're a lover of wildlife and nature (I'm assuming you are, if you love hiking) then the Celestron Nature DX binoculars are a great item to add to your day hiking packing list.
These binoculars are waterproof, scratchproof, lightweight, and compact – perfect for withstanding rough conditions and small enough to carry on a day hike. Not only that, but they provide a great image of wildlife and have anti-fogging technology on the lenses.
An outdoor journal and a pencil
This isn't for everyone, but a lot of hikers love to take a journal and a pencil to log their journey and write about their experiences. It's also a good way to practice mindfulness on the hike.
Hiking isn't just about getting to the top of a mountain, it's about the journey and being able to enjoy being out in nature. If you're someone who loves to doodle, journal, or document their thoughts, don't forget to pack your journal and a pencil.
Altimeter watch or smartwatch to track your hike
If you're someone who loves to track their hike, an altimeter watch such as the Coros Vertix is a great addition to your day hike packing list as it can not only track your altitude but your acclimatization and fitness levels too.
It has unbeatable battery life, it's hardwearing and durable, and comes with GPS with the ability to import your route (so no worries about getting lost).
It can even track your sleep, blood oxygen levels, and heart rate. When it comes to altimeter watches, there are none on the market as cool as this.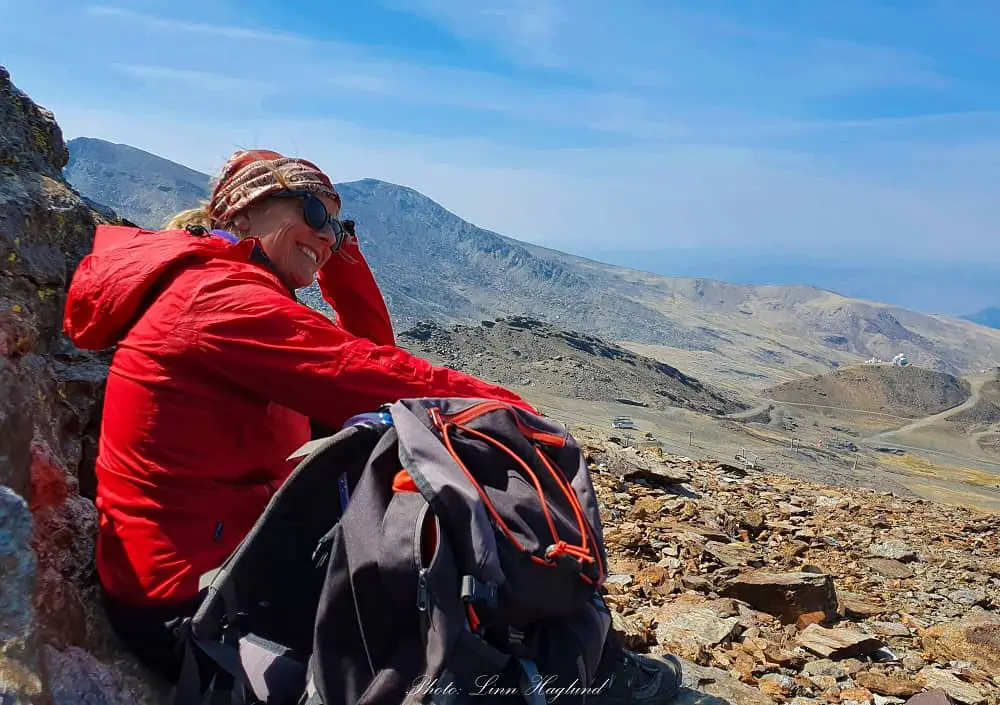 Day hike packing list: Essensial gear
If you forget anything on your day hiking gear list, don't let it be these day hike essentials that you absolutely will need for any day hike.
At least 2 liters of water
How much water you need to take on a day hike largely depends on you and the hike you're undertaking. When planning the amount of water to take, you need to consider the intensity level of the hike, how long it will take, the weather, your age and fitness levels, your sweat rate, and your body type.
That's a lot of factoring in, so as a general rule, you should plan to take one half-liter of water for every hour of moderate hiking, in moderate temperatures. So for a four-hour hike, you should plan to take 2 liters of water. If you are out all day, you will need to take more.
Especially if you hike in warm weather, it's always better to bring too much than too little.
Water filtration system
As mentioned above, you need a lot of water, even for a day hike. Though if you're planning a hike that takes 10+ hours, carrying four liters of water will be heavy and you might not be able to fit everything in your pack.
This is why a GRAYL Geopress is such a great investment. If you're planning on walking past a lake or a river, or anywhere with a water source, you can fill up your bottle and safely drink it from the bottle. This innovative technology filters out all the bacteria and toxins in the water making it safe to drink. Plus, it means you can refill your hydration bladder and continue on.
An alternative is the SteriPen which purifies water by stirring the UV light in the water for 90 seconds. It's small, lightweight, and easy to slip into the side pocket of your backpack.
With this said, it's very important that you always check upfront if there are any natural water sources along the hike. If there are not, or there is a chance that they are dry, then it is super important to bring enough water.
As a security measure, I always keep an extra water bottle in the car so that if I run out of water on the way back I know that both Ayla and I will have a good drink when we get back.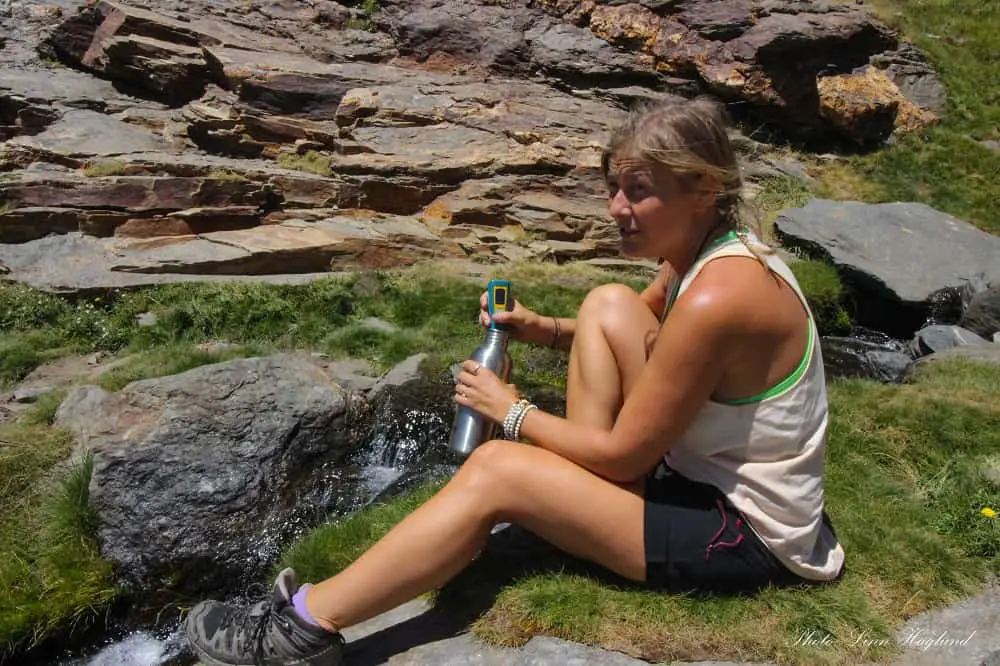 Insect Repellent
It is always a great idea to pack some insect repellent to keep those pesky mosquitoes and bugs at bay. I personally like these "stop bugging me" wipes which have a natural remedy that repels mosquitos, meaning it's easier to pack, apply and there's no deet, meaning it's safe for children to use too.
Sun cream
No matter where you're hiking, a good quality sun cream is an essential item to include in your day packing list. No matter where you're hiking, the sun is always the biggest threat to you, especially if you're planning on hiking in wide-open spaces or through snow-capped mountains where you get ample sunlight.
Check out this eco friendly sunscreen from Raw Elements.
Sunglasses
Your skin is not the only part of your body that needs protection from the sun, your eyes need protection too. A good pair of UV protective sunglasses that are hard-wearing and comfortable is an essential item to include in your day pack.
Check out these activewear sunglasses for him and for her.
A rain jacket/windbreaker
A waterproof jacket is an obvious essential item to pack, as you never know what the weather is going to do.
However, a good rain jacket for a day hike should be lightweight and pack up small, so it doesn't take up much space in your backpack.
I also like the versatility of using a windbreaker that also keeps you dry in case of rain.
Check out these from Marmot for him and for her.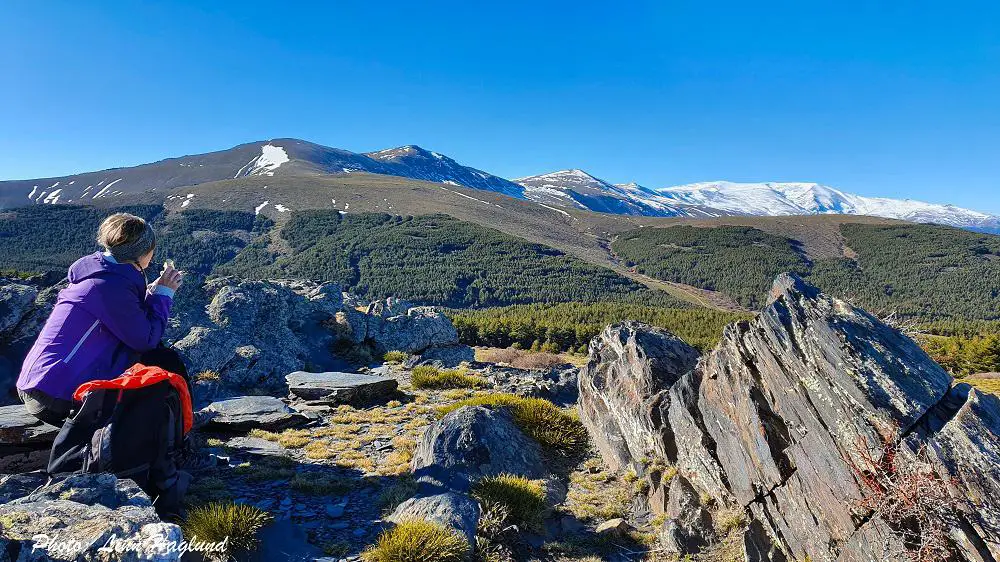 Toilet paper
If you're lucky enough to stumble across a public toilet on your hike, you are a winner. If you find one with toilet paper, then you've won the lottery.
But remember to leave no trace and bring it back with you! Since I usually hike with my dog, Alya, I always bring poop bags. But this isn't such a bad idea for anyone going on a day hike. You can even get biodegradable ones so that you reduce plastic waste.
SPF lip balm
Just like the rest of your skin, your lips also need protection from harmful UV rays. A good, SPF lip balm will help keep your lips protected and hydrated throughout your day hike.
Alternatively, my go-to (is not a UV protection one) is the Australian PawPaw ointment that is absolutely brilliant for anything! I've used it for the last 15 years, and keeps your lips moist at all times, even in the roughest weather conditions.
Hydration bladder for storing water
If you're planning a strenuous hike, then a hydration bladder is an essential item to include on your day hike packing list.
A hydration bladder allows you to store all the water you need in a convenient space in your backpack, whilst also allowing you to drink on the go using a hose.
This makes such a difference and all my friends that I've made convert to using a hydration bladder have been super excited about how convenient it is to carry and drink without stopping all the time.
It also makes you drink more regularly, which is important.
Hiking Emergency Gear for Day Hikes
When going on any hike, you need to make sure you prepare for the worst. When it comes to emergency things to take on a day hike, these are the top essential items, especially if you are doing a very difficult hike.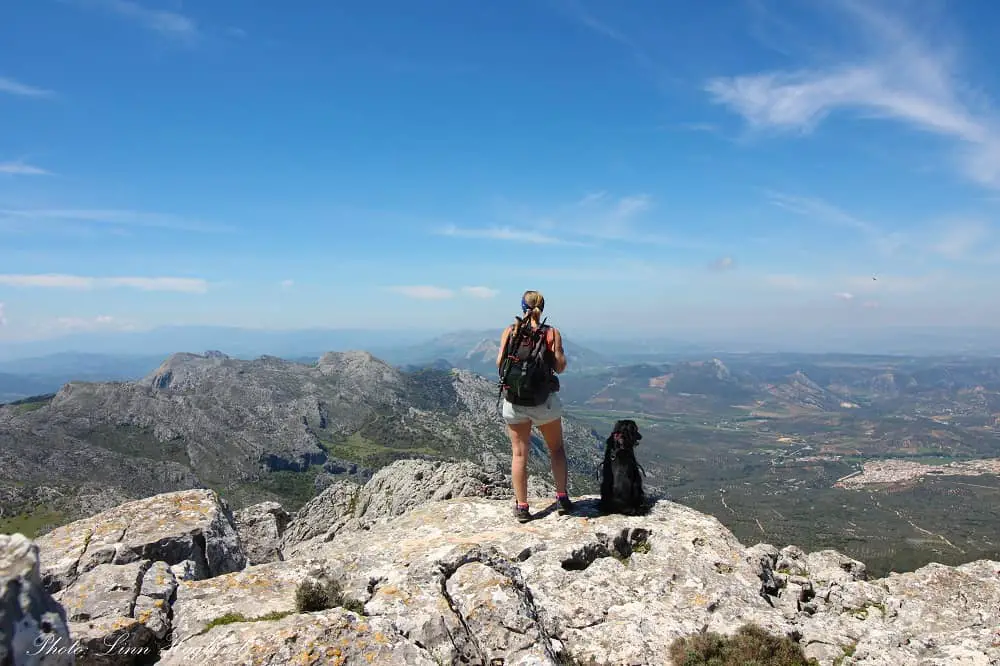 Headlamp
Often on a day hike, you might find you haven't allowed yourself as much time to complete the trail as you thought, which means hiking back in the dark. It happens to every hiker and sometimes it is unavoidable.
Hiking in the dark can be treacherous, so it's really important to take a headlamp so you can see where you're walking, without needing to carry a torch (as you'll need your hands to hold hiking poles).
Here is a good option for a headlamp.
First aid kit
It goes without saying that accidents do happen, especially on a hike.
Make sure you have a fully stocked first aid kit with bandaids, alcohol wipes or antiseptic wipes, and some gauzes and bandages.
Blister treatments
Even if you have a fantastic pair of hiking boots, sadly blisters can still happen, especially if you're undertaking a long hike.
It's a good idea to get some blister band-aids, which cover your blisters and allow you to continue walking with some level of comfort.
Top tip! Don't ever take new hiking boots out on a long hike. Always walk them in for a while first, otherwise, you're secured blisters!
Get your blister band-aids here.
Hand sanitizer
If you do have any injuries that need medical attention, or if you stumble across a public toilet, you'll need sanitizer to wash your hands with.
A small bottle of hand sanitizer doesn't take up much space and is definitely something you can't do without.
Navigation equipment such as a map or compass (just in case your phone dies)
If you don't know how to read a compass, it's a good idea to learn. You cannot always rely on technology, batteries die, but compasses do not.
If you're planning a long day hike, then I would definitely recommend carrying a paper map of your trail and a compass so you have a backup if your phone dies.
Satellite Locator Beacon
If you're anxious about the hike and you know it's going to be a struggle to get back before the sun goes down, then a satellite locator beacon is a good piece of kit to have.
Especially if you head out to the high sierra with no cellphone signal.
This lightweight Garmin locator beacon allows you to send an SOS message to their 24/7 search and rescue monitoring station, so they'll be able to find you should anything go wrong.
A Multi-Tool Knife
A multitool knife is a really useful item to have in your day pack for overall safety.
It can be used to undertake simple tasks such as opening bags of food, cutting cords, cutting food, opening dehydrated camp meals, and cutting back bushes that might intercept your path.
A gear repair kit – duct tape, cable ties etc.
If you're carrying some old hiking poles or less durable items, you can never be too careful and carry some duct tape for doing repairs.
Whistle
This is not only a useful item to take with you should you run into any difficulty and you need to flag down rescue teams, but it is also something that can spook off dangerous predators that you might encounter.
I recommend hanging it on your day pack so that it's easily reachable. Check out this emergency whistle.
Emergency blanket
An emergency blanket is seriously one of the most important things to bring on a day hike. In case of emergency, over-heating in summer, or getting cold in winter, this is a super lightweight item that you can leav at the bottom of your backpack just in case.
They're even pretty budget friendly! You can get a pack here straigh away.
Lighter
Should anything go wrong and you are forced to camp the night (hopefully, this would never happen, but it's best to be prepared) having a lighter to lit a fire will be your ultimate survival necessity.
A fire keeps away predators, keeps snakes and bugs away, and also, more importantly, keeps you warm.
But a lighter could also be an emergency solution to light your cooking gear if you brought it and it for some reason doesn't work as it should.
IMPORTANT! Check upfront if it's allowed to make fire where you're hiking since many areas can be high-risk of bushfires.
Best Clothing and Footwear to Pack for a Day Hike
You might already know what to bring on a short hike, but if you're planning to head out for a long day hike, then you must absolutely remember to bring these items on your hike.
I also recommend wearing comfortable hiking leggings, pants, or shorts suitable for the weather conditions.
Extra-long sleeve t-shirts x2
Warm hat, neck gaiter, and mittens
Best Snacks to Pack for a Day Hike
Any food that is high in protein or carbohydrate will give you energy and lift you up when you need that extra push. Here are a few high proteins, fat, and high carb snacks that I recommend to get you through the most brutal of day hikes.
Nuts and dried fruit
Energy bars
Peanut butter and banana sandwich
Fruit
Chickpea and hummus wraps (fry it up front with veggies and spices)
Final day hike check list
To sum up, here is a day hike check list of all the things to bring on a day hike:
Camera
Hiking poles
Binoculars
Journal and pencil
Altimeter watch
2 liters of water
Hydration bladder
Water purifier
Insect repellent
Sun cream
Sunglasses
Rain jacket
Toilet paper
SPF lip balm
Headlamp
First aid kit
Blister treatments
Navigation equipment
Hand sanitizer
Satellite locator beacon
Gear repair kit
Whistle
Lighter
Emergency blanket
Warm clothing
Snacks