When hiking in uneven terrain or steep mountain sections, it's of good help with trekking poles to support your steps. But there are so many other benefits of hiking poles too.
You want to make sure you find the best hiking poles so you get the most out of them. This is a hiking accessory that can make your day out much more pleasant, especially if you struggle with knee pain.
But also if you're off on a longer backpacking adventure.
In this post, I've broken it down to the best trekking poles to make your choice as easy as possible.
Disclosure: This post may contain affiliate links. That means that if you make a purchase through one of those links, I will get a small commission at no extra cost to you.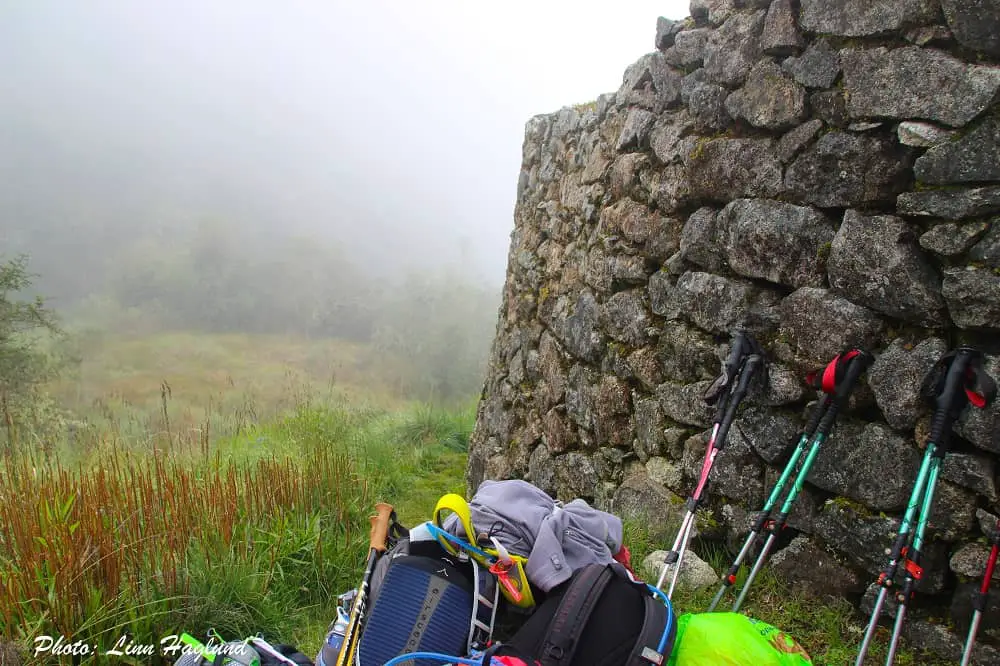 The benefits of trekking poles
But why use trekking poles in the first place. If you're asking yourself "Are trekking poles worth it?" or "Do I need trekking poles?" you will find the answer here. There are many benefits of trekking poles so if you're not convinced you need them just yet, I'll go through the pro's and con's here so you can decide whether it's for you or not.
The pro's of trekking poles
Relieve knee pain when hiking – If you struggle with knee pain when hiking on steep descents and ascents, hiking poles are great stress relieves for your joints as they absorb shock from your knees for every step you take. If you have a hiker's knee, you might also support with a knee brace to make the hike more comfortable.
Ease in steep sections – Hiking poles are excellent for easing the hike on steep sections. On the way up, it provides support so you easier can pull yourself up by putting weight on the poles. On the way down, they work as a third leg and good anchor, keeping your balance when moving down.
Strengthen your upper body – While hiking mainly strengthens your lower body, hiking poles are a great way to get your arms active which in turn strengthens your upper body too. I also find that my back straightens up a lot more when walking with hiking poles which definitely improves my posture when I carry a backpack.
Improve circulation – By moving your arms, you also improve the circulation in your arms, which can avoid swelling in hands and fingers during your ascend.
Speed up your rhythm – Hiking poles can help speed up your rhythm when walking, I notice that I somewhat walk faster – maybe because they help push me forward for each step.
Support and balance – When walking in difficult and steep areas, trekking poles can be of great support to maintain balance. Especially with a heavy backpack or on steep, slippery surfaces, it can be relieving to support yourself to the hiking pole as you take the next step.
Move plants from the trail – Especially when hiking in shorts, you can come across areas of the trail where branches full of needles cover the trail, or even nettles. With hiking sticks, you can easily move them aside so you can pass without risking to get hurt.
Multi-use – Hiking poles can actually be used for a lot more than just walking. Before crossing a river, check the depth of the water with a stick, when helping another hiker up a steep part, you can hold out the stick to help pull them up, or you can even use them as tent poles for certain tents and tarps. If you happen to have wildlife dig through your stuff (which shouldn't happen if you follow ethical hiking guidelines – but we all mess up sometimes) you can use your trekking poles to hush them away so you don't come near them or risk getting attacked with teeth and claws.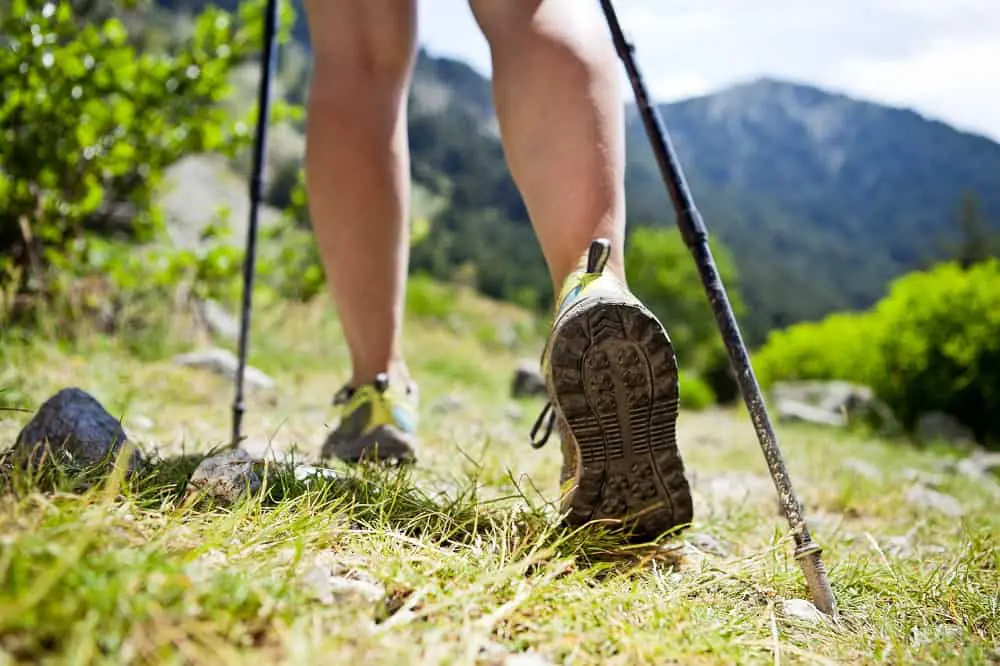 The con's of trekking poles
While there are plenty of benefits with hiking poles, there are a few con's too, depending on the type of hike you're heading out on.
When hiking on varying terrain you might find yourself needing to do a little scramble using your hands. It can be annoying to pack down and up your hiking poles regularly.
When you don't use your trekking poles, they become extra weight in your backpack. Lightweight hiking poles makes a big difference in this case, but also planning in advance of your trek if it's necessary to bring them or not. A shorter hike with not much elevation might just be easier without bringing them.
For hikers that love to take photos around every corner, hiking poles can feel like a burden as it takes extra time putting away the poles before you can snap the picture, or they stay dangling around your wrists feeling like they're in the way. An option is to use one pole.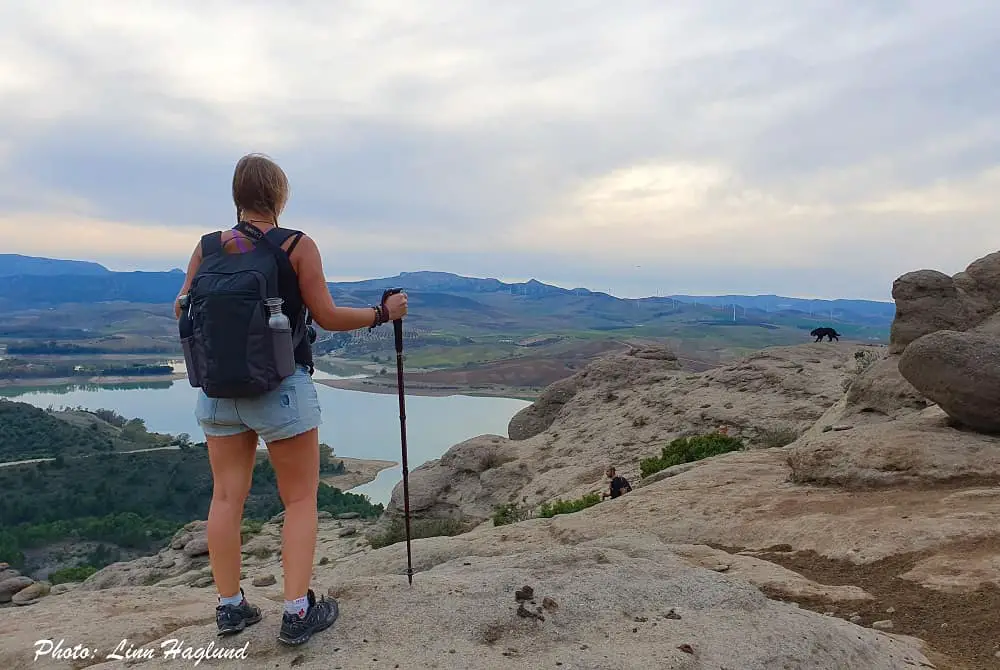 How to choose trekking poles
Now, let's look at how to correctly choose trekking poles. If you get it right, you can enjoy all the benefits of hiking poles, but if you don't it could have the opposite effect on your hike.
Trekking poles sizing
The first thing you should think about when choosing trekking poles is sizing. I do recommend that you always buy hiking poles that you can adjust the size of so that you get them in the right height and adjust them when you walk up- and downhill.
What size trekking poles you need depends on your height. If you're taller than 1,80 m/6 feet, you need hiking poles that are at least 130 cm/51 in. Shorter people won't have any issues adjusting any hiking pole to the right size.
When standing up holding your trekking poles, your elbows should be in a 90 degree angle. If they are too tall or short, it can result in pain in back or shoulders.
When walking in uneven terrain and upwards or downwards hills, you might need to adjust them accordingly (shorten them 5-10 cm uphill and lengthen them 5-10 cm downhill.)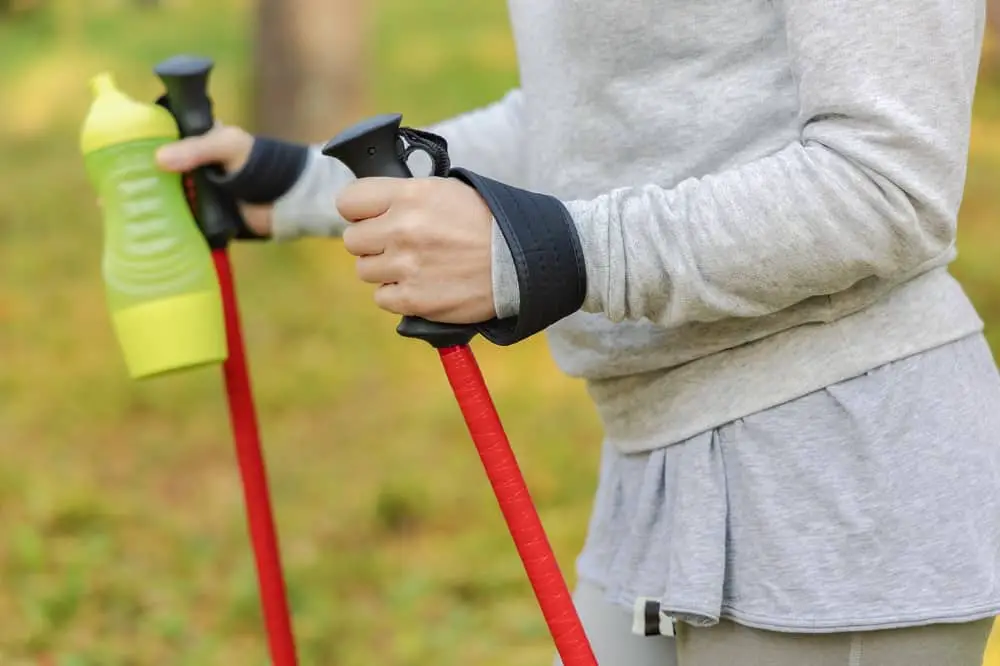 Hiking pole material
The material of the poles and the grip vary a lot and makes a big difference depending on what you need from them.
Most hiking poles are made from either aluminium or carbon fiber.
Aluminium poles are in general more durable and in case they break they will usually bend and not snap. They are not as lightweight as carbon fiber, which can be a minus on larger backpacking trips where any weight saved matters. On the other hand, aluminium poles are the absolute most eco friendly material of the two.
Carbon fiber poles are super lightweight and excellent for packing up and out multiple times during a trek. If these fail, they tend to snap in two, which makes the quality worst and not so eco friendly as the aluminium ones. They are also more costly as carbon fiber is a more expensive material.
The grip material also differ in comfort and quality, but also in eco-friendliness. Here are the different materials and their qualities.
Cork grip is my absolute favorite. It's durable and comfortable. In opposite to other material, it absorbs sweat from your hands so that your grip don't slip and it doesn't provoke blisters. This is also the most eco-friendly material which is a huge plus in any sustainable outdoor lover's book. The price is a little higher, but it's totally worth it for comfort, durability, and sustainability.
Foam grip can be comfortable too, but definitely not as eco-friendly as cork. Yet, they tend to be durable and absorb sweat, though not as well as cork grips. Trekking poles with foam grip tend to be more affordable than those with cork grip.
Rubber grip are usually cheaper, but can be very uncomfortable, sweaty hands tend to slide on them, and you get easier blisters. This is also a highly unsustainable material and I don't really recommend them.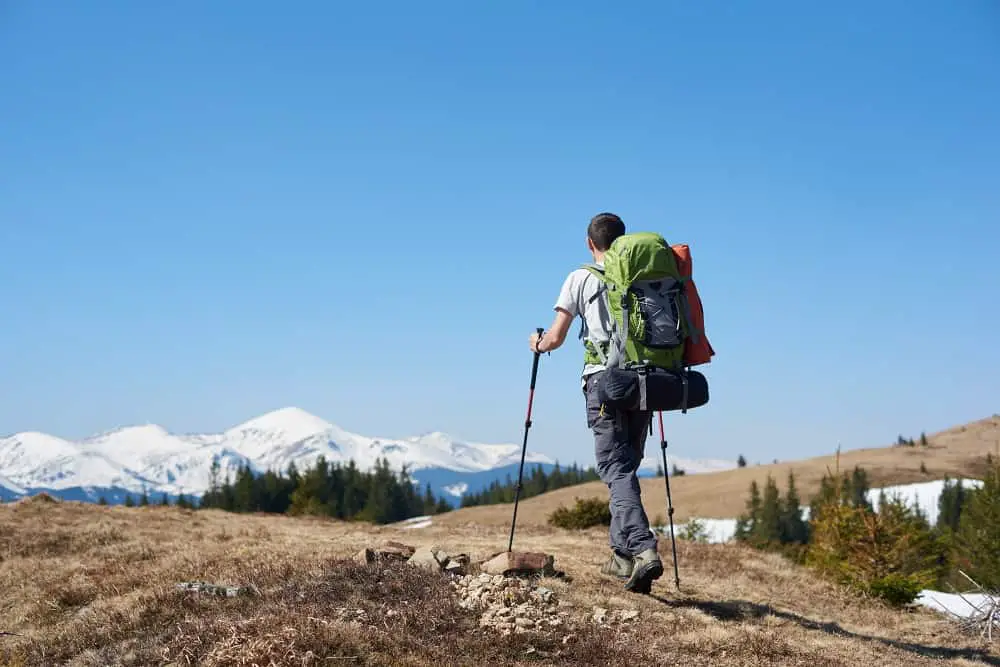 Type of trekking poles
Finally, you'll need to decide what kind of trekking poles you want or need. As mentioned before, I don't recommend poles that can't be adjusted for hiking as you need to adjust them in length when walking uphill and downhill.
There are two types of collapsible poles. Adjustable poles are the ones that collapse into themselves as you push them shorter. Foldable poles function a lot like tent poles and are usually more lightweight and quicker to put away.
However, they sometimes need more maintenance as the straps can break with high usage. Some foldable poles have a few cm height adjustment at the top or the bottom of the poles which is enough to adjust for uphill and downhill sections.
You find both standard and shock absorbing hiking poles. The difference is that the shock absorbing trekking poles have internal springs that absorb the shock when you walk downhill, taking stress off your joints.
This can be of great value if you struggle with knee or joint pain, though there are mixed opinions on whether it actually makes a difference or not. The shock absorbsion feature can be turned off when walking uphill.
Finally, light and ultralight trekking poles can be useful if you need to save weight in your hiking gear. But it also makes you use less effort when walking as you don't have to move that much weight back and forth.
This might be exactly what you need if your heading out on a challenging multi-day trek and need to save all the energy you can. As these tend to be more expensive, consider if it's necessary for your needs or not. They are usually made of carbon fiber which is a lighter material, thus not as sturdy. It might not make much difference if you're a day hiker.
How to use trekking poles
To make sure you get the most out of your hiking poles, make sure you use them properly. Here are a few tips for newbies on how to use trekking poles. If you've done cross-country skiing before, you've already got the technique.
ADJUST HEIGHT – When holding your hiking poles in an upright position, your elbows should be at 90 degrees.
HOLDING THEM RIGHT – Put your hand through the loop of the strap from the bottom. Then lean the hand on the strap (fingers pointing up and top of strap between thumb and index finger) and grip around the handles so you get the top of the strap between your hand and the handle. Adjust the straps so you get a good grip this way.
WALKING – When you walk with the poles, move your poles together with the opposite foot. This means, you strike the left pole on the ground when you step on the right foot and the opposite. Place the pole down next to where your back foot is to create a natural forward push.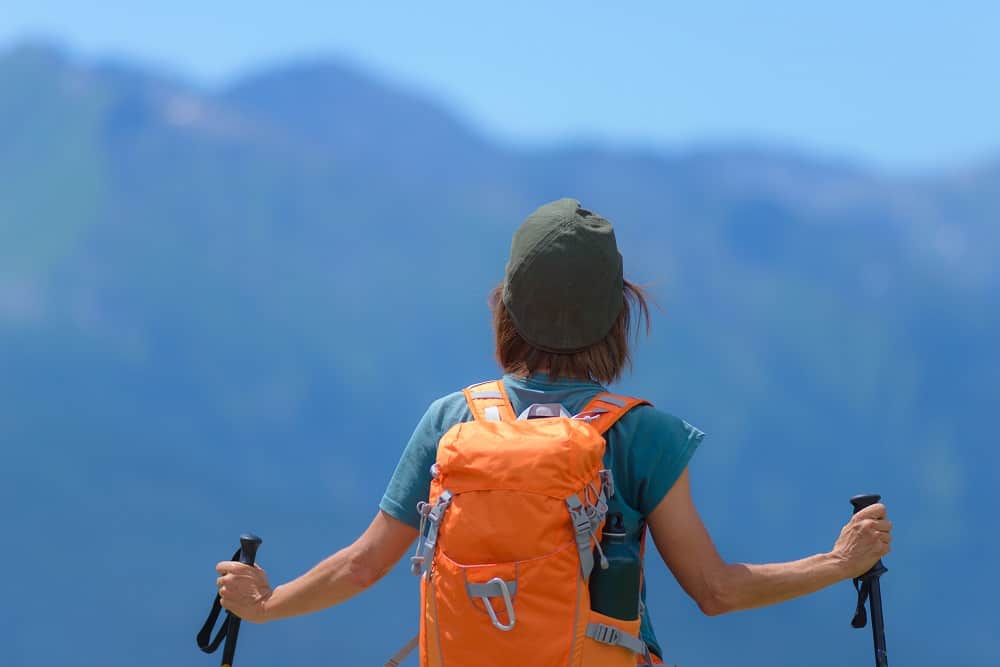 ---
RELATED: Best backpacks for day hikes
---
Best hiking poles
Now that you've got all the information you need about different trekking poles, tips and tricks, it's finally time to dive into the best hiking poles so you can find the right one for you.
Montem Ultra Strong (best budget trekking poles)
Type: Adjustable
Material: Aluminium
Grip: Foam
Weight (pair): 544 gr / 1 lb 3,2 oz
Montem Ultra Strong might be one of the best budget trekking poles and good if you just need them for casual use. Their grip is comfortable and works good for day trips or shorter backpacking trips. These trekking poles also have easily adjustable straps and are easy to adjust in length.
But as every budget hiking poles, there are weaknesses and these lack the sturdiness of the more expensive poles from both Black Diamond and Leki. You can especially expect to notice this on steep parts where you rely on leaning all your weight onto the pole.
They're also a bit on the heavier side, but again, for the price they are good hiking poles.
Cascade Mountain Tech Quick Lock
Type: Adjustable
Material: Carbon Fiber
Grip: Cork
Weight (pair): 454 gr / 16 oz
Cascade Mountain Tech Quick Lock are good budget lightweight trekking poles with a comfortable cork grip. On top of that, they have a quick lock system which makes it easy to change length when walking in uneven terrain with up- and downhill.
What you have to compromise for the price, are the locks, which might not be as durable as on higher price range poles. Carbon also tend to snap rather than bend when they break. Further, they don't pack as small as other poles. But all in all, for this price, they're great budget lightweight trekking poles.
Hiker Hunger Carbon Fiber (best lightweight budget trekking poles)
Type: Adjustable
Material: Carbon Fiber
Grip: Cork
Weight (pair): 431 gr / 15.2 oz
Hiker Hunger Carbon Fiber trekking poles are another option for budget lightweight trekking poles. They have comfortable cork grips with foam grips beneath, so if you hike uphill, you can easily move your hand without changing the length of the poles.
They also have flick lock adjusters for adjusting the length and come with many attachments for year-round usage. The good thing about the Hiker Hunger Carbon Fiber poles is that they come with 3 years manufacturer warranty.
The cons with these trekking poles are that carbon fiber sticks tend to snap instead of bend if they break. The lighter, the easier they break as the weave is thinner for saving weight. The other issue is with the extended grips is that you either have to readjust the straps or hold onto them without straps, so sometimes it might just be better to adjust the size of the pole.
All in all, the price is great for comfortable cork grips and carbon fiber poles. If in doubt, read my complete Hiker Hunger trekking pole review.
Black Diamond Distance Carbon Z (best ultralight trekking poles)
Type: Folding
Material: Carbon Fiber
Grip: Foam
Weight (pair): 283 gr / 10 oz
Black Diamond Distance Carbon Z are great ultralight trekking poles and fold up really small so they are an easy accessory to bring on a longer backpacking trip where you need to consider how much weight to bring.
On the downside, carbon snaps instead of bending like aluminium if they do break. And that can be a huge offset on a longer trek where you rely on the poles throughout the hike.
Further, they don't let you adjust the length as they're foldable, which is a downside when hiking in steep sections where you normally would adjust them longer or shorter.
As with most carbon poles, they are a bit more pricey due to the material, but nonetheless you get some of the best ultralight trekking poles on the market.
Leki Micro Vario Carbon (best lightweight trekking poles)
Type: Folding
Material: Carbon Fiber
Grip: Foam
Weight (pair): 479 gr / 1 lb 0.9 oz
Leki Micro Vario Carbon is one of the best lightweight trekking poles which reflects in the price. The high quality and user friendlyness makes them easy to fold up and down while their robust for being carbon poles.
For the handles, they are quite comfortable considering they're not cork and these high-end foldable poles and can be adjusted about 20 cm/8 inches at the top, which makes them a superb lightweight trekking pole even on uphill and downhill hikes.
The downsides are the high price and the grip, which would be more comfortable with cork. And of course the fact that the cords on folding poles in general need replacing after a lot of usage.
Black Diamond Trail Back
Type: Adjustable
Material: Aluminium
Grip: Rubber
Weight (pair): 499 gr / 1.1 lb
The Trail Back hiking poles from Black Diamond are sturdy mid-range hiking poles. With aluminium making them durable and well-functioning all year round and Black Diamond's trusty FlickLocks.
The downside about these are the rubber grip that don't absorb sweat and can be uncomfortable to hold on to for longer treks.
Black Diamond Alpine FLZ
Type: Foldable
Material: Aluminium
Grip: Cork
Weight (pair): 544 gr / 1.2 lb
Alpine FLZ are some of the most versatile hiking poles from Black Diamond. With their sturdy aluminium poles and comfortable cork grips, there are not many reasons not to love them. The length can be adjusted at the top with 20 cm/ 8 in with a sturdy FlickLock Pro lever lock system. The poles pack down a lot smaller than adjustable poles.
The backsides of these poles are the weight that comes with aluminium poles and that the strings on foldable trekking poles generally have a shorter life span than Black Diamond's flick locks. All in all, these are good quality trekking poles that are worth the high price.
Leki Makalu Lite COR-TEC Antishock
Type: Adjustable
Material: Aluminium
Grip: Cork
Weight (pair): 490 gr / 17.3 oz
These hiking poles have an incredibly comfortable cork grip. Leki is known for their grip design which feels natural in the hands. On top of that, the SpeedLock Plus lever locking mechanism makes it easy to adjust the length of the poles even with thick gloves on.
Equipped with antishock, these are great if you struggle with knees and are hiking in steep hills, though you can get the same poles without the antishock for a little cheaper if you prefer that.
There is no doubt Leki Makalu Lite COR-TEC Antishock are good quality poles that will last you for a lifetime of adventures.
Black Diamond Alpine Carbon Cork
Type: Adjustable
Material: Carbon Fiber
Grip: Cork
Weight (pair): 485 gr / 1 lb 1.1 oz
If you're looking for durable, high-quality trekking poles for all seasons, the Alpine Carbon Cork are the ones. These will not bend in rough terrain and the lever locks are made of the quality flick Lock Pro in metal instead of plastic (yet another win for the environment!)
They are more expensive than other poles, but again, you won't have to buy twice as these bad boys won't break down on you that easy. If you're not planning on using your trekking poles a lot or in very challenging terrain, you might find more affordable options that will do the job for your needs.
Black Diamond Trail Ergo Cork
Type: Adjustable
Material: Aluminium
Grip: Cork
Weight (pair): 510 gr / 1 lb. 2 oz
The Trail Ergo Cork poles from Black Diamond are another quality alternative that will last through rough terrain. With the iconic Flicklock adjusters and cork grips that are ergonomically shaped, it's hard not to love these.
On the downside, these are a little heavy and when collapsed, they are longer than many other trekking poles. This can make them bulky to carry on longer treks, though strapping them on the outside of the backpack it works fine.
---
YOU MIGHT ALSO LIKE: How to find the best vegan hiking socks
---
Reflexions on trekking poles
There is no doubt the benefits of trekking poles are many, especially on steep or long trails. Finding the best hiking poles for your need is essential and I hope you feel like you have the right information to make a good choice now.
READ NEXT: Best hiking gear and gadgets