Once known as the most dangerous hike in the world, El Caminito del Rey in Malaga was reopened in 2015 with a new, safe walkway pinned along the 100-meter tall vertical cliffside.
It's now accessible for anyone that can handle vertigo that follows along the jaw-dropping path. If you plan on going on a hiking date to Caminito del Rey, make sure you ask if your date has vertigo before booking so you don't make it a nightmare of a first date.
The breathtaking Desfiladero de Los Gaitanes gorge is truly worth pushing your boundaries. Since the two-hour hike is mostly flat, this is something that people of any fitness level to complete. I've actually listed it as one of the best beginner hikes in Andalucia here.
In this post, I'll give you all the information you need to walk Caminito del Rey, from getting tickets, where to park, and what to consider before you go.
Disclosure: This post may contain affiliate links. That means that if you make a purchase through one of those links, I will get a small commission at no extra cost to you.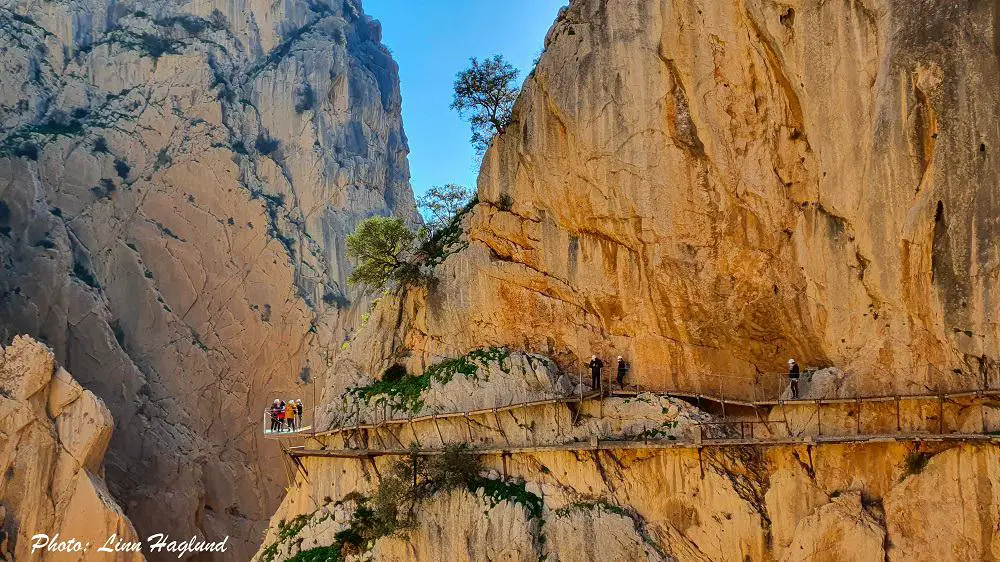 HIKE NEARBY: Arabic Staircase, El Chorro
---
Practical information
Province: Malaga
Gorge: Desfiladero de Los Gaitanes
Length: 7,7 km
Time: 2 hrs walking (3,5-4 hrs loop incl bus ride)
Route: Linear
Difficulty: Easy
Entrance fee: 10/18 Euros (has to be booked in advance)
Hiking with dogs: It's not allowed to hike with dogs on the Caminito del Rey
---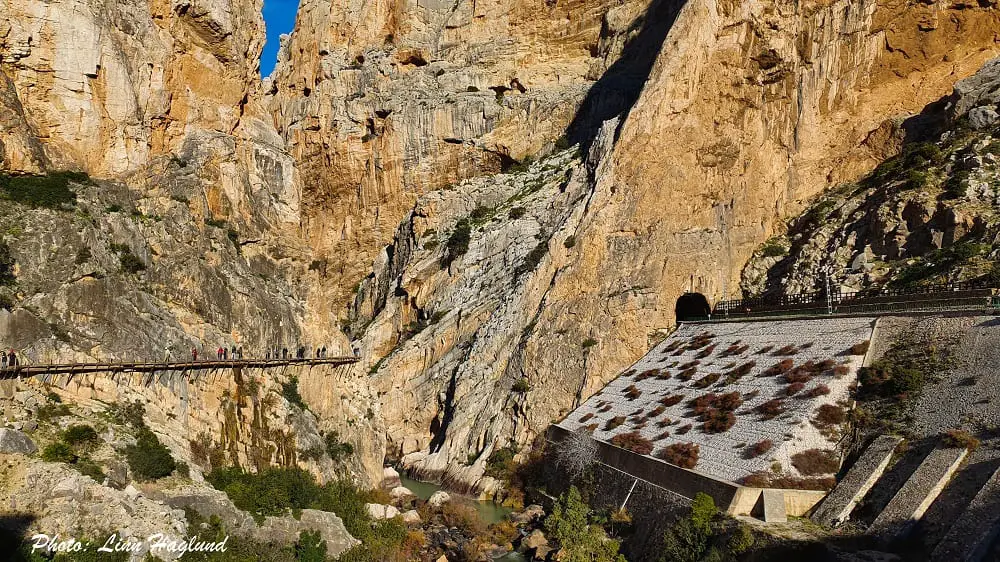 How to book tickets for Caminito del Rey Malaga
You need to book tickets to El Caminito del Rey in advance and bring a printed copy of the ticket to the control cabin before you can access the hike.
You can either book a general ticket which includes entrance and a mandatory helmet for 10 Euros or a guided tour including the mandatory helmet for 18 Euros. Guides speak English and Spanish.
You can buy tickets here.
Alternatively, you can book a private tour where the guide will meet you at El Kiosko Restaurant.
BOOK TICKETS AND TOURS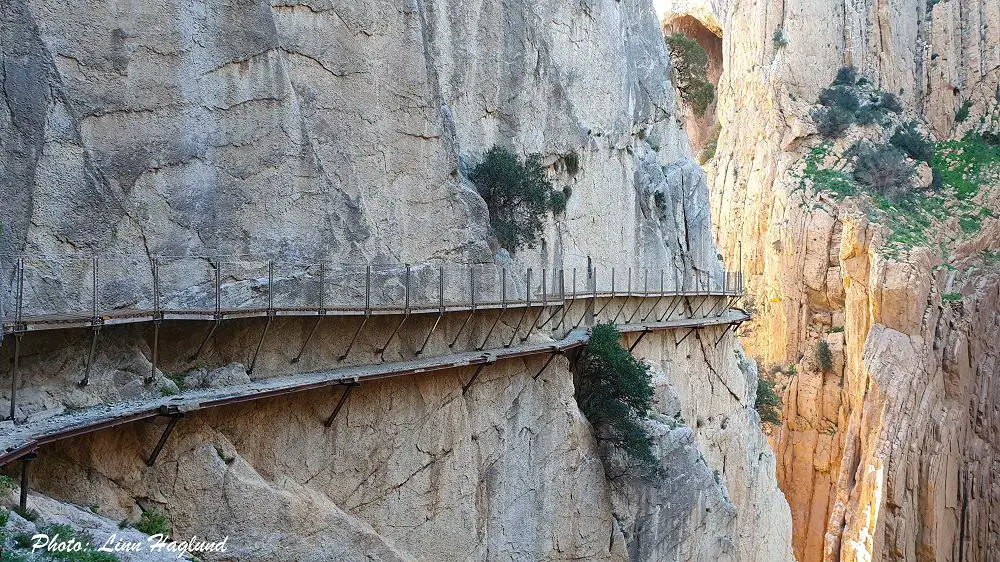 How to get to El Caminito del Rey
The absolute best way to get to El Caminito del Rey is by car. Still, it's easy to get there by train, and possible to make it by bus from Malaga. Here is everything you need to know to get from Malaga to El Caminito del Rey by public transport and other destinations by car.
Train to Caminito del Rey
You can take the train to El Chorro, which is where the Caminito del Rey trail finishes. As you get off the train, there are buses leaving every 30 minutes for the El Kiosko Restaurant where you have to start the walk.
From Malaga, you can take the train from Malaga Maria Zambrano train station. Check tickets and prices with Renfe here.
Alternatively, you can take the train from Granada or Seville to Antequera-Santa Ana and change trains there to El Chorro (22 min). Coming from anywhere but Malaga, Antequera, or any stop on the Malaga-El Chorro train route, it's highly recommended to drive a car to get there.
Bus to El Caminito del Rey
You can also get to El Caminito del Rey by bus from Alora or Malaga. From Malaga, take the bus to Alora and then change there to reach El Chorro.
You can check bus times from Malaga here. The travel time is about an hour. Check bus times from Alora to El Chorro here. The travel time is nearly half an hour.
If you can avoid it, I don't recommend you to take the bus from Malaga as it's more hassle than the train. However, if you're staying in Alora and don't have a car, it's a good option.
Driving to Caminito del Rey
Driving to Caminito del Rey is the easiest way to get there. Though the trains are frequent, they stop on the end of the hike and you have to plan enough time to reach the control cabin in time.
When driving, on the other hand, you can get straight to the entrance by El Kiosko Restaurant and take the shuttle bus back when you are finished hiking.
You can put "El Kiosko Restaurant Ardales" into the GPS and it will easily get you there. Just make sure it's in Ardales/El Chorro when you choose in the GPS as there are other restaurants by the same name in other places in Andalucia.
Approximate driving time to El Kiosko Restaurant from the following cities:
Malaga: 1 hr
Nerja: 1 hr 30 min
Ronda: 50 min
Granada: 1 hr 30 min
Cordoba: 1 hr 40 min
Seville: 1 hr 45 min
---
Want more spectacular hiking along suspension bridges but for free? Check out the lesser-known El Saltillo trail from Canillas de Aceituno in Malaga!
---
Parking Caminito del Rey
There is parking both in El Chorro and by El Kiosko Restaurant. As mentioned above, I do recommend parking at the latter, so that you can start walking straight to the control cabin.
If it's full just in front of El Kiosko Restaurant, there are a few parking spots and places to park along the road (all wheels outside the road!) turning back towards El Chorro along the lakes.
The parking in El Chorro is at the left just before driving up to the train station. You'll see it in front of you right after the turn from the bridge.
Parking in the summer months can be difficult, especially on weekends when people from all over Andalucia come to enjoy the lakes.
Bus back to the parking
There is a shuttle bus service driving the 9,5 km between El Kiosko Restaurant and El Chorro train station. It costs 1,55 Euros that you can pay cash on the bus unless you've bought a combined ticket.
The bus leaves every 30 minutes, so if you come by train and need to take the bus to the start of the trail, you should aim to take a train that gets to El Chorro at least 1,5-2 hours before your entrance time.
If you come by car, I recommend that you park by El Kiosko and take the bus back. This way you don't have to stress.
Buses tend to fill up from El Chorro, not only with people from the train starting the route but also with those who have finished the route and are heading back for their car.
If you don't get space on the bus, you have to wait another 30 minutes for the next one.
How to reach the control cabin from El Kiosko Restaurant
From El Kiosko Restaurant you can choose between two different routes to get to the control cabin. One takes 50 minutes and the other takes 20 minutes. You need to be at the control cabin at least 15-30 minutes before your entrance time.
You have to show your printed ticket and they will give you a helmet which is mandatory to wear. They will also give you a safety brief in English or in Spanish.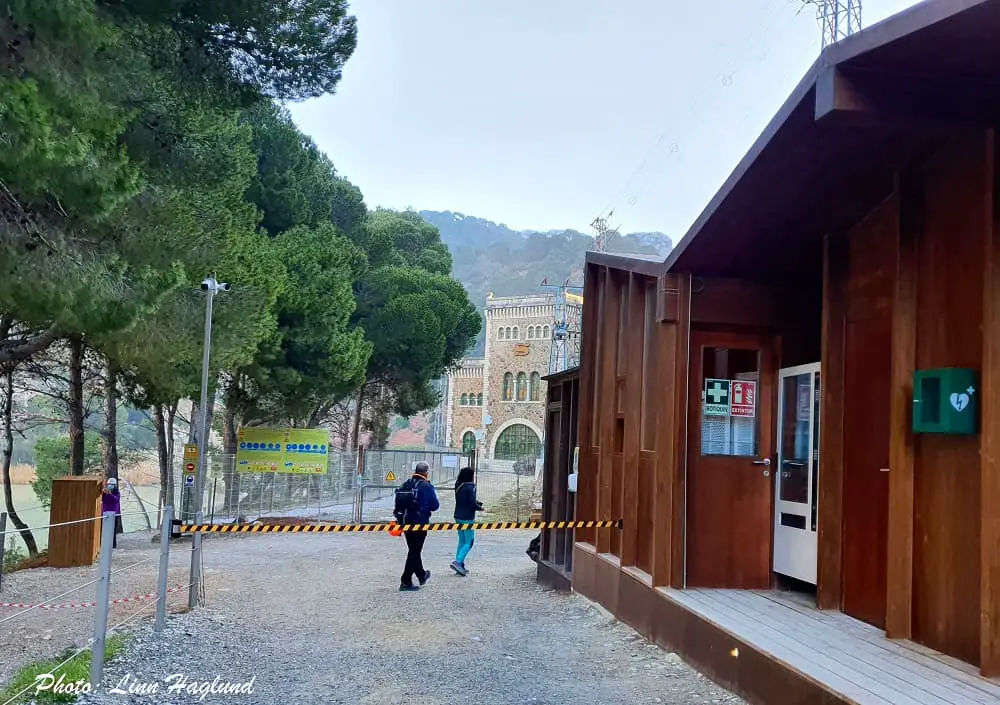 The 50-minute walk starts from El Kiosko Restaurant and under the wide tunnel on the right side of the restaurant (the side where the toilets are.) After walking through the tunnel keep right and follow the path until you reach the control cabin. There will be signs to El Caminito del Rey.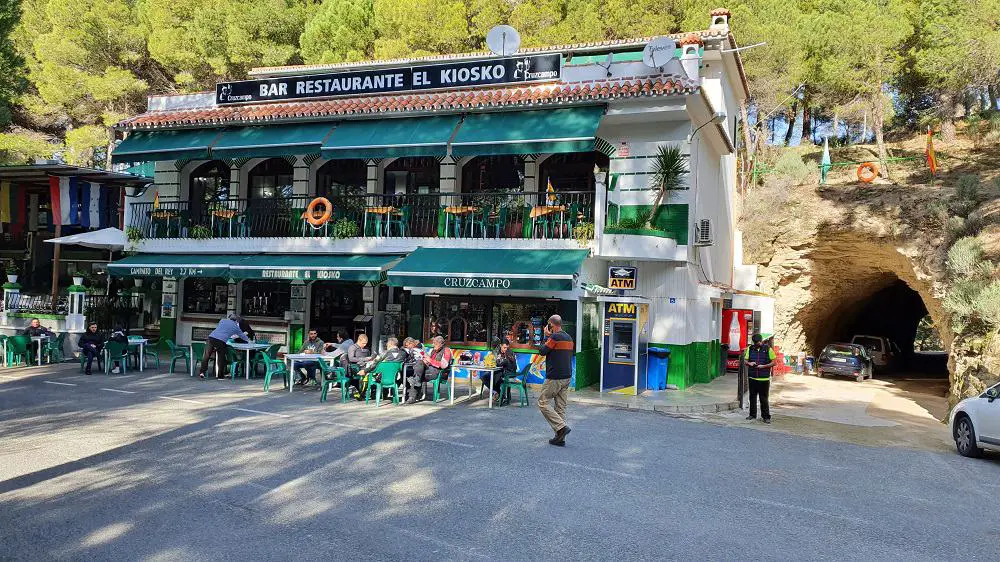 The 20-minute walk starts from a smaller tunnel 200 meters from El Kiosko Restaurant. Walk down on the left side of the road direction El Chorro (with El Kiosko on your left behind you and the lake on your right) until you see the tunnel on your left. This tunnel is signposted El Caminito del Rey. Once you've walked through the tunnel, turn right and follow that path until you get to the control cabin.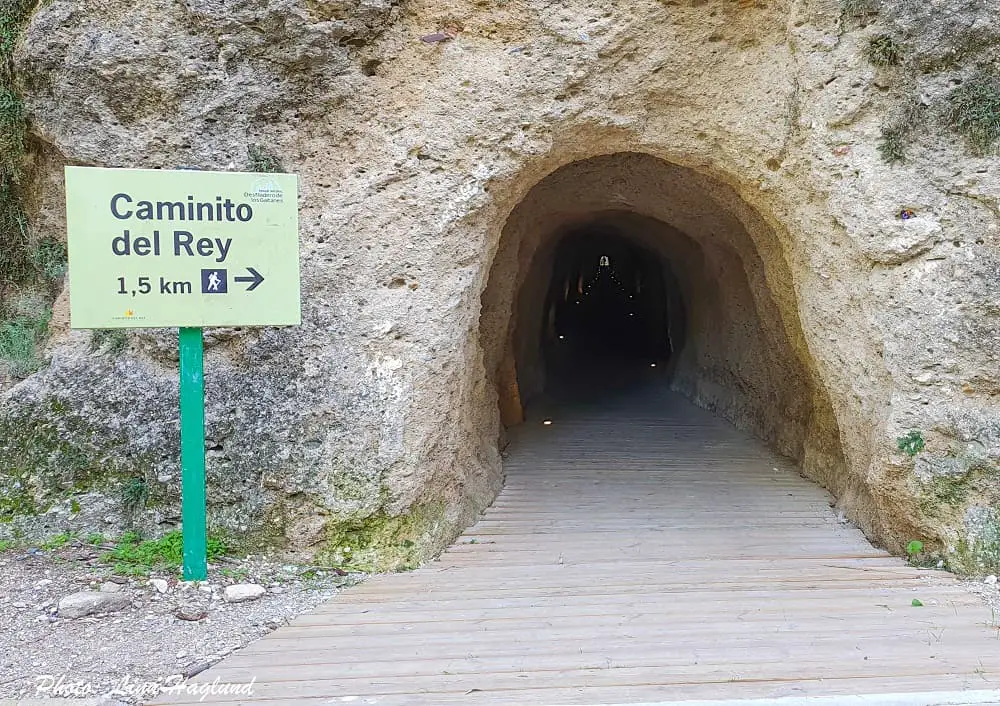 When is the best time to hike El Caminito del Rey
You can easily hike El Caminito del Rey all year round, but if you can avoid the hottest months of July to mid-September, I recommend moving your dates. Though large parts of the trail are in the shade, it can be scorching hot, and there are no places to go for a swim during the walk.
The rest of the year has great temperatures for walking, you just need to dress accordingly. Early winter mornings especially, can get frosty.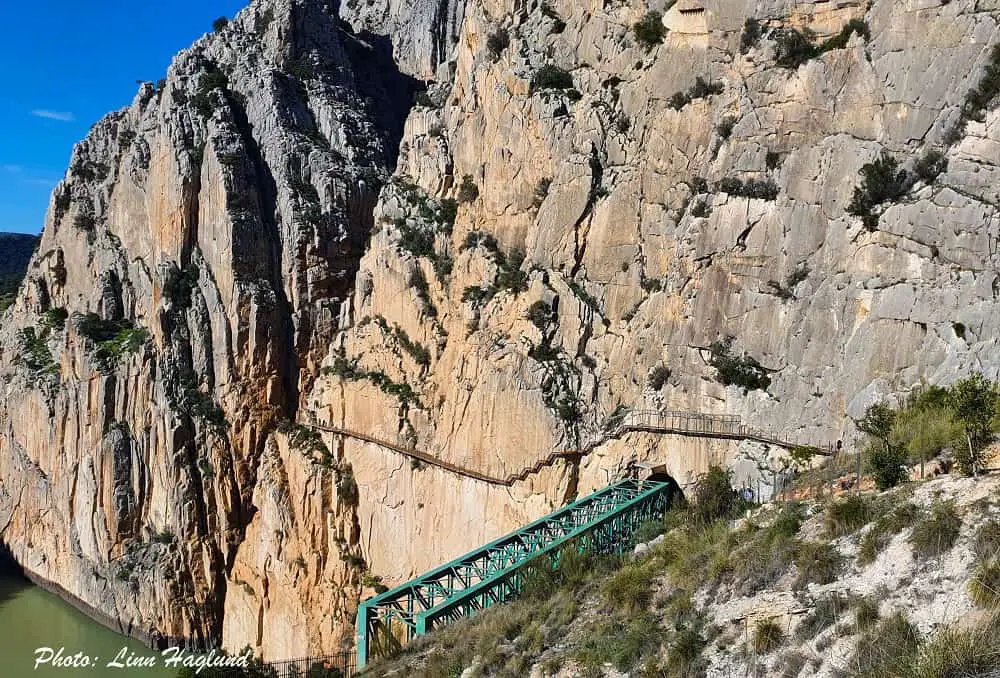 What to bring
When you hike El Caminito del Rey you're not allowed big backpacks, so a small day pack will do with water and layers of clothes if you go in the colder seasons.
Note that selfie sticks are NOT allowed on Caminito del Rey, neither are hiking poles.
The walk is only a couple of hours and there are only places to stop to have a snack once you pass the first boardwalk. If you go in the warmer months, you can combine your hike with a swim at the lakes afterward, where you can have a picnic.
As an alternative, it's a good option to either eat at El Kiosko Restaurant or at any restaurant or bar in El Chorro, where the trail ends.
Remember to bring cash for your bus ticket, 1,55 Euros.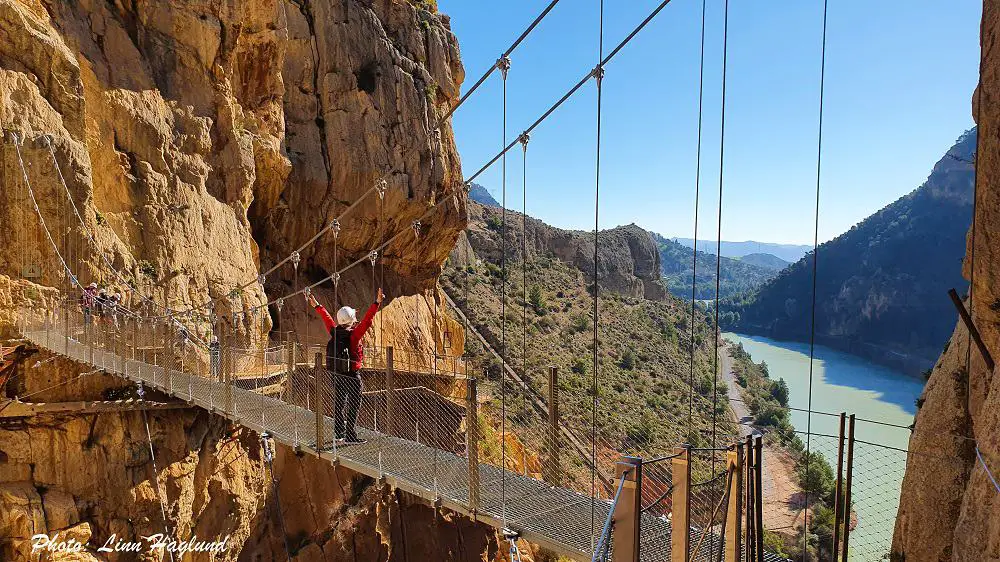 ---
READ: Principles For Leave No Trace
---
Where to stay when hiking El Caminito del Rey
When hiking El Caminito del Rey, it's absolutely best to stay in El Chorro or Ardales. There is a campground right at the lakes too which is fairly close to El Kiosko Restaurant.
But if you're staying farther away, Malaga is the best option for anyone that doesn't have access to a car. Here are a few options for accommodation.
Where to stay in El Chorro
Complejo Turístico La Garganta
Complejo Turístico La Garganta is a good hotel to stay in El Chorro with outdoor pool and it's pet-friendly too in case you plan on doing more hikes in El Chorro with your furry friend.
The hotel has free parking but also airport shuttle if you don't drive, which saves you the hassle of getting there.
Where to stay in Ardales
Apartamentos Parque Ardales
Apartamentos Parque Ardales has both apartments and a campground for tents and caravans. It's situated right by El Chorro Lakes and only a few minute's drive from El Kiosko Restaurant/the start of the trail to the control cabin. You can also walk there in about 20 minutes so you don't have to worry about parking.
Hostal Restaurante El Cruce
This is a nice apartment hotel in Ardales with parking and it's only a 15 minute drive to El Kiosko Restaurant. They do offer airport shuttle too, so if you don't drive, you have the option to get the bus to El Caminito del Rey. Walking El Kiosko Restaurant would be around 1 hr 45 min.
Where to stay in Malaga
Eurostars Astoria
This wonderful hotel is situated only 500 meters from Malaga Maria Zambrano train station so it's perfect if you don't drive. Yet, in case you do, they have parking too. It's centrally in Malaga city close to all the top attractions.
Hiking El Caminito del Rey
Hiking El Caminito del Rey is one of the best things to do in Andalucia and a true Spain bucket-list hike. Walking the trail is not challenging unless you have vertigo – though that will be for different reasons, as it's mostly flat.
Before you start the hike, you'll get your helmet and you'll be instructed about safety guidelines along the hike.
Starting at the control cabin, you'll first walk down by the old hydroelectric plant before you get onto the first boardwalk section hanging onto the wall of the narrow gorge. Clear, glittering water below you and floating vultures above you.
Smaller packs of birds playing inside the gorge throwing themselves down head first, before they rise high and settle on a shelf on the opposite gorge wall.
The walk takes you through a short tunnel just to continue along the gorge wall on the other side. Eventually, the gorge opens up wider and you'll get onto a forest trail for a while before reaching the second boardwalk.
Hanging high, you can see the original path under the one you're walking on. Realizing the state of that should make you feel pretty safe. Towards the end, where you see the famous bridge, there's a great section where you really get a peek of how the old path looked like as you have the wall in front of you.
Take a look at the other side of the gorge, there are windows showing the train line inside the mountain and maybe you're lucky to catch the train as it drives through.
That wall is also popular among rock climbers and if you look carefully you might just spot one or two people hanging on the wall.
Just before the bridge, there is a glass balcony viewpoint and you can also see a huge fossil on the wall. The bridge is guarded to assure not too many people cross at the same time. Most visitors stop there and take a picture anyway, so there's usually a queue.
After the bridge, there's a short boardwalk left before getting onto solid ground for the last 10 minutes to the control center where you leave your helmet. Continue straight from here another 10-15 minutes and you're at El Chorro train station where the shuttle bus goes if you need to return to El Kiosko Restaurant.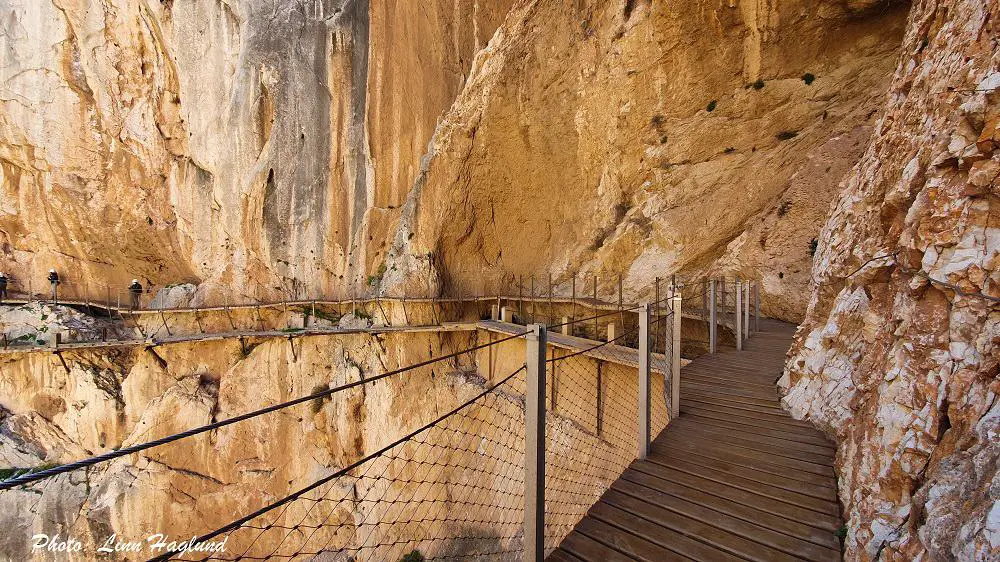 Reflections on El Caminito del Rey hike
El Caminito del Rey hike is an experience that everyone should have at least once when in Andalucia. The grandeur of the gorge is incredible and it's so narrow in places that you almost want to reach over to the other side. Despite being such a controlled hike with entrance fee and mandatory helmet, it's absolutely worth the hassle for one of the most incredible hikes in Malaga.
However, hanging on the side of a cliff a hundred meters above the ground is not for everyone. And if your vertigo is strong, this might just not be worth it. You can't turn around on this path, so if you go you go.
Other hiking trails in Malaga Province: