If you're looking for a unique hike for the whole family, the Escalera Arabe in El Chorro is the perfect place for you. In English, it means Arabic Staircase and has gotten its name from the ancient man-made steps you'll ascent on the trail.
Nobody knows exactly how old they are or why they were built. However, it's thought that the Mozarabs built the stairway in the 15th Century as a part of the trading routes. They are extremely well preserved and definitely a unique experience to walk.
Despite the steep staircase climb, this is one of the most beautiful hikes for beginners in Andlucia, so you're truly up for a treat!
Here is a complete guide to hiking Arabic Staircase in El Chorro, so that you too can experience the stunning views from this historic walk.
Disclosure: This post may contain affiliate links. That means that if you make a purchase through one of those links, I will get a small commission at no extra cost to you.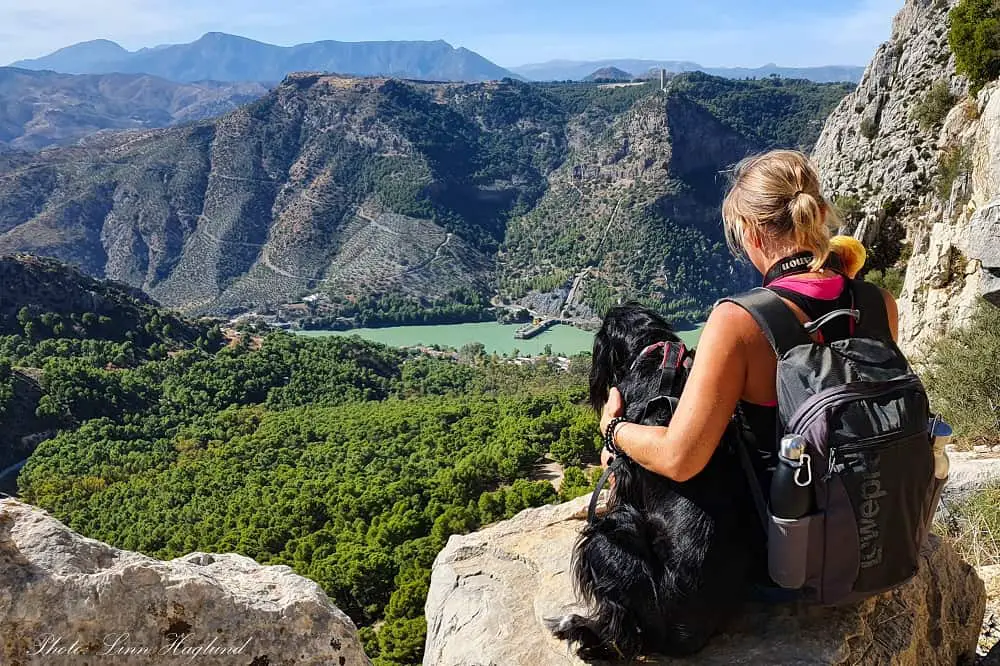 ---
Practical information
Province: Malaga
Length: 9km
Time: 2,5-3,5 hours
Elevation: 500 meters
Route: Circular
Difficulty: Medium
Hiking season: September to mid-June
Hiking with dogs: It's allowed to hike with dogs, but avoid the months of January to May. There are pine trees along most of the trail which means that there can be pine processionary caterpillars on the path that can be fatal for dogs. Further, there are no natural water sources on this hike, so make sure you bring enough water for your furry buddies!
---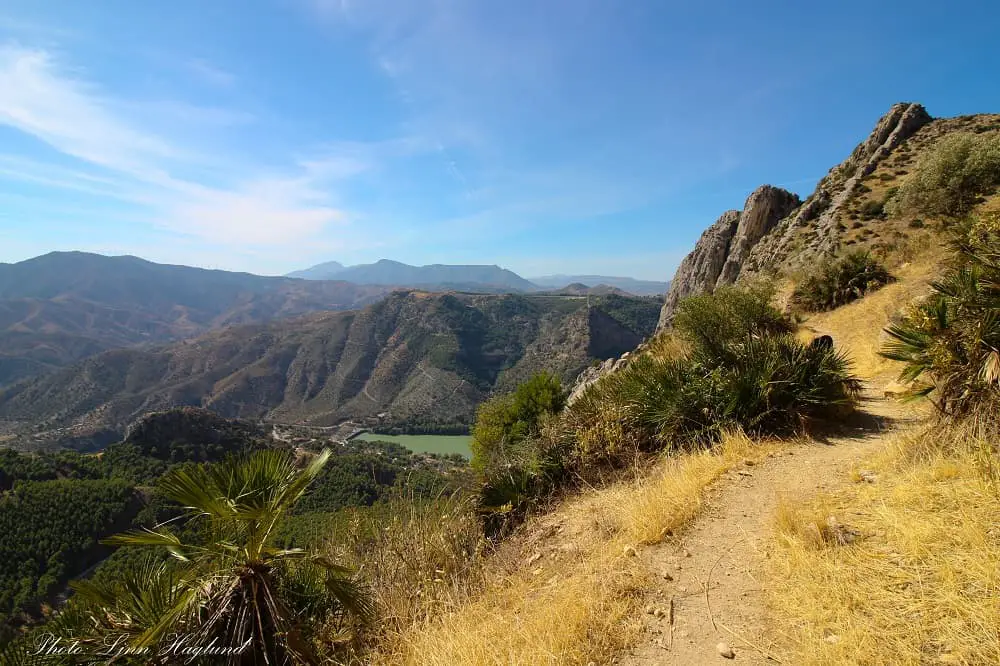 How to get to Arabic Staircase El Chorro
The easiest way to get to Arabic Staircase, El Chorro is by car or train. The trailhead is only a few minutes walk from El Chorro train station, but you can park there if you come by car.
By hiking from El Chorro, walk or drive from the train station (with the train lines to your right). You will see a bar in front of you with two roads forking on its left side.
You take the right one, narrowing in right next to the bar. This takes you past a few houses, turns rights, and at the junction, you turn left. Continue a few meters until you see the hiking sign. This is the track where you start the hike up towards the right.
If you come by car, you can park here. It's also possible to drive up the first 3 km on the dirt track if you want to save some hiking time. You can park along the track close to where the actual trail to Arabic Staircase starts.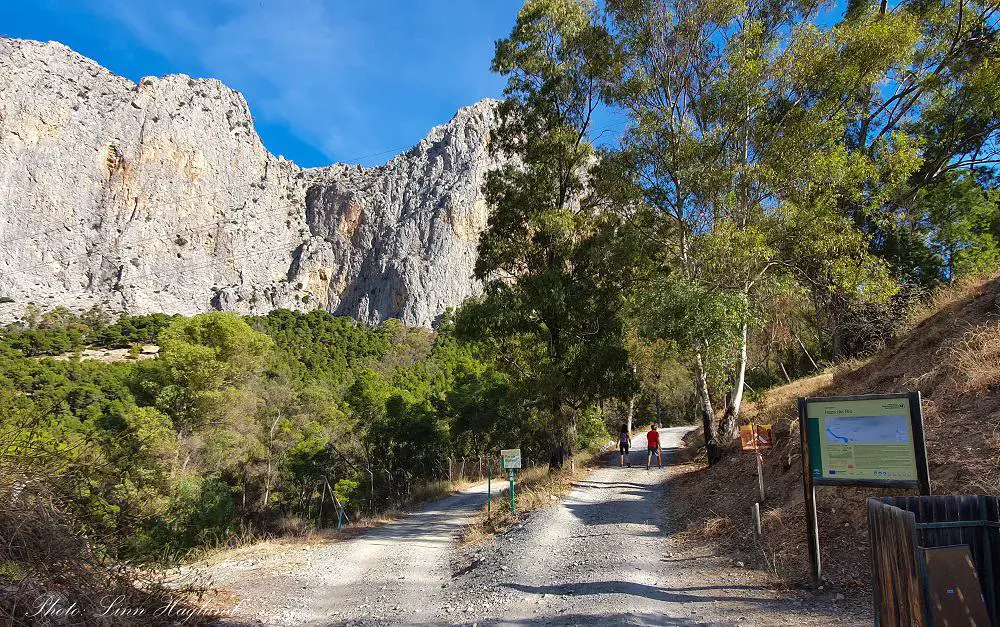 By train
There are daily trains from Malaga Maria Zambrano train station that only take 39 minutes.
You can also travel by train from Seville to El Chorro. The train ride takes more or less 2 hrs 45 min.
Check other routes, train times and tickets on Renfe's official site here.
By bus
By bus, it's a bit harder to reach El Chorro unless you are in Álora. Then you can get local buses to El Chorro that take about 20 minutes. You can look up tickets and time table here.
To get to Álora, you can take the bus from Malaga, which takes about 40 minutes. Check the official bus table here.
By car
Driving is without a doubt the easiest way to get to El Chorro, as you can get directly to the trailhead and park there.
By putting El Chorro in the GPS, you'll get there without problems. Here are approximate driving times from some major Andalusian cities:
Malaga: 1 hr
Granada: 2 hrs
Cordoba: 2 hrs
Seville: 2 hrs 10 min
Jaen: 2 hrs 30 min
Cadiz: 2 hrs 30 min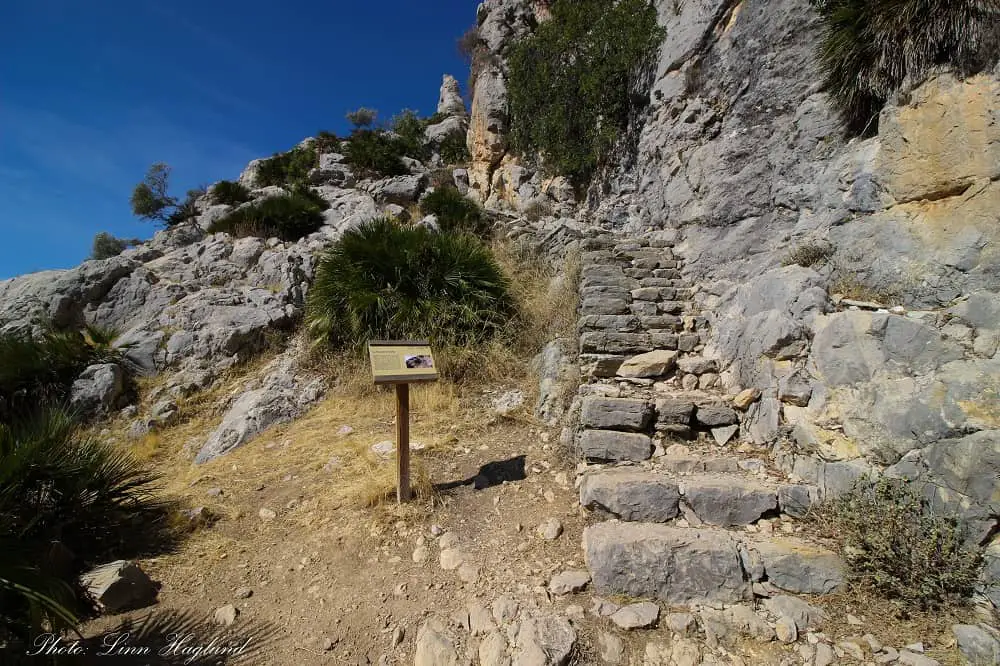 What to bring
Arabic Staircase isn't a highly demanding or long hike, but you shouldn't underestimate the heat that can hit on a sunny day. Make sure you bring enough water and always have a layer of clothes in the winter months in case the temperature changes. Here are my top tips for hiking in the heat.
You also need good hiking shoes for this hike, but other than that it doesn't require fancy hiking gadgets.
There are also steep parts, especially the staircase itself, so you might find hiking poles useful. You can also bring hiking knee braces if you struggle with your knees. Read more about the best ones here.
If you hike on a cold or windy day, make sure you have sturdy and warm hiking leggings or pants.
Here are the things I recommend you put in your day hiking backpack:
water bottle
snack (nuts, seeds, fruit, etc.)
windbreaker in winter
sunscreen
lunch
camera
Recommendations from Amazon:
---
READ: 7 Leave No Trace Principles
---
Where to stay
Complejo Turístico La Garganta
This quirky hotel is set in an old flour factory building from 1927. It has amazing views and a restaurant.
The hotel has a wonderful outside pool too where you can relax on a sunny day after your hike. Dogs are allowed here and there's private parking for guests. You can also get an airport shuttle if you don't drive yourself.
Olive Branch
The Olive Branch is a friendly guest house with stunning views, a private pool, and a restaurant. The staff is very helpful if you need any help or directions.
They accept dogs and have private parking. But if you don't drive, they do offer airport pick-up.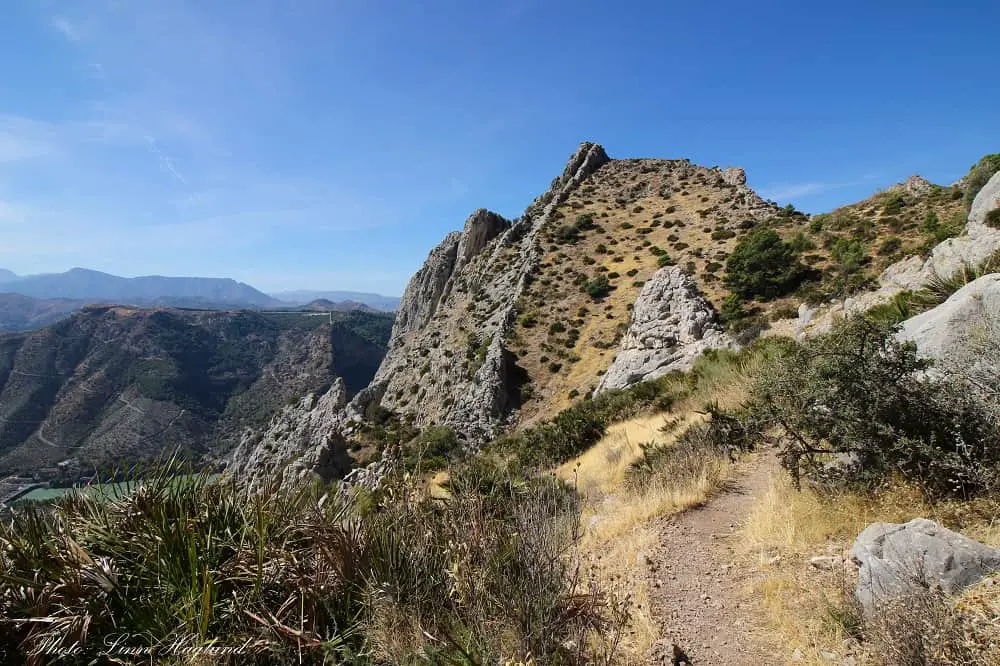 Hiking Escalera Arabe El Chorro
You will start walking up a dirt track for about 3 km until you get to a steep right turn where there are trail signs to Arabic Staircase to the left.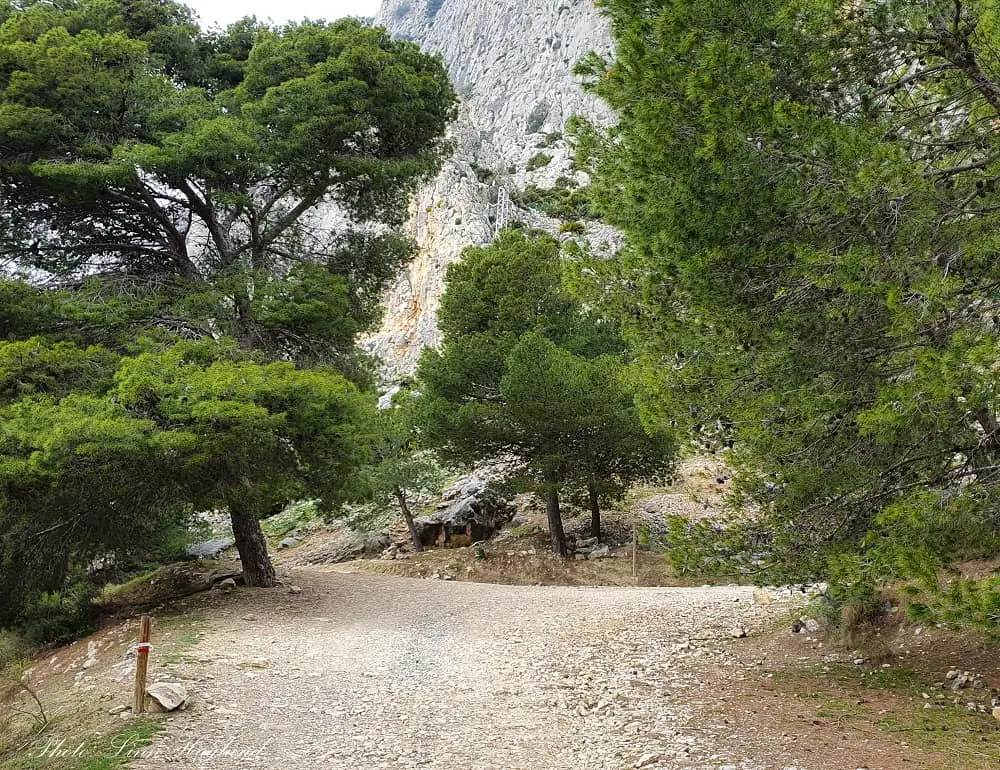 Follow this path, with astounding views. You'll soon pass a rock climbing spot before you get to the ancient stairs.
Once you get to the top of the stairs, the path winds upwards and soon leaves the views behind you. When you get to an opening in a fence, follow the path to the right on the other side.
You'll now get views of Pico Huma on the other side of a valley. There's a farmhouse and a large field that's private property covering the valley.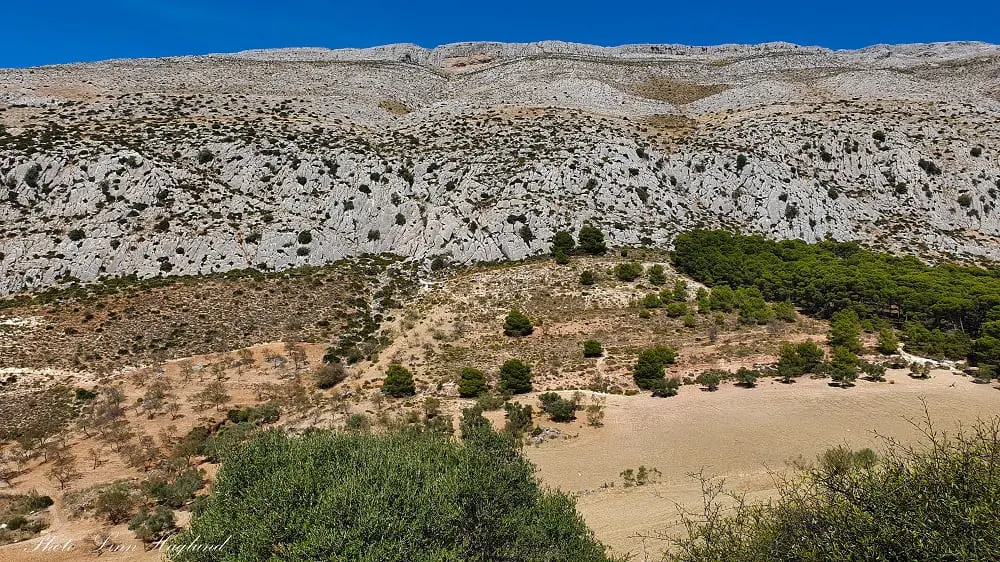 The trail continues through a pine forest and winds down to a junction where you can turn left to hike El Huma. Walk down to the right on this track until it opens up and you get to a new junction.
Turn right, and you're back on the same track you started the hike, and there's about 4 km left to walk to the trailhead.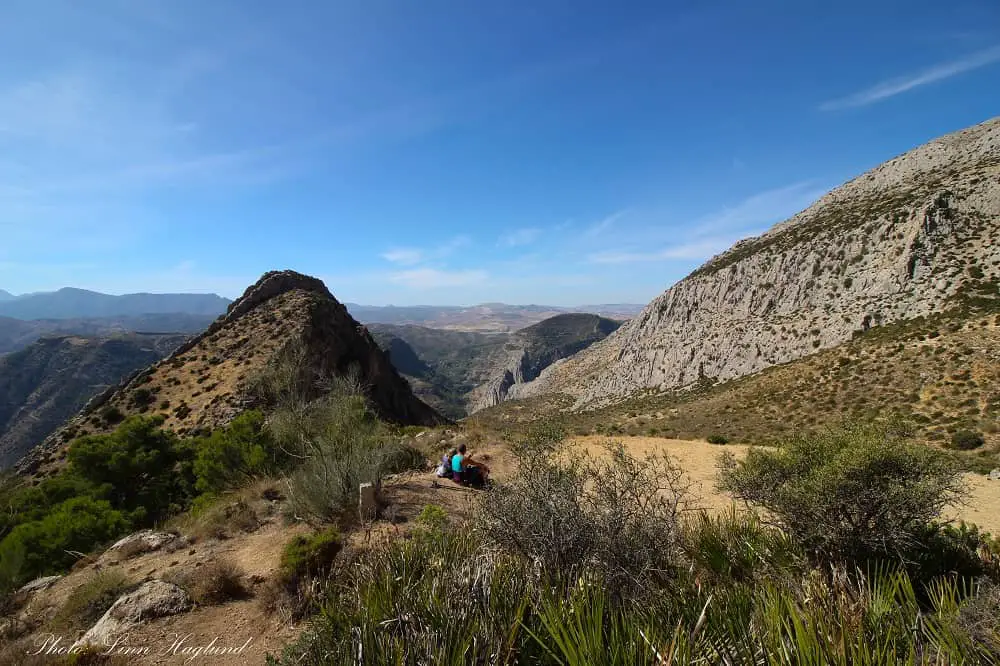 ---
READ: Best gift ideas for hikers
---
Reflections on the Arabic Staircase hike
The Arabic Staircase hike is absolutely one of the best hikes in Malaga for the whole family. The unknown history, the views, and the fact that it isn't a very long or challenging hike all make it a great choice for a day out.
And if you're up for a bigger challenge, why not combine it with hiking Pico Huma? You might also like to check out the best hikes in Andalucia in this post.
Other hikes nearby:
Other similar hikes: