Malaga is one of the top places to go hiking in Andalucia with mountains overlooking the never-ending coastline, jaw-dropping canyons, curious wildlife, and seriously unforgiving peaks. There are endless hiking trails all over the coastal mountain ranges that range from easy to difficult, breathtaking, and fun.
But the inland has numerous whitewashed villages that are all connected with endless hiking trails, so what are you waiting for? Strap on your sustainable backpack and hiking shoes, and explore these epic hikes in Malaga!
Disclosure: This post may contain affiliate links. That means that if you make a purchase through one of those links, I will get a small commission at no extra cost to you. As an Amazon Associate, I earn from qualifying purchases.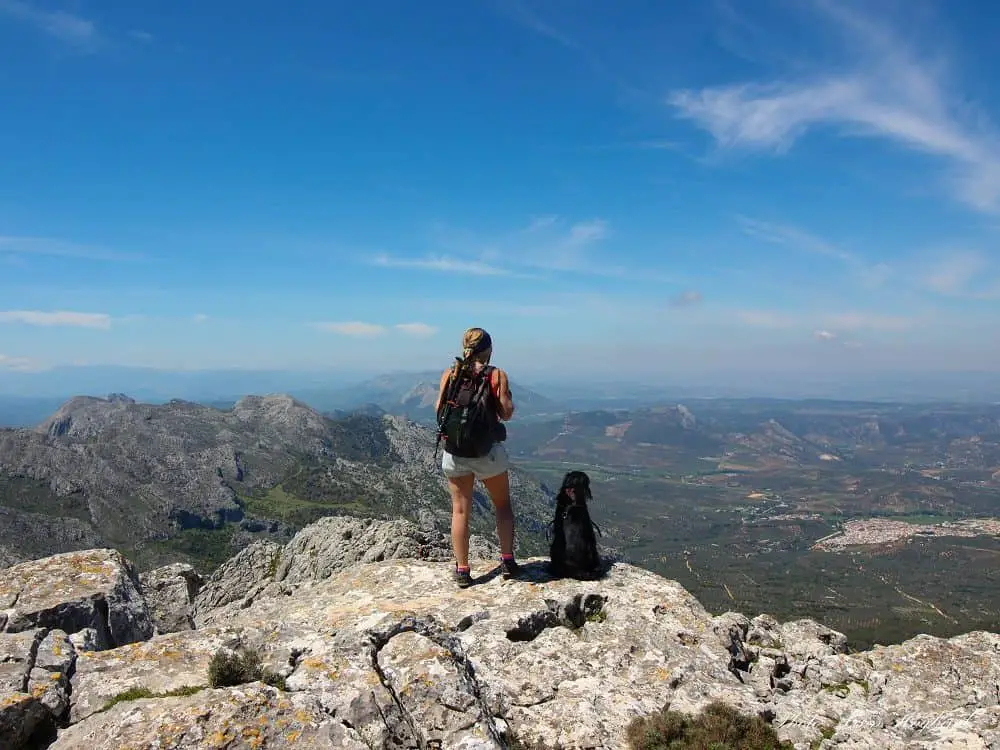 Top hikes in Malaga
There are so many remarkable hikes in Malaga that it's hard to choose which ones to do. From peaks to ravines, rivers, and coastal hikes, the province is home to quite a few of the best hikes in Andalucia.
I've been hiking in Malaga for years, and though I've still got a whole lot of peaks left to conquer, I've definitely walked my share too.
While a lot of the coastal mountain hikes are best to do in the shoulder and winter seasons, there are also great hikes for the summer with the glittering rivers and waterfalls that hide in the lush forests.
Make sure you are updated on hiking in hot weather before setting out in the warmest months, though.
So here are the top Malaga hikes I think you should consider before any other. They are in no particular order because it's impossible to rank them as they're all so epic in their own way. If you plan on hiking with dogs, make sure you read my complete guide to how to hike with dogs.
---
NEW TO HIKING? Check out these expert hiking tips for beginners
---
La Concha
Starting from Refugio de Juanar in Sierra Blanca, this epic trail takes you through olive groves and up a forested area before it opens up to mesmerizing coastal views of Marbella at the top of the ridge. The rest of the trail mostly follows the top of the mountain with undeniably some of the best hiking views in the province.
Before you get to La Concha ridge, you'll pass a couple of steep parts where you need to hold on to the chains that are bolted into the rock wall for safety. It's definitely a challenge if you're suffering from vertigo, especially in the last section where you have a steep vertical drop and only enough space for your foot to step on.
But if you make it passed this section, you're up for a treat! The views that meet you at the edge of La Concha are worth all the effort!
This is a 14 km return hike that takes between 6 and 8 hours depending on your fitness level and the time you spend taking in the views at the top. It's also popular to take a detour to Cruz de Juanar, a small peak along the way.
You can read my complete hiking guide to La Concha here.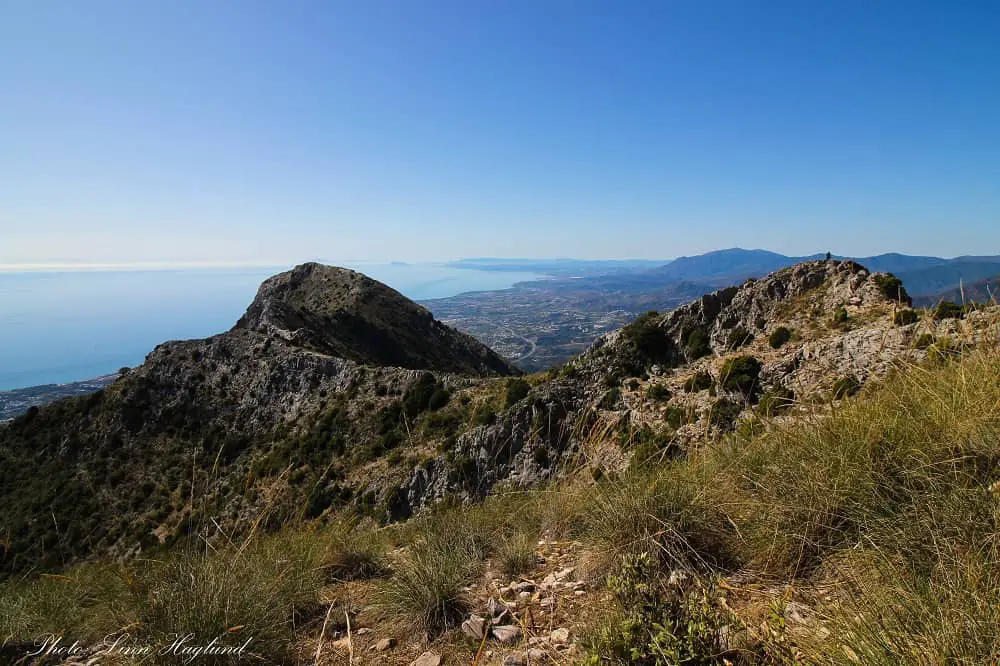 La Maroma
La Maroma (2066m) is the highest peak in Malaga province and one of the most iconic mountains in the Sierra of Tejada, Almijara and Alhama Natural Park. The round, whitish mountain stands out and is easily recognizable from all over the natural park. You can tackle this mountain from 3 different routes.
The first, and easiest route is Robledal, hiking from Alhama in Granada. The shortest is from Sedella. There are actually two options from Sedella whereof one is the absolute hardest way to reach La Maroma, while the other one you can drive almost all the way.
The longest, but maybe also the most scenic route is from Canillas de Aceituno. You can expect to spend at least 8-10 hours on this 22-kilometer trek with an elevation gain of nearly 1500 meters.
Read my complete hiking guide to La Maroma here.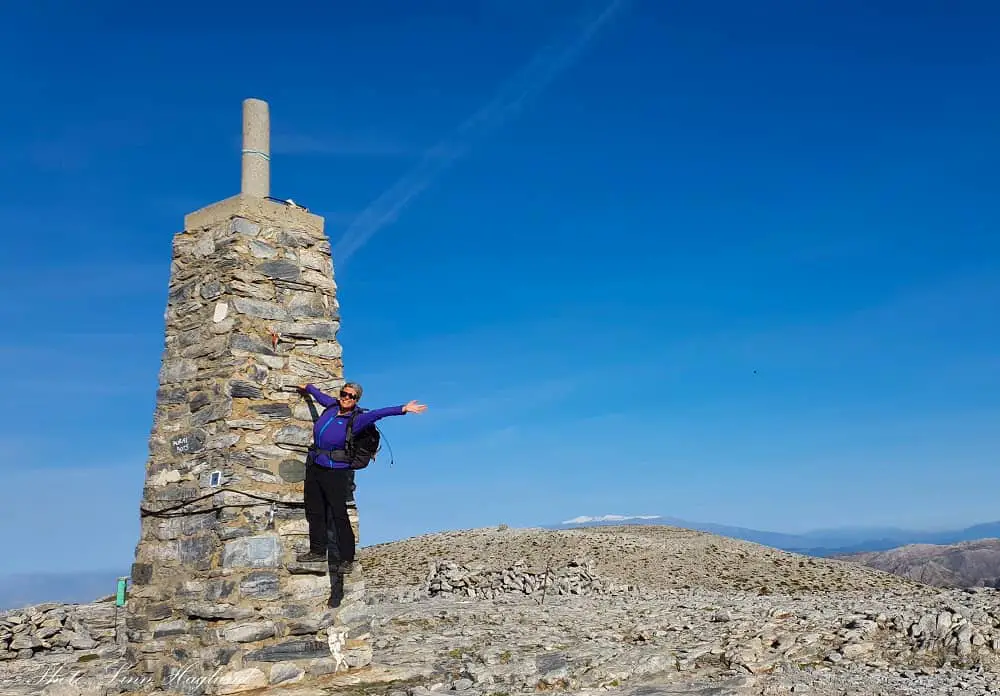 El Saltillo
Starting at the same place as La Maroma from Canillas de Aceitunas, this is an extremely beautiful hike that should not be missed!
Newly renovated in late 2020, El Saltillo trail has gained a lot more popularity, and not without a reason. Parts of the hike resemble El Caminito del Rey with a path pinned to the vertical cliff wall and the newest addition to the adventure is a new hanging bridge. With its 54 meters, it's the third-longest in Spain.
After crossing the bridge, that hangs 79 meters above the gorge floor, the trail continues up a narrow path winding up the mountain on the other side where you can expect to hold on to chains a few places to stay safe. It continues up to a viewpoint where you can get an amazing view of La Maroma towering above you.
There is no doubt this is one of the best day hikes from Malaga, as long as you don't have problems with heights. The whole hike is 11 kilometers and takes 4-5 hours return.
Read my complete hiking guide for El Saltillo here.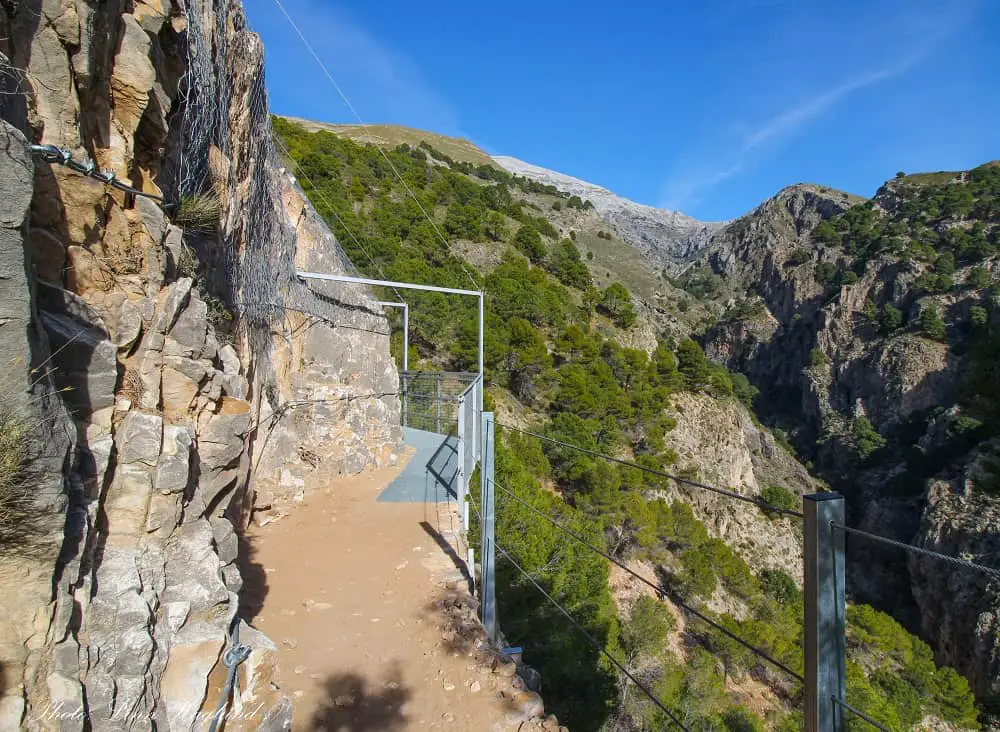 Pico del Cielo
Of the peaks in Sierra of Tejada, Almijara and Alhama Natural Park, Pico del Cielo (1508m) is definitely worthy a climb! And when I say climb I mean climb. While most of the hike is fairly easy, starting on a dirt track for quite a few kilometers from Cueva de Nerja, then transitioning to a trail, it's the final 400 meters to the peak that require a lot of care.
This last bit is almost vertical with loose soil and rocks and not much to hold on to (that doesn't slide!), it's a challenge that shouldn't be taken easy. But once you pass this section and reach the top you'll be rewarded with some of the best 360 views featuring the coastline on one side and endless peaks on the other.
While you walk a large part on track and trail, this hike has an elevation of almost 1400 meters and 20 kilometers return, so it requires that you're used to walking in the mountain to do this 6-7 hours trek.
Read my complete hiking guide to Pico del Cielo here.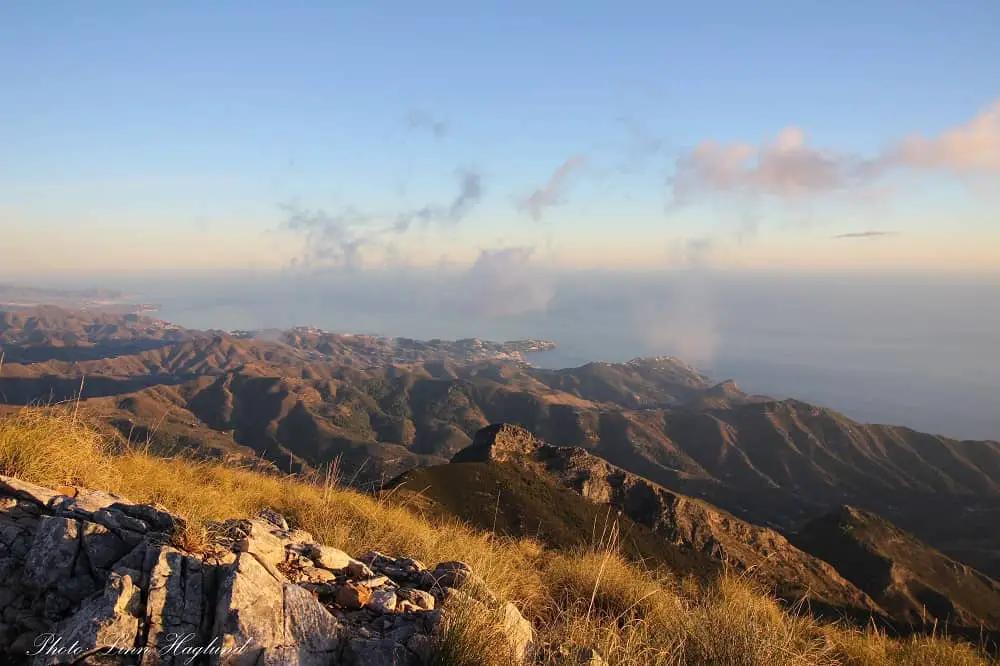 Pico Lucero
Pico Lucero is one of the most recognized peaks in Malaga for the ruins of an old refuge on the top. This has become one of my absolute favorite hikes in Malaga, mainly due to the final hike up the peak and the insane views in all directions.
Hiking from Puerto Blanquillo to Pico Lucero in Sierra de Almijara is mostly rated medium to difficult and takes between 3 and 4 hours return. I wouldn't say it's a hard climb, but it does get steep towards the top and I've met people on the trail that struggled with vertigo.
This is not a beginner hike and you should be in a general fit condition before you tackle it. That said, the rocky path up the final climb is well marked and as long as you walk with care, you'll be completely fine.
The first part of the trail is easy to follow as long as you remember to turn right after you pass the quarry. The path is marked with a yellow dot on a rock, but not signposted to Lucero. After following that trail for a bit you'll see a big sign on the right over a small wooden bridge where you turn off towards the peak.
The only way to get to the trailhead at Puerto Blanquillo is to drive up a dirt track in VERY bad condition and I don't recommend driving unless you've got a 4WD. I took my KIA Rio up there and scratched it on several occasions as the holes in the road were way too deep – reaching from one side of the road to the other, there's no way around them.
An option is to hike from Canillas de Albaida which could add 2-2.5 hours each way.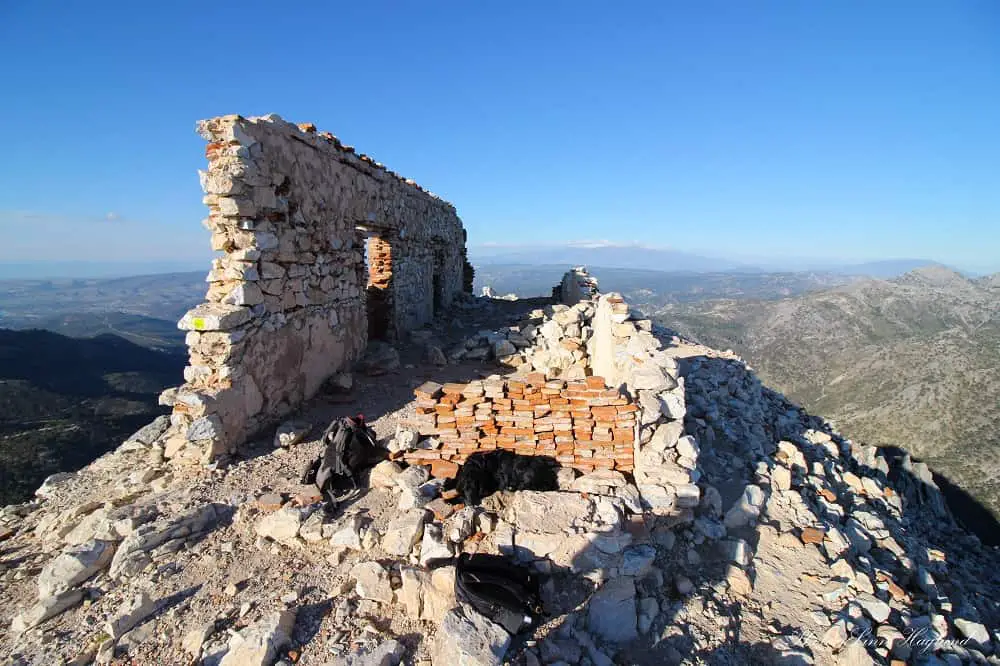 Pico de Mijas
You might be familiar with the touristy white village Mijas Pueblo above Fuengirola in Costa del sol. But did you know that there is a myriad of hiking trails in Sierra de Mijas starting just above the village? The highest peak, Pico de Mijas, is 1150 meters high, but really worth exploring if you go hiking near Malaga.
The hike takes between 5 and 7 hours depending on your fitness level. It only has an elevation of 745 meters, but there is a steep start that can feel daunting if you're not used to walking in the mountain and then you walk down again before the final ascent to the peak.
But if you're up for the challenge, you can enjoy mesmerizing coastal views stretching from Malaga all the way down the Costa del Sol. And as with all this part of the coast, a clear day rewards with great views of the African mainland.
Read my complete hiking guide to Pico de Mijas here.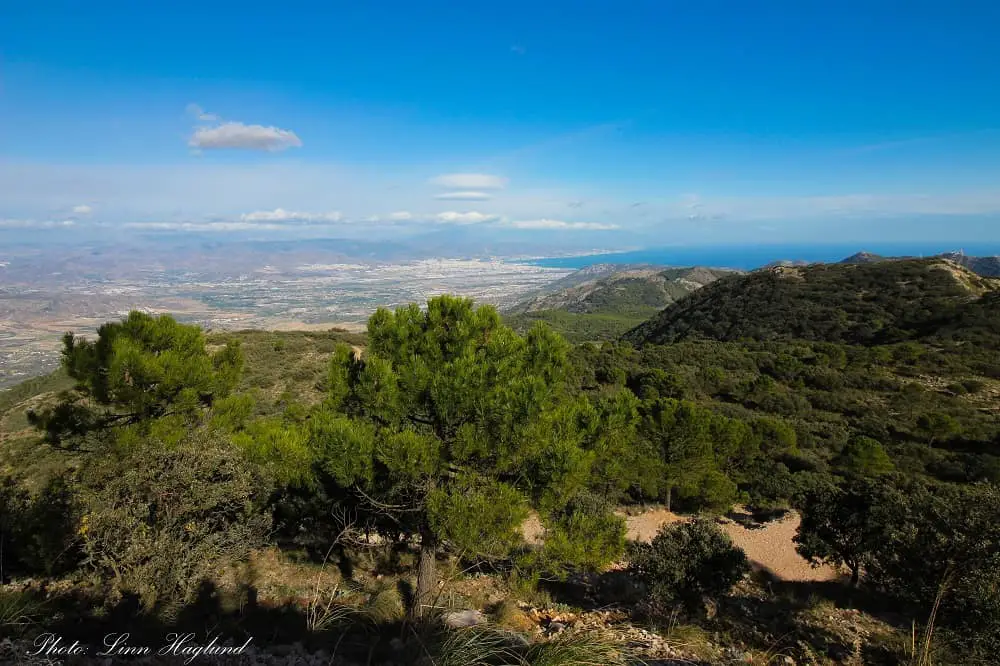 Pico Torrecilla
The most popular route up to Torrecilla peak (1919m) offers some of the most epic trekking Malaga has to offer. Covering a distance of more than 20 kilometers, starting the ascent through a unique Spanish Fir forest. These trees are only seen in more density on the trail of El Pinsapar in Grazalema Natural Park in Cadiz.
Once the forest opens, you will cross several kilometers of vast landscape with spectacular views before the final, steep ascent to the peak. This is one of the most iconic Malaga hiking experiences you will have and there is an unsettled battle between the locals of Malaga whether this is actually the highest peak in the province (despite La Maroma being 2066 masl).
I even found an information sign at the foot of the peak claiming Torrecilla is the highest peak in mainland Spain. While Sierra Nevada (Covering Granada and Almeria) has several 3000 meters peaks like Pico Veleta (3398m) and the actual highest peak in the Iberian Peninsula and the second highest in Spain, Mulhacen (3479m.)
Whether Torrecilla is the highest peak or not, it's without a doubt a memorable hike and absolutely worth your bucket list!
The trail starts in Puerto Saucillo in Sierra de las Nieves and you should plan an early start so you make it back before the sun goes down. You can expect to spend between 7 and 9 hours on this trek including breaks and time on the top.
Read my complete hiking guide to Pico Torrecilla here.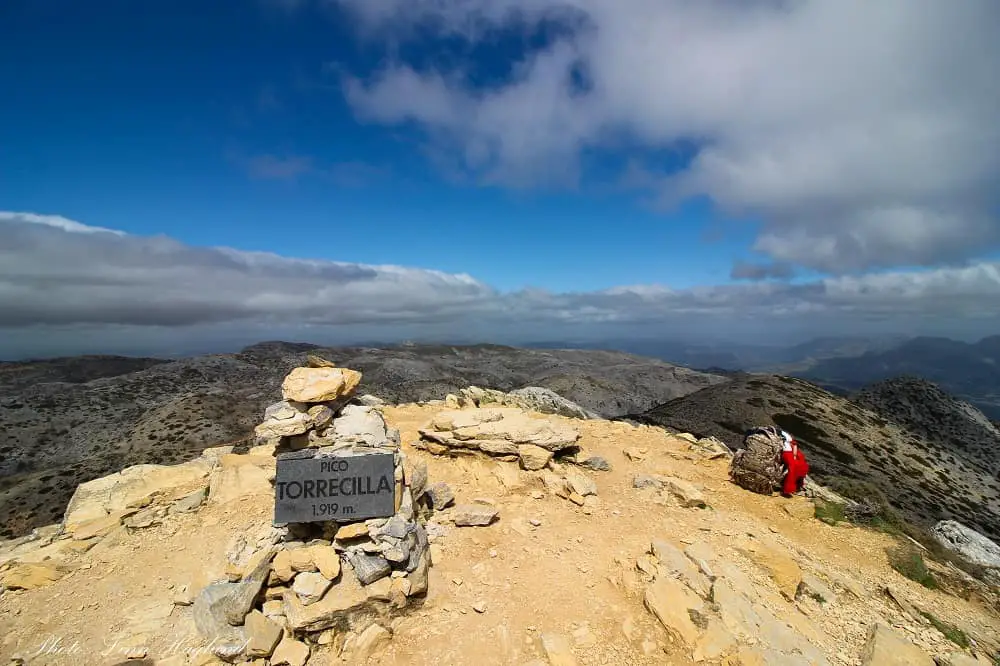 El Caminito del Rey
El Caminito del Rey is without a doubt the most famous hike in Spain (together with El Camino in the north) and a must hike in Malaga! If you don't suffer from vertigo that is.
The 7.7 kilometer trail is easy to walk as there is not much elevation, but half of the path is pinned onto the vertical cliff wall hanging up to 100 meters above the gorge floor. In some places, the gorge is so narrow that it almost feels like you can touch the other side.
El Caminito del Rey used to be the most dangerous walk in the world before it was renovated and reopened in 2015. Today you can see the remains of the old path below the one you're walking on. A vast memory of all the adventure-seeking souls that have lost their lives throughout the years it was illegal to walk there.
Today, you have to buy a ticket in advance to do the hike, which includes a mandatory helmet. There are security personnel along the path and you get a security brief before you start the walk.
It's only allowed to walk one way, so you need to take the bus the other way around. The bus stops at El Kiosko Restaurant (there is also parking there), where you have a 20 or 50-minute walk (depending on the route you take) to the checkpoint where the actual path starts and you show your tickets. The end of the trail is in El Chorro village where the train station is.
The walk one way takes 2 hours, but you need to add an extra hour or hour and a half with the transition to and from the trail by bus one way.
Read my complete guide to walking Caminito del Rey here.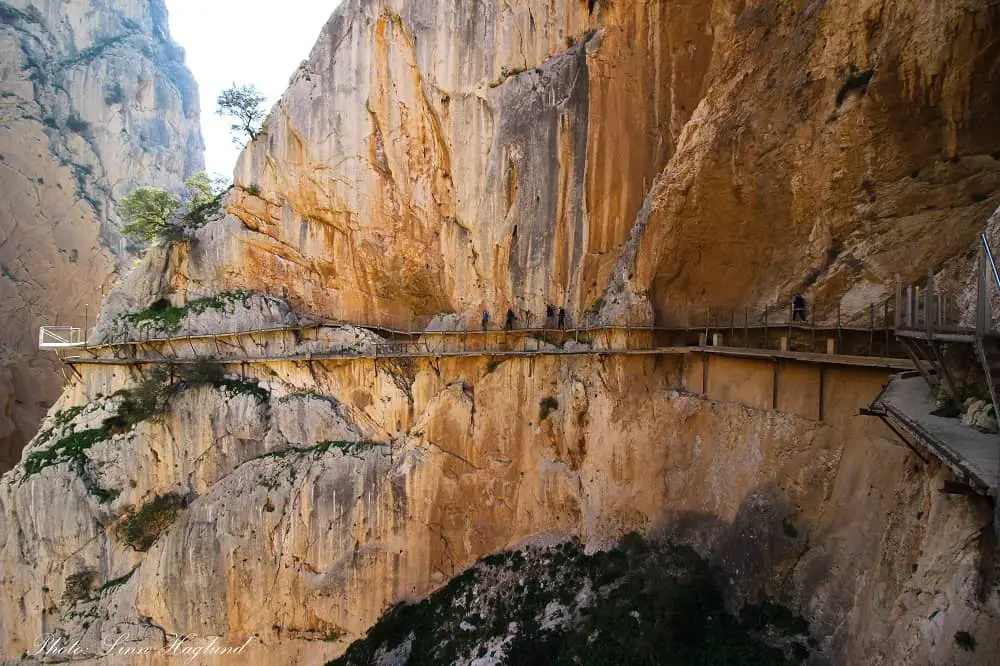 Mirador de las Buitreras and Pico del Convento
So, you've hiked El Caminito del Rey and want to see epic views of the gorge. Mirador de las Buitreras is an amazing viewpoint that you can get to in only an hour from El Kiosko Restaurant just outside El Chorro.
By starting out the same tunnel (only about 200 meters down the road from the restaurant) as the short walk to El Caminito del Rey, you turn right on the track before entering a tunnel that takes you to the checkpoint, about 10-15 minutes in.
Continue up this track until you get to a dead-end with a stunning view of the lakes to your left. To your right, you see Pico del Convento. But first, you continue straight on the narrow trail in front of you to get to the viewpoint.
The drop is immense so be careful at the edges as there are no security rails there. To your right, you'll be spoiled with mesmerizing views of Desfiladero de Los Gaitanes Gorge and Caminito del Rey in the far end. But take your time and look above you too. This is a famous place for spotting large vultures circling above your head.
Walking back from the viewpoint, turn left towards the Convento peak when you get back to the dead end. Continue up the trail until you can turn right up to the peak. You can walk back down the same way or try the round trip, but I'll be honest with you, the trail is not easy to follow.
I've got lost there and everyone I've met so far has too, so unless you find a reliable map to follow, it might be safer to turn around where you came from, especially if you're walking alone or are not familiar with the area.
Coming back the same way is around 2-3 hours while the round trip can take up to 4 hours depending on how much you get lost on the way.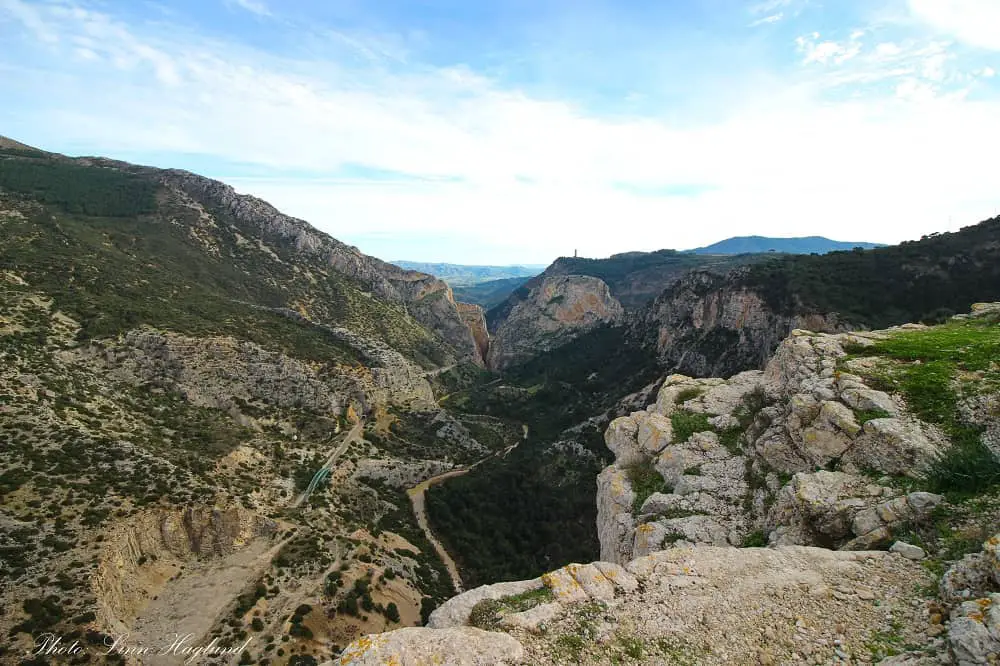 Arabic Staircase
Another epic hike from El Chorro is the Arabic Staircase. This is a perfect family hike of about 3-4 hours for a 9 kilometers round trip. This is one of the most unique Malaga walks, though highly underrated.
The staircase you'll ascend on this trail is extremely well preserved and believed to have been built in the 15th Century. There are theories that the staircase was built as part of a trading route, but no one really knows for sure who built them and why.
Nonetheless, it's a wonderful experience to walk up these steps accompanied by mesmerizing views of the valley of El Chorro.
The trail starts in El Chorro up a dirt track that can be ascended by car until you reach the sign to the trail to Arabic Staircase to your left.
Once you've passed the steps and get to the top, crossing to the other side of the ridge, turn onto the trail to the right once you cross a fence. This path follows the other side of the mountain through a forest before getting down to the track where you eventually turn right to get back down to El Chorro.
Read my complete hiking guide for Arabic Staircase here.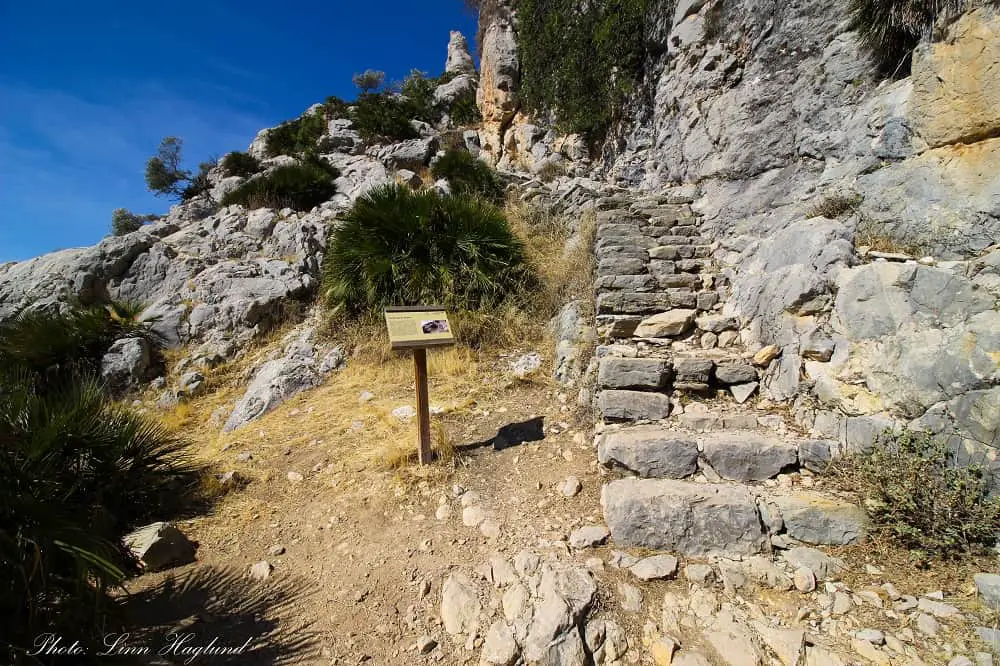 Rio Chillar
When it comes to gorge hiking, Malaga is hard to beat. One of the most epic trails goes up the Rio Chillar river in Nerja. This is also one of the busiest river hikes in Malaga, so if you can avoid the weekends and the month of August you'll have a much better experience.
Once you get to the river, make sure you wear good river hiking shoes, because you'll walk in the river all the way! I also recommend bringing a dry pack for hiking.
There are two large gorges where the river flows through, several water holes, and a waterfall at the end. There is no way you won't have a great adventure hiking through this river – as long as you have good footwear and bring enough water and food.
The 16-kilometer return hike usually takes around 8 hours with swimming and food breaks.
Read my complete hiking guide to Rio Chillar here.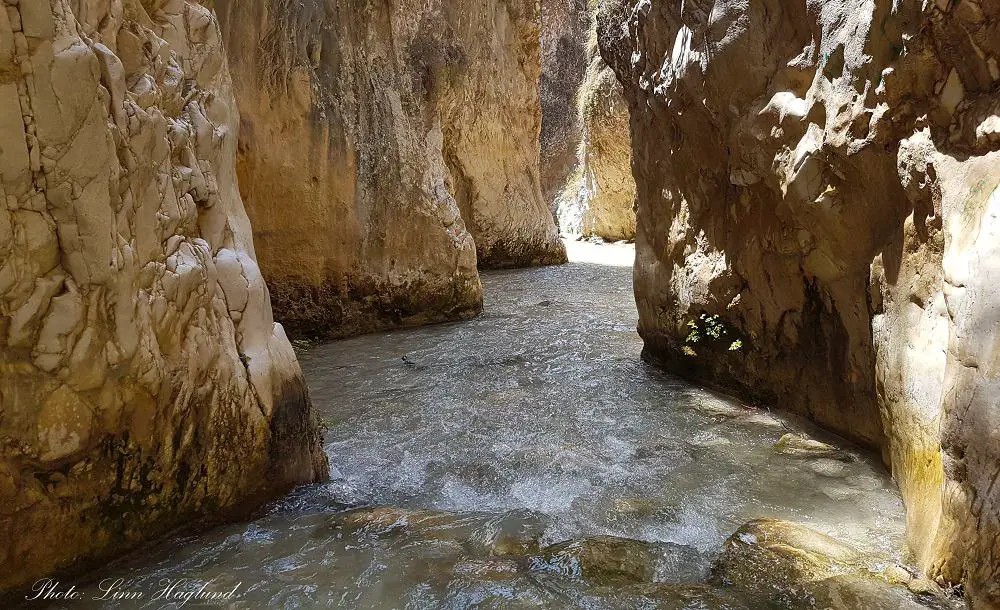 Rio Verde (Istán)
Are you ready for a true summer hike where you'll walk and swim in the river all the way up to a mesmerizing waterfall? Then this hike is for you! There are several Rio Verde's in Andalucia and that's why I've specified that this one is in Istán, which is a small white village above Marbella in Sierra de Las Nieves Natural Park.
To get to the trailhead you need to drive past Istán. Plotting the trail into the GPS will take you straight there as this is a popular hike. Once on the parking lot, skip down to the left to the river and start walking upward in the water (to the right).
Be careful and wear good water hiking shoes as the name Rio Verde (Green River) comes from the green algae that cover the rocks in the river and colors the water. They also make the rocks on the river bed extremely slippery!
As you proceed upward, you'll pass several waterholes where you have to swim to get past and there are loads of smaller falls.
To keep your hiking gear dry, use a quality dry bag for hiking.
Just before you reach Charco del Canalón, which is where you find the largest waterfall flushing down in a small gorge, you'll get to steps of larger pools where most people hang out for the day.
Head back again on the trail that you'll find marked on the right side walking back down the river. If in doubt, ask anyone there as most people just walk up the track to enjoy the waterfall and final pools.
Hiking Rio Verde in Istán only takes a couple of hours, but with stops along the way and a good lunch break and maybe some exploring behind the final fall, you can easily double that time. There is no doubt this is one of the absolute best summer hikes in Malaga.
Read my complete hiking guide to Rio Verde, Istán here.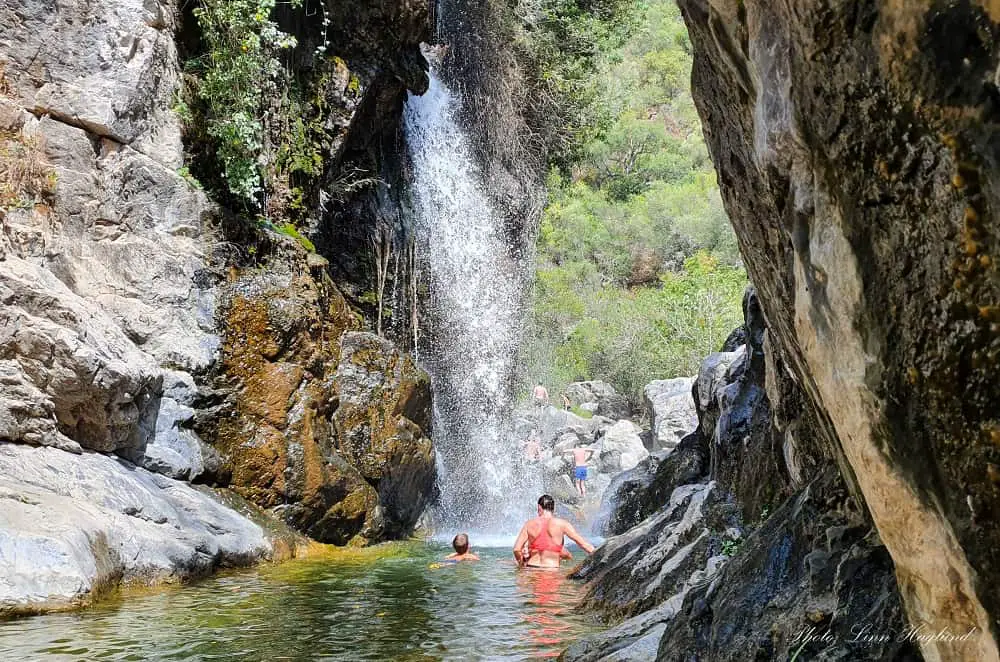 El Torcal de Antequera
El Torcal de Antequera has some of the most unique karst landscapes in Europe and the protected area has some of the best family hikes near Malaga. You can almost be sure to see wild mountain goats – sometimes even on the trail.
There are three routes to choose from. One that goes 7.1 km from the bottom car park and takes about 3,5 hours, and two that go from the top car park and visitor center. They take 45 and 2 hours.
Make sure you follow the 7 Leave No Trace Principles when hiking here, especially considering the highly present wildlife that lives here.
Read my complete hiking guide to El Torcal de Antequera here.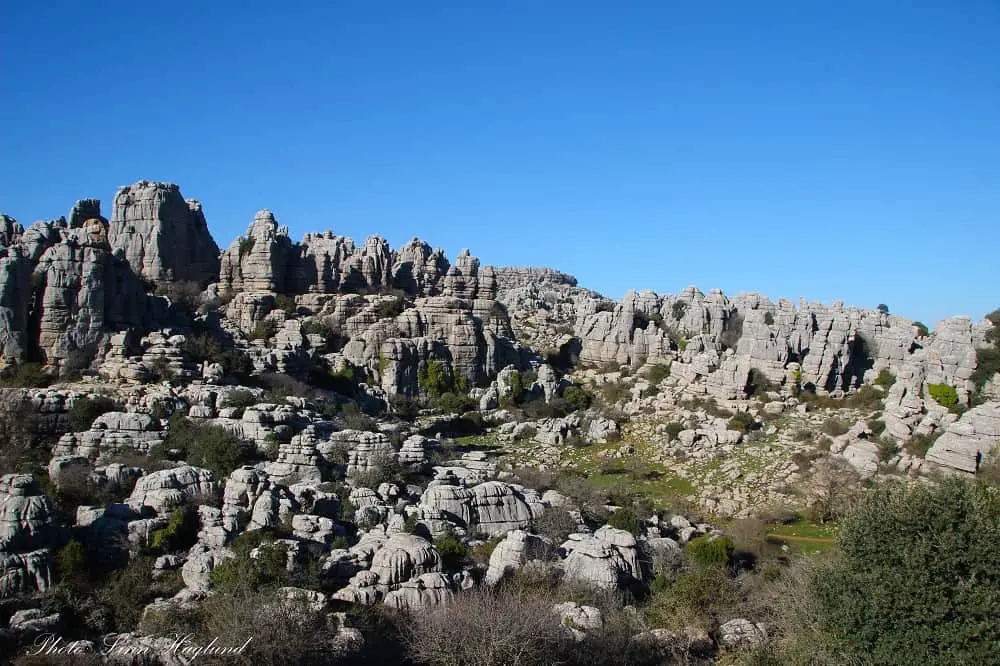 Pico Huma
Pico Huma (1179m) is without a doubt one of the most memorable hikes in Malaga. Starting in El Chorro, this hike can be combined with the Arabic Staircase hike.
In the forest, on the loop back, you get to a junction with signs to El Huma to the left. Walk up the track a few meters, and in the left turn, you take off the track and onto a trail in the forest in front of you. Follow this out of the forest and you find yourself on the other side of the valley where you came from.
Shortly after, the trail ascends along the mountain wall with chains to hold onto, though it's not very steep, it's a little scramble. After passing this section and walking across open landscape further up, you get to a junction with sings to El Huma to your right.
Once you get to a flatter area keep your eyes open for a narrow crack in the mountain on your left. You need to scramble up this section before you reach the top where the peak is across the open landscape to your right.
Yet another surprisingly stunning 360 view awaits! This is a 14 kilometers hike with less than 1000 meters of elevation gain, yet you should be used walking in the mountain to attack this peak. You can expect to use 5-6 hours on this hike.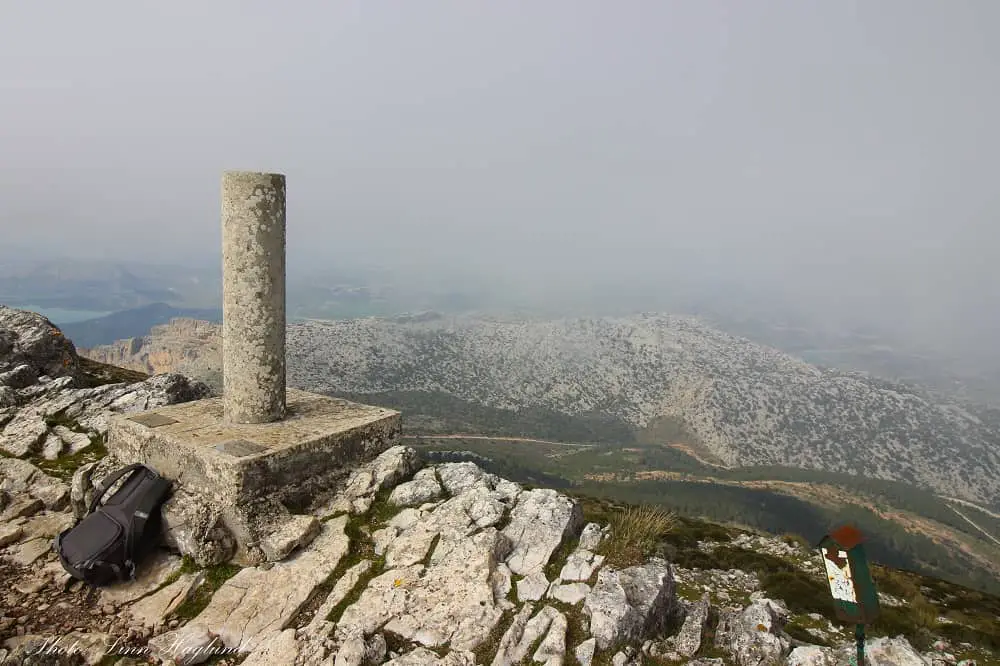 Pico Chamizo
One of the more challenging Malaga hiking routes is found above the white village, Villanueva del Rosario. Pico Chamizo (1641m) is definitely for experienced hikers.
The 8 km loop trail involves a nearly vertical trail which is best tackled with hiking poles (I tried with and without and they made a huge difference!) and a lot of light scrambling up and down the actual peak.
Start at Mirador de Hondonero and follow the signs towards Hondonero where you'll soon get to the steep ascent before heading towards the scramble up to the peak.
Once you reach the peak you'll be met by incredible views of the surrounding mountains and countryside. The hike continues along the ridge, with a scramble down the other side.
You need to keep an eye up for cairns the whole way. You'll see a trail at the bottom left, that's the one you're aiming for. Once you reach it, it's all easy walking.
The trail continues straight for a while before it loops down and back parallel to the track you drive up to the starting point.
The hike takes about 4-5 hours to complete with stops and is absolutely worth the initial effort.
Read my complete hiking guide to Pico Chamizo here.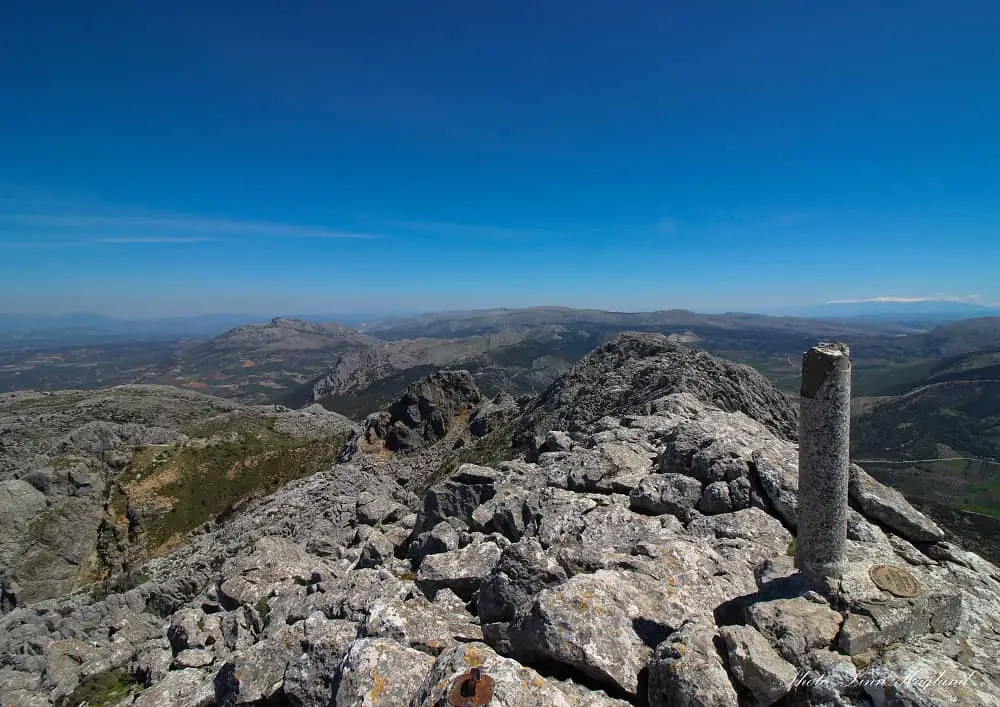 Reflections on hiking in Malaga
There is no doubt there are a lot of amazing hikes in Malaga. I've said it before and I'll say it again. Malaga does have some of the best hikes in Andalucia with so much variety in nature.
You can easily go on a short family hike or a hard long day's trek ascending spectacular peaks, or walk through canyons and rivers. Hiking in Malaga is one of the best activities the province has to offer and shouldn't be underrated.
Happy hiking!
READ NEXT: Best hikes in Sierra Nevada
Like this? Make sure you pin it for later!