There are not many places you can go camping in nature in Andalucia. Especially beach camping is completely illegal. But there is one place you can set up the tent on the beach where the police is well aware and even protecting the activity.
The hippie settlement of Cala de San Pedro in Cabo de Gata-Níjar Natural Park, Almeria, has brought a huge income to the village of Las Negras as thousands of backpackers and free spirits head over to the only beach you can "legally" beach camp in Spain.
The mesmerizing coastal hike from Las Negras to Cala de San Pedro is fairly easy but truly one of the most unique hikes in Andalucia. If you're up for an adventure like no other, bring your hiking tent, enough food for a few days, and get going! Following, I'll share all the information you need to have a successful hike and stay at Cala de San Pedro.
Disclosure: This post may contain affiliate links. That means that if you make a purchase through one of those links, I will get a small commission at no extra cost to you.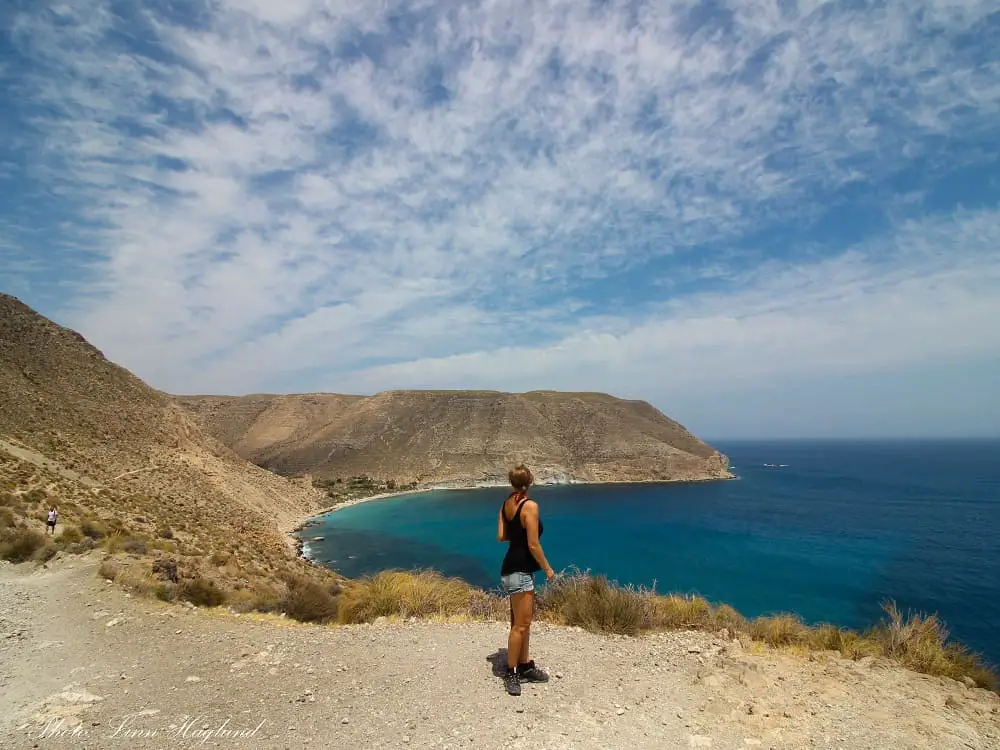 READ: Best hikes in Andalucia
---
Practical information
Province: Almeria
Length: 10,1 km return
Time: 2,5 hours return
Elevation: 100 m
Route: Linear
Difficulty: Easy-medium
Hiking season: All year round, though July-mid-September might be extremely hot!
Hiking with dogs: Allowed, but be aware that there are a lot of free roaming dogs in the cove and no natural water sources along the trail. Check out what you need to know about hiking with dogs before you go here.
---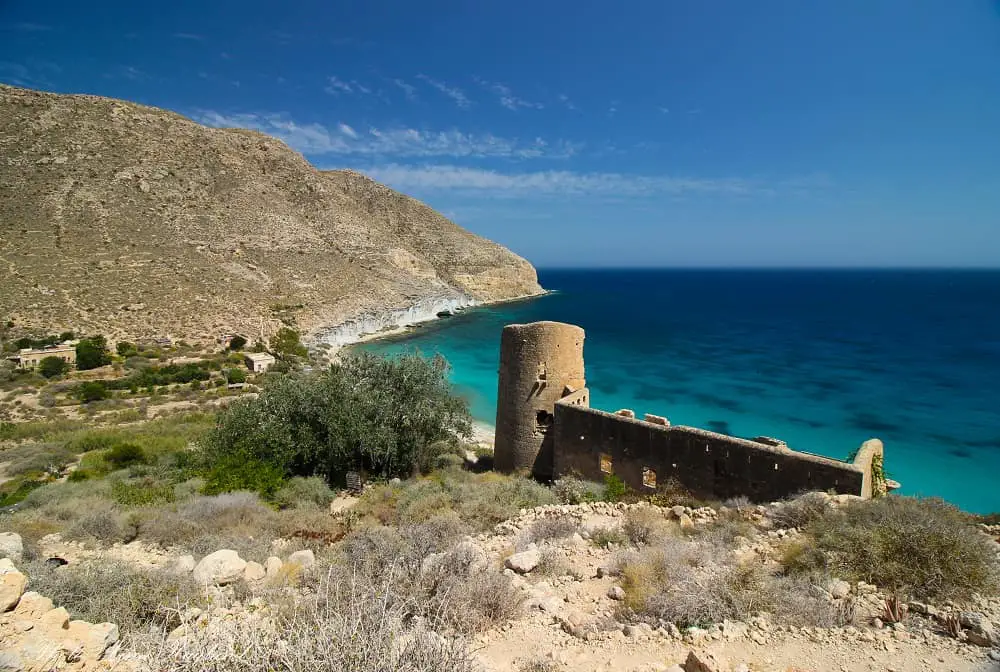 How to get to Las Negras
Las Negras is on the east side of Cabo de Gata. The closest international airport to Las Negras is in Almeria and it takes about 40 minutes to drive. When exploring Cabo de Gata-Níjar Natural Park, it's highly recommended to drive, as there are large distances between villages and very poor bus service.
The bus no. M-203 goes between Almeria and Las Negras and uses approximately 1hr and 15 min. You can check the route here. There is also Alsa that seem to have more departures within the natural park – find more information here.
You can also hike between villages in the natural park but I don't recommend that in the summer months as the temperatures can get extremely high, after all, this is an area with desert!
An alternative, is to look for a hotel with airport shuttle.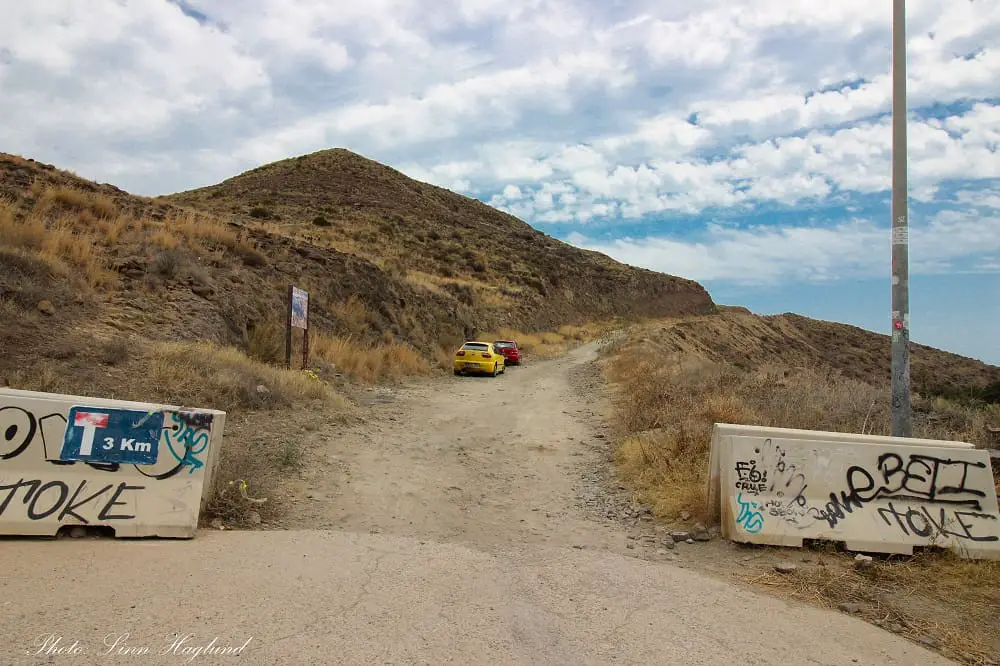 How to get to the trailhead
From Las Negras, walk east (left looking down at the beach) up Calle Aguillas or Calle Bahia de las Negras until you can turn right and onto a dirt track. This is marked by a sign indicating a dead-end in 3 km. A lot of people choose to drive in here to the parking lot 3 km up, but I like to walk it unless it's an extremely hot day!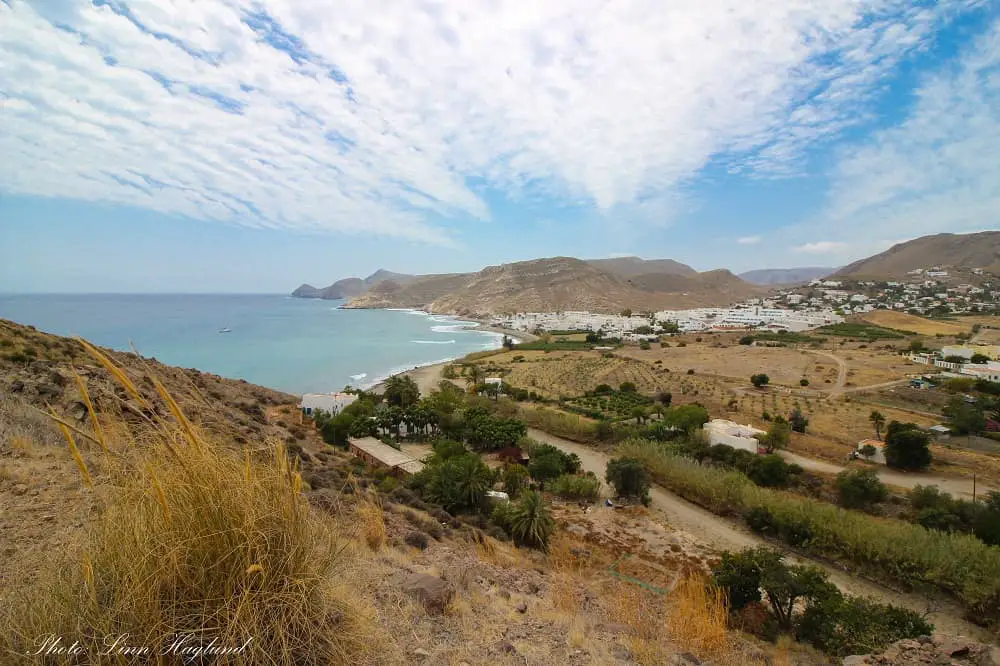 What to bring
When hiking to Cala de San Pedro, there is no shade, so on a sunny day, you need to cover your head, have a lot of water, and sunscreen. Here are some general tips for hiking in hot weather.
Make sure you have a day hiking backpack with enough space for everything you need even if you plan on returning the same day. You can fill up your water bottle at Cala de San Pedro as there is a natural water source that the locals use.
Depending on how many days you plan to stay, make sure you bring enough food and everything you bring with you is your responsibility to take back and dispose of properly.
It has varied a lot from year to year if they sell food and drinks in the bay or not. Sometimes there are locals selling tasty sandwiches, even vegan options, and other years they haven't. So you're better off bringing what you need and taking some cash in case you can support the locals.
Even though it's a fairly short and easy hike, I highly recommend wearing hiking shoes or good-quality sneakers. The last bit down to Cala de San Pedro is a bit rocky and steep, and can easily get slippery. It is also
Make sure you at least bring the following:
Water
Sunscreen
Hat/caps
Snack
Food
Swimsuit
Towel
Flip flops
Camera
My Amazon picks for this hike:
Where to stay in Las Negras
If you plan on staying in Las Negras before or after your hike to Cala de San Pedro, there are a few hotel options, but you can also stay at the camp side Camping La Caleta. You find more information about the camp side and bookings here.
Las Negras is a charming white coastal village with a beach consisting of black rocks. The village is full of life in the summer months but becomes quite the opposite in the winter. If you're looking for nice beaches, Las Negras might not be the best place to stay for long, but it's a short drive to the most famous beach in Cabo de Gata, Los Muertos beach, and many in between. So definitely a good base if you go for day trips by car.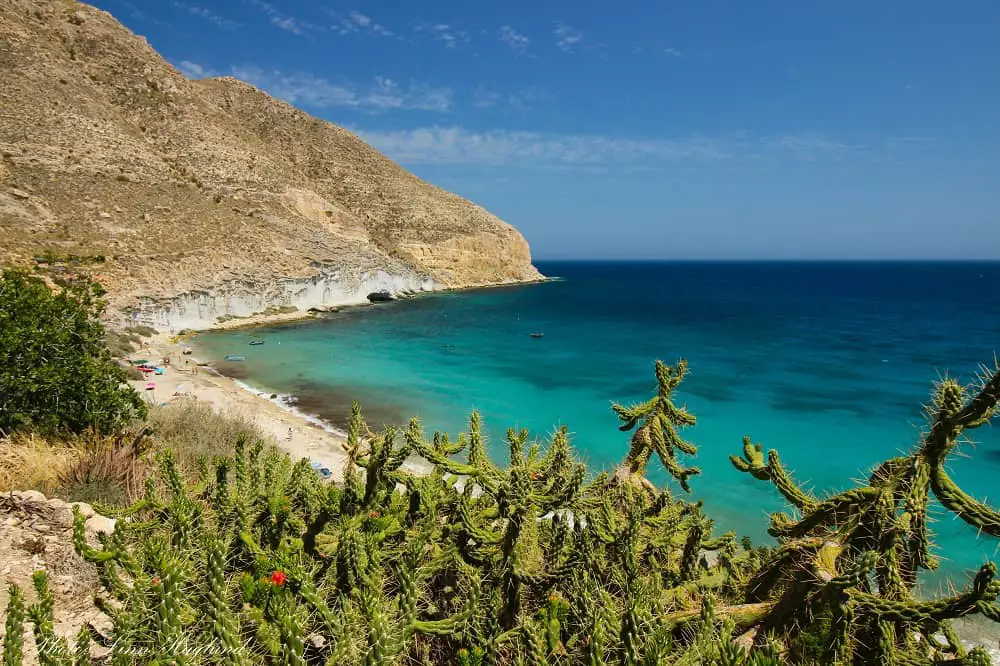 Here are hotel options
Hotel Spa Calagrande Cabo de Gata
This is a wonderful spa hotel with an outside pool and impeccable views. It's situated on the beachfront, so it's perfect for the warmer months of the year. You can also enjoy the Turkish bath. The hotel has its own restaurant and bar.
Cala Chica Cabo de Gata
Another great hotel option close to the beach with an outdoor swimming pool and rooms with a terrace and views. The hotel has a bar and their parent hotel, only a short walk away has both a restaurant and a spa.
Bitacora
This is a wonderful apartment hotel set just outside the village. It's the perfect choice if you want your own space with a kitchen so you can prepare your own food and store it in a fridge. There is a swimming pool and a bar there and if you come by car, you have free parking outside.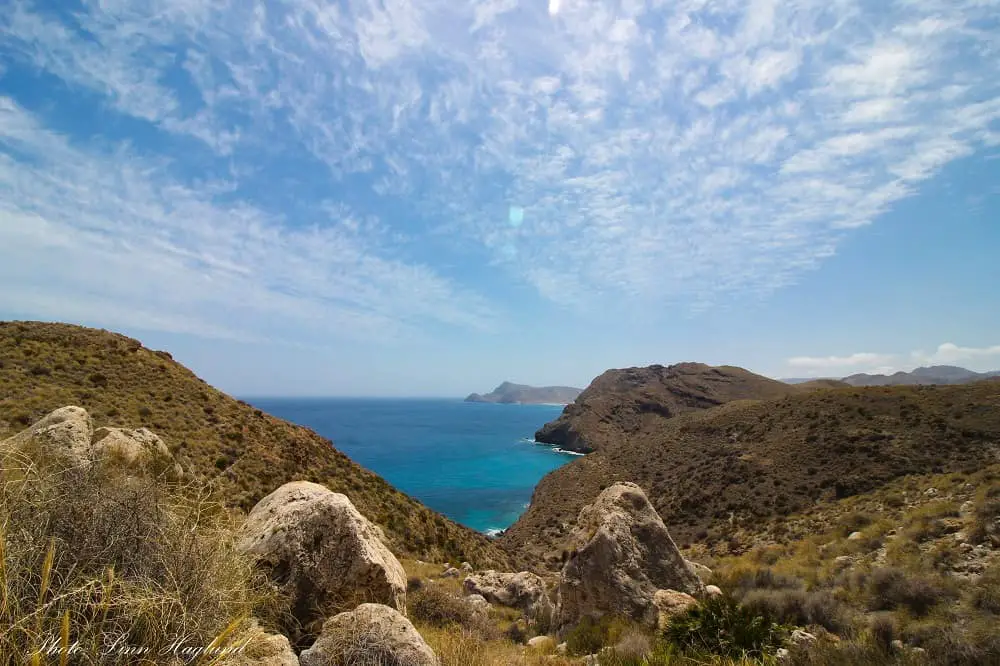 Hiking to Cala de San Pedro in Cabo de Gata
Start the hike by following the track for 3 km until you get to a parking lot (you can take your car all the way there) where you get onto a narrow trail following the mesmerizing coastline. The views of the glittering blue sea soon opens up and follows you for the next hour on an easy path.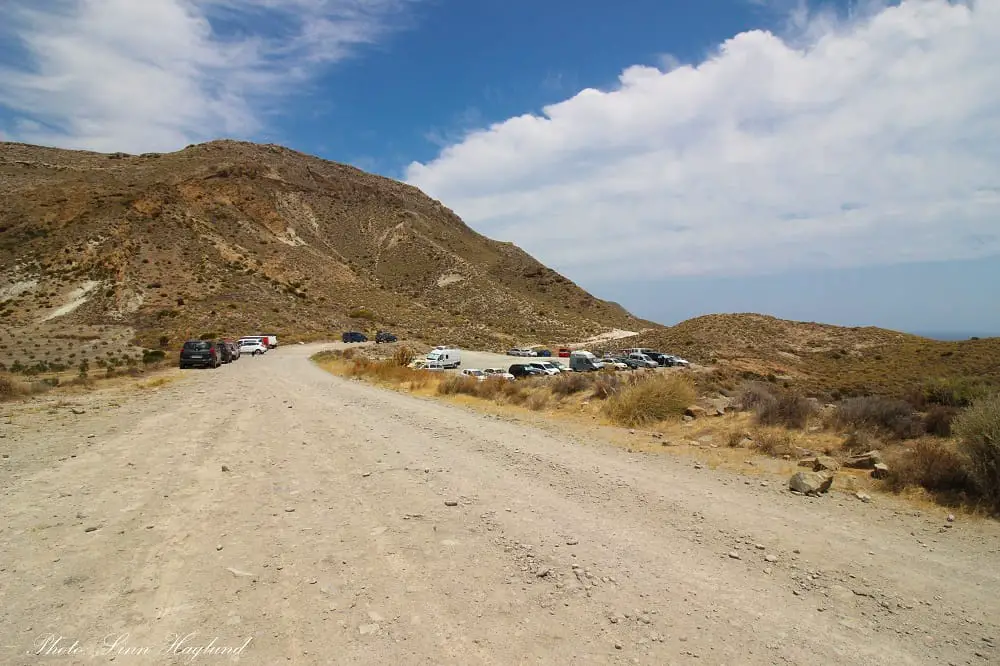 When you get closer to Cala de San Pedro, the path gets steeper and rockier as it winds down towards the bay, past the well-preserved ruins of Castillo de San Pedro. You'll pass a wealth of lush fruit trees and the odd hippie home integrated into the natural surroundings until you get down to the beach.
As mentioned above, this beach has become very popular among backpackers, and as with most remote beaches in Cabo de Gata, clothing is optional.
If you've brought your tent, you can look for a free spot to pitch your home for the night before exploring the area. In the direction you came from, there is a natural water source where people shower and you can collect drinking water. There is no need to filter it, at least I've always been fine and so have everyone else I've met there (including the locals.)
Several years ago, there was a huge problem with people going to the toilet in nature and leaving their sh*t on the ground. I've red more than one person say this is the most disgusting place they've been because of that.
In the later years, the locals have built several toilets in the area consisting of a hole in the ground with a wooden lid on it and a fence around so you even get your privacy. These are marked with flags so they're easy to spot. USE THEM!
There are several trails in the area where you can explore the surroundings, but make sure you respect gardens and houses. There are people living there.
In general, make sure you follow the Leave No Trace Principles so that everyone can enjoy the beauty of this natural area.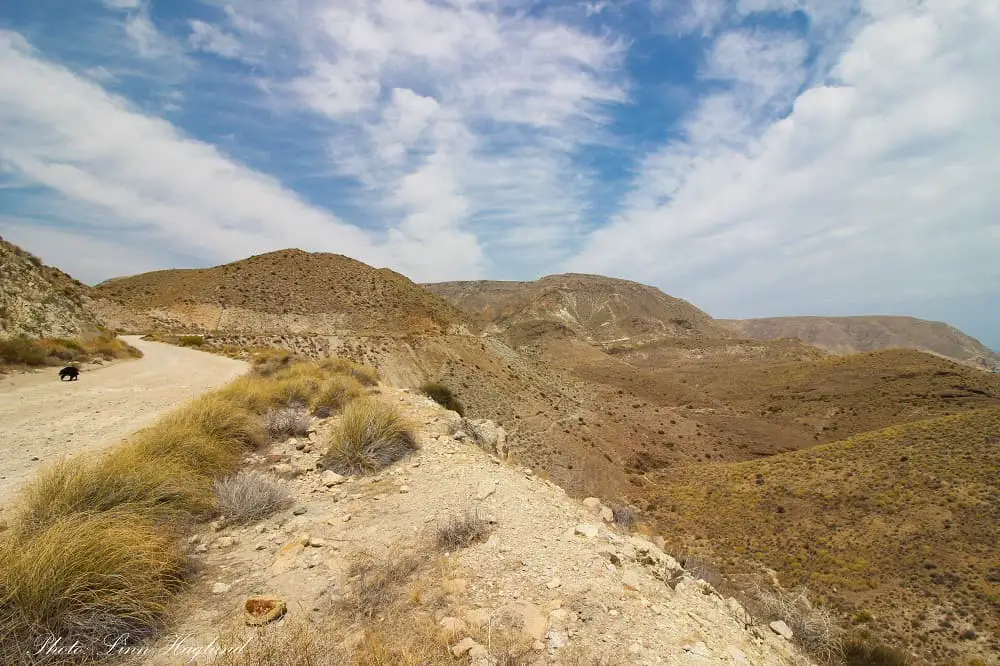 Reflections on Cala de San Pedro, Almeria
Cala de San Pedro in Cabo de Gata is one of my absolute favorite places to go for beach camping and the hike is beautiful. As mentioned before, a lot of travelers have commented how it's dirty and smelly.
I mean, it's a natural space and if those who go there don't take responsibility it will become so. But, also, don't go to a remote beach expecting it to be a five-star hotel. You go there for the sake of being in nature right?
Personally, I think that the measures that have been made by the locals, creating the outdoor toilets and setting up signs have helped a lot. It's everyone's responsibility to do their part and I think that if you go there with an open mind and do your part you'll have a blast!
If you're not up for beach camping, it's still a unique place to discover. Every time I've been there, I've chatted with the locals and they've always been open to sharing their stories. It's seriously one of the highlights in Cabo de Gata, among many more!
Other hikes in Almeria:
Like this hike? Pin it for later!