Cabo de Cata-Níjar Natural Park is one of the most unique natural spaces in Spain. With a vast desert area dominated by volcanic remains from the eruptions that took place millions of years ago.
Though there are no dominating volcanoes on the peninsula, there are extinct volcanoes and calderas remaining. Caldera de Majada Redonda is the biggest and most important one and the hike to reach it is an easy one for the whole family.
The caldera is a whopping 1000 meters wide and 200 meters deep. The side where the trail enters the caldera is the collapsed side where the lava once ran down to the sea. Being such a unique natural landmark, this is a true bucket list hike!
In this guide, you'll find everything you need to know to hike Caldera de Majada Redonda.
Disclosure: This post may contain affiliate links. That means that if you make a purchase through one of those links, I will get a small commission at no extra cost to you. As an Amazon Associate, I earn from qualifying purchases.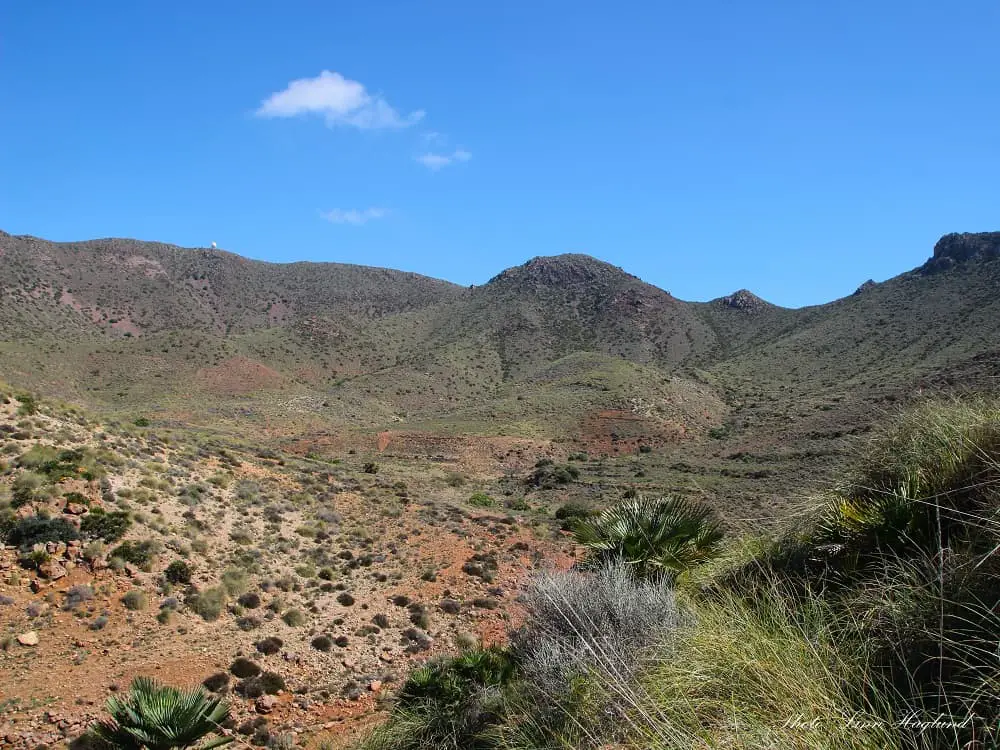 ---
Practical information
Province: Almeria
Length: 6 km
Time: 2 hours
Route: Linear return
Difficulty: Easy-Medium
Hiking season: November-May
Hiking with dogs: Hiking with dogs is allowed, but bring extra water as there are no natural water sources along the trail.
---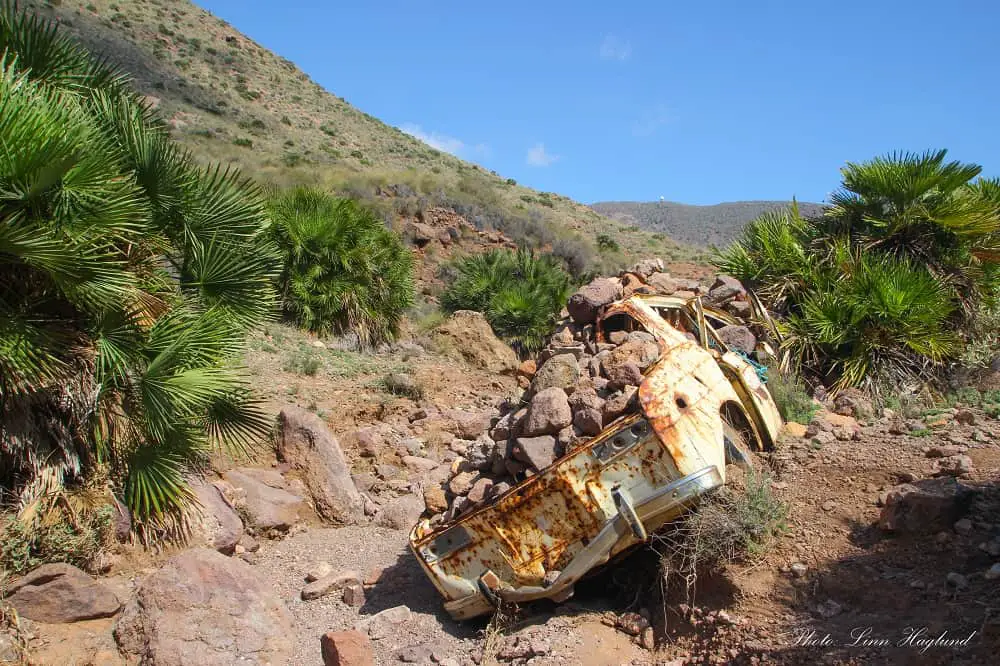 How to get to Caldera de Majada Redonda
Caldera de Majada Redonda hike starts in the tiny village Precillas Bajas in Los Escullos in Cabo de Gata-Níjar Natural Park. You need a car or bike to get there. It takes less than an hour to drive from Almeria.
Coming from Almeria or San Jose, take the turn to Los Escullos, and just before Camping Los Escullos, turn left towards the hills. If you come from Las Negras, take the first right after passing the turnoff to Camping Los Escullos.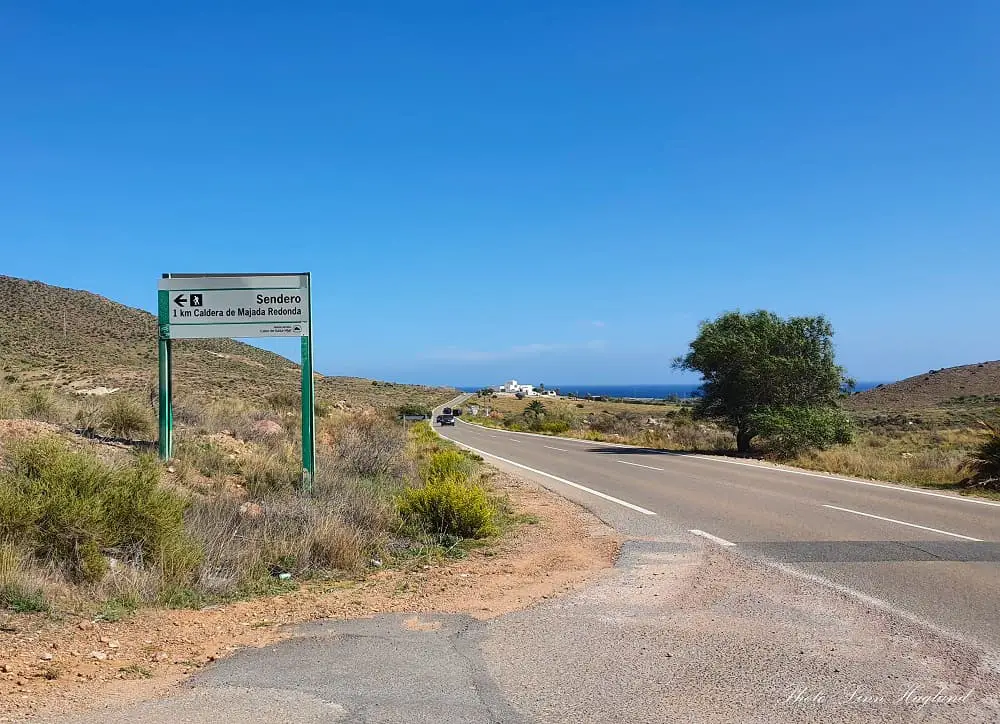 There's a signpost at this turn indicating Caldera de Majada Redonda 1 km. Follow it up to you get to the village and park at the parking to the left by the entrance of the village. The trailhead is a few minutes walk farther ahead, straight through the village. There's space for one or two cars to park there.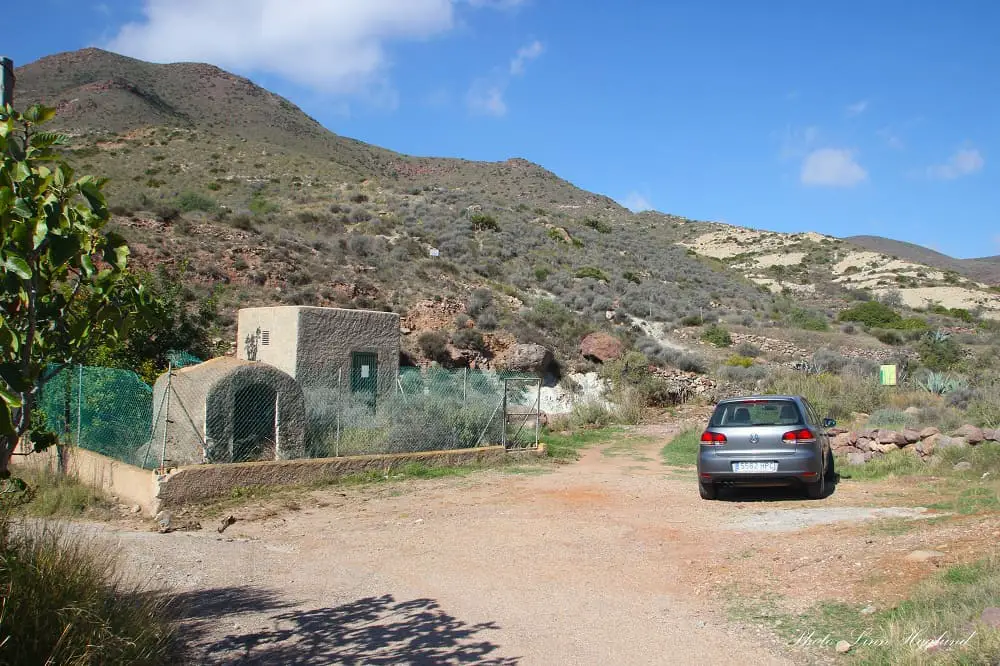 The trailhead is well marked with a big sign describing the route.
When is the best time to hike Caldera de Majada Redonda
There are no natural shade or water sources along the Caldera de Majada Redonda trail so it's not recommended to do this hike during the hottest summer months.
If you do, however, make sure you bring more than enough water, cover your head, and pour water on your head and neck when needed, and slab on tons of sunscreen. You might also want to read my top tips for hiking in hot weather before you go.
I don't recommend bringing dogs in summer as the heat gets extreme and they can get a heat stroke (and you!)
The fall, winter, and spring months, on the other hand, are perfect for hiking Caldera de Majada Redonda. Even better if it's a windy day. But even in these seasons, make sure you bring enough water, also for your pets if you bring your dog hiking.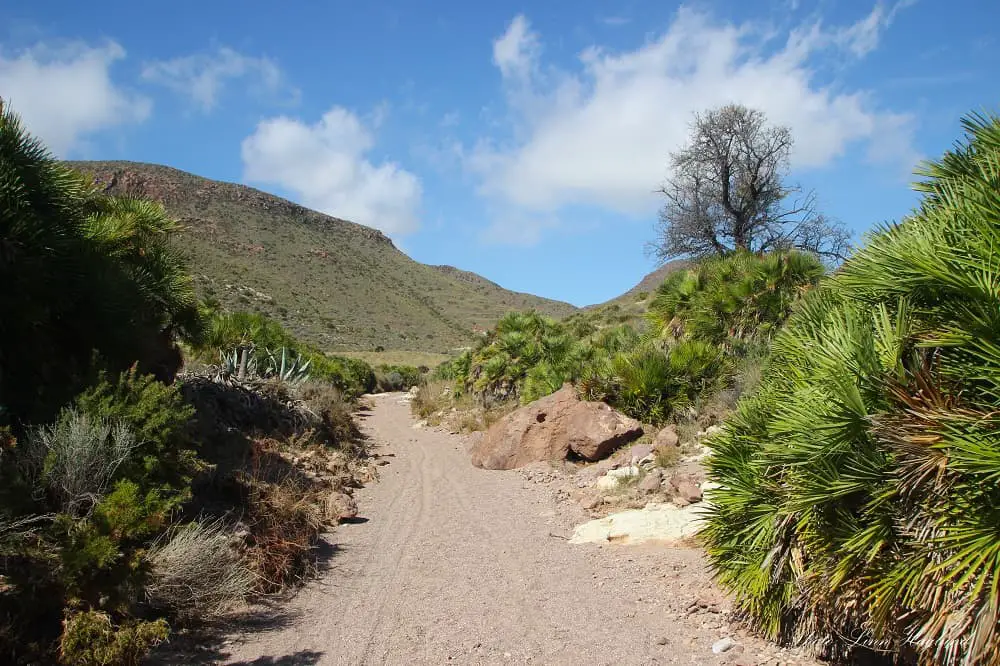 OTHER HIKES IN ALMERIA
What to bring
As mentioned already, it's important to bring enough water for this hike as there are no natural water sources along the trail. Don't be fooled by it being a short hike. On a hot day, it can feel daunting under the scorching sun.
It's also important that you wear good hiking shoes. Even though most of the hike is easy, there are sections of uneven ground, rocks, and pebbles.
As you move closer to the caldera, it gets more and more clear that you're walking in a dried-up riverbed. You probably want to climb up the walls of the caldera too, so that you can get nice pictures. I didn't have proper footwear here and slipped a lot in the caldera.
In the caldera, there is also a lot of bush and if you plan on walking up for the views, it will be off-road and it can be comfortable with hiking leggings or long hiking pants to avoid getting rifts on your legs.
While your day hiking packing list doesn't have to be extremely long for this hike, make sure you have the essentials for the harsh weather conditions of Cabo de Gata.
If you're in need of a new day hiking pack, check out my review on the Osprey Sirrus 24 women's pack.
THINGS TO BRING:
lunch
fruit or other snack
water
caps/hat
sunscreen
camera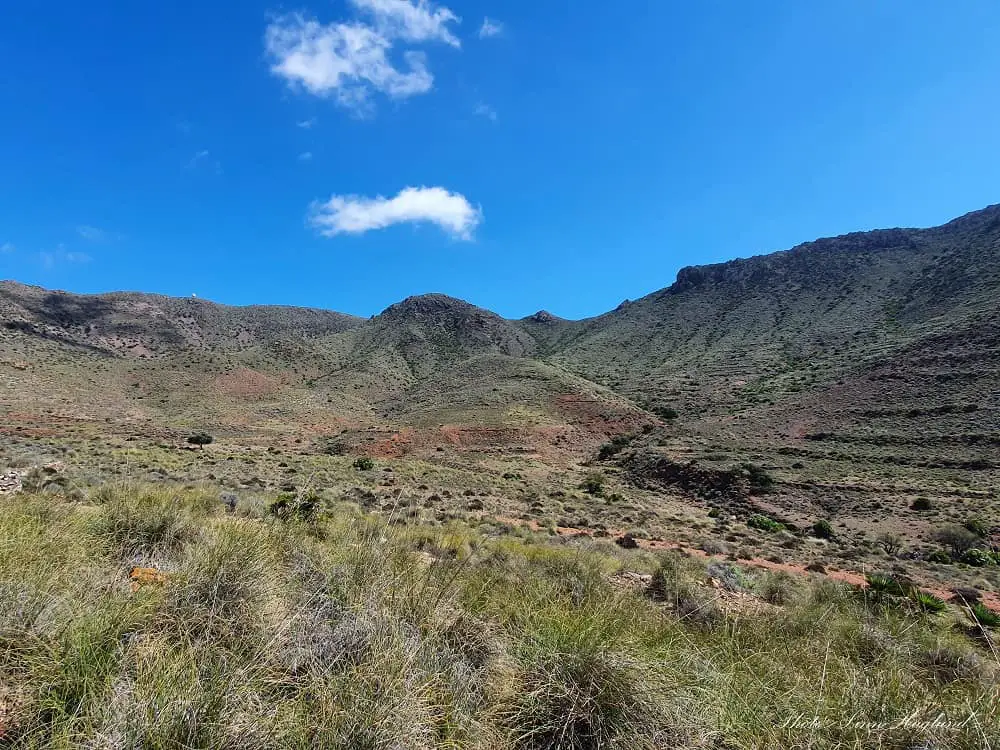 Where to stay
The closest place to stay when hiking Caldera de Majada Redonda is the camping Complejo Turístico Los Escullos San Jose. They have both caravan and tent pitches as well as bungalows. I love staying there, especially off-season when there aren't as many people. But it's always clean and there's a bar, restaurant, and a little supermarket. It's within walking distance to Los Escullos cliffs and a great base for exploring the rest of the natural park.
Alternatively, San Jose is a lovely village to stay in where you find hotels, restaurants, and bars. My top picks for hotels in San Jose are Hostal Puerto Genovés and 4nudos playa.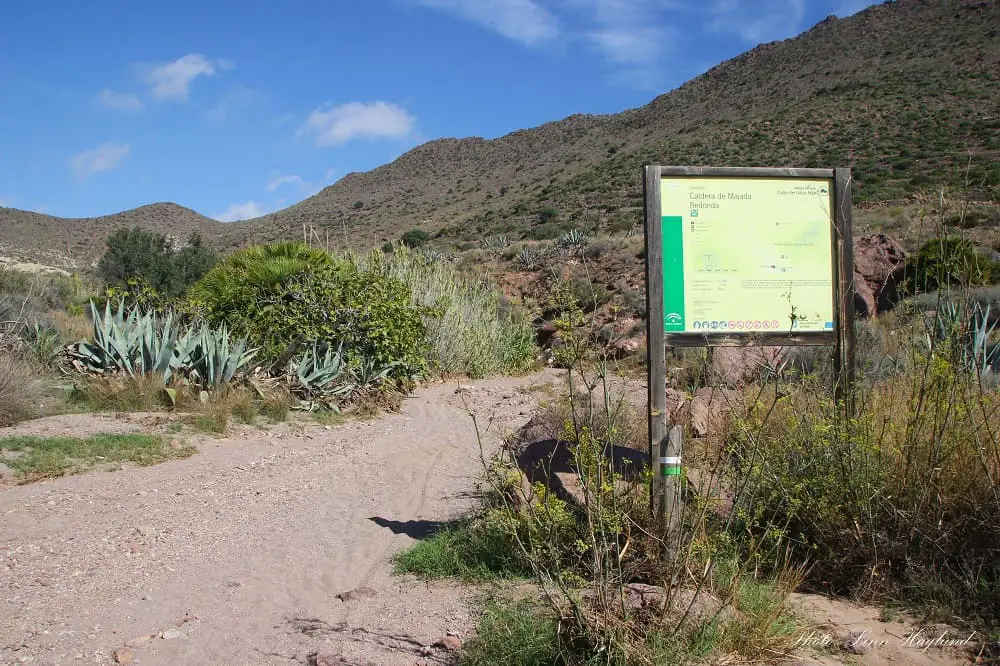 Hiking Caldera de Majada Redonda
The Caldera de Majada Redonda hike begins on an easy-to-follow track that slowly becomes sandy. This trail is actually a dried-up riverbed and winds all the way to the caldera.
While it's easy to walk on, either sandy or solid, towards the end of the trail it becomes rockier and you can envision where the water has been cascading down the rocks.
You can cut through the river by following signposted trails, though they all take you to the same place. Along the way, you can also go off track to check out cool ruins.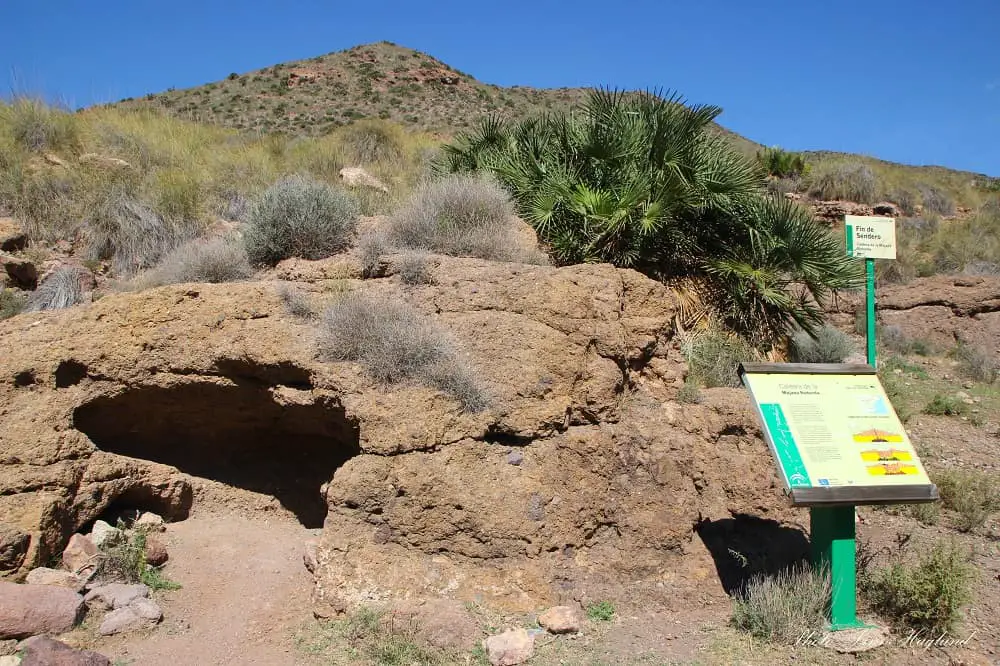 When you arrive at a sign saying Fin de Sendero (end of trail) there's still a few minutes walk to get to the actual depression of the volcano. So keep walking and you'll soon be surrounded by the walls of Caldera de Majada Redonda. In the middle, there is a small hill created by lava where you get impressive 360 views from inside this giant.
You can also hike up the walls to the rim for spectacular views of the massive bowl. Today so peaceful, it's hard to imagine what an aggressive explosion that once caused this depression you have at your feet.
The return is the same way you came from.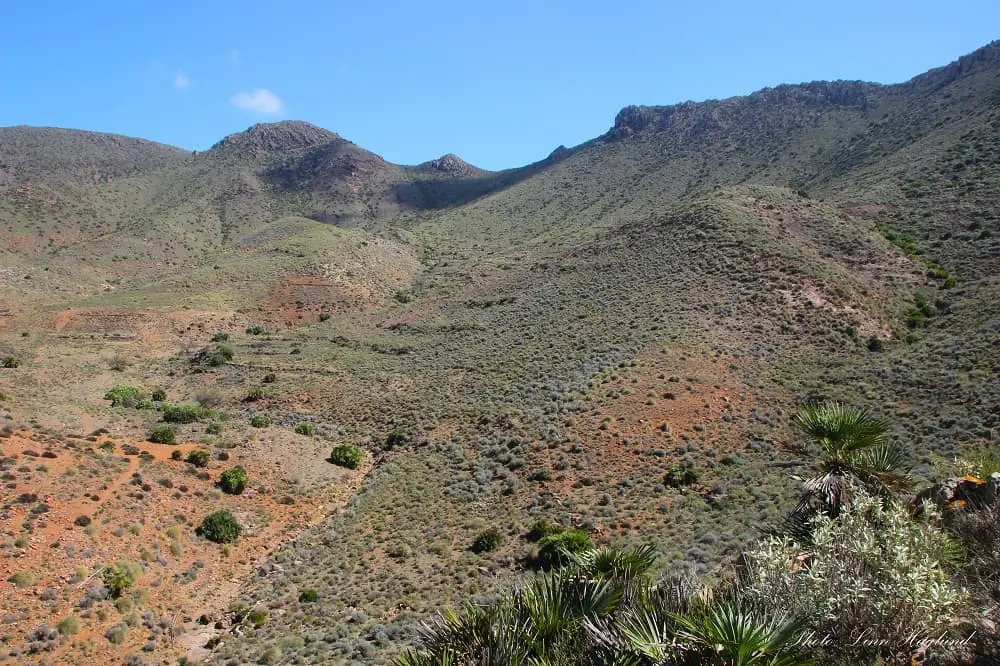 Reflections on Caldera de Majada Redonda hike
Caldera de Majada Redonda hike is an easy yet wonderful hike passing near prehistoric sites which makes this a unique trail perfect for the whole family. And I mean, how cool isn't it to stand inside a volcano?
It's a huge contrast to the coastal hikes in the natural park and a perfect choice on a windy day, especially in winter, when it's not too attractive to venture along the beaches or cliffs.
I'm convinced you'll love this hike!
Other hikes in Cabo de Gata: