Sometimes, all you need is to hear drizzling water, birds singing, and to breathe in the fresh scent of trees. Rio Molinos in Bayárcal is the perfect place for that!
An easy yet breathtaking hike crossing the river multiple times, passing old water mills, and taking in beautiful views. This is just a little of what you can expect when you hike Rio Molinos in Almeria's Sierra Nevada.
This guide will take you through everything you need to know for hiking Rio Molinos and have a memorable day out in the forest. Be prepared for one of the best family hikes in Sierra Nevada Spain.
Disclosure: This post may contain affiliate links. That means that if you make a purchase through one of those links, I will get a small commission at no extra cost to you.
Practical information
Province: Almeria
Mountain range: Sierra Nevada
Length: 4,7 km
Time: 2,5 hours
Elevation: 250 m
Route: Circular
Difficulty: Easy
Hiking with dogs: This hike is perfect to hike with dogs all year round.
READ: Best hikes for beginners in Andalucia
How to get to Rio Molinos Bayarcal
The trailhead of Rio Molinos goes from the highest village in Almeria, Bayarcal (1258 masl). It's not easy to get to the village by bus and the few buses that go take forever, so I highly recommend that you go by car.
It takes about 1 hr 20 min to drive from Almeria to Bayarcal, an hour from Guadix, and one and a half hours from Granada.
It's easy to park at the bottom of the village, just as you enter if you come from Almeria and the coast. To the left, on the road, you'll see a few parking spots with a view.
From there, you just walk straight up through the village and you'll see the hike well signposted on your left-hand side within minutes.
From Bayarcal, it's only 25 minutes to get to Hoya de La Ragua to the trailhead of Almeria's highest mountain, El Chullo (2613 masl), which is a beautiful 4-hour hike.
When is the best time to hike Rio Molinos
Rio Molinos can be hiked all year round, even with dogs, as there are no pine trees, thus no processionary caterpillars to worry about. If you take your dog hiking, you should read this post.
Even in summer, it's a comfortable hike, as you can walk in the water in large parts of the trail and even go for a swim. Make sure you check out my tips for hiking in the heat before you go.
Spring is lush and green, with a wide variety of flowers and the water runs vividly from all the melted snow in the higher Sierra Nevada.
In winter, there is less water and most of the trees are bare, but that doesn't make it a bad hike. It's still a peaceful and stunning trail that won't disappoint.
What to bring
Before you go hiking it's important to prepare properly so you leave no trace. You can read more about the 7 principles here.
It's worth noting that in the spring and early summer when water levels are high, there's a big chance you'll get your feet wet (and you might even want to!) Make sure you wear shoes that can get wet and that you can walk in the water with.
Water hiking shoes or regular sneakers that can get wet will do on this hike, though there is a short, near-vertical incline where you'll need good grip, so make sure you don't wear your oldest, worn shoes.
Other than this, check the weather forecast for Bayárcal in El Tiempo before you go, especially in winter. Due to the altitude, temperatures can differ a lot from the coast.
Read my complete list of hiking gear here and the best backpacks for day hikes here.
Here are the main things to bring for hiking Rio Molinos Bayarcal:
water bottle
snacks
shoes for change (unless you don't mind driving in wet shoes)
swimwear in summer
towel in summer
sunscreen in summer
camera
Top Amazon picks:
---
OTHER EPIC HIKES IN ALMERIA:
---
Where to stay when hiking Rio Molinos
There are no hotels in Bayárcal itself, so the closest place to stay is Laroles, which is less than a 15-minute drive away. Alternatively, stay in Almeria or Roquetas de Mar on the coast, and you'll have about 1 hour and 20 minutes to drive there.
Where to stay in Laroles
Camping Alpujarras
Right outside the village, you can camp in your own tent or rent a fully equipped bungalow at camping Alpujarras. The camping has a wonderful pool area and a restaurant.
Country house Cortijo Brazal La Ventaja
These two-bedroom apartments are stunningly situated in a green area with breathtaking views. With a barbecue and outdoor pool, you're set for a wonderful vacation.
Where to stay in Roquetas de Mar
Roquetas de Mar is a popular beach town right outside the city of Almeria, perfect for a few days of relaxing and close to hiking opportunities.
Destinos de Sol La Minería Roquetas de Mar
This apartment hotel is a great base for any activity. With only a few minutes walk to the beach and to bars and restaurants and private parking. It also allows pets for an extra cost of 10 Euros a night.
Where to stay in Almeria
Almeria is a terribly underrated city in Andalucia, but it definitely deserves a few days, so why not stay there when hiking in Sierra Nevada?
Aire Hotel & Ancient Baths
For a little luxury, stay at this wonderful hotel, right by the Alcazaba of Almeria. Some rooms have a terrace or balcony and there is a rooftop pool with astounding views.
---
READ: Best gifts for hikers
---
Hiking Rio Molinos Bayarcal
Once you follow the signs to Rio Molinos Trail from the main street in Bayarcal, you'll first walk down a winding paved walkway, under a bridge, and keep going until you get to the path.
The trail is well-marked and it's hard to get lost. After passing an open part with fig trees and awesome views of the village above you, the forest closes up a bit more and you get to the river. At first, the trail crosses the river, you can see an old water mill, and you follow a short, steep incline.
Following, is the best part of the hike through the thick, green forest, following the river, crossing it here and there, and if you look for them, you might just find some of the hidden water holes where you can go for a dip.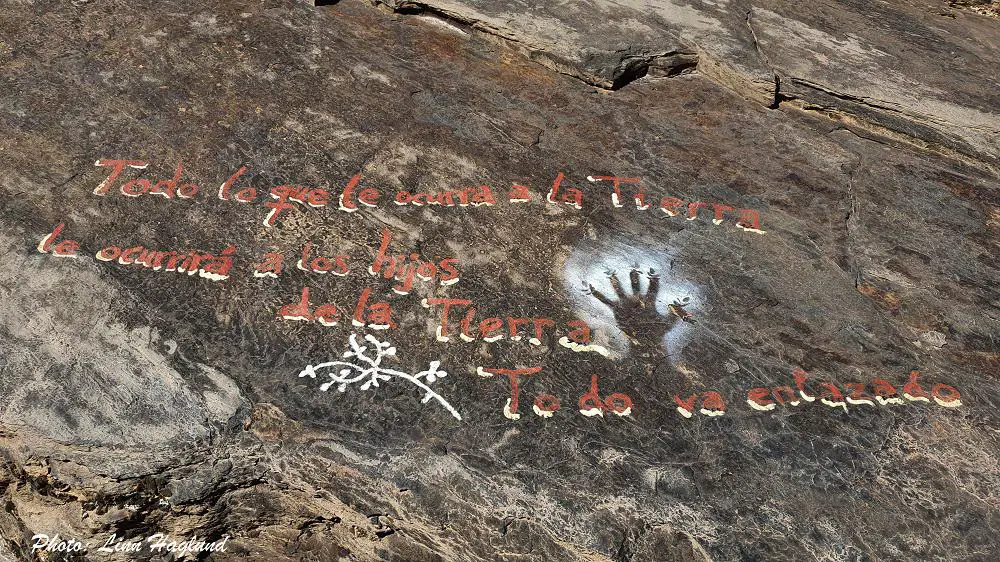 If you look closely, you'll also see different poems painted onto the rocks along the trail. They're all in Spanish, and I really love them!
After leaving the river, you start climbing up the side of the ravine to mesmerizing views on the final walk back to the village. Just follow the main street down again to reach the car.
There is also a stunning old church in Bayarcal that you'll walk past on the way down which is worth a visit if you have the time.
Check out these epic river hikes too:
Reflections on hiking Rio Molinos Almeria
Hiking Rio Molinos is one of the best walking experiences in Andalucia. It's a short walk yet it's beautiful from start to end. In the warmer months when the water levels are high it's great for cooling down and enjoying the vivid river and glittering water holes.
During late autumn, the fall colors give this walk a picturesque touch. In the winter months, it's great to walk your dog without worrying about pine processionary caterpillars.
It's truly a hike that changes with the seasons and every season has its charm.
Other hikes in Sierra Nevada: