With two mesmerizing cascades rushing down a landscape that belongs in fairytales with endless views of green-coated mountains, and colorful butterflies flopping from one fruit tree to the next. Plums, figs, pomegranates, loquats, blackberries, and you name it.
Followed by the river of Balastar, this route is ideal for hiking with dogs even in summer as they (and you) can cool down in the fresh water. Even solo hikers will enjoy this as it's well-marked, though not very long. The scenery is amazing and the waterfalls are outer-worldly.
Here is a complete guide to hiking Chorreras de Balastar in Faraján so you can explore one of Andalucia's most beautiful short hikes.
Disclosure: This post may contain affiliate links. That means that if you make a purchase through one of those links, I will get a small commission at no extra cost to you. As an Amazon Associate, I earn from qualifying purchases.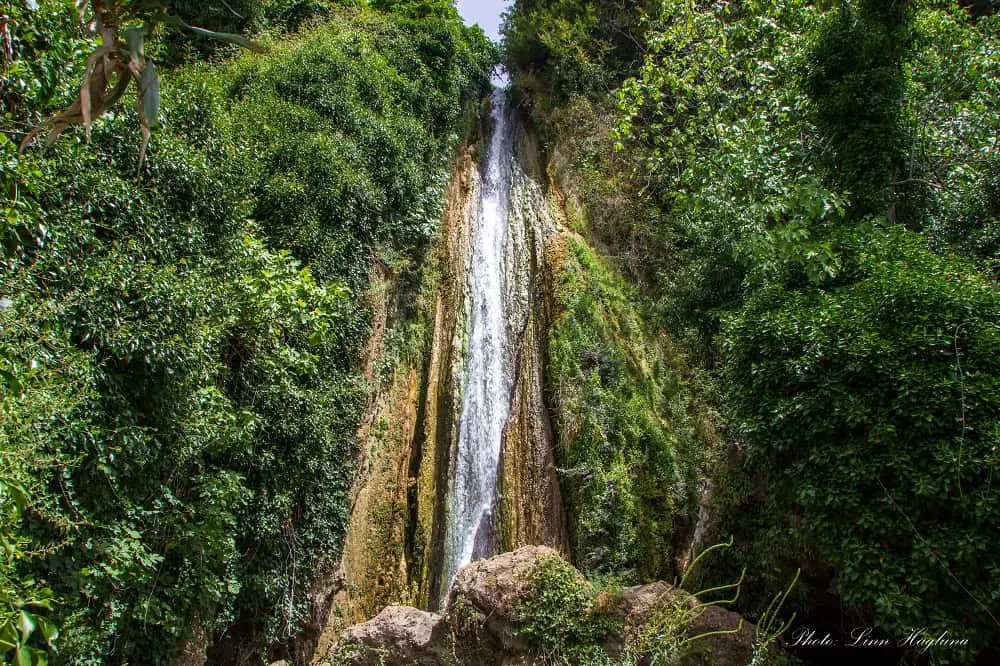 Practical information
Province: Malaga
Mountain range: Serranía de Ronda
Length: 2.6 km
Time: 1-2 hours
Elevation: 140 meters
Route: circular
Difficulty: medium
Hiking season: all year round (though I don't recommend hiking in the rain there due to the steep trail)
Hiking with dogs: allowed and possible all year round as there are no pine trees on this route, thus no pine processionary caterpillars in season. There is enough natural water sources along the way so there's no need to bring extra water for the dogs.
How to get to Faraján
The best way to get to Faraján is by car as there are only a couple of buses a day three days a week from Ronda. You can see the local bus tables here.
By car, it is easy to reach the village and there is parking along the streets with a few minute's walking to the main square where the town hall is. There, you will find signs to the hike.
Driving time from the following places:
Malaga: 1 hour 45 minutes
Marbella: 1 hour 15 minutes
Ronda: 30 minutes
When is the best time to hike Chorreras de Balastar
Chorreras de Balastar can be hiked all year round. That said, it gets extremely hot in summer and the steep hike down and especially back up again can be exhausting in the heat.
For that exact reason, I highly recommend avoiding hiking in summer and going between autumn and spring. Generally, the best time to see the waterfalls full is between late winter and late spring after the winter rain. In the spring, there will also be a colorful flowery scene compared to any other time of the year.
However, the hike is beautiful all year round and a lovely refreshing walk in the lush Andalusian countryside.
What to bring
The Chorreras de Balastar hike is not a particularly long trek, but it's steep and can get unbearingly hot on a sunny day. You might also want to spend some time at the waterfalls to take in the magic of cascading water.
For this reason, you need to be more prepared than on any other short hike.
Make sure you have good hiking shoes with great grip and hiking poles are of great help. If you struggle with knee pain, grab a knee brace for hiking too.
I would be careful to underestimate this advice – I was pretty shocked by the steep level of parts of this hike and was not prepared at all. Luckily, I had my Salomon trail runners on, which are super reliable on difficult terrain.
Here are the essentials for hiking Chorreras de Balastar:
water
caps
hiking shoes
hiking poles
snacks/lunch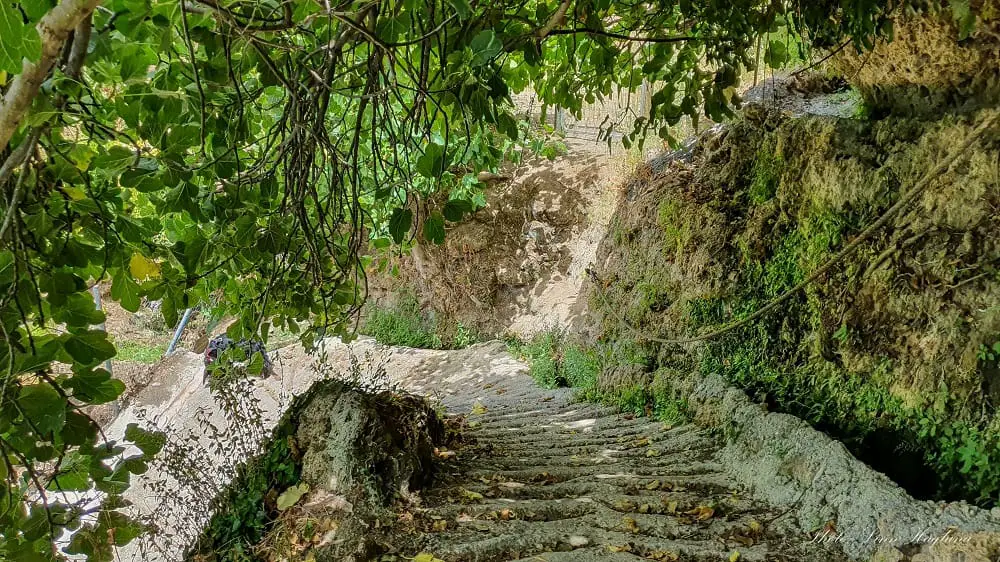 Where to stay in Faraján
Casa Carmen – If you plan to stay in the village of Faraján, which you might have to if you plan on traveling by public transport, this is a lovely place to stay.
With access to a kitchen, a lovely couple running it, and direct access to nature, this is a place it's easy to return to time after time.
Hiking Chorreras de Balastar
Start walking down the dirt road from Faraján and when you get to a fork, you can take a short detour to the Nacimiento de Balastar and back if you want. In my personal opinion, it wasn't a big wow, but it will prolong your hike by only 10 minutes. Otherwise, take the left road going down.
The path goes through lush vegetation of fig trees and Prickly Pears. It turns very steep at one point and it's necessary with shoes with good grip and preferably hiking poles. The first waterfall of Chorreras de Balastar reveals once you have walked down a trail for a bit. There is a bench and table right before you get to it where you can rest in the shade.
After taking in this stunning cascade next to the trail, continue down a little further. The trail will become a little more untamed, push along a fence, wind across a tiny river, past a cave, and across rocks before the second and last waterfall reveals itself.
This is more secluded and absolutely breathtaking. It makes the perfect spot for having a snack and cooling down in the refreshing water before taking on the steep upward hike the same way you got down.
Reflections on Chorreras de Balastar hike
Chorreras de Balastar is no doubt a sweet and short hike that takes you into the lush and wild side of Andalucia yet it's close to civilization.
It truly shows you the lush side of Malaga's countryside with plenty of fresh running water. The waterfalls are mesmerizing and though it's a steep walk, it's totally worth the effort.
This is one of the most beautiful, yet underrated waterfall hikes in Andalucia.
Happy hiking!