Sierra Norte de Sevilla is one of the most underrated natural parks in Andalucia. Few travelers know that the region's popular capital city hides a lush green oasis just an hour north of the city. One of many refreshing hikes is the Sendero Molino del Corcho trail.
Following the glittering river through abundant greenery reflecting in the glittering river, this is a great hike for the whole family. But be conscious that it's not allowed to go swimming in the rivers and waterholes in the natural park.
If being surrounded by the sounds of nature, the scent of fresh grass melted with flowers while hearing the water cascading down small rocks creating water holes, and pressing its way through fallen trees and branches, then this hike is for you.
In this hiking guide, I'll go through everything you need to know to hike Sendero Molino del Corcho in Seville Province's green lung.
Disclosure: This post may contain affiliate links. That means that if you make a purchase through one of those links, I will get a small commission at no extra cost to you.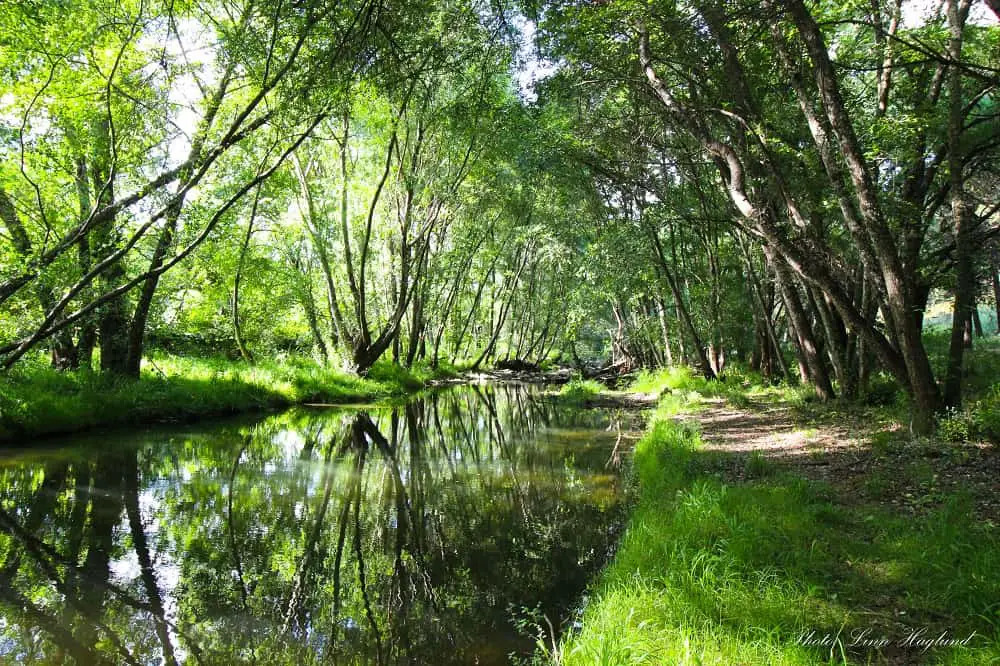 Practical information
Province: Seville
Mountain range: Sierra Norte de Sevilla
Length: 9.7 km
Time: 3-4 hours
Route: Linear return
Difficulty: Easy
Hiking season: All year round
Hiking with dogs: Hiking with dogs is allowed, but there are pine trees on part on this trail so you shouldn't bring your dogs during the pine processionary caterpillar season which is late December until summer. There are natural water sources for the dogs to drink along the whole trail. Read my top tips for hiking with dogs here.
BE A GREEN HIKER
It's illegal to swim in rivers and water holes in Sierra Norte de Sevilla Natural Park.
Read up on and follow the 7 Leave No Trace Principles whenever you're hiking.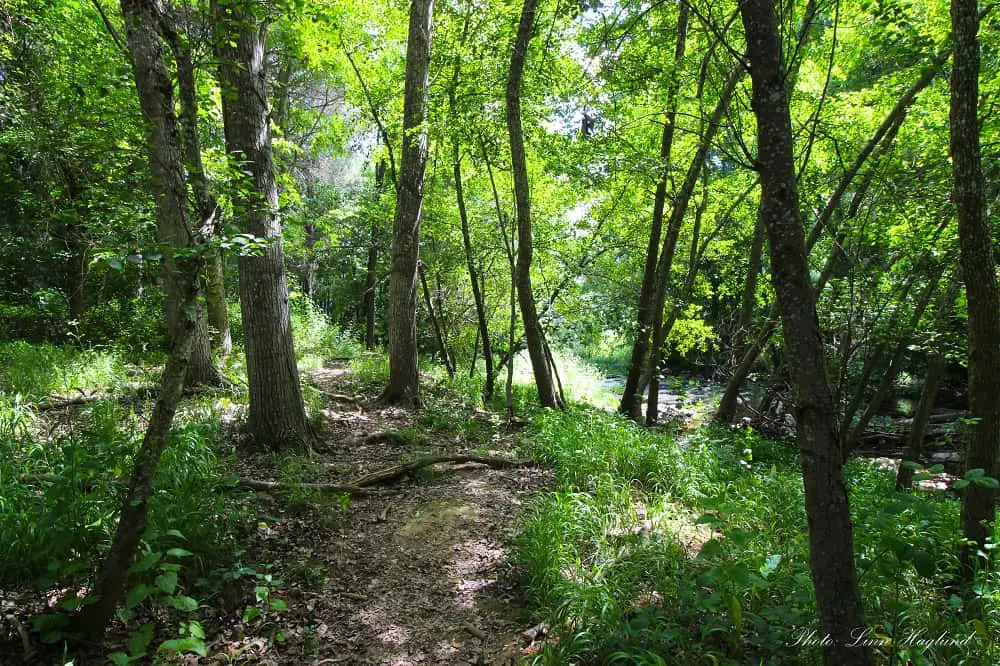 How to get to Sendero Molino del Corcho
Driving to Sendero Molino del Corcho, there's a crossing between A-455 from Constantina on one end and Cazalla de la Sierra on the other end where it meets up with SE-7101 from San Nicolás del Puerto.
In this crossing, there is a rural hotel, Paraíso del Huésnar. In this crossing you have to drive a short drive towards Cazalla de la Sierra (coming from San Nicolás del Puerto looking straight at the rural hotel it's to the right) until you can turn left onto a dirt road with a sign to Area Recreativa and Molino del Corcho.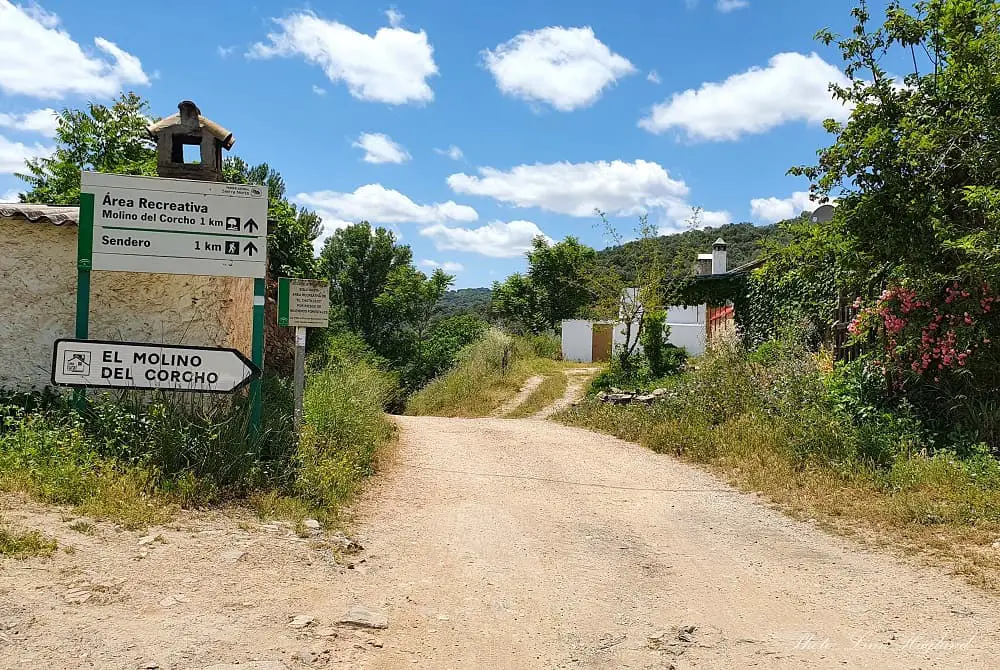 A few minutes down this road you see a parking area and picnic area on your left where you can leave the car (see picture below.)
There's a hiking sign indicating that the hike starts here. You can either walk on the dirt road under the bridge until it turns left crossing the Huéznar River.
Or you can walk across the picnic area to the river and follow a poorly marked trail going along the river until you get to the bridge that crosses it. There you have to get up onto the track and cross the bridge.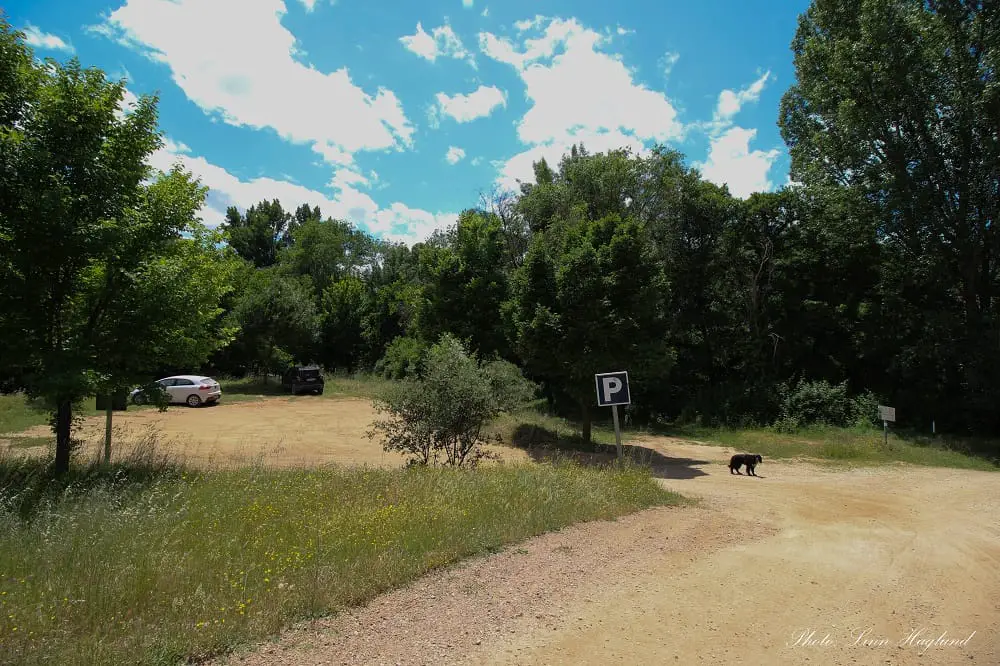 When is the best time to hike Sendero Molino del Corcho
Sendero Molino del Corcho is a great hike all year round as it's mostly covered in shade which makes it great even for hiking in the summer.
Yet, August might be a bit too hot for hiking considering it's not allowed to swim in the rivers in Sierra Norte de Sevilla Natural Park.
Especially spring, when most flowers bloom, and autumn when the leaves change color are beautiful seasons to hike Sendero Molino del Corcho.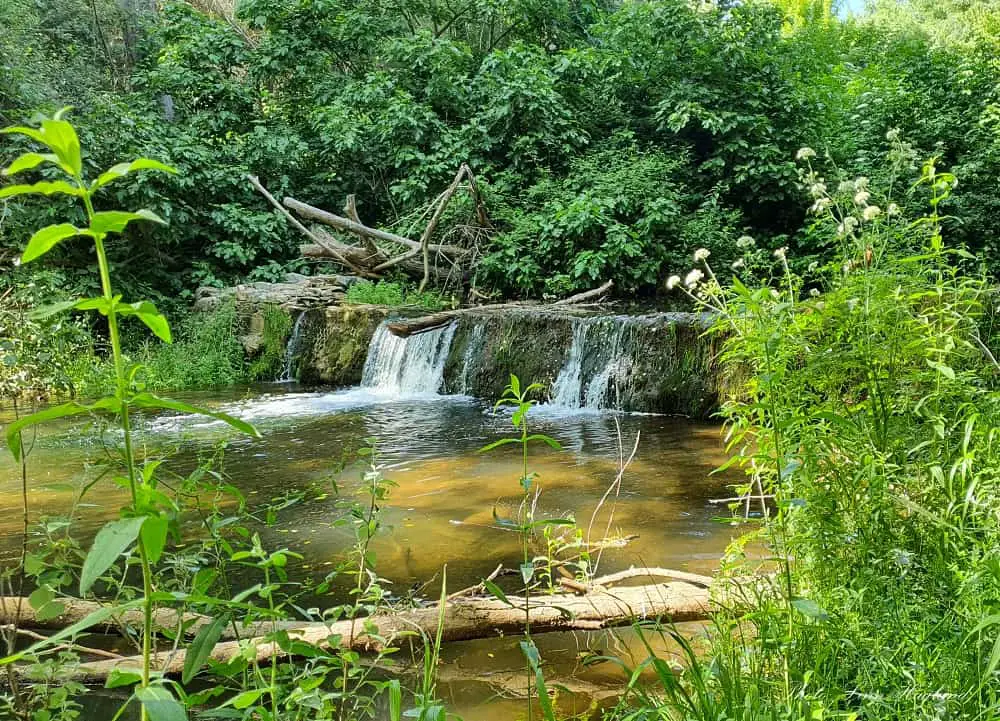 What to bring
Even though it's not allowed to go swimming in the river, I do recommend wearing a pair of good quality river hiking shoes because you might find it easier to walk in the water in some sections of the hike.
Make sure you have a good backpack for day hikes with the essentials like water and snacks as a minimum.
This is not a heavy hike that requires any gear, but some might like to bring hiking poles to move branches and grass when hiking along the river as vegetation can get thick in some places.
You might also want to wear long pants or leggings for hiking for the same reason.
I especially noticed a couple of huge nettles I would love to have moved but managed to sneak around without getting burnt.
THINGS TO BRING:
lunch
fruit or other snack
water
camera
READ MY COMPLETE DAY HIKE PACKING LIST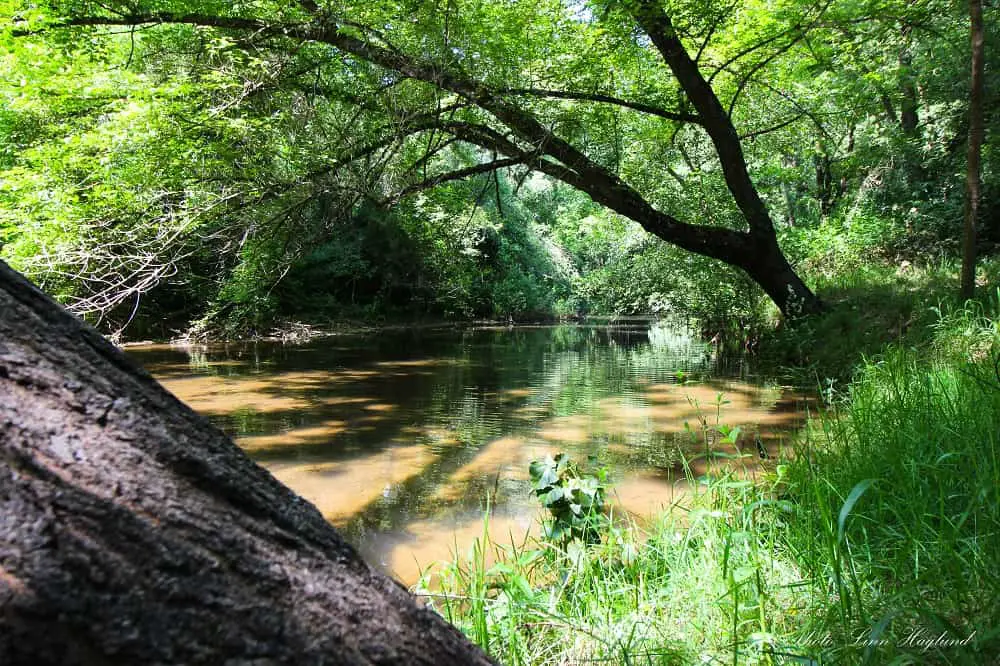 Where to stay
The nearest village to stay when hiking Sendero Molino del Corcho is Cazalla de la Sierra where you can find a few places to stay.
Alternatively, San Nicolás del Puerto is nearby with a few rural houses for rent and if you prefer a larger town, check out the enchanting Constantina. There are also multiple guest houses and rural houses in between villages and towns that you can check out.
Places to stay in Cazalla de la Sierra
El Palacio de San Benito – This is not just a hotel, it's a palace and it takes you to a completely different era with impeccable yet quirky furniture and decorations everywhere.
If you're looking for something different with impeccable service, make sure you stay at El Palacio de San Benito in the heart of Cazalla de la Sierra.
Check availability here.
Cortijo El Berrocal – If you're looking for something more budget-friendly with a local feel to it, this is a nice place to stay. The cottages, stables, and outside area all take you into an old country life experience in rural Andalucia. No luxury, but definitely charming.
Check availability here.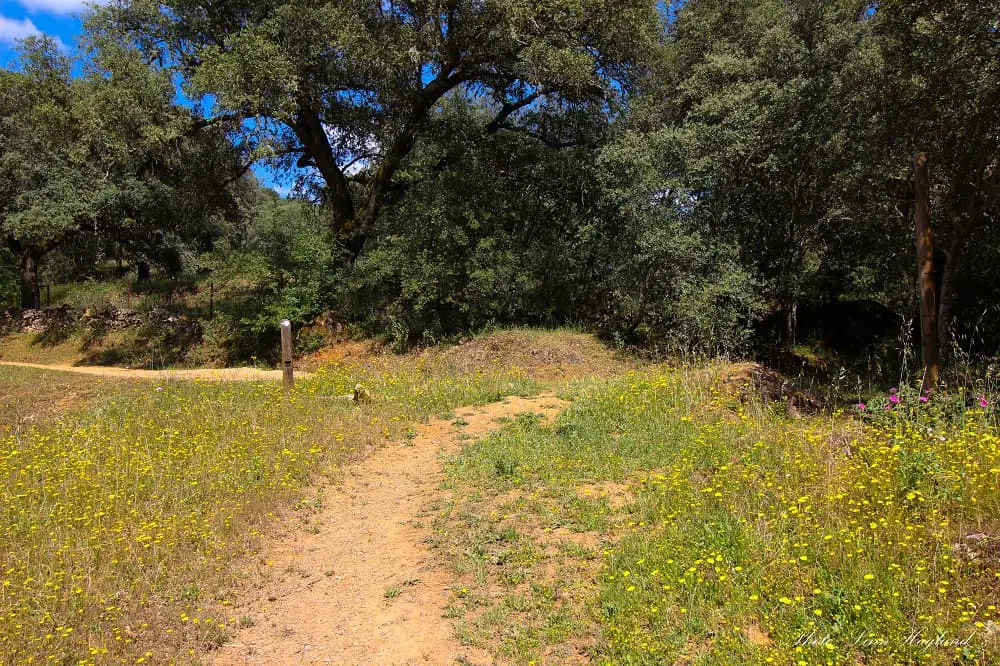 OTHER COOL RIVER HIKES
Hiking Sendero Molino del Corcho
Hiking Sendero Molino del Corcho through the picnic area is a little more complicated than taking the main track under the tunnel on the road you came with the car.
To begin with, the path is clear, but as you get closer to the bridge crossing the Huéznar River, it gets pretty unclear and vegetation is just as messy as my haIr when I wake up in the tent in the mornings.
Try to stay along the water instead of crossing the field (if you can even call it a field) on the right. Once you reach the bridge you have to climb up on the dirt track to cross the bridge.
If you walk the dirt track from the beginning, you'll see the bridge crossing the river on your left as the road forks.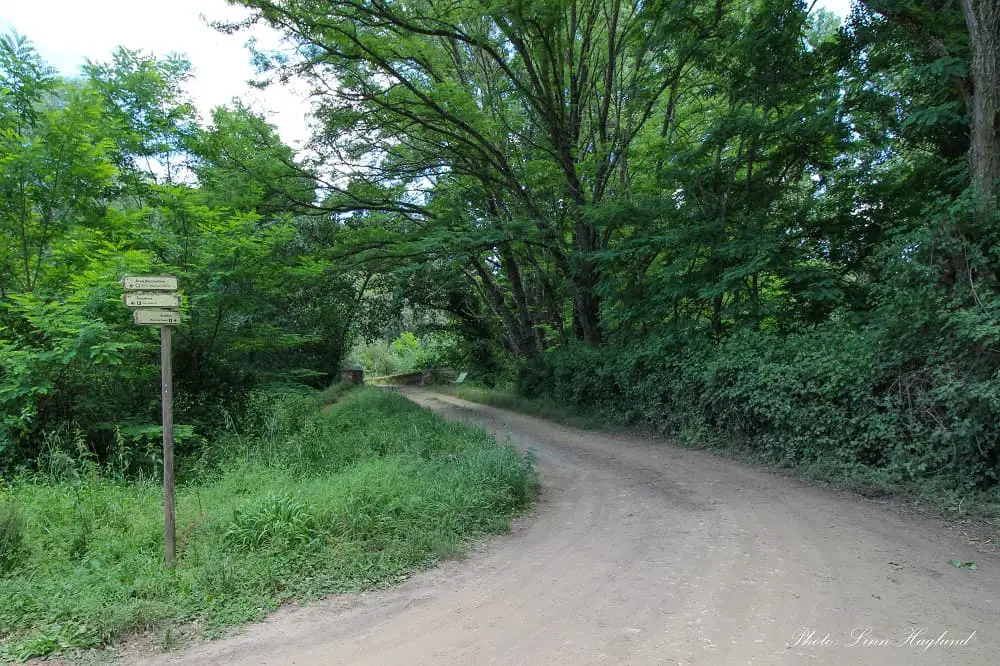 After the bridge, you can either follow the dirt track the whole way. But if you ask me, you'll miss out on the beauty of this hike.
Instead, walk the narrow trail down to the river and follow it through thick vegetation tickling your legs, past waterholes and natural, green paintings reflecting in the river from the lush trees towering around the glittering water. Birds twittering in the trees above you, and butterflies stressing around for the next spot to sit down.
The path winds away from the river at times, but is easy to follow.
This part of the hike is a complete immersion in nature and not very frequented, especially if you go outside the busiest summer months.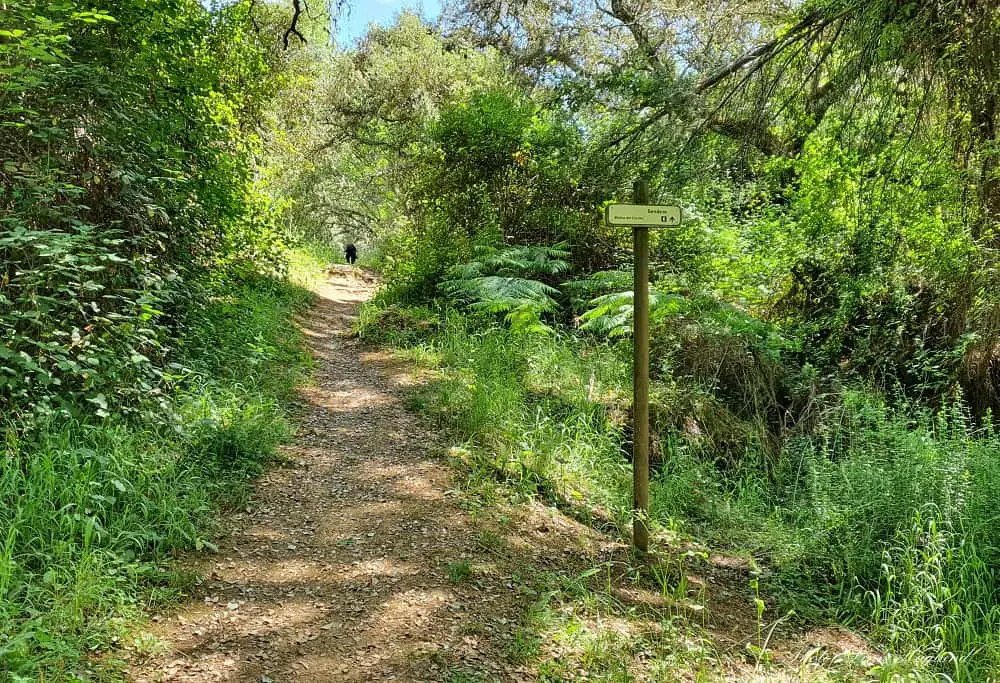 At one point, there's a sign daying Sendero on a trail climbing up the hill to your left. Unless you have water hiking shoes and are ready for an adventure, I recommend that you take it and continue the rest of the walk on the dirt track.
I didn't have shoes for it but tried to stay dry for a while, but the vegetation got hard to fight unless I wanted to walk in the water. Needless to say, I ended up walking back and up on the track.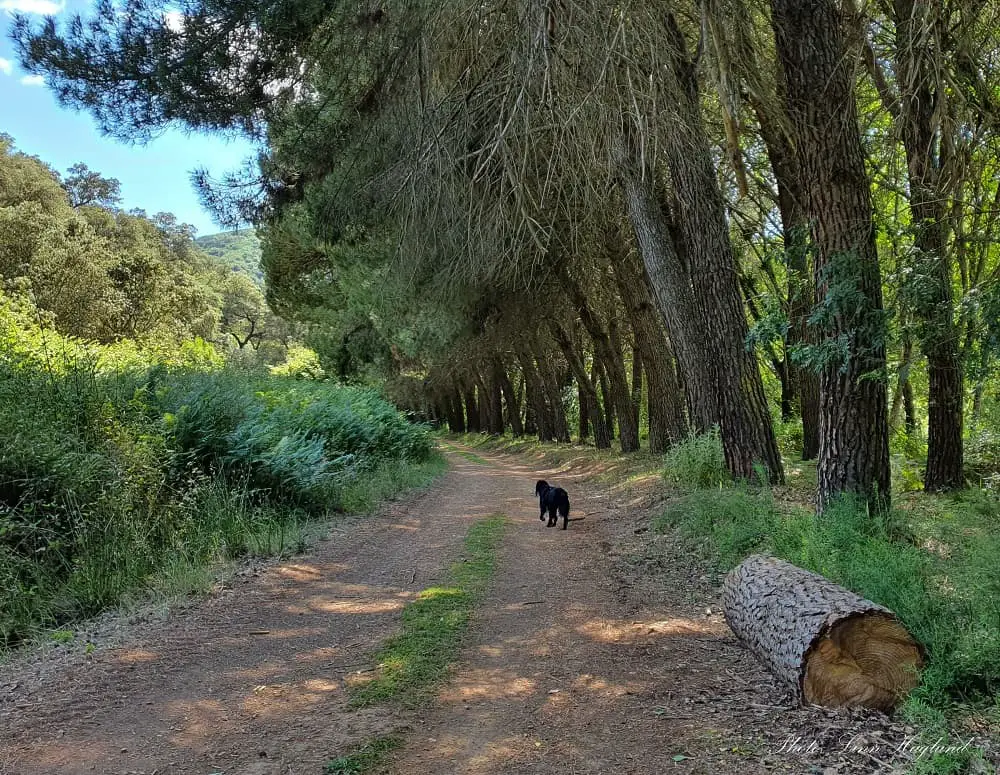 The trail ends where the train lines cross the river and this is where you'll turn around. There's a cool bridge that lets the water run under it.
It's a nice spot to have a snack, but there are several places along the track where you can glide down to the river and take a break.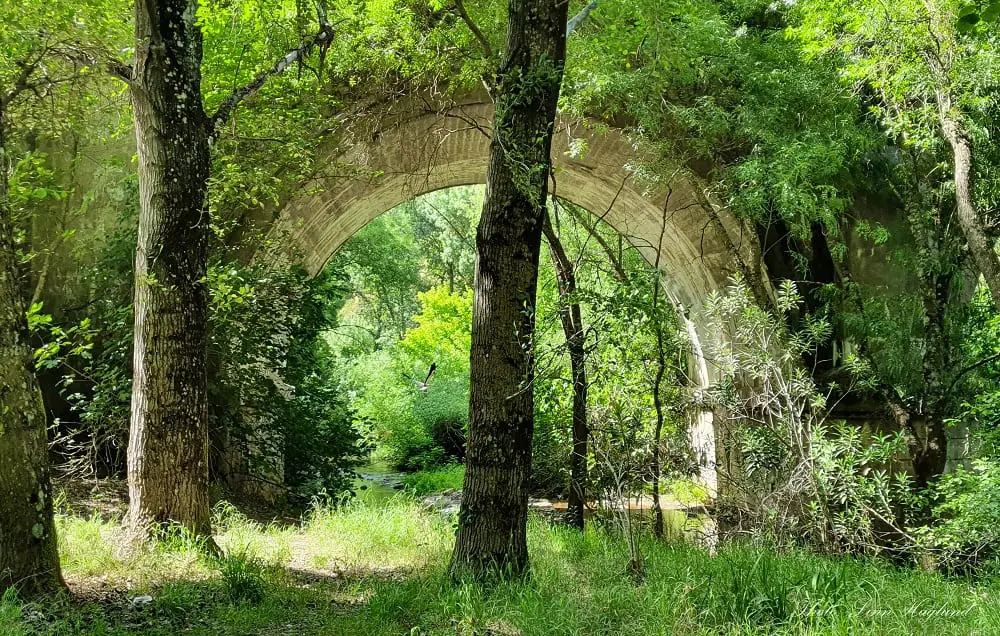 Reflections on Sendero Molino del Corcho hike
The Sendero Molino del Corcho hike is without a doubt a mesmerizing immersion in nature. While it's fairly easy to walk, the trail can be difficult to follow in some places, especially if you don't have water shoes to hike through the river. But that just adds to the adventure.
If you're new to hiking, especially if you go solo hiking, this would probably not be my first choice due to the trail disappearing in multiple places.
However, if you feel confident, go ahead! Just remember to backtrack if you get lost and you'll be fine. There aren't really that many places to get lost if you keep in mind that you have to follow the river.
Happy hiking!