You're up for a fun hiking trail for the whole family, with swimming holes, waterfalls, hanging bridges, and challenging crawls and climbs under and around cliffs. You're looking for a natural playground and eager to cross one of the longest hanging bridges in Spain. Then hiking Ruta de Los Cahorros Monachil is for you.
But be warned, if you suffer from severe vertigo, it might be a tough one. There are steep parts you have to navigate, though they're not very high up, it might be enough for some. And if hanging bridges have you faint just thinking about them, there are plenty on this hike, though the majority in a perfectly good state.
In great contrast to Sierra Nevada's 3000-meter peaks like Mulhacen and Veleta, Ruta de Los Cahorros is a fun activity that isn't as physically demanding. Yet the beauty and little challenges along the way make it a real adventure and I'd say it's among the most adventurous beginner hikes in Andalucia. There is no doubt Ruta de Los Cahorros is one of the most popular hikes in Sierra Nevada.
Disclosure: This post may contain affiliate links. That means that if you make a purchase through one of those links, I will get a small commission at no extra cost to you. As an Amazon Associate, I earn from qualifying purchases.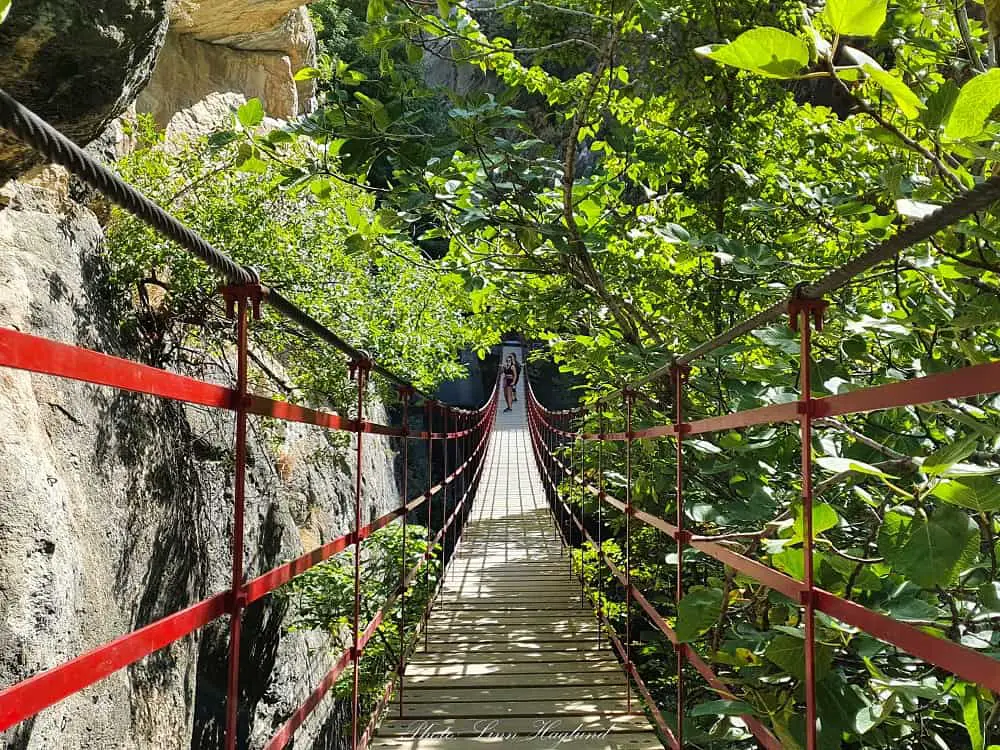 ---
Practical information
Province: Granada
Mountain range: Sierra Nevada
Length: 8 km
Time: 4 hours
Route: Round trip
Difficulty: Easy, though some crawling/scrambling is required
Longest suspension bridge: 63 meters
Hiking with dogs: Allowed, and safe all year round as there are no pine trees. There are natural water sources for your pet do drink from along most of the trail, but bring extra water for the return, especially on sunny, hot days. You can also read my tips for hiking with dogs in this post.
---
How to get to Ruta de los Cahorros Monachil
Ruta de Los Cahorros starts from the village of Monachil just outside Granada city. The trail starts right by the river and is clearly marked, so it's hard to miss. There is a bridge crossing the river close to the big parking lot in the village. Keep the river on your left as you walk up the narrow asphalted road leading towards the trailhead. About 50-100 meters up the road, there's a sign to the trail, leading up along the river.
If you're not completely sure where to go, ask anyone on the street and they'll point you in the right direction.
By car
The easiest way to get to Monachil is by far by car. From Granada, it's only a 20-minute drive. From Malaga to Monachil it takes about 1 hr 35 min via the A-92.
The good thing is that the GPS takes you straight to Monachil without any weird detours (let's be honest, it has taken you too to the wrong place more than once). Once you drive through the village, you'll come by a large dirt parking lot where you can leave the car.
On the weekends, there is probably a person walking around guarding the parking lot. Make sure you give him a few cents for his effort.
Continue walking a few more meters on the same road you drove on when you turned left to the parking lot. Where the road turns left crossing the river, you'll see signs of the hiking route on a road going straight on the right side of the river. Continue up there until you see the sign to the trailhead on your left.
By bus
There are daily buses from Granada to Monachil. Leaving from Paseo de Los Basilios by Puente Blanco, you can take bus no. 183 Mon-Sat mornings and 181 on Saturday afternoon, Sundays, and public holidays.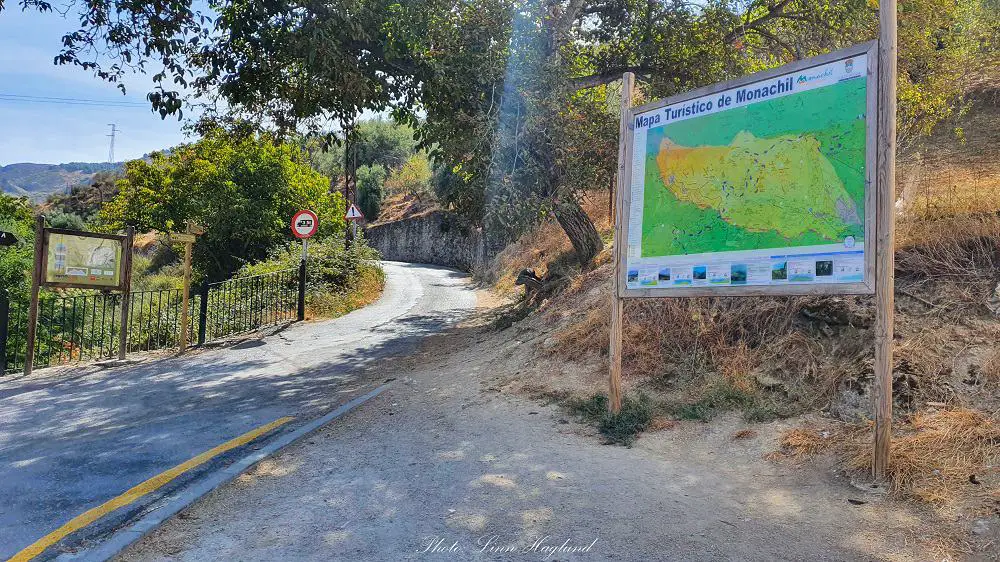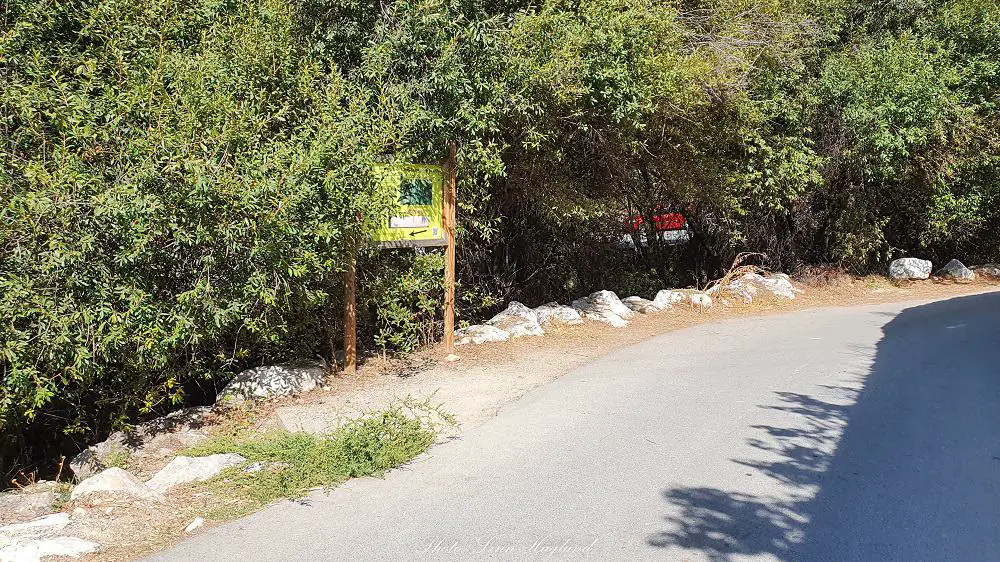 When is the best time to hike Ruta de Los Cahorros Monachil
Ruta de Los Cahorros can easily be done at any time of the year. The first part of the trail gets shadow from trees and the canyon walls, it opens up once you get out of the canyon and the return is exposed to the sun.
There is a long ascent along a dirt road on the way back which can be daunting in high temperatures overlooked by the boiling sun.
This can be tough even on a sunny winter day, so in the summer I suggest going in the afternoon to return when the sun is a little lower.
If you're hiking in summer, you can walk back the same way you came from too. This gives you shade and the possibility to cool down constantly by walking parts of it through the river and going swimming in water holes.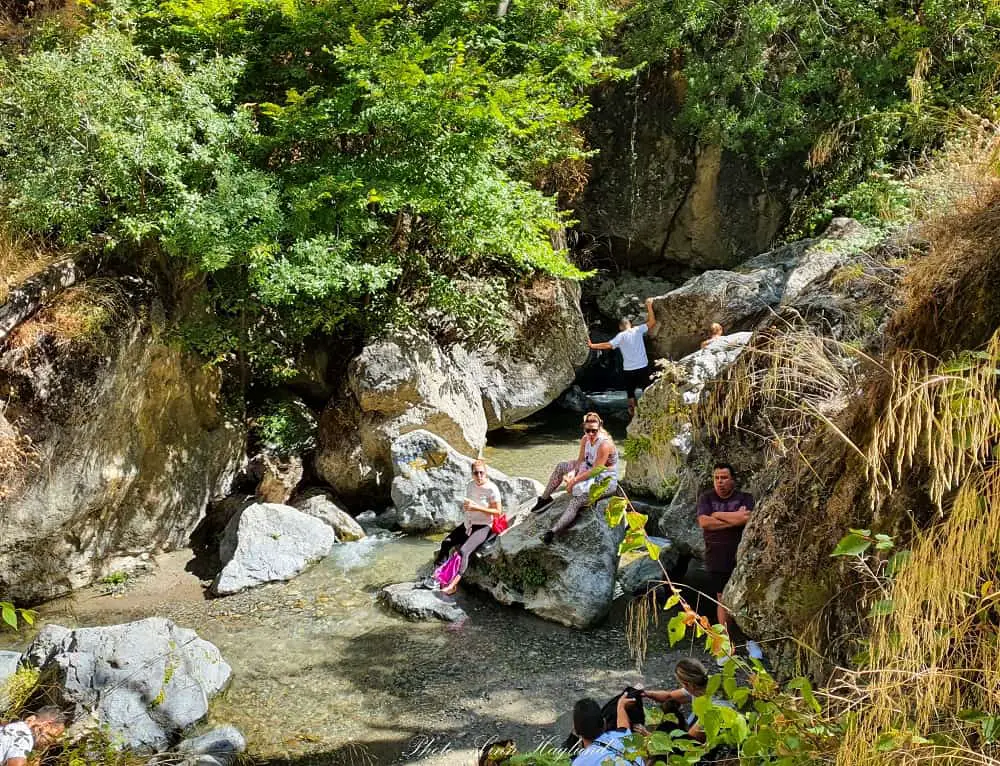 What to bring
Though Ruta de Los Cahorros isn't a challenging hike other than some scrambling around rock walls and maybe a bit of crawling to get under rocks, there are still a few things you should bring for your day out.
If you go in summer, make sure you bring a bathing suit. You will thank me later!
As mentioned, the last part of the trail is completely exposed to the sun. After it has rained, the path can be muddy and slippery during the first part along the river.
You might want to bring trekking poles and be careful when you walk in these conditions. You can find a complete list of my favorite hiking gear and gadgets here.
Find the best backpacks for day hikes here.
What to bring for hiking Ruta de Los Cahorros:
water bottle
good walking shoes/trainers
snacks (fruit/nuts/seeds)
caps/hat
sunscreen
swimwear and towel (if it's warm enough to go for a dip)
Layers of clothes if it's a cold or changing winter day (it can be cold in the shade and warm in the sun – maybe even windy on the open parts)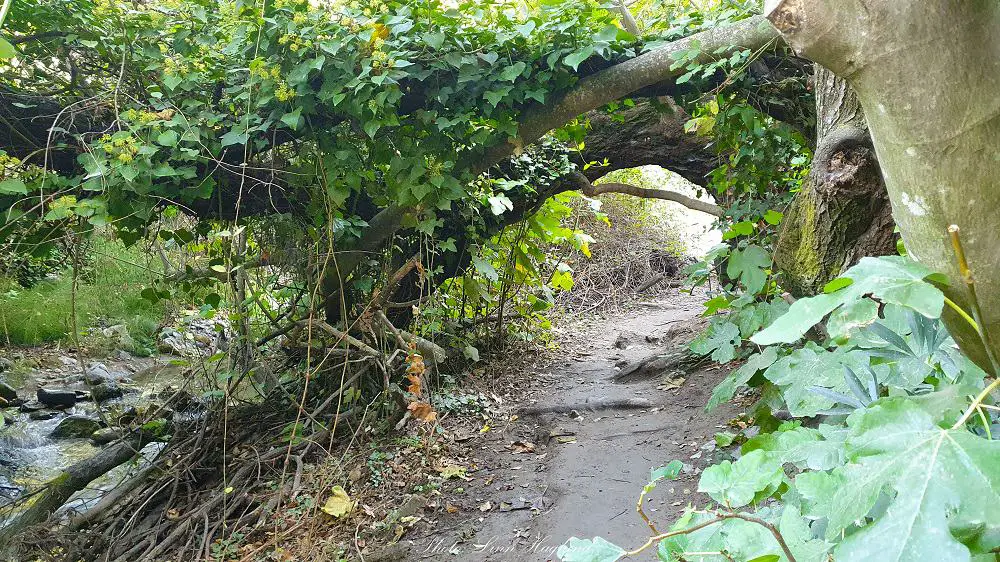 Where to stay when hiking Ruta de los Cahorros Monachil
The closest place to stay when hiking Rute de Los Cahorros, is Monachil itself. However, Granada city is only a 20-minute drive away and offers a lot more to do.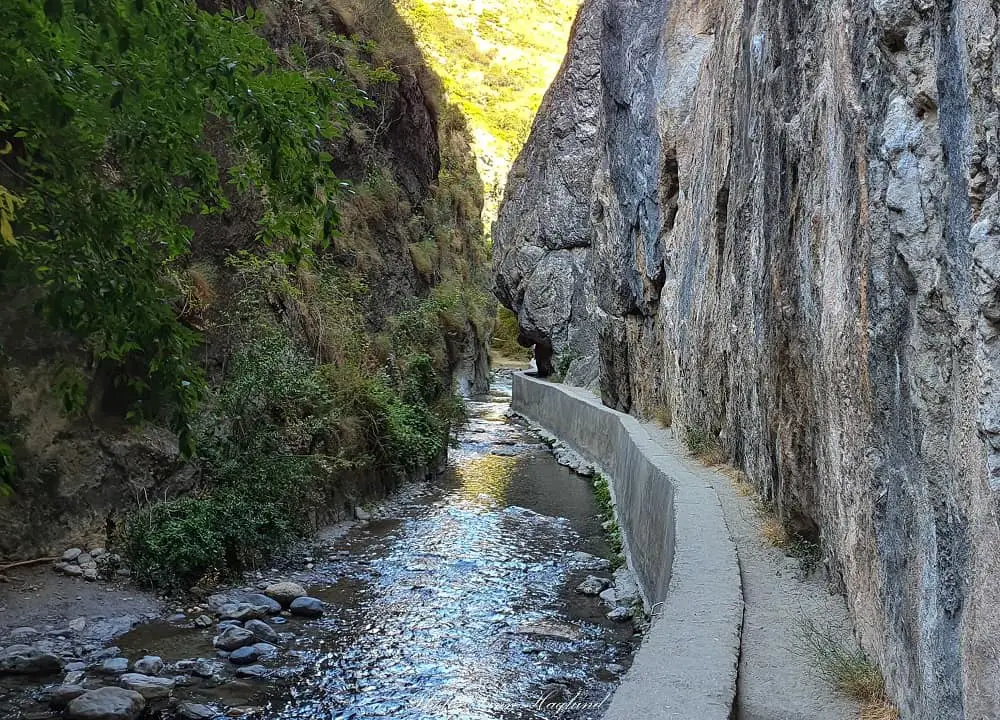 Monachil
There are not many hotels in Monachil. Alternatively, you can look for apartments and houses to stay at here.
This fantastic hotel has a modern luxury blended with Moorish style. There are two outside pools, a spa, and a massage service to really relax after a day of hiking. There is also a restaurant and bar on site.
The hotel is only a 40 minutes drive from Hoya de la Mora in case you plan to hike Pico de Veleta or Mulhacen in the season. In winter, you can go skiing in the Sierra Nevada ski resort.
Granada
Only a 20-minute drive from Monachil and Ruta de Los Cahorros and you can stay in one of the most stunning cities in Andalucia. Granada is packed with history and medieval beauty. Not to mention the Alhambra. If you like to have a variety of bars and restaurants within reach, lively streets, people, and continuous charm, you should definitely stay here. Here are a couple of good hotels you can stay at.
This wonderful hotel is in the middle of the old town of Granada, only a 15-minute walk from the Alhambra. You can relax in the sauna or Turkish bath in their wellness center after your hike. And if you're too tired to go out, you can even order room service.
The hotel has parking if you come by car, but also offers an airport shuttle in case you don't.
A lovely hotel in the heart of the city within walking distance of all tourist attractions. It doesn't have a restaurant or bar on-site, but you find cute places to eat nearby. They have both parking and airport shuttle services.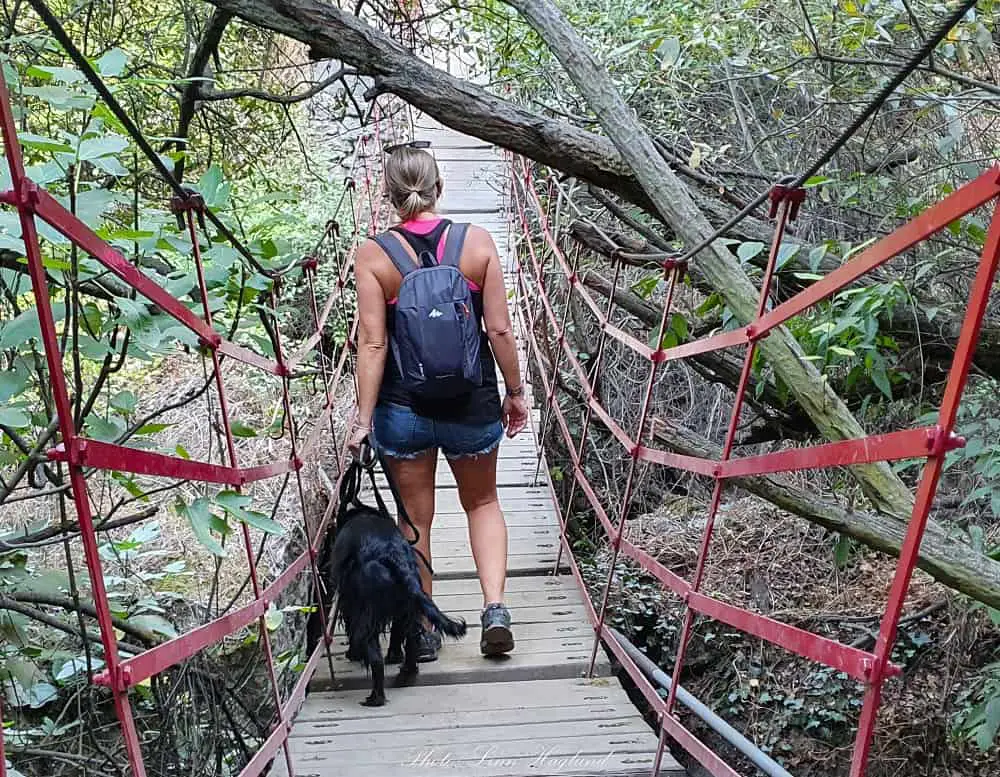 Hiking Ruta de los Cahorros Monachil
The first part of Ruta de Los Cahorros goes on a narrow path along the river. Twisting through a beautiful fairytale forest, up small staircases, beneath low tree branches, up little hills, and back down to the river. You're about to take on one of Granada's best hiking routes!
When wet, it can get muddy and slippery, but there are plenty of tree branches to hold on to if you haven't brought trekking poles.
At one point, it takes you out of the forest, past a building before it continues to wind its way through the wild jungle.
The next stretch takes you across a series of hanging bridges and water holes. The longest hanging bridge is 63 meters long and one of the longest ones in Spain. But don't worry. It's in very good condition. They all are at this stage of the trail.
After the hanging bridges, the fun begins. The path turns into a cement wall which is built up beside the river, along the right canyon wall. It's pretty narrow most of the way and in some places, it goes beneath the rock wall.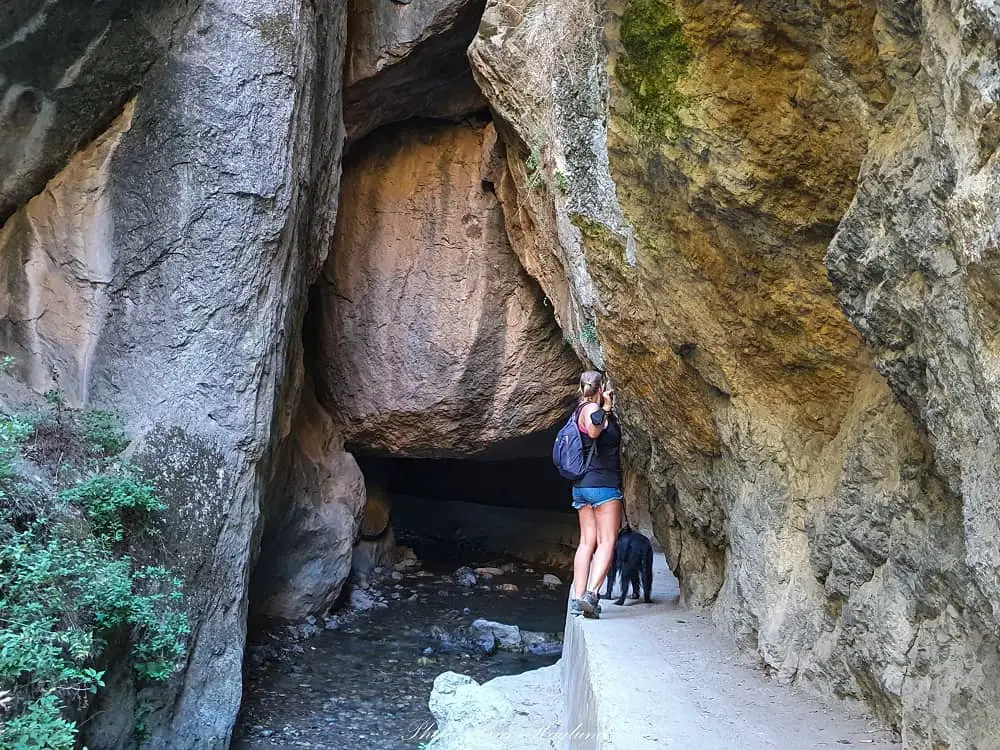 There are some stretches you'll have to duck or even crawl under the mountain, depending on how tall you are. Other places have built in handles in the rock which you can hold on to while leaning out towards the edge to get around.
I'm suffering from slight vertigo, but handled these parts well. They aren't very long. I'd rather say they're fun!
Once you've passed these challenging parts of the trail, the canyon opens up to the Sierra Nevada mountains. There are many nice picnic spots here if you brought lunch.
Not long after coming out of the gorge, there is one last hanging bridge to your left. This might seem a bit old and sketchy, but it's solid. Cross it and turn left to return on the dirt path all the way back to Monachil.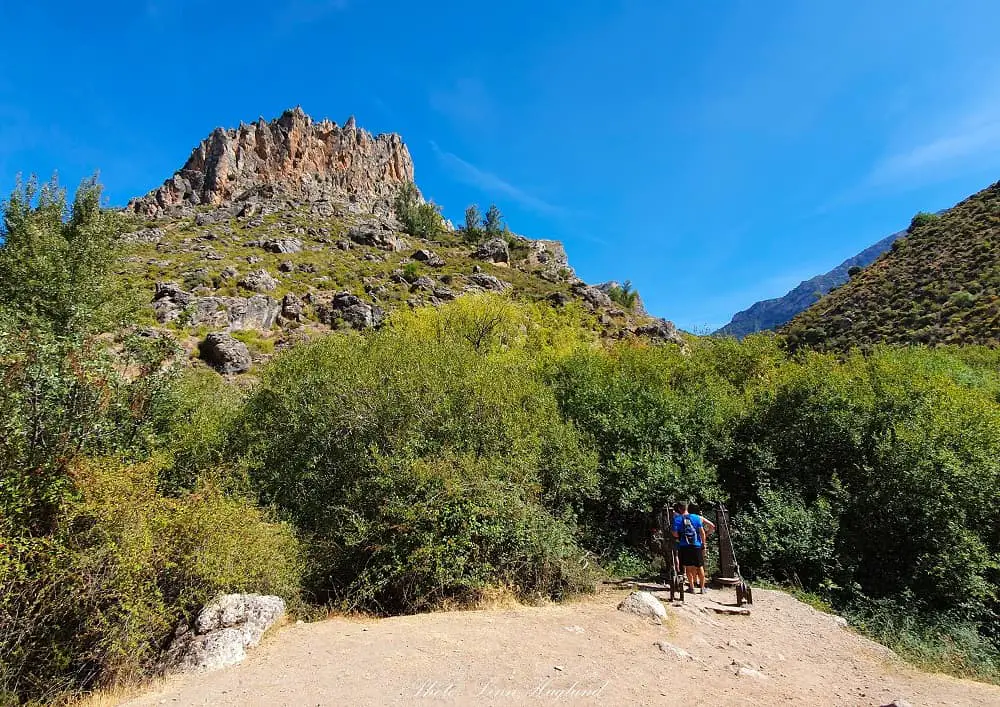 The dirt track will give you mesmerizing views of the canyon entrance as it starts to wind uphill. Then the landscape opens up and when you reach the top of the hill you get to an area of olive groves, endless views, horses, and finally, you walk past farms and houses the rest of the way to the main road.
This is the end of the trail and you'll come to a small parking lot. Continue down the road to you get back to Monachil. If you take the small road to the left by a restaurant you'll shave off some of the curves and avoid walking on the main road the whole way to the start of the trail.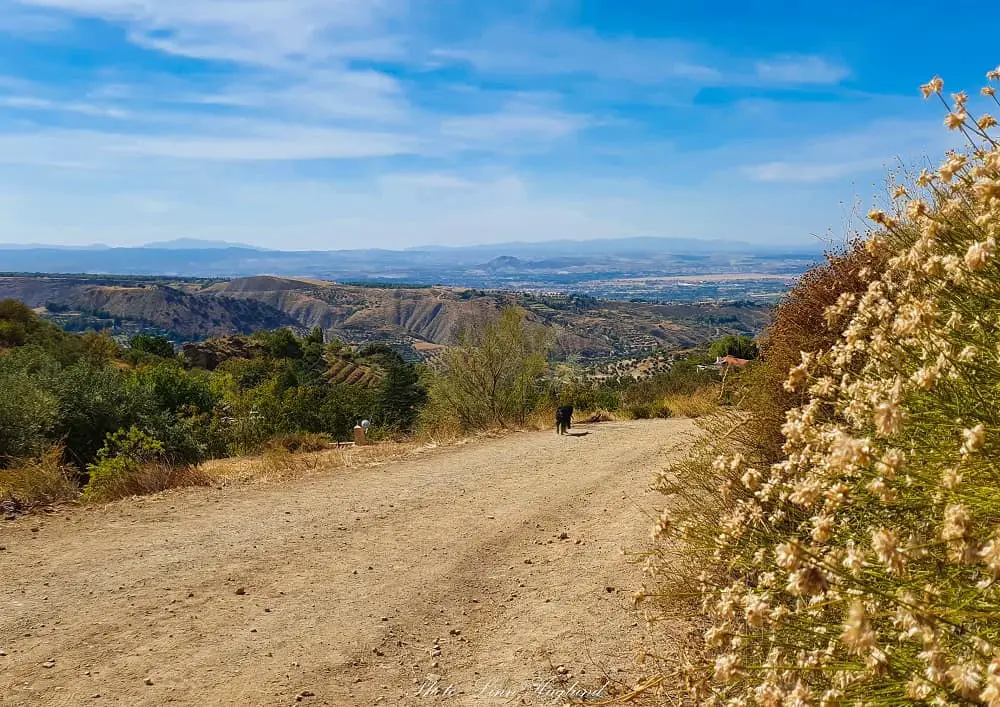 CHECK OUT OUR HIKING ADVENTURE ON YOUTUBE
OTHER FUN HIKING ROUTES TO CHECK OUT
Reflections on hiking Ruta de los Cahorros Monachil
Ruta de Los Cahorros in Monachil, Sierra Nevada is without a doubt one of the most fun winter hikes in Andalucia. With the river, jungle, hanging bridges, and the more challenging parts, the hike is full of diversity and you won't get bored.
However, as I've mentioned before, it's not for the faint-hearted. Bring a good lunch, have fun, and enjoy nature! This might just be the best experience you'll have in Sierra Nevada and it's fun for the whole family.