Before you start reading further, I'm going to make it very clear, wild camping in Spain is illegal. Andalucia and Sierra Nevada is no exception. You might wonder then, why you've seen people stay in tents in the national park and if you've followed this blog for a wile, you might have seen me wild camping too.
So, you're not allowed to wild camp, but you're here. And now you're wondering why the heck you should keep reading.
Well, there is something called overnighting during a hike. Which is allowed.
And that's what we're all doing when going on multi-day treks in Sierra Nevada National Park.
But to do that, there are quite a few things you need to know so that you do it the right way and don't get into trouble with the rangers.
I've done a few overnighters in Sierra Nevada National Park. The first time, when I wanted to do a two day trek to Mulhacen, I found it hard to find information, especially updated. So I'll sum it all up for you in this post so that you can comfortably take your tent and walk for as many days as you like along Sierra Nevada's spellbinding hiking trails knowing that you won't get any unpleasant surprises.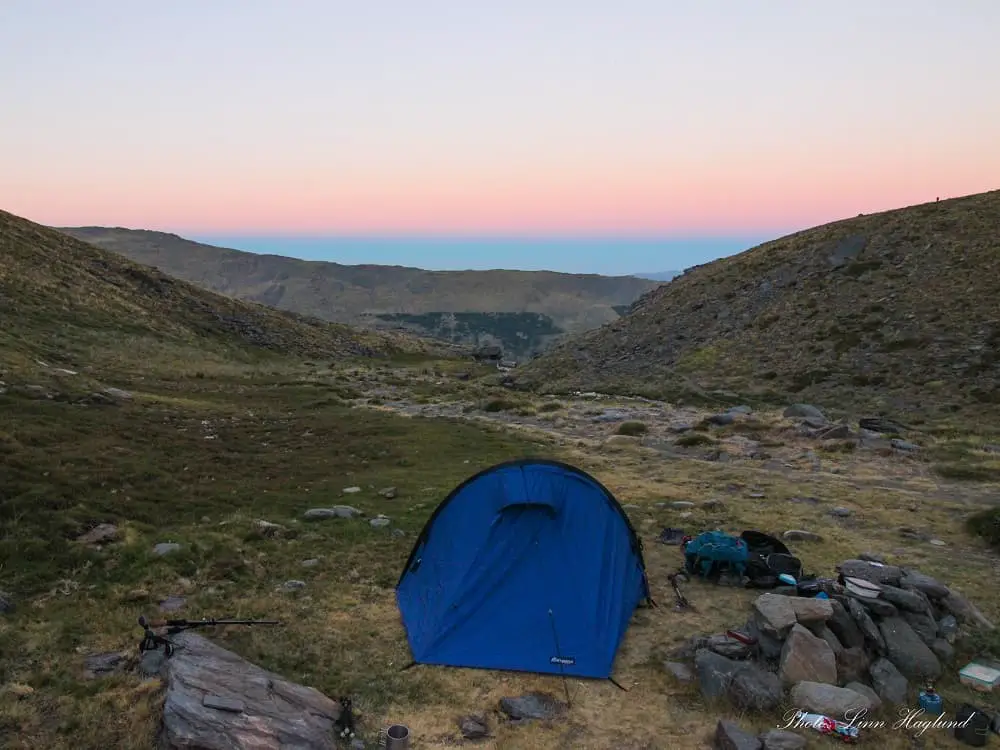 Wild camping in Sierra Nevada, Spain
Ok, I just said this is illegal and it's called overnighting during a hike. I'll explain what that means here and the most important differences the authorities see in camping versus overnighting.
According to Junta de Andalucia, camping is seen as setting camp and staying during the day and the night, sometimes over the course of several days.
Overnighting as part of a hike or through-hike is seen as setting up the tent at night to sleep and taking it down in the morning when continuing the hike.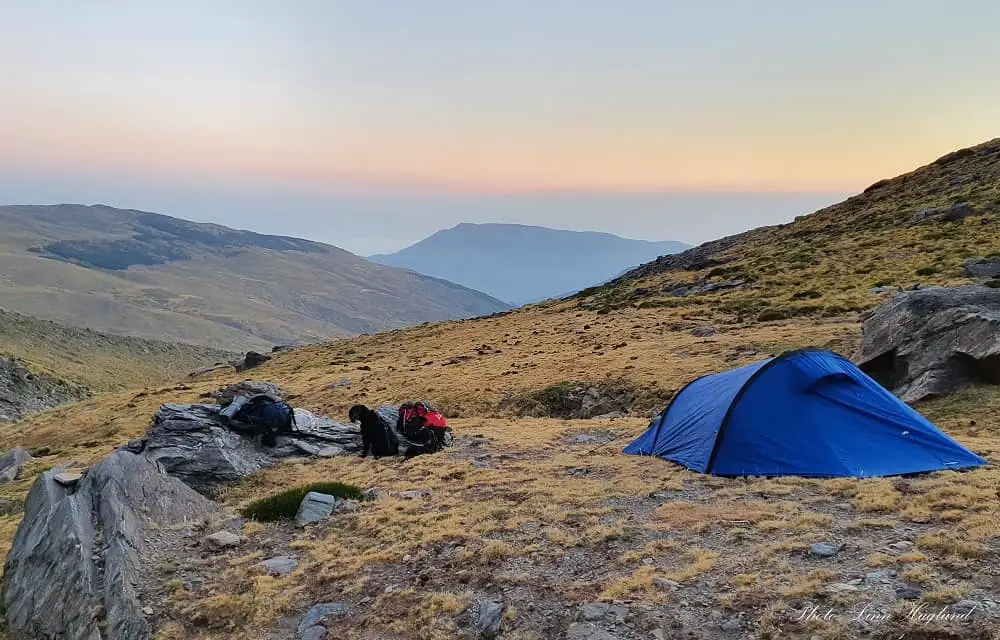 Here are the main rules for setting up a tent during a hike in Sierra Nevada National Park in Spain:
You can only camp one night in the same place
You can't set up the tent any earlier than 1 hour before sunset
You have to take down the tent latest one hour after sunrise
You have to formally inform about your planned overnight stays a minimum of 10 days before your hike (see how below)
You have to camp a minimum of 500 meters from guarded refuges, roads, and trails
You have to set up the tent a minimum of 50 meters from any water source (with or without water)
In high fire risk periods (June 1st to October 15th) it´s not allowed to camp in forested areas
It's not allowed to camp in areas that are dedicated Reserves (Reservas) within the national or natural park
Besides these rules, make sure you always follow the 7 Leave No Trace Principles when hiking and camping overnight in the national and the natural park. If you're new to hiking, you should also read these beginner tips.
It's especially important not to leave or wash food rests into the natural environment so that wildlife get attracted by it. You need to leave the wildlife alone and this includes not tempting it with food that isn't natural for them to eat.
To avoid washing pots after cooking, you can wipe them off with wet paper that you put in your rubbish bag afterward. This way you prevent food rests from getting on the ground and disturbing the ecosystem.
It's also prohibited to make fire in Sierra Nevada – all year round.
If you take dogs hiking in the national park, they have to be in a leash at all times. This is important so that they don't chase wildlife or farm animals that roam free.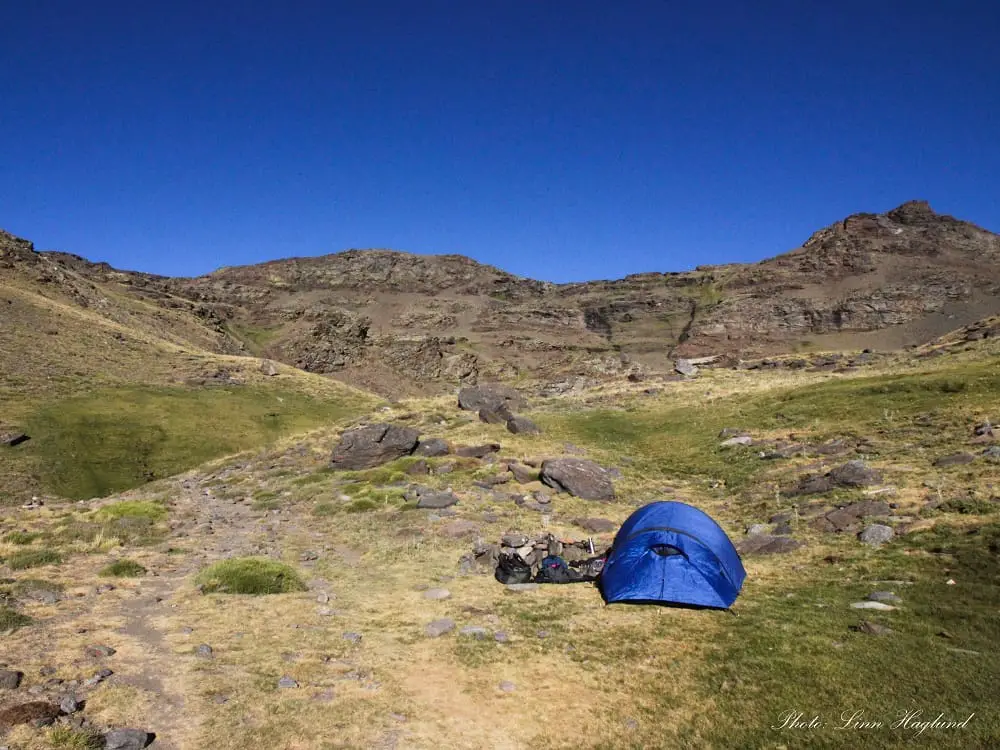 How to get permission to set camp overnight in Sierra Nevada Natural and National Park
To get permission to overnight with tent in Sierra Nevada National Park, you need to send an email to the following email address:
l-pnSierraNevada.UsoPublico.csmaea@juntadeandalucia.es
You have to inform about what dates you plan to camp, what hiking route you plan on doing, an approximate idea of where you plan on camping each night, how many people/dogs, and how many tents. You can be a maximum of 3 tents and 15 people.
You will get an email back with a form you need to print out and fill out with the above information, your name, ID, and address. After you sign it, take a picture and send it back to the same email address.
There is no cost to this, but you need to take a copy or screenshot of the email and bring the form with you on your overnight hike in case you get asked to show it by park rangers.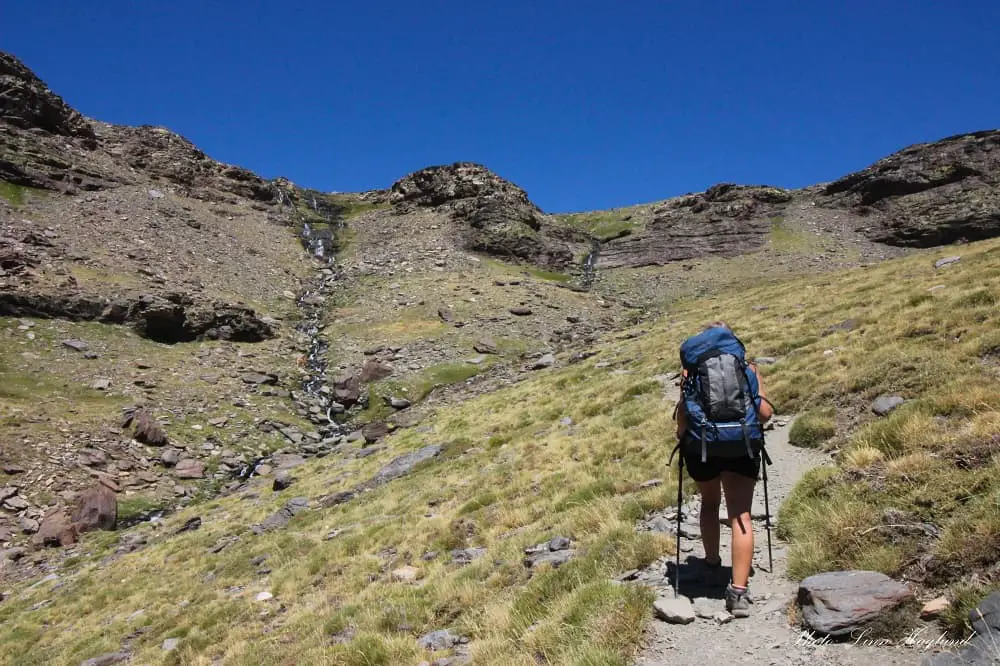 Reflections on wild camping in Sierra Nevada National Park
Camping in Sierra Nevada National Park is an incredible experience. Staying in a tent at 3000 meters of altitude with no people around, soaking in the sunset, and with luck observing wildlife walking around not too far from the tent can't be described as much other than magic.
Yes, there are a lot of rules to follow, but if you look at them, they're really just what the 7 Leave No Trace Principles say, and if you spend time in nature they should be a natural part of you anyway. If they're not yet, make a little effort, and they'll soon be.
Let's enjoy this natural space together in a responsible way so that generations to come can enjoy it – both humans and animals.