Sierra Nevada National Park in Spain is jam-packed with impressive hiking routes crossing the astounding 3000-meter peaks that the park is so famous for. For many, it can seem intimidating to go there. With not much hiking experience, it can seem like a destination out of reach.
But Sierra Nevada is so much more than just demanding treks. Here are some of the top hikes in Sierra Nevada Spain from easy to demanding. So no matter if you're a beginner or experienced hiker, there are amazing opportunities to explore among Andalucia's best hikes.
Disclosure: This post may contain affiliate links. That means that if you make a purchase through one of those links, I will get a small commission at no extra cost to you.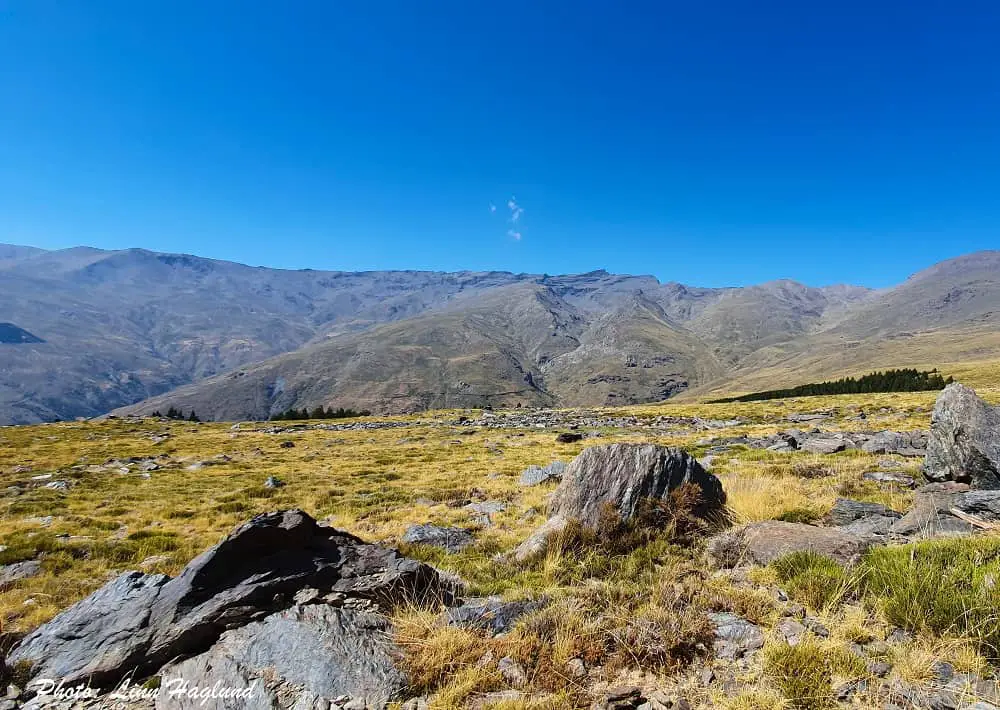 Best hikes in Sierra Nevada Spain
Walking in Sierra Nevada Spain is breathtaking no matter what difficulty hike you prefer. The good thing is that even the highest peaks are accessible on fairly easy day hikes at the same time as there are alternative challenging trails and multi-day opportunities for those who want a challenge.
Here are some of my favorite hikes in Sierra Nevada Spain for all levels – make sure you prepare before your hike and leave no trace. If you're new to hiking, make sure you read my top tips for beginner hikers here. And finally, if hiking with your dog, check out this post with all you need to know.
Mulhacen
To start off with the best hikes in Sierra Nevada, Mulhacen (3479m), has to be mentioned. The highest peak in Sierra Nevada, but also in the entire Iberian Peninsula. In Spain, only Mount Teide beats it. In Tenerife.
For being such a bucket list hike, it's good to know that in the summer months, you can do it in one day thanks to the shuttle bus that takes you from Capileira up to Mirador de Trevelez.
It picks you up 6 hours later, giving you plenty of time to hike to the top and back down with time for breaks to take in the views, catch your breath, and have your lunch at the top.
This is one of the most popular hikes in Granada and the locals will definitely respect you for having climbed Mulhacen! While hiking in summer can be a challenge on other mountain ranges, the 3000-meter peaks make this possible.
But Mulhacen can be reached from the west flank too, which is a much harder hike and usually done as a two-day hiking trip. Either from Hoya del Portillo past Refugio de Poqueira, where you can stay the night, or from Hoya de la Mora, past Veleta peak, where you can stay in one of several unguarded refuges on the way.
If you want to go wild camping, make sure you read this post carefully so that you do it legally.
As an alternative, you can also start hiking in Trevelez taking the Siete Lagunas hike. For either of these trails, it's recommended to bring hiking poles as they can get rough and steep at times.
No matter the route, Mulhacen is without a doubt the most memorable hike Sierra Nevada Spain has to offer with rough mountains and impeccable views.
Read my complete Mulhacen hiking guide here.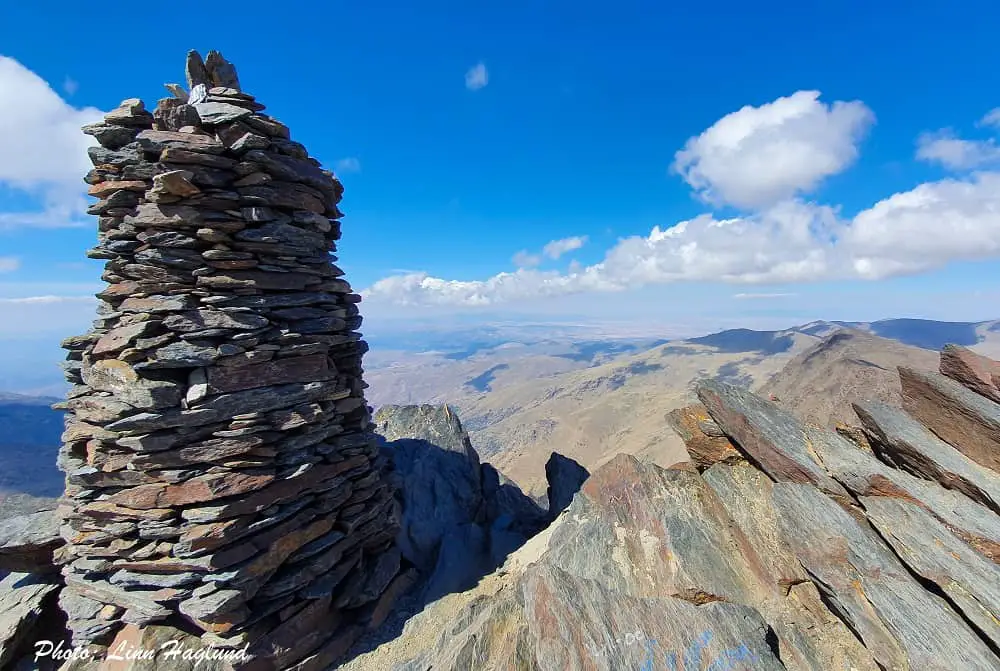 ---
READ: Best hiking gear and gadgets
---
El Chullo
The highest peak in Almeria is also situated in sierra Nevada. The accessible mountain of El Chullo (2613m) can easily be hiked in 4 hours from Puerto de la Ragua. The trail is all over easy to follow without being very steep and you see the peak the whole way once you have passed the first hundred meters.
With the picturesque high Sierra Nevada peaks to your right the whole way up, this is a mesmerizing hike where no place is a bad lunch spot. The top offers 360 views of Granada and Almeria's coast.
The best thing about El Chullo is that it can be hiked all year round. Since it's such an easy trail, you can walk up there in winter even with snow without any problems.
Read my complete hiking guide to hike El Chullo here.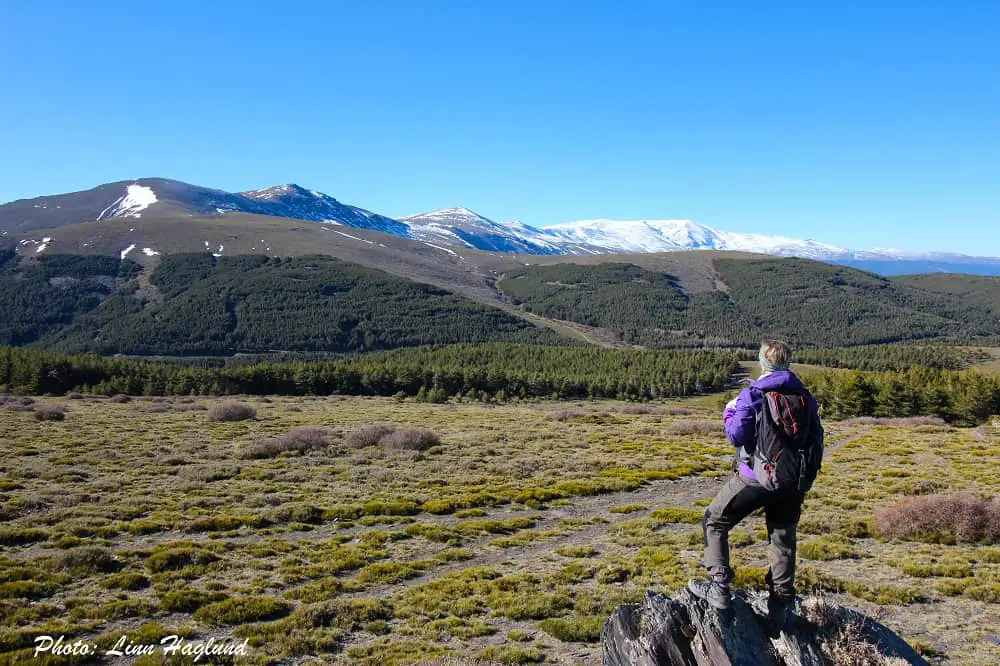 ---
Find the perfect gift ideas for hikers here
---
Ruta de Los Cahorros
Ruta de Los Cahorros is one of the most fun hiking trails Sierra Nevada has to offer. Think hanging bridges, water holes, and narrow trails along the canyon wall where you at times have to duck under or hold onto the metal handles in the rock wall to get past.
Keep in mind that if you suffer from severe vertigo, this might not be as fun for you. Ruta de Los Cahorros is practically a natural playground along a stunning gorge which is perfect for the whole family.
In summer, you can go for a swim in the waterholes, but you might not want to walk the whole loop as the heat will take a toll on you on the way back.
Instead, stay in the gorge where you can cool down in the water and be in the shade if you walk in summer and bring a swimming suit! Once you see the end of the gorge, just turn around the same way.
During spring, autumn, and winter, on the other hand, you can enjoy a nice loop trail through olive groves with stunning views.
Read the complete hiking guide here.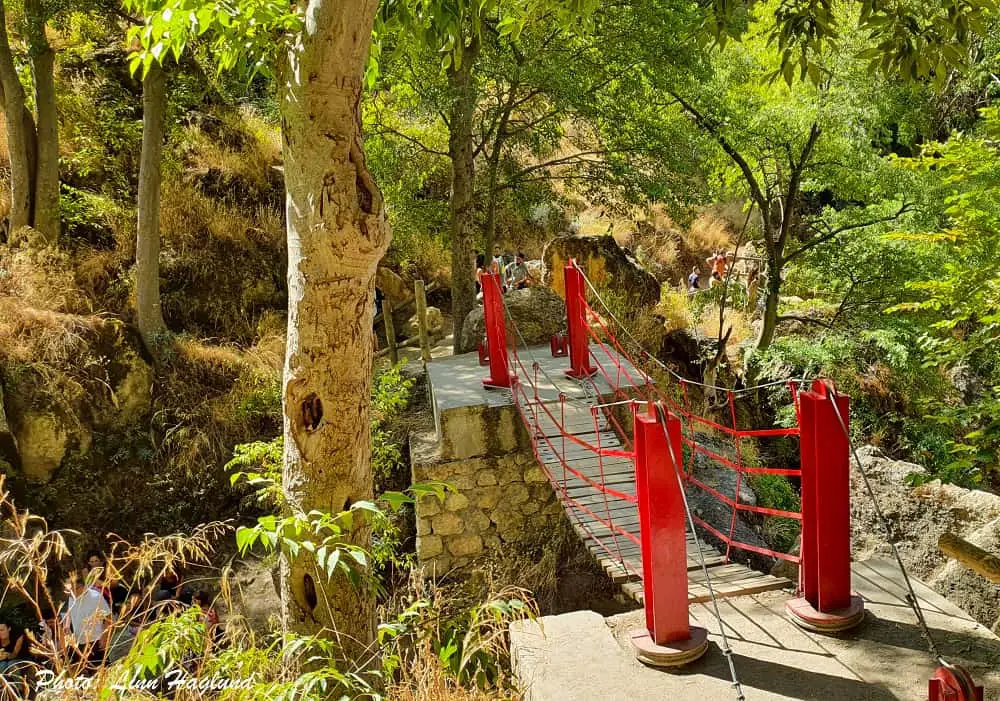 ---
READ: Best sustainable backpacks for day hikes
---
Pico de Veleta
Pico de Veleta (3398m) is the second-highest peak in Sierra Nevada. In the summer months, it's actually possible to take the chair lift nearly to the top.
But hiking from Hoya de la Mora is absolutely worth it and only takes 4-5 hours. This makes it one of the most popular hikes in Sierra Nevada.
The trail is easy to follow and it's even possible to follow the paved road, that turns into a dirt road further up. But the trail cuts through the large curves, thus will save you a fair bit of walking even though it's steeper.
Pico de Veleta is also a popular peak to combine with Mulhacen over two days. There are three unguarded refuges between the two peaks where you can stay over the night.
You can read my complete hiking guide for Pico de Veleta here.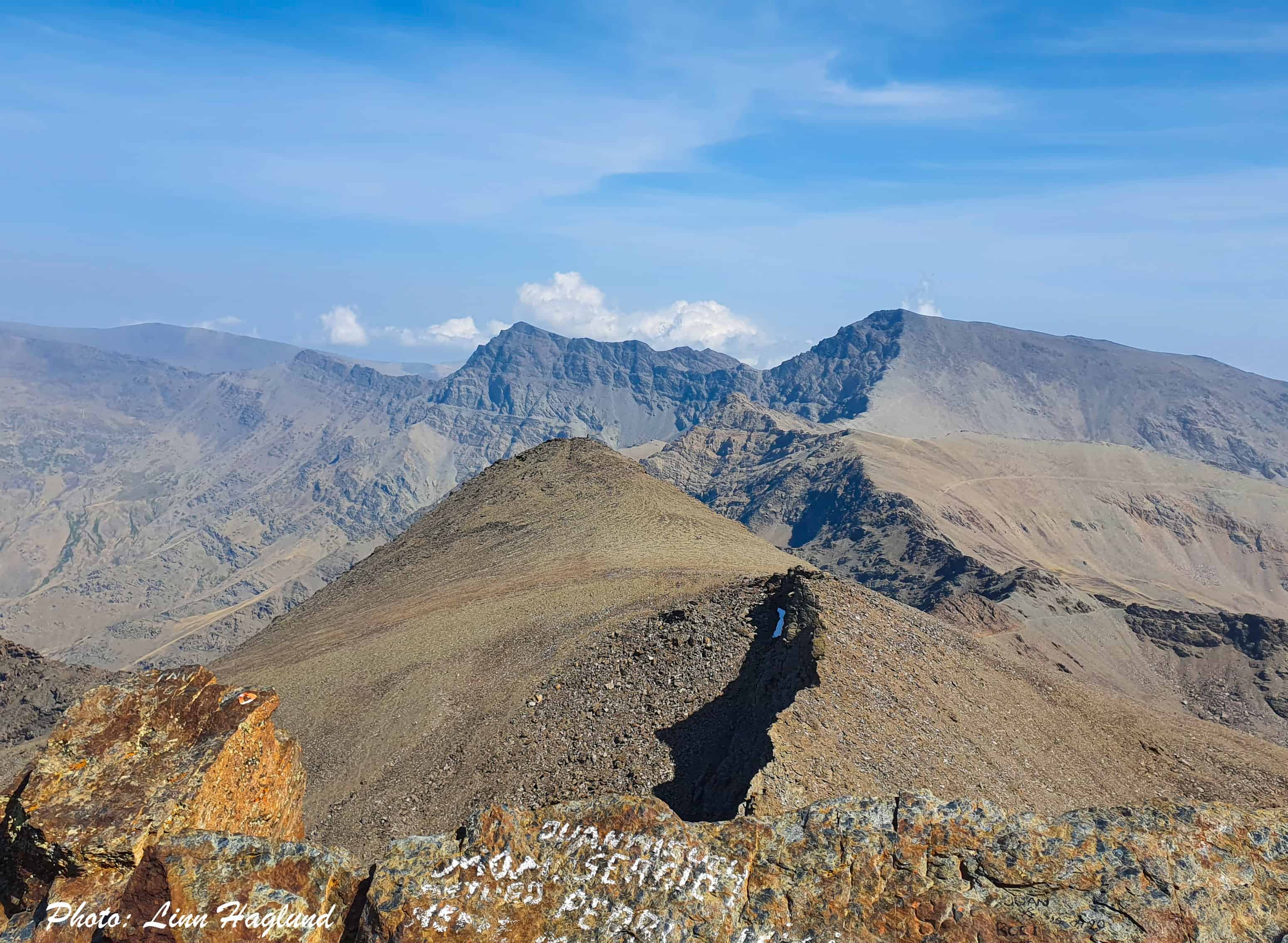 ---
READ: Best knee braces for hikers
---
Lavaderos de la Reina
Lavaderos de la Reina is one of the most mesmerizing hikes in Sierra Nevada with the incredible cascades flowing down the rocky landscape, surrounded by lush, green fields where cows are roaming freely.
The 20-kilometer loop starts past the village of Güejar Sierra outside of Granada. The windy road takes you through the village and continues on the mountainside, down a valley, before the hairpin road starts climbing up for quite a while.
Follow the road until you see a dirt road turning to the right in a left turn, just as the road changes between new and old road. There's a large white and green sign there saying "Pavimentación del Camino Rural en el paraje "El Coto"". Keep driving on this track until it's blocked by chains. Park there, and start walking.
You can follow the dirt road straight up and take opp on either of the next couple of trails that continue straight ahead where the dirt track turns right.
This will continue straight for a while before you get to the first natural water source. Then it's not long until you get around to the open landscape that stretches between you and the Lavaderos de la Reina waterfalls.
The trail continues around the open space along a river towards the bottom of the falls. The walk up along the falls is breathtaking! If you need to fill up water here, make sure you filter it.
When you come to the top of the falls (three small falls that are pretty similar), turn right before reaching a new open area surrounded by hills and mountains and a waterfall on the left.
This is a part where it's a little hard to follow the trail as it vanishes more than once. But keep walking straight and you'll see a trail climbing up the hill in front of you, that's the one you're aiming for to return.
Read my complete hiking guide to Lavaderos de la Reina here.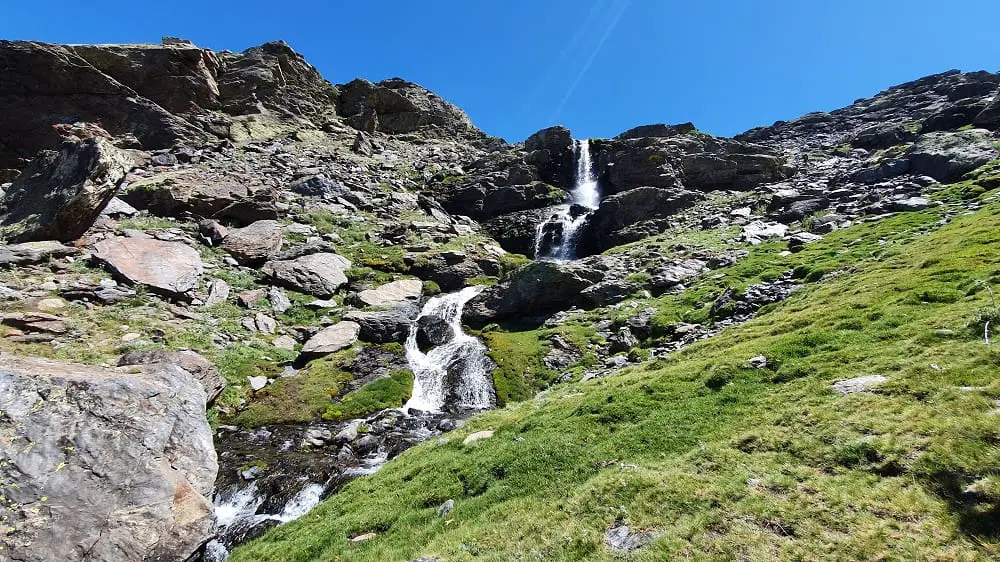 Rio Molinos
Another stunning hike in Almeria's Sierra Nevada, is Rio Molinos. This local walk goes from the highest village in the province, Bayárcal. Rio Molinos makes a perfect family hike all year round and is great for taking your dog too as there is water to cool down in summer and no processionary caterpillars in winter.
Rio Molinos is evidence that hiking in Sierra Nevada doesn't have to be about a challenge. It only takes 2-3 hours to do the whole loop, depending on how many breaks you take and there are no demanding parts. In summer you might even want to go for a dip or two.
This is a wonderful trail that truly changes with the seasons. Crossing the river multiple times, discovering old abandoned water mills (thus the name), and discovering poems written on the rocks along the trail, there is no wonder this is a local favorite.
Especially in the springtime when the snow in the higher Sierra Nevada melts and fills up the glittering river and its water holes, closed up by lush greenery and colorful flowers.
Read my complete guide to Rio Molinos here.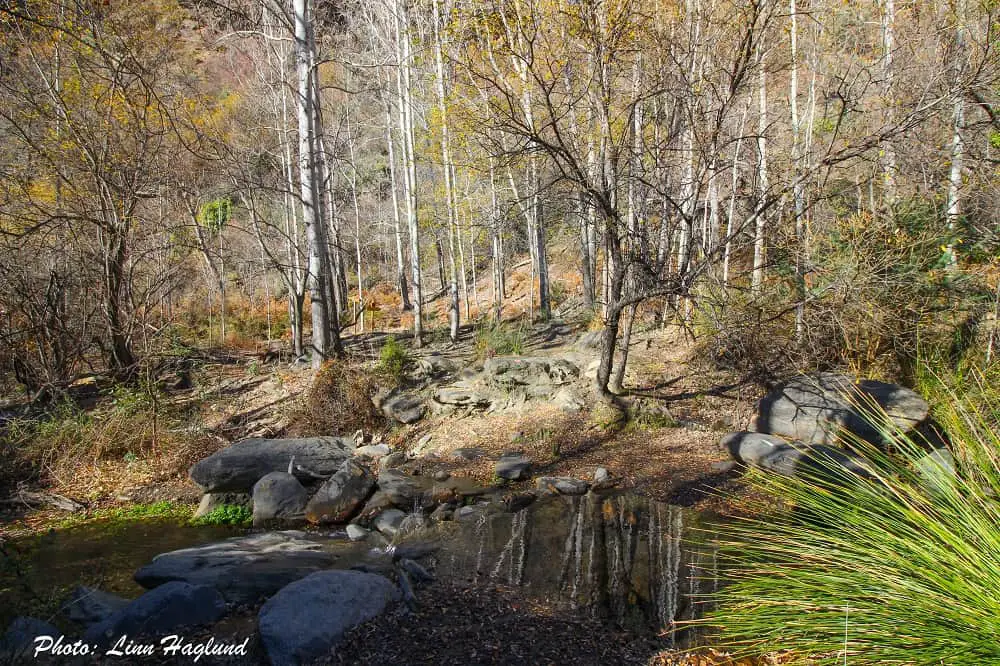 Siete Lagunas
Siete Lagunas (Seven Lagoons) is one of the most popular Sierra Nevada hikes starting in the village of Trevelez. It's an astounding hike through lush meadows, with mountain scenes taken straight out of a painting.
The climb is hard and you should be physically prepared before you tackle this hike as you'll be ascending 1500 meters on nearly 9 kilometers. That said, it's a well-marked trail that's easy to follow.
The last bit up along the waterfall is not as easy to follow as the path divides into several trails, but they all go upwards and you won't get lost as long as you aim for the top of the falls.
Once you reach the top of the waterfall, you'll see the first lagoon, Laguna Hondera. The other ones are spread through the area, but they aren't that big and some of them might be dry too. Especially towards the end of the summer and autumn.
Siete Lagunas is a popular stop for wild camping for hikers continuing to Mulhacen or Alcazaba peak. If you plan to set up camp for the night, make sure you read the guidelines for wild camping in Sierra Nevada. Also, be aware that the hike can take longer with a heavy backpack. I'm talking of experience!
Read my complete hiking guide here.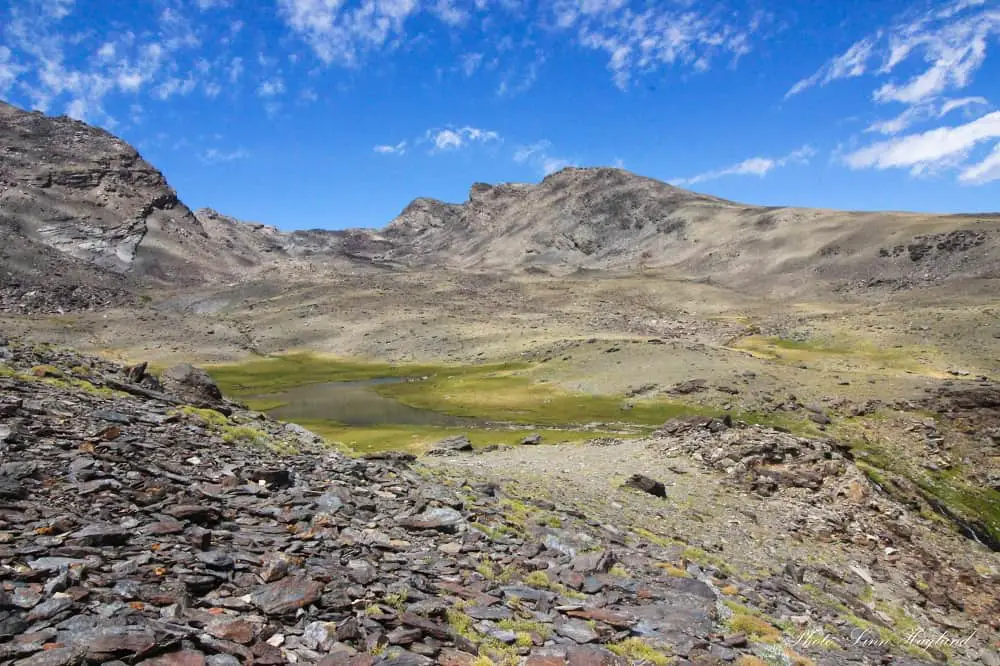 Cascada del Goterón
Finally, a hike to Cascada del Goterón is an amazing, offbeat hike passing Siete Lagunas. It's a highly demanding route that can easily take 10-12 hours from Trevelez and back.
After climbing 1500 meters through green meadows past vivid rivers and waterfalls to Siete Lagunas, you still have another hour and a half to Cascada del Goterón waterfall.
Following the trail to the right once you reach the Siete Lagunas, follow it around past a rock that looks like a massive diamond – or some say it looks like a mushroom.
From this rock, follow the cairns where the path is unclear and you'll get to the edge of an intense scenery taken straight out of the Lord of the Rings with rough, bare mountains, sliding rocks, interrupted by green lines where water is of have been falling.
To the far left is the biggest of them all, Cascada del Goterón. To get there, follow the trail down. It follows the left wall. More than once you'll find it's covered from rock slides, so be extremely cautious when taking this route. The trail vanishes among rocks once you get above the waterfall and soon you'll be welcomed by a little green oasis in this otherwise hostile terrain.
This is without a doubt one of the most unique hikes in Sierra Nevada, but it's only for you if you're in good physical condition and not afraid of heights.
Read my complete hiking guide here.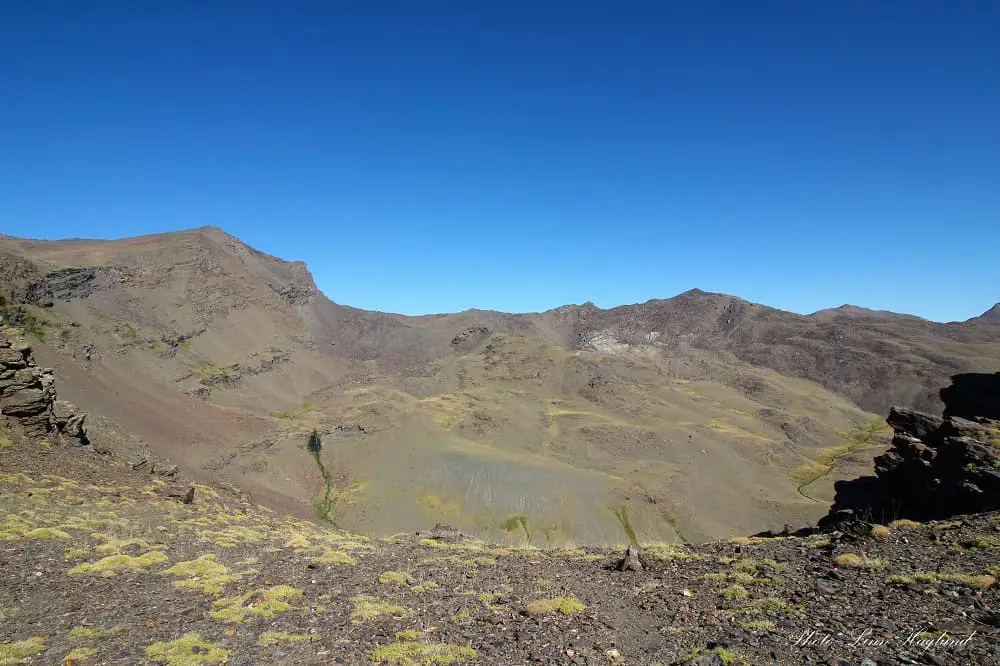 Vereda de la Estrella
Vereda de la Estrella is time after time being referred to as the most beautiful hike in Sierra Nevada and not without a reason. The 21-kilometer hike is followed by impressive views of the 3000-meter peaks dominated by Alcazaba (3371m) and mainland Spain's highest peak Mulhacen (3479m.)
This is an easy hike to follow and doesn't require a whole lot of effort as the ascent is pretty slow. However, you should not underestimate La Vereda de la Estrella. Make sure you wear good hiking boots or shoes and be prepared for a long hike. It can take you something between 6 and 8 hours depending on how fast you hike and how much you stop to take pictures (which might be a lot because the views just get better and better around every corner!)
The trail follows the side of the lush valley followed by the sound of the vivid river blow. A bit over halfway, you cross the river on a wooden bridge, as it shows off with several small rapids. this is without a doubt one of the most beautiful hikes in Sierra Nevada!
Read my complete hiking guide here.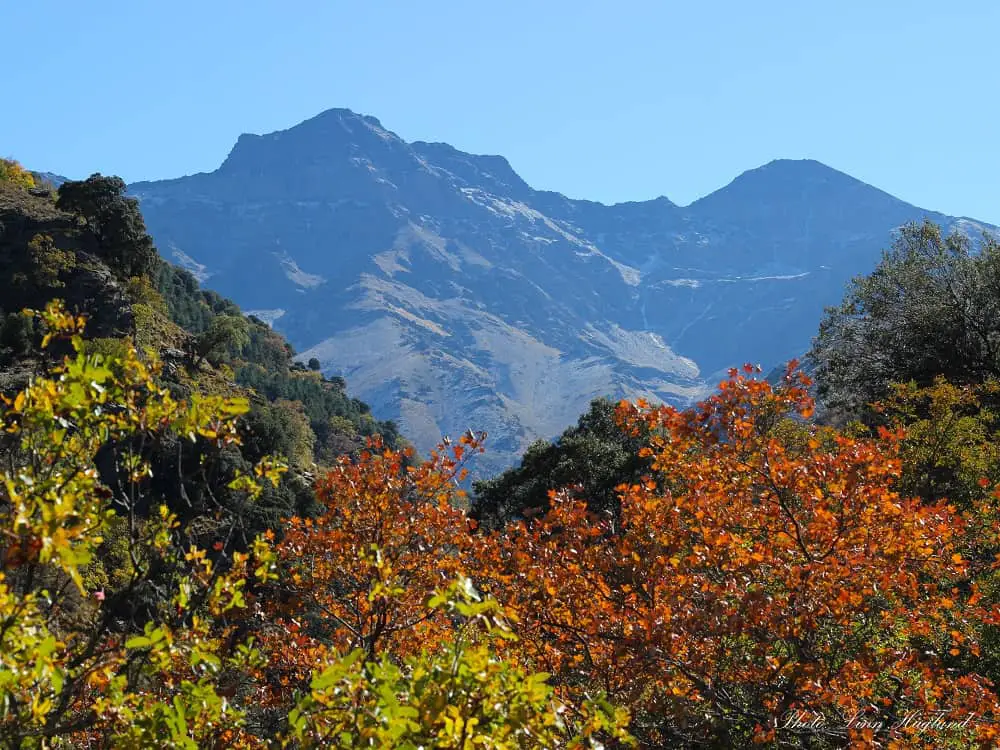 Reflections on hiking Sierra Nevada Spain
Hiking Sierra Nevada Spain is one of the best adventure experiences you can have in the country. With rugged high altitude peaks, lush rivers, incredible gorges, and spectacular views there's nothing to complain about in Sierra Nevada National Park.
Hopefully, you've found a hike that suits you for your Sierra Nevada walking vacation, because this national parks has some of the best hikes in Spain.
What I love the most about hiking Sierra Nevada is that there's so much diversity and often you'll be blessed with magical wildlife encounters, especially mountain goats.
Enjoy your hiking adventure!
Read next: Best hikes in Sierra de Mijas