When you think of the highest peak in the province you usually expect it to be a bit of a challenge. But El Chullo, Almeria province's highest peak, is anything but challenging.
It's actually a great beginner's hike for anyone wanting to start out on the peaks. Towering above 2600 meters of altitude, the hike from Puerto de la Ragua is a slow and easy ascent with less than 600 meters of elevation.
Situated just on the Almeria side of Sierra Nevada, you get constant views of the national park's 3000-meter peaks, including Pico de Veleta and Mulhacen. In winter you're rewarded with snow-capped peaks and you can even walk this trail in the snow.
Here is a complete guide to hiking El Chullo, Sierra Nevada's underrated peak, and one of the most spectacular hikes in southern Spain.
Disclosure: This post may contain affiliate links. That means that if you make a purchase through one of those links, I will get a small commission at no extra cost to you.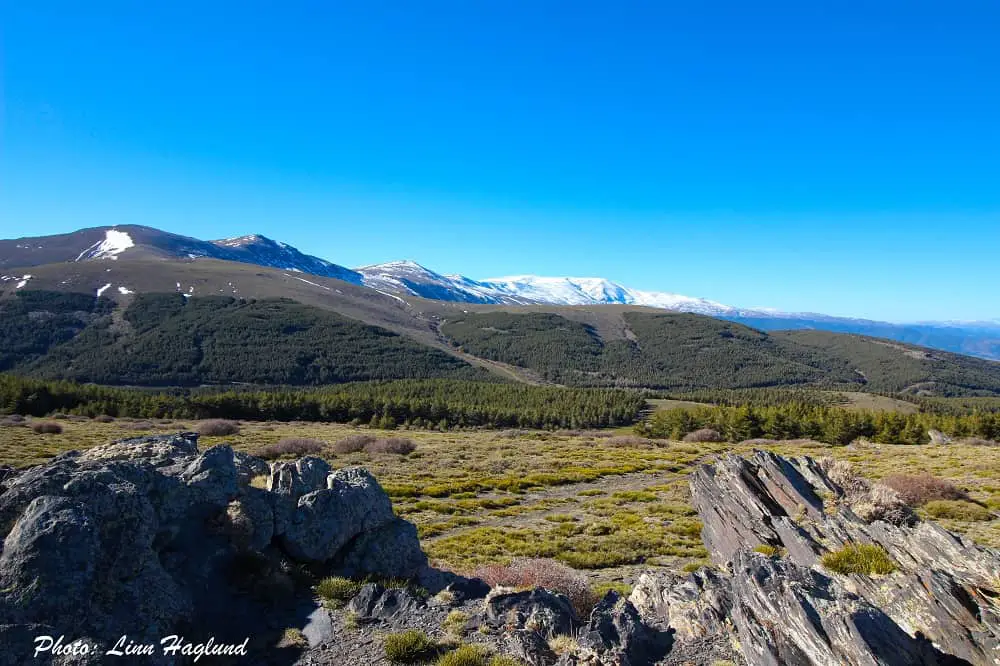 ---
Practical information
Province: Almeria
Mountain range: Sierra Nevada
Length: 9 km
Time: 4 hours
Altitude: 2613 masl
Elevation: 570 m
Route: Linear return
Difficulty: Easy
Hiking with dogs: Hiking with dogs is allowed on this hike. However, there are a few pine trees at the start of the trail, where you'll see a lot of pine processionary caterpillars between January and the end of spring. I walked there without Ayla, but I think I could have taken her and kept her in a tight lead the first 15-20 minutes of the hike where the pine trees are. However, this is at your own risk and it's hard to tell how many are going to be out. Better safe than sorry. There are no natural water sources on this trail, so make sure you bring enough for your dog too, especially on a hot day as there is no shade.
---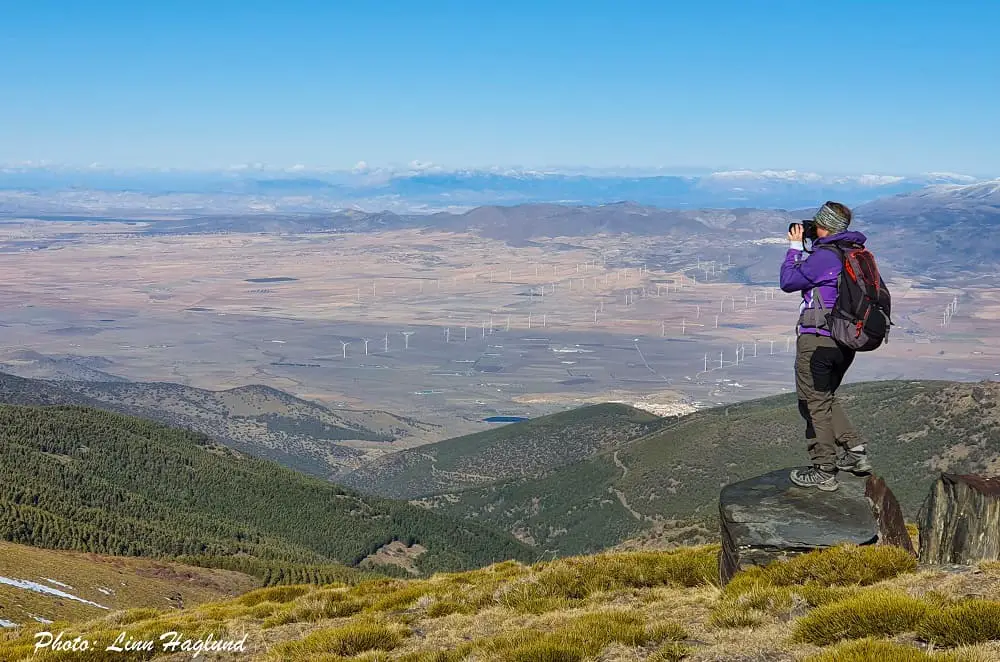 How to get to El Chullo Puerto de La Ragua
The trailhead starts at Puerto de la Ragua, which is Sierra Nevada's cross-country skiing station and sits just between Granada and Almeria. There are no buses to Puerto de la Ragua, so you'll need to travel by car, and can easily park there.
Check availability and prices for rental cars here
Driving time from the following cities:
Almeria: 1 hr. 20 min.
Granada: 1 hr. 15 min.
Jaen: 1 hr. 40 min.
Malaga: 2 hrs. 20 min.
Cordoba: 3 hrs.
Seville: 3hrs. 30 min.
The closest international airports are in Almeria and Granada.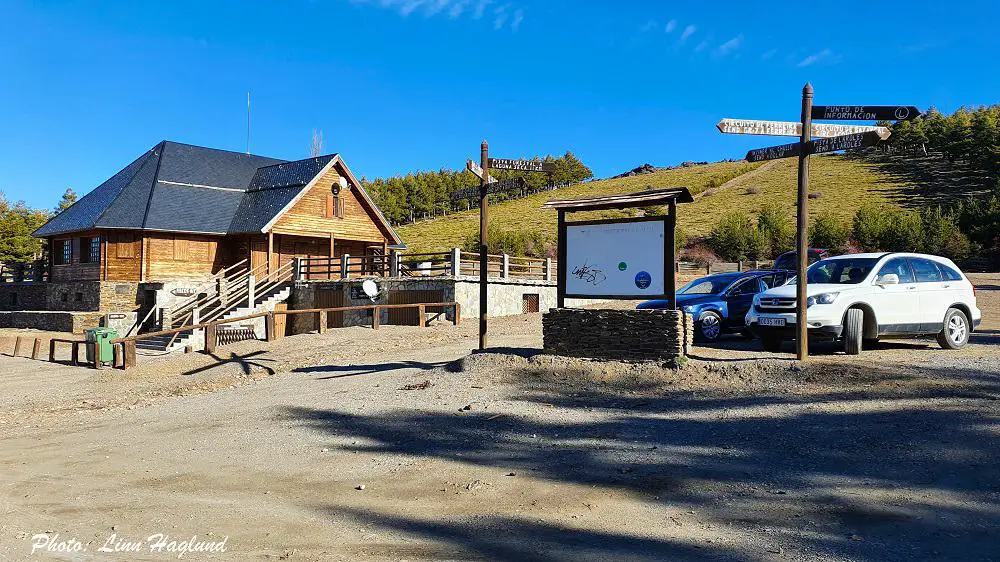 ---
CHECK OUT THESE EPIC HIKES IN ALMERIA:
---
When is the best time to hike El Chullo Almeria
El Chullo Peak can be conquered at any time of the year, but between January and March, you can expect to hike in the snow, which also makes it one of the best hikes in Sierra Nevada, Spain.
While it's an easy hike without any specifically steep parts, it's a very bare mountain to walk, so there is no shelter from strong and cold wind.
For this reason, I recommend that you check the weather forecast before you go so that you are well prepared for possibly cold days.
Check the weather both in Puerto de la Ragua and El Chullo, so you know how the start of the hike is going to be but also at the peak.
I went up at the end of December, there were only a few patches of snow spread around the mountain and I had a nice and warm day.
Yet, on the top, it was blowing hardcore and it was so cold I only took a few pictures before I raced back down. It's easy to forget you're actually at 2600 meters of altitude when the hike up is so easy.
But the lack of shelter can also make it challenging to hike on hot days.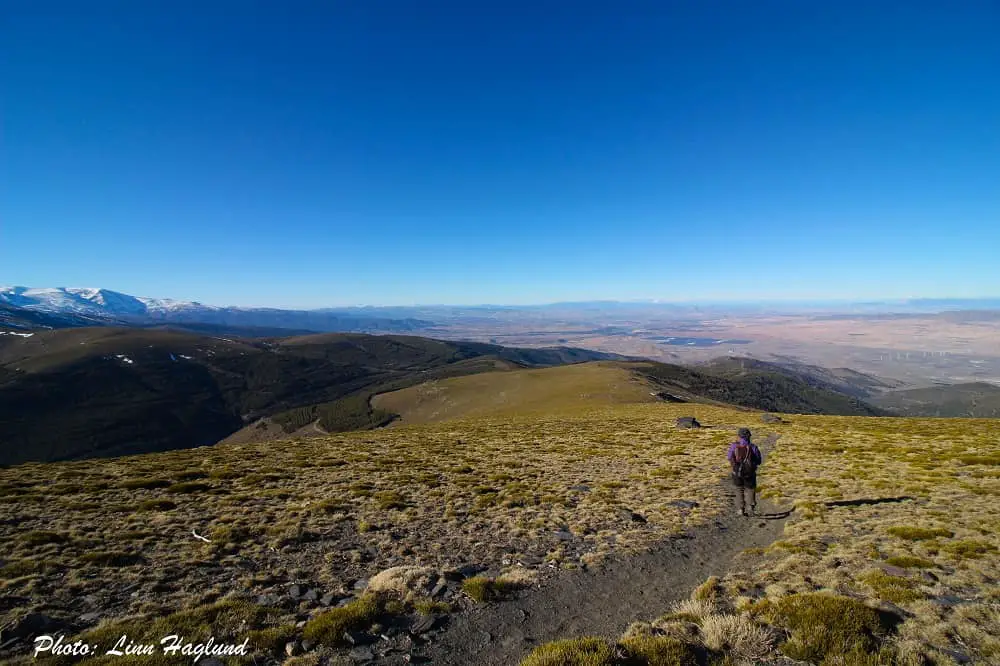 What to bring
Depending on the time of year you're hiking El Chullo, you should always remember to bring layers of clothes. Even in summer, take a windbreaker and long pants in case you need to get changed. If you have hiking pants that you can zip off to shorts, they're great on warm days where it can get chilly on the top.
Further, this entire trail is exposed to the sun, so take a hat no matter what time of year – and sunscreen. Even though the ascent isn't very steep, you might want to bring trekking poles, especially for the top bit and the way back down the lower part. Other than that, you don't need a lot of hiking gadgets for this hike as it's a fairly easy and short trek.
Here is a roundup on the best sustainable backpacks for day hikes.
Here is what you should bring in your backpack:
Water (bring a lot in the warmer months)
Lunch (there's nothing like having lunch with those views)
Snack (fruit/nuts)
Camera
Caps/hat
Neck gaiter
Extra layers of clothes
Sunscreen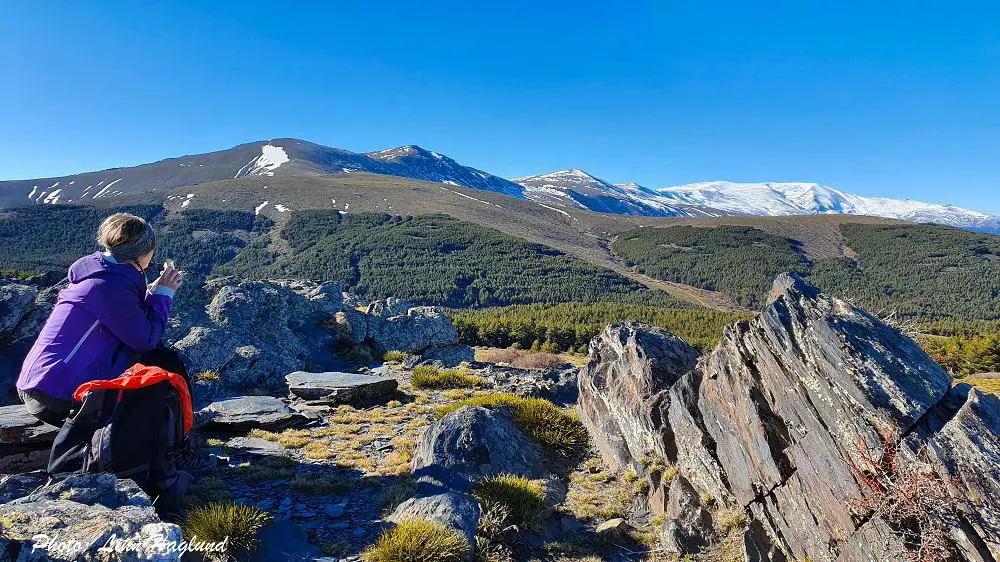 Where to stay when hiking El Chullo
Laroles is a nice little village to stay nearby Puerto de la Ragua, only a 20-minute drive away. There are a lot of nice hotels and Rural houses where you can stay in the surroundings, here are a couple of alternatives.
Country house Cortijo Brazal La Ventaja
A super cute country house on the outskirts of Laroles with a garden and terrace. There is also an outdoor pool for those hot summer days and a fireplace for those chilly winter nights.
Hotel Rural Real de Laroles Nevada
This hotel is situated in Laroles and has a terrace and bar with stunning views of the surrounding landscape. Note that pets are not allowed in the hotel.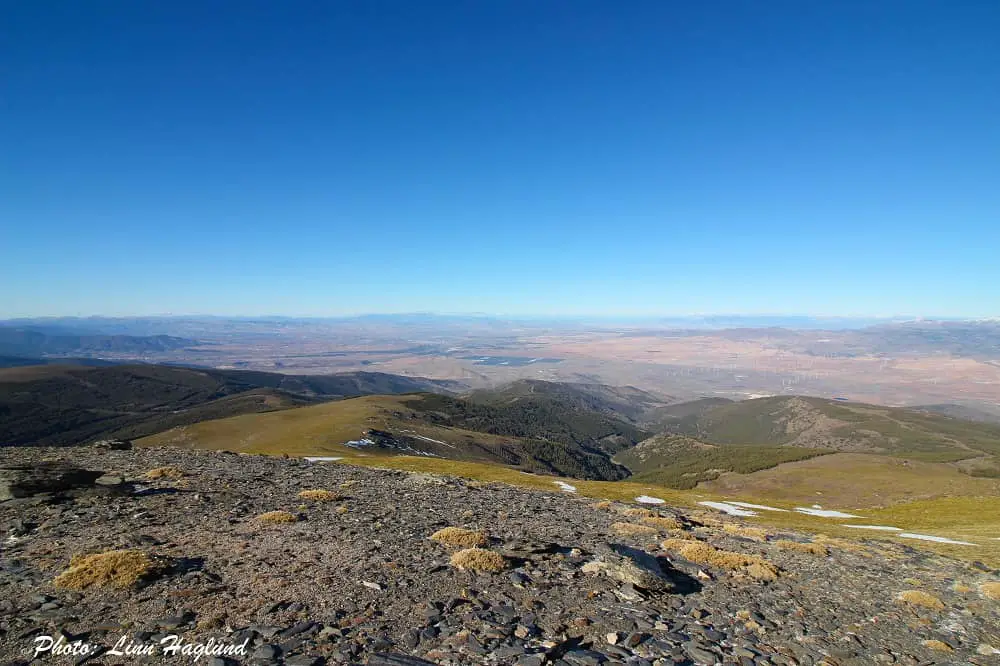 Hiking El Chullo Sierra Nevada
Hiking El Chullo in Sierra Nevada, is an unexpectedly pleasant hike for being a top hike to over 2600 meters of altitude. The trail starts behind Puerto de la Ragua. There are two trails, looking up at the building from the parking, one on the left and one on the right, both heading straight up to the same place.
To the right of these paths, there is also a broad dirt road, which I've been told also leads up to the peak, but I haven't tried that myself.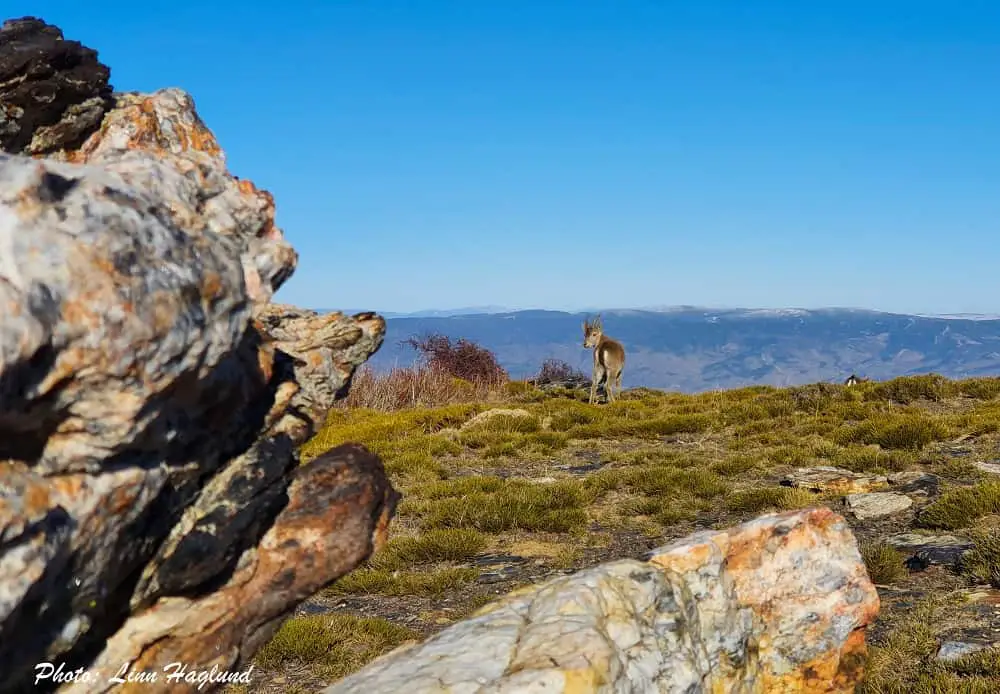 After the first few hundred meters, you pass a small pine forest, you can either walk through it or around it on the left. If you walk with dogs and the pine processionary caterpillars are out, you should go around it so you have more control over where you walk. It only adds a minute or so to the hike.
Once you've passed the pine forest, you'll see the peak slightly to your right. The trail continues straight up past a larger pine forest on your left before it opens up completely around you.
The high peaks of Sierra Nevada will follow you on your right the whole way. Nearly at the top, there is a small Refugio.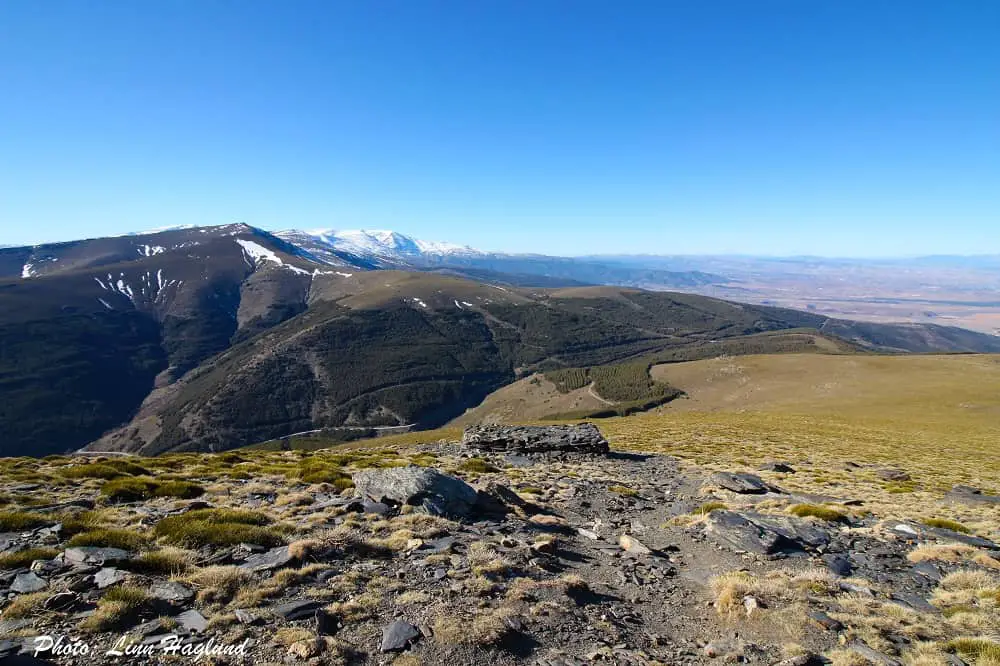 Once you get to the peak, you'll have an astounding 360 view of the surrounding landscape. If the wind isn't too strong, this is the perfect spot for lunch or a snack. You then return the same way you came from.
Alternatively, you can continue across over the other side of the mountain to the Lago Seco, meaning "dried lake" and walk in a loop back down. I haven't done that myself, but I will update this post as soon as I do.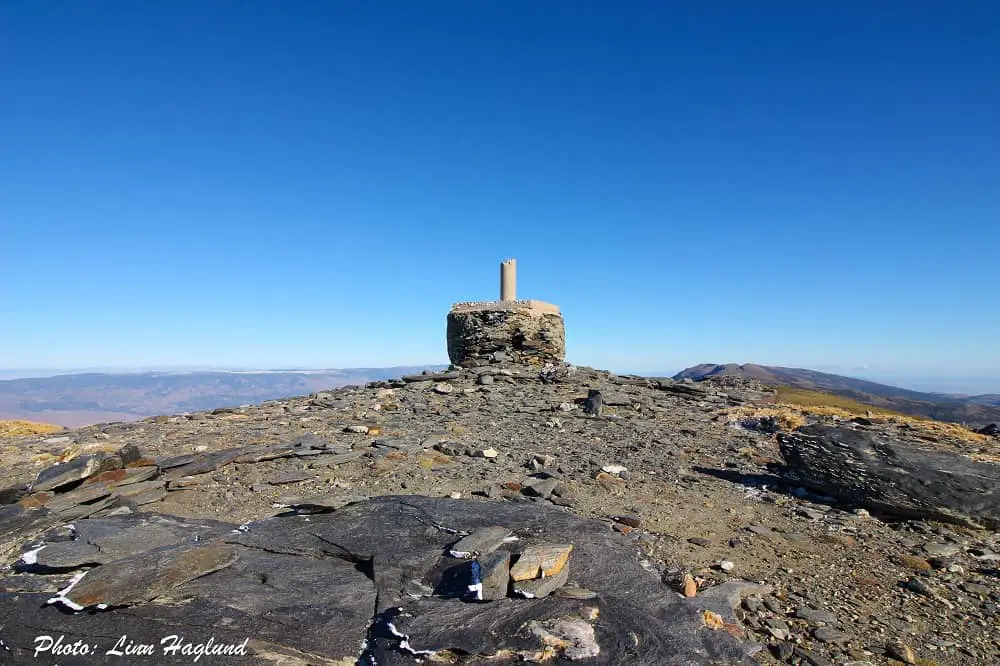 ---
READ NEXT: Best gifts for hikers
---
Reflections on hiking El Chullo peak
El Chullo hike was a surprisingly pleasant top hike. It's well marked and you see the peak as soon as you pass the first little pine forest so you have a clear reference along the whole trail.
The constant views of the open landscape with the high Sierra Nevada peaks on your right make it enjoyable, and personally, I couldn't get enough photos.
With those views, there is no bad lunch stop along the way. There are also big chances of seeing mountain goats and horses roaming around on and around the trail.
Though it's an easy walk, there's not much change in scenery on the trail, which can be good to keep in mind, especially if you hike with kids that need motivation.
Other top hikes: