Just outside of Sierra de Hornachuelos Natural Park in the astounding Sierra Morena mountains, there is a vast network of hiking trails of different levels and difficulties. Ruta de Los Venados is an easy family hike going through old oak trees, rising up to astounding views, and circling back down along a vivid river.
Starting from the camping outside Villaviciosa de Cordoba, it's one of the trails that can be hard to follow with only the instructions you get at the camping.
Together with Ruta Pinos, Vegosa, Venados y Plata, which starts at the same place, it's described in a leaflet you can ask for in the reception, though easy to get wrong due to confusing descriptions.
This guide will tell you everything you need to know to have a successful excursion on one of the most beautiful hikes for beginners in Andalucia.
Disclosure: This post may contain affiliate links. That means that if you make a purchase through one of those links, I will get a small commission at no extra cost to you. As an Amazon Associate, I earn from qualifying purchases.
---
Practical information
Province: Cordoba
Mountain range: Sierra Morena
Length: 5,8 km
Time: 2 hours
Elevation: 173 m
Route: Circular
Difficulty: Easy
Hiking with dogs: Hiking with dogs is allowed here, but it's a dense pine area, so during spring, the pine processionary caterpillars cover the area. Winter is cold, so they usually don't get out before March. May is the worst month. It's also important to watch out for wild boar, especially in the early mornings and in the evenings. There is only a natural water source towards the end of the hike, so bring a little extra water in case your dog gets thirsty before you reach the river.
---
---
YOU MIGHT ALSO LIKE: Best hikes in Andalucia, Spain
---
How to get to Ruta de Los Venados
Ruta de Los Venados trailhead starts in front of the Camping Puente Nuevo just outside Villaviciosa de Córdoba village (AKA Villaviciosa) in Sierra Morena of the province of Cordoba. This is a remote site and is easiest to reach by car, though it's possible to travel there by bus.
How to get to Villaviciosa de Cordoba by bus
From Cordoba, you can take bus M-110 to Villaviciosa de Cordoba. You can ask if the driver can stop at Pantano Puente Nuevo or by the camping to avoid walking the 8 kilometers from the village.
From Pantano Puente Nuevo it's about 15-20 minutes to walk to the camping. I recommend you plot in the camping in your GPS to make sure you walk the right way.
There are only a couple of buses a day each way between Cordoba and Villaviciosa and you will have to stay at least one night to go hiking and return. The bus takes about an hour from Cordoba. You can find the bus table here.
How to get to Camping Puente Nuevo by car
The easiest way to reach Camping Puente Nuevo and the trailhead to Ruta de Los Venados is by car, whether you come from Cordoba or from Villaviciosa. It's easy to follow by plotting the camping into the GPS.
Driving from Cordoba to Camping Puente Nuevo takes about 45 minutes. Once you reach Pantano Puente Nuevo, you take off to the left to the camping. There are signs, so it's easy to find.
From Villaviciosa to Camping Puente Nuevo it only takes 15 minutes to drive in direction Cordoba. There are signs to the camping to your right from the same road you'll be driving on.
You can park for free at the camping.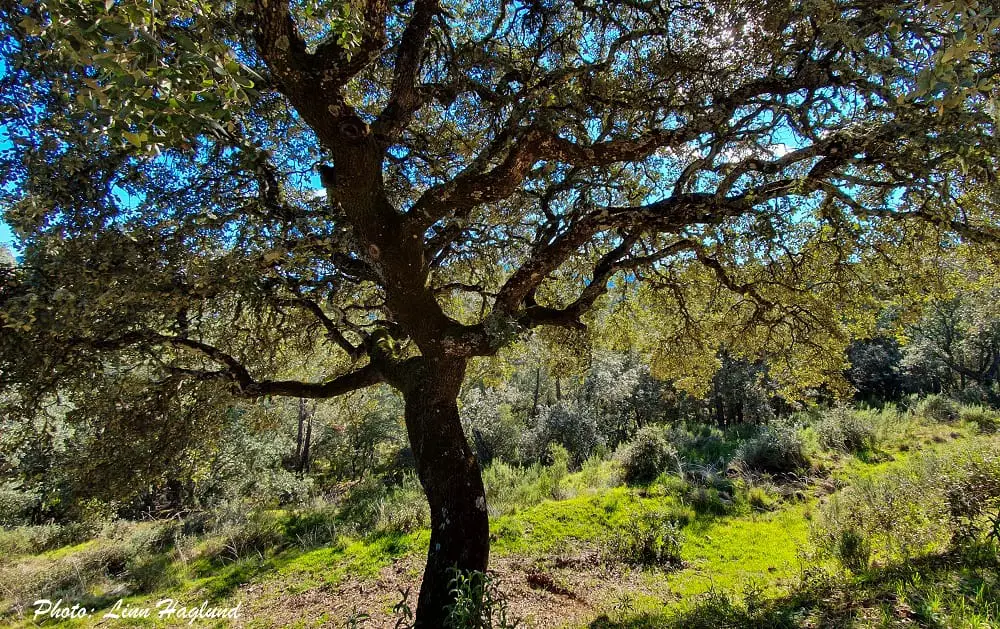 When is the best time to hike Ruta de Los Venados
Ruta de Los Venados can be done all year round. Though in the summer months, between mid-June and mid-September, you can see temperatures around 30 degrees Celsius in the daytime, so I recommend you go early in the morning during these months to avoid the heat. Make sure you read my recommendations for hiking in the heat before you go.
Spring and autumn have pleasant daytime temperatures to go hiking there, while the winter months between November and March can get very cold at day too. If you hike in the winter, make sure you have enough clothes on so you keep warm.
In general, Villaviciosa de Córdoba has quite a temperature difference between day and night, so even in the summer months, you can get 12-15 degrees Celsius at night time while it's above 30 during the day. In winter, night temperatures drop to around zero. So be prepared for ice on your car in the early mornings.
What to bring
Ruta de Los Venados in sierra Morena is such a short hike that you won't need a whole lot of hiking gear. But there is one hill that is quite steep, mainly downhill. You might want to consider bringing hiking poles to support you down this hill. On top of that, make sure you have good hiking shoes with good grip.
If you hike in the coldest winter months, you should bring something to cover your ears, neck, and hands.
Other than that, here are the few main things to bring in your day hike backpack:
Water bottle
Snacks (nuts/fruit)
Camera
Where to stay when hiking Ruta de Los Venados
The most convenient place to stay when hiking Ruta de Los Venados, is obviously the camping itself where the trail starts and ends. They have bungalows and tent pitches, or you can park your camper or RV there. Find prices here.
If you prefer a hotel or a rural house, the village of Villaviciosa is really cute. Here are a couple of options in the village:
El Rincón del Abuelo
Wonderful apartments run by a lovely lady, Inma, which will make everything to make you feel at home. It's awesome to have your own kitchen so that you can prepare your own lunch pack for your hiking adventures.
Casa Del Abuelo Martín
This is a whole 4 bedroom house where you can stay with friends or family. It is in a traditional village style with a cute patio and a pool. Excellent if you stay in the summer months.
Hiking Ruta de Los Venados
Walk up the path from the trailhead across the entrance of Camping Puente Nuevo which takes you through an old oak forest until you get to the main road. There, the path will follow a short stretch along the road to the right before it's possible to cross to the other side.
Continue up the dirt path on the other side of the road. When you come to the first junction you need to walk straight, and NOT follow the U-turn that turns right (that continues to Ruta Pinos, Vegosa, Venados y Plata).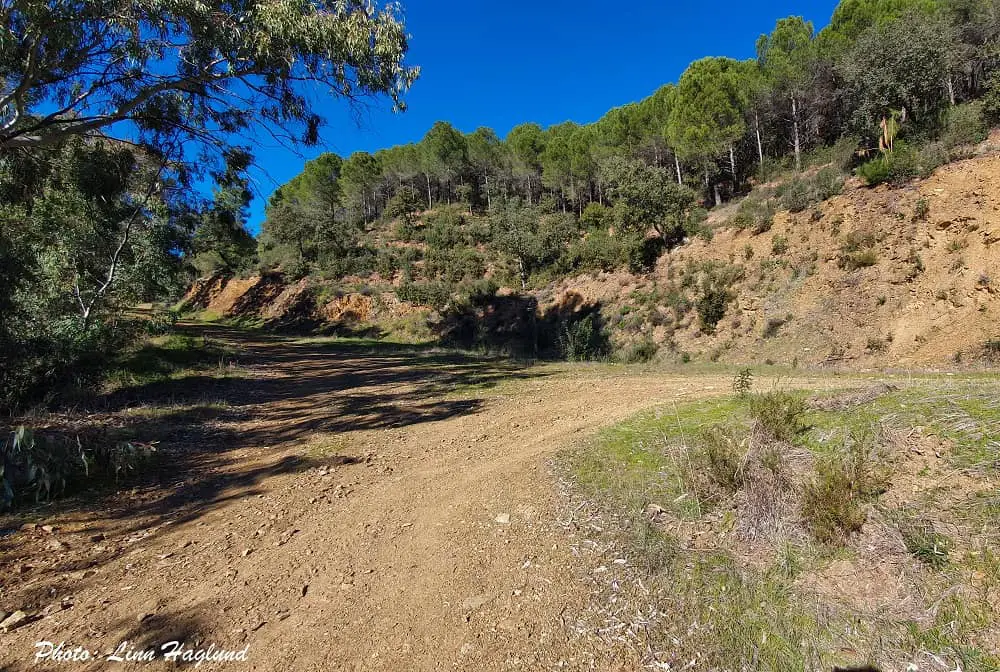 Continue on this road for a bit, with breathtaking views of the forests to your left, until you get to a big junction where 5 paths meet. There you need to turn left. This dirt road continues straight for a bit before it turns 90 degrees to the left.
In this curve, you'll see a smaller trail continuing straight. Take that. This takes you through a few oak trees and more views to the left, it ascends to a left turn where the path goes steep, very steep down. Be careful down there. If you brought your hiking poles, you'll want to take them out here.
This path continues until you get to the main road again, where it follows the road a bit to the right before you can cross and follow a path towards the left, along the road on the other side. Shortly, you'll see an opening and a gate to your right. The trail continues down beside that gate.
Following, you'll walk along fields with sheep and soon along a crystalline river that will follow you all the way until a junction where you take the dirt road to the left. Follow this until you get back to the camping.
Reflections on hiking Ruta de Los Venados
Ruta de Los Venados hike is a beautiful, short hike in the stunning Sierra Morena and I definitely recommend it if you're after an easy, short walk to breathe in some fresh air.
Its highlight is walking along the river and see the sheep hanging out on the other side. But the views over the surrounding hills during the middle part of the trail are also spectacular.
There is no doubt Ruta de Los Venados is worth it.
Other short hikes in Andalucia: