Finding a high-quality day backpack for hiking that's also sustainable can be a mission. I've had (and still have) my share of day packs that seemed affordable there and then, but didn't last very long.
You really want to make sure you get a solid backpack that will last for years to end. While buying sustainable backpacks is good for the environment, a long-lasting one is just as important, as it means less waste.
By researching the best sustainable brands, I've put together the best backpacks for day hikes in this post.
Disclosure: This post may contain affiliate links. That means that if you make a purchase through one of those links, I will get a small commission at no extra cost to you. As an Amazon Associate, I earn from qualifying purchases.
Why choose a sustainable backpack
There are several reasons to choose to buy sustainable backpacks instead of non-eco friendly backpacks.
First of all, if you're already a conscious hiker practicing the leave no trace principles, you probably want to make sure your hiking gear is eco friendly too.
But knowing that you support a brand that maintains and work towards a sustainable manufacturing chain is just as important.
Finally, if you make sure you look for vegan backpacks too, you know that no animals have been hurt in the making. Most backpacks are made of synthetic material, but I did come across quite a few sustainable brands that didn't make it to this list as all their good day hiking backpacks had leather details on them.
Choosing sustainable gear is the start of the Leave No Trace Principles.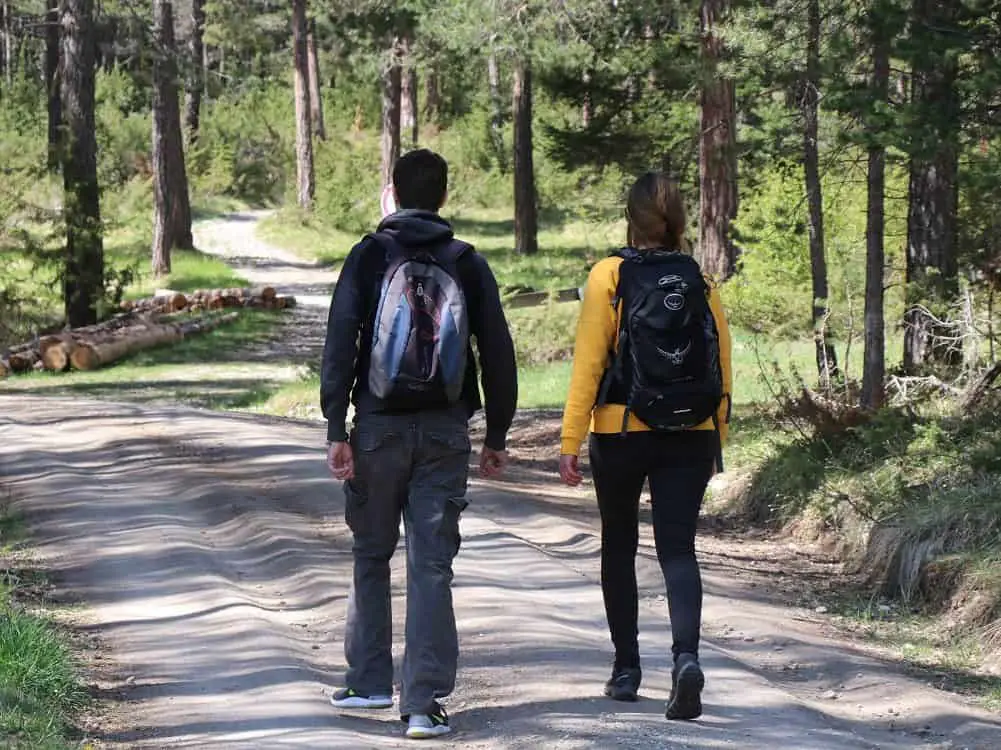 What to look for when picking sustainable backpacks for day hiking
Finding an eco friendly backpack is easier than it once was as more brands focus on sustainability. But you should also look up for greenwashing.
Sustainable brands are usually transparent about their manufacturing chain and you can easily check what certificates they have. Another thing that's positive is a brand that encourages repair instead of just buying a whole new pack.
Finally, even though a brand isn't right there yet if they are transparent about working towards becoming more eco friendly, why not support them in their journey?
It all starts with one step in the right direction.
Here are a few labels that are good signs when looking for a sustainable backpack
FAIR WEAR – This is a certification that shows the manufacturing process secures worker's rights
FAIR TRADE – This certification also shows that worker's rights are secured in the manufacturing process
FLA – Fair Labor Association is yet another association that secures that workers in the manufacturing chain are treated fairly
RECYCLED MATERIALS – Always positive if the product is produced with recycled materials, but sometimes the percentage is low, so worth checking out
BLUESIGN – This is a certification that assures a high standard of environmental regulations and sustainably produced material
PFC FREE – PFC is short for Poly Fluorinated chemicals, which are normally used to make outdoor gear water repellent. They are extremely toxic to living organisms thus to the environment. This label indicates that these chemicals are not used on the product.
GRS – GRS is short for Global Recycle Standard and is a certification that regulates and ensures everything from good working conditions in the production to minimized chemical impacts.
GREEN SHAPE – This is Vaude's own label for products produced fairly with eco friendly material.
GRÜNER KNOPF – Grüner Knopf means Green Button and is a label for textiles that are both environmentally and socially sustainable
REPREVE – material made of recycled plastic bottles
UN Global Compact – Members of the UN Global Compact are required to follow guidelines about sustainability, fair trade, and anti-corruption
SAC – The members of the Sustainable Apparel Coalition are required to follow strict guidelines on social and environmental standards in the production chain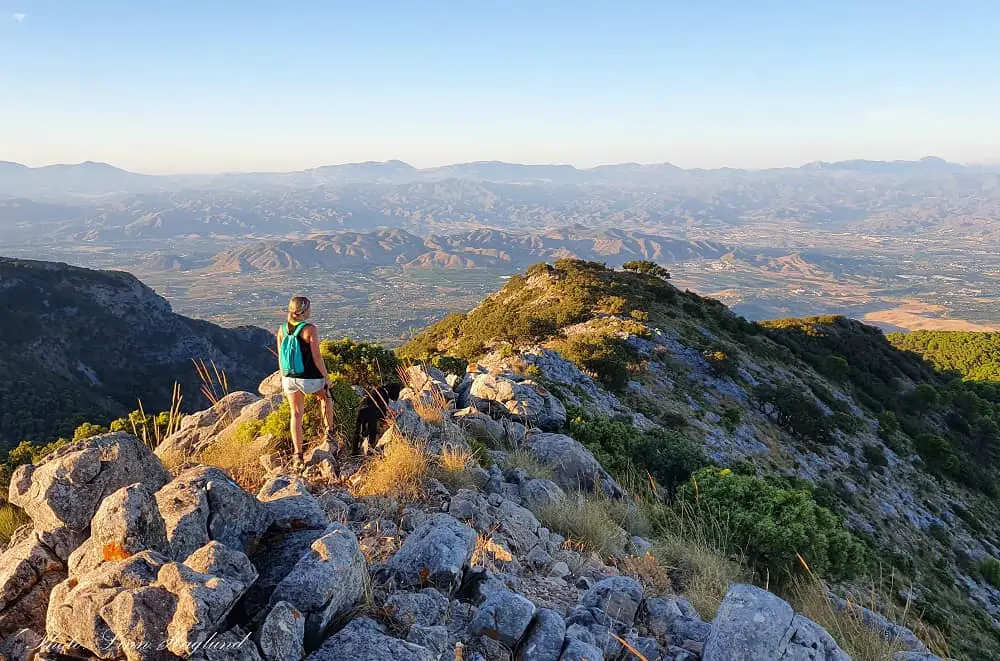 Best backpacks for day hikes
Here are some of the best day hiking packs that are sustainable and eco friendly. Scroll down to the bottom for the best women's day backpack alternatives.
Osprey Daylite Plus Daypack
Volume: 20 L
Water resistance: Doesn't come with rain cover
Material: 300D Recycled Pet Packcloth
Weight: 0,6 kg/ 1,3 Ibs
Sustainability: Bluesign, GRS, PFC free
This classic lightweight and small hiking backpack from Osprey is perfect for shorter day hikes where you don't need too many heavy hiking gadgets.
The simple design backpack comes with simple waist and chest straps, outer pockets to easily reach your stash, as well as mesh pockets on the sides for your water bottle. It's a versatile backpack that you can just as well use for daily life and traveling as those short hikes.
Multi-use is always a good sustainable feature and since it's a good pack that fits what you need on a short hike, it's definitely making it to the list of best day backpacks for hiking.
Vaude Jura
Volume: 24 L
Water resistance: Integrated rain cover
Material: Recycled polyester
Weight: 970 gr/ 2,1 Ibs
Sustainability: Green Shape, Grüner Knopf, Fair Wear, PFC Free
This classic from Vaude makes an excellent day hiking pack. With a comfy and ventilated mesh back and adjustable hip, shoulder, and chest straps, it's a good pick not only for the shortest hikes.
Vaude Jura is equipped with attachments for hiking poles and has outside pockets for your stash that you want handy during your trek. There is also a hydration bladder department and strap for your longer day hikes.
The backpack is manufactured with eco friendly materials and has Eco Finish water repellent (PFC free) which makes it one of the best sustainable choices out there for backpacks for day hiking.
Mammut Lithium Zip
Volume: 24 L
Water resistance: Integrated rain cover
Material: Polyamide
Weight: 750 gr/ 1,7 lbs
Sustainability: Fair Wear
Mammut is in the transaction towards being more and more sustainable as a brand and while they mainly have a sustainable manufacturing chain, they've put out a target plan on transitioning to more and more recycled and eco friendly materials within the next few years.
Mammut Lithium Zip daypack is a solid, lightweight pack that has good ventilation as well as a U-frame that gives good load transfer and creates good movement. You can adjust the hip, chest, and waste straps.
It has enough pockets to stash your small items as well as a large stretch pocket in the front. With a zipped pocket on the hip belt, mesh pockets on the sides for water bottles, and hiking pole straps, it's a highly useful day hike backpack.
Fjällräven Abisko Friluft
The Swedish, sustainable brand, Fjällräven, has a code of conduct that among other things protects workers involved in the manufacturing process. They also focus on recycled, organic, and low environmental impact materials.
Fjällräven Abisko Friluft is a great backpack for day hikes with a lot of pockets even on the hip belt, which I love! You can enter the main department through zippers on the sides too, which is really handy.
For adventure hikers, there is a holder for ice ax – or you can stick your trekking poles there.
This backpack is perfect for hot and humid hiking destinations with its Friluft Ventilation System.
Jack Wolfskin Kingston
Volume: 22 L
Water resistance: Integrated rain cover
Material: Recycled diamond grid polyester rip stop fabric
Weight: 845 gr/ 1,9 Ibs
Sustainability: Bluesign, Grüner Knopf, PFC Free
Jack Wolfskin is a dedicated sustainable brand with a focus on a sustainable manufacturing chain and products.
This Kingston 22 L backpack is a great lightweight day hiking backpack with adjustable straps for the shoulder, waist, and chest.
It's got water bladder storage and lashing straps for hiking poles so it's functional even for longer and harder day hikes. The backpack is highly breathable so it's comfortable even on a sweaty hike in hot weather.
As an extra plus, depending on where in the world you are its RECCO reflector can help rescuers to locate you in the worst case scenario. In Andalucia, RECCO reflectors are used for search only in Sierra Nevada.
EcoGear Hawksbill
Volume: 30 L
Water resistance: Built-in rain cover
Material: Recycled water bottles and heather polyester
Weight: 1,8 kg/ 4 Ibs
Sustainability: REPREVE
This is a good day hiking backpack made with a REPREVE fabric which is created by a blend of heather polyester and recycled water bottles.
What I really like about this backpack is that it's got small outer pockets for easy access to any hiking gadgets you might need, or just your lip balm. It's also a safe place to put the car key when out on a day hike so it doesn't disappear into the big hole.
This backpack also have clips to easily attach a hydration bladder in the main department. If you're heading out on a full day hike it comes in really handy.
But there are also outer water bottle pockets if you're going on shorter day hikes. With EcoGear's lifetime warranty, this a good day hiking backpack.
VAUDE Wizard 18+4
Volume: 18 + 4 L
Water resistance: Integrated rain cover
Material: Recycled polyamide
Weight: 990 gr/ 2,2 lbs
Sustainability: Bluesign, Green Shape, Grüner Knopf, Fair Wear
This compact, versatile backpack is great for day hikes. With an inner water bladder compartment and straps for trekking poles, it can be used for both longer and shorter day hikes.
It has adjustable shoulder, waist, and hip straps and a good ventilation system on the back.
A cool feature is that you can expand it for an extra 4 L for those long hikes and the back is adjustable for different heights.
For being such a minimalist design, this backpack holds a lot of useful features and is definitely up there with the best day backpacks for hiking.
Best women's daypacks for hiking
For the best fit for female bodies and shapes, several brands have created backpacks specifically for women. Does it make a difference or is it just a sales trick?
If you ask me, there's a huge difference! Here are my top picks for the best women's daypacks for hiking.
Osprey Tempest 30
Volume: 30 L
Water resistance: Water repellent (doesn't come with rain cover)
Material: Recycled high-tenacity nylon
Weight: 1,1 kg/ 2,4 Ibs
Sustainability: Bluesign
Osprey is a high quality outdoor brand and their women's sustainable backpacks are no exception. Made from recycled material and created to flexibly fit your shape as you move, this is a versatile backpack that can be used on longer day hikes but also on multi day treks.
You get a lightweight women's backpack with ziplock pockets on the lid and hip belt (anyone else needs their lip balm close?) and mesh pockets on the sides where you can stash your water bottle or other items you need easy access to.
You can easily store your hiking poles while you walk and there is an external hydration sleeve that fits a 3 liters water bladder.
But most importantly, this is a highly ventilating backpack and as mentioned it's super flexible when you move, even in difficult terrain.
The downside with this pack is that it doesn't come with a rain cover. It will get you through moist weather and a little drizzle, but if you'll be hiking in the rain, you should either look for a different backpack or get a rain cover.
There is no doubt, Osprey Tempest 30 is a great choice and definitely up there competing for the best women's daypack for hiking.
Vaude Women's Tacora 26
Volume: 26 L
Water resistance: Water repellent and integrated rain cover
Material:
Weight: 980 gr/ 2,2 lbs
Sustainability: Green Shape, Grüner Knopf, Fair Wear, PFC Free
This compact design women's day hiking backpack is perfect to bring on both short and long day hikes.
The ergonomically designed shoulder straps and hip belt are are made especially for women's shapes and adapt to movement.
While the outside looks minimalistic, the inside has small pockets to organize your stuff and a key ring. there is also straps for hiking poles and side mesh pockets for water bottles or other small stash.
The rain cover can be of multi use as it comes with straps, so you can stash your laundry in there or use it as a shopping bag.
This versatile backpack can just as well be used for traveling and day trips and is a huge favorite!
Osprey Tempest 20
Volume: 20 L
Water resistance: Water repellent, but does not come with rain cover
Material: Recycled Nylon
Weight: 900 gr/ 2 lbs
Sustainability: Bluesign
The Osprey Tempest might just be the most versatile lightweight daypack for women out there. It fits a water bladder of up to 3 liters and has features like mesh pockets on the side for water bottles and small stash, a mesh pocket to fit your phone on the harness for easy access, and a clip for hanging your keys on the inside. There are also straps for attaching your hiking poles.
This backpack is highly breathable and designed for being stable on technical hiking sections. The only downside to this pack is that it doesn't come with an integrated rain cover.
There is no doubt, Osprey has made a top pick again!
Conclusion on day hiking backpacks
It's not always easy to pick the right backpack for day hiking as there are so many different kinds out there. Especially when looking for eco friendly backpacks it can feel daunting to know which ones are good or not.
I really hope that you've found a good match for you among these sustainable backpacks for day hikes.
Happy hiking!
READ NEXT: Best gifts for hikers