When you're planning a hike, there are lots of things to think about: Do you have enough water? What's the terrain like? Are there any animals to be aware of?
But what about this one: Will you be hiking in the rain?
If you love being outdoors and hate missing out on anything, especially if hiking is one of your favorite activities, then yes, it might rain while you're out on the trail.
Luckily, that doesn't mean you need to cancel your trip or even change your plans at all!
Most of the time.
The torrential rain in Andalucia might be a time when you actually should stay at home and watch movies over hot chocolate.
That aside, as long as you're prepared for rain and possibly cold weather conditions, then nothing should keep you from enjoying a hike on a rainy day.
Whoever has hiked in the rain before, knows how the colors get brighter, the scents of pine trees and other plants get stronger, and the mist brings adventure to an otherwise dull part of the trail.
There's nothing like hiking in rainy weather, as long as you're prepared and bring the right gear for hiking in the rain.
Let's get moving and use those rainy days for something fun! Read on for expert tips for hiking in the rain.
Disclosure: This post may contain affiliate links. That means that if you make a purchase through one of those links, I will get a small commission at no extra cost to you. As an Amazon Associate, I earn from qualifying purchases.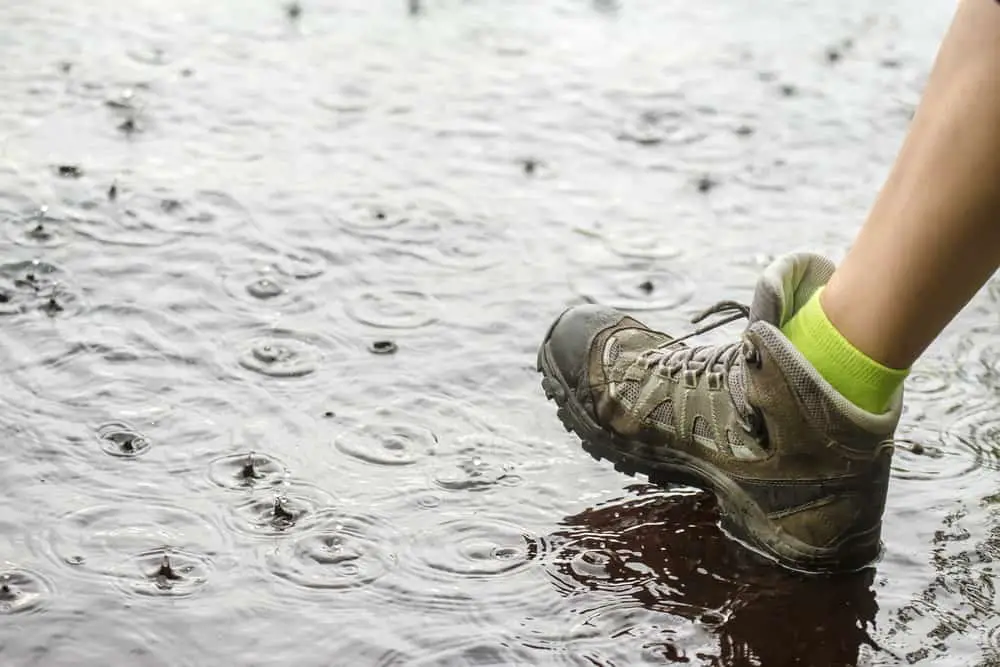 Benefits of hiking in rain
Before we look at the top tips for hiking in the rain so that you can enjoy the outdoors even on a wet day, I'll sum up some of the top advantages and benefits of hiking in rain and wet weather.
Less crowded trails
The scents and colors make you more present
Getting out of your comfort zone
Getting home to comfort after hiking on a rainy day is such an amazing feeling
Hiking while raining makes you feel like a kid again
Finding the positive side of a day that most don't give you energy and good vibes
Now, with these incredible benefits, there is no reason to stay at home on a rainy day! Read on to learn more about our top tips for hiking in the rain.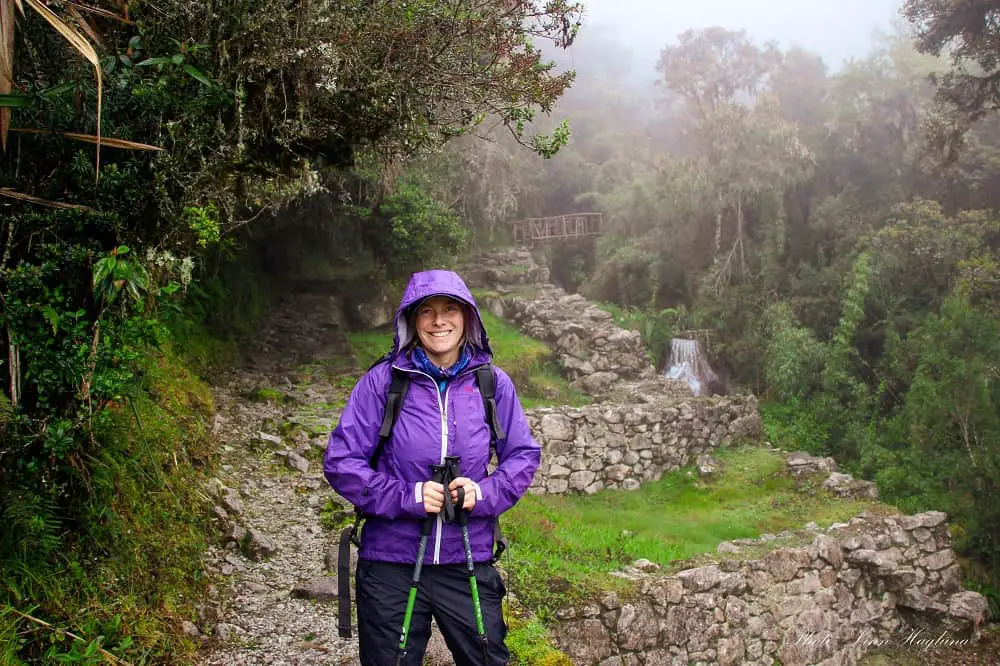 Be a green hiker
Tips for hiking in the rain
Be realistic about your hiking expectations
When it comes to hiking in the rain, you have to be realistic about your expectations.
Rainy days aren't exactly the best time for hiking. You'll get wet and it will be harder than if it were sunny and dry. But that doesn't mean that you can't or shouldn't go for a hike. 
It just means that you'll need to plan ahead, bring extra gear and clothes with you, and accept that things might not go as smoothly as they would on a clear day with minimal precipitation (or no precipitation at all).
And again, how much is it raining? Are there dangers like landslides or trees falling over where you plan to go? Should you choose a different route than first planned?
Obviously, if it is only raining a little, there should be nothing to worry about and you can go ahead as planned while following the guidelines in this post.
Check the weather ahead of time
It's always a good idea to check the weather ahead of time. This might seem like a no-brainer, but you would be surprised how many people go out for the day assuming it'll be nice, especially when in Andalucia which sees over 300 days of sun a year.
Particularly in the winter months, you might get surprised by rain even on a day that starts looking bright. There are many places that will have a beautiful sunny morning, and storms an hour or two later.
But not only in Andalucia. Also in countries with more rain throughout the year it can change quickly and you should be prepared whether you head out for a hike in Killarney National Park in Ireland, Jotunheimen in Norway, or in Sierra Nevada in Spain.
There are many climates that have rainy seasons, so whenever you plan a hiking vacation, be prepared so you know if you'll be likely to hike in the rain or not.
Also, take note: traveling during the dry season doesn't necessarily mean that you won't encounter any rain during your day. Usually, we see a few days of rain even in the summer months in Andalucia too.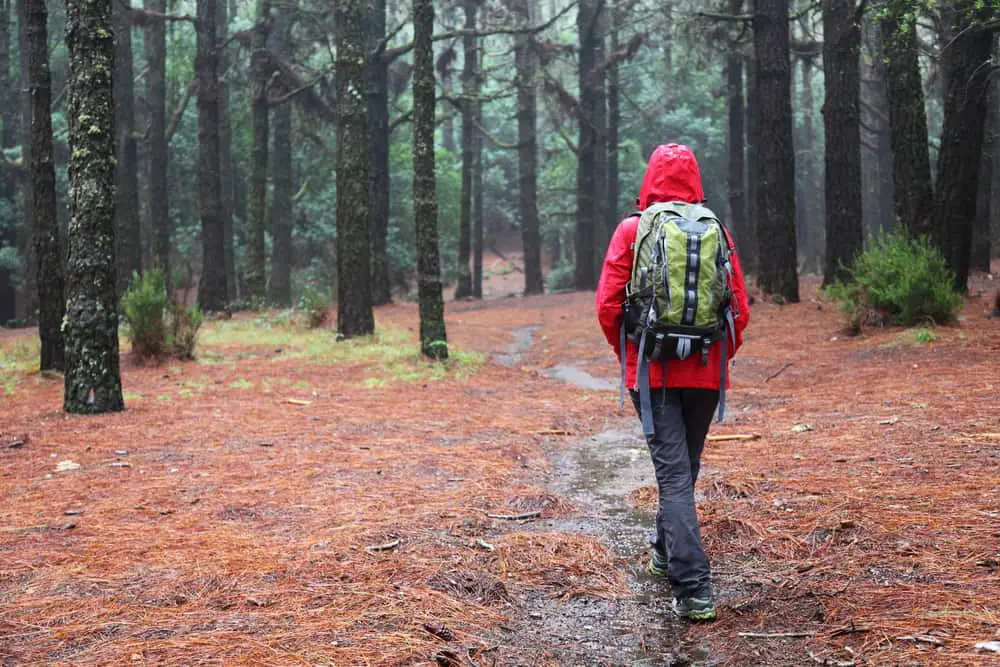 Bring the right gear
In the rain, hiking poles can be super helpful if you're not sure-footed, need extra support, or crossing some uneven terrain.
Good, waterproof hiking boots will provide more protection from rocks in slippery conditions than sneakers or running shoes would provide. Also, boots are great for hiking on the uneven ground regardless of rain if only to protect any ankle rolling.
However, if it is hot weather and you are walking in areas with rivers and water, you might find it comfortable with water hiking shoes that get just as quickly wet as they get dry.
There are a variety of dry bags for hiking that are helpful even for hiking in heavy rain. Anything from waterproof backpacks to zip lock bags.
Further, there are waterproof cases designed to fit smartphones, Go Pro cameras, you name it. Definitely consider these if you're doing anything more than a light hike on a drizzly day.
Pack small emergency supplies like matches or lighters, a pocket knife, a first aid kit (bandages), a whistle, a compass, and a portable phone charger. You can read more about what to pack for a day's hike here.
Again these are good for any extensive hiking outing, but it stands to reason you're more likely to need them if you're hiking in rain and get stuck in a downpour.
Wear the right clothing
What to wear hiking in the rain is really dependent on the climate you'll be in.
If it's cooler, for example, if you're hiking in Rio Borosa in Cazorla, Andalucia in winter or along the Dingle Way in Ireland, make sure to layer your clothes to help keep you warm and dry.
Wool or synthetic fabrics are ideal for this purpose, as they insulate even when wet on the surface. To stay dry in heavy rains, bring along a rain jacket that covers your waist properly, and don't let water in between your rainproof hiking pants and jacket even when moving.
In a warmer climate, like Andalucia in summer, it would be smart to wear waterproof convertible pants that can be zipped off at the knee if you get too hot. Pants help keep you warmer and drier than shorts do, but they're also safer. In case you slip, you're less likely to cut your leg. 
They're also great for bug defense in tropical climates and many hikers love to wear leggings for hiking under convertible pants. And anyone who's a mosquito magnet knows, they come out fierce right before a storm!
It's also good to always have a light waterproof jacket packed away in your backpack whenever you hike in the wet season, in case you get caught in rainfall on your way home.
If you're not wearing a jacket with a hood, bring a hat to keep your head dry and the water out of your face (as much as possible anyway). 
Regardless of temperature, it would be a good idea to bring a change of clothes for after the hike. If you're on a camping and hiking trip, you've probably already got this covered.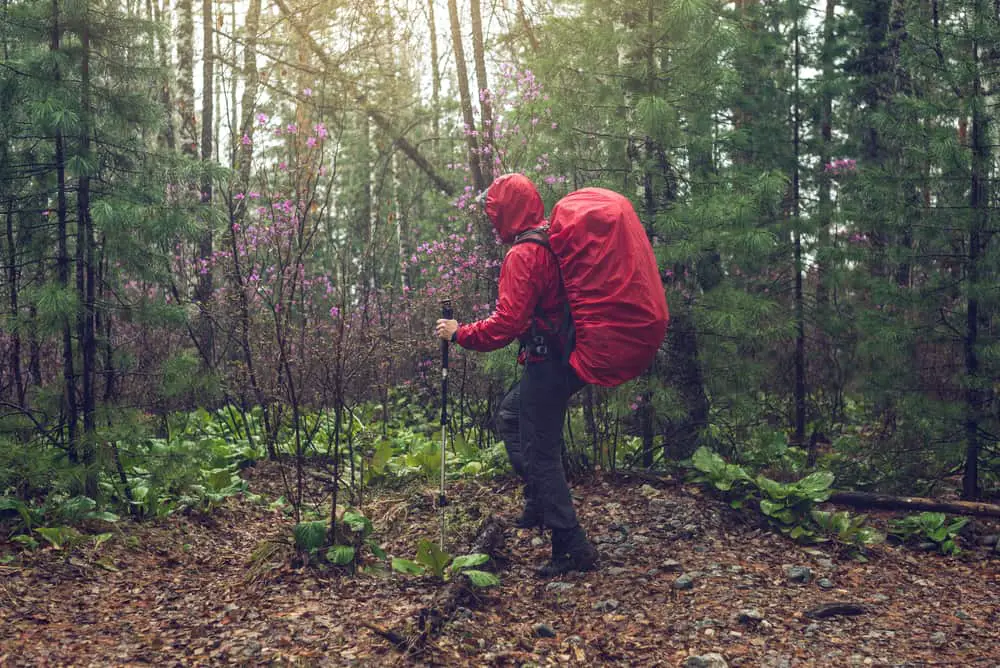 Bring the right snacks and drinks
If you'll be out for a long trek, pack extra food and water. It's always a good idea to carry plenty of extra food, but it's even more important when you'll be hiking in the rain. The last thing you want to do is be delayed on the trail for hours without any sustenance.
Think easy snacks that don't require any prep and can stand getting a bit wet. Things like granola bars, energy bars, apples, bananas, etc. are excellent snacks for hiking in wet weather.
There are so many different foods to bring on a hike. But who wants a soggy sandwich, or to stand around eating out of a pack with a fork while getting soaked?
Water is always great when hiking. But if you know you'll be hiking in cold rain, consider bringing a small thermos of a favorite warm drink. Something that'll keep you going, and will bring you some comfort as you trudge on.
Choose the right trail
If rain is in the forecast, but you still want to get out, definitely consider the trails available to you. 
Be aware of what type of terrain you'll be tackling before setting off into the wilderness and give yourself time to adjust accordingly so that your experience won't leave you cold and soaked.
Optimal trails in wet weather are going to be flat paths, that way you don't have to worry as much about slipping or sliding downhill. Not to mention potential rivers flushing down the path created by the rain.
A trail with caves or rock covers can be a good alternative so that you can sit down and take a break without water pouring down your face when you get out your lunch.
Forests are also a great option as they offer some natural covering, and you'll be protected from the rain a bit. (Plus that sound of the rain hitting leaves is pure heaven!)
However, consider how much it will rain. If you're in the middle of torrential rain in Andalucia, you're likely to flush away even under the canopy of the pine trees.
If you're on a trip in the mountains or live near a summit, a flat trail may not be available to you. You can still go, but check to see if any trails you're interested in have been washed out or closed from the weather. Although, if it's gotten that bad you may want to cancel or postpone your hike.
Don't be afraid to alter or cancel plans
Being flexible is key to any journey really, but especially if you're hiking in the rain. Generally speaking, never go trekking in rain and cold without a plan B.
If there's lightning, or if the rain or storms are too heavy, you may just have to cancel or at least postpone until the weather lets up a bit.
If you're camping somewhere like a national park or organized campground, sometimes authorities will make that decision for you. The same goes for any hiking trip with a guide. 
No one wants to risk safety above all. 
If you're on your own (not necessarily hiking solo, but without a guide), don't let pride get in the way. Trust your gut. If it feels like conditions are unsafe, cancel or find a safe way back asap. Make sure you've properly given the trail a study in case you need to alter your route.
Pro tip! Before you start your hike, make a plan B that makes you excited to turn around if it gets to it. This could be visiting the spa of the village your hike starts in or visiting a city on the way back home where you haven't been before.
Prepare for delays or detours
You don't necessarily need to turn back if you find yourself hiking in the rain, but it would be smart to anticipate detours or delays. 
Keep an eye out for forks in trails, one way may be safe while the other is not. Always opt for the safer route. Also, be aware, you may need to stop at some covering if the rain turns into a storm. Keep an eye out, as you may need to double back and hide out for a bit.
And don't forget that sometimes walking through water is inevitable, it's just part of being outdoors!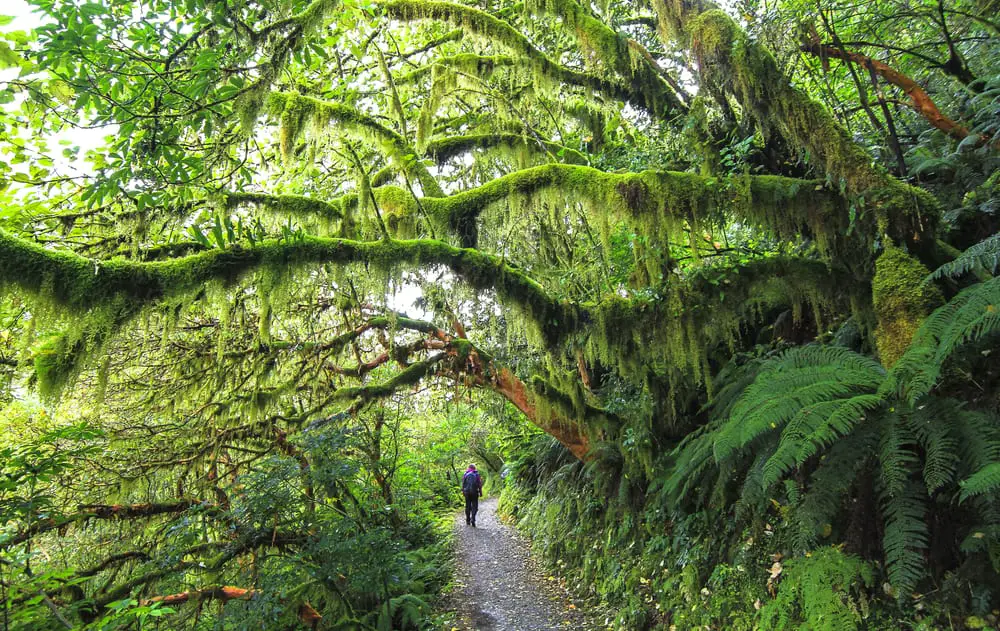 Follow safety procedures
When hiking in the rain, it is important to stay safe. If you get caught in a significant storm, there is real risk beyond just getting a bit soaked. Keep in mind basic safety strategies.
If you're crossing some water, unclasp any cross straps from your backpack. This will come in handy if you lose footing and become carried away a bit by some water. You can easily free yourself from your pack if need be.
Again checking the forecast is helpful, especially if you'll be hiking near a canyon or anywhere there could be potential for a flash flood.
And not only check the forecast but keep monitoring the weather. As we all know, it's constantly changing.
Pay attention to your and your hiking buddies' states. If you get drowsy or start to stumble a bit, it is likely an indicator of fatigue, or even possibly hypothermia if you're in a colder climate. Stop and rest asap, and get some food and drink in you.
As stated earlier, be sure to pack extra food and water as well as a map of the area in case you get lost. 
Stay off any rocks or logs that are slippery. 
Hike with someone else and take frequent breaks so that you don't tire out too quickly.
Keep a positive outlook
Even though there is a lot to be cautious of, most times you'll have a great experience! If you're wondering how to hike in the rain, here's a top tip for you!
Keep a positive outlook. Go slow, and take it all in. You'll find that you notice things you may not have seen otherwise.
There are different creatures out when it rains, the colors are brighter (unless it's all foggy of course,) and the fragrance of nature is somewhat tuned up.
Take in the shiny droplets on the leaves, the bright flowers shaking in the rain, and take in the aroma of wet soil. Take note of how the nature is hungry for water to grow and to stay awesome.
Needless to say, it's important to look at any hiking adventure with an open mind. Nonetheless, when hiking, rain can really be a lot of fun if you keep a positive mindset.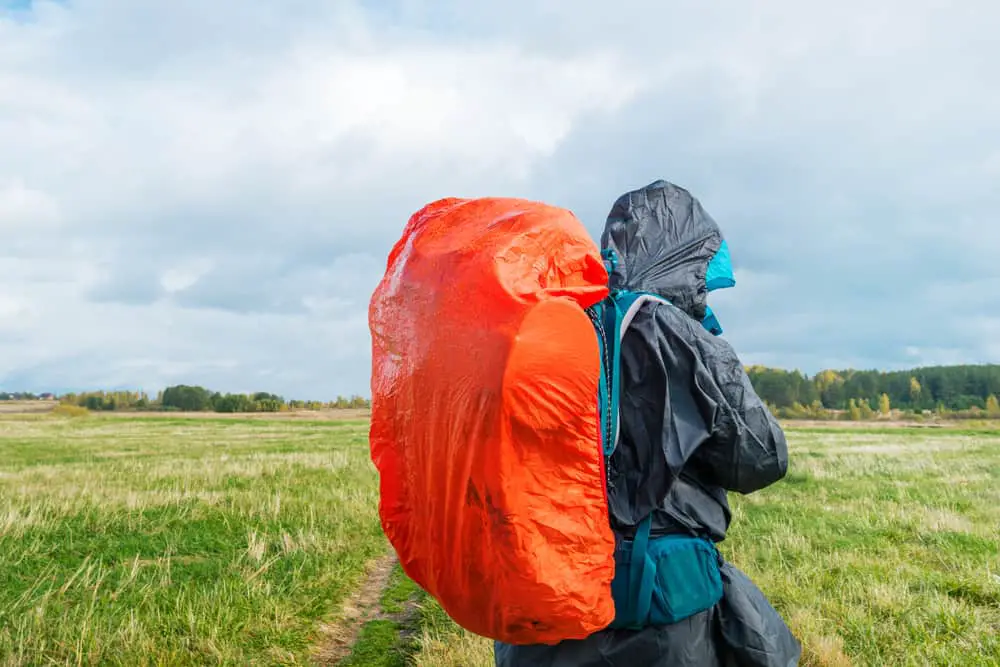 Bonus tip! Breathe it in and relax
Many people will stress if they can't expect a specific outcome. Just enjoy your time out and breathe in that lovely rain smell we all enjoy so much.
There's actually a thing called the Petrichor Effect. It's a term coined by scientists in the 60's. Basically, it's that earthy smell that comes up from a good rain that so many feel drawn to.
So if you're one of those people: 
Go on that rain hike, soak it all up, and enjoy yourself!
You'll also be one of only a few people brave enough to hike out in the rain. So you'll find yourself surrounded by all this beautiful nature basically all to yourselves! Enjoy that solitude.
Reflections on hiking in the rain
I hope you enjoyed these hiking in the rain tips. Remember that you don't have to let the rain stop you from enjoying a hike.
A little preparation and a positive attitude will go a long way toward making sure that your hiking trip is still as fun and rewarding as it would be on dry days. 
If you're nervous about hiking in the rain, start small by taking short walks or hikes near home so that you can get used to hiking in wet weather conditions before embarking on longer treks. 
Remember, the most important thing is to stay safe and enjoy yourself!
If you're new to hiking, here are some top tip you should read before your first hike.