The Rio Chillar walk is one of the most popular hikes in Malaga during the summer months and definitely one you should add to your bucket list.
If you have heard about the spectacular river hike of Rio Chillar Nerja, you might already know what to expect, but you're looking for practical specs. I've got all of those covered in this post.
On condition that you don't know much about the hike, here is what to expect. You'll be walking in the refreshing Chillar river past small rapids and streams, and waterfalls plummeting into revitalizing swimming holes, mostly in the shade of narrow ravines and lush bamboo forests.
The Rio Chillar hike is fairly easy during the first part and is popular among families with kids as well as couples and solo hikers. There is no way to get lost, just follow the river and turn around when you please if the entire trek is too long for you.
If this sounds like a hike of your liking, read on to get all the information you need to hike one of the most epic hikes in Andalucia yourself.
Disclosure: This post may contain affiliate links. That means that if you make a purchase through one of those links, I will get a small commission at no extra cost to you.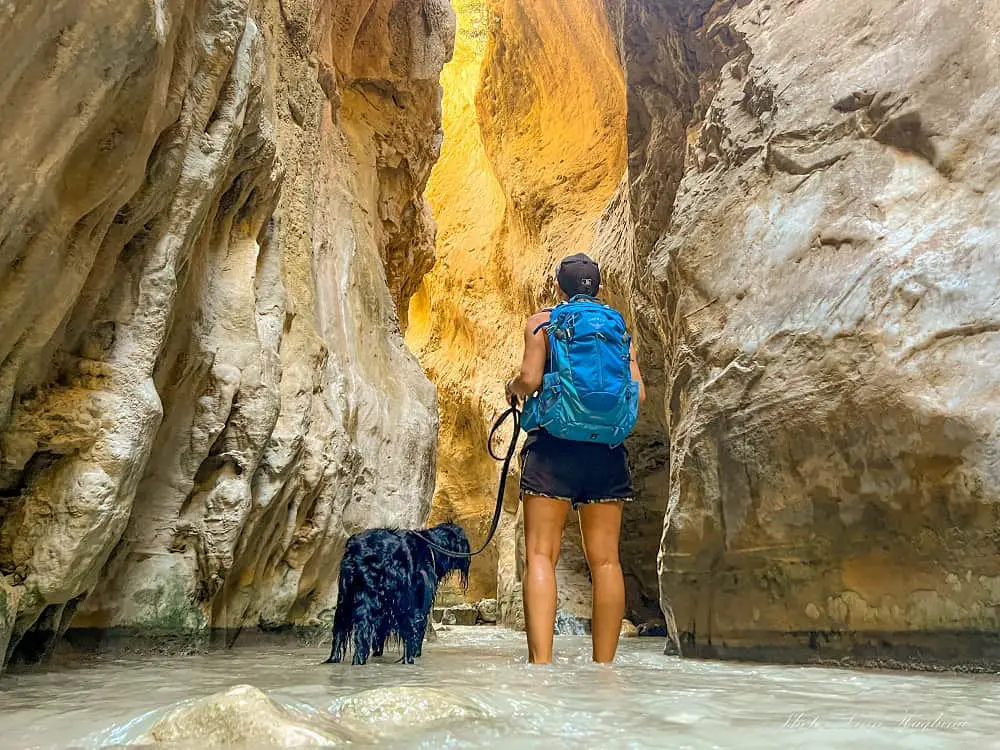 ---
Practical information
Province: Malaga
Length: 16 kilometers return
Time: 6.5 hours
Elevation: 300 meters
Route: Linear return
Difficulty: Easy to moderate
Hiking season: May to October
Hiking with dogs: Hiking with dogs is allowed in Rio Chillar. It is the perfect summer hike to stay cool as they get to walk in the water the entire hike and there is a lot of shade. There are pine trees along the hike, thus you might meet Pine Processionary Caterpillars which makes it dangerous for dogs in the season from late December to May-June when the heat kicks in. Therefore, I recommend asking in local hiking groups on social media if they have seen any before taking your dog on a hike to Rio Chillar early in the season.
---
How to get to Rio Chillar Nerja Malaga
Rio Chillar trailhead is easy to reach by foot from Nerja (about 30 minutes from the old town.) You can plot in Rio Chillar in the GPS and it takes you there. That said, if you're driving, you can't park next to the trailhead as it's illegal.
However, near where the Sunday Market is held, there is plenty of free parking space in two large parking areas on Calle Mirto, as well as in the streets around. You'll have to walk the last couple of kilometers to the trailhead on the road.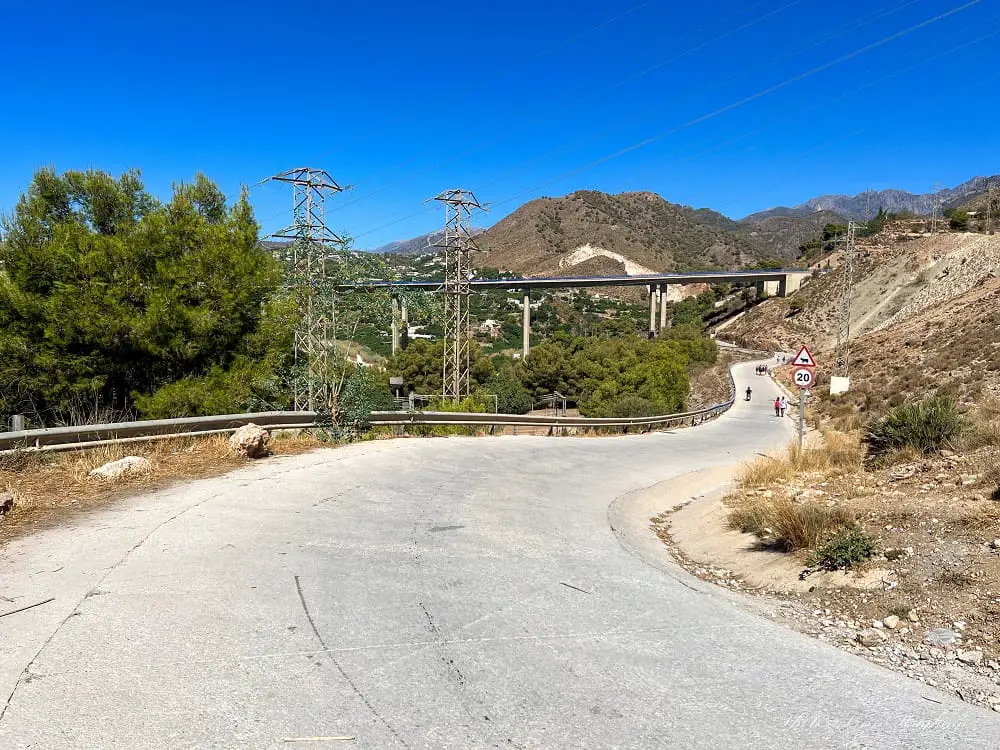 This road winds down and takes you under the highway before you get to the clearly marked trailhead. From there, you can't get lost as you'll follow the river. Note that for the first half an hour you won't walk in the river, but near the trickling water.
Unless you walk completely off-season, you can just follow the people as you won't be the only one there.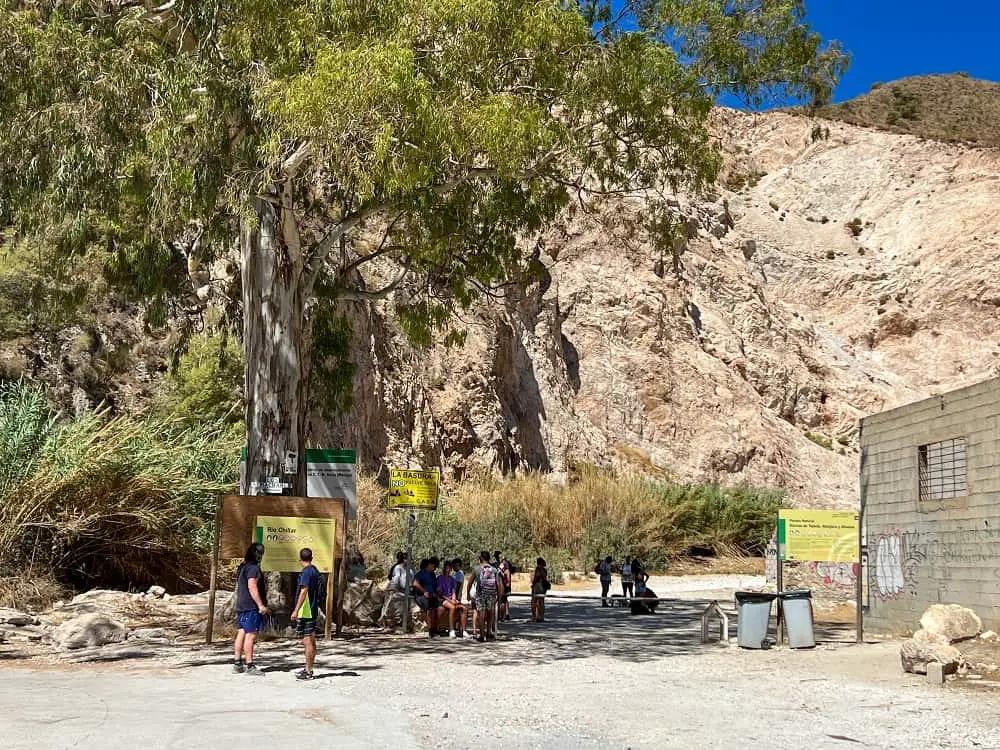 When is the best time for hiking the River Chillar
The best time for hiking the River Chillar is no doubt during the summer months. Since you walk in the water, it will be too cold in the winter and the cool shade of the ravines will not help at all.
However, in the summer, the cool water feels soothing in the hot temperatures and the shade protects you from the scorching sun most of the way. Though you should not be fooled! Sunscreen is a must on any summer day.
During the summer, the month of August is the worst month to go due to the crowds. Being one of the most popular river hikes on Costa del Sol, it kind of feels like all the Spanish holiday goers are there at once. Such as the weekends, particularly Sundays throughout the entire season.
I highly recommend starting the hike early in the day too, if you check out my vlog, embedded further down in this post, you'll see what happens if you go late. And of all the night hikes I've done, and all the hikes back after sunset I've done, this was not exactly the most pleasant one.
Read my top tips for hiking in summer here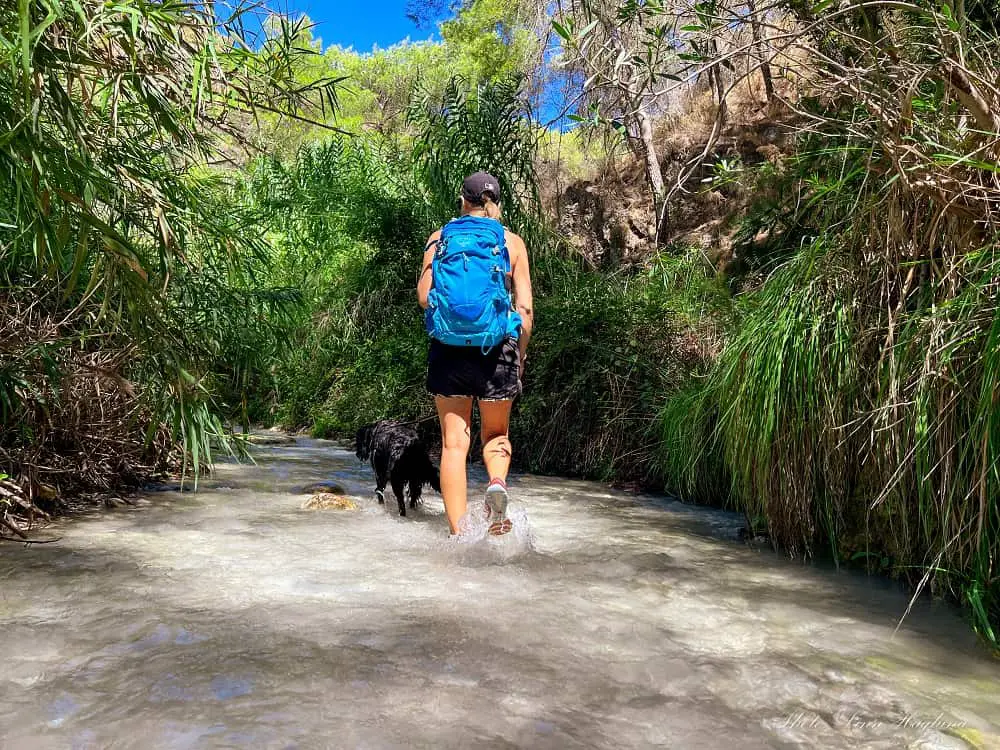 What to bring on a Rio Chillar hike
When hiking Rio Chillar, you will be walking in the actual river most of the time, which requires a pair of sturdy river hiking shoes. Don't confuse this with waterproof shoes, as you want them to let the water flow in and out just as easily so that they don't fill up and get heavy when you walk. Thus, hiking boots are not apt for this hike.
Though you will walk in the water and there are several swimming holes and waterfalls to get wet in, you don't have to swim anywhere, so it's not necessary with a waterproof backpack for hiking. Yet, it's a good idea to safeguard your belongings in case you should slip when walking on the rocks in the river.
I've personally never hiked Rio Chillar with hiking poles, but I do see the odd person using them whenever I'm there. It's a fairly flat hike for the first 3/4, though there are unsteady rocks in the river and the odd barrier getting across. If you feel like you need them to stay steady, it's better to bring one or two than to regret it later.
If you hike with dogs, there is no need to bring extra water for them as there is access to water the entire hike. What I do recommend, however, is to keep a bottle of water in the car in the summer months, so that when you get back they can drink if they get thirsty up the road from the trailhead.
This is also something I always do in case I run out of water, then I know I can look forward to a sip of cold water when I reach the car.
THINGS TO BRING:
lunch
fruit or other snacks
water
swimsuit
sunscreen
bag to take your waste with you back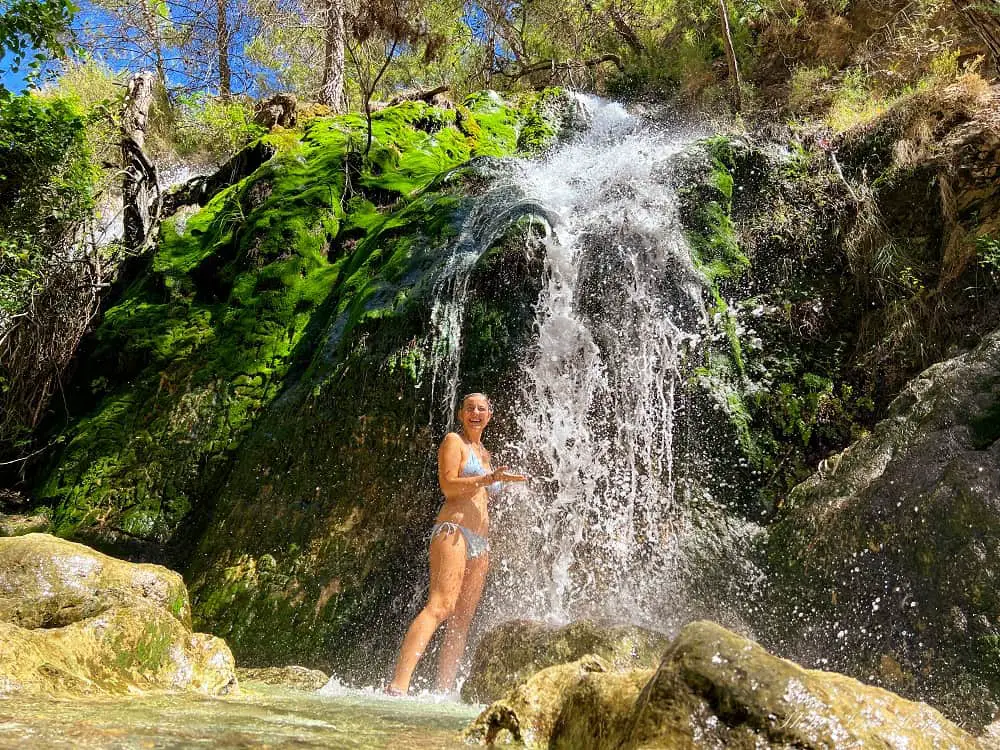 Where to stay in Nerja
Nerja is one of the most popular resort towns in Costa del Sol, so you'll find an array of hotels to stay in. Here are some of my top picks.
Hotel Al-Andalus
Hotel Al-Andalus is a wonderful hotel with a pool and exceptional coastal views. Close to Nerja caves and trails like Pico del Cielo, this is a wonderful location for hiking enthusiasts.
Hostal Marissal
Hostal Marissal is a great pick for those who prefer staying centrally near restaurants and bars. Situated right at Balcón de Europa you also have stunning beaches right at your footstep for those hot summer nights.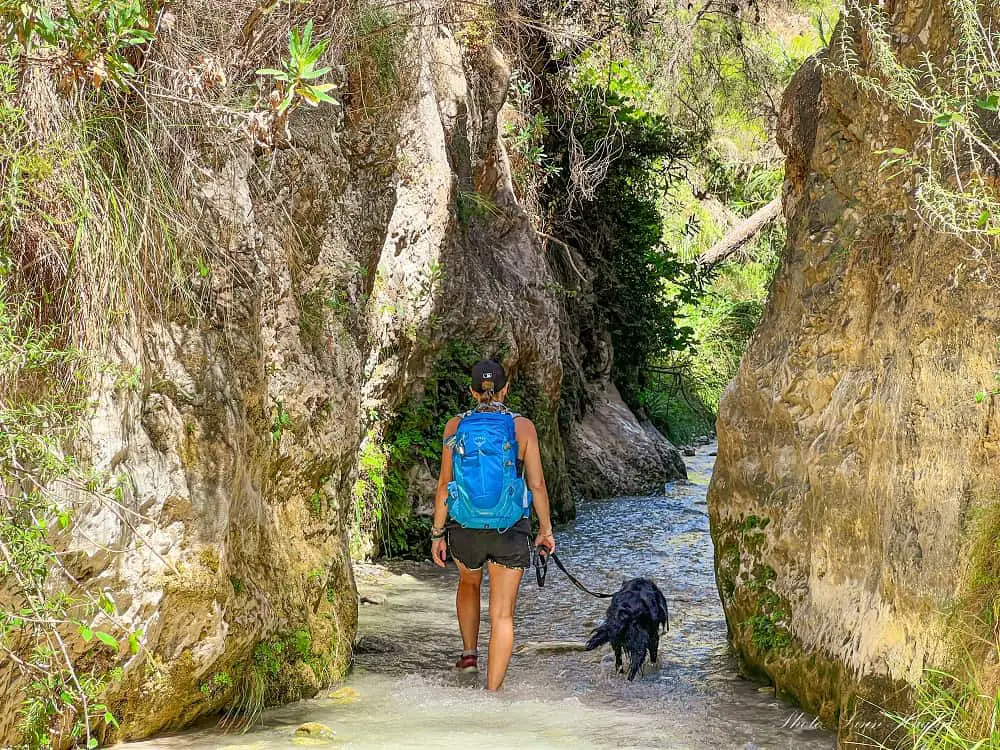 Be a green hiker
Hiking Rio Chillar Nerja
The first leg of the hike is on gravel and the river slowly starts crossing with the track as you go further along. About half an hour in you'll start walking in the water as it covers the whole trail.
Shortly after that, be aware of a waterfall to your right. On busy days, you'll see and hear people, but even so, you should hear the waterfall when closing up (though I didn't on my first Rio Chillar hike.)
Continue up the river through lush bamboo forest and little rapids before you get to the first ravine. This is far from the most spectacular, so I recommend continuing further as long as you're not accompanied by little feet that can't keep up any longer.
While the ravines are the most unique feature of Nerja's Rio Chillar, the continuing natural scene filled with waterholes and falls is an absolute delight.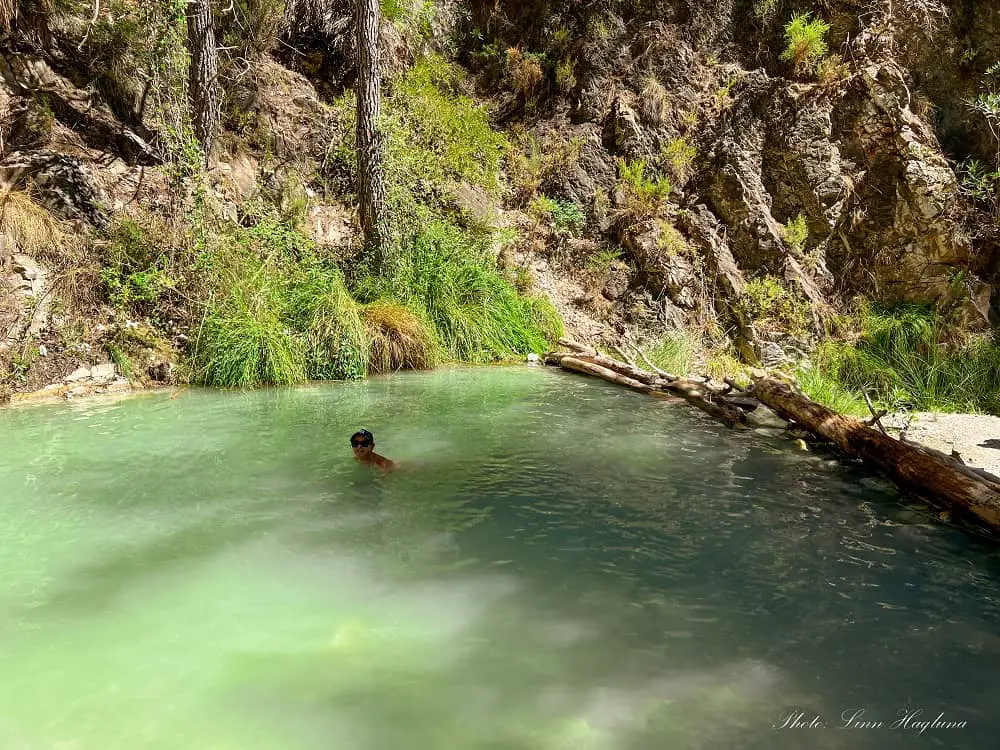 After the last ravine, you'll encounter the largest swimming hole where most families stop and turn around after a swim and a tasty lunch.
Continue past it and you'll encounter more small water holes and rapids. there'll be a little more climbing up rocks on this part of the hike.
When you reach the next actual waterfall is where most people end their Rio Chillar walk. However, the hike isn't over just yet.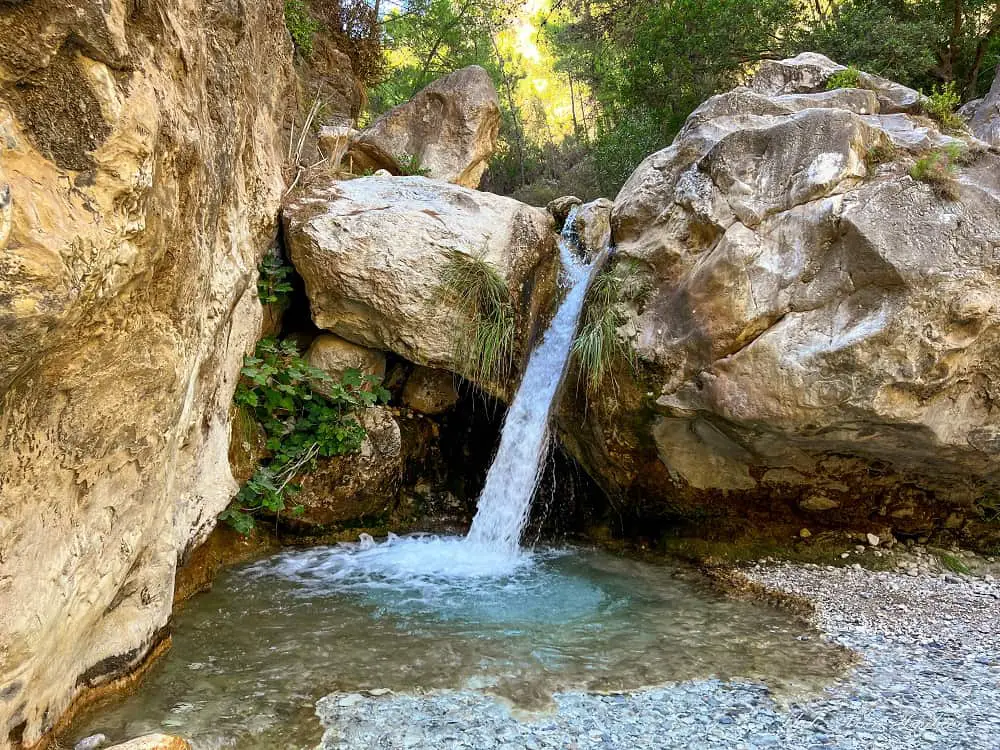 On your right hand, there's a trail taking you above the waterfall and there you can continue following the river. After a while, you'll have to scramble up on the right side of the river along a large boulder before encountering the water again.
This is where you'll reach the last waterfall and where the Rio Chillar hike ends. The bit between the last two waterfalls is the most challenging part of Nerja's Rio Chillar, though I really enjoy it – mainly because even on a busy day there are fewer people venturing this far.
There is a round trip you can do from Rio Chillar, but personally, I've never found it or even looked for it, so I always walk back the same way (which gives me a chance to enjoy the ravines again!)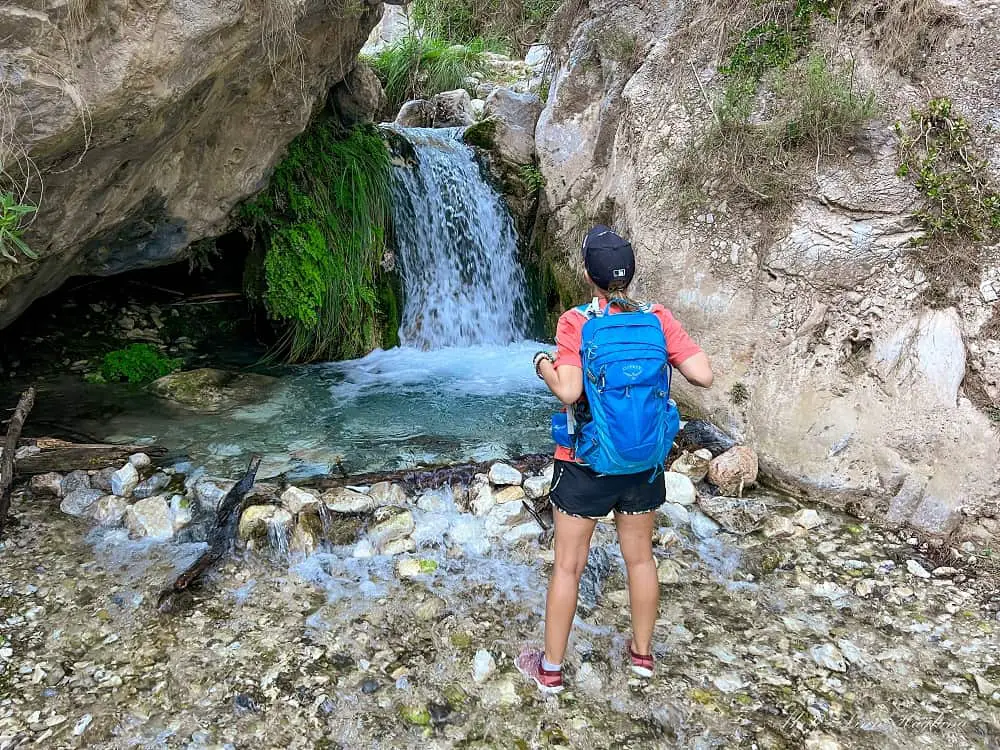 Check out my latest hike in Rio Chillar on YouTube
Reflections on Rio Chillar walk
If you vacation in summer in Nerja, Rio Chillar is a must hike! It's such a delightful contrast to the beaches that otherwise will fill your days. Shade and refreshing fresh water is the perfect fit for scorching hot days.
One of the best things is that you can walk just as far as you want and you'll have a blast. With an epic waterfall only shortly into the hike and several waterholes along the river where you can stop for lunch, snacks, and swims, you'll stay cool throughout the day.
The variety of nature from lush green bamboo forests wrapping you in the trickling river to narrow ravines walling up on both sides creating a natural alleyway for the river to flow through makes this a favorite even though it can get swamped with people.
I find it hard to believe you'll be disappointed with a Rio Chillar walk. The only downside which comes with being such a popular hike is the rubbish you often find along the trail.
Thus, I recommend taking a bag to not only bring your own trash but also pick up anything you might come across along the way.