Pico del Cielo, Nerja, boasts the absolute best 360 views on this part of Costa del Sol, but it's also one of the most unforgiving peaks you'll come across in Malaga.
Not only because of the scorching sun that will follow you most of the trail most days but also because of the last few hundred meters to the actual peak.
The nearly vertical dirt slope is full of loose rocks and nowhere to hold on to. The last thing you want is to slide backward. But once you're past it and stand at the top, there is no doubt the tough slope is worth the effort!
So, here is everything you need to know about hiking Pico del Cielo in Nerja.
Disclosure: This post may contain affiliate links. That means that if you make a purchase through one of those links, I will get a small commission at no extra cost to you.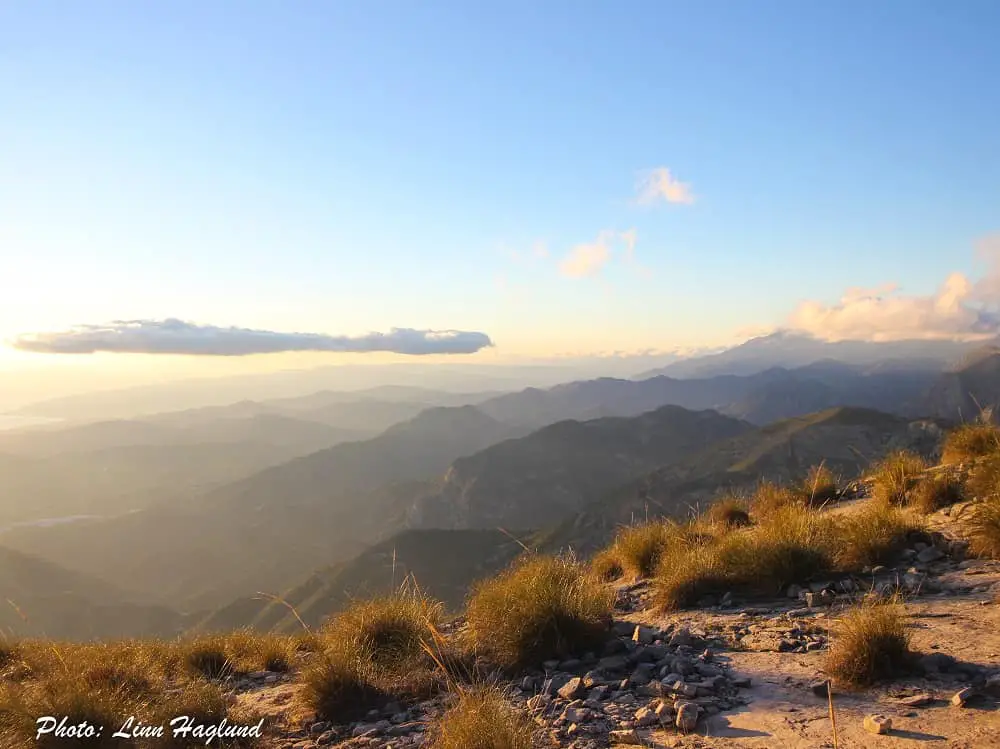 ---
Practical information
Province: Malaga
Mountain range: Sierra de Almijara
Length: 20 km
Time: 6-7 hours
Altitude: 1508 masl
Elevation: 1352 m
Route: Linear return
Difficulty: Medium-Demanding
Hiking with dogs: Hiking with dogs is safe only during the autumn period until the end of December/beginning of January. After that, the pine processionary caterpillars come out which can be deadly for dogs. I've seen them around until the summer starts, and wouldn't take the dog on this trail before May/June which is already too hot to go hiking here. There are no natural water sources on this hike, so you'll have to bring enough water for your furry friends too.
---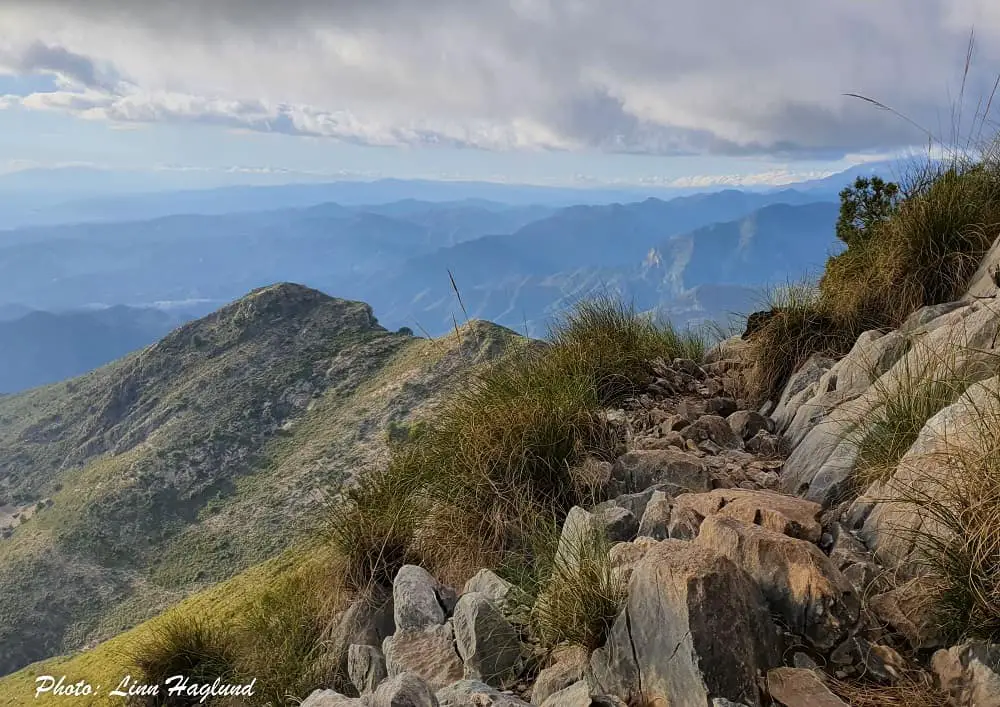 How to get to Pico del Cielo Nerja
The hike to Pico del Cielo starts at the parking lot of Nerja Cave (Cueva de Nerja). It's only a few minutes' drive from the highway passing Nerja and is well signed and easily found on the GPS.
Coming by bus, there are regular buses leaving from Nerja going to the caves throughout the day. So if you come by bus from other cities nearby, you'll need to change bus once you get to Nerja. The transit to the caves only takes 10-15 minutes.
The bus from Malaga to Nerja takes anything between 45 min and 1 hr 30 min.
---
READ: Complete guide to hiking Caminito del Rey
---
When is the best time to hike Pico del Cielo
The hike to Pico del Cielo Nerja is unforgiving in so many ways, but one thing to bear in mind is the scorching sun following you on most of the trek. Do not try to take on this peak in the summer months.
There is no water on the trail, and like with so many other peaks on Costa del Sol, it gets way too hot to walk so many hours without a river to cool down in.
If you can only hike this area in summer, I recommend you choose a ravine river trek like Rio Chillar or Rio Higueron instead. Hiking in the summer heat can be dangerous due to the high temperatures and lack of natural shade and water sources.
El Cielo Peak is best conquered in autumn, winter, and spring. Yet, I don't recommend attempting to climb the actual peak if it's raining or wet, as it's extremely slippery and steep.
There is no shame in turning around if you notice that the weather turns bad on you. I've done this before while attempting to climb La Concha, and I'm glad I did.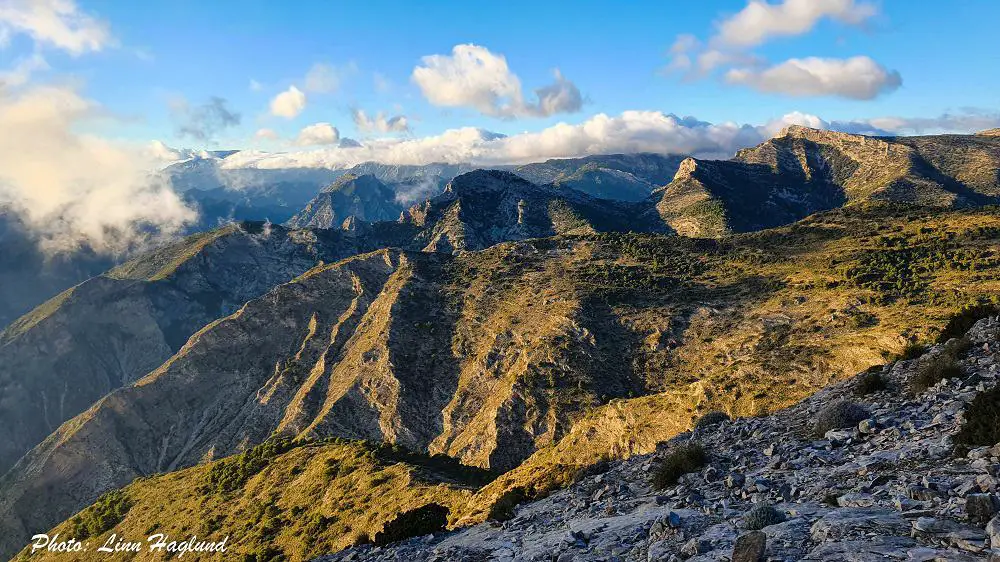 What to bring
When hiking Pico del Cielo you should bring layers with clothes as you'll be gaining more than 1300 meters of altitude during your hike.
On a nice day, it can be extremely hot during the first part, but if you get wind and clouds on the top, the peak can get chilly. So make sure you have a windbreaker in your backpack in case you need it.
It is a good trail to bring trekking poles or knee braces on this trek.
Here is the most important hiking gear you should bring.
water
hiking shoes
caps
sunscreen
lunch
snack
knee brace (if struggling with your knees)
hiking poles (recommended for the last half of the trail)
headlamp (in case you do like me and end up hiking back in the dark)
Recommendations for this trek:
DON'T MISS OUT ON THE BEST GIFT IDEAS FOR HIKERS
Where to stay when hiking Pico del Cielo
The easiest is to stay in Nerja when hiking Pico del Cielo. But there is also a nice hotel with breathtaking views right by Nerja Caves which makes it a short walk to where the trail starts.
Hotel Al-Andalus
Only a couple of hundred meters from where the trail starts, you find Hotel Al-Andalus where you can enjoy a pool and stunning coastal views.
Hostal Marissal
If you prefer staying in the center close to restaurants and bars, Hostal Marissal is a great choice. Situated in the heart of Nerja right at Balcón de Europa, there is no parking nearby, but you can easily get to the trailhead by bus.
---
ALSO IN SIERRA OF TEJADA, ALMIJARA, AND ALHAMA NATURAL PARK:
El Saltillo trail – feat. the 3rd longest hanging bridge in Spain!
La Maroma – Malaga's highest peak!
---
Hiking Pico del Cielo
Pico del Cielo hiking trail can easily be divided into three main parts. The first one is easy and follows a broad dirt road, the second is forest trail which steepens up a little, and finally, you reach the last bit of the trail which is steep, rocky, and slippery.
There is another trail you can take either up or down to make this a loop, but I haven't managed to find it and none of the other hikers I met knew where this trail went, so I stuck with returning the same way I came from.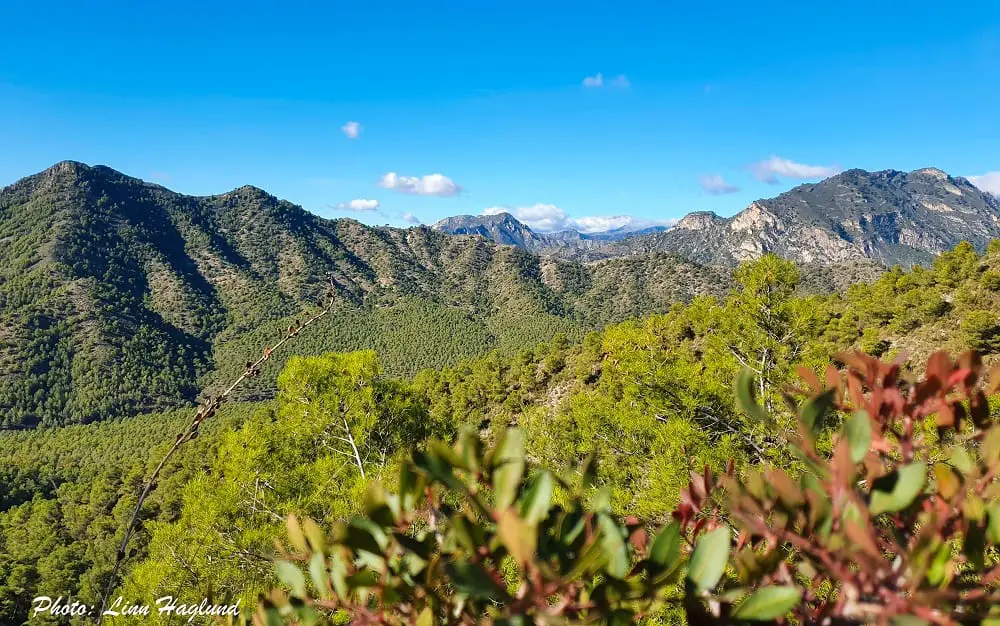 Part one: Dirt road
The trail starts at the dirt parking lot before entering Nerja Caves. At the end of the park to the left, you'll see a road barrier. If this is open, you can drive in the first 3 kilometers, if not, you'll have to walk it.
After the first 3 kilometers, you get to a junction that says "Area Recreativa El Pinarillo" 2 km to the left and "Sendero" (hiking trail) to the right/straight up. Follow the sign to the hiking route. If the barrier is open and you drive in, this is where you'll have to leave the car.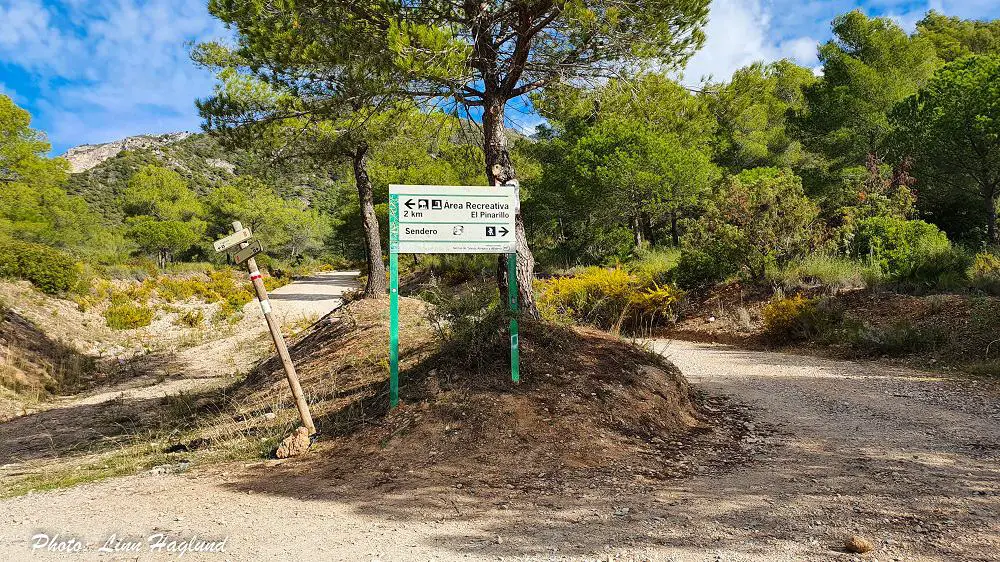 The road slowly winds up across the mountain, above the treetops, and down on the other side where it soon ends and you'll see the first sign to Pico del Cielo turning left past a white abandoned building.
You need to continue on the trail on the right side of this building, when it divides in two, you follow the right path up and not the left one above the building.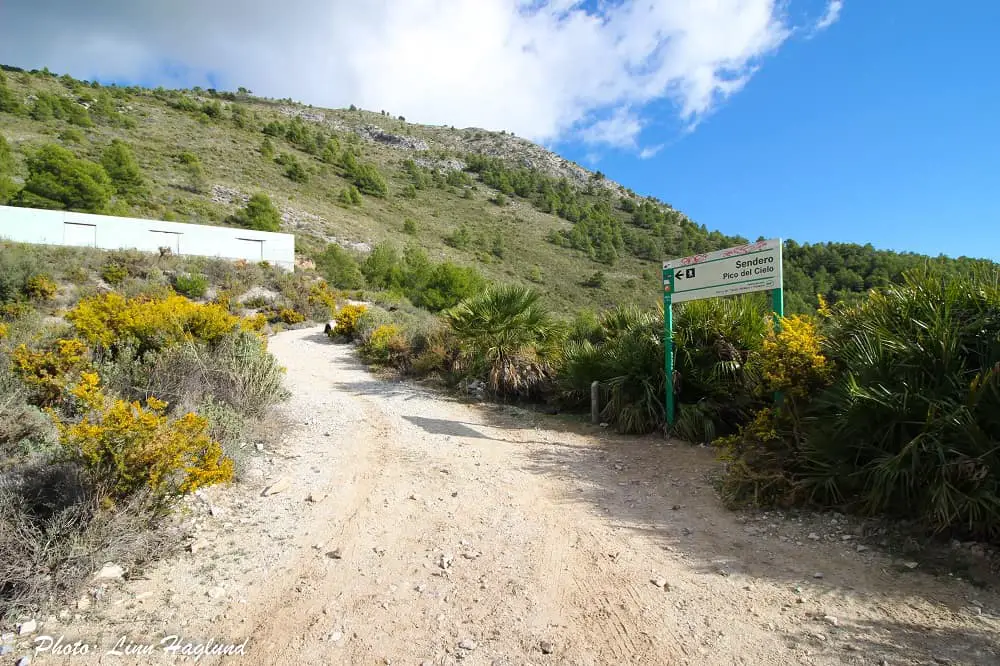 Part two: Forest trail and bush
Past the white abandoned building, you have a long, beautiful forest trail ahead. This soon opens up and you walk through low bush landscape.
Don't forget to turn around and take in the mesmerizing views of endless forests, raw mountains, and the deep blue Mediterranean that opens up behind you.
Parts of this trail can be steep and in some parts, it can be easy to lose the path unless you follow the green marks on the rocks. This is a good place to pull out your hiking poles.
There are a couple of places where the path opens up to the other side of the coast too, which makes for perfect snack stops.
Once you continue up past these sections, the path will get a little trickier to follow, though not problematic, until you see a steep rocky slope towering in front of you. That's the final ascent right in front of you.
Part three: Final, steep ascent
I've already mentioned how this last bit is really steep, covered in loose rocks in all sizes. It's important to be careful here and to go slowly. Especially if you're going with more people, make sure you don't trigger rolling rocks down on the people behind you.
Even though it's mostly loose rocks, I did find a few roots and steady rocks climbing on the right side of the trail. Unlike most trails on steep hills, this doesn't go zig zag, but remember, you don't have to follow it right up, you can clamber on to the mountain on your right.
Going back down this part is somewhat worst than going up, but take it really slow. I found it helped walking sideways and let one foot slide slowly until it found a grip before moving the other one. It will definitely be useful with hiking poles walking down this part.
---
You might also like: Complete Mulhacen hiking guide
---
The top of Pico del Cielo
Once at the top of Pico del Cielo, it's hard to imagine a more astounding view. With endless views of the Mediterranean and the powerful mountain peaks on the other side, where you among other important mountain tops can see Malaga's highest peak, La Maroma, there is no doubt it was worth the last climb.
There is a big cross on the top too, which makes for a fine photo opportunity as long as the sun isn't in the way. With these views, you should definitely save your lunch pack for the top!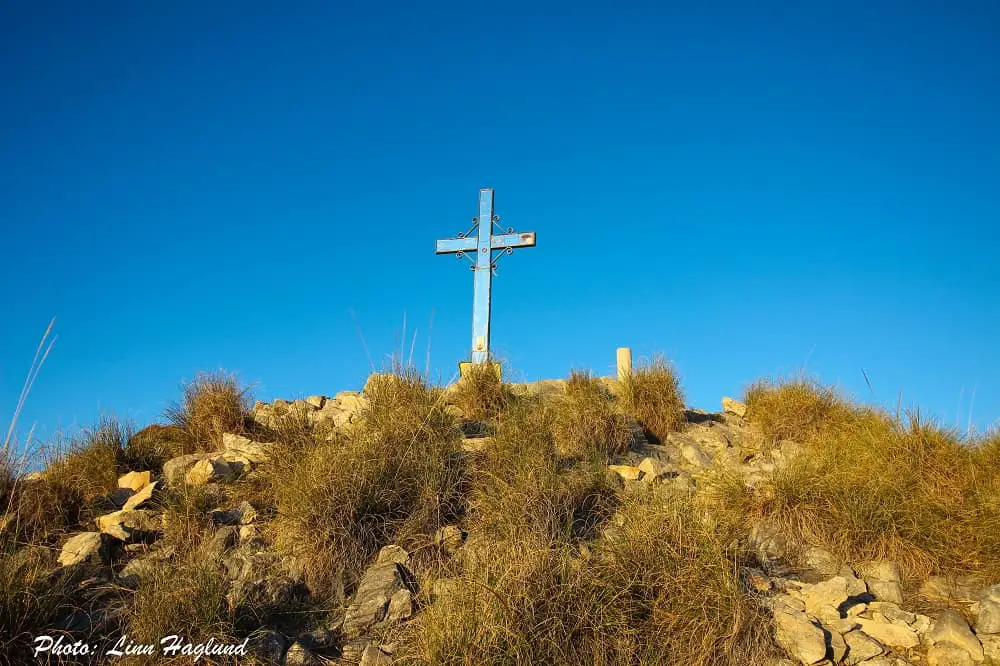 ---
READ NEXT: Bucket list hikes in Andalucia
---
Reflections on Pico del Cielo
Hiking Pico del Cielo is definitely one of the best experiences you can have on Costa del Sol if you like a challenge and a mesmerizing view. I must admit, I didn't expect the last part to be so hard, mainly because there aren't many rocks to hold on to as most of them are loose.
But nonetheless, it's a fairly easy hike until you get to the last few hundred meters. I did see children take on this last part too, so if your kids are used to long hikes, they'll most likely handle it well.
I really hope you enjoy this hike as much as I did, because this is one of the best hiking adventures in Malaga!
Other similar hikes: