Pico de Mijas is the highest peak in Sierra de Mijas and one of the most beautiful hikes in Malaga. Towering 1150 meters above sea level it offers some of the best views of the coast of Malaga and the Costa del Sol. On a clear day, you can see all the way to Africa.
Sierra de Mijas is located in the inner part of the Cordilleras Béticas (also known as the Baetic system), which consists of multiple mountain ranges stretching from west to east Andalucia and ending up in the region of Murcia.
This also results in stunning views of the mountains as far as you can see, including Sierra Nevada's top peaks Mulhacen and Pico de Veleta, and Malaga's highest peak, La Maroma.
It can be a challenge to climb parts of the steep trail if you're not used to walking in the mountain, but the views at the top are all worth the effort.
In the evenings, mountain goats roam around the trail and if you're lucky (and don't move), you might see them up close. That's one of the most magical gifts you can get in Sierra de Mijas.
However, if you are hiking with your dog, you need to keep it close so it doesn't run after them and scare them away!
Now, let's have a look at everything you need to know to successfully hike Pico Mijas.
Disclosure: This post may contain affiliate links. That means that if you make a purchase through one of those links, I will get a small commission at no extra cost to you. As an Amazon Associate, I earn from qualifying purchases.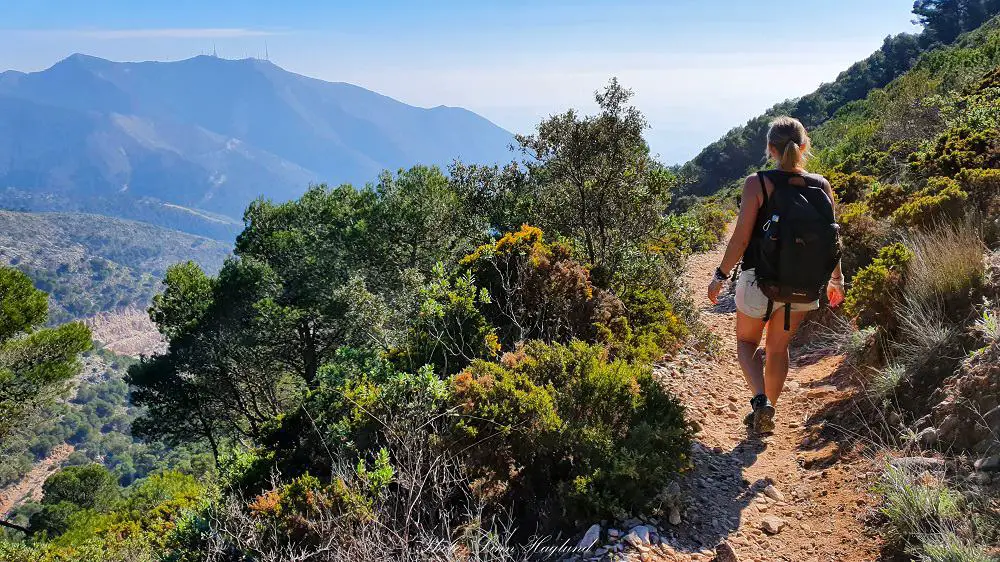 Practical information
Province: Malaga
Mountain range: Sierra de Mijas
Length: 14,5 km
Time: 5-7 hours
Altitude: 1150 masl
Elevation: 745
Route: Linear or loop
Difficulty: Medium-Demanding
Hiking with dogs: Hiking with dogs is safe only during the autumn period until the end of December/beginning of January. The processionary caterpillars come out at that time and can be deadly to dogs. I've seen them around until the summer starts, and wouldn't take the dog on this trail before May/June which is already too hot to go hiking here. Further, there are no natural water sources along this trail so make sure you bring enough water for both of you.
How to get to Pico de Mijas
Hiking to Pico de Mijas can be done from different starting points, the most popular being Mijas Pueblo where you can access a large number of hikes in Sierra de Mijas.
The trail starts right above the village. You will see a rock with a beautiful poem written by Juan Antonio Gómez Alarcón, a young local who disappeared in these mountains in 2010, next to the trail map at the start of the path.
Arriving by car, you can drive straight up from the petrol station past the two roundabouts and follow the road where it winds left above the village. After a few minutes, you pass that trailhead and find parking by the viewpoint on your left.
These parking spots usually get full pretty early at the weekends and cars park along the road. An alternative is to park in the village and walk up. There are options for free parking along the streets or leaving the car in the ten-story parking house for 1 Euro a day.
There are also buses going from Fuengirola to Mijas Pueblo which take between 17 and 25 minutes, it's the M122. The first bus starts at 06:45 from Fuengirola bus station and the last leaves from Mijas Pueblo at 22:15.
YOU MIGHT ALSO LIKE: How to hike Pico de Gilillo – The highest peak in Cazorla
When is the best time to hike Pico Mijas
Most of the hike to Pico Mijas is exposed to the sun, which can be strong even in the middle of winter. For this reason, I highly recommend you avoid hiking between June and August. Some years, it can be too hot even in May and September. Read my tips for hot weather hiking here.
The best period to go hiking in Pico Mijas is between October and April.
However, if you hike with dogs, you need to be aware of the Processionary Caterpillars that come down from their nests as early as the end of December/beginning of January.
They mostly walk in line, though I often see single ones that have been lost, the millions of hairs that cover their bodies can create a severe allergic reaction in humans and animals when in direct contact.
As your dog is just as likely as mine to stick their snout in anything interesting along the trail, and even lick it, it can be fatal. The venom in these larvae's hairs can etch up the tongue and throat of your pet and result in death.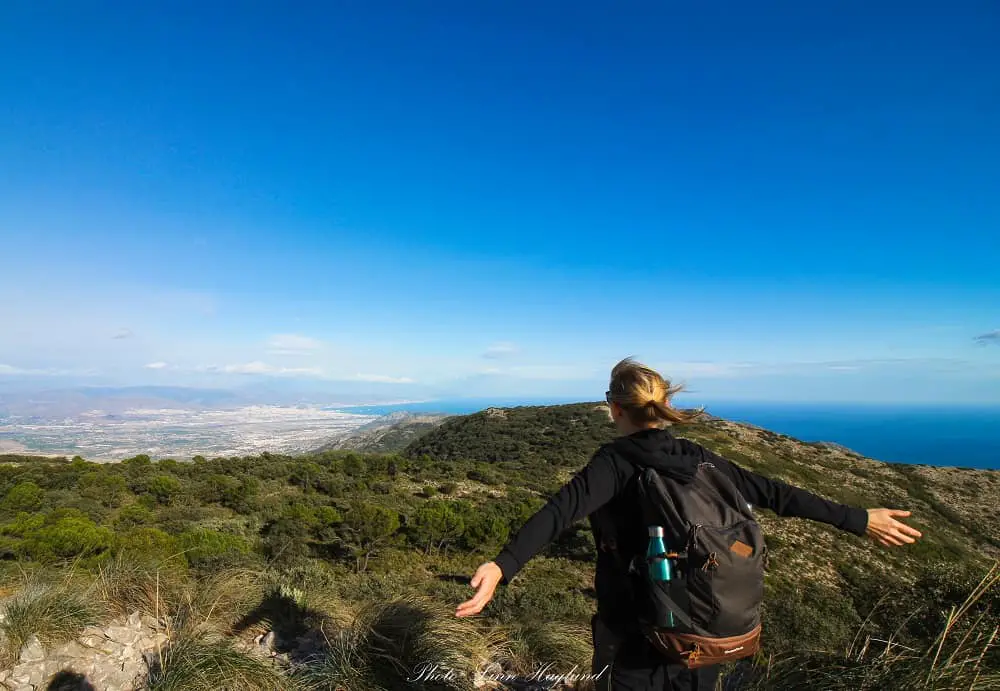 What do bring
Being such a steep and long hike, it's essential to stay hydrated, and you need to bring a lot of water as there are no water sources in the mountain. I recommend you bring at least 2 liters per person. You should also bring something to cover your head along with other hiking gear.
Winter in Sierra de Mijas can be varied. On a windy, cloudy day, especially before or after rainfall, it can be necessary to bring a windbreaker and long hiking pants or you'll freeze. On the contrary, on a warm sunny day, you'll have a hard time wearing that much clothes.
My best recommendation is to check the weather forecast and if the temperatures are above 20-23 degrees Celsius, no wind, and clear sky, opt for shorts and a t-shirt with pants and windbreaker in your backpack.
I hardly ever put it on during a day like that, other than long sleeves at the start of the hike if I start early. On a sunny, warm day, being in constant activity climbing the steep trails in the burning sun, you'll rather need sunscreen than warm clothes.
If you tend to notice it in your knees when you hike on steep terrain, I suggest wearing knee braces or using trekking poles for support as these hills have no mercy.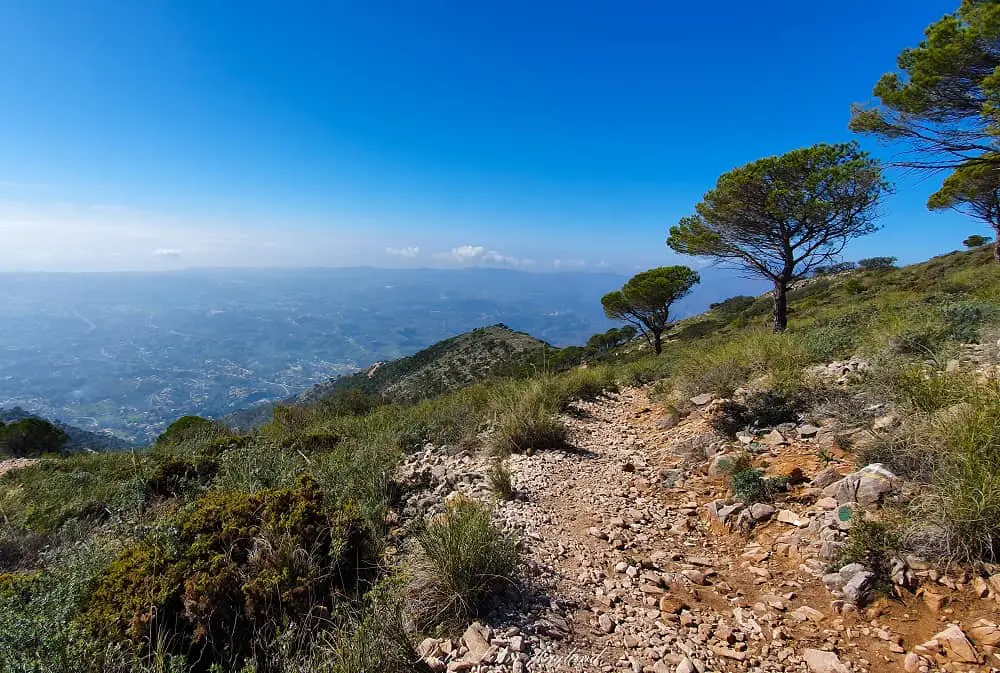 RELEVANT: Check out the best day hiking backpacks here
I've compiled a list of things you need to bring (always considering the above).
good hiking shoes/boots
hat/caps
sunscreen
water
lunch
snack (nuts, fruit, seeds, energy bars)
windbreaker
neck gaiter (if windy and cold)
hiking poles (if needed)
knee brace (if needed)
camera
bag for bringing your trash back
YOU MIGHT LIKE: How to hike in El Torcal de Antequera, Spain's most spectacular karst landscape
Where to stay when hiking in Sierra de Mijas
The best place to stay when hiking Pico de Mijas is Mijas Pueblo, as you'll be just a few minute's walk from the trailhead. However, there are frequent buses from Fuengirola bus station which only take around 20 minutes.
Where to stay in Mijas Pueblo
TRH Mijas
This is an excellent option with a pool, bar, and spa so you can relax after a long day of hiking. The hotel has its own parking too so you can easily travel by car.
Hostal El Escudo de Mijas
With a happy, colorful interior, Hostal El Escudo de Mijas offers wonderful views of Costa del Sol. In the heath of Mijas Pueblo, you are within walking distance to restaurants, bars, and most importantly, the hiking trail to El Pico de Mijas.
La Posada de Mijas
La Posada de Mijas offers wonderful apartments in the center of Mijas Pueblo, which means you can prepare your own lunch for the hike. They also have parking if you travel by car.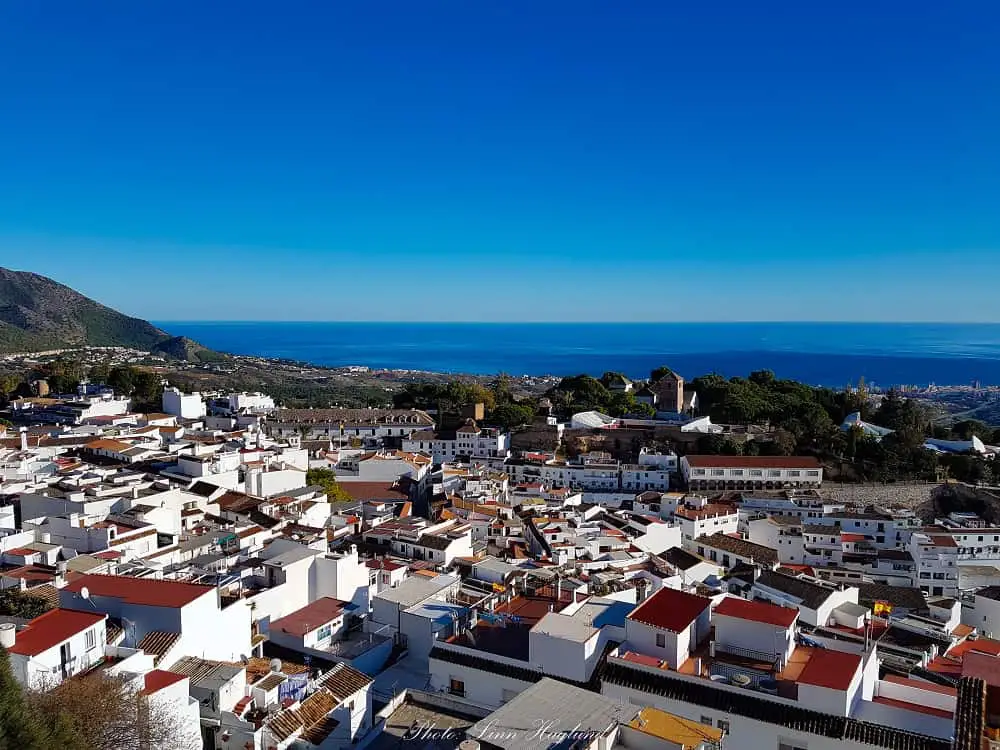 Where to stay in Fuengirola
Pyr Fuengirola
Pyr Fuengirola is on the beachfront but also has its own pool and bar. You have restaurants and bars available within walking distance and the bus station is only a few minutes walk away.
Stella Maris 1504
This apartment hotel is right at the beachfront, centrally in Fuengirola. Most rooms have terraces and you can easily prepare lunch for your hike as there is a small kitchen in the apartment. The bus station is a few minute's walk away, and so are restaurants and bars.
Check out the newest hiking trail in Sierra de Mijas with the cute gnomes overlooking the Mediterranean
Hiking El Pico de Mijas from Mijas Pueblo trail head
When you start your hike from Mijas Pueblo, the most popular route to Pico Mijas is the one beginning at the trailhead above the village. This is the same trailhead that takes you to Ermita del Calvario and Pico Puerto de Malaga, starting at the road.
To get to Pico de Mijas, you need to follow the blue trail, turning left after a couple of hundred meters, and then right just before the Ermita del Calvaro (the white church overlooking Mijas Pueblo). Keep following the blue trail until you get to a dirt road.
Here you need to cross the road and the trail continues to the left through a small forest, right in the curve of the road only a few meters up. Keep going until the path splits. You'll see a sign to Pico de Mijas to the left, follow that.
Now, the trail flattens for a while, revealing the coastal views again, before it winds inwards and you'll see "La Bola" on top of the mountain in front of you, the white meteorological ball that the locals have called the peak after.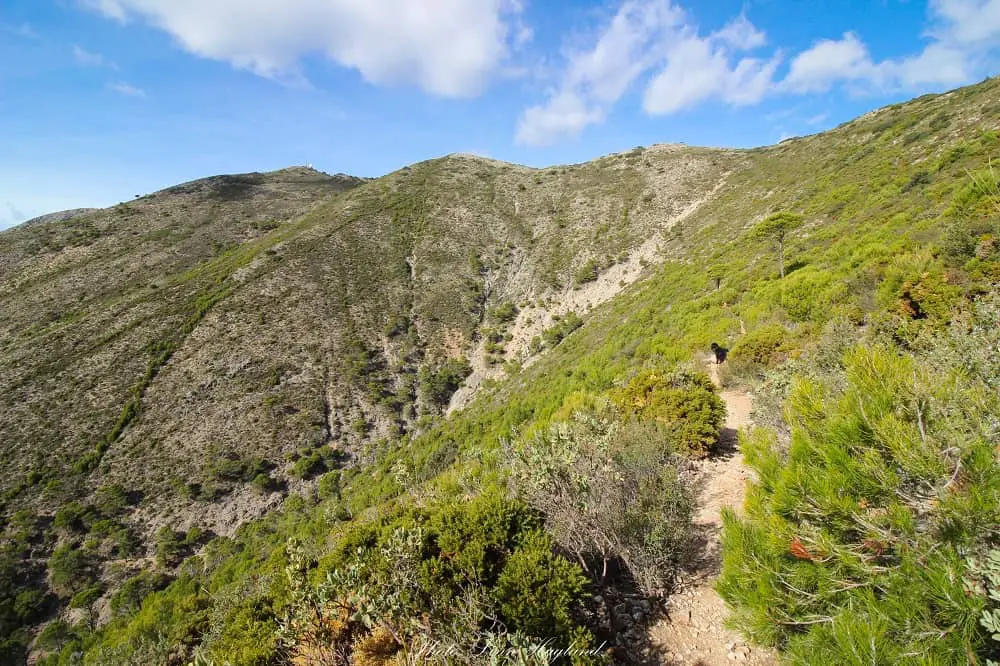 This part of the hike is my favorite, the landscape is mesmerizing and you feel the grandeur of the mountain tucking you in before you keep ascending, zig-zag until you're close to the top.
There's one tiny last steep, sandy (vertical) hill to climb before you're at the paved road leading the last meters to the top of the peak. Walking on the backside of the antennas, you can have your lunch with the views of Africa or Malaga.
There's a continuous trail taking you down the mountain on the other side. But you'll probably want to return the same way you came from, to get back to the village.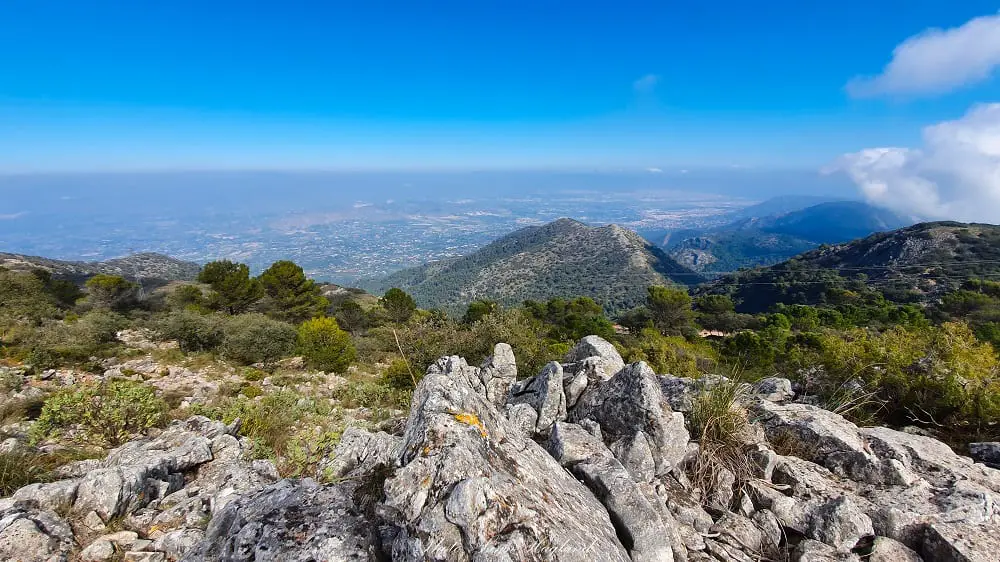 READ NEXT: Best hikes in Andalucia
Reflections on Pico Mijas hike
Pico de Mijas hike is the perfect day hike in Costa del Sol without the crowds that you can experience while hiking La Concha or Cruz de Juanar.
It's challenging yet highly doable for anyone at a basic fitness level. But if you haven't been in much physical activity for a while, you shouldn't underestimate it.
Pico de Mijas seriously offers amazing views and is a real bucket list hike for anyone staying in or visiting Costa del Sol in the winter months.
Other bucket list hikes in Malaga: