Driving on the A7 past Marbella, there is this incredibly beautiful mountain that always pulls me in and I just want to get up there for a hike. This is La Concha and it's one of the most beautiful hikes in Malaga and the Sierra Blanca.
The mesmerizing coastal view of Marbella follows you on the last half of the hike and all the way out on the ridge. La Concha hike is a great day trip in nature, yet there are a couple of spots that can challenge your vertigo and can be dangerous for the youngest children.
It has been proposed that Sierra Blanca should be turned into a Natural Park, but at the time of writing, it's still not been turned into a protected area.
Now, let's explore one of the best hikes in Andalucia!
---
Disclosure: This post may contain affiliate links. That means that if you make a purchase through one of those links, I will get a small commission at no extra cost to you.
---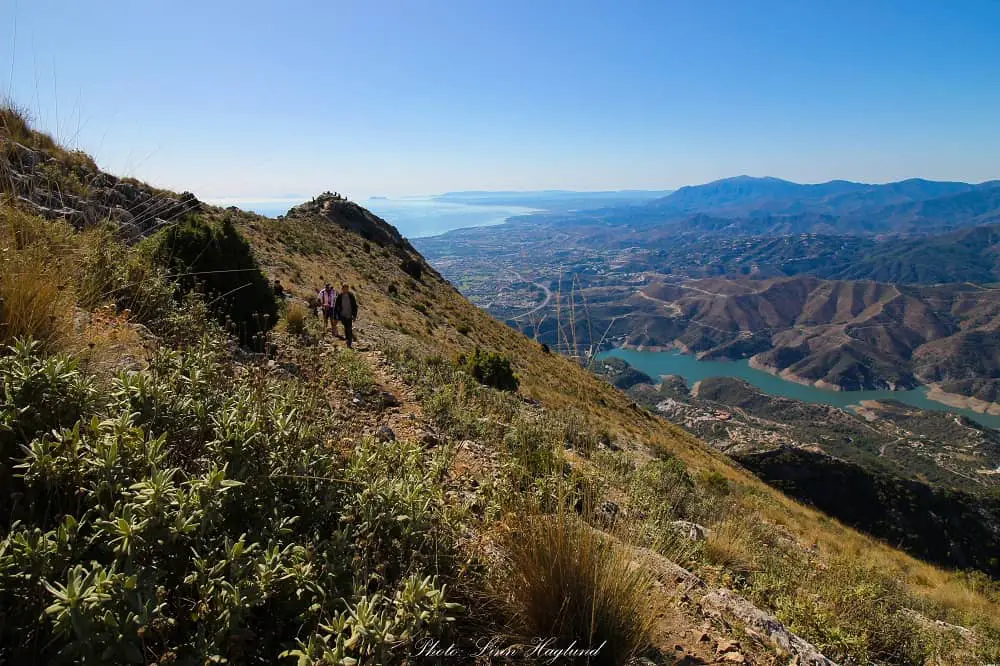 ---
Practical information
Province: Malaga
Mountain range: Sierra Blanca
Length: 14 kilometers
Time: 7-8 hours
Altitude: 1200 meters
Elevation: 420 meters
Route: Linear return
Difficulty: Medium
Hiking season: mid-September-May
Hiking with dogs: It's allowed to hike with dogs, but avoid the months of January to May. The trail goes through a large pine forest and the processionary caterpillars are out. They can be fatal for your dog, so you don't want to risk it. There is also a short stretch where you need to walk on a narrow shelf on the vertical wall only holding on to a rope. A small part of this shelf is "missing" meaning you have to be careful with the dog and keep it on a leash. I don't recommend doing this part with dogs that are not trained well, so you or the dog don't lose control on the sketchy part as it's probably a hundred meters vertical fall beneath you there. Ayla came with me and we had no problems. Further, there are no natural water sources along this hike, so make sure you bring enough water for your dog too.
---
How to get to La Concha
La Concha hike starts by Refugio de Juanar. You can easily get there by car from Marbella and there is easy access from the A7 from both up and down the coast.
Following the signs to Ojén up a winding mountain road, past the village, and turn to the left where you see the signs to Refugio de Juanar.
There are a few kilometers up this narrow road, twisting and turning up Sierra Blanca to mesmerizing views before you reach the parking by the Refugio.
NOTE! On the weekends, the parking spots fill up quickly, so make sure you get there early, otherwise, you might have to park 5 kilometers down the road, or in the worst-case scenario, all the way down in Ojén, which will add 4 hours return to your hike.
---
Where to see Spain's national tree, the Spanish fir: El Pinsapar trail in Sierra de Grazalema
---
What to bring
Hiking La Concha is a good day hike and large parts of it are highly exposed to the sun. Even on a winter day, the sun gets pretty hardcore so make sure you have enough water in your day pack and protect yourself from the sun. Read up on my best tips for hiking in the heat before you go.
It's also of good use to bring trekking poles for this hike, as there are steep and uneven parts on the trail.
water
hiking boots or good trainers
food and snacks (nuts/seeds/fruit/energy bars)
camera
hat/caps
Sunscreen
Find more hiking gadgets and gear here.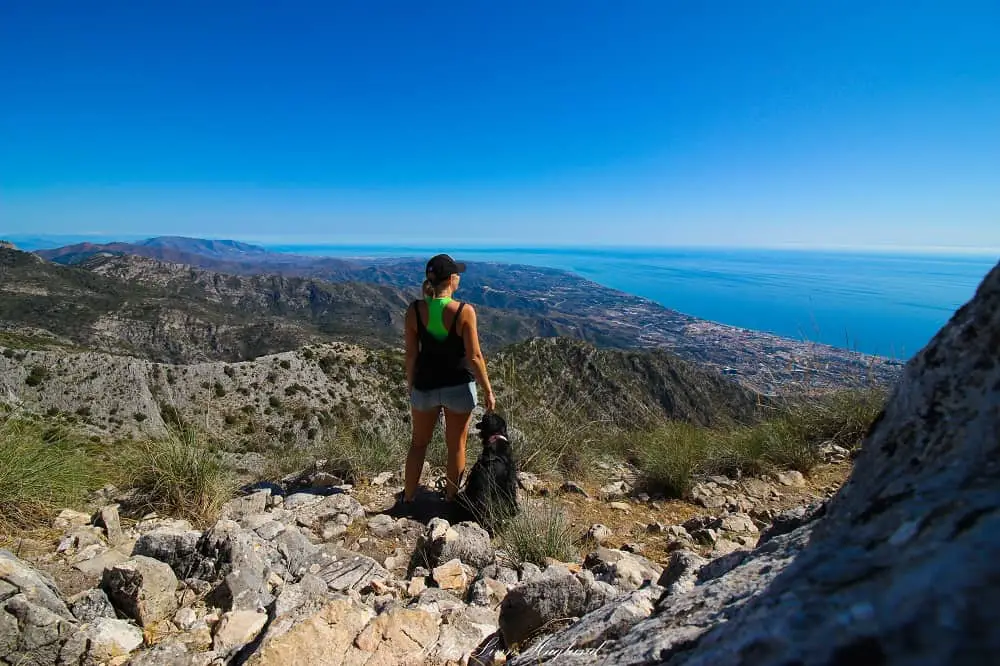 Where to stay when hiking La Concha
You can stay in Ojén or Marbella which both are nearby the trailhead. However, if you want a rural place in nature, why not stay at the Refugio de Juanar which is perfectly situated where the trails start. Other popular trails from Refugio de Juanar are Cruz de Juanar, El Pozuelo, and Los Cuchillos.
Where to stay in Ojén
Ojén is a small hillside village a short drive from Refugio de Juanar. Here you'll have bars and restaurants in a local atmosphere end get a real taste of Andalusian village life. There are also nice things to see in the village, like caves and museums. In the warmer months, you might also want to take a swim in the local water hole.
La Posada del Angel
This charming hotel might just be the best option in Ojén with two pools and a fantastic breakfast. They also allow dogs if you plan to take your furry friend hiking. Other than this hotel you can find a fair amount of studios and apartments for rent in the area.
Where to stay in Marbella
If you prefer a bigger town to go out at night or explore the beaches, Marbella is the perfect place to stay. Only a 10-15 minute drive from Refugio de Juanar and Ojén, it's perfect to spend the nights in Marbella to get the best of two worlds. I do recommend you have a car so you can easily get to Refugio de Juanar.
Hotel El Faro Marbella
In the heart of Marbella, only 150 meters from the beach, you find this modern and clean hotel with studios and apartments with terraces. It's only a short walk from the charming historic center with restaurants, shops, and bars. There is a pool and parking. They also offer airport shuttle. And if you're too tired to go out for dinner after a day of hiking, they offer room service.
Marbella Inn
This too is a great option near the beach and old town. Marbella Inn has a rooftop pool with spectacular mountain views. There is no restaurant but a bar where you can have a drink in the evenings. You can also get an airport shuttle here.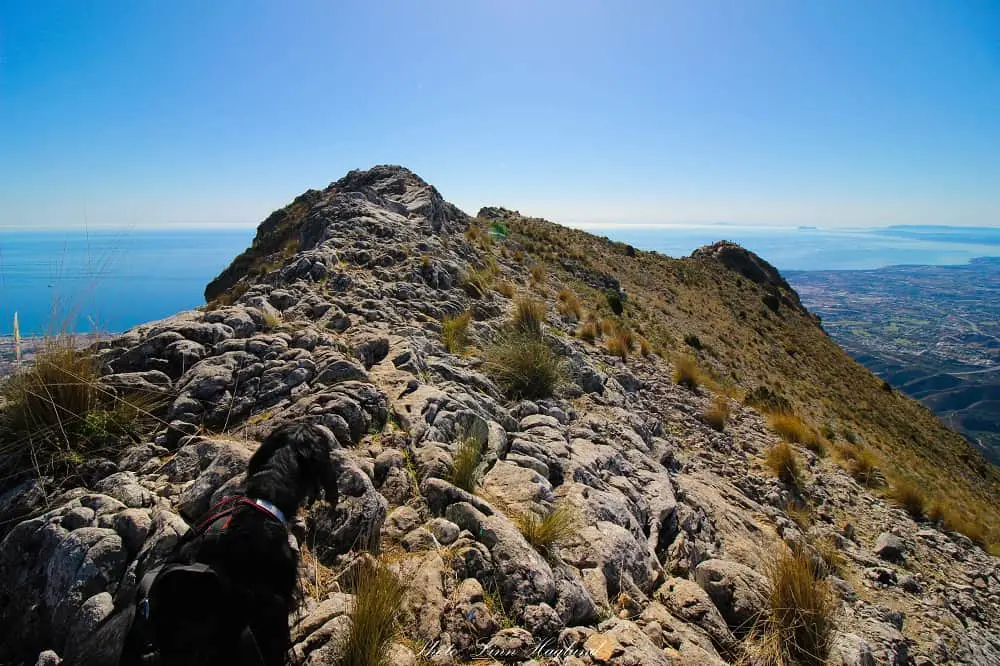 ---
YOU MIGHT ALSO LIKE: Hike Los Cahorros Monachil – hanging bridges and waterfalls
---
Hiking La Concha
Starting this hike from the parking by Refugio de Juanar, it continues along a dirt road through a forest for a few hundred meters before it opens up to silver olive groves. The dirt road flattens for the next few hundred meters before there is a sign pointing you to La Concha and Cruz de Juanar to the right across the olive groves.
Once you've passed the olive groves, you will walk in the forest for a while, the path narrowing down and turning steeper uphill. After about an hour you'll get to the top where it opens up to mesmerizing views of Marbella and the Mediterranean on the other side.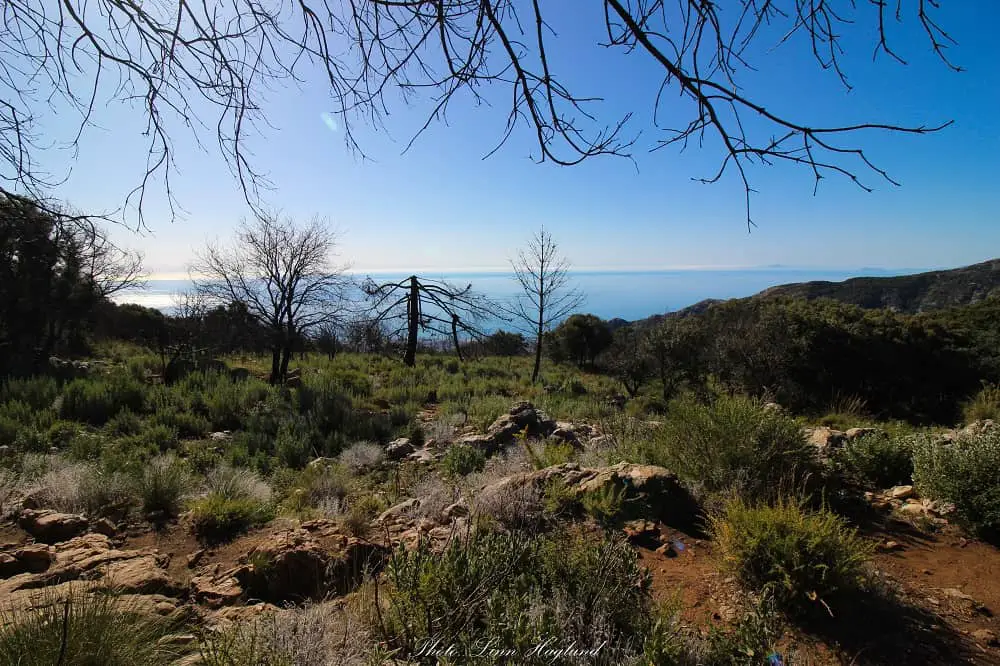 To your left, you'll see the steep peak of Cruz de Juanar, but you are turning right, walking along the mountain with the coastline on your left-hand side for the rest of the hike. At one point you'll walk straight onto a mountain top. Follow the trail on the right side of this small peak. You're going around it, not across it.
On this side of the mountain, you'll pass the first part where they have put up ropes. It is pretty steep down to your right, but on dry ground, there is nothing to worry about. The trail continues along the steep side for a while before you climb over to get the coastal view again.
The last place with a rope (where I mentioned it can be sketchy with dogs), is just as you turn towards the ridge. This is the most beautiful part of the trail, walking along the ridge with astounding nature, mountains, and sea in all directions.
Once you arrive at the tip of La Concha peak, there is a bench and plenty of rock to sit down and enjoy the views with your lunch before turning back the same way.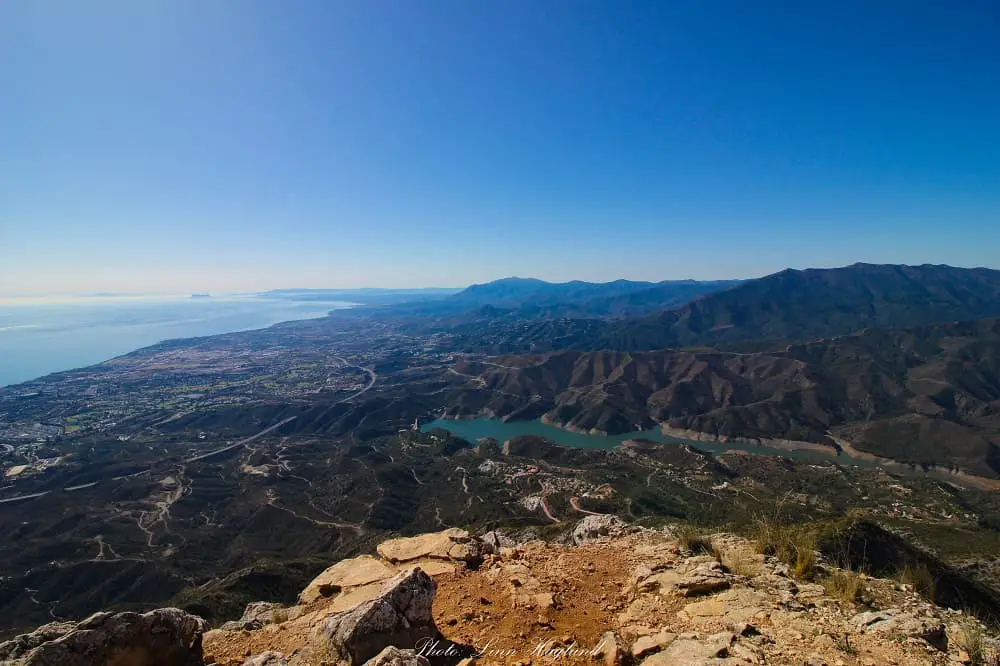 YOU MIGHT ALSO LIKE: Best Hikes in Sierra de Mijas
Reflections on La Concha hike
Hiking La Concha can be challenging if you feel dizzy in steep parts (especially if you go with dogs as I did), but it's truly rewarding, and you walk along some of the best views of Marbella most of the time.
There is no doubt La Concha hike is a bucket list adventure for any outdoor enthusiasts. But make sure you're prepared for the sun, as there is no shade after the first hour or so.
If you tend to get knee pain when descending steep hills while hiking, I recommend you bring knee braces for hiking, as the hike back down is steep.
Other hikes in Malaga: