That knee bugging you every time you descend a peak might not stop you from hiking, but it sure puts a break to what was supposed to be a wonderful day. And if you are hiking with friends, you don't want to be that person hanging behind that everyone is waiting for and worry about. There are many different reasons for knee pain and what's known as "hiker's knee". Luckily, you can get knee braces for hikers which can make a big difference and give good knee support hiking downhill.
Having struggled with a bad knee ever since I actively played volleyball when I was in my best age, I know all about struggling with the downhills. Hiking is one of my greatest passions, but hanging behind or not being able to put weight on one knee while I'm hours or days from civilization feels pretty daunting. Solo hiking and knowing I have three more hours to go, while I can't put any weight on my knee, can be quite preoccupying, especially if there are no other hikers to be seen. That's why I opt for knee braces on longer hikes.
Knee support for hikers doesn't have to be expensive or take up a lot of space if you just want to bring it in case you feel pain. Sometimes knees are unpredictable and start hurting when you least expect it, while other times they endure hard hiking trails without problems. I've done some research and listed up what I found to be the best knee braces for hiking. But first, let's have a look at what to consider before choosing the best one for you.
Disclosure: This post may contain affiliate links. That means that if you make a purchase through one of those links, I will get a small commission at no extra cost to you.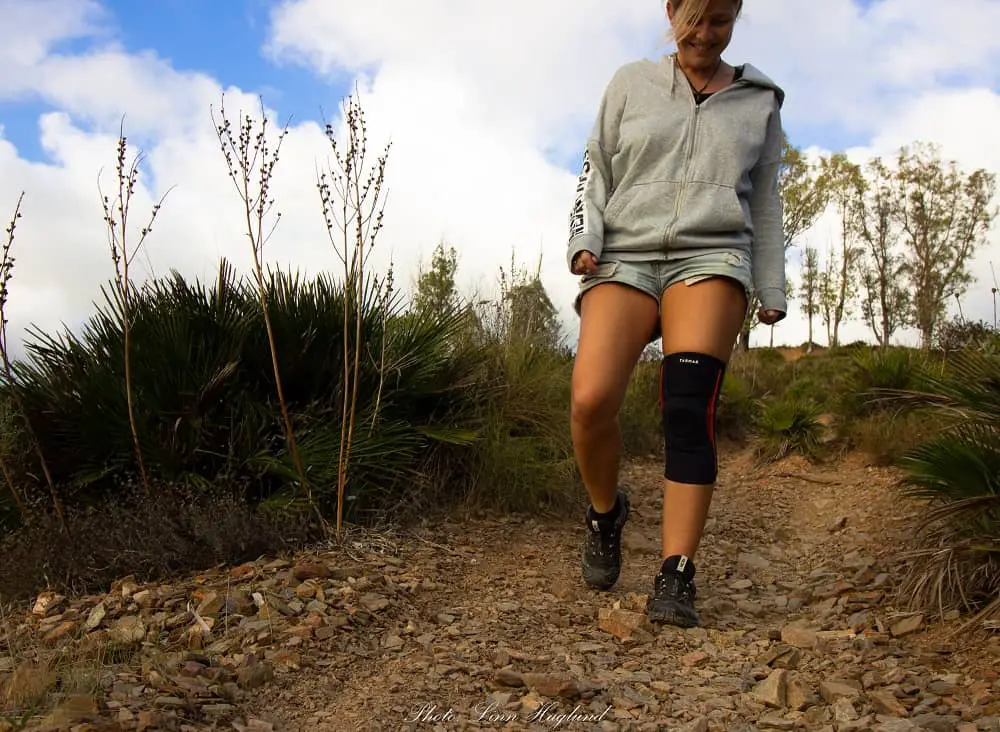 How to choose the best knee brace for hikers
Before you go ahead and buy a knee brace for hiking, there are a few things to consider so that you can be confident you buy the best one for you.
There is nothing more annoying than buying something that's supposed to make you feel better, and then it turns out it creates more pain. So let's dive into a few considerations for choosing the right knee brace for hikers.
Note that if you have or suspect that you might have a knee injury, you should always seek professional help, the knee brace won't cure your injuries, only help relieve pain when hiking.
Type and style
There are many different styles and types of knee braces and you want to make sure you find the right one for you. We're all different, so what works for me might not work for you.
You have the pull-up sleeves, which are the most commonly used, then you have knee straps, neoprene braces, and lastly magnetic braces, which have in-built magnets which accelerate the healing process and pain relief.
If you tend to swell up around your knee when hiking, you are better off with a knee support that you can adjust so it doesn't get too tight. If it gets too tight it can lead to stopping the circulation and you'll end up in more pain and even feel numbness in your leg. Some of the most effective for reducing swelling and pain in the knee region are the neoprene braces.
Especially in warm temperatures, if you normally sweat a lot behind your kneecaps, you might prefer a knee brace that covers less skin but still supports the the knee and relieves pain.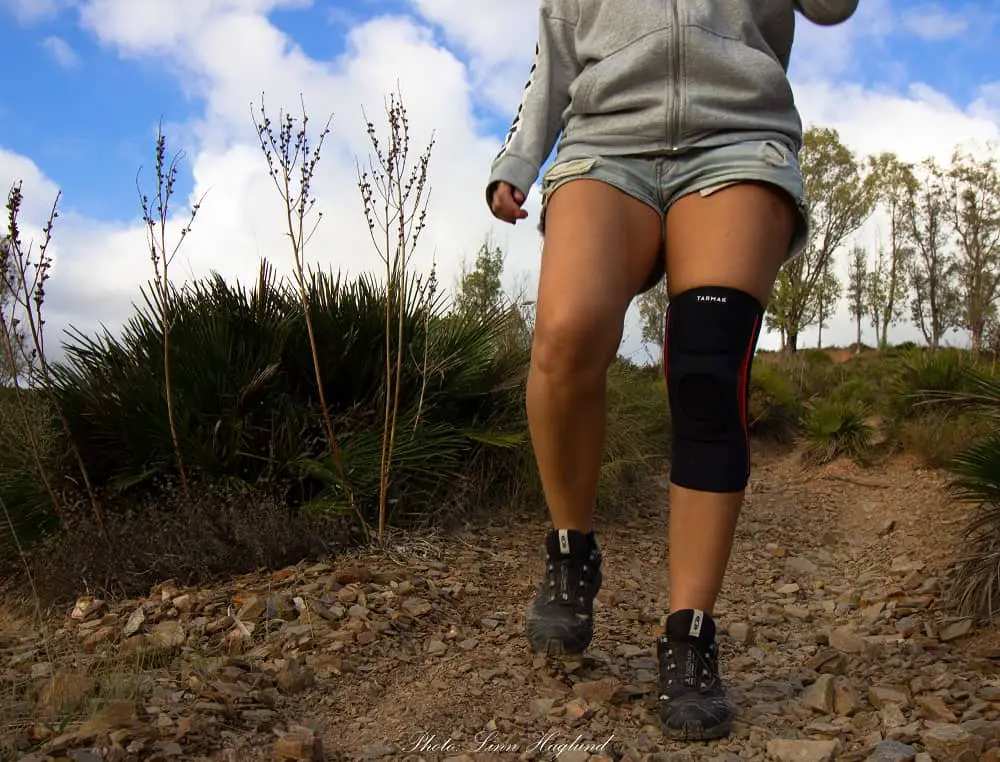 Size
Picking the right size for your knee braces is absolutely crucial. If it's too tight, it can cut off the circulation and on a long hike you can start feeling numb. This is not good at all and you'll need to loosen it up and buy a bigger size.
On the other hand, if the knee brace is too big, you'll struggle with it slipping down while you're hiking and that can get pretty annoying. But annoying is one thing. The more critical issue with a too big knee brace is that it's not going to support your knee like you need it to. As a result, you might find yourself with the same pain you would without wearing it.
To assure you buy the right size, you need to measure your legs beneath and above your knees. You can do this by using a soft measurement tape and measure 6 inches above and below the middle of the knee. Then measure width at those two points.
If you're in between two sizes, it's recommended to go for the larger size so you avoid that it stops circulation.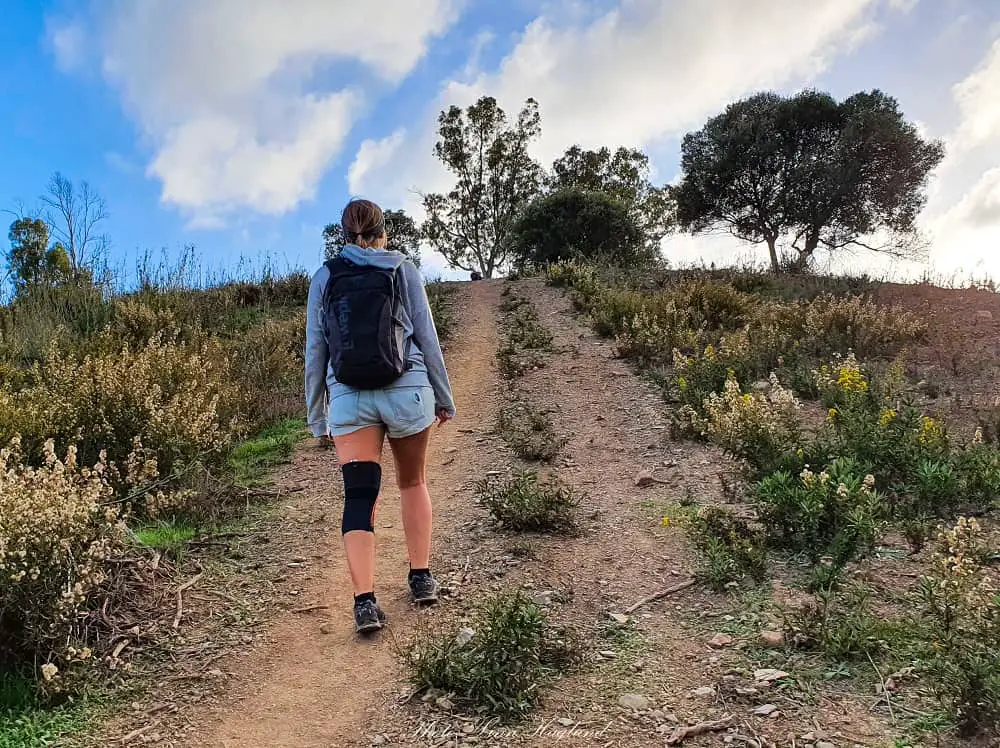 ---
YOU MIGHT ALSO LIKE: Best hiking gadgets and gear
---
Best knee braces for hiking
Bauerfeind Sports knee brace
This is a high quality knee brace for hikers and other athletes alike. It uses a 3D AirKnit material which perfectly adapts to the shape of you knee. This makes it comfortable while it provides stability to and compression to your joints.
The used technology is breathable and lightweight while the pressure around the whole knee provokes circulation while you walk. This is a great plus when trekking longer distances.
Key features:
Adapts the shape to your knee
Stability and compression to joints
Improved circulation
Breathable
BLITZU Knee Compression
The BLITZU Knee Compression is one of the best knee braces for hiking as it is made from high quality and durable materials that are breathable and moisture wicking.
During movement, these knee braces will massage your knees with a soft pressure while you walk, improving the functioning of your joints. With a reinforced patella stabilizer, the BLITZU Knee Compressions will keep your patella in the right position, supports the principal ligaments, and in turn keeps your knee in place.
Key features:
Gives support to joints and ligaments
Durable and flexible fabric
Breathable
Improves circulation
Relieves pain
HUEGLO Dual Patella Knee Strap
This dual patella knee strap, made of neoprene, supports the patella and enhances shock absorption when hiking downhill. The fabric is soft and breathable which makes it comfortable to wear even for hiking in warm temperatures.
The straps are adjustable so you can fit it to the perfect pressure to provide support and comfort. However, this knee brace only comes in one size, adjustable between 12″-17″ in circumference under the patella.
Key features:
Duo patella design
Shock absorption
Supports the patella
Adjustable
Soft and breathable
Abco Tech Patella Knee Strap
This is a budget friendly knee support for hikers which is super light weight. It's easy to strap on under your knee with the adjustable straps. The positioning supports the joints and tendons which relieves pain during your hike and extra padding makes it comfortable also over longer and more challenging trails.
Though it's small, it absorbs sweat so it doesn't slip and stays on place. It's also easy to take on and off if you don't need to wear it during the whole hike or you just want to take it with you in case you notice pain in your knee.
While the Abco Tech Patella Knee Strap doesn't give the full support around your knee like the larger types, this is a cooler option for hiking in hot temperatures as it doesn't cover much skin.
Key features:
Adjustable straps
Light-weight and soft
Relieves pain
Absorbs sweat
Non-slip
TechWare Pro knee brace support
With a bidirectional adjustable support, the TechWare Pro stabilizes the patella and reduces knee pain. The open patella design gives a comfortable support and compression around the kneecap and tendons gives protection and relieves pain. It also reduces inflammation and swelling in your knee.
The breathable material is moisture wicking and the non-slip silicone strips keeps it in place so it's comfortable during your entire hike, while other knee braces tend to slip down. The Velcro straps offer an even support which makes it more comfortable.
Key features:
Even protection with bidirectional support
Open patella design
Velcro straps
Lightweight
---
RELATED: Best hiking poles and buying guide
---
Tips for relieving knee pain before and after a hike
Depending on the reason of your knee pain, there are a few things I found helps relieve knee pain that I can do before and after the hike. Again, I want to emphasize, that if you have a knee injury you should always seek professional help to get the right treatment.
It is normal, though to feel pain in your knees when hiking, especially long distances and with a heavy backpack on your back. This is also known as hiker's knee. So take care of your knees as best you can. Make sure you have good hiking boots. That also makes a huge difference.
Before the hike
I noticed that I often get knee pain if my knee is cold when I start the hike and if I start straight on a steep, demanding hill. Especially when it's been a long time since I last hiked.
Staying in regular activity so that the muscles in and around my knees are trained, helps a lot. The more you build up your muscles, the more they will be able to support you when hiking too.
When starting straight on a steep hill, especially on a chilly morning, it can help to not pressure yourself too hard and instead walk slower until your muscles are properly warmed up. It does help to warm up a bit before you start the hike too.
If the temperatures are cold, try to cover your knee so it keeps warm. I like to use my knee brace for hiking for that. Two-in-one solution.
After the hike
After your hike you should stretch properly. This way you help maintain flexibility in your joints and muscles the next day. If you feel pain in the knee after your hike, don't put pressure on it. Instead focus on rest and getting any inflammation down. You can use any anti inflammatory drugs for that, or you can use ointments that are made especially for reducing inflammation. I often use natural options like Tiger Balm and similar type of ointments to relieve the pain.
Important if you feel pain after the hike is that you let your knee rest and heal before you start training up the muscles for your next hike. Pushing it can result in long lasting injuries and just isn't worth it.
---
RELATED: Best gift ideas for hikers
---
Reflections on knee braces for hiking
There sure is a myriad of knee braces for hiking out there and it can be hard to pick the right one. Yet, I hope you feel that I've narrowed it down enough for you to make a solid decision when it comes to choosing the best knee brace for hiking, suitable for you and your needs.
I hope you use some of the tips for looking after your knees too, to prevent long lasting pain and injuries. If you're unsure if you have an injury, go to a professional to have it looked at, so you can be confident you do the right things for your knees.
YOU MIGHT ALSO LIKE: Best backpacks for day hikes
Explore some of the best hikes in Andalucia: