As the second-highest peak in Sierra Nevada National Park and the third highest peak in mainland Spain, there is no arguing, Pico de Veleta (3398m) is a bucket list hike!
The peak is easily accessible from the top of the Sierra Nevada chairlifts, but if you're on this blog, I bet you'll want to conquer the peak on foot.
Starting above the tree line, you'll enjoy a wonderful view of some of the highest peaks in Spain and at the top, you'll see straight over to mainland Spain's highest peak, Mulhacen (3479m), another of the top hikes in Sierra Navada. You're about to complete one of the best hikes in Spain!
Here is a complete guide to hike Pico de Veleta from Hoya de la Mora, the highest point you can bring a private car.
---
Disclosure: This post may contain affiliate links. That means that if you make a purchase through one of those links, I will get a small commission at no extra cost to you.
---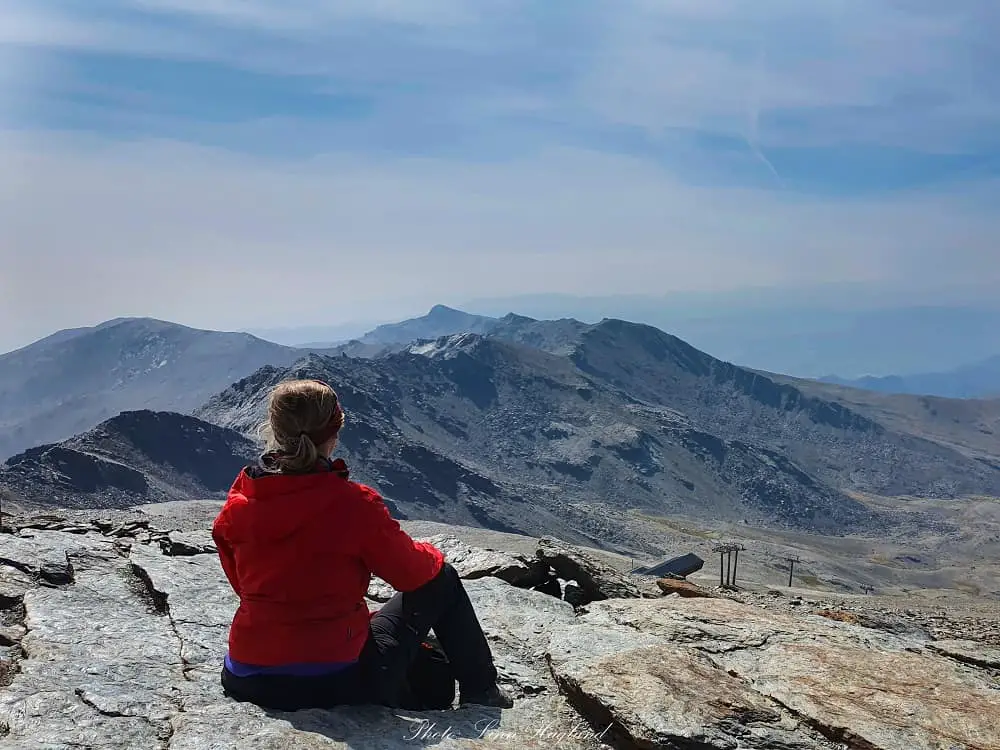 ---
Practical information
Province: Granada
Mountain range: Sierra Nevada
Length: 10-12 kilometers (by cutting across the main road on the hiking trails)
Time: 4-6 hours
Altitude: 3398 masl
Elevation: 898
Route: Linear return
Difficulty: Medium
Hiking with dogs: Hiking with dogs is possible here, but they need to be on a leash at all times as you're in the National Park. There are no natural water sources, so bring enough water for your dog. Be cautious, as you'll walk on rough terrain with gravel and loose rocks which can hurt your dog's paws. Bring dog boots if you can or at least make sure you have rubbed the paws in ointment before the hike and after. I left Ayla at home for this hike as she was still sore after hiking two days to Mulhacen on the same terrain.
---
How to get to Pico de Veleta
The trailhead starts at Hoya de la Mora, at an altitude of 2500 meters. You can easily drive there or take the bus. I'll get into detail here.
By car
By putting Hoya de la Mora into your GPS, it will easily take you there, following the signs to Granada, Sierra Nevada, and continue up the steep hairpin roads, accompanied by astounding views towards Hoya de la Mora.
From Granada, it's about a 50-minute drive, and from Sierra Nevada, it's only 12 minutes.
Once you get there, you'll find a little tourist area with a guest house and several serving facilities by a big parking lot with free parking.
By bus
There is one bus from Granada to Hoya de la Mora in the hiking season, May to November. It takes 50 minutes and stops by Sierra Nevada Ski Resort on the way. It leaves at 09:00 in the morning and returns at 17:00 in the evening. This gives more than enough time to have breakfast at Hoya de la Mora and hike up Pico de Veleta before the bus returns. Check bus tables here.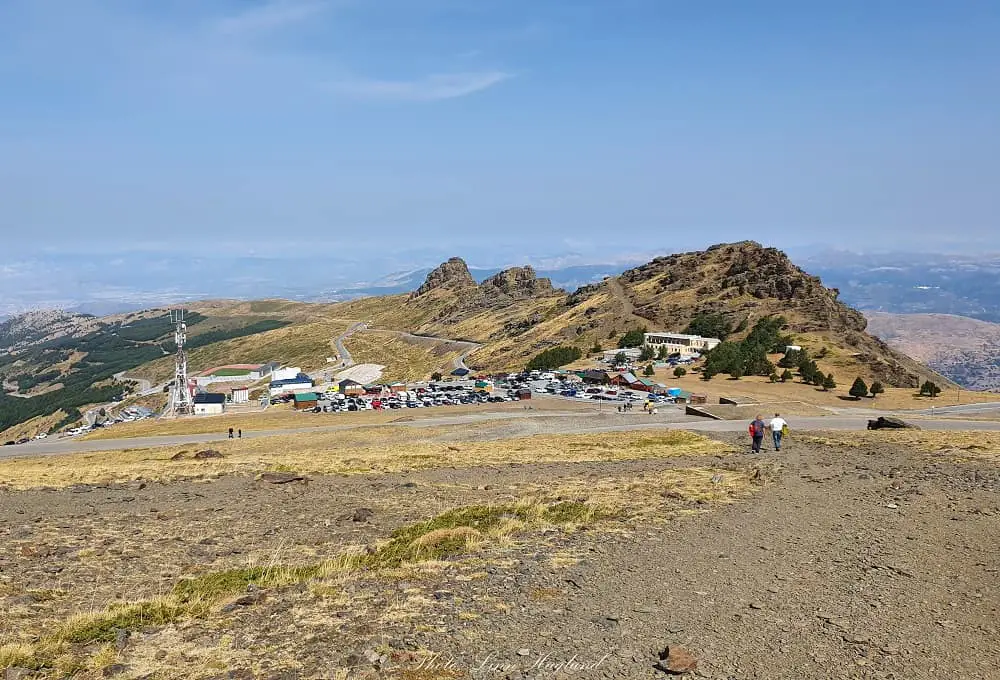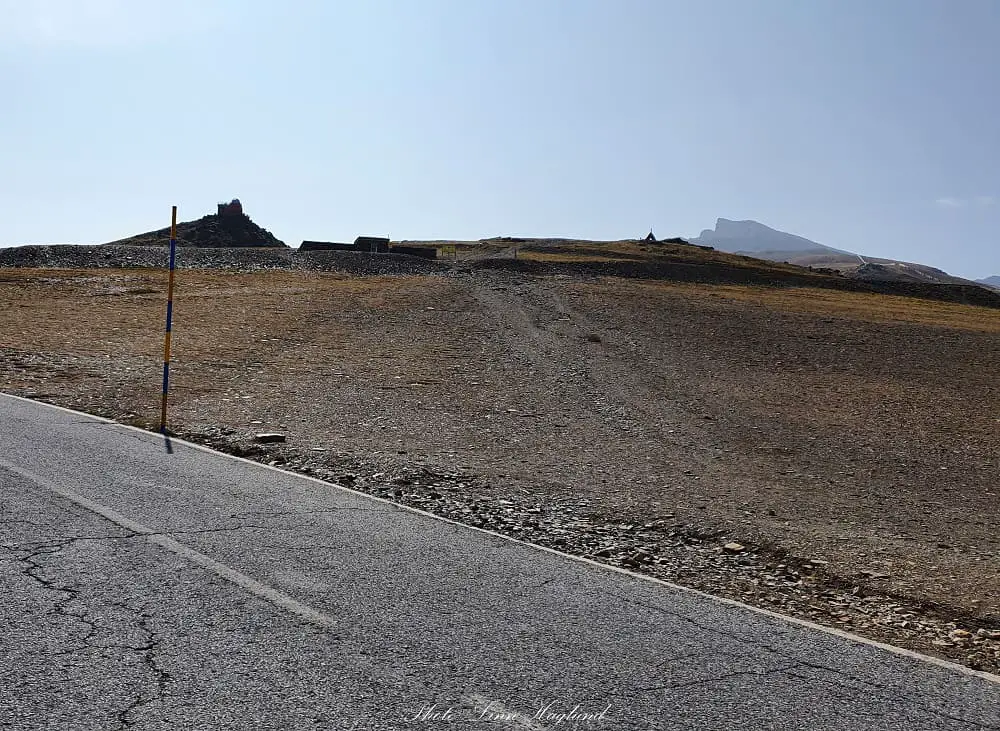 What to bring
The hike from Hoya de la Mora is a highly exposed hiking route to both sun and wind. There is pretty much no shelter for either during the whole trail.
This means you need to be well prepared for both. Even though the sun is shining, you're at a high altitude, which means the high wind can make it extremely cold. But you might also find yourself hiking in extreme heat.
You can easily start your trek with shorts and a t-shirt on a warm day, but you must have warmer layers in your backpack to put on if needed.
Therefore, make sure you have a well-packed day pack so you're prepared for it all. You can also see my top hiking gadgets and gear in this post.
Unless you follow the road all the way, trekking poles can be of great support on this hike too. Read my guide here.
Here are the must-haves for your hike:
caps/hat
sunscreen
long pants (you can wear shorts if hot, but bring change)
fleece
neck gaiter
gloves
knee brace (if you struggle with your knees)
wind jacket
water bottle or hydration back (there are no water streams on this hike so you need to bring enough water)
lunch
snack (fruit, nuts, energy bars etc)
camera
---
Find the best knee braces for hiking here
---
Can you get altitude sickness during your Veleta hike?
chances are very small, but you could notice symptoms of altitude sickness getting closer to the top because of its high altitude. With any of the below symptoms, turn around to lower altitude and ask for help if symptoms get worse.
Make sure you drink lots of water, eat snacks regularly, and cover your head for the sun, so you don't trigger symptoms because of dehydration or lack of energy. You don't want to mistake it for altitude sickness or visa versa.
A good tip is to walk slowly the higher up you get so you don't pressure your body too much.
Look up for the following signs of altitude sickness:
headache
dizziness
tiredness
shortness of breath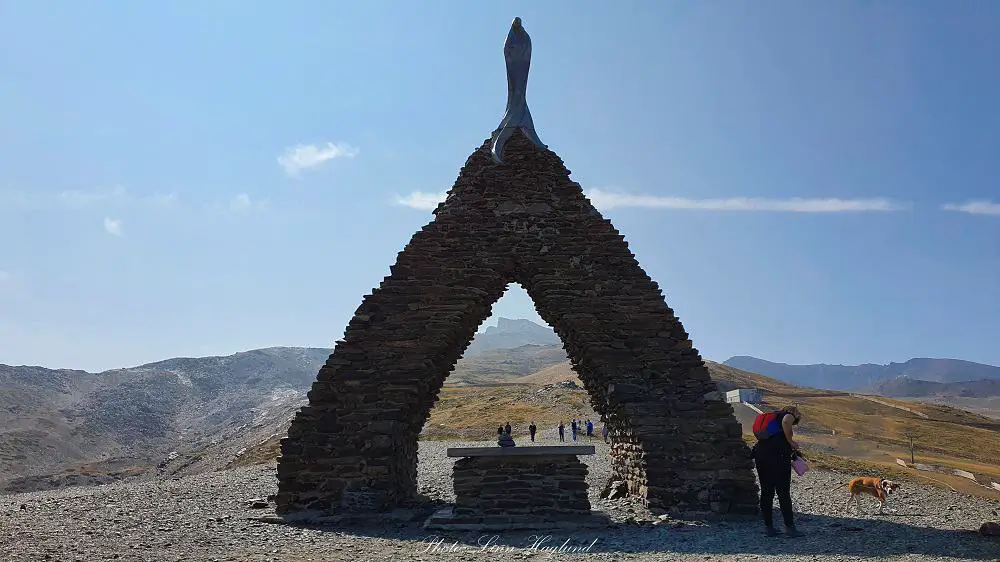 Where to stay when hiking Pico de Veleta
Sierra Nevada
The most comfortable place to stay when hiking Pico de Veleta is the village of Sierra Nevada as it's very close and can easily be used as a base for many of the best hikes in Sierra Nevada.
Where to stay in Sierra Nevada
Apartamentos GHM Gorbea
Situated a short walk from Pradollano square in the center of Sierra Nevada, Apartamentos GHM Gorbea, offer basic apartments with parking on site. This is a great location close to shops, restaurants, and even ski lifts if you want to get a ride up the mountains.
IMPALA
These light and spacious apartments are situated right above the ski lifts. It's hard to get more centrally in Sierra Nevada. You can comfortably walk to restaurants and shops after a demanding hike. There is also parking opportunities.
Granada
If you want to balance your hiking adventure with culture and Andalusian history, Granada is the place for you to stay. With the Alhambra attracting travelers from all over the world, the old town has an impeccable charm and should not be missed when in the area.
Where to stay in Granada
Los Angeles Hotel & Spa
The perfect place with a spa to heal sore feet after a long and demanding hike in Sierra Nevada National Park. The hotel also has a pool which is, let's admit it, the perfect place to chill on a boiling hot summer day in Spain's inland after hiking at higher altitude or sightseeing in 40 degrees.
The hotel is only a few minute's walk from the Albayzín district and about a 20-minute walk from the cathedral. The charming hotel has both restaurant and bar if you're too tired to go out after a day in the mountains.
YIT Casablanca
A more budget-friendly option, that's still modern and clean. centrally situated in the city center and within walking distance to both the Alhambra and the Albayzín district, this hotel also offers private parking.
---
YOU MIGHT ALSO LIKE: How to hike Pico Torrecilla
---
Hiking Pico de Veleta
Tip! Use the toilets at Albergue Universitario de Sierra Nevada (Yellow building by the parking lot) before you start your hike. It's the only toilet there and there aren't many places to hide during the hike. You need to buy something in the bar to use it.
Hiking Pico de Veleta from Hoya de la Mora is not a demanding hike and you see people in most ages take in the challenge. However, it is an endurance challenge and requires that you've got a basic fitness level.
Most of the hike can be done on the asphalted hairpin road. But this isn't the nicest, nor the fastest option. Most hikers walk straight up the hiking trail that cuts through the curvy road. Steeper, for sure, but you save quite a few kilometers and don't have to worry about the shuttle bus running you down or the high numbers of cyclists darting down at frighteningly high speed.
And let's be honest, us hikers love to walk on trails and not roads. Am I right?
After the first 10-15 minutes of walking from the car park, you reach the monument of Virgen de las Nieves. This is a popular attraction for tourists and families, but from there, mainly hikers continue the adventure.
Follow the trail straight up. At the first crossing of the paved road, there are two paths you can continue on. Follow the paved road a few meters to the right and keep going on the path that starts by the large yellow sign saying "Danger Snowcats working keep away from the cable" (this is only relevant in winter).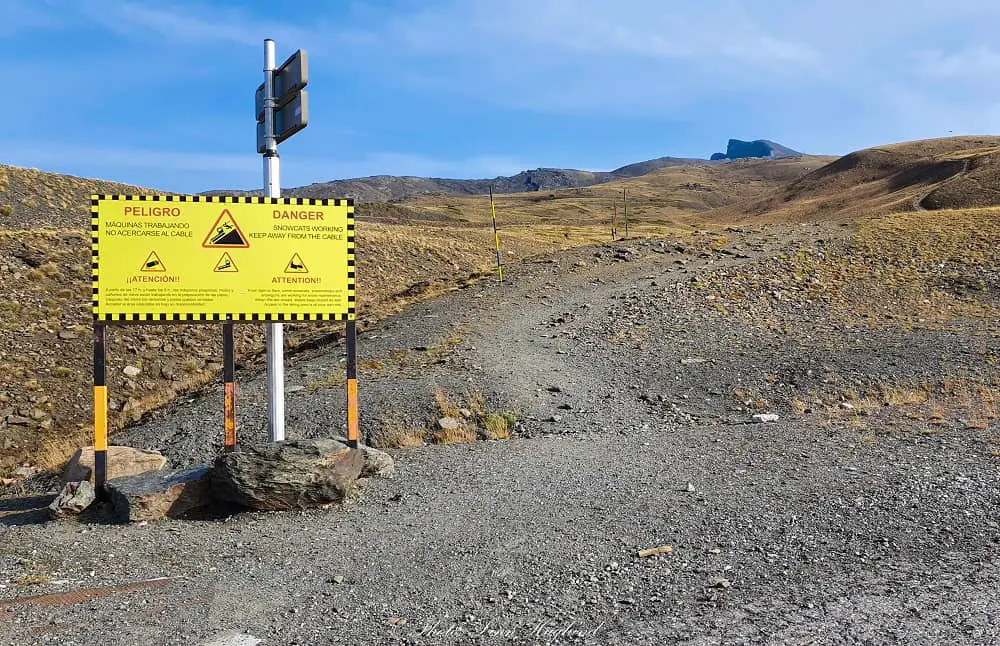 You see the iconic peak with the vertical drop on the left leading the way, that's Pico de Veleta. You might swap between following the trail and the road a few places as you go, there is no right or wrong. If you get tired by the steeper trail further up, you can easily relax your muscles by walking on the road until the next place the path crosses it.
Towards the last bit of the trail, there's quite a bit of scrambling and it gets a lot steeper. If you are worried to see more than one path going up, don't worry, as they all lead to the same peak.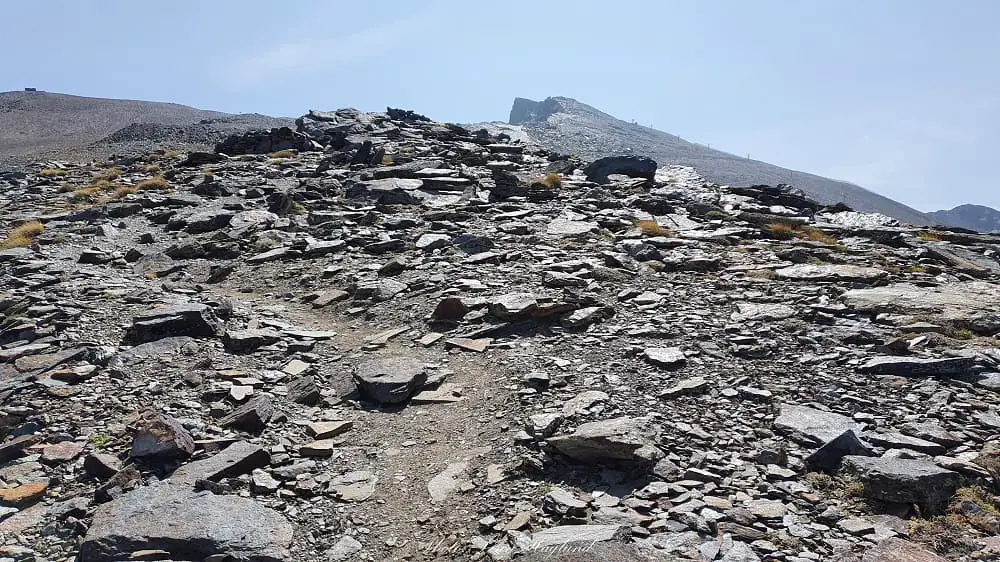 Reaching Pico Veleta
The last scrambling from the top of the chair lift can feel quite hard. Not only is it steep and rocky, but you're getting at a high altitude. You can walk most of it on a dirt road but it will be longer.
Once at the top, you can relax with mesmerizing views over stunningly attractive mountain peaks on three sides, and Granada and the Mediterranean on one side. On a clear day, you can actually see all the way to Africa. That's pretty amazing!
You could almost say you're on top of Spain, but that would be if you hike 2.5-3 hours ahead to Mulhacen that you can see beautifully surrounded by other peaks, yet another great Granada hiking adventure.
Hiking the two peaks, is perfectly doable either as a long and hard day trip, starting very early, or as an overnight trip sleeping in the Refugio-Vivac de la Caldera (3065 masl).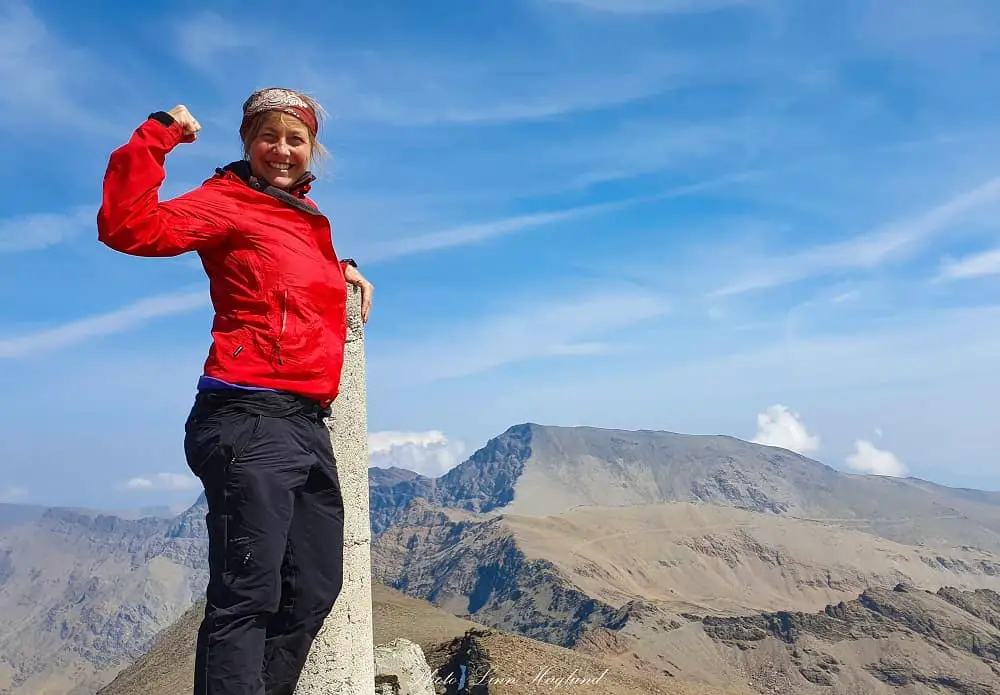 Other options for reaching Pico de Veleta
Chair lift
From mid-July to the beginning of September, it's possible to take the chair lift from Sierra Nevada up to 2900 meters of altitude. From there it's only the last scramble up to the top. This is especially popular with families with younger children that can't walk for that long.
Chairlifts open at 09:45 in the morning and the last one goes at 17:45. However, the last descent is at 18:00, so unless you plan to walk down, I recommend you don't go any later than 15:30 if you want to walk leisurely up to the peak and stay there a bit before walking down.
Micro bus
There is a microbus that can take you from Albergue Universitario at Hoya de la Mora, up one of Europe's highest paved roads, almost up to Pico Veleta. It drops you off only a short walk to the top of the peak.
This is the only vehicle allowed to drive in the national park above Hoya de la Mora (except emergency vehicles and park authority vehicles) and is served by Sierra Nevada National Park.
I recommend you book in advance, as the seats fill up quickly. They run between June and October, 08:00-18:00. You can find updated contact information for booking the bus here.
Other hiking routes to Pico de Veleta
The route described in this post is the easiest hiking route from Hoya de la Mora to Pico Veleta. But there are a few other alternatives if you're looking for a more challenging outdoor experience. I have not done any of them (mainly because of vertigo and I'd have to go with a guide to handle the climbing/abseiling bits).
North Couloir: Includes abseiling on the north ridge and the path is extremely steep and narrow as it follows the mountainside. It requires some scrambling or even climbing the last bit and can get iced.
Olmedo: Rises from the end of the North couloir, requires climbing, and can be iced.
Fidel-Fierro: Involves climbing and scrambling the last bit on the southern face.
Silvia: Another rocky route that requires climbing with 5 rope pitches on the north cliffs and westwards.
If you choose to combine Veleta with other nearby peaks like Mulhacen, you can stay in one of the free or paid refuges or wild camp along the way.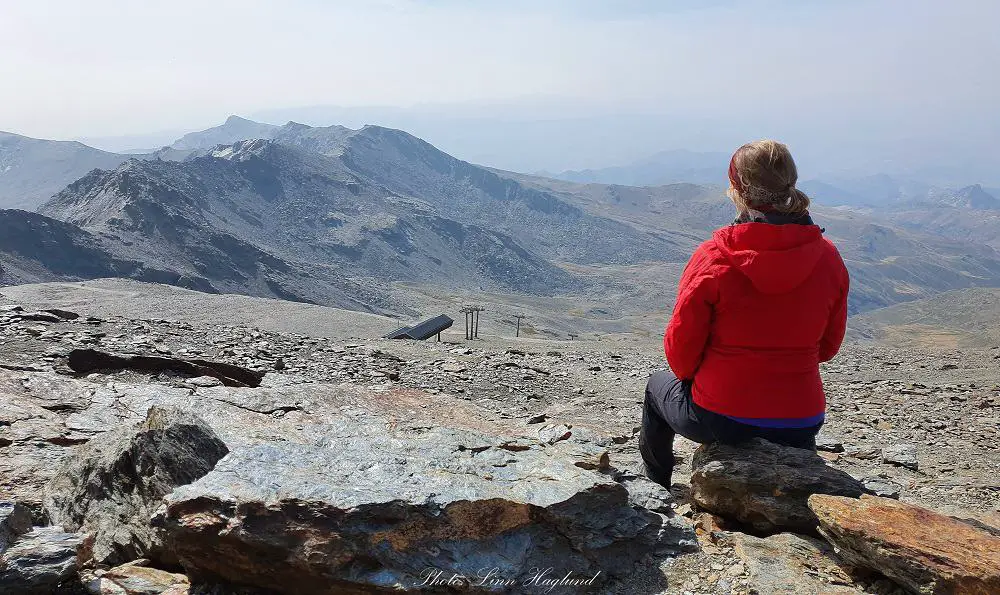 Reflections of Pico de Veleta hike
There is no doubt that hiking Pico de Veleta is a true bucket list experience. It feels pretty good to reach that height on such a short hike and without further difficulties. However, if you suffer from a "hiker's knee", make sure you bring a knee brace. You can find my recommendations here.
Walking up what are the popular ski slopes of Sierra Nevada in the winter months is pretty cool and there are reminders all over the trail.
Make sure you respect nature and don't leave any rubbish behind. Rule number one in nature, take with you back anything you took with you out there. And pick up if you see other's rubbish laying around.
And let's talk toilet paper. I see a lot of toilet paper lying around and it shouldn't lay around. Bring a rubbish bag where you can put used toilet paper. I use biodegradable poop bags (that belong to Ayla) since I always have them laying around pockets and backpacks.
Sierra Nevada definitely has some of the finest hiking trails in Andalucia so do your part so we can look after this beautiful piece of nature.
Other hikes in Sierra Nevada: