Lavaderos de La Reina is arguably one of the most astounding hikes in Granada. Taking you across green meadows crisscrossed with glittering water making a heaven on earth to grazing cows.
You'll be left with that Sound of Music feeling accompanied by the cowbells and trickling water while insects chant intensively as they skip from flower to flower beside the trail.
If you're anything like me, these mountains will make you laugh out loud of pure joy – and very likely skip around in a Sound of Music dance.
Sierra Nevada truly has an edge of magic, and when you find yourself in the middle of a contrasted landscape where naked rock transports rushing water that gives life to green grass, plants, and wildlife, there's only one thing to do. Go hiking and soak it all in.
Lavaderos de la Reina means Queen's Washing Place. Legend says that the Queen of Belgium used to visit this place with her king. She would tell him that if a queen comes here to wash, she will become nobler. Thus the name of this mesmerizing corner of Sierra Nevada.
Does this hike sound like something for you? Well, here is everything you need to know to do the trek.
Disclosure: This post may contain affiliate links. That means that if you make a purchase through one of those links, I will get a small commission at no extra cost to you.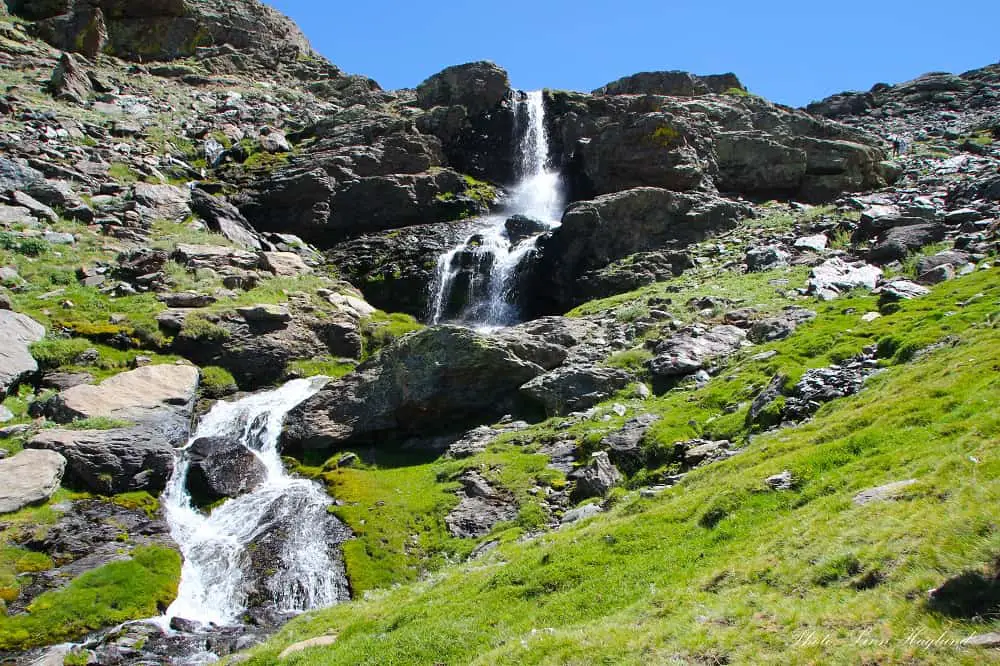 Practical information
Province: Granada
Mountain range: Sierra Nevada
Length: 19.5 km
Time: 8-9 hours
Elevation: 688m
Altitude: 2655m
Route: Circular
Difficulty: Moderate
Hiking season: Spring to Autumn
Hiking with dogs: You can take your dog hiking Lavaderos de la Reina, but as you're in the National Park, it has to be in a leash at all times. This hike doesn't have any pine trees (thus no pine processionary caterpillars) and can therefore be done safely throughout the spring with your fur babies. However, there are usually large groups of cows below and above the waterfalls so keep your distance when walking with dogs. Read everything you need to know about hiking with dogs here.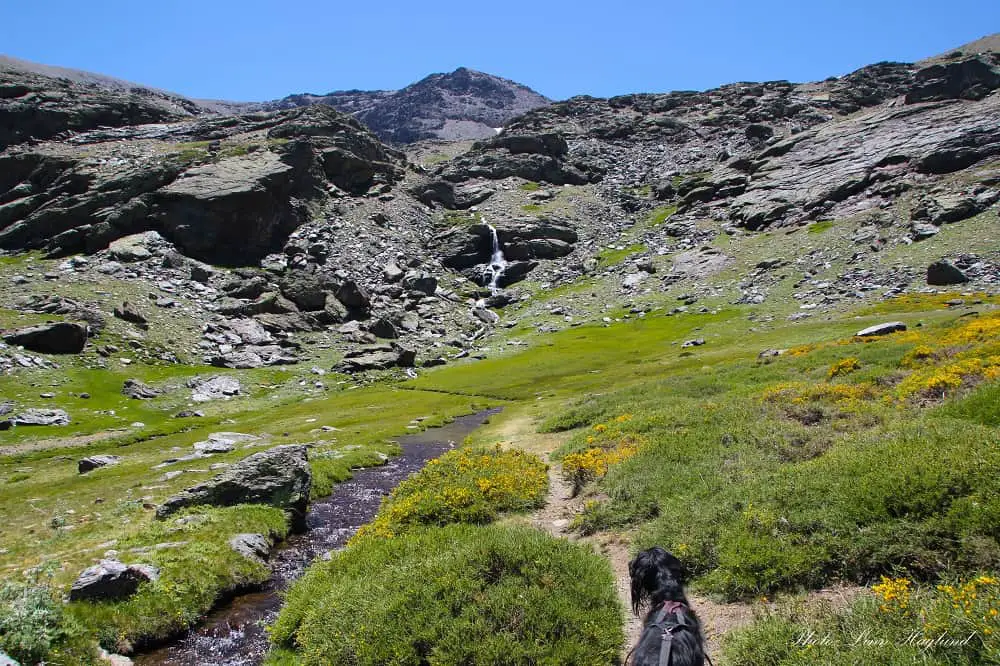 How to get to Lavaderos de la Reina, Granada
Getting to the trailhead of Lavederos de la Reina, Granada, is only possible by car. You can easily plot in Lavaderos de la Reina in your GPS, but it will take you the long way around. A road I was recommended NOT to take by the locals. And I drive a pretty sturdy van.
So, why do I still recommend you plot your destination into the GPS? Because it will get you correctly past the village of Güejar Sierra.
Once you've passed the village and started winding down the narrow road on the side of the mountain, you'll reach "a low" where you start climbing up the other side of the valley.
From there, you can turn off your GPS. Keep climbing for a while, but be aware of a left turn where there is a dirt track going to the right (straight) up the mountain. There are hiking trail signs and a large metal sign in the entry. See the picture below. This is where you need to turn it off.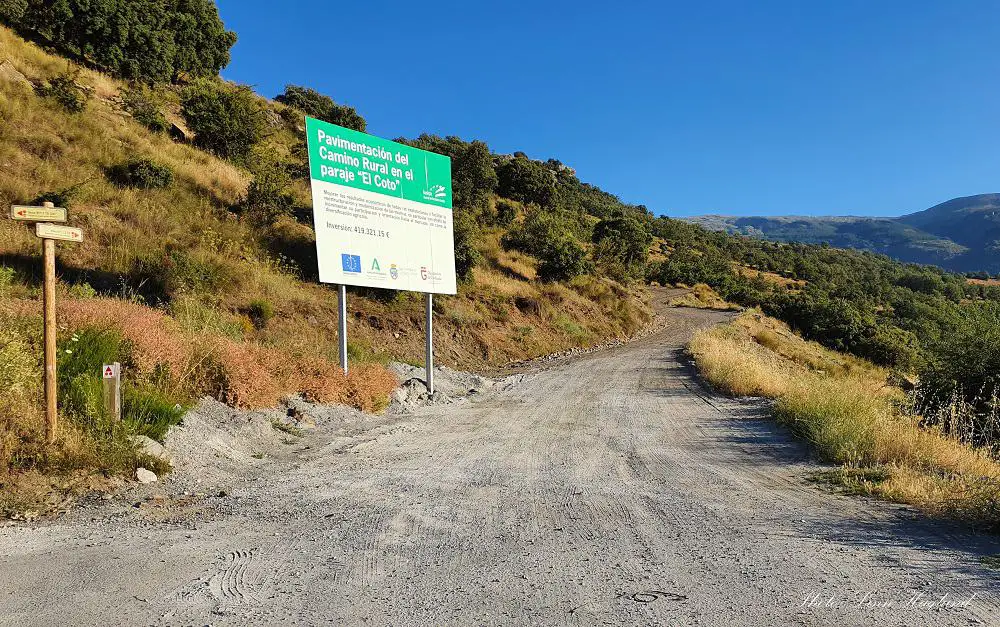 Once you turn off to the dirt road, follow it all the way to the top. You'll continue past a watch house on your right side and continue a little further until you reach several parking areas on the side of the road.
At the end, the road is blocked and you'll have to continue on foot. This is where the hike starts. It takes about an hour to drive from Güejar Sierra to the trailhead.
It's possible to do with a regular car, though weather conditions might make the road worst if for instance a lot of water runs down the dirt track.
For that reason, I can not guarantee that you get up there without issues, but personally, I've never encountered issues.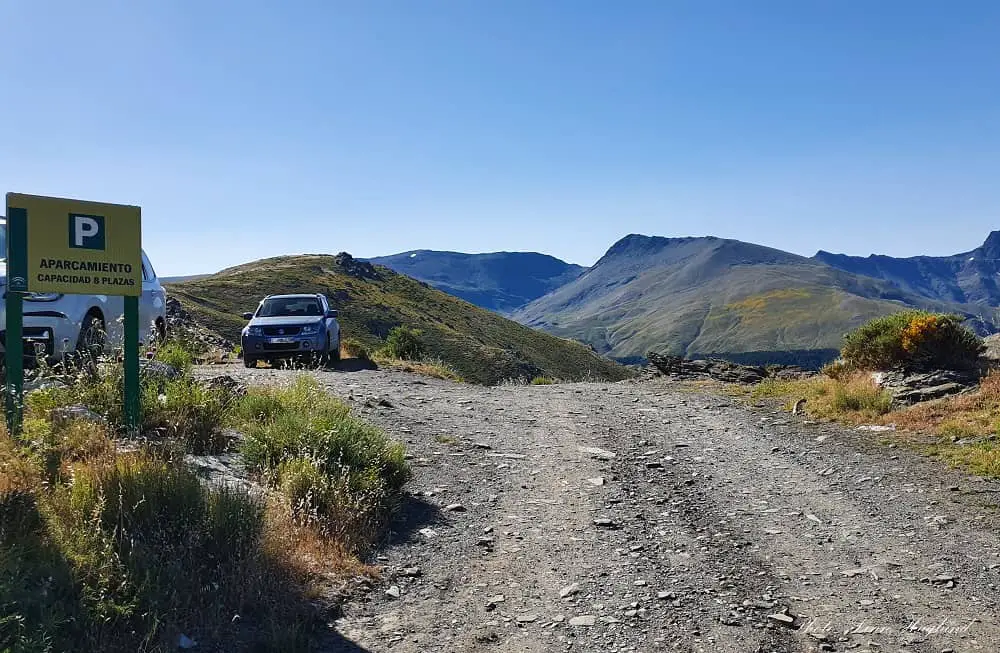 When is the best time to hike Lavaderos de la Reina
The absolute best time to hike Lavaderos de la Reina is late spring and early summer when the snow is melting from the high Sierra filling up the waterfalls.
That said, this is a hike you can do throughout the summer as long as you're prepared for the sun, wearing a hat, and sunscreen, and bringing plenty of water.
I would probably avoid the month of August due to the heat, since it's not as high up as other hikes in Sierra Nevada. Here are my top tips for hiking in hot weather.
But getting into September and through to November when the snow comes, it's beautiful to walk there even though it might be less water than in spring.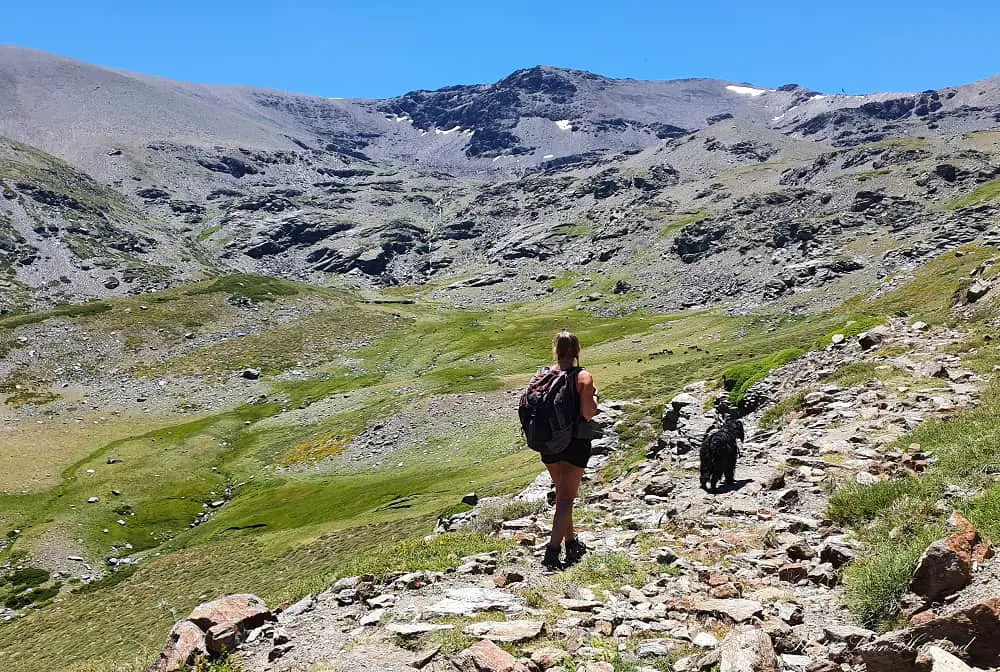 What to bring when hiking Lavaderos de la Reina
Lavaderos de la Reina is a long hike that is not necessarily hard, but the climb up along the waterfalls requires a little effort. That said, there's no shade and it can be a strenuous hike if you're not used to hiking.
Make sure you cover your head with a hat or caps on a hot day and that you have enough water – also for your dogs if you take them. You can fill up on the way, but it's highly recommended to use purifying tablets or use a LifeStraw or SteriPen to purify it.
I highly recommend bringing hiking poles, mostly due to the hike's length. If you need a sturdy, low-budget hiking pole, check out my Hiker Hunger trekking pole review.
You'll also need good hiking boots for this one. Make sure they're enough used so you don't get blisters – but just in case, you should bring blister plasters in your emergency kit.
You can read more about what I recommend bringing for a day hike here.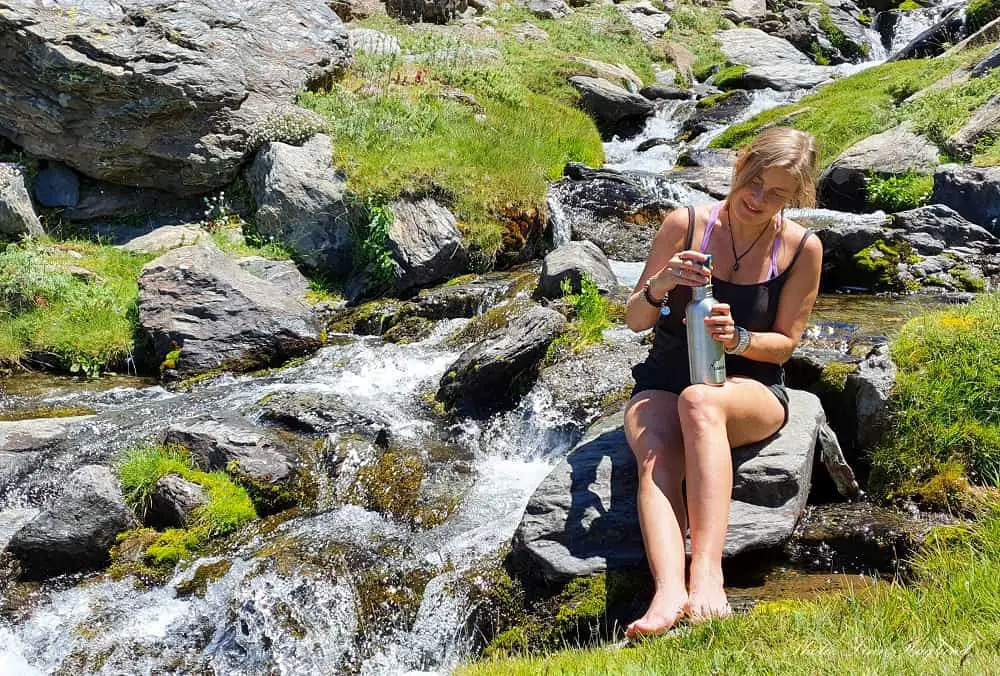 What to bring for Lavaderos de la Reina hike:
Water (3L water bladder)
Lunch
Snack (nuts, dates, fruit, energy bars, etc.)
Hiking poles
Hat/caps
Sunscreen
Emergency kit
Camera
Hiking boots
Extra layer of clothes (shorts/hiking pants, t-shirt/long sleeve, windbreaker)
Neck gaiter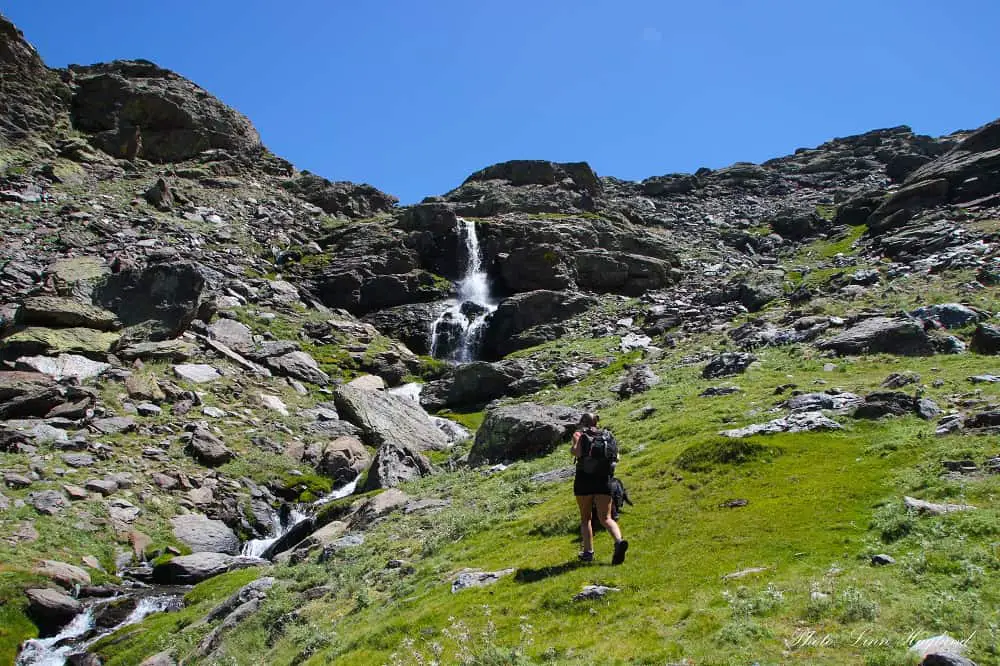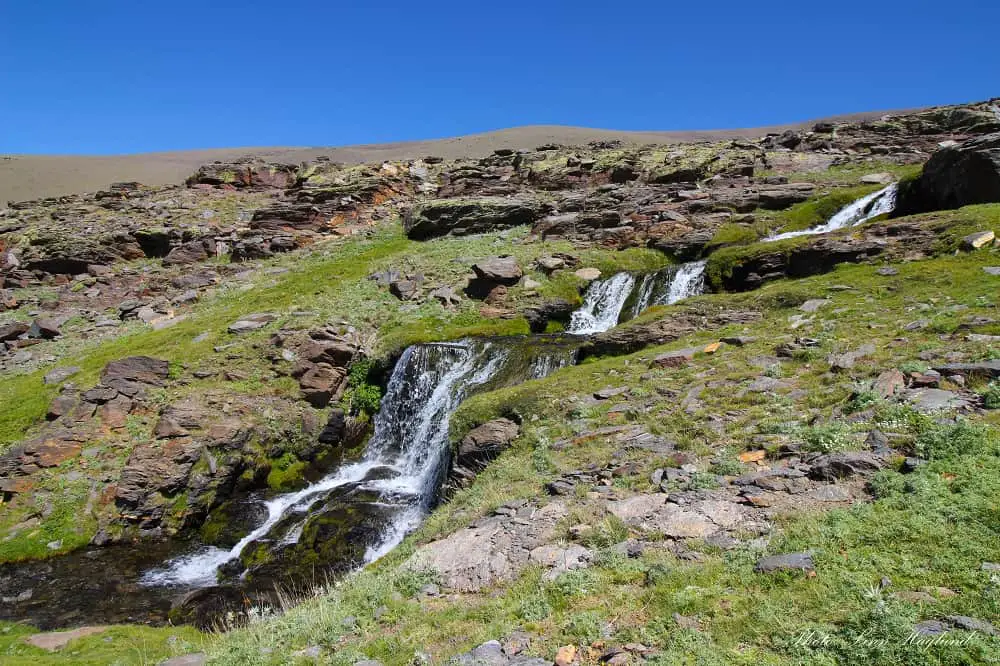 Where to stay
Güejar Sierra is a nice place to stay when hiking Lavaderos de la Reina and other nearby hikes like Vereda de La Estrella.
Hotel Rural Fuente La Teja is a nice rural hotel outside the village with an outdoor swimming pool. It takes about an hour to drive to the trailhead from the hotel.
Alternatively, stay in Granada where you'll have major tourist attractions like the Alhambra available and other great hiking routes right at your footstep, like Los Cahorros de Monachil. It takes about 1.5 hours to drive from Granada to the Lavaderos de La Reina trailhead.
A good place to stay is Hotel Inglaterra in the city center within walking distance to the major tourist attractions.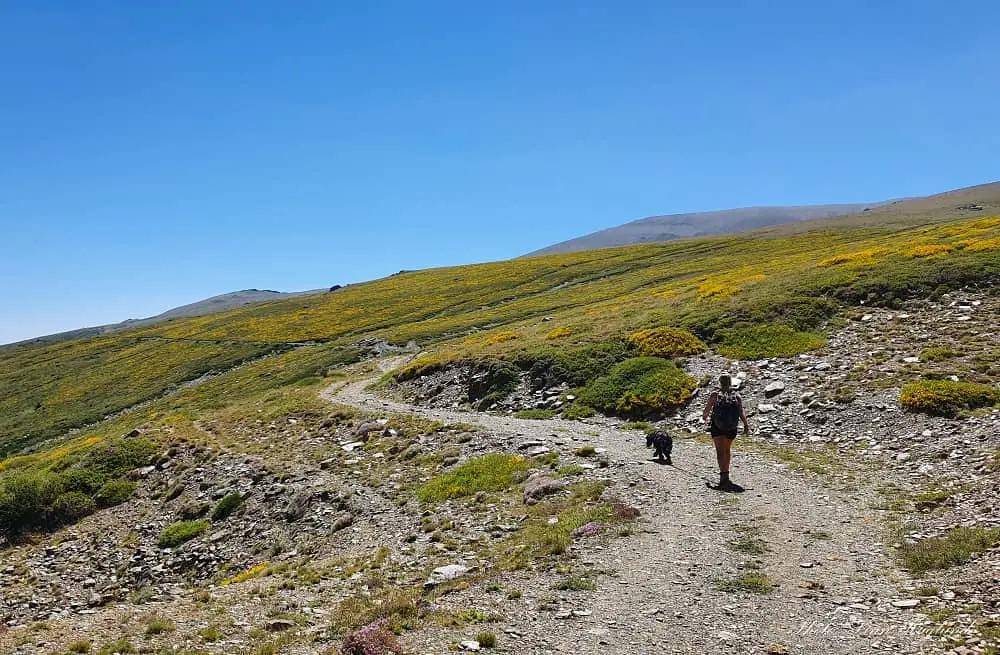 Hiking Lavaderos de la Reina
Starting at the trailhead from the parking, keep walking on the dirt track past the roadblock. There is a trail going to the right side up the hill. Many hikers choose to walk there and do the trail the opposite way from this guide (you can do that too if you want and walk down the cascades).
But following this guide, you'll get back down that trail. Personally, I love the views of the cascades as you walk towards them from the bottom.
Keeping on the track for a while, there will open up a trail going to the left (straight) in a sharp right turn. You can either walk in there or the next left turn that you come over.
They both take you to the same trail that continues around the mountain, crosses the first river and natural water source, before opening up to the view of the green meadows, cows grazing, and the naked mountain on the other side, where you can see the impressive Lavaderos de la Reina cascade down to form rivers in different directions.
Walking along the river, the trail soon becomes a little less obvious, but with the waterfall in sight, you just need to head toward it.
Up along the multiple cascades that together form Lavaderos de la Reina, you'll have to follow the trail on their right side. There might be some light scrambling in some places, depending on the turns you choose.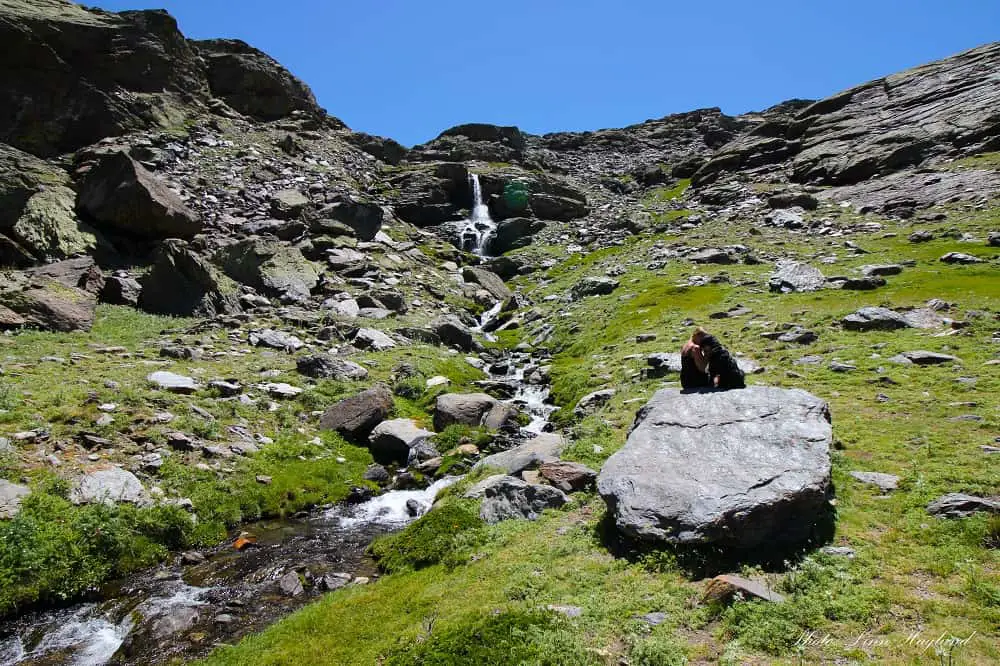 Finding the way back down
Nearly at the top, you'll find three small falls that look quite similar. Wide and short, falls. By the top one, you have to turn right away from the falls to loop back again.
This is the only place along the trail where it gets a little tricky to follow the path as it disappears.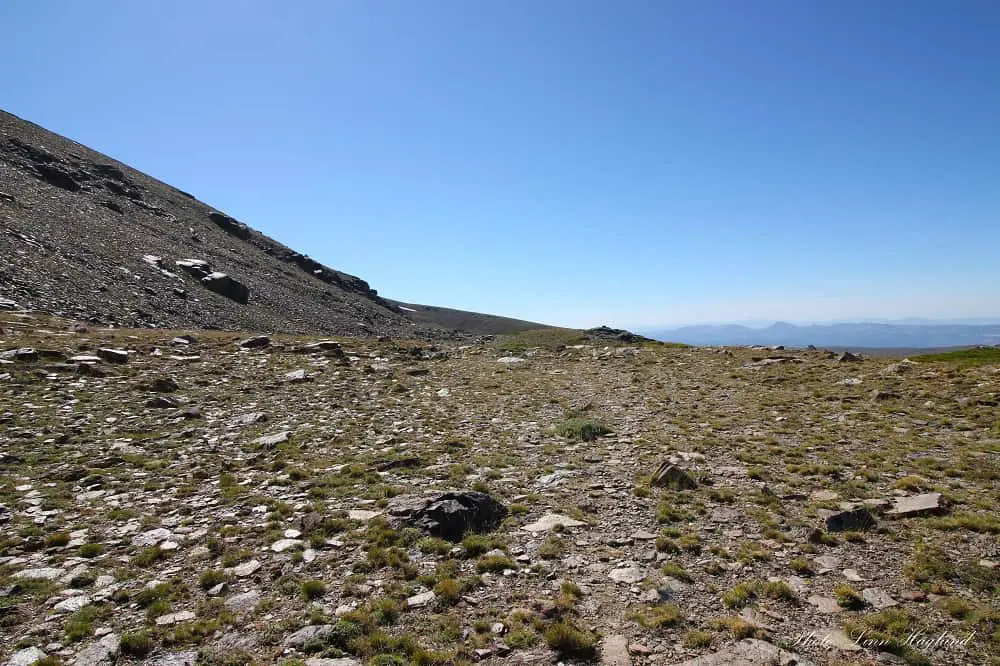 If you walk all the way to a large, flat meadow where the river flows widely and a different fall is at your left side, surrounded by little hills on your right and a hostile mountain wall in front of you, you've walked too far up. Turn back down again, look for the small, wide, flat waterfalls and turn left.
You're going in before the little hills that will be in front of you on the right side of the waterfall and river. Keep walking straight to the right, you'll probably find the trail for a short period before it disappears again.
As you walk further, you'll see a trail heading up towards the right over the hill right in front of you. That's the one you're aiming for.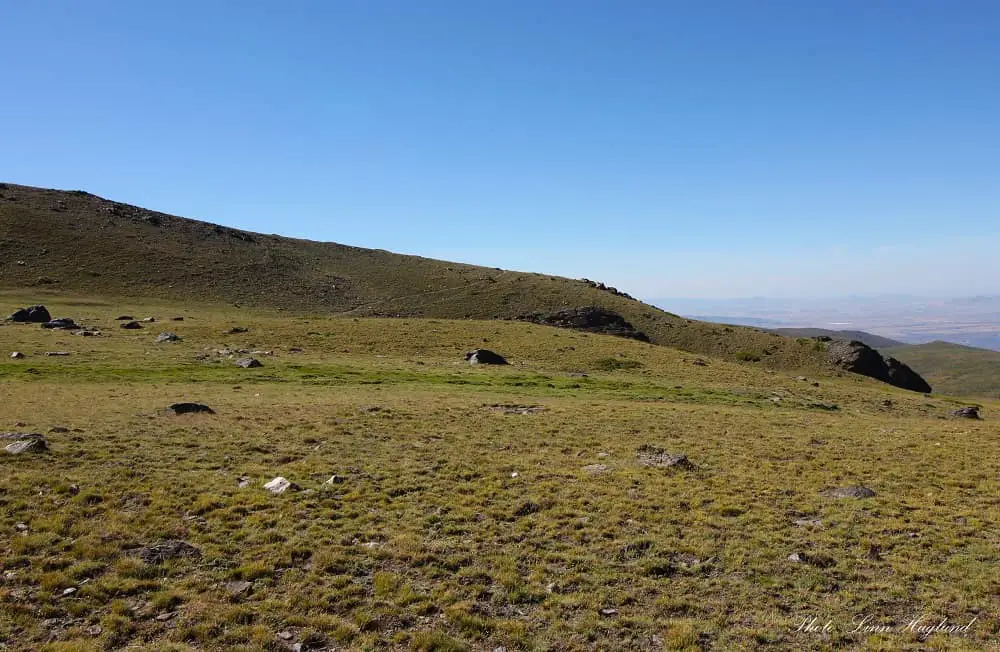 Once you've climbed it, the path is easy to follow the rest of the way. You'll get back on the dirt track, and after a short walk on it, there is a trail taking you on the left side of the track that you can follow through vivid vegetation all the way down until it meets the track near the beginning of the hike.
You're nearly back at the car.
Reflections on Lavaderos de la Reina hike
No denying, Lavaderos de la Reina, Granada, is one of the most astounding hikes in Andalucia. Especially early in the hiking season when the water floods vastly down the mountain, cracking open the white snow, proudly showing off its best side.
Make sure you're well prepared for the hike and don't underestimate the length of it. In case you struggle to find the trail back at the top of the cascades, it's safer to return the same way you came from.
I'm positive you'll love this hike!