When choosing hiking socks, there are a few things to consider to make sure you have a comfortable hike. There's nothing worst than having your socks slip off or getting blisters from wearing too thin socks.
When I had to restock my hiking socks because they were completely worn out, I opted for vegan hiking socks. Simply because I want to make the best impact possible. Protecting animals is a high priority.
Luckily, vegan socks are getting easier to come across. Especially for summer hiking. In winter, you need to look up for wool which is often found in winter hiking socks to keep moisture out and warmth in. But there are many great alternatives, one of my favorites being bamboo hiking socks.
In this post, I'll walk you through everything you need to know about choosing vegan hiking socks as well as the best ones on the market.
Disclosure: This post may contain affiliate links. That means that if you make a purchase through one of those links, I will get a small commission at no extra cost to you.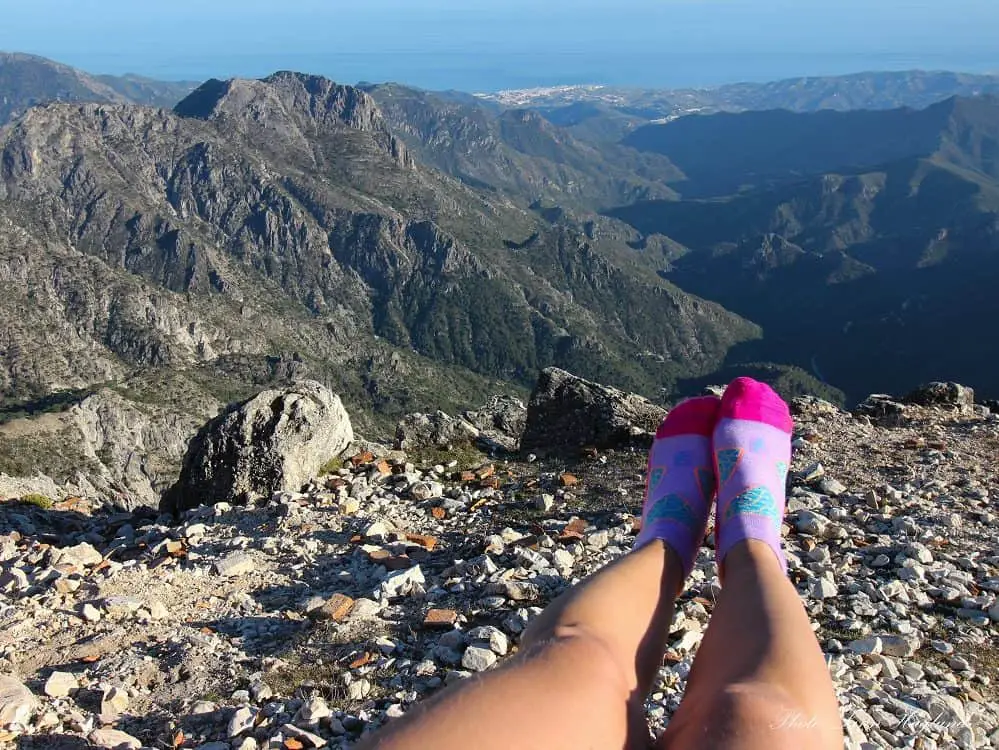 How to know if hiking socks are vegan?
As I've already mentioned, the only material that makes socks non-vegan is wool. Wool in all forms, whereof Merino wool is one of the largely used wool types but there are others like nuwol and wool blend. The latter is wool mixed with synthetic material and is just as much a no-no as any other wool.
Because wool is sheared from sheep, it's not vegan and though there are many opinions on whether shearing sheep is animal cruelty or not, I'll opt out of anything wool-related when recommending vegan socks for hiking.
Vegan sock material
There are a lot of materials used to make socks that are not wool. Some are organic, others are synthetic, and some are semi-synthetic.
Looking at the most used sock material, unfortunately, most of the organically used material is wool. Which, as we've already covered, is not vegan.
So what vegan organic sock materials are there out there?
Hemp, cotton, and flax are organic materials. You'd also think bamboo is. I was horrified to learn the amounts of toxic materials that are added to bamboo textiles. That's why it's seen as a semi-synthetic material.
Synthetic materials that are commonly used in vegan hiking socks are polyester, nylon, acrylic, and elastane.
As you can see, there aren't many organic options to choose from when going for vegan socks, so that's why it's so important to choose durable socks that you can use for years before they see the landfill. And hopefully, with time there will come more natural and cruelty-free options available.
You can read more about the different materials here.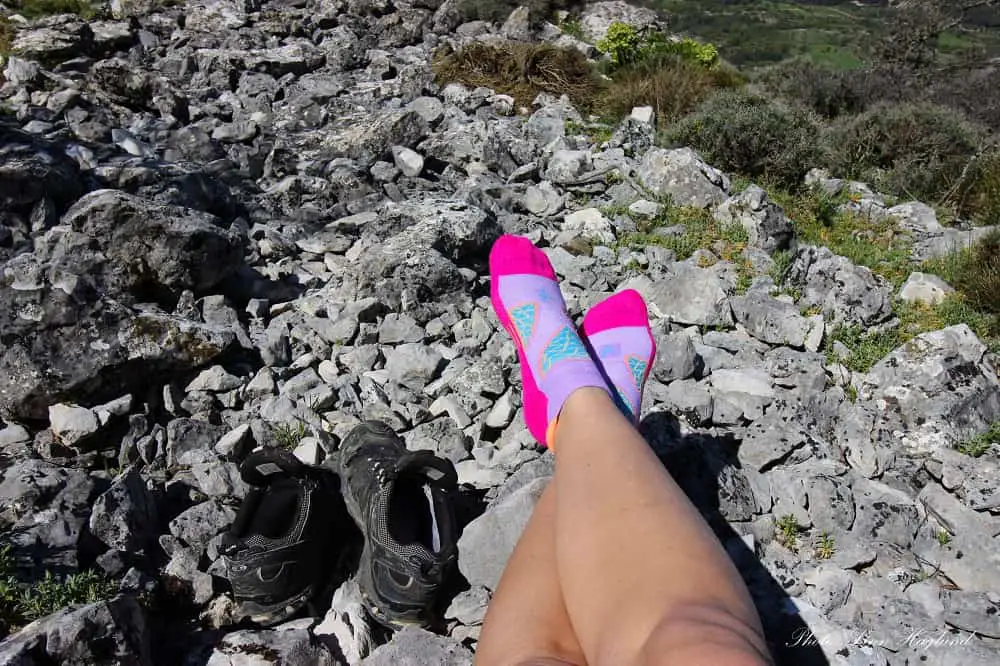 How to choose the best hiking socks
So, what's important to look for when choosing hiking socks?
First of all, are you hiking in summer or winter, how cold or hot will it be?
As an example, here in Andalucia, I mostly use ankle socks for hiking. At least most of the year. But when I go to the natural parks at higher altitudes in the winter months, I need to wear taller socks, and crew socks are my choice so I won't get cold. Those are destinations where it can get frosty and even snow in winter and my ankle socks just won't cut it!
Second, you need to find socks that breathe and that are moisture-wicking so that you don't have to walk around in heavy, wet socks during a sweaty hike. Especially if you're hiking in wet weather.
It's also important that the socks stay on your feet and don't slip down. This is especially annoying with ankle socks, but it can also result in blisters. Which is the last thing you want on a hike. Nonetheless, you should always carry blister plasters in your emergency hiking kit just in case.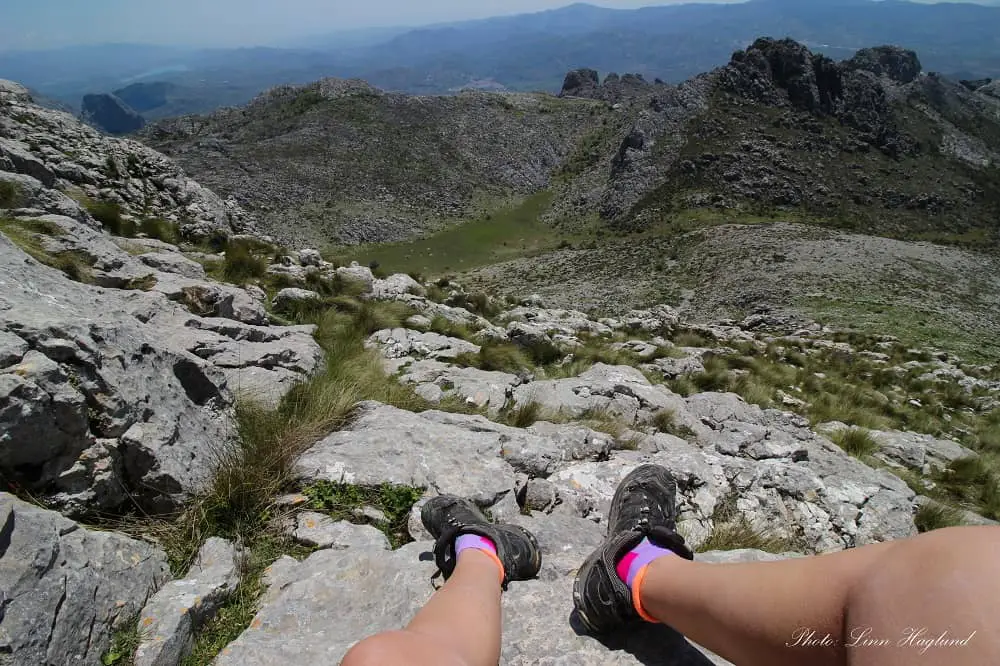 Best vegan hiking socks
Now that you know what to look for in hiking socks, let's have a look at the best vegan hiking socks so that you can find the best ones for you and your needs.
Balega Enduro hiking socks
Balega hiking socks are comfortable wool-free hiking socks. The ankle size are my absolute favorite summer hiking socks to wear with hiking shoes and trainers. They don't slip down when walking or running and they ventilate well staying dry even on a sweaty hike which is essential when hiking in hot weather.
I also love the colorful design – it makes me happy to wear them! But Balega Enduro also has tall socks for winter hiking – or generally colder weather perfect for wearing with hiking boots.
I'll be honest and say there is really nothing that I don't like with these, but if I were to point out one thing it would be that they are a bit thick to wear during Andalusian summers. Yet, they don't feel as warm as they might seem once you start walking, so they still make some of the best hot weather hiking socks.
Bonus when ordering Balega Enduro socks is that you give back for every purchase. Their Lesedi Project assures the support of disadvantaged children in South Africa. You can read more about that here.
However, be aware that not all Balega's socks are vegan, some of the other models have wool in them.
Balega Enduro Women's ankle socks
Balega Enduro Unisex ankle socks
Balega Enduro Men's and Women's
Darn Tough CoolMax Hiking socks
Darn Tough Coolmax are also great vegan socks for hiking. They also have both ankle and crew models, which is perfect for summer and winter.
Especially here in Andalucia, I prefer ankle-length socks when hiking. Only when heading to a higher altitude in the winter months it's necessary with crew socks but both models from Darn Tough CoolMax are super comfortable and don't slip down.
There is nothing really that I don't like about these hiking socks. If I'm to point out one thing, it's that the low cut socks are too low to wear comfortably in hiking boots, in my opinion, compared to the Balega hiking socks that actually can be worn in hiking boots without being uncomfortable.
Also Darn Tough hiking socks have some models that aren't vegan so if you want to look for other models, check for wool before you get all excited.
Darn Tough Coolmax Women's ankle socks
Darn Tough Coolmax Women's socks
Darn Tough Coolmax Men's socks
Sunew Bamboo hiking socks
Another great brand for vegan hiking socks is Sunew Bamboo hiking socks. They are comfortable and sit well on your feet. I love both the tall and low cut. Bamboo is soft with a lot of stretch and naturally anti-odor and antibacterial.
While I think these socks dry very slow compared to other socks after I've washed them, they never feel moist when I wear them hiking, so they're highly breathable. And that's the most important part.
The backside of bamboo socks is that they apparently use a lot of chemicals when producing them. So while they're vegan, they're not as good for the environment as you'd like to think. This was a bit of a drawback for me as I found out after buying them. Nonetheless, they'll be used for many more years!
Sunew Bamboo Unisex ankle hiking socks
Sunew Bamboo Unisex hiking socks
EcoSox Bamboo socks
Another great alternative for vegan bamboo socks are the EcoSox ones. Comfortable and soft, these are great to wear in hiking boots and they sit well on the feet without slipping down.
Again, as they're made of a 78% bamboo, they're moisture-wicking keeping your feet dry throughout your hike. The fabric also keeps you cool in summer and warm in winter.
However, in very cold temperatures they don't warm as much as wool and I've heard from other hikers that they put on a double layer to keep warm. I still haven't had to try them in so low temperatures but it's useful advice and another good reason to have spacious hiking boots.
Again, the drawback with these socks are the chemicals used in producing the bamboo material.
EcoSox Bamboo Unisex
Thorlos hiking socks
Thorlos hiking socks are also a great alternative that will keep your feet warm and dry during longer hikes. They also reduce blisters which is great. Personally, I haven't experienced blisters with any of the mentioned models in this post even on long hikes.
These crew socks are good for colder weather and I'll take them up to the higher sierra when hiking in Sierra Nevada in the summer months as they're great for the night as well as early morning and late evening walking if it gets a little chilly.
Thorlos women hiking socks
Thorlos men hiking socks
Reflections on vegan hiking socks
Once you have a few options of vegan hiking socks it isn't as hard to find the right ones for you. I hope you found this guide useful and can make your decision. I know I'm really happy with these socks myself and will add in more once I've tried them out.
MORE HIKING GEAR TO CHECK OUT:
Pin it for later!