Huelva isn't exactly famous for high, challenging peaks. It's actually to the point that you'll be warned about an extremely long and steep uphill when it's nothing worse than walking the hill from my local supermarket. This means that hiking to the top of Huelva is a fairly easy challenge that anyone can take on.
Bonales, also known as "techo de Huelva" aka "roof of Huelva", is situated as far north as you can come in the province, bordering Extremadura. You can easily walk across the border to the top of Extremadura on the same day, to Tentudia (1112 masl).
This guide, however, will concentrate on how to hike Bonales, a beautiful day hike in lush nature through a stunning and lesser-visited part of Andalucia. An initial walk through idyllic farmland passing goats, sheep, pigs, and horses turns into lush forest trails, tracks, and open hills with astounding views. You might even meet cows roaming free in the wild flower fields near the top.
While the path isn't always well-marked, I'll highlight the places where I found it easy to get confused so that you can confidently reach the top without getting lost.
Disclosure: This post may contain affiliate links. That means that if you make a purchase through one of those links, I will get a small commission at no extra cost to you.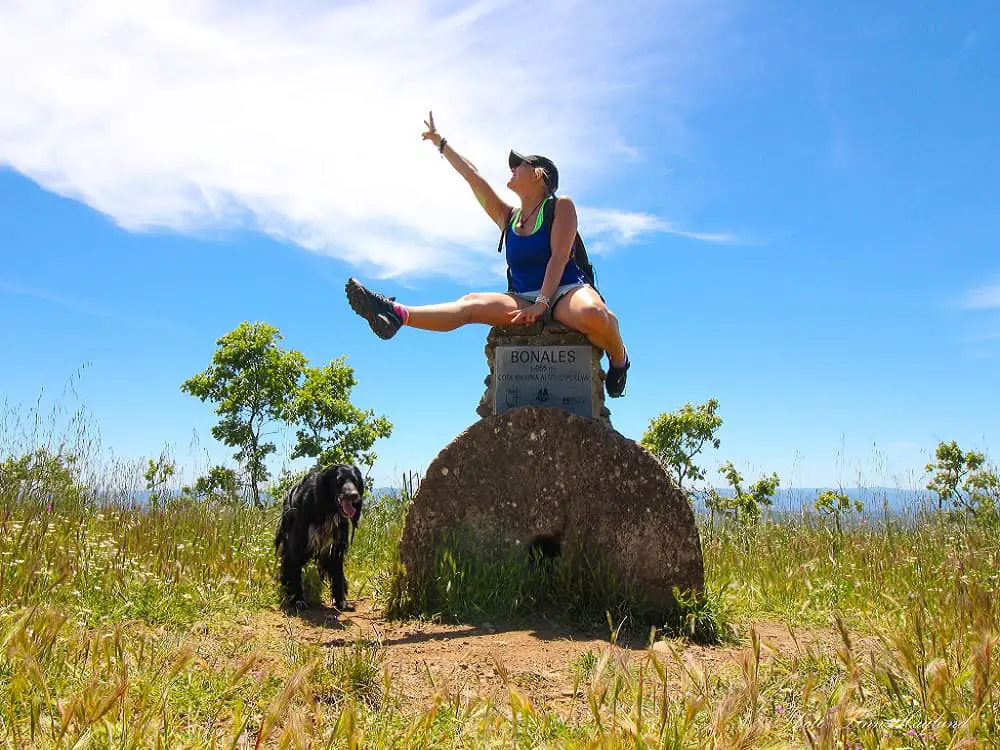 ---
Practical information
Province: Huelva
Length: 16 km
Time: 5-6 hours
Altitude: 1055 masl
Elevation: 630 m
Route: Linear return
Difficulty: Easy to Medium
Hiking season: September to mid-June
Hiking with dogs: It's allowed to hike with dogs and the good news is that there are no pine trees, thus no processionary caterpillars so you can safely bring them all year round. Bring extra water, though, there is only one river on the way that might dry up parts of the year.
---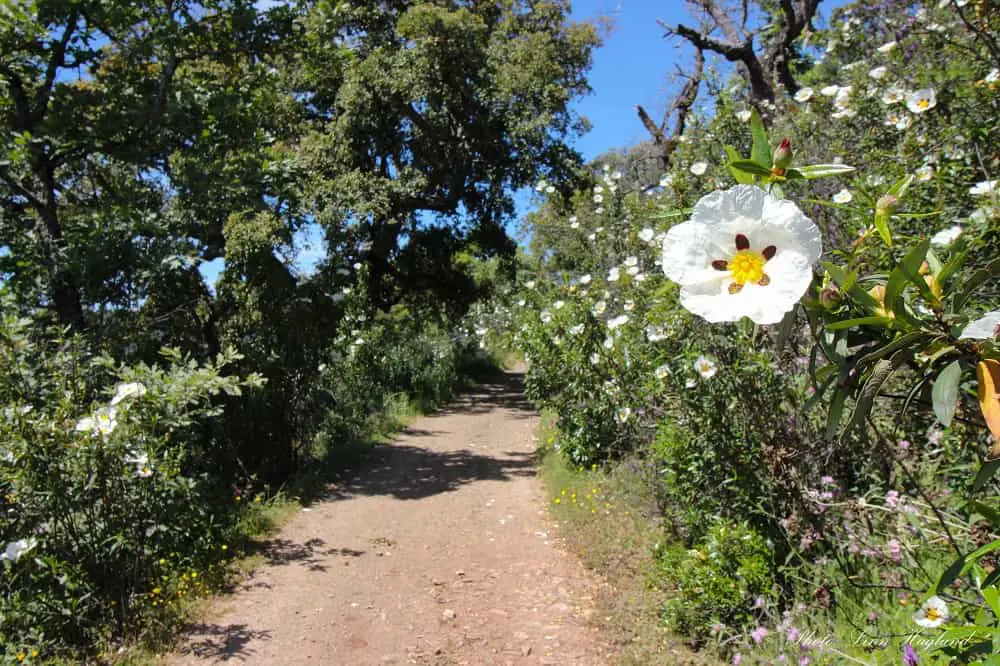 How to get to Bonales
The first piece of advice I can give you when you want to hike Bonales is to NOT follow the GPS to the trailhead. It will get you completely lost! And I'm talking half an hour on a dirt track where you shouldn't take your car unless it's a 4×4 or an hour or more along the normal roads.
So how do you get to the trailhead?
The trail to Bonales starts in the cute little village of Arroyomolinos de León. It's easily accessible by car and there is plenty of parking along the roads in the village. The hike starts by the church, Iglesia de Santiago El Mayor, so try to find parking no too long from there.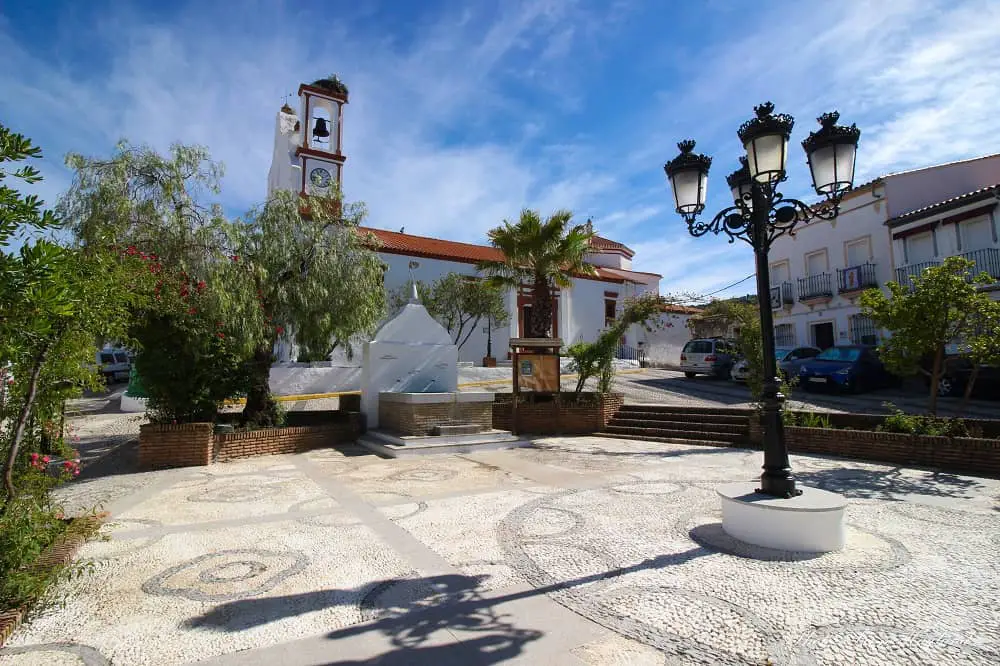 I found it easy to park in the main street that goes through the village and from there it was only about 5 minutes walk to Plaza de la Iglesia, the square in front of the church.
Public transport is not the best but you can get buses from Seville that take approximately 1,5 hours. From any other city, you'll have to change buses in Seville.
When you get to Iglesia de Santiago El Mayor, follow its right walls between the square and the church along a narrow street that turns left behind the church and keep walking on this road through houses and soon farmland.
---
Going on a hiking date? Bonales is a great hike for that! Read all my tips and tricks here.
---
What to bring
Parts of the trail to Bonales are highly exposed to sun and wind, so make sure you have sun protection and if there are chances for wind, especially in the winter months, bring a windbreaker too.
It's a long walk, so hiking poles might be useful, and as the vegetation is quite thick in places covering the trail, they can also come in handy to move spiky branches.
You also need to wear good hiking shoes. Because of the vegetation, I don't recommend wearing sneakers where spikes get through easily on this hike, it could make it quite uncomfortable at times.
For the same reason, you might prefer to wear hiking leggings or long hiking pants to avoid rough vegetation on your legs, even when hiking in the heat.
See my recommendations for day backpacks here or my review of the Osprey Sirrus 24l backpack here.
Things to bring on your hike to Bonales:
Water
Lunch
Snacks (nuts/dates/fruit/energy bars)
Sunscreen
Hat/caps
Neck gaiter/buff
Layers of clothes if the weather changes
Recommendations for this hike:
---
READ: Best gifts for hikers
---
Where to stay
The closest place to stay when hiking Bonales is around Arroyomolinos de León. While there are not a whole lot of places to stay in the actual village, you can find some privately rented houses like this one.
As an alternative, stay in the quaint town of Aracena, where there are a lot of fun things to do and a vibrant tapas culture. It's only 45 minutes to drive to Arroyomolinos de León from Aracena.
Here are my top choices in Aracena:
Hotel Sierra de Aracena
This is a budget hotel in the heart of Aracena. There are parking spots in the streets around the hotel, though some of them are paid, but others are free. It's a comfortable hotel to stay in my opinion and dogs are allowed.
Hotel Galería Essentia
This quirky boutique-style hotel is a great option in the center of Aracena. They have a pool, which is perfect on those hot days and there is private parking for an extra cost if you want to avoid parking in the streets. Each room is decorated differently so it's definitely a place to remember.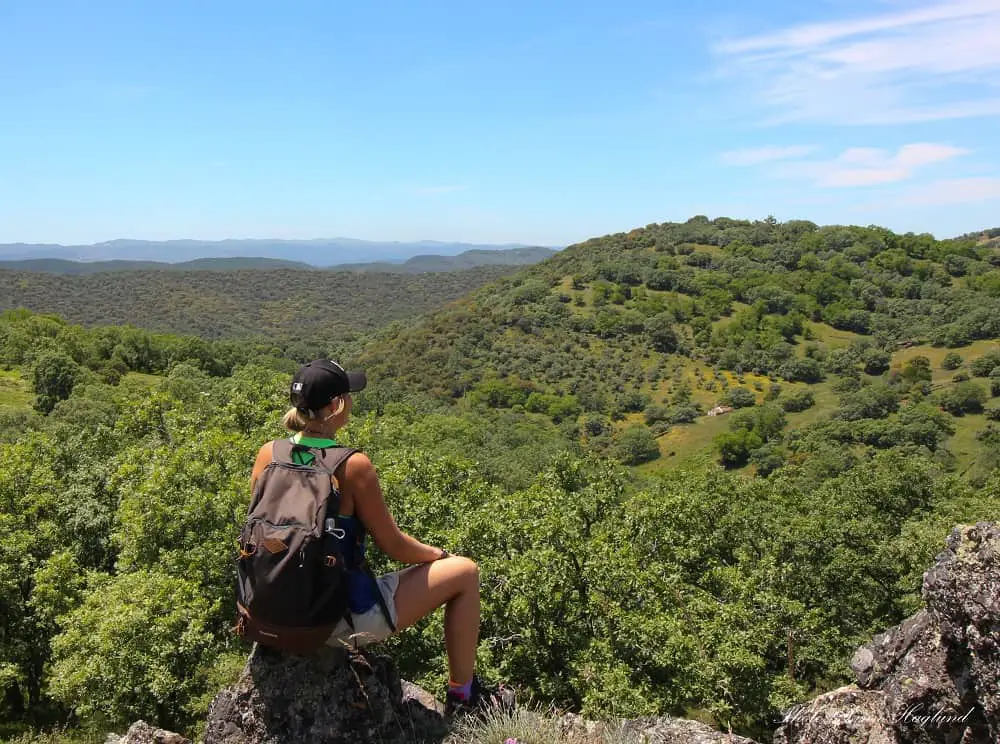 ---
Other hikes in Huelva:
---
Hiking Bonales
Once you've caught the street on the right side of Iglesia de Santiago El Mayor, follow it towards the left behind the church and keep going. Farmland will soon open up to your right and shortly after to your left.
Once the narrow road takes you past a pig farm on your right, there is soon a junction where you need to turn right. You'll soon pass the village cemetery walls.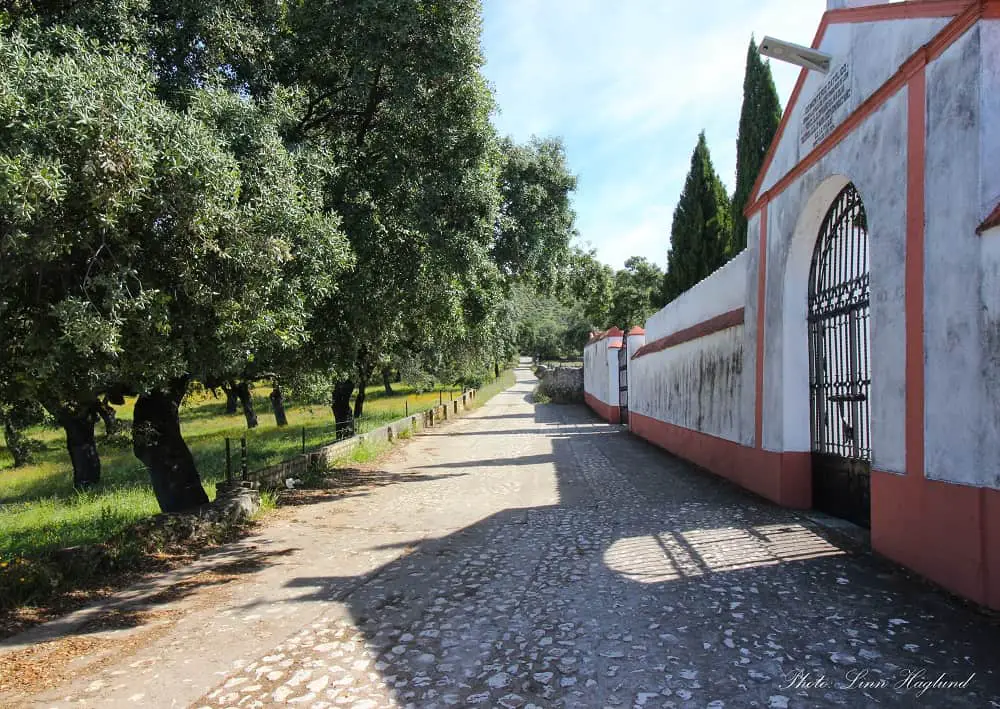 Follow the road to the end where it turns right and soon becomes a trail. Shortly after you'll see a narrow trail following straight ahead and the broader path turning left.
Follow the big path up to the left. There are yellow and white trail signs painted on the rock wall to follow. This path will eventually lead you to a dirt track where you have to turn right. There is a wooden pole marked Bonales there.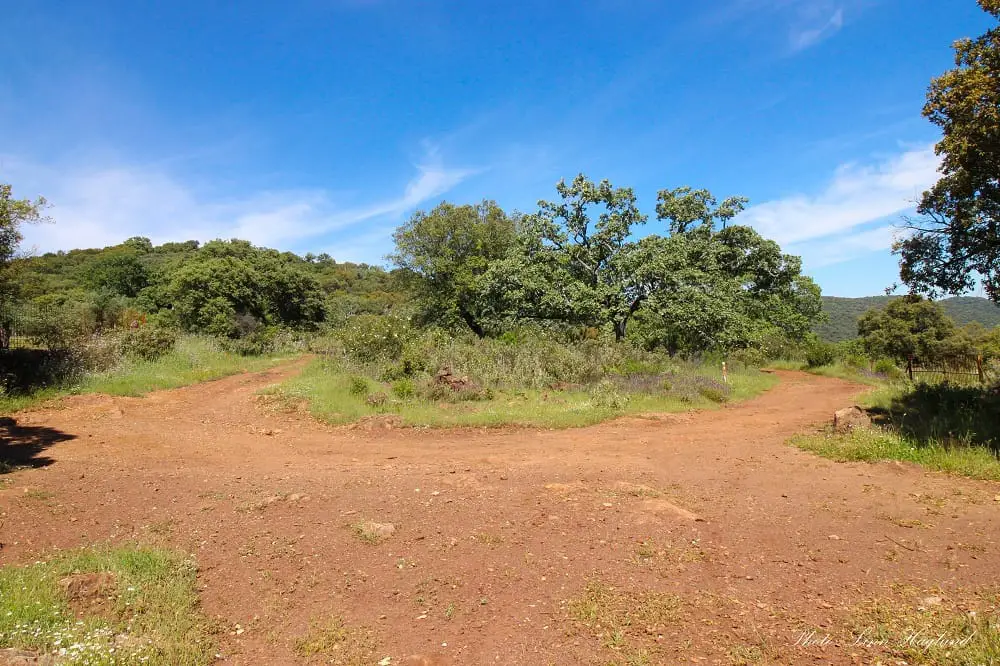 At the next junction you also have to turn right and shortly after, there is a path to the left from the track you're walking on. This is actually pretty well marked with a pole and signs hanging in a tree saying Bonales and Tentudia with arrows to the left.
Follow this trail straight. There is a gate a few hundred meters down. If it's locked, open it and pass, if it's already open, make sure you close it after passing. After following the path covered in thick vegetation you'll get to a dirt track junction where you continue straight.
At the next junction, there are signs to Tentudia straight and Bonales to the left. After following a clear track upwards for a bit enjoying the valley views, the trail becomes more unclear. Passing some ruins on your left-hand side, you need to turn up a badly marked trail on the right. You'll see it's a junction, though not well marked. There is a wooden trail marker with a cross showing that the trail doesn't go straight down. You can also see the track farther up past the badly marked path you have to take.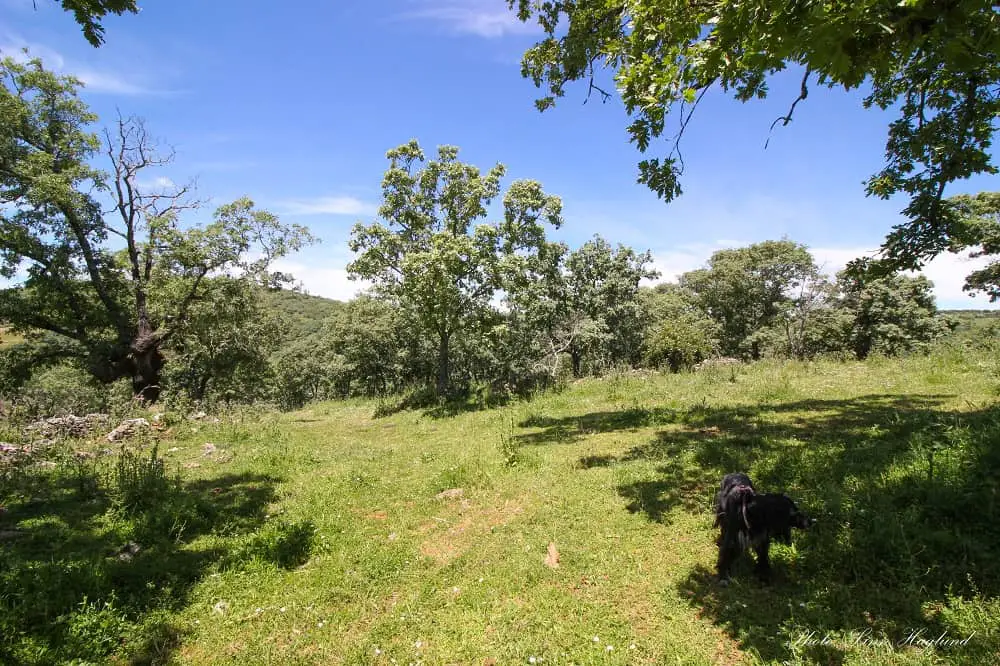 Not long after, you'll get to a dirt track forming a U-turn/fork where you walk right, and shortly after you'll get to a fence with a gate blocking your path. There are no signs, but you need to open the gate (and lock it behind you) and there are only a few meters until you're at the top and the summit marker is on the right side in the middle of the vegetation. You're at the top of Huelva Province!
To return to Arroyomolinos de León, walk back where you came from.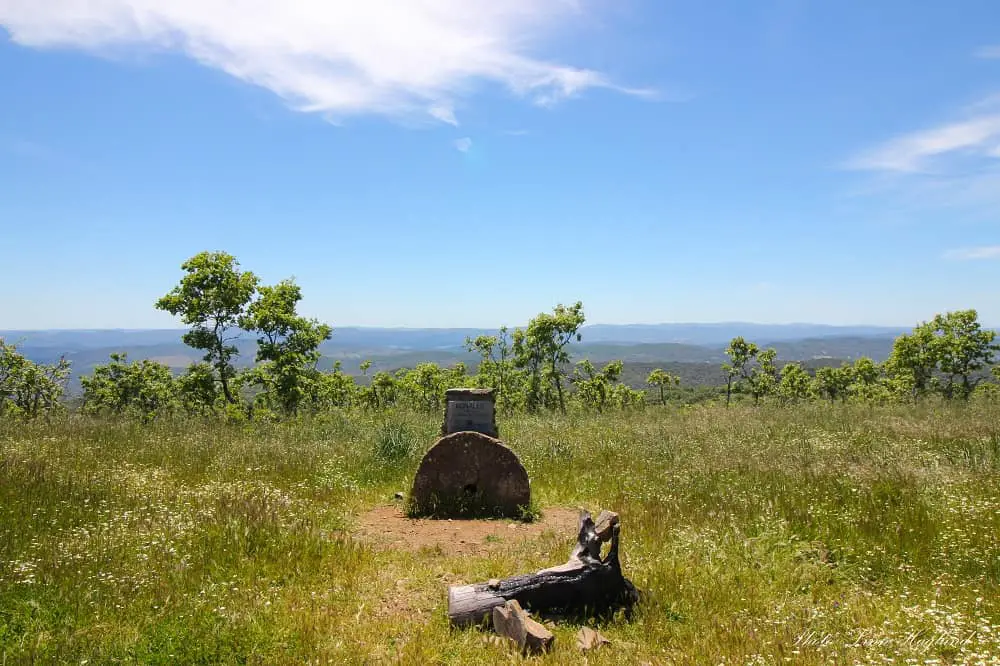 Reflections
There is no doubt Bonales is a beautiful hike, especially in springtime when all the wildflowers are blooming and the grass is green. It's a fairly easy hike to walk even with not much experience. The only difficulty is that the path isn't well marked and in several places, it's hard to follow. Yet, it's one of my favorite hikes in Andalucia.
I really hope this guide will make it easier for you to follow it and enjoy this beautiful walk to the top of Huelva. Make sure you're up to date with the 7 Leave No Trace Principles before you set out! You can read all about them here.
Hiking guides to other top hikes: