As an outdoor lover, you might want to go on a different date than a candle-lit dinner at a fine restaurant. For some of us, it's a million times more romantic to walk in nature, be treated to sweeping views, chase hidden waterfalls, or even share a bottle of wine at a mountain top for sunset.
Instead of being in a set setting, you'll be in a natural setting and there are few places where I've seen and experienced more spontaneous joy and authenticity than in nature.
That makes it a lot easier to relax, be yourself, and show each other a relaxed side of yourselves instead of the frequently tense first meetings that many people experience.
Truth is, hiking releases happy-hormones like serotonin and dopamine – can you think of a better foundation for a date?
If this sounds like you, keep reading because in this post I've compiled a list of hiking date ideas and what you should consider before asking anyone out on a hiking date to make sure it's not a flop.
Disclosure: This post may contain affiliate links. That means that if you make a purchase through one of those links, I will get a small commission at no extra cost to you.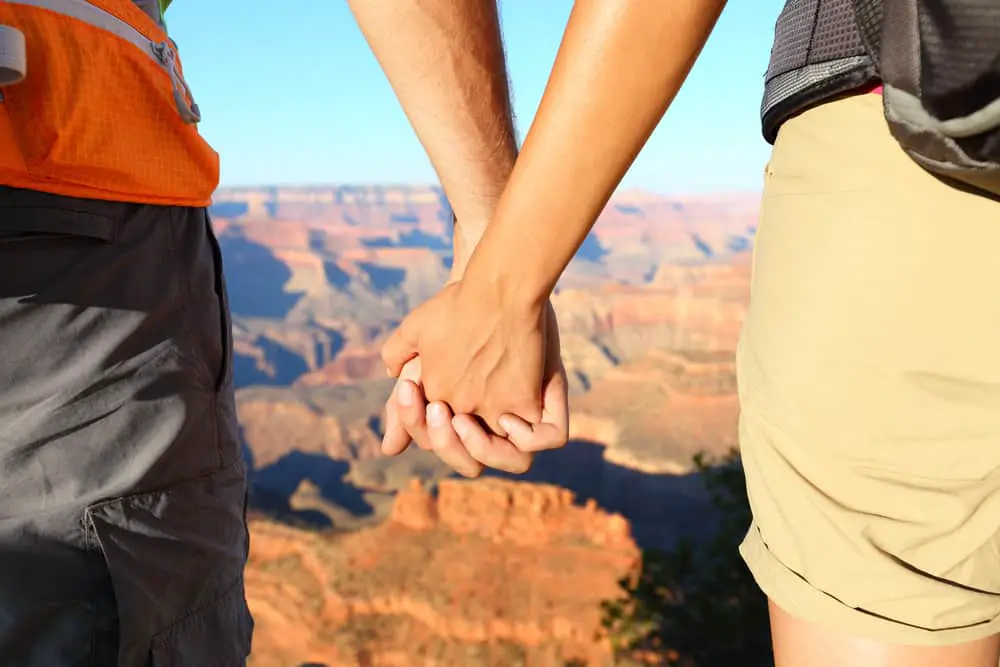 Be a green hiker!
Make sure you're familiar with the 7 Leave No Trace Principles before you go on a hiking date. If your date isn't, you can talk about it. This means you care which is a positive thing on any date! (bring a bag for all your rubbish)
Hiking date tips
Here are my top hiking date tips so that both you and your date will feel comfortable and enjoy the hike as much as possible.
Pick an easy but spectacular hike
Make sure you know your date's fitness level before you pick the trail for hiking. First date or not, you don't want the other person to struggle up a hill without any breath left to make small talk and have to stop every ten meters to catch her or his breath.
For it to be a perfect hiking date, it should be easy enough for both of you to walk and enjoy. 2-3 hours is a perfect time for a first date.
If it goes well, you might even already be planning the next hike together and that could be whatever you want.
Maybe you start talking about a peak you both have wanted to conquer for a while. What better way to get into a second/next date opportunity?
Besides an easy hike, you want spectacular scenery.
This is a great tip because even if you run out of things to talk about, you can still marvel at the views and you'll have something in common right in front of you that will make you talk – while at a random candle-lit dinner it could have become awkward.
Let's be honest. Getting stuck in conversation is never funny when getting to know a new person that could potentially in the future become a committed partner – or not.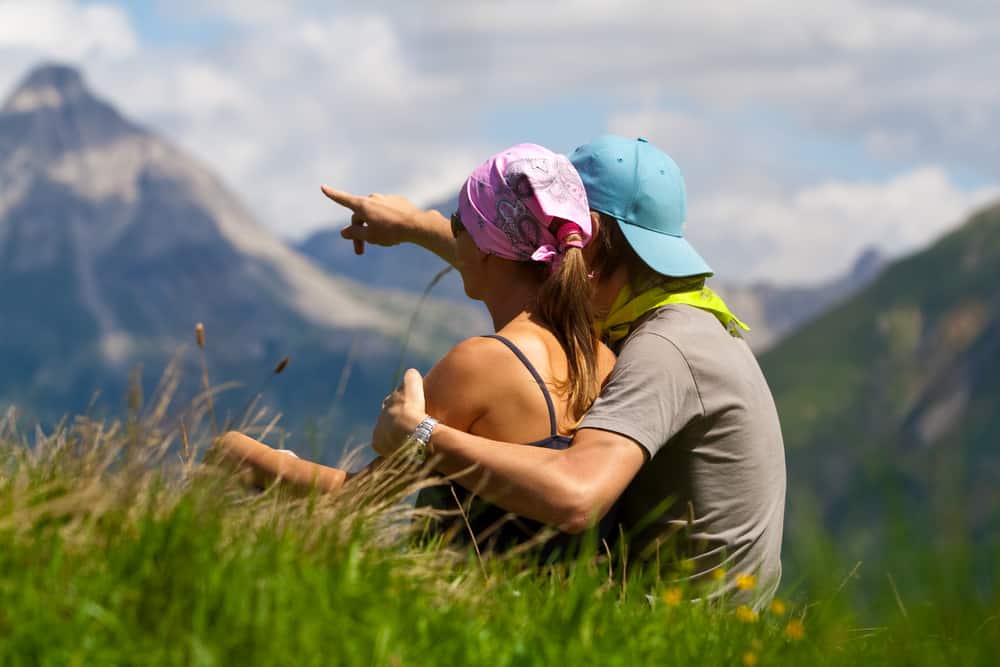 Know your date's fitness level
By knowing your date's fitness level, it's easier to choose the right hike. You want to make sure your date is comfortable. A good way to find out is to ask what the last hikes they did were and what has been their favorite hike.
If they have done easy walks in the park, you probably shouldn't take them on a hike with much elevation. If they climbed several peaks with 1000m+ elevation during the last few weeks, you know you're talking with someone that's used to tougher conditions.
I still wouldn't recommend doing a steep climb, especially on the first few dates, as you're still getting to know each other and it's nice to have enough breath to talk.
Like, I do a lot of hiking and do frequent steep climbs. That doesn't mean I can always walk and talk easily.
Top tip! Make sure you ask if your date has vertigo before taking him or her on a steep cliff walk or any other steep drops that can make them faint, like El Caminito del Rey hike in Malaga.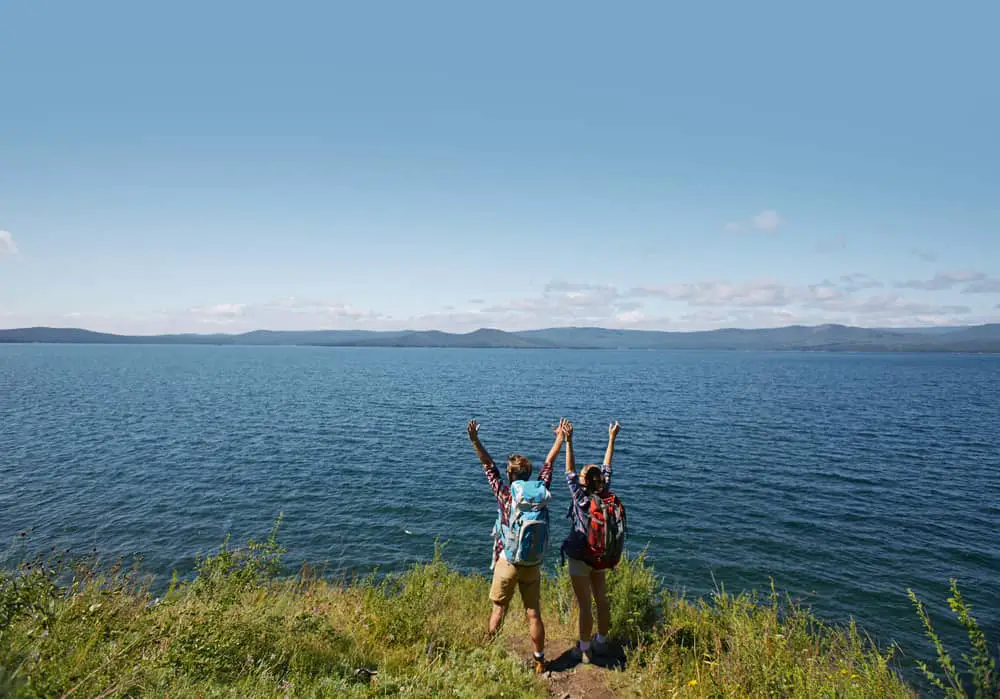 Wear comfortable clothes
Wearing comfortable clothes might be one of the most underrated hiking date tips out there. But wearing a comfortable hiking date outfit is so important.
If you're not comfortable when hiking, your focus will be on that instead of your date and the surroundings.
I find that too tight or anything new that you haven't used before when hiking is the worst. You don't want a pair of shorts that are digging your underwear up places where you have to pull them out all the time. Not very flattering.
You also don't want a tight top that crawls up your belly all the time (unless you look like a supermodel – then it might even be a good thing.)
Wear a comfortable pair of hiking leggings or pants for the colder months or shorts in the warmer months. You don't want to get over heated either!
Another pitfall you really need to avoid is to wear brand new hiking boots or shoes. While this is one of the top hiking tips in general, I see so many doing it all the time.
You are 99% sure to get blisters along the trail and one thing is to have to turn back because you have blisters, another is that you don't wanna leave an impression that you are one of those winging people.
Right?
It's actually better to wear those old boots that look like they'll soon fall apart (but won't just yet.) That'll make for a great conversation too. You can tell stories about where you've taken them and maybe even say you have a new pair at home you're walking in.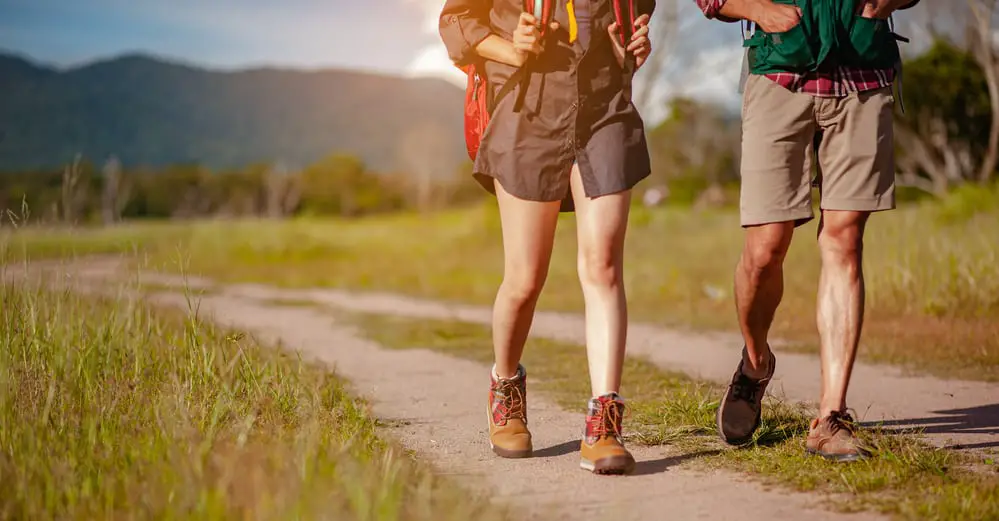 Remember the day hike essentials!
Time the route
When I say time the route, I'm mainly thinking about getting back before dark. Unless you're going on a sunset hike. Then you should time it so that you get to the spot where you want to see the sunset in time.
Preferably a little bit before sunset so you can settle down, open that bottle of wine, or have some snacks and relax a bit before nature's magic color show begins.
If you're heading out late and might walk back after dark, make sure you bring two pairs of headlamps and let your date know in advance that you'll take for her or him too so that they're prepared.
Finally, hiking in the rain can be very romantic, but only if both of you both think so. Make sure you have a plan B in case it starts raining!
Bonus tip for the ladies!
If you wear make-up when hiking, make sure it's waterproof so it doesn't start running down your face when you start sweating. You don't wanna look like a clown from a horror movie by the time you're done. Unless you're sure you don't wanna see him again, that is.
Hiking date ideas
Now that you have the most important tips for hiking dates so it won't be a complete flop, we can start looking at some great hiking date ideas so you can prepare the perfect day out!
A romantic sunset hike
If you're planning to invite your date out on a romantic hike, then a sunset hike is the way to go. Bring a bottle of wine and some tasty snack (check if your date is a vegetarian, vegan, or has any allergies up front so you don't mess up.)
For sunset hikes it's extremely important to time the hike rignt and you want to go with a good margin. It's better to wait for the sun to set than to get to your spot too late.
Don't forget headlamps for your return!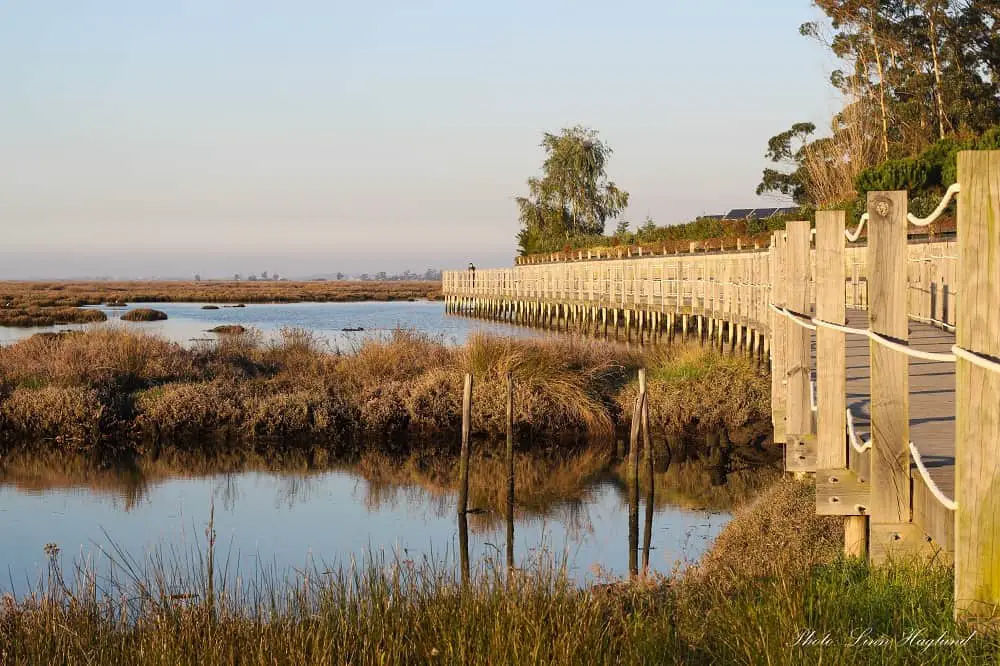 An adventurous river hike
If you're looking for fun things to do on a hiking date, a river hike is perfect! Especially on a hot summer day, take your date on a hike walking in a river, swimming under waterfalls, jumping off cliffs, and eating lunch on a rock.
If you manage to find a river hike that isn't completely packed with people, you're likely to have a more romantic experience. But even on the popular hikes, there are usually lesser crowded water holes to hide away.
Make sure both you and your date have river shoes that don't slip on wet rock. You don't want any dangerous situations spinning out.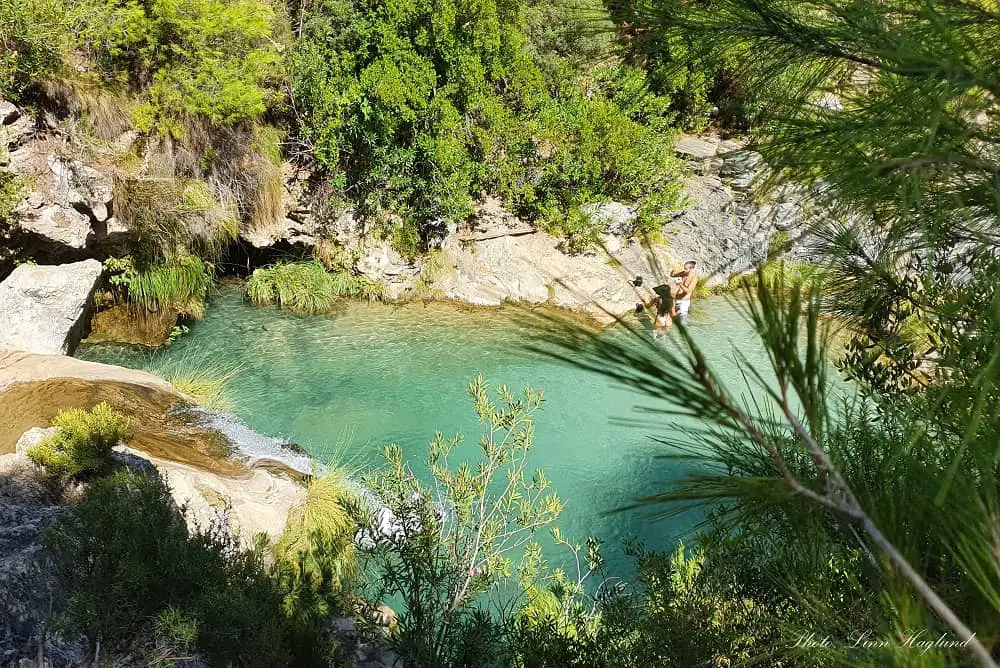 A 'wow' hike for the views
Hiking for those 'wow' views is truly a good idea for a date. There are few places better for a picnic and maybe even a glass of wine if you carried a bottle and a couple of glasses with you.
If you have a favorite spot for the views that doesn't require too much work to get to, it's a great way of letting your date into your world. They are guaranteed to feel special when taken to your 'special place'.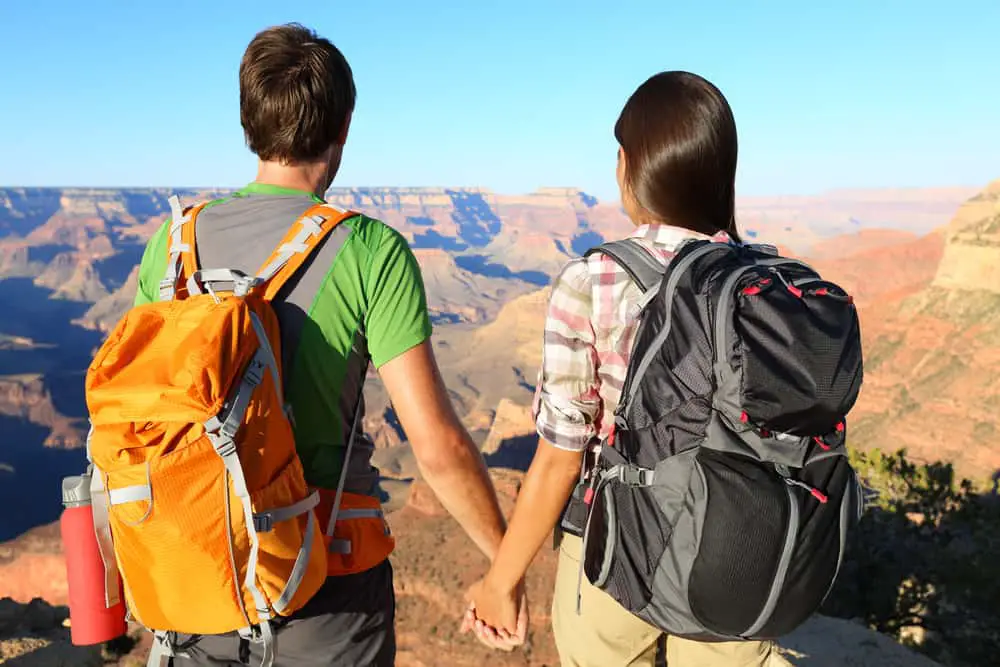 Have fun chasing waterfalls
Chasing waterfalls is super romantic! Have you ever walked through the thick jungle to arrive at a hidden waterfall cascading into a turquoise waterhole perfect for swimming?
If you're a romantic adventurer, this might be a winner. It's also the perfect setting to take her hand and help her into the water if the rocks are slippery. You then have the choice of letting go or keep holding it to write your own love story from there.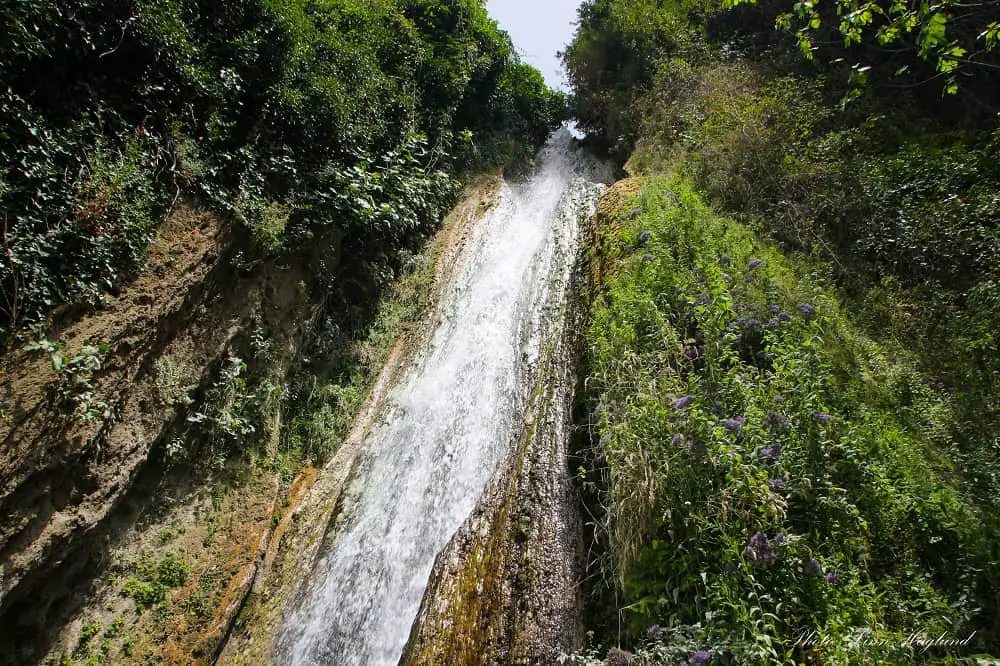 Be amused on a historical or geological hike
There's nothing more exciting than exploring a geological or historical area when hiking. You can learn together and maze at something unique. If this doesn't get you talking together, I don't know what will. Then there's probably no use considering a second date.
The planet is jam-packed with unique landscapes and historical walkways like the Old Roman Road in Malta. Make a Google search around your area and be creative.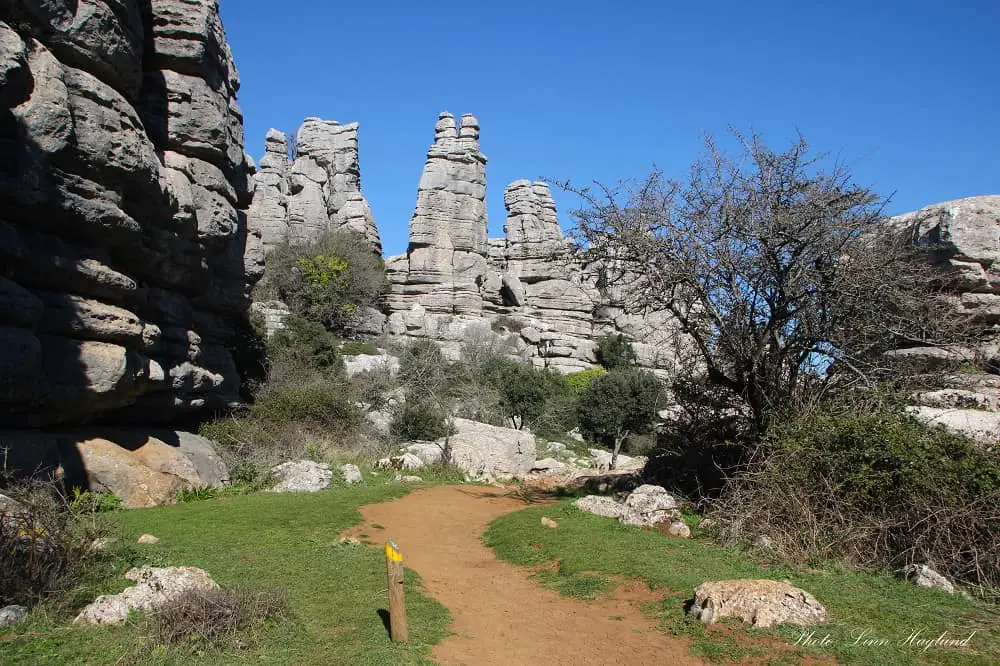 My top picks for hiking dates in Andalucia
There are many amazing hikes to do in Andalucia for anything from a first to a tenth date. Hiking through lush forests, glittering rivers, through canyons, for unforgettable sunset views, you name it!
I've picked out a few of my favorites, especially for hiking dates here. Spectacular in their own way, yet easy enough to not be completely out of breath.
For romantic sunset hiking dates
Cruz de la Misión, Malaga
El Saltillo, Malaga
Pico Terril, Seville
For romantic sunset hikes head to Sierra de Mijas and hike the red trail above Mijas Pueblo, Cruz de la Mision. It goes a bit up and down, but is generally easy compared to the other routes in these mountains. Nonetheless, sunsets along this trail are breathtaking with the sea views.
Another one that is nice for seeing the sunset on the way back is El Saltillo, Malaga. Make sure you time it right so you get back from the hanging bridge a good time before the sun sets. a pink and orange sky will follow you on your walk back. Maybe the perfect time to grab each other's hands and steal a first kiss?
Finally, the rolling hills around Pico Terril in Seville are gorgeous at sunset. Just make sure you know the way back down in the dark. Following a tracking app is a good idea.
Make sure you remember bringing headlamps for sunset hikes!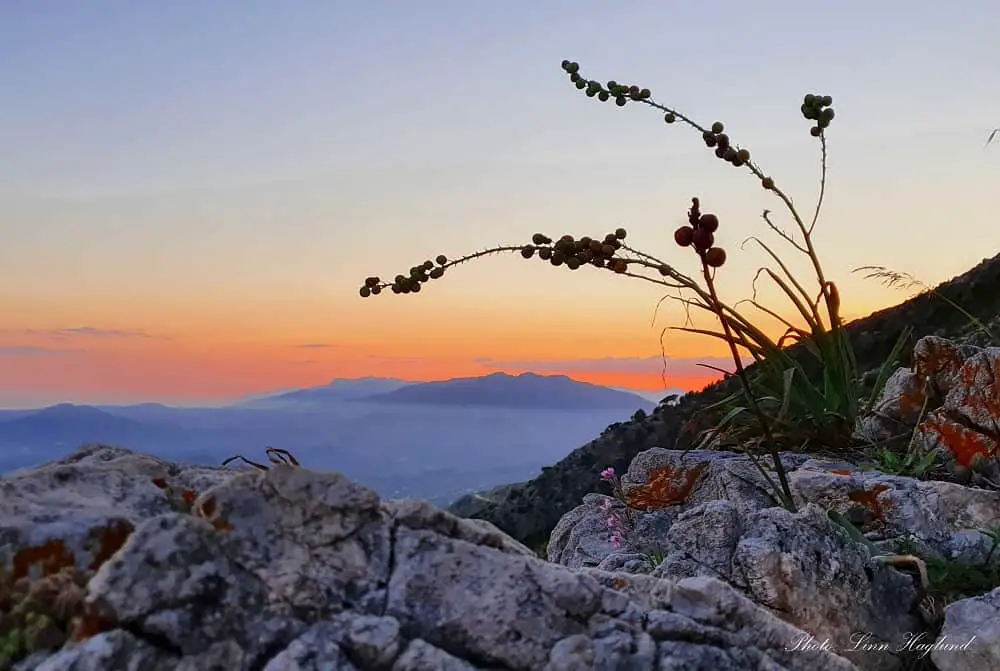 For adventurous river hiking dates
Rio Verde, Granada
Rio Verde, Malaga
Rio Borosa, Jaén
For adventurous river hiking dates, I highly recommend Rio Verde in Otívar, Granada with its glittering water holes and waterfalls. Perfect for combining hiking and swimming.
Then you have the twin river in Malaga by the same name which is another top choice on hot days. Rio Verde in Istán gives you the opportunity to walk in the river all the way to Charco del Canalón, where you can swim to the waterfall (and maybe give it a go of the first kiss?)
Make sure you both wear good river hiking shoes for these ones.
For a longer alternative, you can take your hiking date to the splendid Rio Borosa in Cazorla, Jaén. This is also a hike where you can easily turn around when you please.
The river cascades into several waterfalls after passing the boardwalk, but that's also when it starts to ascent. So you can see if it feels right to continue. On this hike, you don't walk inside the river as the two previous, but it's arguably the most astounding river walk in Andalucia.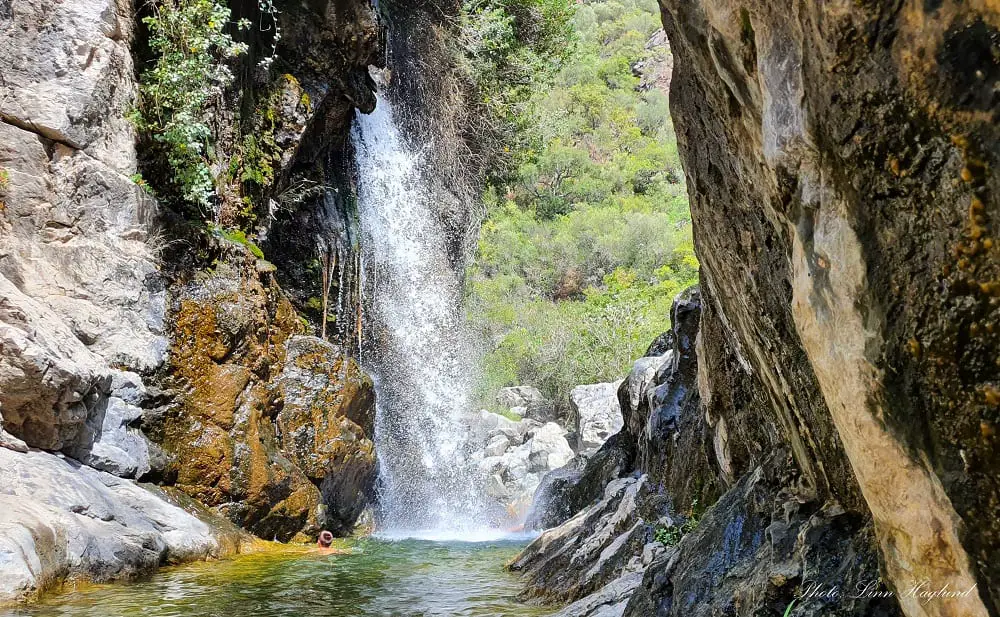 For the 'wow' views hiking dates
Vereda de la Estrella, Granada
Sendero La Molata, Almeria
Mirador de las Buitreras, Malaga
One of the most stunning, classical hikes for the views in Andalucia is Vereda de la Estrella in Granada's Sierra Nevada. This is a fairly long hike for a first date – or not. You can turn around whenever you want.
I recommend you leave early in the morning for this one in case it goes well and you end up completing it so you don't get caught in the dark. And to catch a parking spot before it fills up.
Another stunning hike with mesmerizing views is Sendero La Molata in Cabo de Gata, Almeria. Following the breathtaking cliffs between Las Negras and El Playazo beach, this is guaranteed a winner! Don't forget swimwear if going in spring or autumn as you'll be hiking to some of the finest beaches in the natural park.
Finally, a stunning hike for the views is the Mirador de las Buitreras in El Chorro, Malaga, which climbs up before the entrance to El Caminito del Rey and gives you astounding views of the famous King's Path. This viewpoint is also frequently circled by vultures which is quite cool to see! There's no better spot for a romantic lunch.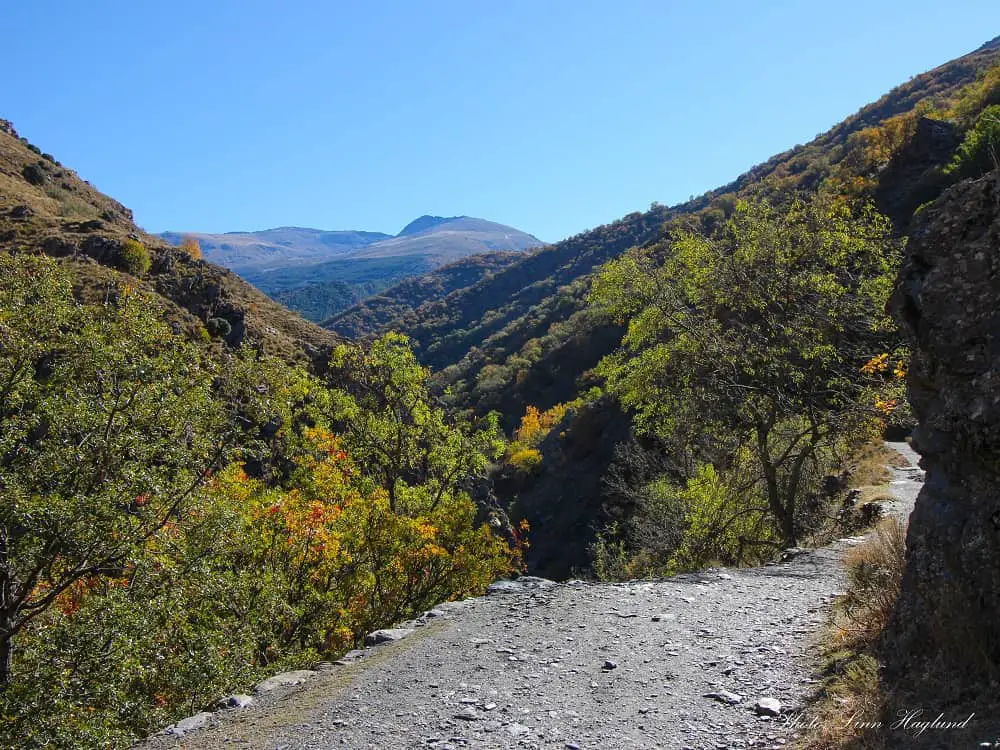 For chasing waterfall hiking dates
Chorreras de Balastar, Malaga
Lavaderos de la Reina, Granada
Sendero de las Cascadas, Malaga
Rio Cerezuelo, Jaen
One of the most beautiful waterfall hikes you'll find in southern Spain is the Chorreras de Balastar in Faraján, Malaga.
This is steep.
But the ascent is on the way back up, and by then you should be all warmed up to each other, so I still think it's worth it with sweeping countryside views and a couple of refreshing waterfalls.
The second waterfall hike which is super romantic is Lavaderos de la Reina in Granada's Sierra Nevada. This can be a strenuous hike if you do the whole loop and climb the steep side of the waterfalls.
Don't take your date here unless they're both frequent hikers.
If it's too much for you, there is always the option of turning around when you reach the waterfalls. The views are mesmerizing and it reminds a bit about a Sound of Music scene with cowbells ringing from the green meadows.
Sendero de las Cascadas (translates Trail of the waterfalls) in Tolox, Malaga is a natural on this list. With 3 amazing waterfalls, this can be done as a loop trail or linear there and back (to avoid the half without the waterfalls.)
Finally, I couldn't leave you without the astounding Rio Cerezuelo in Cazorla, Jaén. This is a river hike, but the waterfalls are awesome, not only up the river, but when you leave the river you get to another stunning waterfall and then circulate above the whitewashed village which leaves you breathtaking views.
The ascent from the river to the final waterfall is steep but worth it. Make sure you're both in shape for this and maybe you want to make a final ascent to the remains of the Castillo de Cinco Esquinas before heading back down.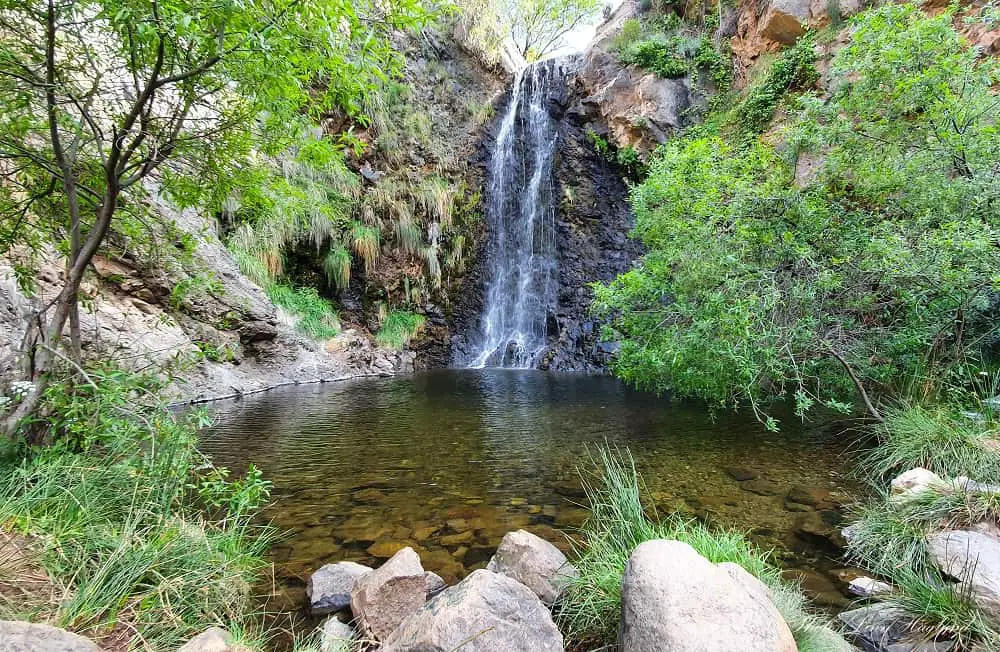 For geological or historical hiking dates
El Torcal de Antequera, Malaga
El Caminito del Rey, Malaga
Ruta Verde, Seville
Most likely the most perfect place for a walking date is El Torcal de Antequera in Malaga. Throughout millions of years, unique kart formations have developed in the area which makes it one of the best places to walk around.
There are also a lot of mountain goats and you can search for fossils. The flat rocks make perfect picnic spots. Truly a hiking date to remember.
El Caminito del Rey can not be left out of this list. Just make sure your hiking date doesn't suffer from vertigo! The jaw-dropping canyon with a walking path pinned 100 meters up on the cliff wall is not for the faint-hearted, but it's one of the most gorgeous and famous walks in Spain.
This makes it an amazing memory for the start of any relationship. Make sure you book tickets in advance.
Finally, I want to mention one of the most impressive walks in Seville, Via Verde in Sierra Norte de Sevilla. While this is mainly on concrete path (it can even be done by bike to make it yet another adventure) it is jam-packed with amazing stops along the way.
The waterfalls of Hueznar, the artificial beach in San Nicolas del Puerto, and the astounding rock formations in Cerro del Hierro. This hike will definitely create memories for life!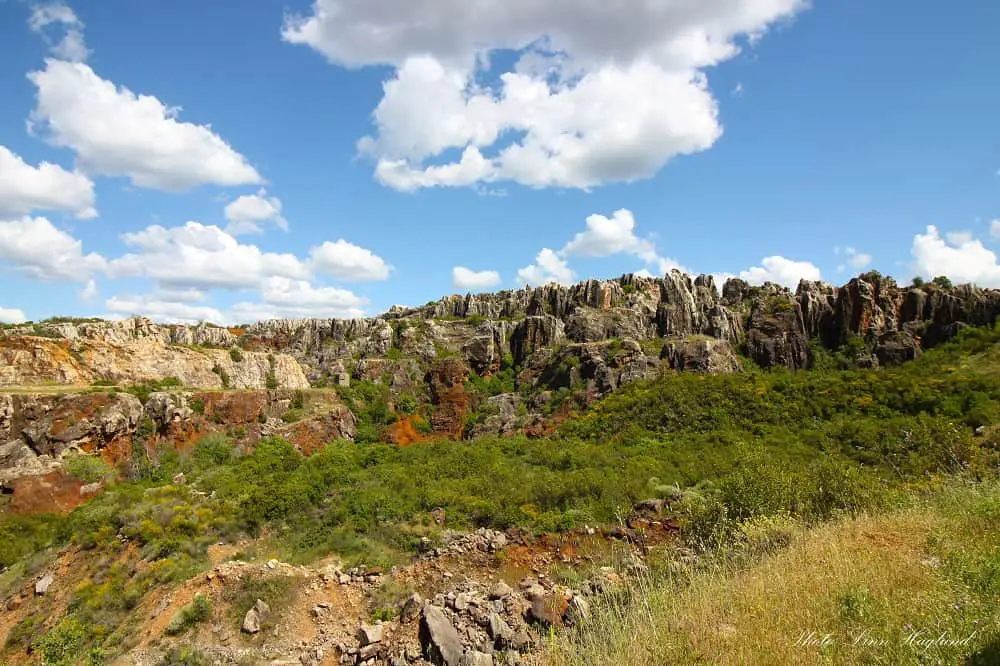 Reflections on hiking dates
The variety of hiking dates you can have are enormous and building memories together makes it easier to have something to talk about next time.
It's easy to start talking about other hikes you've done and love or hikes you want to do which makes for easy getting the topic over to the next date.
Hiking a trek that you or your date have done before or discovering a new trail together that you've both wanted to explore for a while is a great next step!
As you see, hiking as a first date makes a perfect opening for future dates without being awkward.
If you plan on making an invitation by a romantic card, make sure you include one or two inspirational hiking quotes!
Good luck!