One of the many breathtaking coastal walks in Cabo de Gata-Níjar Natural Park goes from the white coastal village of Las Negras to the popular El Playazo beach. Sendero La Molata is actually even shorter, as the official trailhead is at the next beach past Las Negras and ends right before El Playazo.
But in this hiking guide, I'll describe the whole hike from Las Negras to El Playazo as that's where you'll want to go.
Get ready for epic views, astounding beaches, castle ruins, and volcanic fossil ruins along this short but sweet hike. This is a great hike for new hikers. Before you head out hiking in Cabo de Gata-Níjar Natural Park, make sure you're familiar with the 7 Leave No Trace Principles.
Disclosure: This post may contain affiliate links. That means that if you make a purchase through one of those links, I will get a small commission at no extra cost to you. As an Amazon Associate, I earn from qualifying purchases.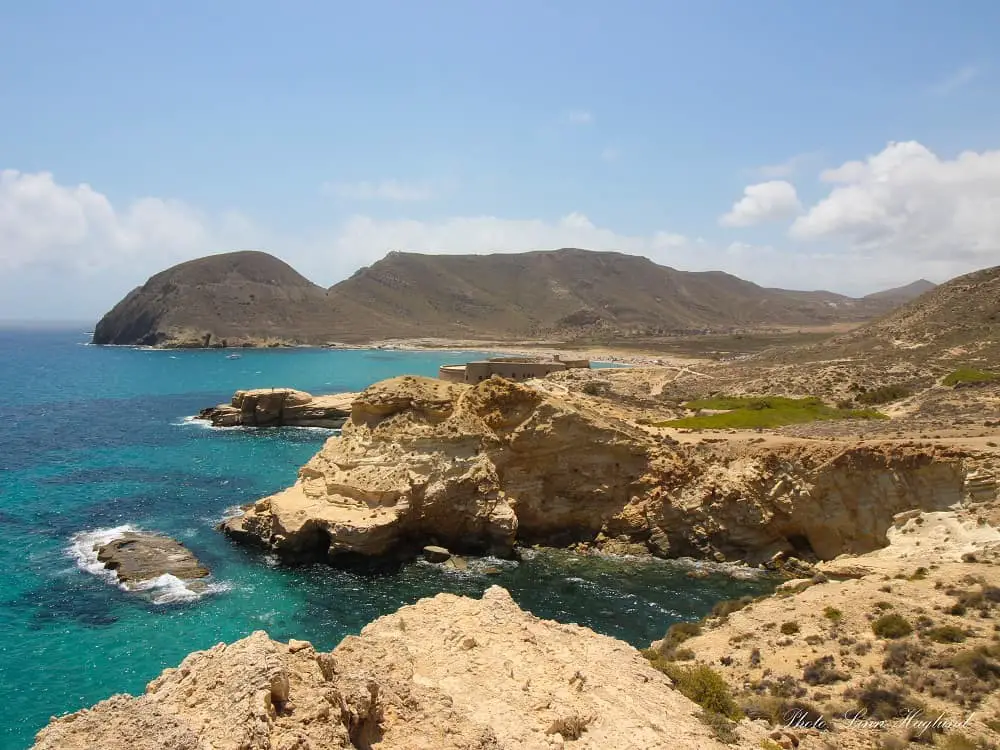 ---
Practical information
Province: Almeria
Length: 5.8 km
Time: 2 hours
Elevation: 153 meters
Route: Linear return
Difficulty: Easy-Medium
Hiking season: Mid-september to May
Hiking with dogs: You can hike with dogs on this trail all year round. There are no pine trees, so there are no pine processionary caterpillars to worry about. However, it's important to keep your dog under control as there are steep drops along the trail and when you reach the beaches it shouldn't disturb others. There are no natural water sources along the trail and no shade so make sure you bring enough water for your dogs too.
---
How to get to Las Negras and Sendero La Molata trailhead
Situated on Cabo de Gata's east side, Las Negras is about a 40-minute drive from the nearest international airport, Almeria Airport. I highly recommend renting a car and driving as it gives you the flexibility to see more remote parts of the natural park too.
However, if a rental car is not in your budget and you want to focus your trip on Las Negras, there are buses from Almeria that stop in Las Negras. There are not good bus services within the natural park, though.
There are a couple of different bus providers and you can check times for Alsa here and bus no. M203 here.
Alternatively, you can ask if your hotel has airport shuttle.
The trailhead to Sendero La Molata is on Cala del Cuervo which is the beach next to Las Negras. But this guide starts the hike in Las Negras. You need to get to the far end of the beach, looking at the sea, to your right (you'll be walking with the sea to your left the whole way.)
At the end of the bars, there is a small concrete bridge and a dirt road taking you past a football field and onto a paved road.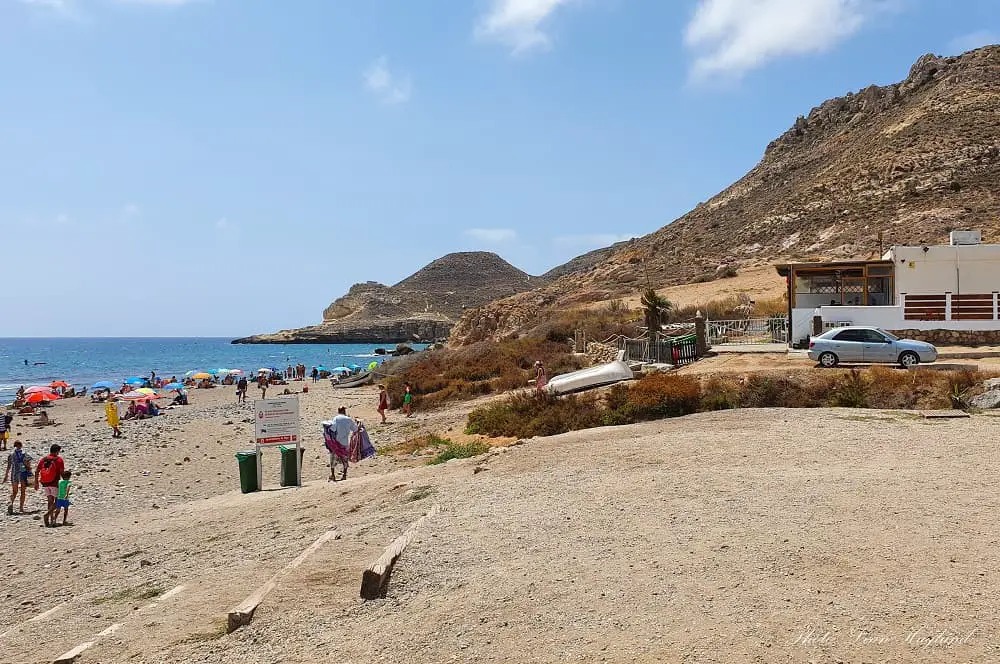 Take left on the concrete road and it will lead you up the hill. There is a small path you can walk on to the left from the road, but I found the trails misleading and turning into nothing before a bit of scrambling through the bush just to get back onto the road.
So my recommendation is to stay on the road, but you can step out to the edge of the cliffs for the views if you want pictures. The paved road takes you to Cala del Cuervo, but I'll get back to that in the trail description.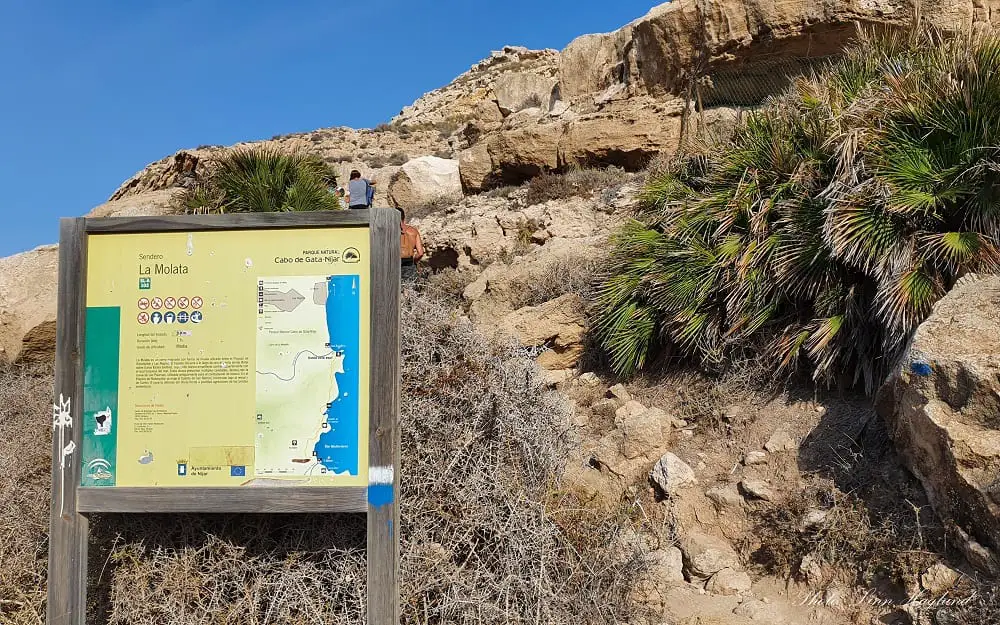 When is the best time to hike Sendero La Molata
Sendero La Molata hike can be hiked all year round, but I don't recommend it during the summer months as it's extremely hot.
Though you'll pass 3 beaches (plus Las Negras beach,) they're either at the beginning or the end of the trail which means you'll walk most of the hike without any ways to cool down.
With such heat, there are chances for heat stroke which is no joke. If you do hike in summer, bring enough water so that you can pour over your head and neck as well as drink in abundance there and back.
I also recommend taking a long swim including Immersing your head at every beach so that you cool down as much as possible before you start walking again.
The rest of the year, it's perfect to hike Sendero La Molata, especially if there is mild wind or overcast.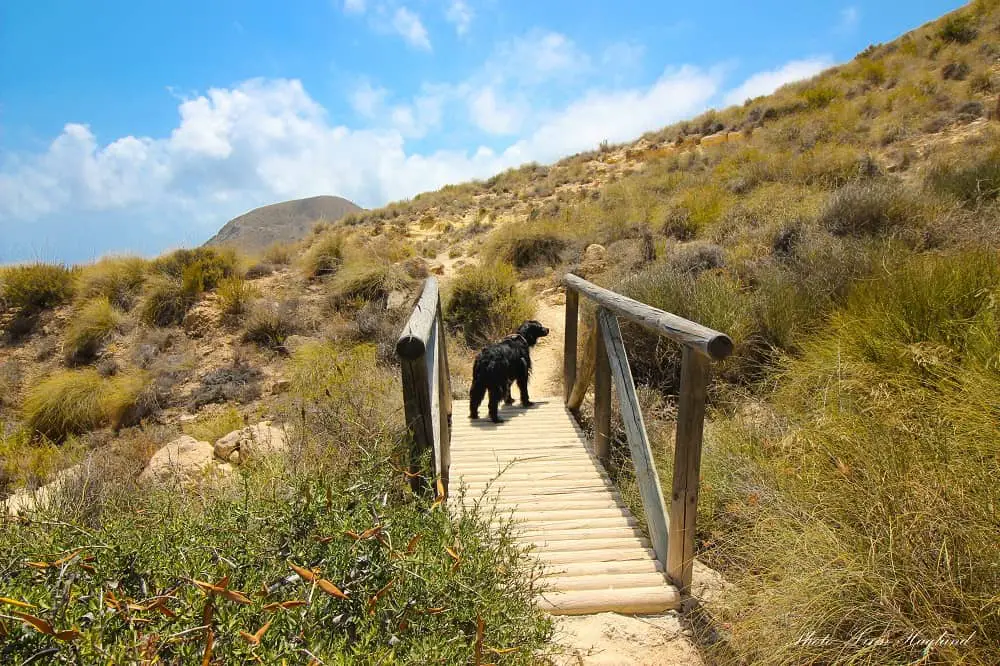 What to bring
Sendero La Molata trail hike is fairly easy, though the trail can be uneven, steep, and rocky, especially at the side of Las Negras when you ascend the first hill. This means you need good hiking shoes. Flip flops won't cut it for this hike.
If you want flip-flops for the beach, throw them into your backpack and pull them out when you get to the beaches.
Hiking this trail in flip-flops can be extremely dangerous.
Take this advice from someone that has hiked these coastlines in flip flops, hiking shoes, trainers, and hiking boots. The flip flop hikes were definitely the unplanned ones where I just wanted to have a peak around the next corner and the next and the next. These adventures didn't turn out as I wanted them to.
On my last hike from Las Negras to El Playazo beach, I used my Salomon Speedcross and they are absolutely amazing to walk with on uneven and rocky paths. I absolutely recommend them, especially if you're like me, and combine hiking and trail running depending on your mood.
Other than that, make sure you bring enough water. I can't stress this enough. It's not a long hike, but you're completely exposed to the elements and on a sunny day, you'll need water both to pour over your head and neck and to drink.
If you plan on staying at the beach, make sure you bring an extra bottle for that too and if you bring your dog hiking, there's a need for even more water. In Spain, it's easy for dogs to get heatstroke too if they don't get enough water on a hot day.
Other than this, the most used hiking gear for this hike is probably hiking poles. It's definitely not a day hike essential for this trail in my opinion, but a lot of people like bringing them as there are uneven parts, and the ascent after Las Negras is a little steep.
You can see my top recommendations for hiking poles here. If you want to have a look at my favorite budget poles go directly to my Hiker Hunger trekking pole review.
Here are also a list of my favorite vegan hiking socks that I use when hiking in Andalucia and some awesome sustainable backpacks for day hikes worth checking out.
THINGS TO BRING:
water (more than you think you'll need)
fruit or other snack
lunch
towel and swimwear on a hot day
camera
My top Amazon picks for this hike:
Where to stay
There are a lot of nice apartment rentals in Las Negras that can be worth it if you're a group or family staying together. You can check out options and prices here.
If you prefer camping, check out Camping La Caleta which is a pretty sweet option. You can find more information about the campgrounds and prices here.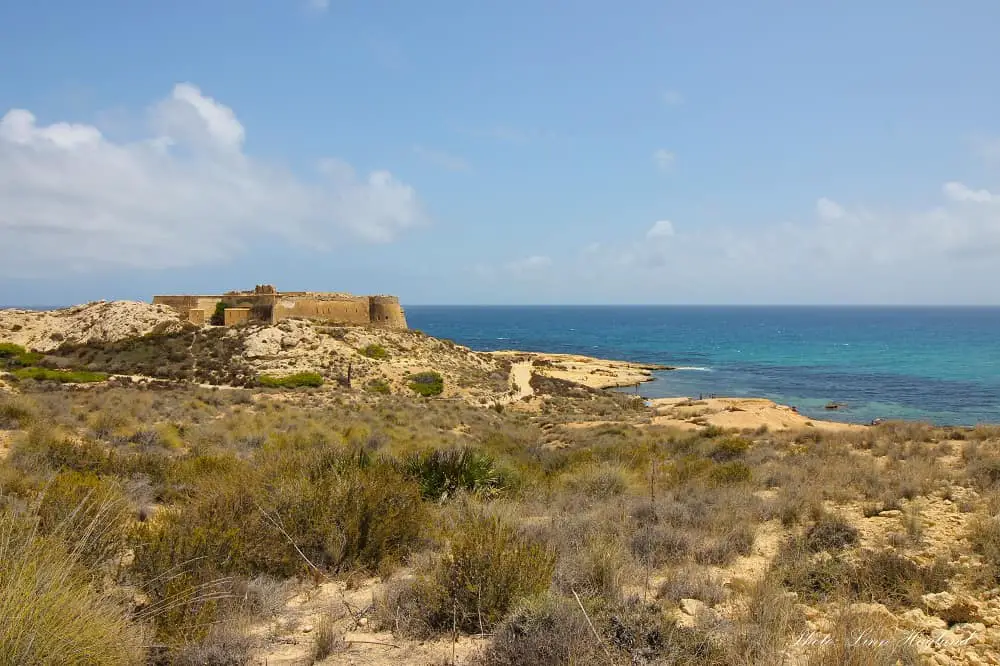 Other cool hikes in Cabo de Gata-Níjar Natural Park
Hiking Sendero La Molata
As mentioned before, this hiking guide to Sendero La Molata starts in Las Negras. When you get to the end of the beach and up past the football field to the paved road, follow it up across the hill. On the other side of the hill, you'll see the beach of Cala del Cuervo.
Watch up for a trail going down to the left towards the beach. You'll see multiple trails wind their way up the hill in front of you and you just have to find a trail on the other side of the beach to start the ascent.
This is not a hard hike, but this ascent can feel a little daunting on a hot day, so make sure you cool down at the beach before heading up. There are many trails that all lead to the top. You're going around the middle hill on the picture below on its right side. You can clearly see the path in the picture – the one that disappears around the right corner.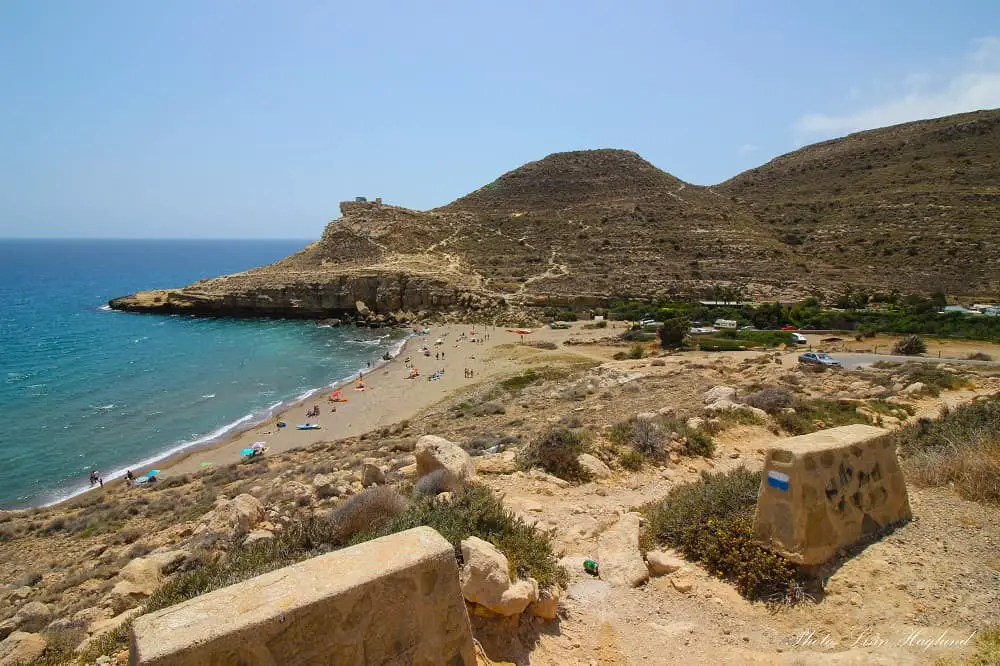 Once you've walked up and around to the sea views, the path is easy to follow the rest of the way. Now, you can enjoy the sea breeze and breathtaking views. It's not long until you start seeing the remains of Castillo de San Ramón and El Playazo beach behind it. These views will follow you for most of the hike.
Before you reach the castle, the trail will leave the coast for a bit and venture inwards before it winds out again on the other side of the castle. The end of the trail is above La Calilla beach, an astounding small beach right before El Playazo beach.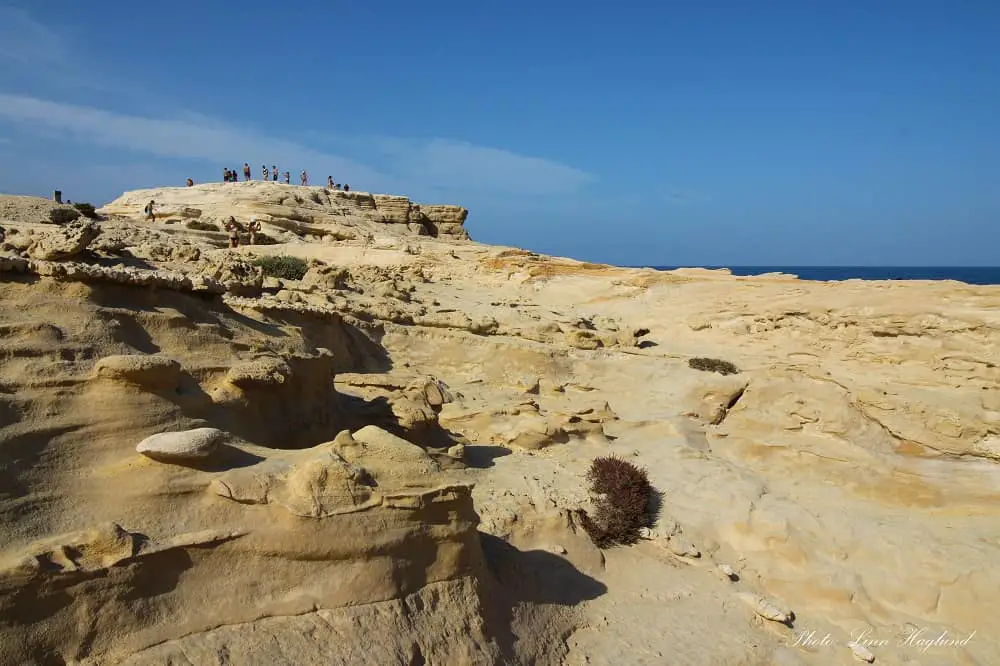 Keep going the last bit to El Playazo beach or explore the Duna Fosil de Rodalquilar (in front of the castle,) jump from the cliffs, or swim at La Calilla before you continue. This whole area is really cool, so it's worth taking some time there before or after El Playazo.
The return is the same way.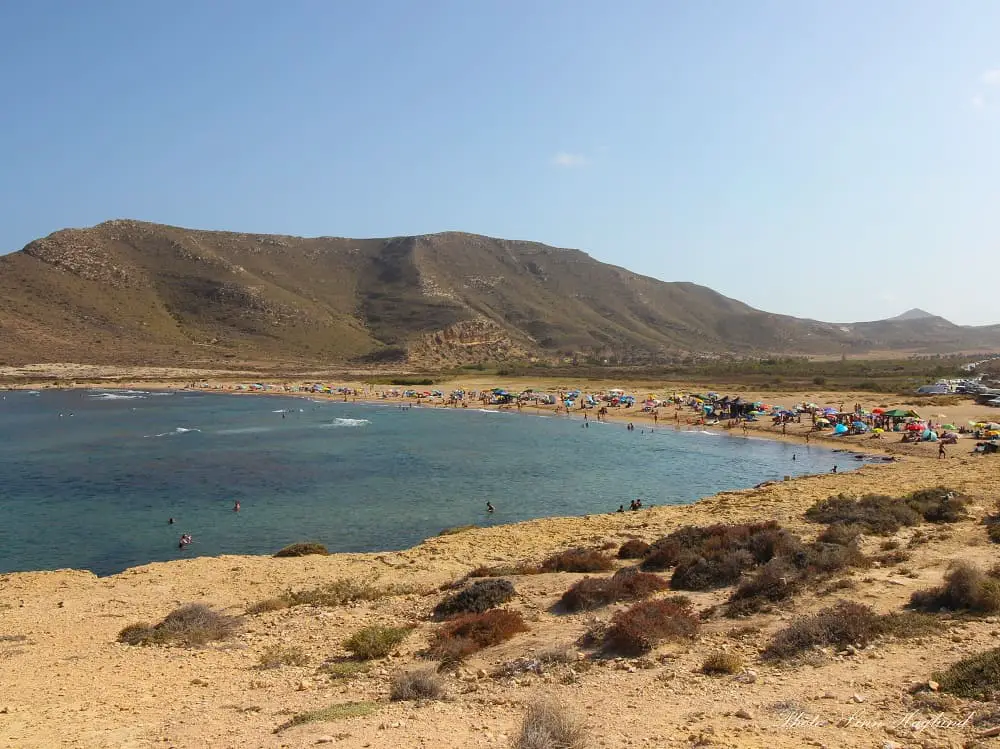 OTHER HIKES IN ALMERIA
Reflections on Sendero La Molata hike
Sendero La Molata hike from Las Negras is without a doubt a beauty of a trail. I really enjoy it as it's a little bit challenging at the start, but still an easy and short walk. This makes it perfect for days when you have half a day in Las Negras or you want to enjoy El Playazo beach combines with hiking.
Definitely one of the most beautiful coastal hikes in Cabo de Gata-Níjar Natural Park that you can easily do with the whole family.
Find other easy beginner hikes in Andalucia here.