If you're looking for comfortable hiking poles for your adventures being it day hikes or shorter multi-day treks, but don't want to break the bank, this post is for you.
After testing out the Hiker Hunger carbon fiber trekking poles for quite a while now, I'll share what I found positive and negative about them so that you can make a decision about whether these are the right ones for you.
In this Hiker Hunger trekking pole review, I'll go through all the specs about the poles and how I've experienced them. I'll shout out right away that I love them!
But they are budget poles that implement that certain features might be compromised to keep the price low and I want to share it all with you so that you can decide whether or not you think you'll love them too.
Disclosure: This post contains affiliate links. That means that if you make a purchase through one of those links, I will get a small commission at no extra cost to you. I bought and paid for my trekking poles myself this I am not being compensated by Hiker Hunger for writing this review.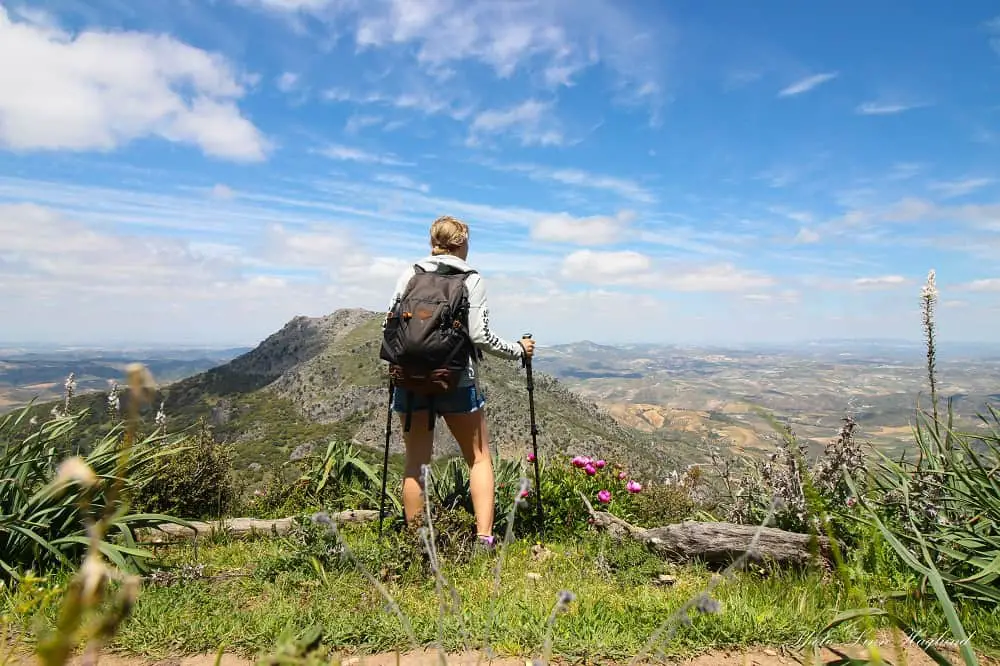 Hiker Hunger trekking pole review
Before you buy a pair of hiking poles it's important to think things through. Especially if it's your first time investing in trekking poles. I've also written a complete buying guide for hiking poles, including the best ones, with everything you should consider before purchasing that you can read here.
Now, let's have a closer look at Hiker Hunger trekking poles. I've tested mine in all types of terrain from muddy, rivers, rocky, and forest terrain, both on easy and hard hikes and day hikes and multi-day treks alike.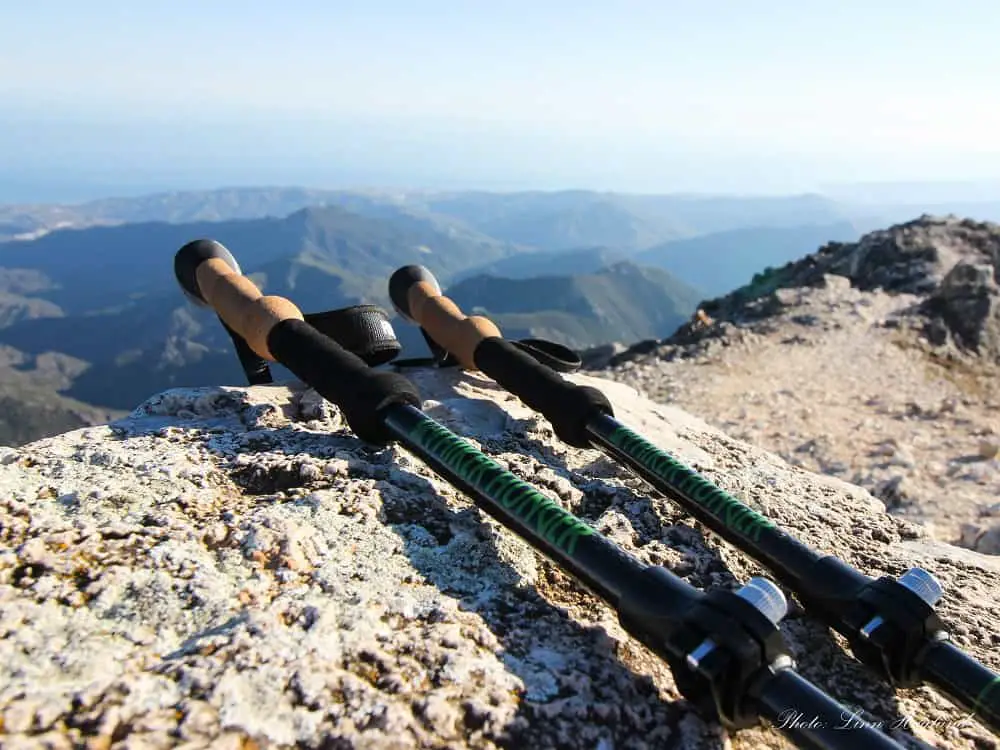 Grip and adjustment
The cork grip is super comfortable and a luxury feature on a budget hiking pole. There's also an extended EVA foam sleeve for when there are frequent changes in terrain. Personally, I haven't used this feature as I like to keep my hands comfortably in the straps.
On the downside, I found it hard to adjust the straps to a larger size. Making them smaller has never been an issue.
When hiking with a friend, I lent him one of my poles and he needed to enlarge the straps. Either one of us managed to do it. It was just stuck. Weeks later, I tried again and somehow managed to adjust the strap to a larger loop.
Nonetheless, I find that the plastic tap that locks the strap on the Hiker Hunger trekking pole is somewhat fragile and might break if you fight too much with it. For this reason, I haven't tried to adjust the size of the straps after this incident.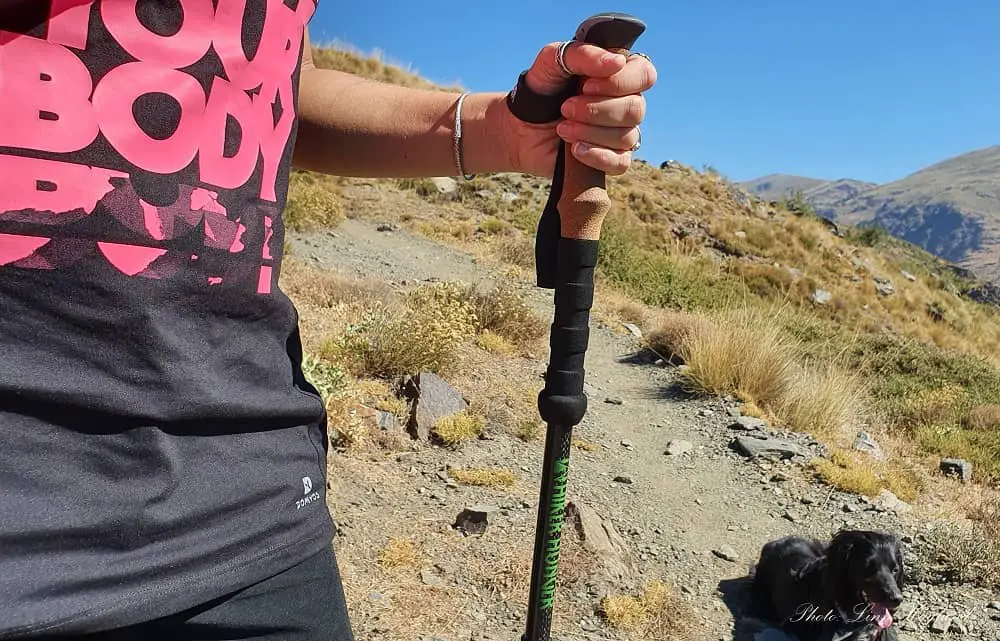 Locking system and adjustability
Hiker Hunger has a telescoping design with two standard lever locking mechanisms to shorten and lengthen the poles. Max length is 54 inches and they pack down to 24 inches, which makes them easy to carry even when you don't use them.
The locks are made of metal, though it's plastic holding them together. I find they're easy to use, but you need to pull out the bottom of the pole at least about 10 cm before it's stable. When adjusting mainly the upper part, you'll experience that the bottom part of the pole isn't snug enough and shortens as you put weight on it.
This also happens frequently as the little metal screw that tightens the locks loosens up. In the beginning, it annoyed me, but now as I know I need to tighten them regularly, I haven't had any issues with this happening. I usually just tighten them before I start walking again after a break.
Weight
The Hiker Hunger poles only weigh 431 gr/15.2 oz. There's no arguing they're lightweight and easy to strap on the pack when you don't use them, even when carrying heavy backpacking gear.
Carbon fiber is the lighter material that hiking poles are made of, however, it's also a material that doesn't bend, but snaps directly when it breaks. And the lighter the poles, the easier they snap. That said, I feel like these poles handle everyday hikes and feel quite sturdy for being lightweight.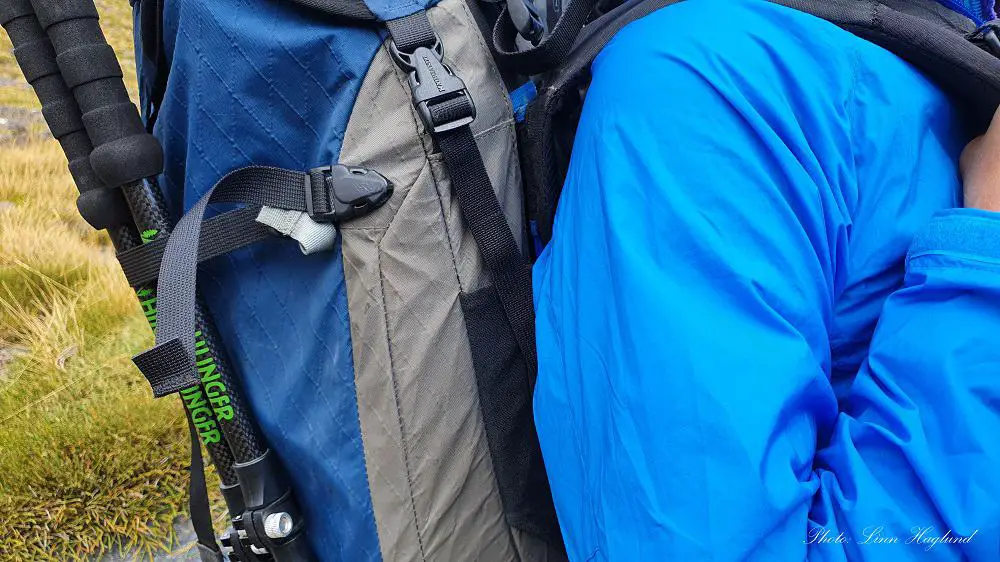 Versatility
The Hiker Hunger walking sticks come with a lot of different attachments which makes them quite versatile compared to other budget poles. Personally, I haven't used them in the snow (I don't hike much in snow here in Andalucia…), so I can't tell how they are, but I'd say they at least get by well on easy snowy terrain.
Durability
In my experience, they feel sturdy enough to last. At least for my usage. The locks don't feel like they're the best quality and I wouldn't throw them around with the locks open in fear of them breaking. However, when they're locked they're locked and they totally do their job.
That said, I've read a minor number of reviews from long-distance hikers that have experienced that their Hiker Hunger trekking poles have snapped at the bottom in rough terrain.
So these might not be the best hiking poles for the Appalachian Trail or the PCT, but for the average hiker going on weekend adventures and the odd one-week backpacking, I'm confident that Hiker Hunger has made good quality carbon fiber trekking poles that can last for years.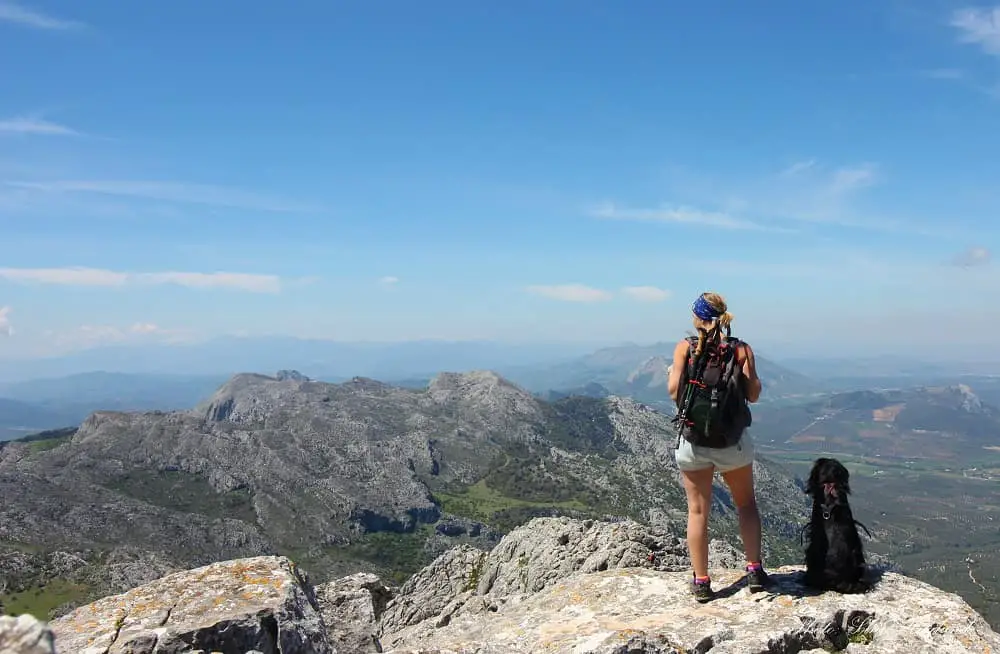 Comfort
With ergonomically shaped cork handles, Hiker Hunger trekking poles are extremely comfortable to hold. If I'm going to be picky, I'd say the straps could be a little bit more comfortable.
The padded part that's meant to be around your hand is really comfortable, but it seems like I've got two "left sides" so the padded part doesn't cover my thumb on the right hand.
This might just be an adjustment of the straps, but as mentioned before, I had some issues with the strap adjustments which makes me a bit anxious to try to adjust them too much in case they get stuck again.
Also the fact that the mechanism that tightens the length adjustment locks on the hiking poles easily loosens, makes it uncomfortable to walk when suddenly one pole shortens as the screw is loose. This hasn't happened lately, though, as I remember to tighten them whenever I stop.
Other than these small things, I find the poles highly comfortable to walk with both up and downhill as well as in rocky terrain.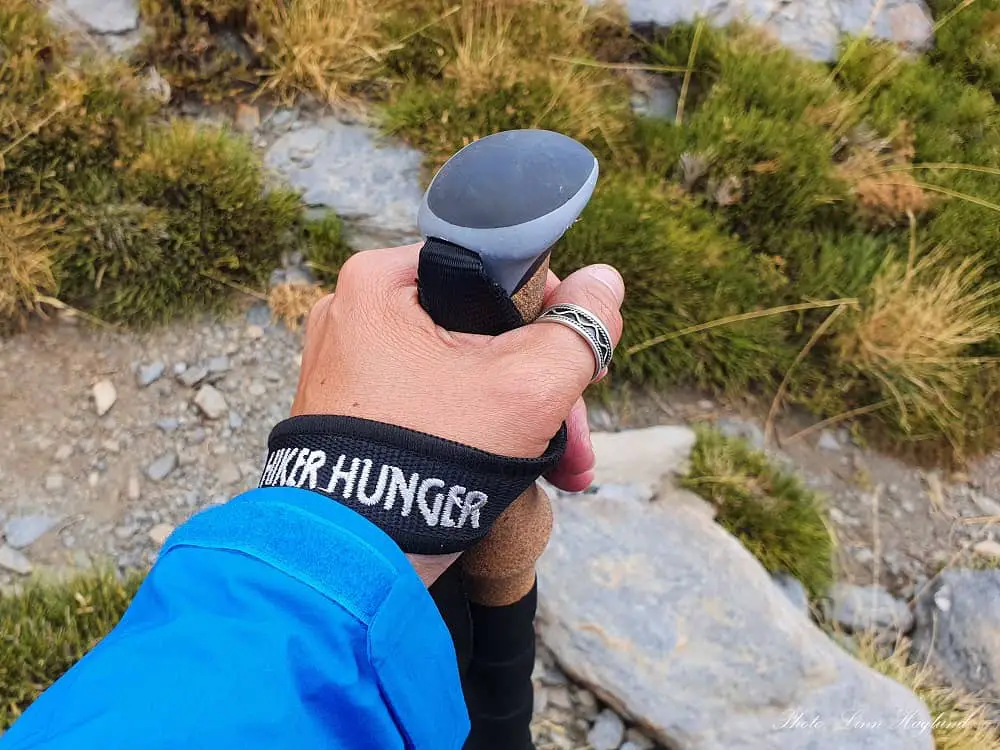 Value for money
Personally, I find Hiking Hunger one of the best value hiking poles for the low price. Buying more expensive hiking poles, especially lightweight doesn't necessarily mean you'll get a better quality hiking pole.
It's hard to find lightweight and budget poles with both foam grip (which is by far the most comfortable grip you'll find!) and carbon fiber (which is the most expensive material.)
So if you ask me, I'll put in a vote for Hiker Hunger. They are especially perfect for beginner hikers that don't want to waste a large budget on hiking gear but still want something of good quality.
If you feel like you have the information you need to consider Hiker Hunger trekking poles by now, check prices on Amazon here. If not, keep reading.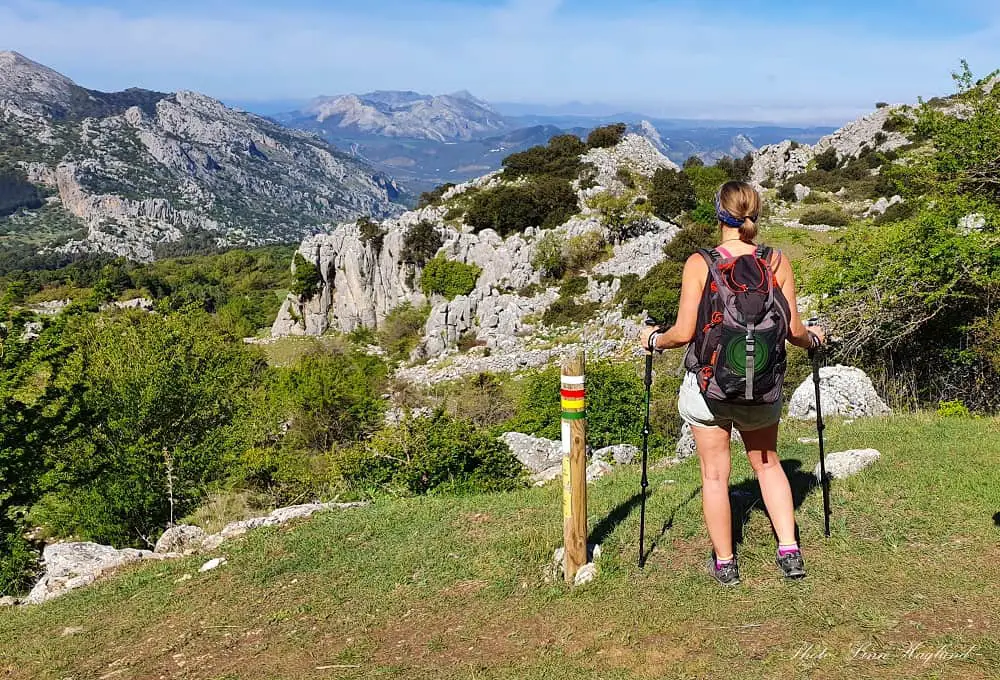 Hiker Hunger review – trekking poles pros and cons
To sum it up, here are the main things I really love about these poles and the things that I'm not such a huge fan of. For me, the positives weigh up for the negatives on these Hiker Hunger poles.
What I love
Lightweight
Easy to adjust
Comfortable cork handles
Comfortable, padded straps
Budget friendly
Comes with many attachments
Great value for money
1 year manufacturer warranty
They sell replacement pieces so that you can repair broken poles instead of throwing them away
What I'm not so fan of
Length adjustment loosens easily so needs to be tightened regularly
Flip locks feel a little fragile when open
Straps are difficult to widen
Some long-distance hikers have reported that the poles have snapped at the bottom
Check the price for Hiker Hunger Trekking Poles on Amazon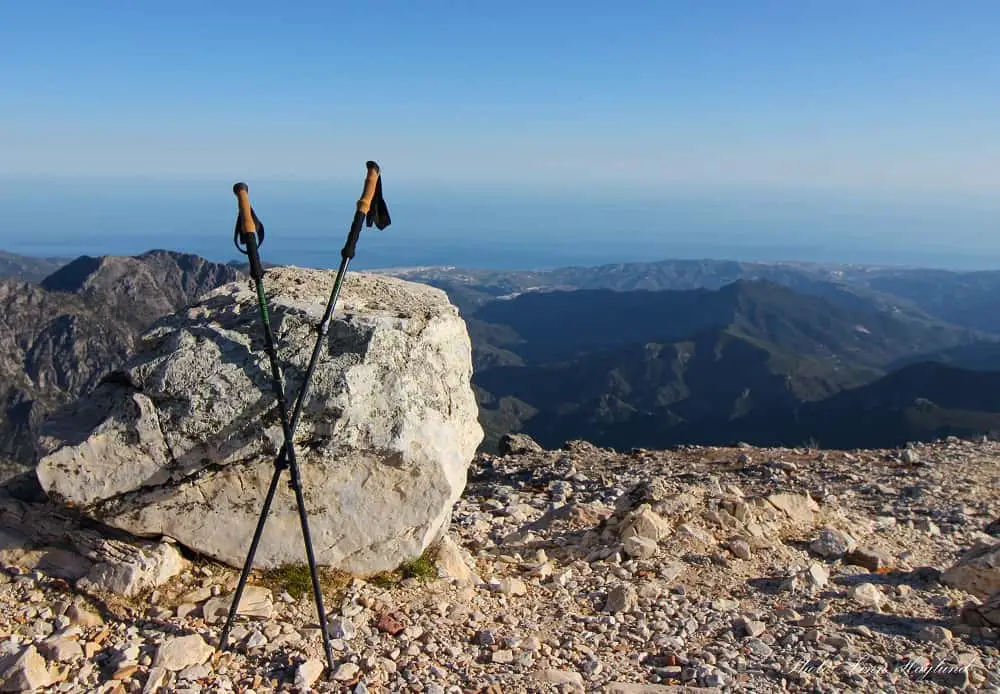 Reflections of Hiker Hunger trekking poles
I hope you found this Hiker Hunger trekking pole review useful and that it helped you to make a decision on whether they are the right ones for you or not.
To sum it up, they might not be the best hiking poles for a long-distance trek, while they're excellent for day hikes and shorter multi-day treks. They're lightweight and fold short which makes them easy to strap to most day hiking backpacks.
You can check out the current price on Hiker Hunger poles here.
If you're still not sure if these are the right ones for you and want to check out other hiking poles, read my roundup of the best hiking poles here.
Happy hiking!