Sierra de Grazalema Natural Park in Cadiz has a plethora of hiking routes, but few are as popular as Rio Majaceite from El Bosque to Benamahoma. Passing waterfalls, hidden waterholes, crisscrossing the river on small bridges, makes this a fairytale hike.
The accessibility to this easy river walk makes it the perfect family or beginner hike. It's even a good choice for a first walking date. The downside is that it's not allowed to swim there. Unfortunately, many people infringe on the rules. Rangers are constantly trying to keep people from doing so, but it's an impossible job.
I'm afraid they'll eventually close the whole trail as they've done with so many others where park rules haven't been overheld. After all, the restrictions are there to protect the environment, so please do your part and respect this.
If you want to go for a river hike where you can swim, instead head to Rio Verde in Istán, Rio Higuerón, Rio Borosa, Rio Molinos, or Cahorros de Monachil, among other places.
But. If you're still up for this incredible hiking route along the mesmerizing Rio Majaceite river, read on, because here is everything you need to know to have a memorable hike.
Disclosure: This post may contain affiliate links. That means that if you make a purchase through one of those links, I will get a small commission at no extra cost to you. As an Amazon Associate, I earn from qualifying purchases.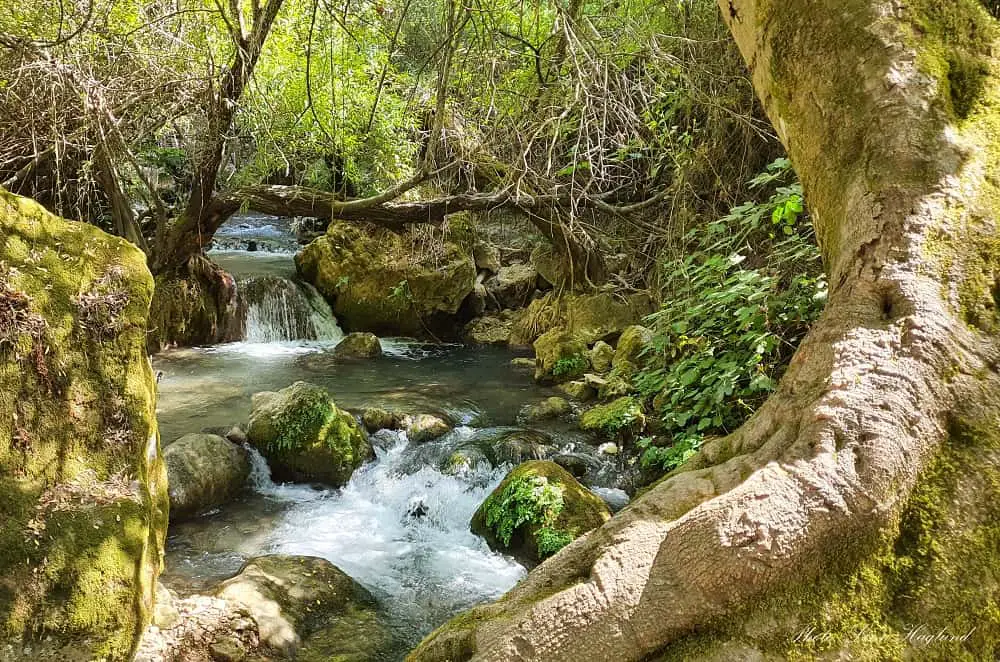 Practical information
Province: Cadiz
Mountain range: Sierra de Grazalema
Length: 10 km return
Time: 3-4 hours
Elevation: 133 meters
Route: Linear return
Difficulty: Easy to medium
Hiking season: All year round
Hiking with dogs: Hiking with dogs is allowed, but they have to be on a leash at all times. There are also no pine trees on this route, which means you can take your dog all year round without worrying about pine processionary caterpillars.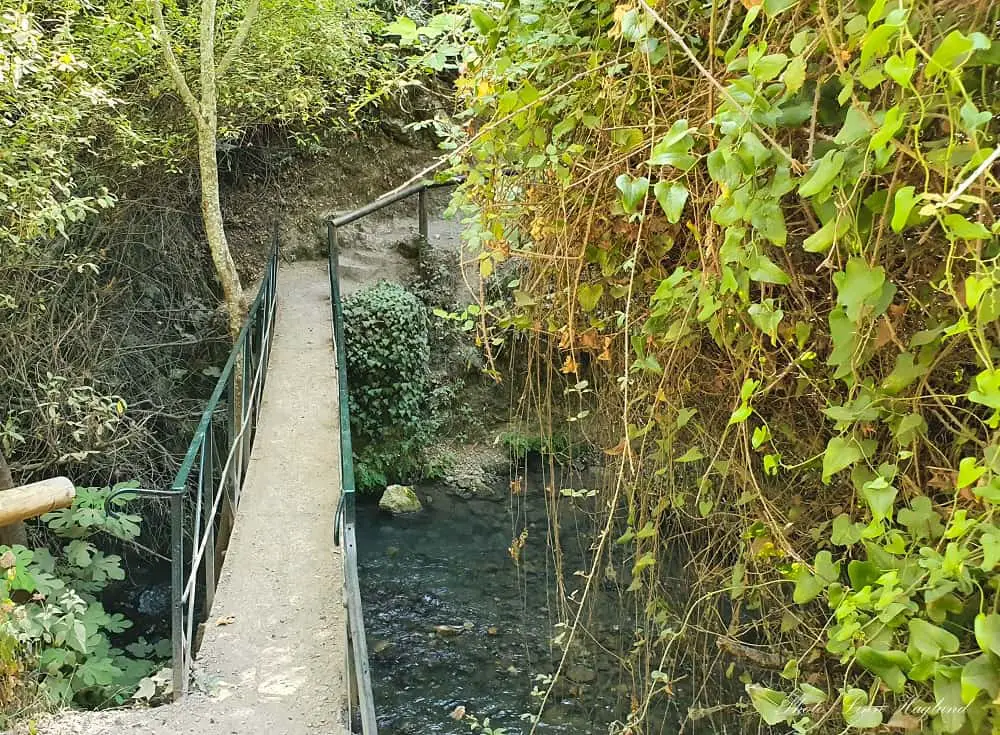 How to get to Rio Majaceite, El Bosque
The easiest way to get to El Bosque is by car. The GPS actually takes you straight to the trailhead if you put it into the GPS. To park, you'll have to drive past the little bridge by the trailhead and continue up one of the small streets where you can park along the road.
There are buses to El Bosque from Malaga, Cadiz, Seville, Ronda, and a few villages. However, they are not very frequent so you'll most likely have to stay the night.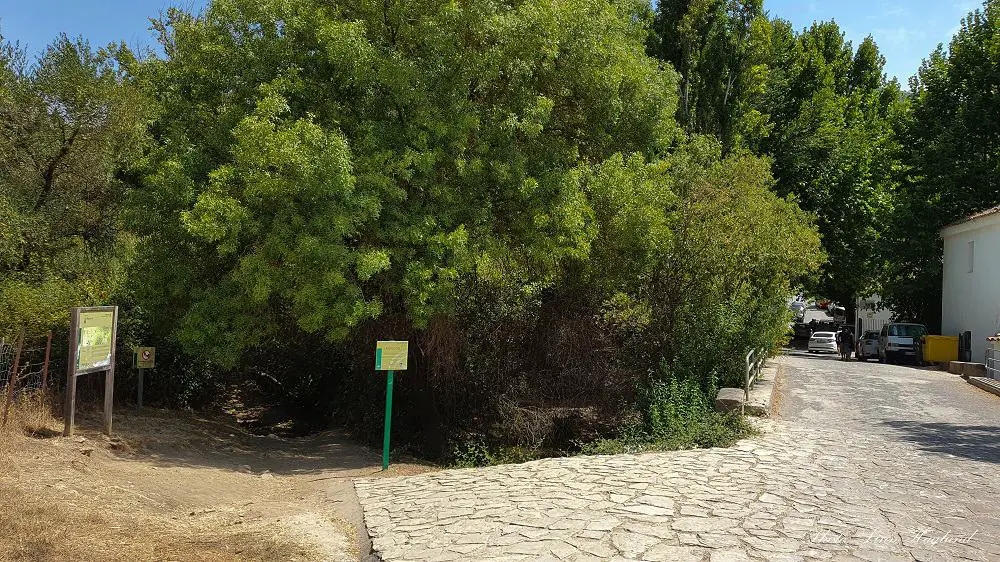 Also worth hiking in Grazalema Natural Park: El Pinsapar trail
When is the best time to hike Sendero Rio Majaceite
Rio Majaceite hike is beautiful all year round. However, the different times of year come with different charms.
Due to the fact that it's illegal to go swimming in the river, I find it extremely hot to go there in the summer months between mid-June to mid-September.
Going in this period will also be more crowded and it's quite annoying to witness all the people that don't show respect to the restrictions of using the river.
Read my tips for hiking in hot weather conditions before you go in the summer.
Go in spring or autumn, and you'll find a lot fewer people and enjoy the green and lush area with flushing water and birds singing, which at times can make you forget you're actually in Spain. Nonetheless that you're in Andalucia.
In winter, the leaves might not be as green, but the river is still awesome. Needless to say, there are even fewer people walking there. And if you like some peace and quiet, this is the time to go.
But! (because there is a but) Sierra de Grazalema Natural Park is one of the places that receive the most rain in Andalucia, so make sure you check the weather forecast before you go! Nonetheless, here are some tips for hiking in the rain.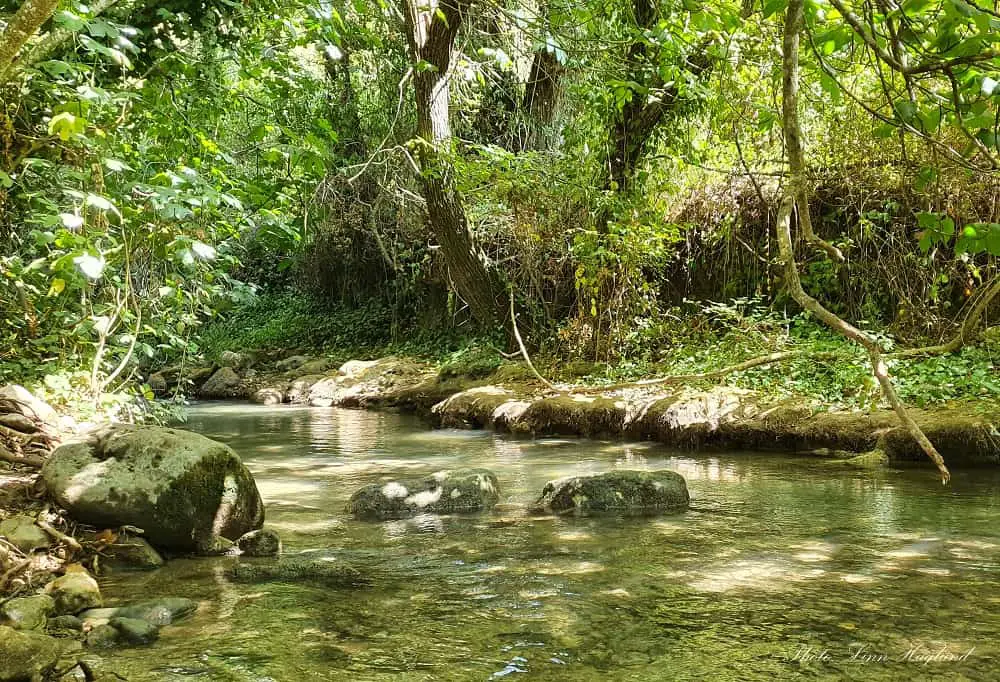 What to bring when hiking Ruta Majaceite
When hiking Rio Majaceite, you don't need a lot of fancy hiking gear, as it's a fairly easy hike in itself. I've rated it easy to medium due to some slippery and steep sections, especially to get down to the river.
This means you should at least wear good hiking shoes like Salomon hiking shoes or my new go-to: Salomon Speedcross. They're super versatile trail running and hiking shoes and stick to any terrain.
Make sure you also check out the best day hike backpacks. I also wrote a review of my own day pack, the Osprey Sirrus 24L.
If you take your dog hiking, make sure you have a comfortable leash as it's mandatory on this hike.
THINGS TO BRING:
lunch
fruit or other snacks
water
camera
cash if you plan on stopping at the bar in Benamahoma
Where to stay in El Bosque
There are several hotels to stay in El Bosque and it's a great place to base yourself if you plan on hiking in Sierra de Grazalema Natural Park.
Stay centrally at Venta Julian or Hotel El Tabanco. You can easily walk from either of these hotels to Rio Majaceite so you don't have to stress about parking.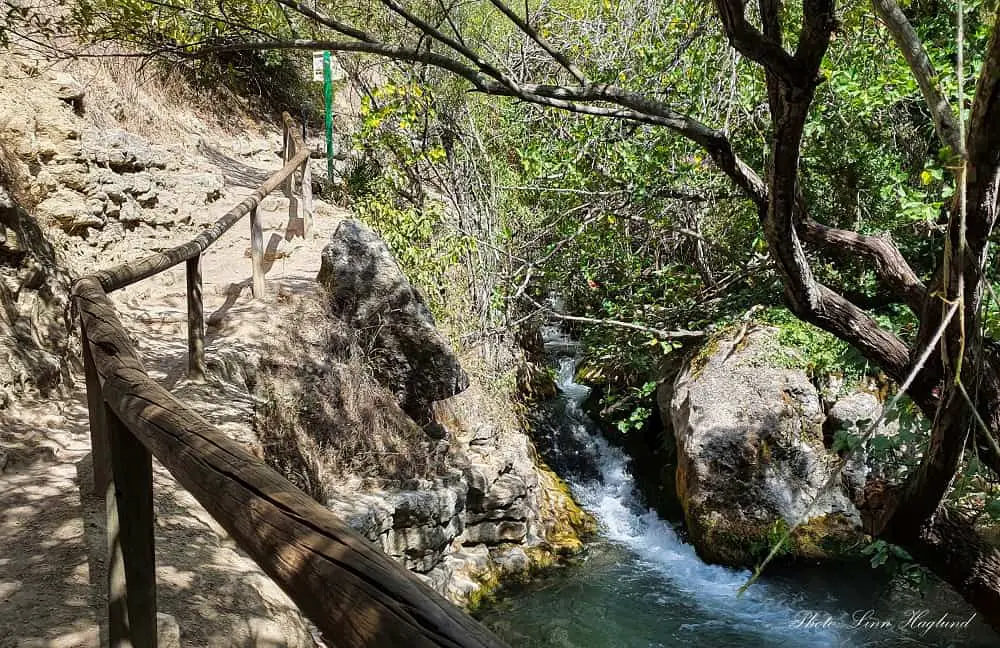 Hiking Rio Majaceite
Starting the Ruta Majaceite, as it's locally known, in the village of El Bosque, takes you along an easy-to-follow path along the river. You'll pass multiple places to walk down to the trickling river through lush, green trees and bushes. Small and large waterholes are formed under small waterfalls, surrounded by mossy rocks and thick vegetation, while narrow concrete bridges take you back and forth across the river to mesmerizing views from above.
When you reach a dirt track where you have to turn left or right, take a left turn and continue on the trail a few meters down, marked to Benamahoma. Take note of where you are here, so you don't forget to turn off the track on the way back.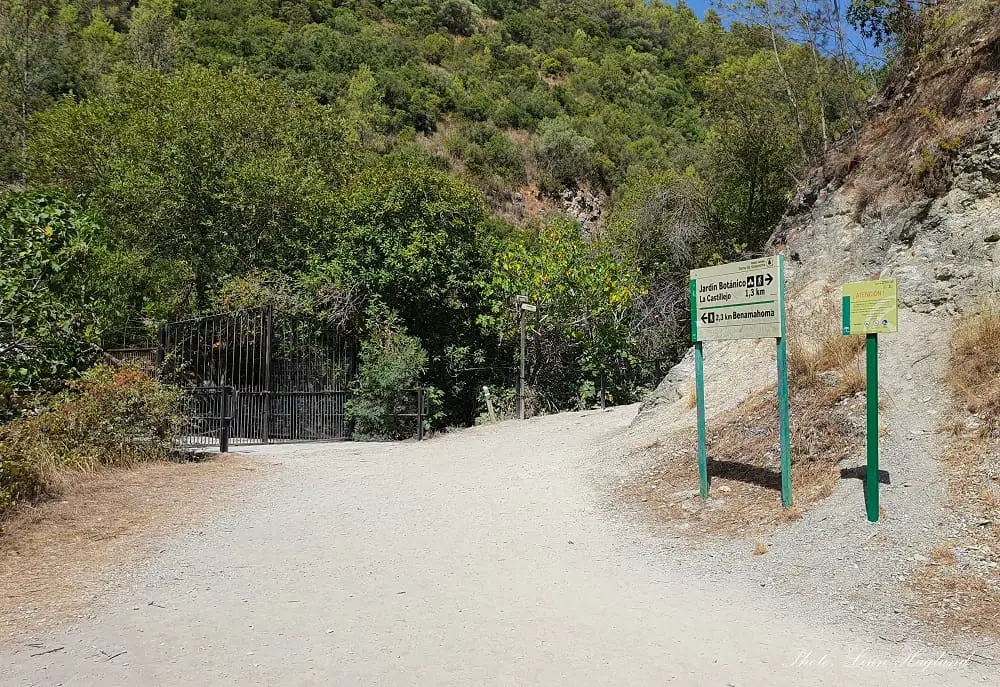 The trail is easy to follow and well-marked but can get slippery at some places, especially up or downhill, if it gets wet. The Rio Majaceite hike gets more and more beautiful as you get closer to Benamahoma. You should absolutely take your time to walk down to the river in as many places as possible to really take in this enchanted paradise.
Once you reach the end of the trail, there is a bar where you can get a cold drink or some food. Or maybe you want to explore the village? Whenever you're ready, return the same way.
Reflections on Rio Majaceite hike
There is no questioning why Sendero Rio Majaceite is the most popular hike in the natural park. Its proximity to El Bosque and Benamahoma villages, the fact that it's mainly flat, and that it's absolutely mesmerizing are all reasons to love this hike.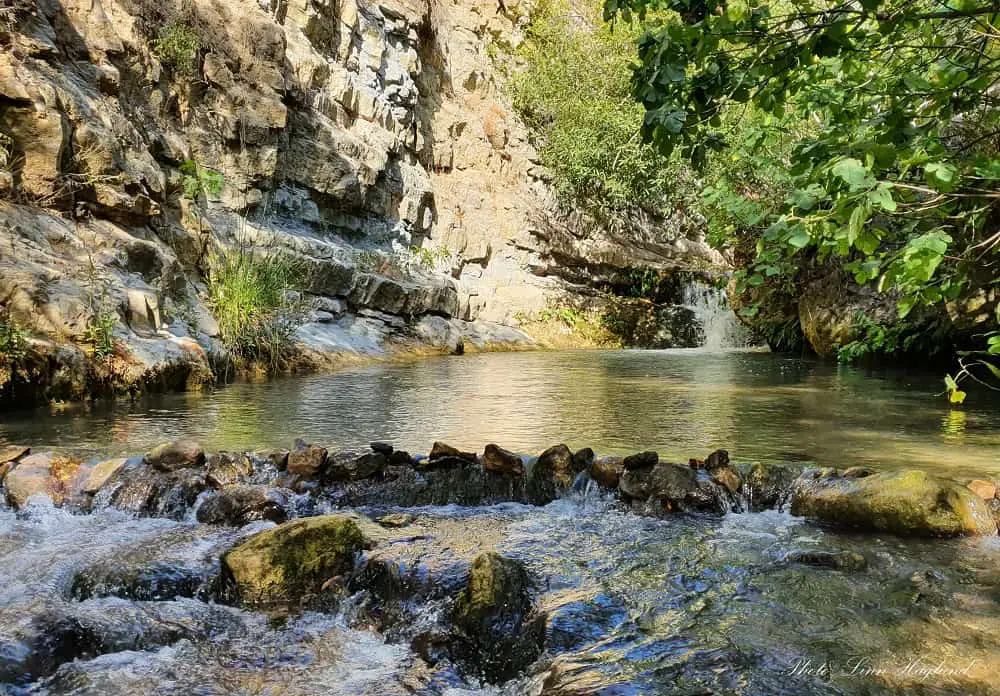 However, as I mentioned in the beginning, it's not allowed to swim. Though many people still do so, make sure that at least you follow the seven leave no trace principles and contribute to protecting this impressive piece of nature.
I find it useful to bring an extra bag for rubbish I find along the trail. Even though you don't have a dog, you can easily buy eco-friendly poop bags that you can bring on the hike. This trail is also so frequented by hikers and a safe place to walk that it's a great place to start as a new solo hiker.
READ: The best hikes in Andalucia