There are few places where you can see the Spanish fir, Abies pinsapo, in such density as in the protected area of El Pinsapar Grazalema. Native to southern Spain and northern Morocco, the endangered fir species can only be randomly spotted in a few other places, like along El Pozuelo trail in Sierra Blanca, scattered through the vegetation.
The Pinsapar trail goes through a protected area within the Sierra de Grazalema Natural Park and you'll need a permit to do the hike. But don't worry. I'll sum up everything you need to know to hike El Pinsapar Grazalema in this post so you can explore this distinctive natural wonder that absolutely makes one of the most unique hikes in Andalucia.
Disclosure: This post may contain affiliate links. That means that if you make a purchase through one of those links, I will get a small commission at no extra cost to you.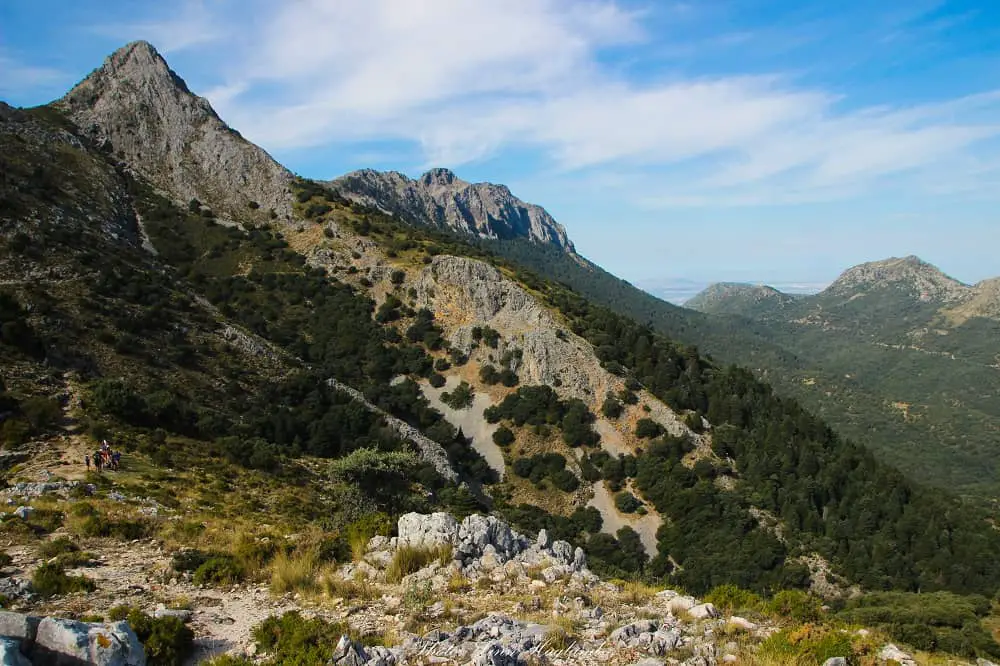 Other hike you can see the Spanish Fir: Pico Torrecilla, Malaga
---
Practical information
Province: Cadiz
Mountain range: Sierra de Grazalema
Permit: Needed
Length: 10,9 km return
Time: 4-5 hours
Elevation: 700 meters
Highest point: 1310 meters
Route: Linear return
Difficulty: Easy-Moderate
Hiking with dogs: It's not allowed to hike with dogs on the Pinsapar trail since it's a protected area within the Grazalema Natural Park.
---
How to get to El Pinsapar in Grazalema
El Pinsapar trail is situated right outside of Grazalema village in Sierra de Grazalema Natural Park. To get to Grazalema, you can either take the bus from Ronda (45 min to 1 hr) or Malaga (3,5 hrs) to get directly to the village or drive.
As the trailhead is around 3 kilometers outside Grazalema, it's easier to drive your own car when you go to the natural park, so you easily can access the different trails.
To drive from Malaga to Grazalema takes just under 2 hours, from Ronda it takes 45 min, and from Seville, it takes 1 hr 40 min.
To get to El Pinsapar trailhead, drive from Grazalema towards Benamahoma (A-372) and turn right direction Zahara de la Sierra after under 1 km. You'll find a car park about 1 km along this road where you can leave the car.
If you walk this stretch, be extremely careful, as the mountain road is narrow and windy, and cars tend to drive too fast.
Once at the car park, you'll pass a picnic area and a gate to where the trail starts.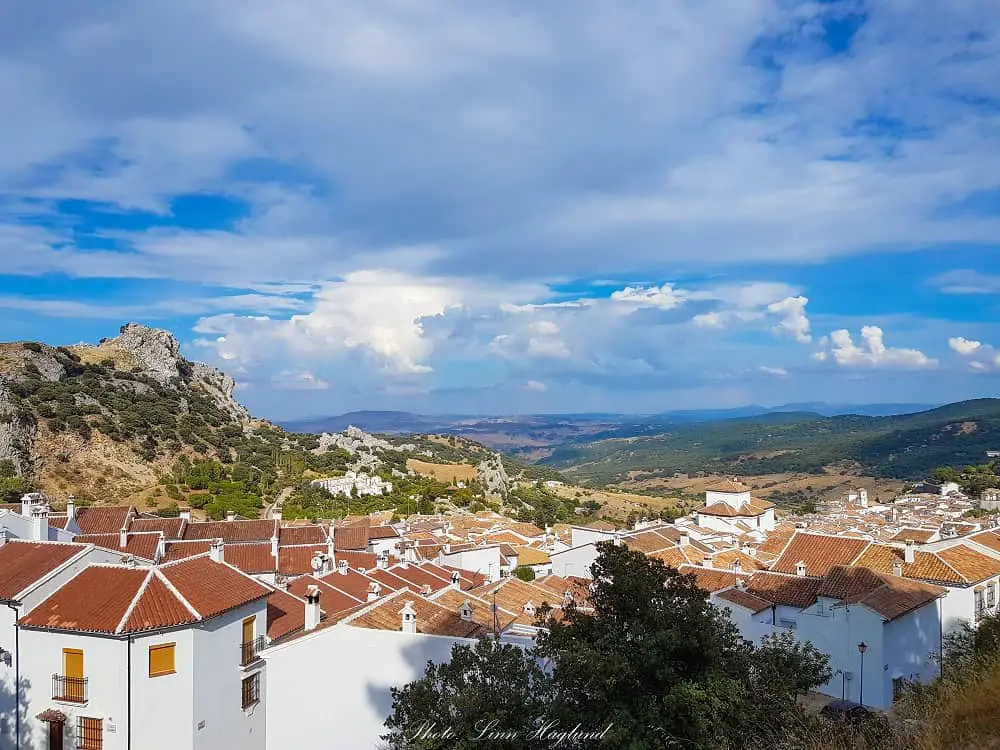 YOU MIGHT ALSO LIKE: How to hike Pico Terril in Seville
Permit for hiking El Pinsapar trail
To hike El Pinsapar trail you need a permit, which you can obtain by contacting El Bosque Visitor Center. If you don't speak Spanish, I recommend you either write them an email or show up in person as there isn't any guarantee that the person that answers the phone speaks English.
The permit to hike El Pinsapar trail is free. But note that in the period of high fire risk, between the 1st of July and the 15th of October, you have to book a guide to be able to hike there. Sometimes they might close parts or the whole trail for guided hikes too if the fire risks are too high.
I recommend that you go on the weekdays if you can, as there are fewer people on the trails and a larger chance of getting the permit. You can reserve a permit up to 1 month in advance, and can either pick it up at the visitor center in El Bosque or they can email it to you. You need to bring the printed permit on your hike.
---
El Bosque Visitor Center:
Tel: 956 70 97 33
Email: cvelbosque@reservatuvisita.es
Address: C/ Federico García Lorca, 1, El Bosque
Opening hours June-Sept: Tue-Sun 10:00-14:00
Opening hours October to May: Mon-Sun 10:00-14:00
---
You can also apply for a permit online by following the below guidelines:
Click this link to apply for a permit
Once you click the link, you can choose what kind of ID you want to use. If you don't have a Spanish ID card like DNI or NIE, choose "Otros del titular" in the drop-down and write your passport number in the section below.
Press "Siguiente" to get to the next page.
There, you start with the drop-down "Espacio". Choose "Parque Natural Sierra de Grazalema".
Next, choose the following under the drop-down next to "Actividad": "EL PINSAPAR"
Choose a date in the calendar. If there are no green dates available, it means that there are no available dates to choose from. Usually, you can get back to it later to see if new dates are released.
When you have chosen an available date, the chosen date will appear next to "Fecha Seleccionada" and you choose "Horario". Eg. Todo el Dia.
Type in the number of hikers including yourself in the field "Nº Visitantes".
Under the tab "Datos del Titular de la reserva" you need to fill out your contact info before clicking Siguiente.
You will receive an email with a link to confirm your reservation. Without doing so, the permit isn't valid.
Once you have received the actual permit, I suggest you take a screenshot of it so that you have it available offline on your phone in case you need to show it on the trail.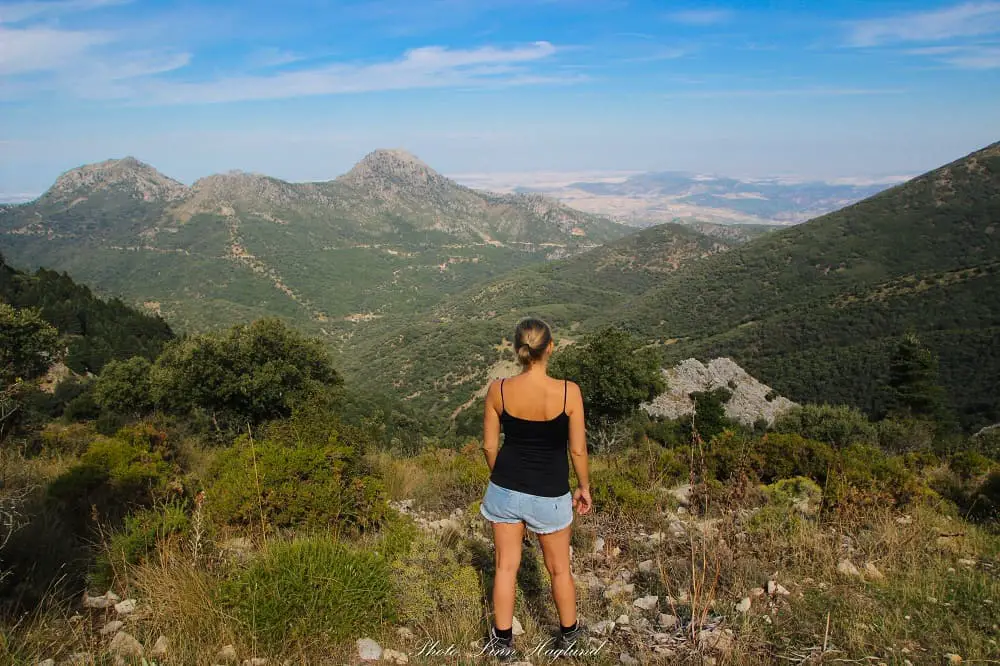 When is the best time to hike El Pinsapar Grazalema
The best time to hike El Pinzapar in Grazalema is between mid-October to May when it's not too hot and there is less risk of bushfires. This is also the period you can go without a guide, if you're like me and prefer hiking independently.
But be aware of rainfall in the winter months. Sierra de Grazalema is the place that sees the most rain in the whole country.
June and mid-September to mid-October can also be pleasant, though temperatures might get high (as in the winter months) and the sun can be strong.
Between July and mid-September temperatures can be unapologetic and large parts of the hike find place under the scorching sun. There are no water sources along the trail, so hiking in Grazalema is generally not advised at this time of year. However, if you do go, make sure you read up on my hot weather hiking tips.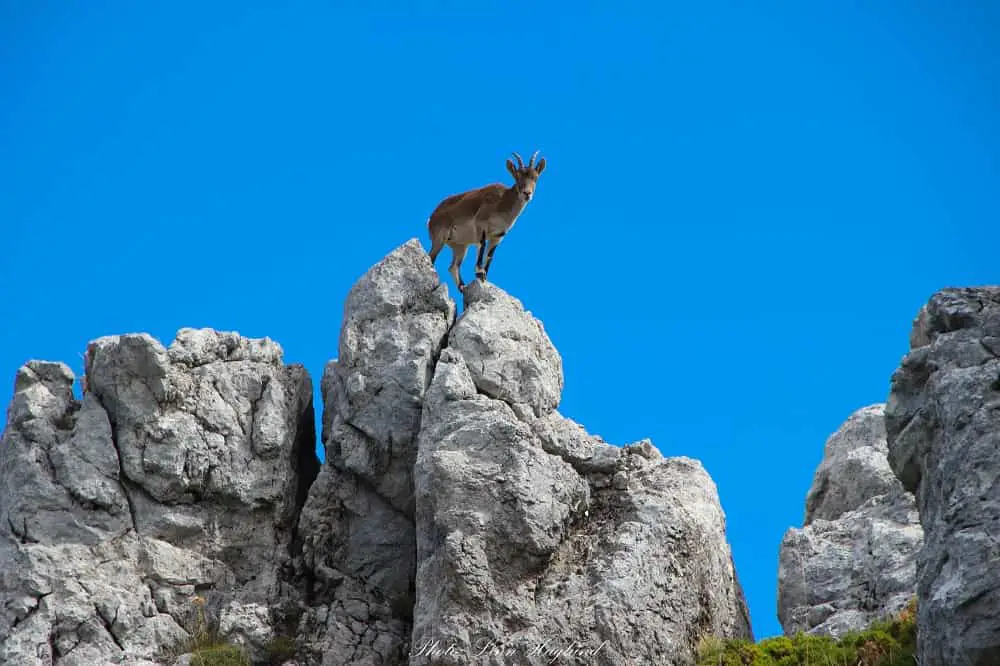 What to bring
As mentioned above, large parts of the trail are without shade and there are no water sources along the path. So make sure you bring a day backpack with enough water and something to cover your head.
If the weather is not stable as in sun, no wind, and 20+ degrees, I recommend you bring a windbreaker and neck gaiter in case you need it. While a hot day in winter can be harsh under the boiling sun, a windy day can be really cold.
You should also consider the difference in temperatures while walking under the tree canopies compared to the open parts of the trail. So always bring something to cover up with just in case.
While the trail is fairly easy, there are some steep parts where you might find it useful to wear a knee brace or bring trekking poles to ease the descend. Here are some useful hiking gadgets and gear for your trek.
What to bring:
hat/caps
water
hiking shoes or good trainers
snack (nuts/fruit/seeds/energy bars etc.)
camera
bag for rubbish
binoculars for bird/wildlife watching
extra layer of clothes in the winter months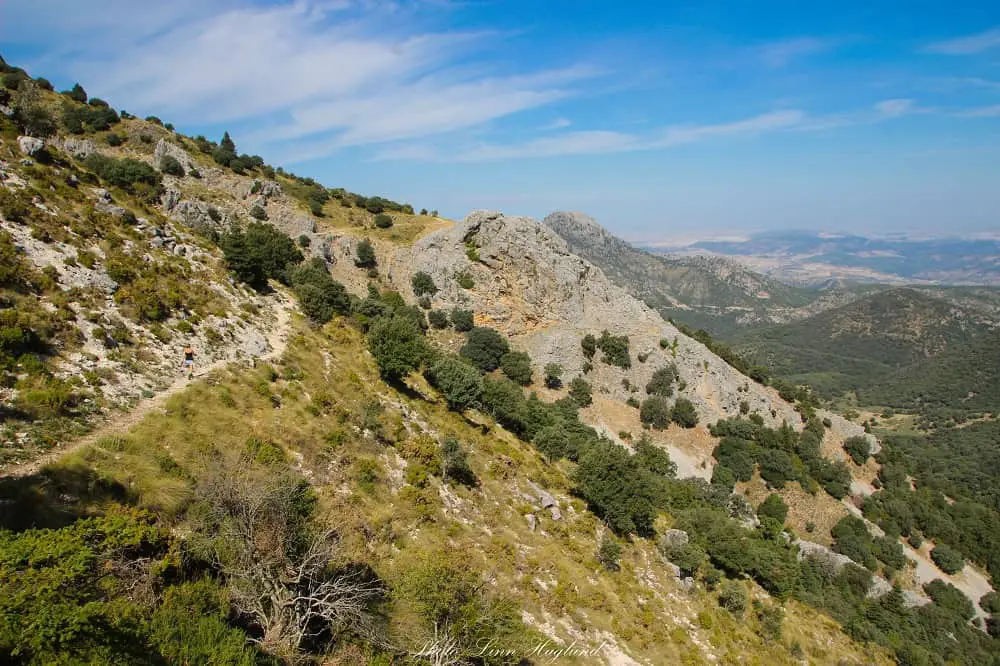 OTHER EPIC HIKES IN GRAZALEMA NATURAL PARK:
Where to stay when hiking El Pisapar
The best places to stay when hiking El Pinsapar trail are Grazalema village or El Bosque. They are both charming villages with a lot of hiking opportunities walking straight from the village.
Where to stay in Grazalema
Puerta de la Villa
A traditional style hotel in the center of Grazalema, close to restaurants and bars as well as hiking routes. They offer parking and a bar as well as rooms with astounding views of the surrounding landscape.
Villa Turística de Grazalema
A few minute's walk from Grazalema village, this charming hotel offers an outdoor pool looking at the surrounding mountains. They have rooms and apartments with a terrace or balcony with stunning views. The hotel offers parking, breakfast, and is pet friendly.
Where to stay in El Bosque
Hotel Enrique Calvillo
This family-run hotel is perfectly situated in El Bosque with a restaurant serving traditional Andalusia food and drinks. The staff is very helpful when it comes to finding the right hiking routes as well as helping with permits.
Venta Julian
This wonderful guest house is centrally situated in El Bosque with a terrace with mountain views, closeness to hiking trails, bars, and restaurants. The hotel has a bar and offers free parking.
---
Want to climb the highest peak on the Iberian Peninsula? Check out my complete guide to hike Mulhacen here.
---
Hiking El Pinsapar Grazalema
The hike starts through a reforested pine forest ascending up to Puerto de las Cumbres where it opens up to spectacular views of Serrania de Ronda, El Torreón (1654m) which is the highest peak in Cadiz, and Grazalema village behind you.
The path continues to the left along the open hillside accompanied by mesmerizing views for a while before you get into the dense and unique forest of Spanish fir closing up around you.
In winter, you might need to add an extra layer of clothing when you enter this part of the trail as the dense canopy of trees won't let the sun through for warmth.
Coming out of the forest, the vegetation changes, and fir trees give way to gall oaks for the descent towards Benamahoma. You return the same way you came from.
On periods with a high risk of bush fires, parts of the trail might be closed, and guided tours might only take you to the start of the Spanish fir forest. However, the guide will explain everything about the Spanish fir trees before you turn around.
If you're lucky you might see wildlife like deer and mountain goats on your hike. There are also a large number of birds circling this area of the natural park.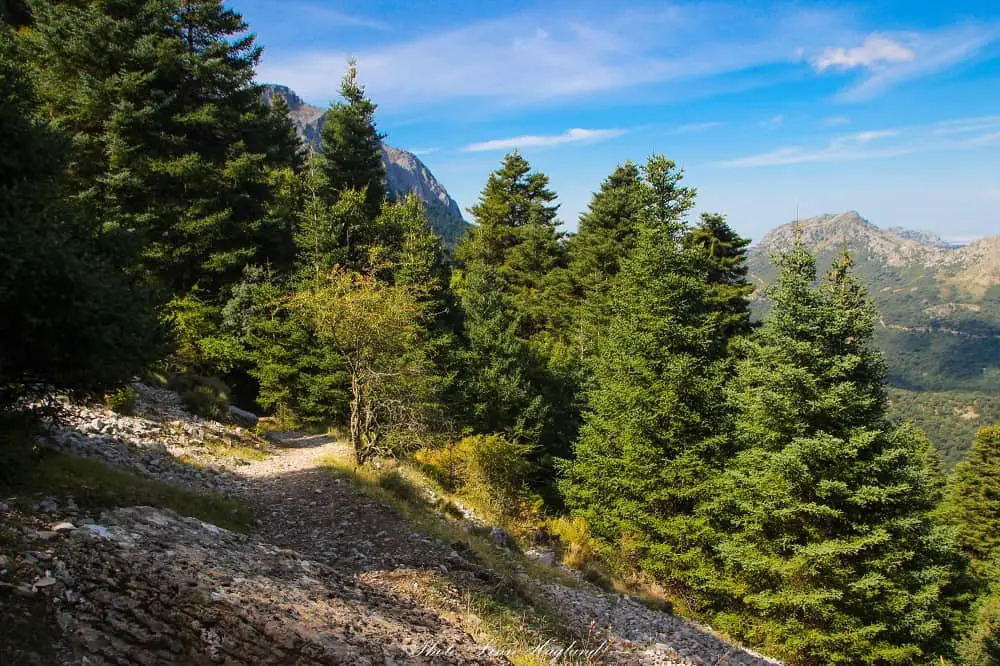 Reflections on hiking El Pinsapar Grazalema
El Pinsapar is an amazing hiking route and well worth it. The uniqueness of the density of Spanish fir trees here is not possible to experience any other place in Spain.
If you've hiked tougher hikes like El Simancon and El Reloj the previous day, this is a good relaxing hike in comparison that still takes you up to altitude with spectacular views. It's actually a great hike for beginners.
Make sure you leave no trace when you hike here. This is important in the whole natural park, but take special care as it's protected area. Even food rests disturbs the ecosystem so take it all with you back in a bag.
Other similar hiking routes: