When asking any Malagueño (aka person from Malaga) what The mountain to climb is, there is only one answer to that, and it's Pico Torrecilla (1919m) in Sierra de Las Nieves Natural Park.
The second highest peak in Malaga after La Maroma (2066m) is still believed by many locals to be the highest in the province (despite the fact that 2066m is a higher number than 1919m – and I'm not a mathematical genius!)
I even found an information sign at the bottom of the actual peak claiming Torrecilla is the highest peak in mainland Spain. Not sure how they've made that out, considering Sierra Nevada boasts several 3000-meter peaks including Mulhacén (3479m) which is the highest peak in the Iberian Peninsula and the second highest in Spain after Mount Teide in Tenerife (3715m.)
With that said, I think we can all agree that Malaga is highly proud of its Torrecilla and not without a reason. Leaving the highest-peak-debate aside, this is an awesome peak to climb and definitely one of the top hikes in Malaga and even among the best in Andalucia.
Boasting mesmerizing views of surrounding mountains, and sea views, it's more than worth the long hike and final steep climb. It's even perfect for solo hiking as it's well-marked and highly frequented by other hikers. Here is a complete hiking guide to this iconic peak that everyone should do at least once!
Disclosure: This post may contain affiliate links. That means that if you make a purchase through one of those links, I will get a small commission at no extra cost to you.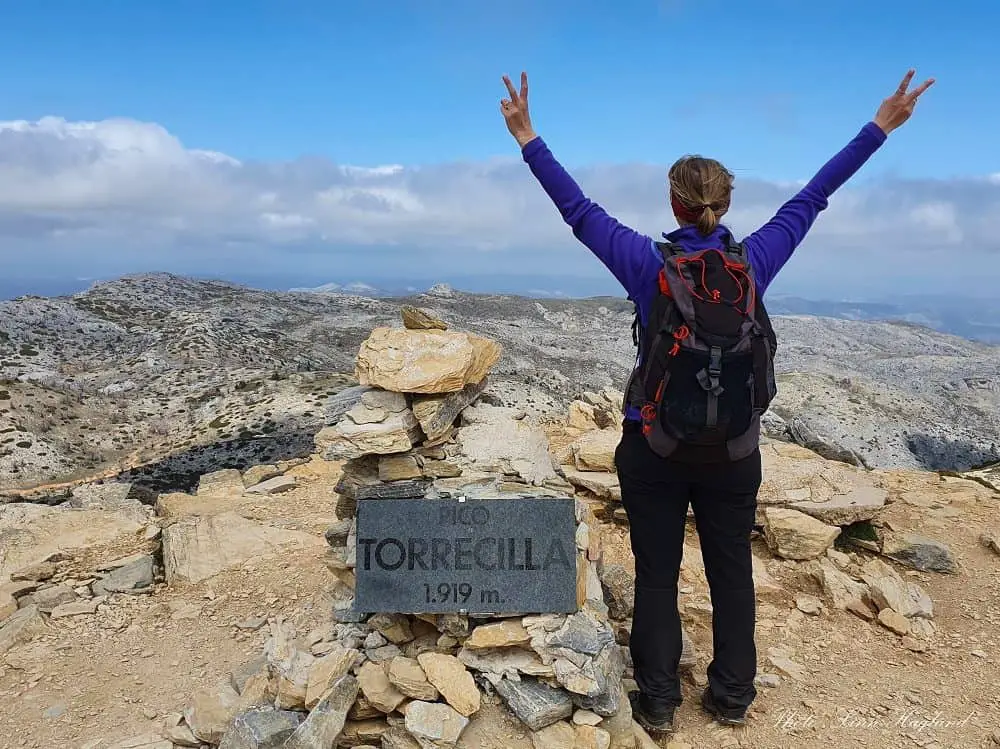 ---
Practical information
Province: Malaga
Mountain range: Sierra de Las Nieves
Length: 20,5 km
Time: 7-9 hours
Altitude: 1919 masl
Elevation: 670 meters
Route: Linear return
Difficulty: Medium-Difficult
Hiking season: September to May
Hiking with dogs: It's allowed to hike with dogs, but avoid the months of January to May. There are pine trees on the first section of the trail which means there can be pine processionary caterpillars on the path that can be fatal for dogs. Read everything you need to know about hiking with dogs here.
---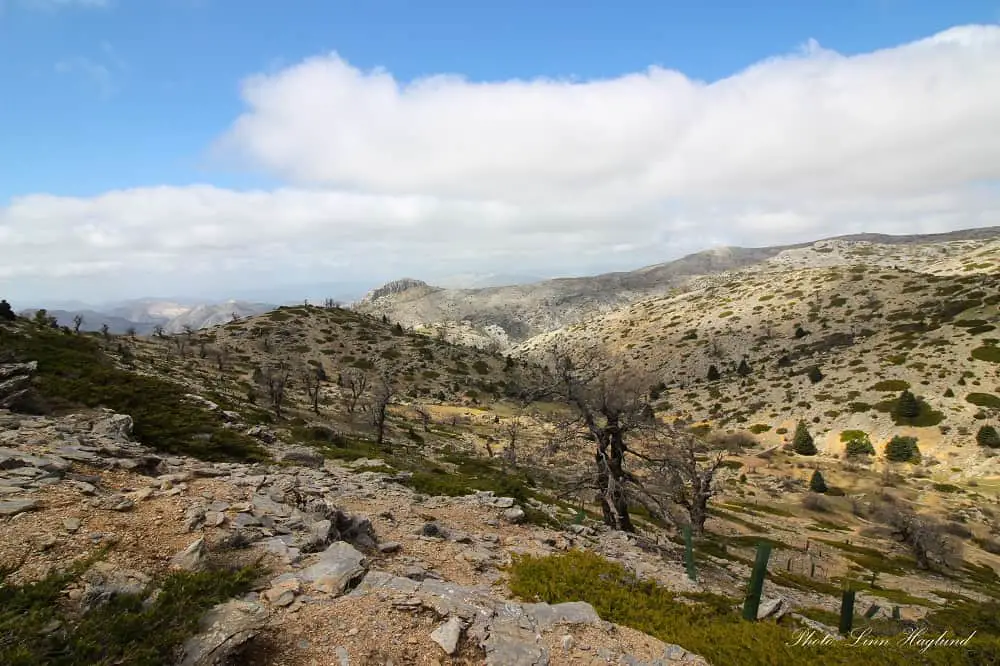 How to get to Pico Torrecilla
The classical route to Pico Torrecilla starts and ends at Puerto Saucillo which is a viewpoint above the white village of Yunquera. You can drive the whole way up and by plotting Puerto Saucillo into the GPS it takes you there without problems.
There is a small parking lot there, but if you come late, you might have to park along the road or further down to walk up. Anyway, I recommend you come early to make sure you get back before dark.

Estimated driving time to Puerto Saucillo from the following cities:
Malaga: 1 hr 20 min
Ronda: 1 hr
Marbella: 1 hr 15 min
Granada: 2hrs 20 min
Seville: 2 hrs 20 min
Cadiz: 2 hrs 30 min
There are one to two buses a day running from Malaga to Yunquera. Unfortunately, the bus times are not good for a day trip for doing the hike, so it requires a night or two in Yunquera.
You can hike all the way from the village, but it will probably add about 3 hours to your total hiking time. You can check the bus timetable here.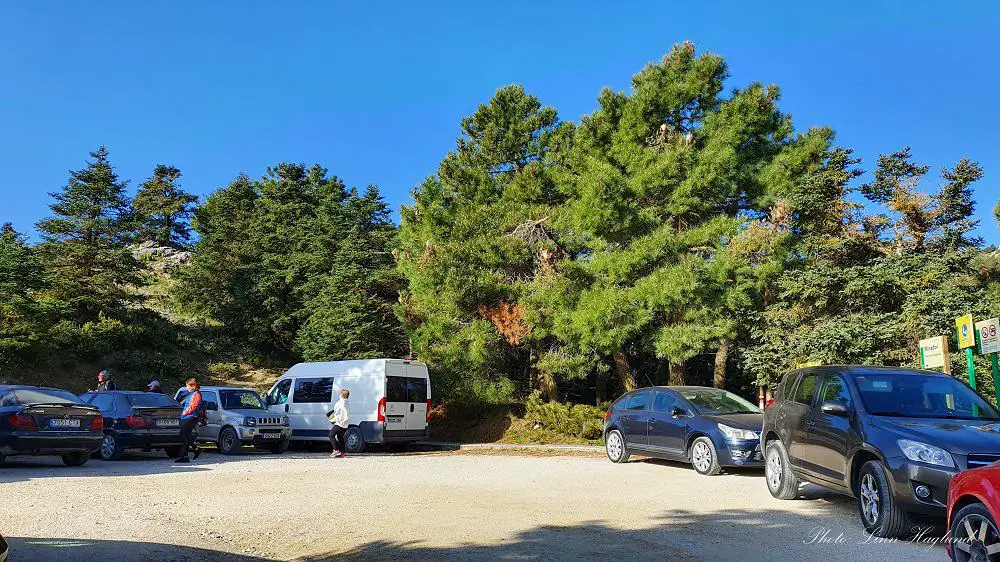 MAKE SURE YOU PRACTICE LEAVE NO TRACE WHEN HIKING IN SIERRA DE LAS NIEVES
What to bring
Torrecilla is a long hike that's mostly exposed to the elements which can turn quickly at this altitude. I recommend you bring enough layers including a windbreaker even on what seems to become a nice, sunny day. It's better to have extra layers without using them than not having them and needing them.
It's also a good idea to bring a water bladder for a hike of this length so you're sure to stay hydrated the whole way. You can see my recommendations for hiking backpacks with room for water bladders here.
If you hike with dogs, bring extra water for them too.
There is one water source at the foot of the peak, but that's not safe for drinking. However, you can fill up for your dogs if you run out. With that said, I've seen another water source farther down on the trail but that was dry, so I wouldn't rely on it.
Read my complete guide to hiking in hot weather.
When hiking Torrecilla you should have good hiking shoes or boots and it's recommendable to walk with hiking poles. If you struggle with your knees, you can find more information about knee braces here.
Other hiking gear that can be useful on this hike is a headlamp (in case it gets dark before you get down) and a first aid kit, since it's such a long walk.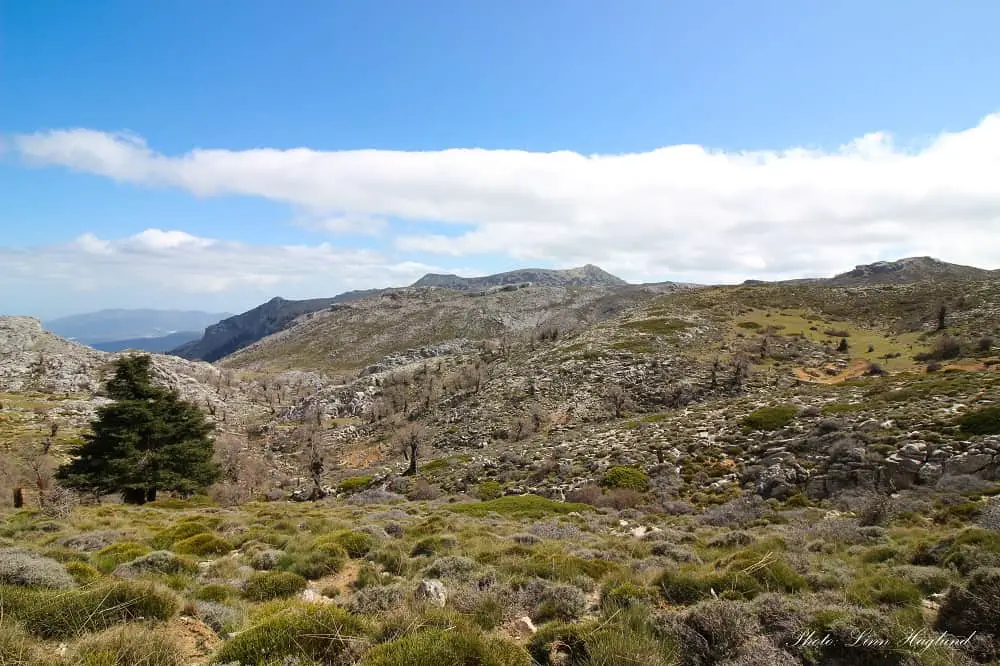 Here are the things you should add in your backpack:
water (preferably water bladder)
sunscreen
windbreaker
layers of clothes
neck gaiter
mittens
headlamp (in case you get back after dark)
lunch
snack (nuts, dates, fruit, seeds, energy bar, etc)
camera
portable phone charger
Top Amazon picks for this hike:
Where to stay
When hiking Pico Torrecilla, the best place to stay is in Yunquera, especially if you travel by public transport. But the quaint village of El Burgo is less than 10 kilometers from the trailhead and is a wonderful alternative to stay at.
There are mostly private houses for rent in both villages so you can search here to find one you like unless you want to stay at the camping (which is a good option for hikers!)
Camping Sierra de las Nieves (Yunquera)
Whether you opt for camping or a bungalow, Camping Sierra de las Nieves is a great option to stay in Yunquera. The bungalows are really cute with kitchen and bathroom.
If you bring your tent, I have good news for you. It's grass on the pitch in contrast to many other campgrounds in Spain where the ground is too hard for pitching your tent.
The premises dispose of an outdoor pool and a bar. You can also bring your dog.
Book here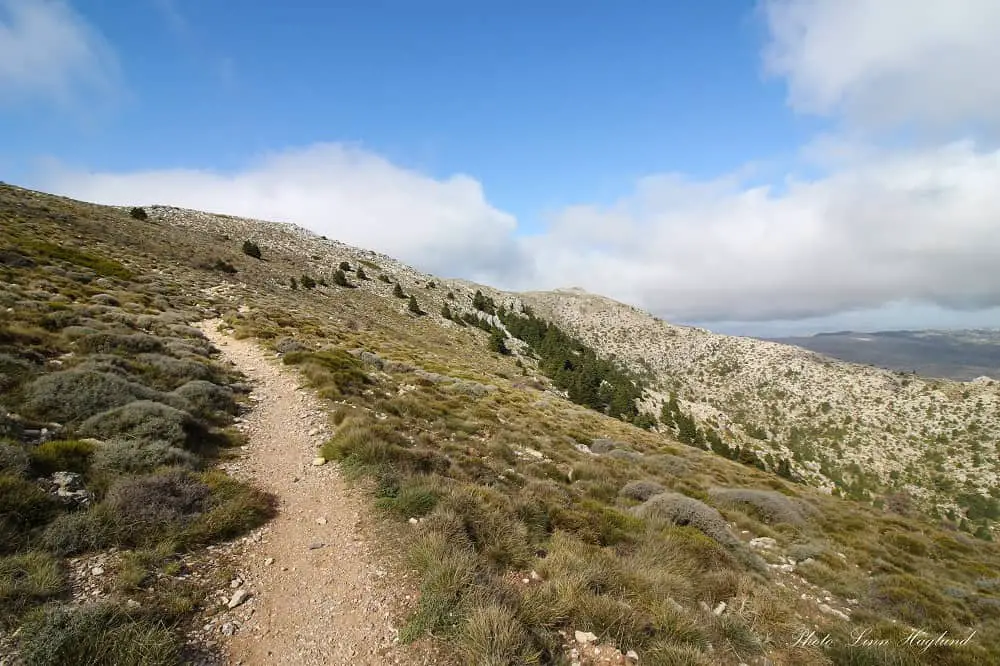 Hiking Pico Torrecilla from Puerto Saucillo
When you arrive at Puerto Saucillo, there are two trails to choose from. You need to take the one on the left side closest to the viewpoint. There is a large sign showing a map of the route to Torrecilla, but no actual trail sign pointing to the right path.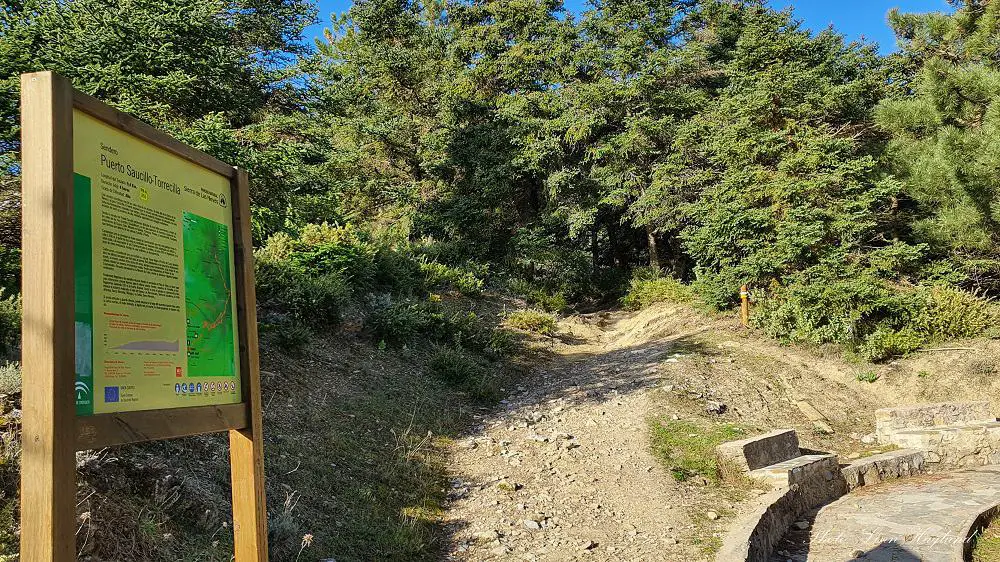 This path ascends through a pine forest with quite a lot of Spanish Fir trees (Pinsapar), an endangered species that are mostly seen in Sierra de Las Nieves and on the protected Pinsapar trail in Grazalema.
Once you get through the forested section, the views will open up and you'll continue across a vast landscape of shrubs and the odd tree with never-ending views. The path is clear to follow all the way.
After a few kilometers, you get to a junction where you'll see signs to Torrecilla to the left. Turn left here and continue on this path past a section that resembles a mini Torcal de Antequera, and more vast landscape until you get to the foot of the mountain.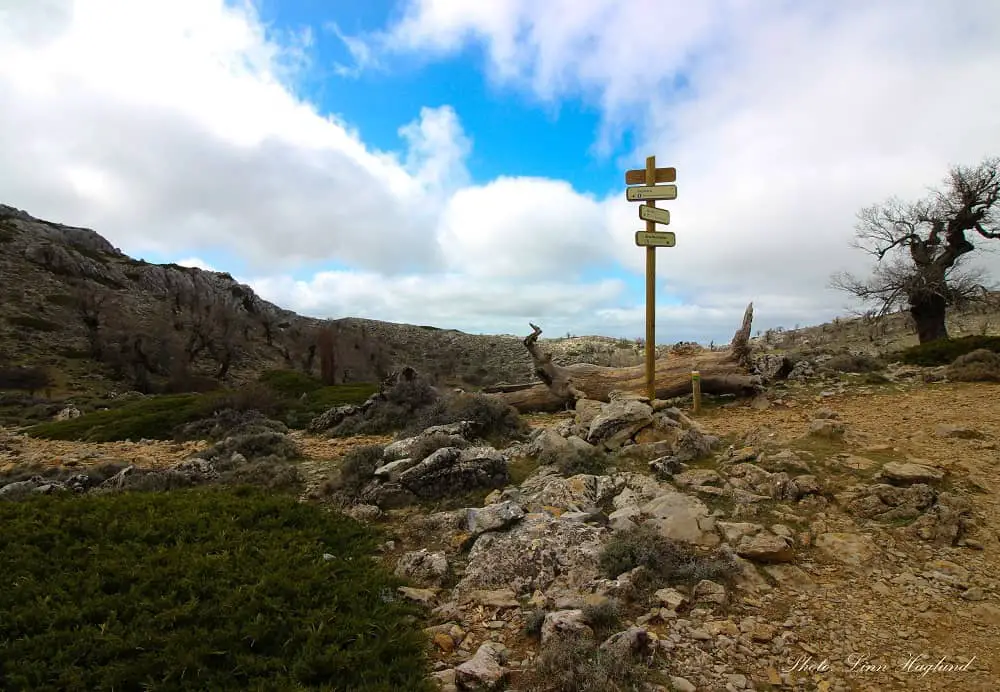 Under the final ascent, there is a large area where hikers use to have a break and enjoy the views of the mighty peak. This is where there is a water source if you bring your dogs.
From here, continue up the trail towards the peak. The final ascent is steep and it can be hard to follow the path at times. Luckily, this is a highly frequented route, so it's hard to get lost. However, all paths lead to the top, though some of them can be a bit more tricky than others.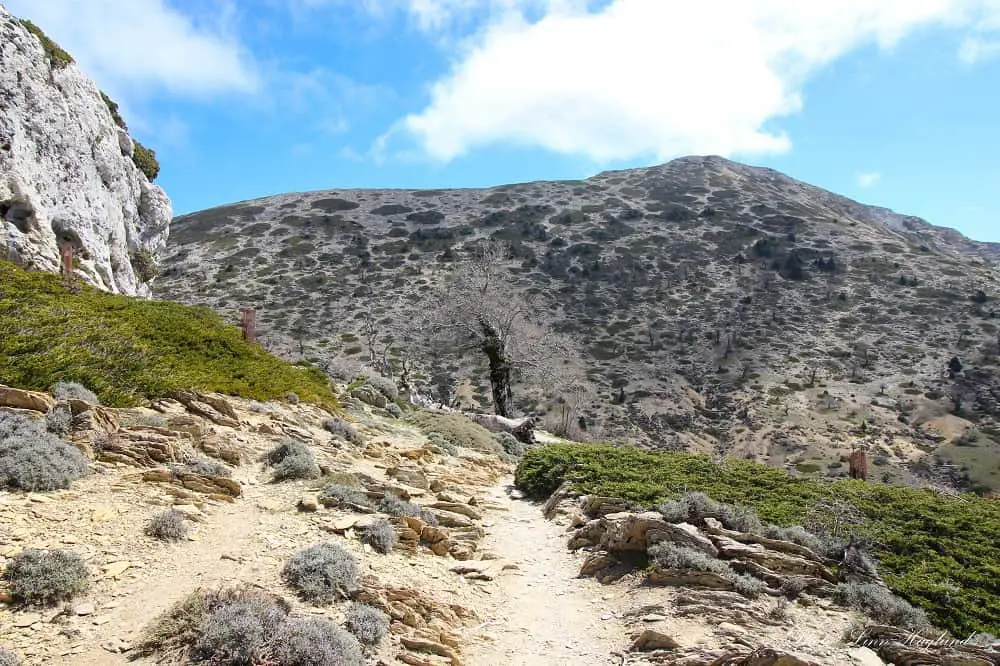 There are the odd poles indicating where the trail goes, but I still managed to walk down a different route than I walked up as I saw people coming from there.
Once you're up on the peak you'll get rewarded with sweeping views of the sea and surrounding mountains. It's hard to beat this beauty and I wouldn't be surprised if you already plan your next hike up there while you're enjoying the views!
The route back down is the same as you came from.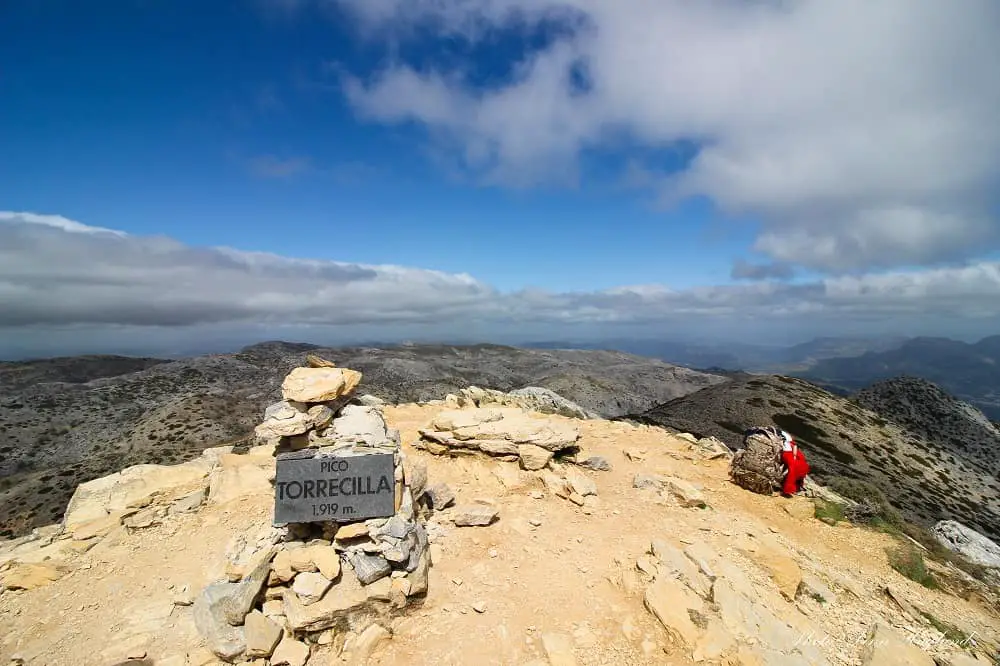 Reflections
As mentioned before, the Torrecilla hike is one of the absolute best in the province. It's not a difficult hike, but I rated it medium to difficult due to the endurance you need to walk the long trail and the last steep section that can be hard to navigate.
However, this is a hike that even children that are used to hiking can do. But if you're not used to walking in the mountain, you should leave early and plan for some extra time on the trail. It's absolutely doable as most of the middle section goes leisurely up and down so you can recharge batteries for the final ascent.
Torrecilla is without a doubt an Andalucia bucket list hike!
Pin it for later!