La Maroma in Malaga is an astounding mountain that can be seen from miles away! The iconic peak, originally named Tejada, boasts incredible 360 views over the coastline as well as the Sierra Nevada mountain range where you can even see the highest peak of the Iberian Peninsula, Mulhacen (3479m).
La Maroma peak is the highest in the Malaga Province at 2066 meters and a true bucket list adventure for the hiking enthusiast.
This is not only the highest peak in Malaga, but it also used to be of high importance back in the days when people transported ice from the peak and down this exact route I'll share with you here.
Maroma actually means rope, and the nickname comes from the thick ropes that the workers used to climb down the deep pit at the top of the mountain to get ice. The ice was then transported with donkeys down to the village.
Are you ready for a long day of hiking across impressive nature to explore one of the greatest hikes in Andalucia? Let's look at some practical information first.
Disclosure: This post may contain affiliate links. That means that if you make a purchase through one of those links, I will get a small commission at no extra cost to you. As an Amazon Associate, I earn from qualifying purchases.
Practical information
Province: Malaga
Mountain range: Sierra de Tejada
Elevation: 1417 m
Altitude of peak: 2066 m
Length: 22 kilometers return
Time: 8-10 hours
Route: Linear return
Difficulty: Medium-Difficult
Hiking season: October to May
Hiking with dogs: It's allowed to hike with dogs, but avoid the months of January to May. The trail goes through a large pine forest and the processionary caterpillars are out and can be fatal for your dog. Further, there are no natural water sources on this trail and it's long and highly exposed to the sun, so bring enough water for your dog.
How to get to La Maroma Malaga
There are 3 hiking routes to La Maroma.
El Robledal: From Alhama de Granada (the easiest route)
From Sedella (route 1: the hardest route to the peak, route 2: the shortest route to the peak, as you can drive most of the way)
From Canillas de Aceituno (the longest route)
This post will take you through all you need to know to hike to La Maroma from Canillas de Aceituno.
The nearest airport is Malaga Airport.
READ: Complete guide to hiking Malaga's second highest peak, Torrecilla (1919m)
Getting to Canillas de Aceituno by car
Canillas de Aceituno is about an hour's drive from Malaga and half an hour from Vélez-Malaga. You can easily park along the road in the village on either side. By plotting in Canillas de Aceituno in your GPS, you'll find the way without problems.
Getting to Canillas de Aceituno by bus
Unfortunately, there are not many bus connections with Canillas de Aceituno. There is one bus commuting between Malaga and Salares, which goes a couple of times a day. You can look at their timetables here.
Another option is to travel from Veléz-Malaga which also only has a couple of departures a day, one on Saturdays, and none on Sundays and bank holidays. You can check out their timetable here.
How to get to the trail head
The trail starts at the main square, looking up at the Town Hall, walking on the left and up zig-zag. There are a few signs pointing you towards both La Maroma and the lesser-known route of El Saltillo, where you can cross Spain's 3rd longest hanging bridge.
In case you have any doubt, there are usually some friendly villagers willing to point you in the right direction.
At the top of the village, you'll get to a set of stairs pointing to the left, follow them to the top, continue on the trail past a little white barn (you'll most likely both hear and smell the animals), and then you'll find yourself on a dirt road. This dirt road turns right.
There are actually two turns to the right. Don't take the first one, you want to walk on the top road and there you'll see a big sign with a map of the hike just a short walk from the barn. Take this trail up into the forest and you're on the path you'll be following for the next 5-6 hours to the top of Malaga.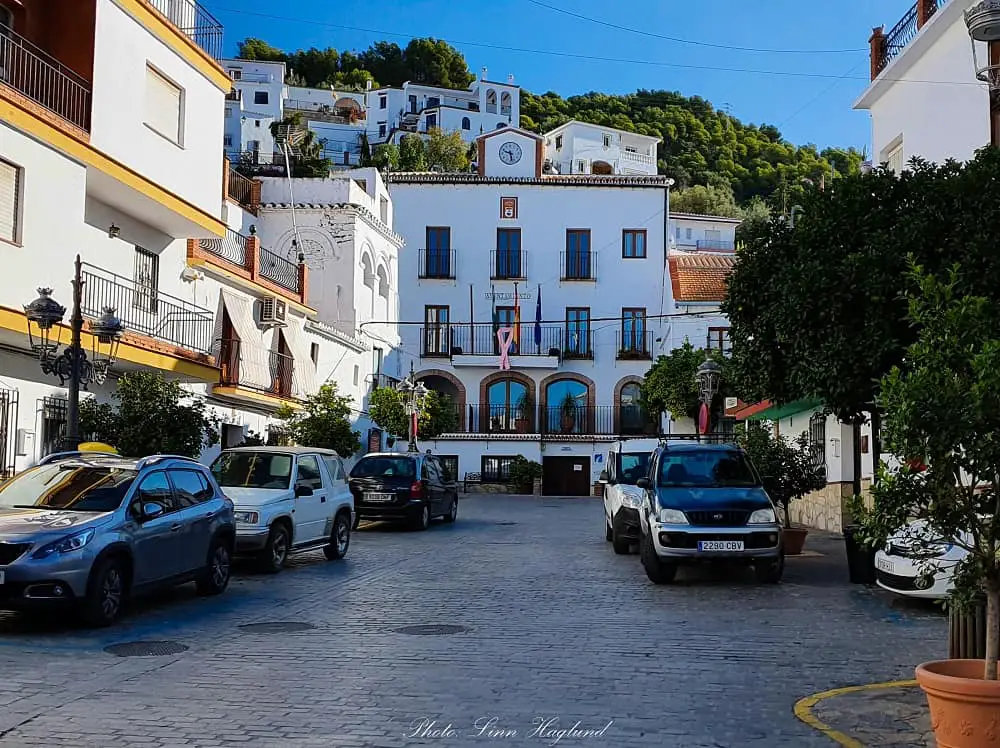 YOU MIGHT ALSO LIKE: The most amazing hikes in Malaga
What to bring
Hiking from Canillas de Aceituno to La Maroma is a long hike with large parts without shade, and should not be underestimated. I have done this twice, and the first time I didn't reach the top because I started late and it was way too hot, so I had to take a lot of breaks to drink water and gain energy.
While it is a fairly easy trail, there are a few steep and rocky parts, so I recommend wearing good hiking boots with ankle support. If you have hiking poles, bring them.
I also recommend bringing at least 3 liters of water for this hike, as you'll be exposed to the sun for large parts of the day. Read up on hiking in hot weather before you go.
Make sure you have a good day backpack with enough space for extra layers.
Do always check the weather forecast both in Canillas de Aceituno and on La Maroma before your hike so you get an idea of the differences in temperature you'll get throughout the day. It's always better to bring an extra layer of clothing than one too little.
Here is a list of the minimum of things you need to bring for hiking La Maroma:
Water (min 3l.)
Hat/caps
Hiking boots
Food and snacks (nuts, fruit, energy bars)
Camera
Hiking poles
Knee brace (if needed)
Sunscreen
Headlamp (in case you don't get back before dark!)
Wind-proof jacket
Layers of clothes (think wool and fleece for the top and t-shirt for the start of the hike)
gloves
Neck gaiter
Find the best knee braces for hiking here.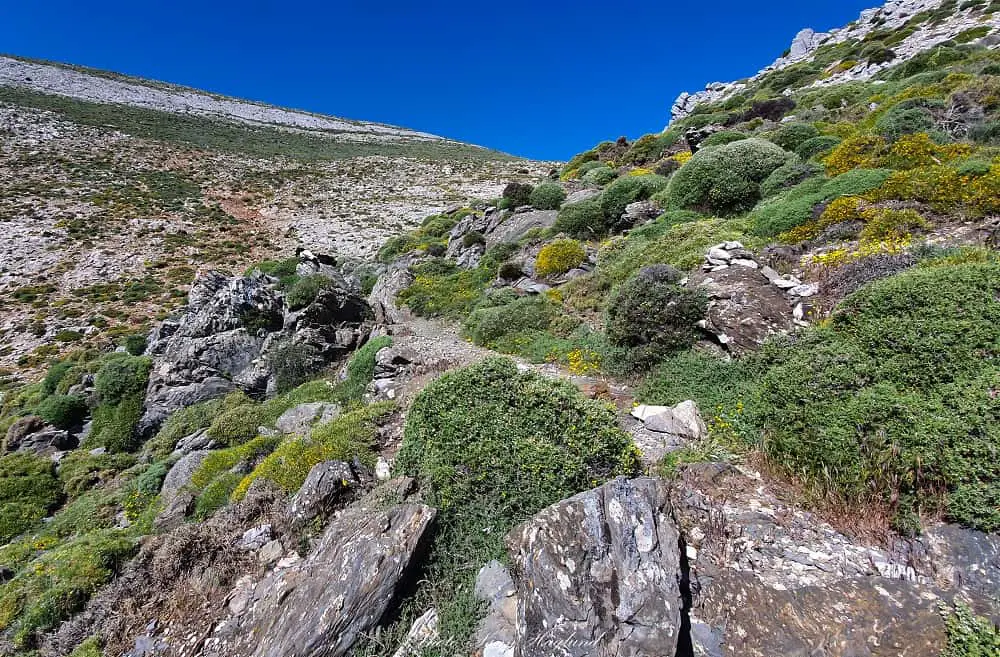 YOU MIGHT ALSO LIKE: How to hike El Chullo, Almeria's highest peak
Where to stay when hiking La Maroma from Canillas de Aceituno
If you travel by car, you can easily stay in Malaga or Nerja and drive early in the morning for a day trip. However, if you take the bus or just want to take it slow after your hike, you should definitely stay over in Canillas de Aceituno. If you stay a couple of days, you can even hike the half-day, El Saltillo hike which is well worth it and not at all physically exhausting!
Here are a few options on where to stay.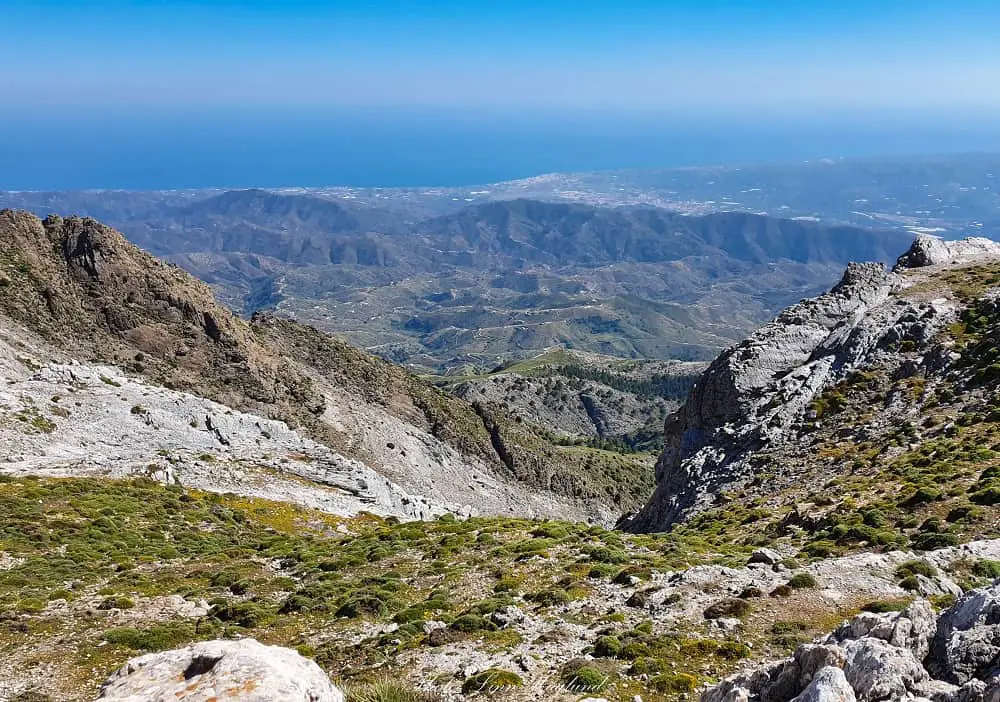 Canillas de Aceituno
Olive & Ivy Guesthouse
This is without a doubt the best choice if you plan on staying the night in Canillas de Aceituno. The guesthouse is situated right behind the Town Hall, which is perfect for starting your hike early in the morning. The friendly staff will also take care of you with a wonderful breakfast for a good start of the day.
Book your stay at Olive & Ivy Guesthouse here.
Malaga
Hotel Sur Málaga
A great, central choice for your stay in Malaga. If you don't have a car, they can also help you with organizing a rental car for your day trip to Canillas de Aceituno.
Book your stay at Hotel Sur Málaga here.
Nerja
Hotel Balcón de Europa
An excellent choice if you plan to stay in Nerja. The hotel has parking so you can easily drive to Canillas de Aceituno and it's centrally placed within walking distance of restaurants.
Book your stay at Hotel Balcón de Europa here.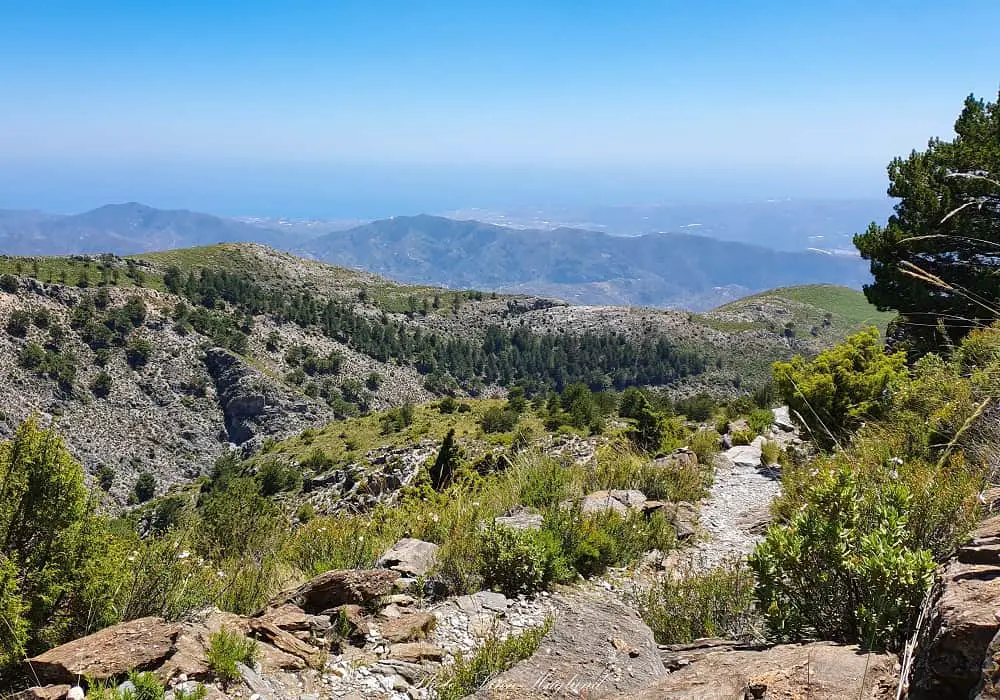 RELATED: How to conquer Cazorla's highest peak, El Gilillo
Hiking La Maroma
Hiking La Maroma from Canillas de Aceituno is, as mentioned before, a long hike and though it's not a technically challenging hike, it shouldn't be under-estimated.
I recommend you start early so that you get back in time before dark. I got caught up in the mountains and though it was one of the most memorable sunsets I've seen in my life, it meant I had to walk 2 hours with flashlights leading the way.
I recommend you try to avoid that if it's the first time you walk the trail as everything does look different in the dark. Nonetheless, bring a headlamp just in case.
The path from the trailhead is fairly straightforward. The first part takes you through a forested area. Just before you get out of this area and over to a more open landscape, you'll pass a small cave, Cueva de la Rábita.
The small cave used to be used as a shelter for shepherds back in the day. However, I did find a sleeping bag at the back of the cave, so it can't be that long ago since anyone took shelter there.
Continuing past the open landscape after Cueva de la Rábita, guided by La Maroma in front of you, the path continues towards the left of the peak, through another forested area and you'll climb a couple of steep parts before you get to the top of the mountain above the tree line.
Not the top of La Maroma, though. But not more than an hour or so from the top. This is the top of the steep parts of the hike and boasts amazing views over the Mediterranean and the surrounding mountains.
The rest of the hike to the top is rocky but not too steep.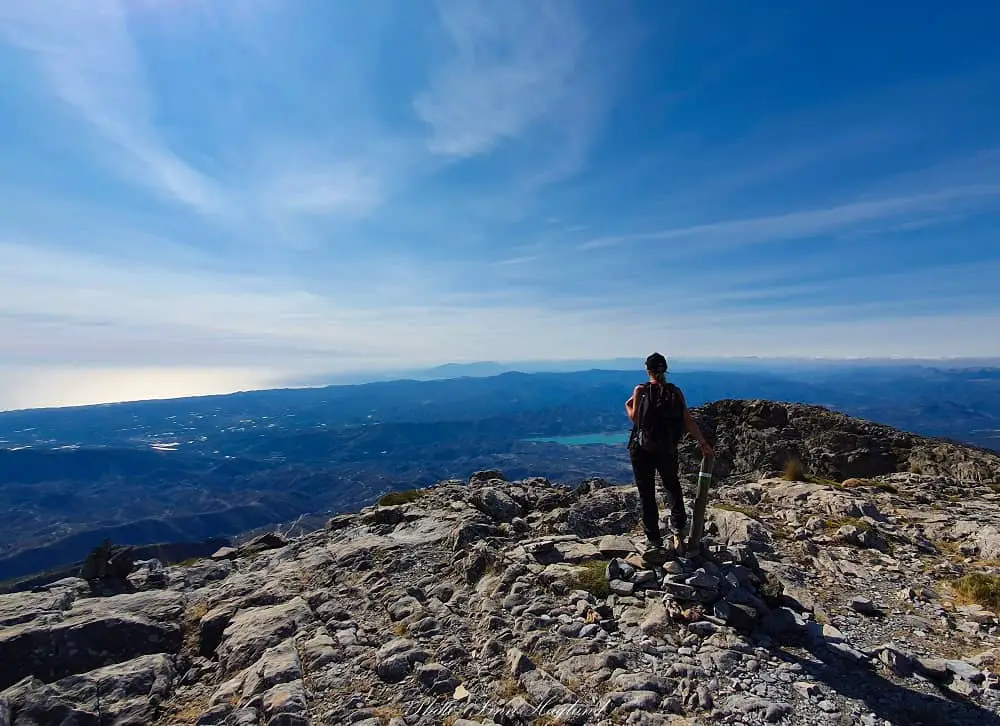 The top of La Maroma
Once on the top of La Maroma, at over 2000 meters of altitude, it's large and flat so you can walk around and enjoy the views in all directions. On a clear day, you can see Africa on one side and Sierra Nevada with some of the highest peaks in mainland Spain on the other side.
It is not abnormal with a lot of wind on the top, but luckily, there are a lot of ring walls of stone built on the top where you can take shelter to enjoy a snack while you're up there.
If you're lucky, you'll meet some of the locals, the pack of Spanish Ibex roaming around the mountain. They are used to people, so if you stay still they might come closer to have a peek at you. Nonetheless, they are wild animals so try not to feed them, scare them, or chase them in any way.
When it comes to the exact altitude of La Maroma, it's hard to tell. Most sites say 2066 or 2069 meters, yet, most Wikiloc GPS' say less. Mine told me 2053 meters at the highest point.
At the edge of the peak, you'll see a fence. This is where you'll see the large pit where they got the ice from back in the day. Be careful not to go too close, as it's extremely deep, and quite scary to think about how they used to slide down that hole with only a rope.
Once you're ready to leave this beautiful view (or when the time tells you that you need to go so you reach back before sunset), take the same route back down. You should calculate at least 3 hours on the return.
If you suffer from knee pain when hiking downhill, I highly recommend using a knee brace for hikers when descending as it gets steep at parts.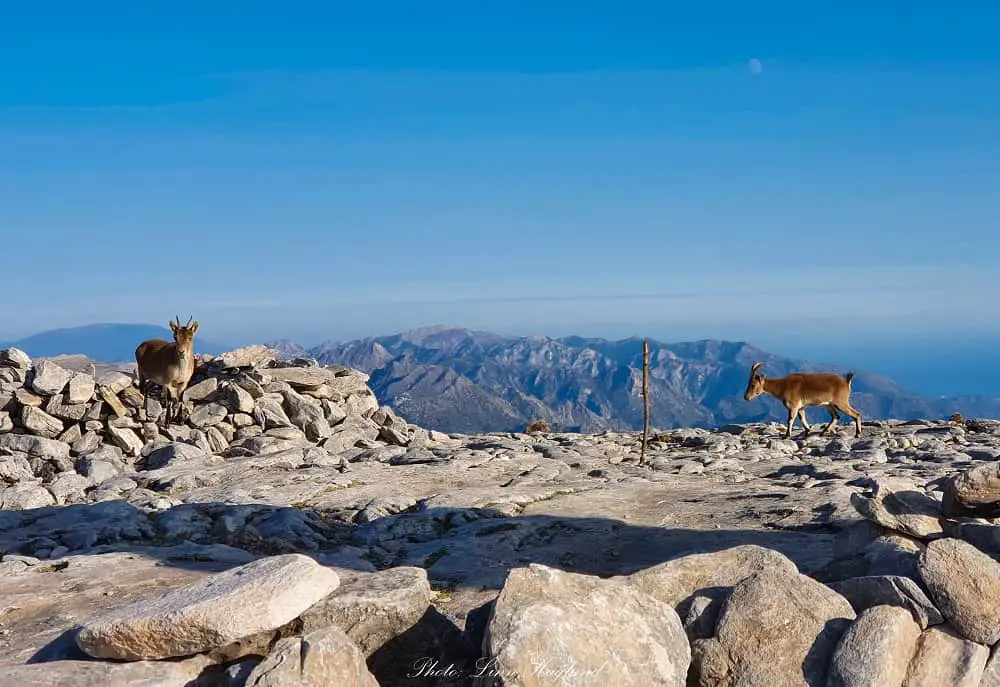 Reflections on La Maroma hike
Hiking La Maroma from Canillas de Aceitunas might be one of the harder routes in Malaga, much because of the length of the trek. It is definitely not a beginner's hike and you should have at least a general fitness level before you head out on this adventure.
But there is no doubt it's a stunning hike and you will not turn back disappointed after reaching this bucket list hike!
Other hikes in Malaga: