If you're looking for a fairly easy walk, yet with some steep sections, varied landscape, and spectacular views, the lovely Ruta Pinos, Vegosa, Venados y Plata is for you.
This makes a wonderful family hike, but also a nice solo hike to soak in the sweet scents of the trees and the glittering lake views. This route is actually a combination of various shorter loops and I'd say it's the nicest one in this area.
The trail is not very well marked, and when I walked there, the locals I asked didn't know where the route went either. That's why I created this thorough hiking guide so that you can walk it confidently and don't get lost.
Disclosure: This post may contain affiliate links. That means that if you make a purchase through one of those links, I will get a small commission at no extra cost to you.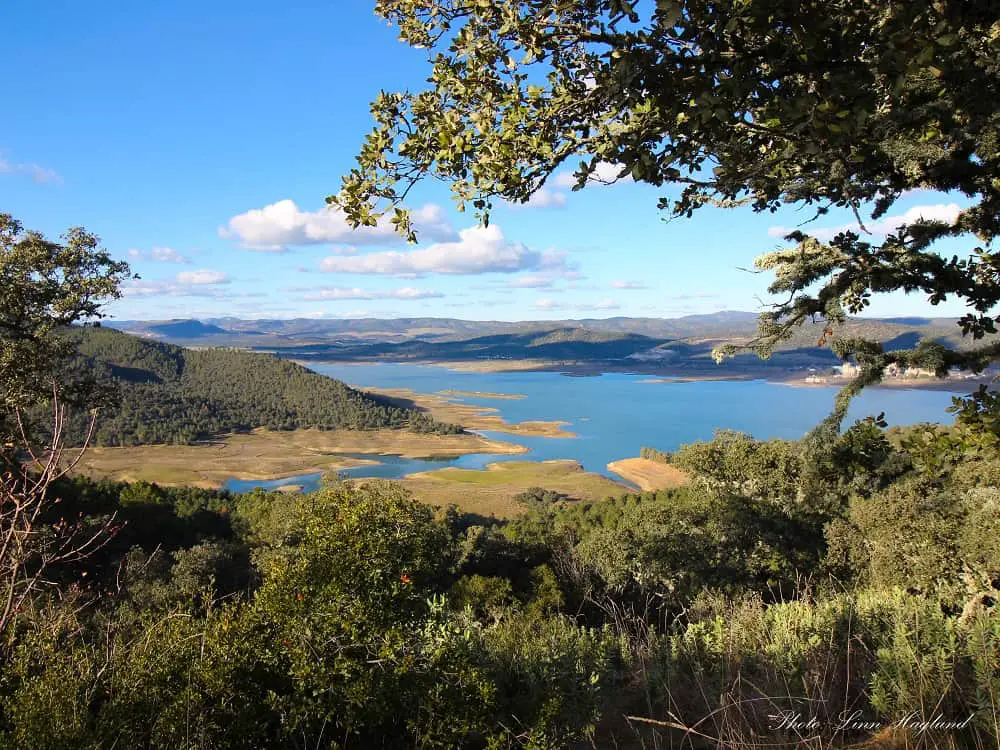 ---
Practical information
Province: Cordoba
Mountain range: Sierra Morena
Length: 9,2 km
Time: 3-4 hours
Elevation: 528 m
Route: Circular
Difficulty: Medium
Hiking with dogs: You can hike with dogs, but avoid the months of February until summer due to the pine processionary caterpillars that can be deadly to dogs. Avoid early morning and late evening too as this area is heavily frequented by wild boar and you definitely don't want your dog to confront these guys. there are a couple of natural water sources for your dog to drink from, though they are far apart, so it's recommended to bring extra water.
---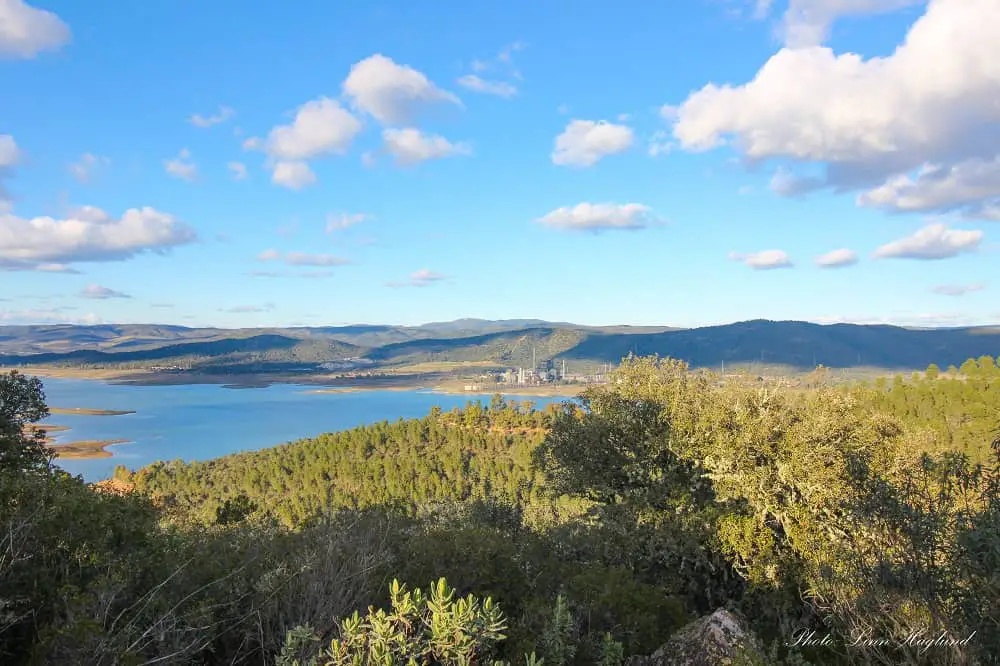 ---
READ: Best hikes in Andalucia for your bucket list
---
How to get to Ruta Pinos, Vegosa, Venados y Plata
Ruta Pinos, Vegosa, Venados y Plata is situated a few kilometers outside the white village of Villaviciosa de Cordoba in Cordoba's Sierra Morena. The trailhead starts straight in front of the entrance of the Camping Puente Nuevo.
It's no doubt easiest to get there by car. You can put Camping Puente Nuevo in the GPS and it will get you there without problems. You can then park at the campground.
There are only a couple of buses a day commuting between Cordoba and Villaviciosa.
To avoid taking a taxi or walking the 8 kilometers between the village and the campground, you can ask the bus driver to drop you off at Pantano Puente Nuevo which is a 15-20 min walk from the campground.
If you go by bus, you'll have to stay the night and might as well explore more of the hiking routes in the area, like Ruta de Los Venados.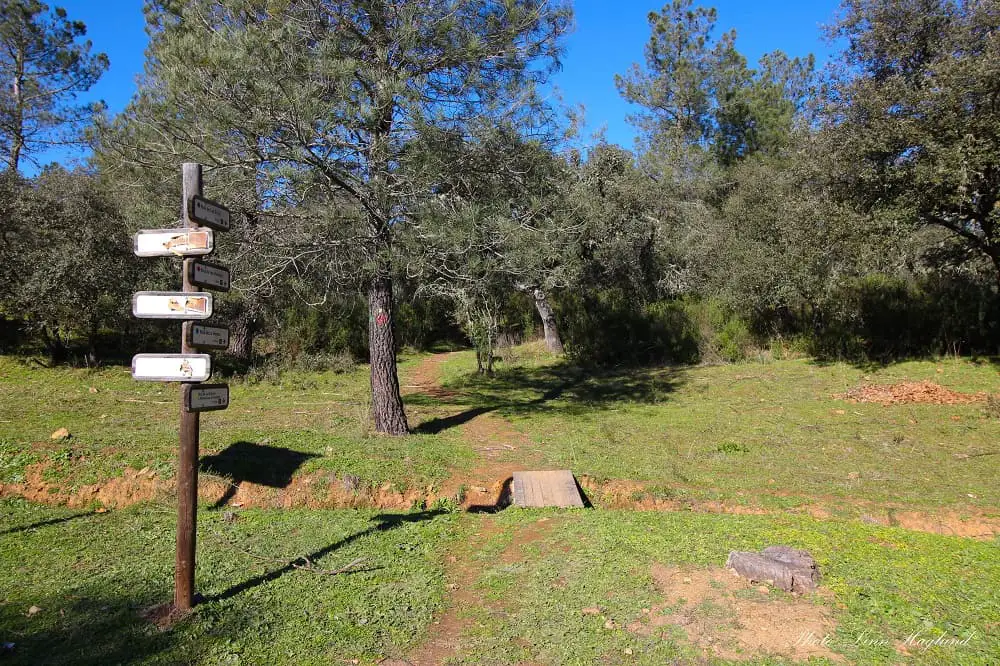 When is the best time to hike Ruta Pinos, Vegosa, Venados y Plata
You can hike Ruta Pinos, Vegosa, Venados y Plata all year round. Hiking in the summer months is hot in the daytime, and the temperatures drop dramatically at night, so an early morning or late evening hike can be done.
Spring and autumn are pleasant months to hike as the daytime temperatures are mild but not cold. The winter can get cold, but on a sunny day you can experience a nice warmth and might have to take off your jacket
With that said, I recommend bringing warm clothes in winter, so make sure you have enough layers to take on and off as you need them. Including mittens, a neck gaiter, and a beanie. Hiking leggings are valuable to have under the pants too on very cold days.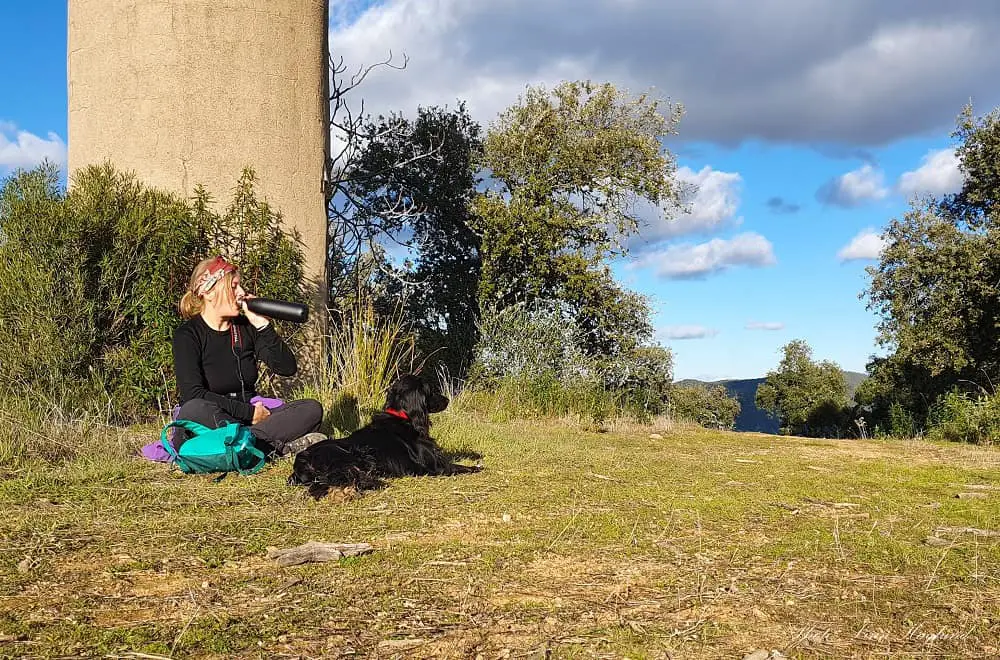 ALSO IN CORDOBA:
What to bring
Depending on what time of the year you go hiking, make sure you have adequate clothes. In the warmer months, you probably can't wear other than shorts and a t-shirt but you still need good hiking shoes or sneakers.
There are a couple of really steep sections too, that was really hard without hiking poles, so I highly recommend using them. You can read more about my top picks here. For anyone struggling with knee pain, you might consider using knee braces too.
Other than that, there isn't any use for a whole lot of hiking gear and gadgets as most of the trail is easy to get by.
However, what you really should have in your daypack, no matter what time of year you go are the following:
Water
Lunch
Snack
Caps/hat
Camera
Top picks from Amazon for this hike: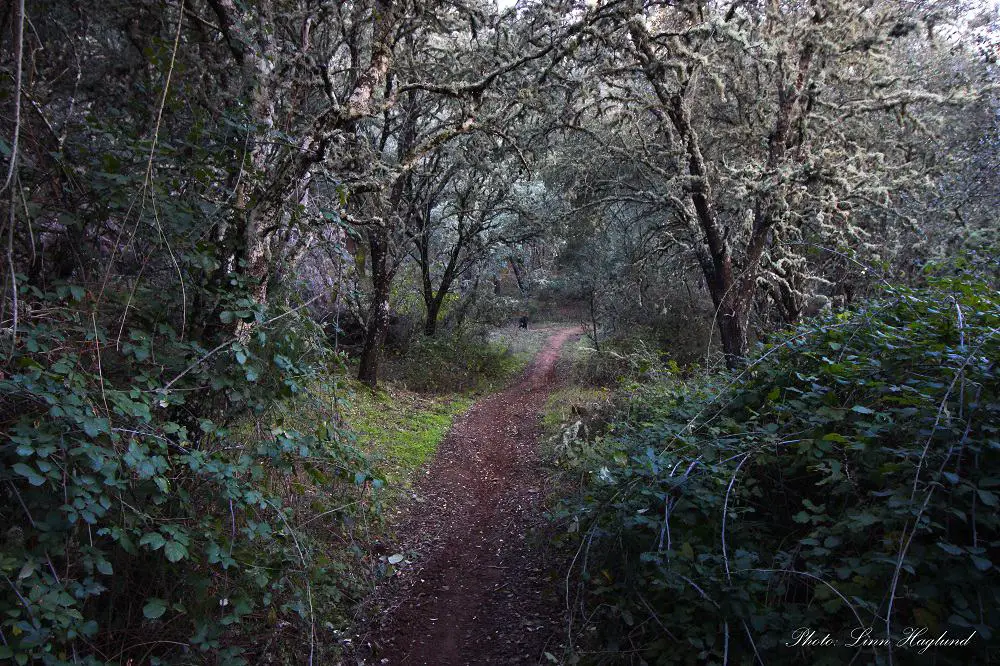 Where to stay when hiking Ruta Pinos, Vegosa, Venados y Plata
The absolute best place to stay when hiking Ruta Pinos, Vegosa, Venados y Plata is at Camping Puente Nuevo as you're practically right at the trailhead. You can look at prices for bungalows here. But you can also camp there.
If you drive, it's nice to stay in the village of Villaviciosa too. They have a few really nice apartments you can rent for privacy and to have your own kitchen.
Check out the following for a great stay: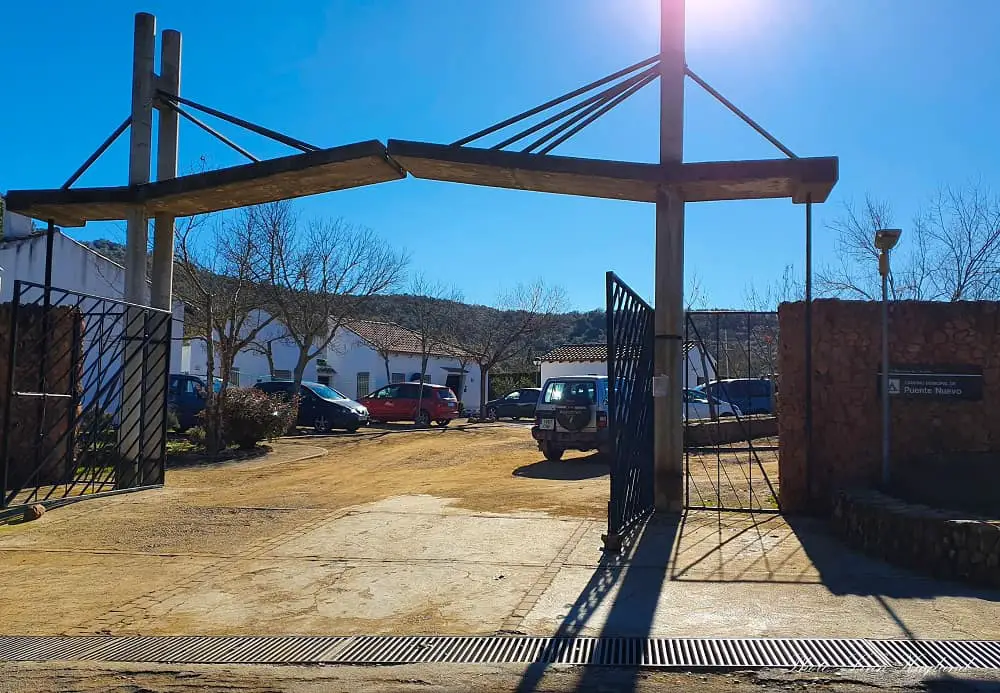 Hiking Ruta Pinos, Vegosa, Venados y Plata
The Ruta Pinos, Vegosa, Venados y Plata trail starts through an old oak forest right across the Camping Puente Nuevo. The trail is easy to follow up to the main road, where it follows it for a short bit towards the right before you can cross the road.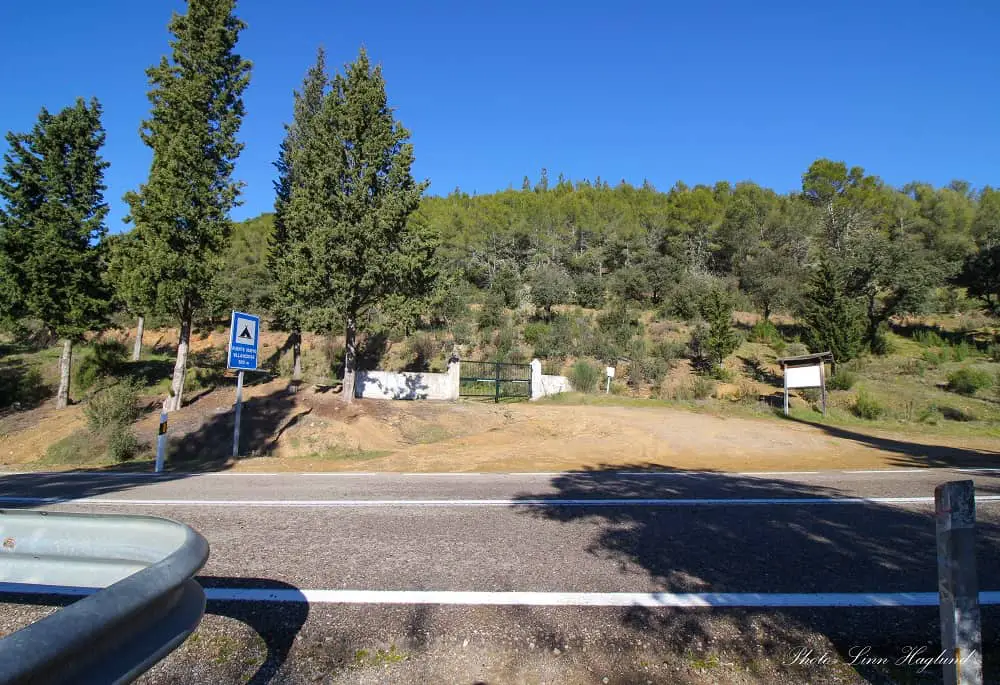 Continue up the dirt track on the other side of the road. You'll be following this for a while. There is a junction after a few hundred meters where you can continue straight/left to do the shorter loop of Ruta de Los Venados, but you'll be following the U-turn towards the right.
Keep walking on the track, it will soon take a steep left turn and follow along a long straight stretch lined by old oak trees and likely a lot of wild boar digging traces.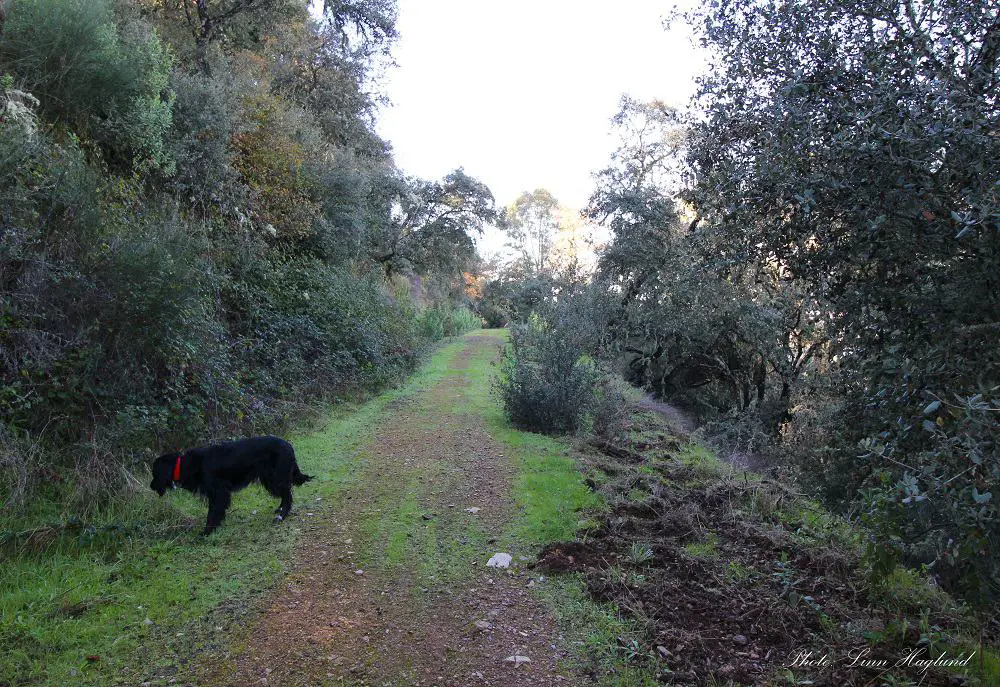 When you get on the opposite side of the hill the views will open up to the lake and while the track turns left, there is a trail going down towards the water. Follow it around towards the left and it soon takes you into a magic oak forest where you'll continuously have the lake views on your right, but now you're not much higher than the water.
After a while, you'll get to a small junction where there is a trail crossing the open space to your right leading up a seriously steep hill in front of you. You're not taking that. Instead, continue on the same trail you're on, it takes a U-turn to the left and starts ascending steadily, steeper and steeper. Soon you'll get to a watchtower at the top of the hill. This is a great spot for a picnic.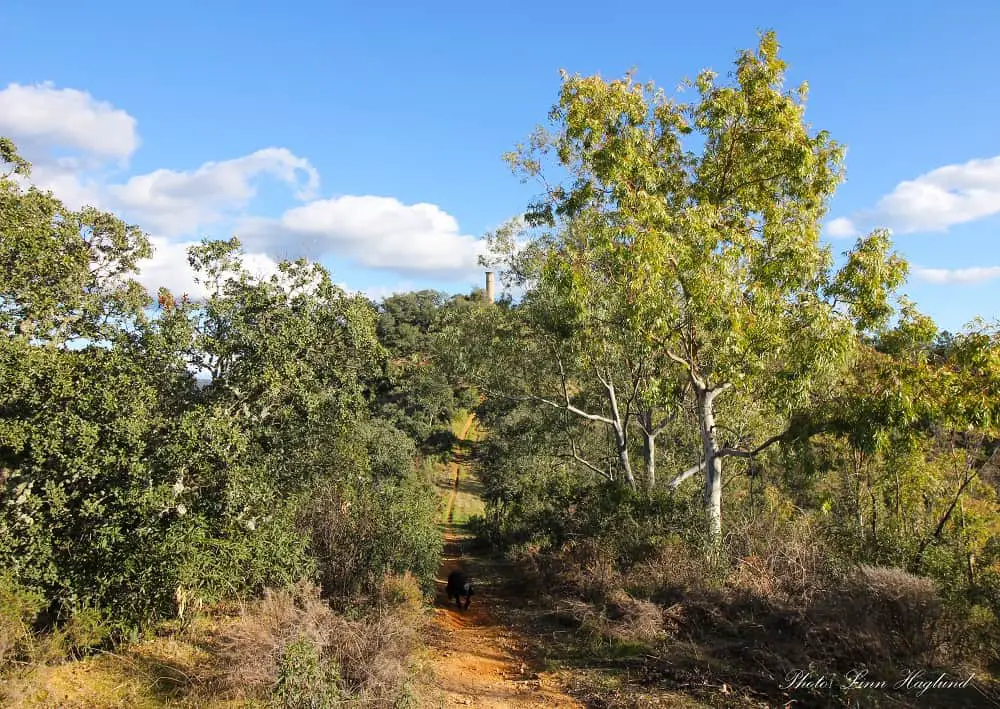 The trail continues past the watchtower. This is where it soon becomes extremely steep downhill and with loose soil, it's of huge help with hiking poles here. Either way, with or without them, walk carefully down this hill.
When you get to the bottom, you'll get to a large junction with four different tracks to choose from. Turn right.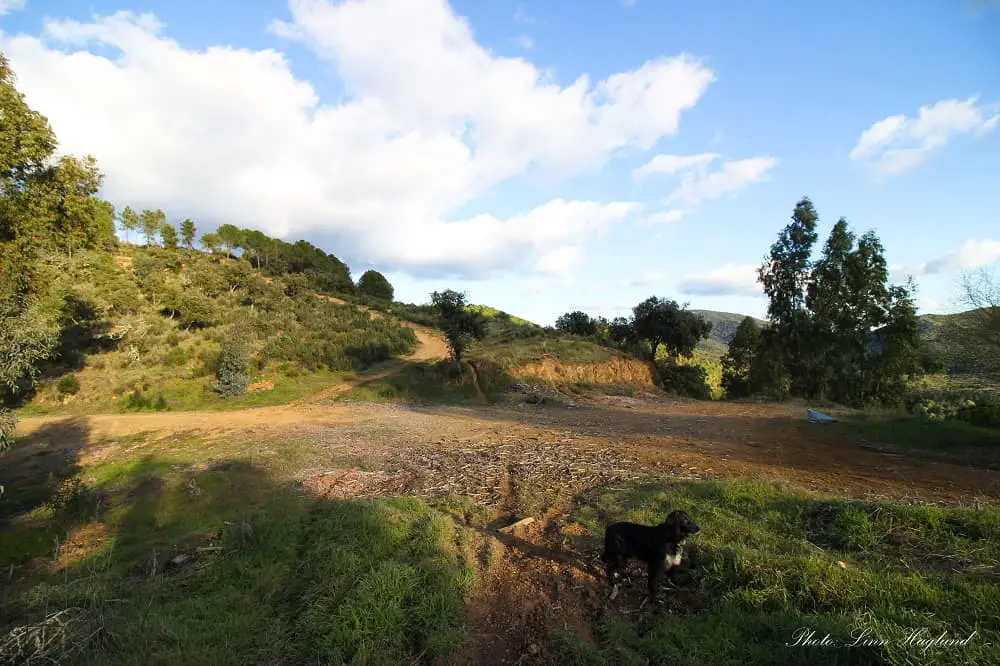 Continue along this track until you get to a 90-degree left turn. There is a trail taking you straight here (so don't continue left on the track.)
The trail follows along an open space before it passes a stone fence and soon ascends up another hill. The descent from this hill is also extremely steep, though not as hard to walk as the former descent.
Once you get to the bottom, you'll start to hear sheep and see signs of farmland. The trail takes you all the way to the road that you need to cross.
Once crossed, it follows the road toward the left. Once it opens up you follow down away from the road (past a gate) and the trail takes you towards a river that you'll follow for a while. Once you get to a track, keep to the left. Follow this all the way back to the camping.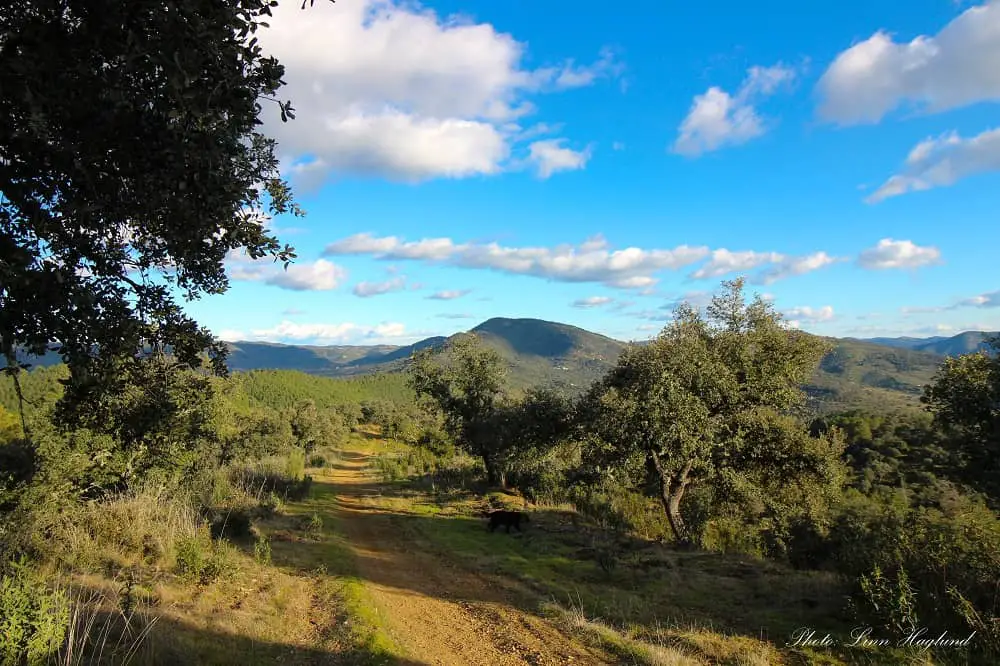 Reflections on hiking Ruta Pinos, Vegosa, Venados y Plata
Ruta Pinos, Vegosa, Venados y Plata is without a doubt one of the nicest hikes in Sierra Morena with a generally easy trail, but still a couple of steep challenging parts to make sure it's not boring. The oak forests are so alive with animals and birds twittering. With the glittering lake views and the river, this is a truly varied hike that I highly recommend.
Personally, I enjoyed it a lot, especially after hiking hard peaks for several days, it was great with a relaxing walk in such an astounding landscape.
Other easy to moderate hikes you might like: