There's nothing more fun than planning your next hiking trip or a big adventure up in the mountains! Hiking is an amazing activity taking you through breathtaking landscapes.
It's extremely important though, to have the right gear and the right clothes to make sure your experience is free of unnecessary discomfort.
I particularly like to wear hiking leggings when on the trails, especially when hiking in hot weather, as they're comfortable and protect my legs from scratches.
However, it can be hard to pick the best leggings for hiking, so I've rounded up my top picks in this post to help you find the best ones for you.
Disclosure: This post may contain affiliate links. That means that if you make a purchase through one of those links, I will get a small commission at no extra cost to you. As an Amazon Associate, I earn from qualifying purchases.
How to pick the best leggings for hiking
Leggings make great hiking pants as they are super comfortable and practical. If not the appropriate one though, they can be the exact opposite.
So before we list the best women's hiking leggings out there at the moment, let's go over a few things to consider when making a decision.
Type of hiking
It's important to consider what type of hiking you'll be doing before you pick what to wear. 
For short casual hikes, you probably won't need a top market pair of hiking leggings. Something comfortable, and that keeps you dry will do the trick.
For hot weather, you need something that breathes and doesn't feel sticky on your skin – not too thick, but still sturdy enough to fight off sticky bushes that might swing by your legs.
Now for longer, more technical hikes you'll need to be more careful with your choice and weigh in more factors. Especially as you might be exposed to different weather conditions and terrains.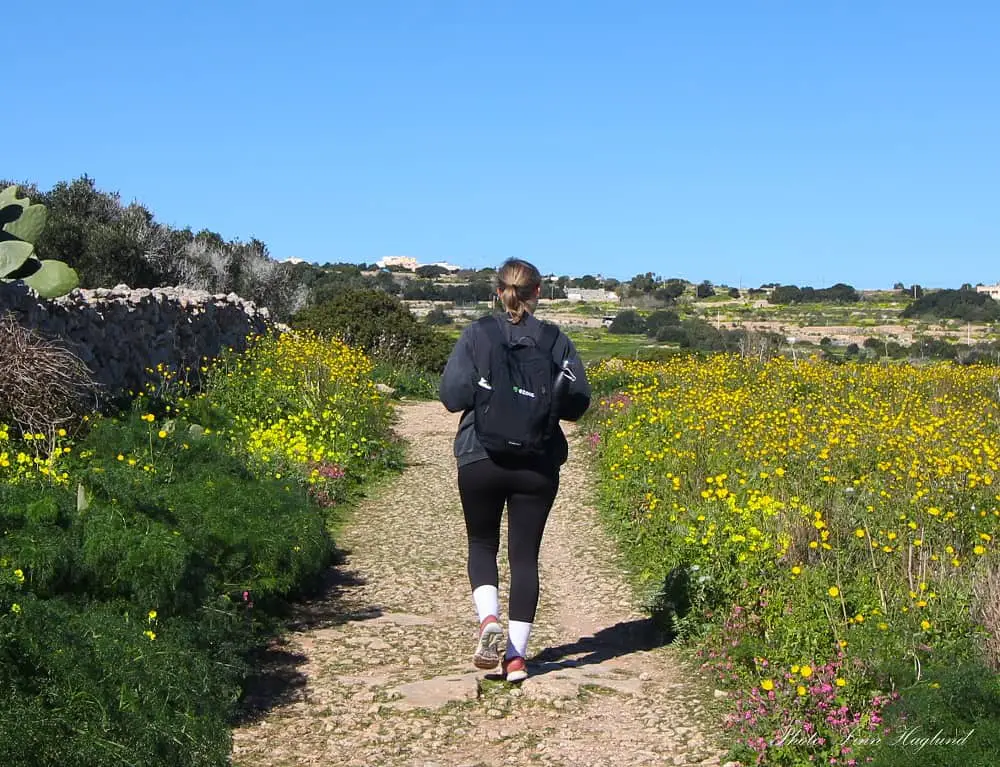 Weather conditions
Nothing worse than going out on a hike with the wrong gear and being too cold or too hot, right? Or getting caught in the rain and having to finish the trail soaking wet. 
This is why it's very important to consider the weather as well. Luckily there are some leggings that adapt well to different weather conditions – as we very well know that more often than not temperature can change throughout the day.
Functionality
There are a few features that can make your life easier when hiking and one of my favorites is definitely pockets! 
The disappointment when you need something that's deep inside your hiking backpack and that could have easily fit into a pocket. But you're wearing leggings, and you don't have any – you all know how it is.
No need for that though, there are a lot of women's hiking leggings with pockets out there. So these days are over! 
Other features that you can also find in hiking leggings are sun protection and insect repellent – how cool is that!
Comfort
And last (but definitely not least) – comfort! One of the most important things when going out on a hike for the day is to make sure you are wearing comfortable clothes. To find the best walking leggings for you, you need to make sure they are the right fit.
They need to be flexible enough to adjust to your body changes – especially on multi-day hiking. And you won't have to keep pulling them up because they are too big or too small.
So now that you know what to consider, let's look at the best hiking leggings for women right now.
Best hiking leggings for women
Fjellraven Abisko Women's Trekking Tights
Material: Elastane, Nylon, Polyamide, Polyester
Brand: Fjallraven
Best for: Adjusts well to different weather
Fjallraven is a very reputable brand and they make high-quality products, so definitely one of the best leggings for hiking here.
One of my favorites on this list, this pair of hiking leggings has a lot of cool features and is super comfortable. They are made of very technical, high-quality fabric that is durable and keeps moisture away. 
Pro's
Durable
Multiple pockets
Adjustable drawcord on waistband
Reinforcements on knees and rear
Clip on loop to attach gear
Cons
Price. They are not the most affordable leggings, so not a great fit if you are on a budget.
Baleaf Women's Winter Leggings | Fleece Lined
Material: 87% Polyester, 13% Spandex
Brand: Baleaf
Best for: Winter
These are actually yoga pants but work very well for shorter winter hikes. They are breathable but will keep your legs warm on cold days. 
So if you are looking for warm leggings for hiking, this can be a great choice!
The best thing about these pants is that they are very versatile and can be used for different sports too. Hiking, casual snow walks, running, cycling, and even skiing. So you'll get to use them a lot.
Pro's
Versatility
Comfortable 
Breathable
Affordable price
Con's
Not for warm days
I wouldn't recommend them for more technical, longer hikes
Under Armour Women's Base Leggings
Material: 100% Cotton
Brand: Under Armour
Best for: Mild cold
These leggings are great for outdoor activities, it's quick to dry and they'll keep you warm in cold weather. It's very stretchy, so it ensures good movement and comfort.
It has a good fit, and even though it's warm and made for colder temperatures, it's thin and lightweight.
Pro's
Great stretch, you can move well with no issues
Quick to dry
Reasonable price for good quality
Con's
Not great for hot weather
Toreel High Waisted Leggings Pack Yoga Pants
Material: 77% Polyester, 23% Spandex
Brand: Toreel
Best for: Summer
If you're looking for comfort at an affordable price, this is a good pick for you! These leggings are super comfy and fit the body very well.
They also have a good-sized pocket to fit your phone. And a hidden waistband pocket, perfect for keys.
It's also a versatile option. You can use these leggings for day hikes in the summer, and any other activity you'd like.
Pro's
Comfortable
Light
Good pockets
Affordable
Con's
No enforcements
Not for long, tough hikes
Under Armour Women's Motion Leggings
Material: 82% Polyester, 18% Elastane
Brand: Under Armour
Best for: Summer and mild shoulder seasons
These leggings for hiking are super comfortable with great stretch giving you all the mobility you need on the trails whether you're hiking or trail running.
The material is lightweight and dries quickly so you will feel comfortable on hot days. I love that they come in so many different colors too.
These hiking leggings are versatile and you can easily use them in yoga class, hanging out at home, and out on the trails.
Pro's
High rise
Fast dry
One pocket
Con's
Not the best fit for extremely cold temperatures
The North Face Women's Tight | Motivation High-Rise
Material: 80% recycled polyester, 20% elastane
Brand: The North Face
Best for: Summer
Another good high-rise option for hiking leggings, this North Face pair is a very comfortable fit. 
The North Face is a great outdoors brand. Their quality is pretty good and products are made to last. That makes them one of the best hiking tights options.
Pro's
High quality
Durable
Eco-friendly, recycled material
Good pockets
Con's
Not suitable for cold temperatures
Tuff Athletics Women's Leggings | Active Yoga High Rise
Material: Nylon Supplex, Polyester, Lycra Spandex Blend
Brand: Tuff Athletics
Best for: Mild cold
These women's hiking leggings by Tuff are a great option for mid-season. They are a bit thick, so I wouldn't recommend them for really hot days – yet they're great for Andalusian winters.
They have a pretty good fit and won't be rolling down on you all the time (we all hate that). 
They also have pockets, and sun protection (Ultraviolet Protection Factor (UPF) of 40+) which is a huge plus hiking in sunny destinations.
Pro's
Good fit
Sun protection
Side pockets
Con's
A little bit pricey for what it offers
The North Face Women's Paramount Hybrid High Rise Tight
Material: 80% polyester, 20% elastane with FlashDry-XD™
Brand: The North Face
Best for: Summer
Really love these pants, they are so comfortable! And the pockets. Zippered pockets that are big enough to safely fit your phone and car keys. 
The fabric is also really good, with a flash dry technology that repels moisture. It'll keep you cool and comfortable during the hike. 
They are not tight leggings, so if you're looking for something a bit looser these hybrid pants have the best of both worlds!
Pro's
Quick to dry
Super comfortable
Zippered pockets
Con's
H3 BONUS Columbia Women's Storm Surge Waterproof Rain Pant
Material: Shell: 100% Nylon; Lining: 100% Polyester
Brand: Columbia
Best for: Rainy days
Not leggings, but you won't let the rain stop your hiking plans, right? So if you're looking for rainproof hiking pants, this one's for you! 
Rain pants don't have the most flattering design. But they sure are handy when you get caught in a storm or forecast are not looking great for your day off. 
Having a pair of these will guarantee you don't need to change your plans just because the weather did not play to your favor. These rain pants will have you ready for any hike in the rain!
Pro's 
Climate Pledge Friendly – this product is a certified sustainable one, and that's always a big pro on my list! 
Adjustable on waistband and leg opening – no water getting in
Breathable and warm
Con's
OTHER RELEVANT HIKING GEAR
Reflections on Women's Hiking Leggings
I hope this list helps you pick the best leggings for hiking and you can enjoy your next trip comfortably!
There are a lot of options out there, so it's easy to get a bit overwhelmed. Remember to always consider the type of hike you'll be doing (or usually do). This way you can ensure that you'll be prioritizing features that are most important to you.