While Seville isn't the most renowned destination for hiking, it doesn't mean that it doesn't have mountains. The highest mountain in the province is Pico El Terril in Sierra del Tablón, and it's a must to climb!
This remote corner of Seville is actually only a few minutes from the border to Malaga and Cadiz Provinces, but hides amazing hikes and without pine trees. This means no processionary caterpillars which in turn means you can safely take your dog hiking all year round. Happy news for us dog owners!
Hiking Pico El Terril is a moderate hike that doesn't take too much effort, but the views are constant as you wander across the green hills. This makes it one of the best hikes for beginners in Andalucia as well as a good one for solo hikers. Here is a complete hiking guide to this top peak so you can enjoy it too.
Disclosure: This post may contain affiliate links. That means that if you make a purchase through one of those links, I will get a small commission at no extra cost to you.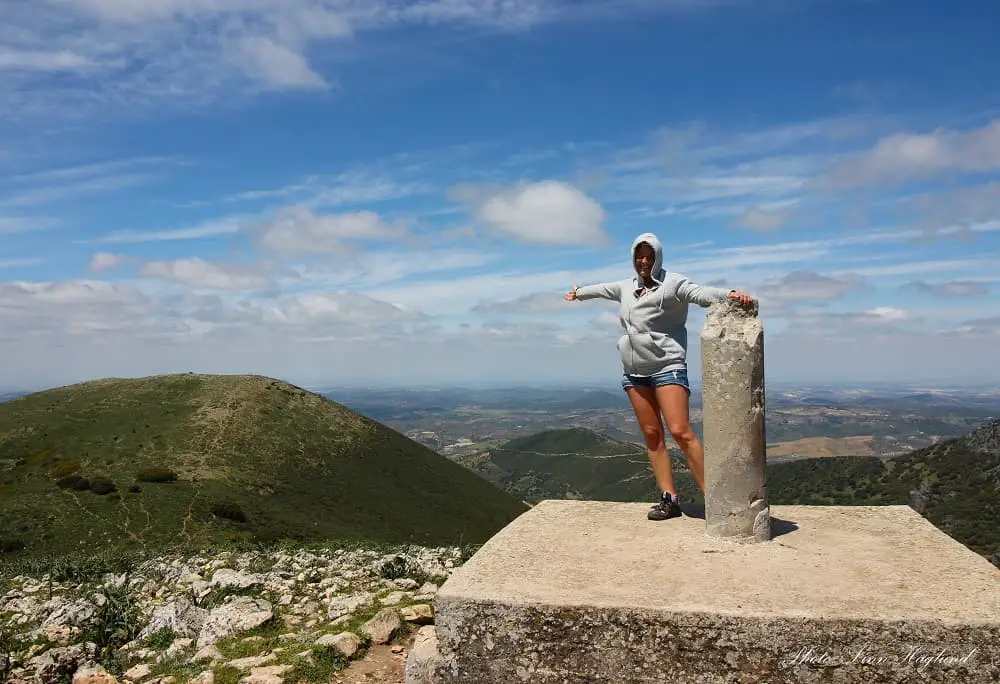 ---
Practical information
Province: Seville
Mountain range: Sierra del Tablón
Length: 6,5 km
Time: 3-4 hours
Altitude: 1129m
Elevation: 400 m
Route: Linear return
Difficulty: Medium
Hiking season: September to May
Hiking with dogs: You can bring your dog all year round as there aren't any pine processionary caterpillars in this area. However, you might meet farm animals like goats and sheep, so it's important that you keep your dogs controlled at all times. Finally, make sure you bring enough water for the dogs, as there are no natural water sources along the trail.
---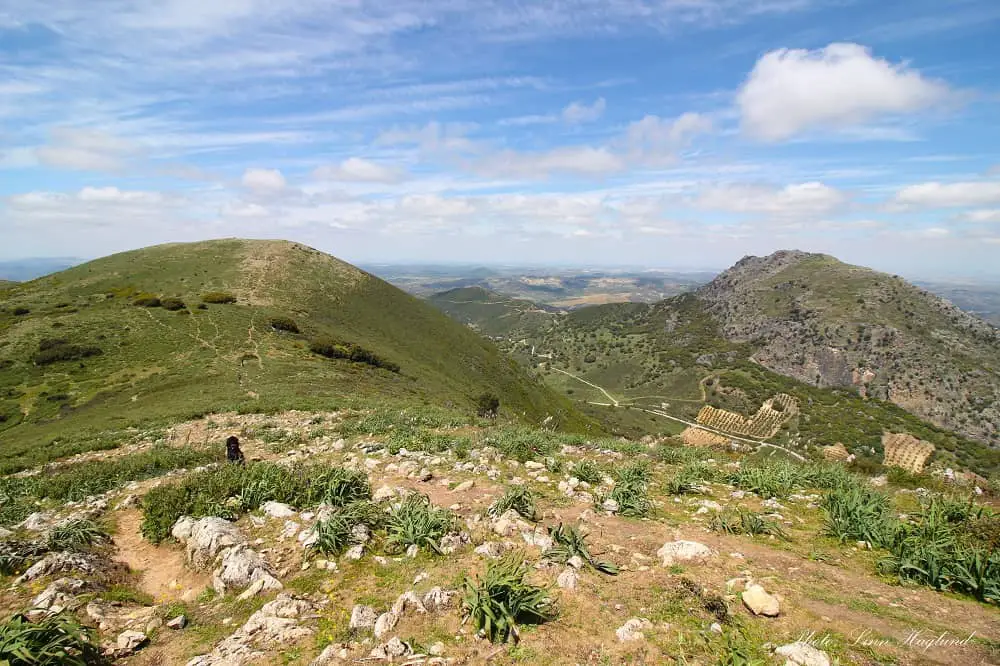 How to get to Pico Terril
The trailhead to Pico Terril is situated at km 8 on the road from the little white village of Algámitas, passed Camping El Peñon, towards Pruna. The GPS won't get you to the trailhead, I tried but got dumped off in the middle of nowhere.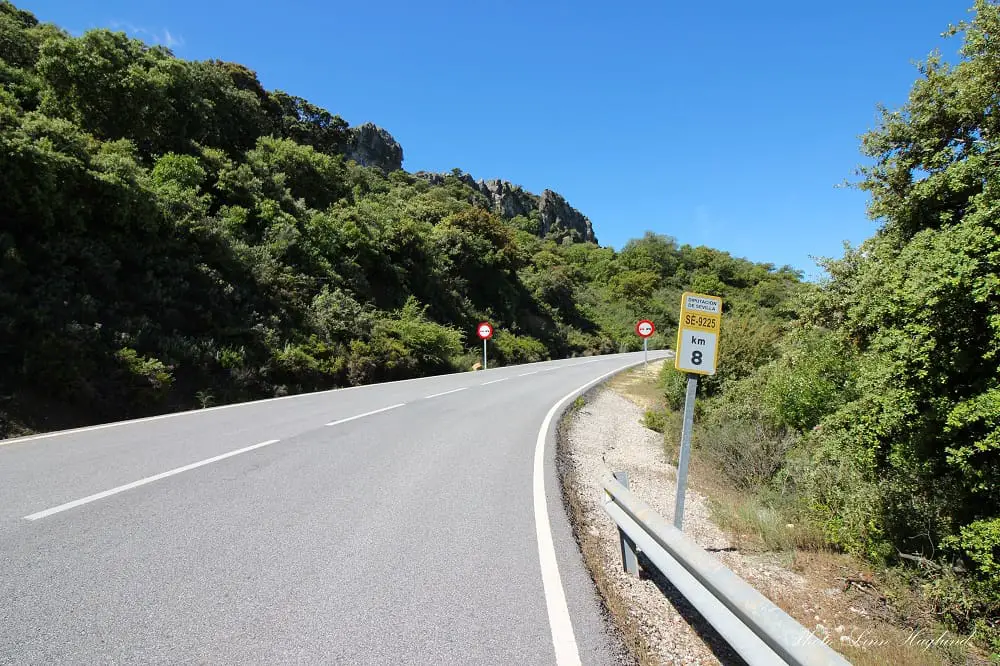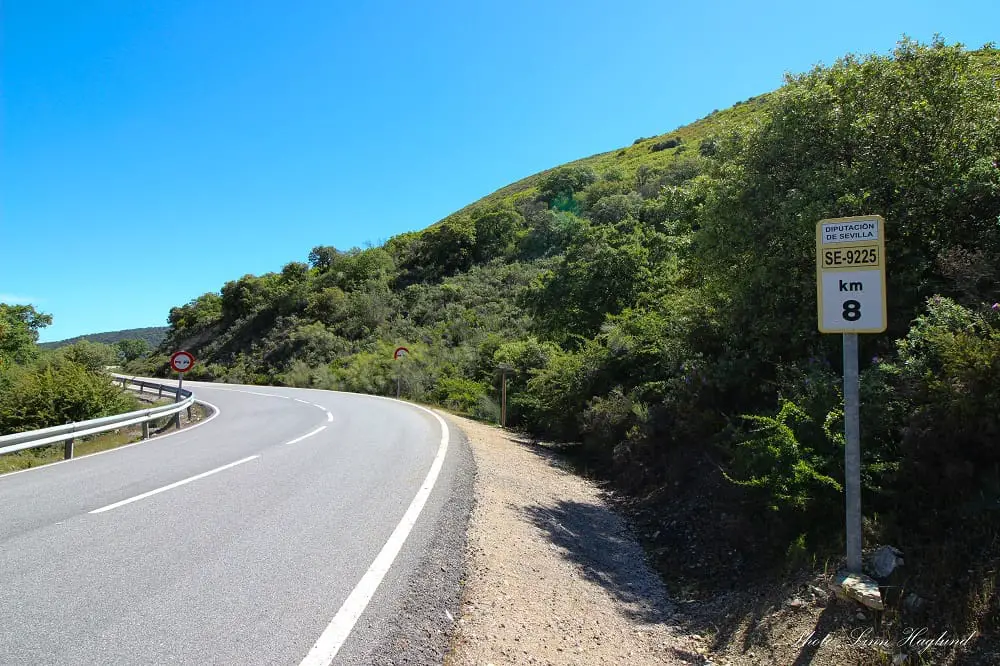 A couple of hundred meters after km 8 in the direction of Pruna, there is a viewpoint, Mirador de La Ventana, where you can park. The trailhead is hard to see as the signs are wooden and somewhat anonymous and the trail is covered in vegetation so it's not a clear opening unless you look for it.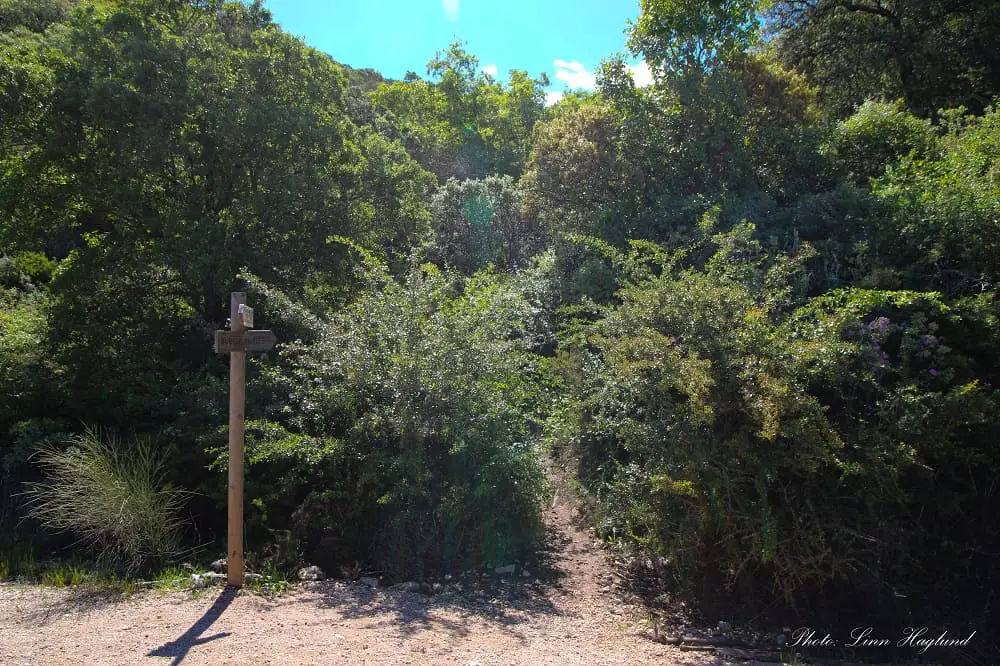 You can put either Pruna or Algámitas in the GPS and depending on which way you come from, keep an eye up when you pass km 8 (or 9 if km if you come from Pruna) for the viewpoint.
Because the trailhead is situated in the middle of the road like this, far from any village, you'll need to get there by car or bike.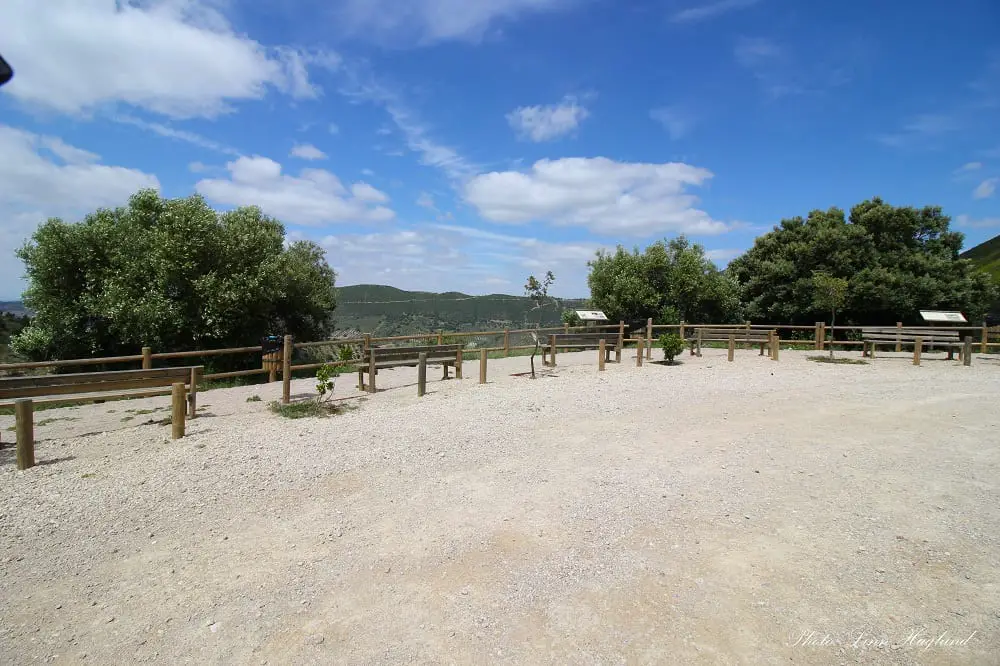 Best time to hike Pico Terril
Pico El Terril can be climbed from mid-September to May, but hiking in the summer months is too hot. Even in autumn and spring, you can have extremely hot days and as it's only the first kilometer or so that has shade. You need to be prepared for the scorching sun or strong winds as the open landscape doesn't offer much shelter.
A nice winter day makes for a perfect hike, especially if there's no wind so you can enjoy the mesmerizing views from the peak for a bit before descending. However, spring is wonderful with blankets of wildflowers coloring the hills.
What to bring
As mentioned above, the landscape is open and highly exposed to the elements. You should always bring layers so that you can take on and off clothes as you need to. A windbreaker is essential if the wind picks up but you also need to prepare for the strong sun, even in winter.
The first bit is steep and it's definitely helpful with hiking poles, not only to support but also to move vegetation. You might also prefer to do this hike with long pants or leggings. It's also important with good hiking shoes as there are parts with uneven terrain.
On top of that, make sure you have the following in your hiking pack:
water
lunch
snack (nuts, dates, fruit, etc.)
sunscreen
neck gaiter/buff
camera
Top Amazon picks for this hike:
Where to stay
You can stay both around Algámitas or Pruna. There are vacation apartments and houses for rent. Otherwise, the closest hotels are in Olvera, only a 15-minute drive from the trailhead past Pruna. Stay at Tugasa Hotel Sierra y Cal or Olvera B&B if you're on a budget.
But the best place to stay is probably Camping El Peñon where you have direct access to various hiking routes and only a 5 km drive to the trailhead. Look up prices here.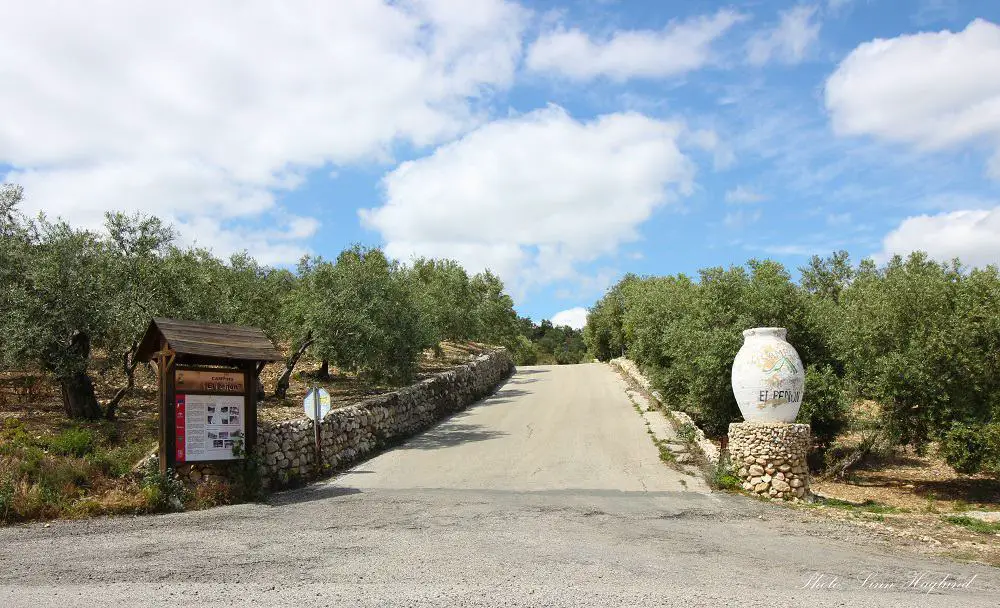 Hiking Pico El Terril
Hiking Pico El Terril is not challenging, but the first foresty part taking you from the trailhead by the road up to the open landscape is steep and tightly wrapped in bush and plants. I do recommend hiking poles here, not only for support when walking uphill, but they're really useful to remove spiky branches from the path.
Once you get out of the shadows, you'll see a steel pole with something resembling a bucket on it, apparently a rain gauge. You're following the path up on the left side here.
But before you continue, turn around and take note of where you came from. It's easy to get lost here on the way back as the path isn't easy to spot.
There is another better marked path to get back, that I saw other hikers take. Later I saw them at the road so I assume it takes you down somewhere – I just can't confirm if they walked the trail down or went off-road at any point.
When you continue up the trail from the rain gauge you'll soon see views in front of you and the trail takes you to the left side along the hillside. Shortly after you get to a fork where you can choose the left or the right. Keep left here.
The first time I walked the right path here and met other hikers that had turned around because the trail ended. We had to walk across a rocky section to get up to the correct trail above us.
After this, it's pretty much just to keep to the trail. There are the odd green painted trail marks on the rocks to confirm you're on the right track. However, you'll see the summit marker quite early so you'll know what to aim for.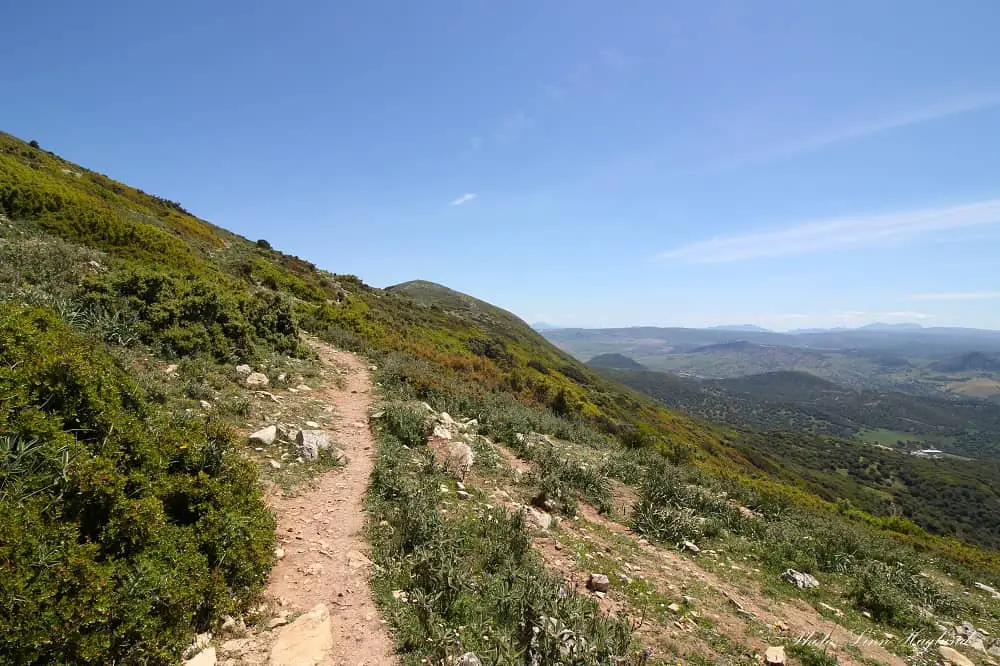 Before the final ascent to the summit, there are a couple of clusters of trees where you can get some shade. Once on the top, you'll be rewarded with breathtaking 360 views of three provinces, Seville, Cadiz, and Malaga.
The way back is the same, unless you want to swing up on the summit you walked alongside on the way up, you can add 15-20 minutes to your hike for more spectacular views.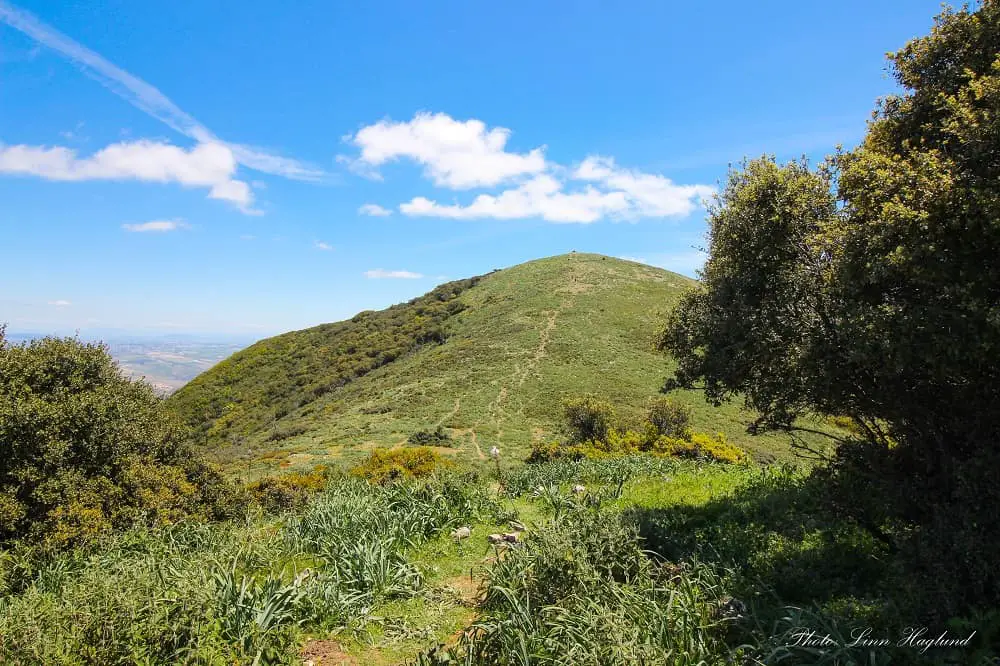 Reflections
Pico Terril is a nice walk that suits the whole family. There are breathtaking views everywhere you go so there are endless spots to sit down for a snack if you want to take it slow. For being a top peak in the province in Seville, it's really accessible.
The only heads up are the ones I've mentioned. Make sure you find the km 8 for the trailhead, make a note of the way back once you exit the forested area by the pluviometer, and keep left at the first fork after you pass the open space.
Other than this it's easy to follow the path and it's a moderately frequented trail, so you'll most likely meet other hikers unless you go mid-week. Yet, it's one of the most beautiful hikes in Andalucia.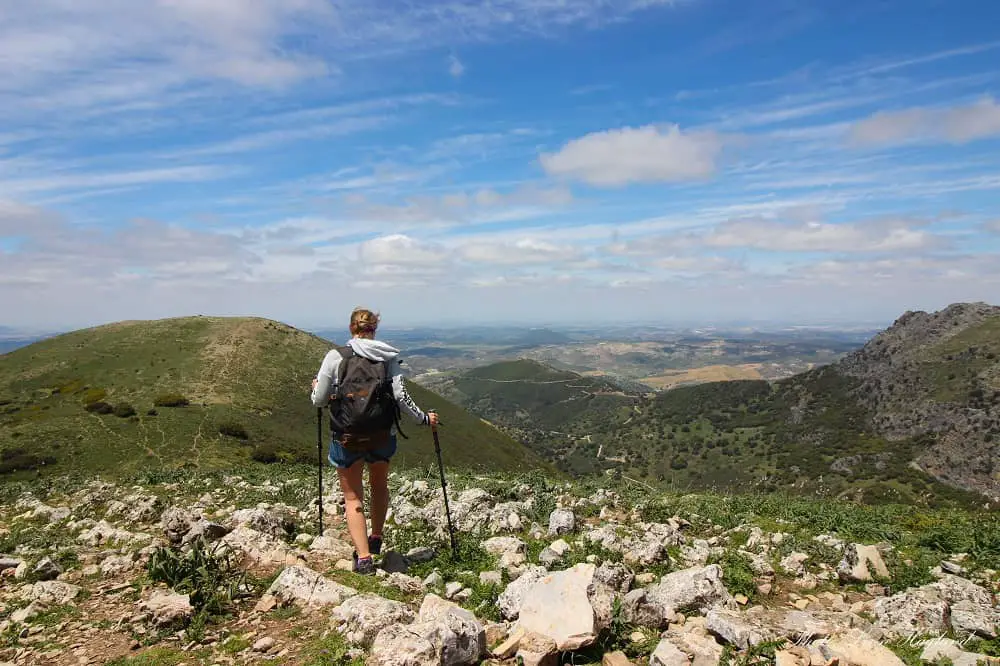 Other similar hikes in Andalucia: