If you are heading to the Sierras Subbéticas in Cordoba, there is one hike you should not miss out on. Sendero Rio Bailón from Zuheros. This incredible route climbs to the most epic views of the picturesque hilltop village of Zuheros and continues through the lush Cañon del Rio Bailón.
Where almond blossoms contrast the blue sky and the sun players with the shades of rugged limestone rocks on the lush path.
Taking you through the thick vegetation to natural caves in the UNESCO-listed Sierras Subbéticas Natural Park. Millions of years ago this distinctive landscape was immersed at the bottom of the ocean.
Now, you can witness unique natural curiosities like circular depressions that are a result of the dissolution of limestone known as Paleodoline. In these areas, you can find fossils of extinct water creatures. It is hard to argue that this is one of the most spectacular hikes in Andalucia.
In this hiking guide, I'll go through everything you need to know to hike Sendero Rio Bailón from Zuheros, including how to get a permit.
Disclosure: This post may contain affiliate links. That means that if you make a purchase through one of those links, I will get a small commission at no extra cost to you.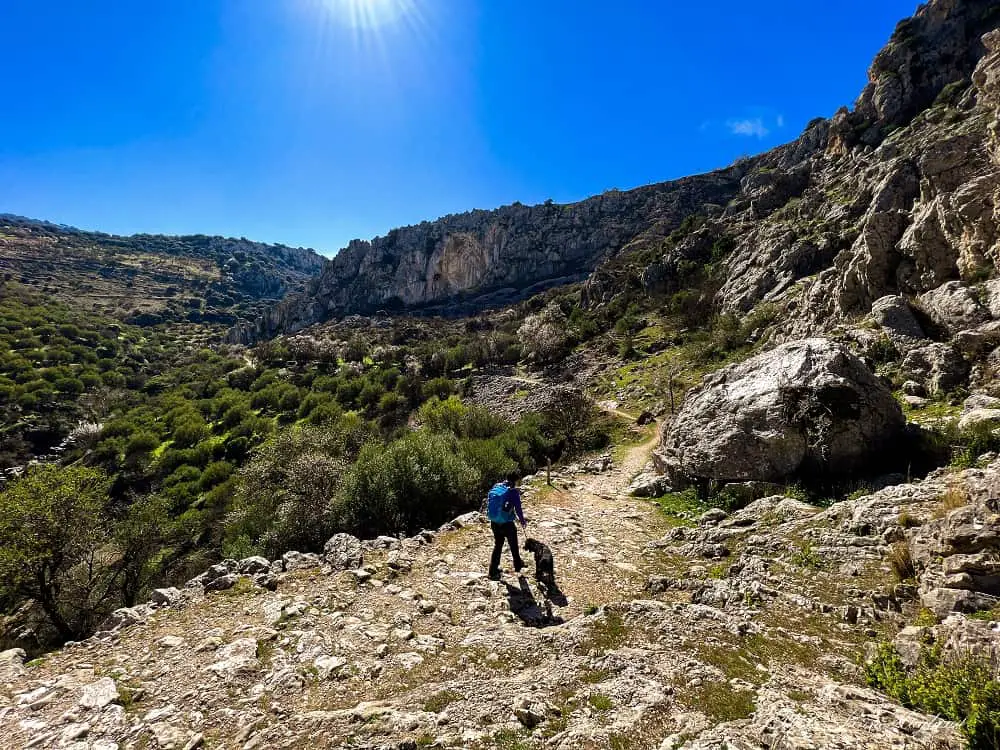 BE A GREEN HIKER
Practical information
Province: Cordoba
Mountain range: Sierra de Zuheros (Sierras Subbeticas)
Length: 17 kilometers
Time: 5-6 hours
Elevation: 590 meters
Route: Circular
Difficulty: Medium
Hiking season: mid-September to May
Hiking with dogs: Hiking with dogs is allowed, but they must be on a leash. There are no pine trees, so you can safely take them in the pine processionary caterpillar season too.
Permit: You need a permit to hike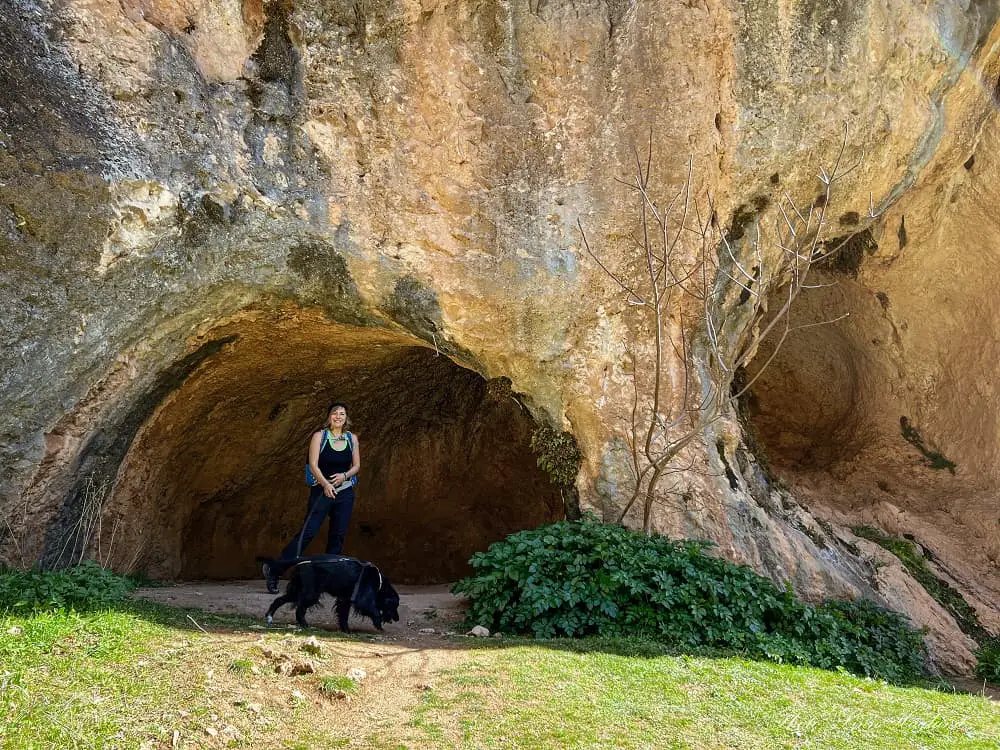 How to get a permit for hiking to Chorreras del Rio Bailón
To hike Cañon del Rio Bailón to the waterfalls you need a permit, as it is a strict nature reserve. Luckily, it is easy to obtain online.
Click this link to apply for a permit
Once you click the link, you can choose what kind of ID you want to use. If you don't have a Spanish ID card like DNI or NIE, choose "Otros del titular" in the drop-down and write your passport number in the section below.
Press "Siguiente" to get to the next page.
There, you start with the drop-down "Espacio". Choose "Parque Natural Sierras Subbéticas".
Next, choose the following under the drop-down next to "Actividad": "Sendero del Río Bailón – Senderismo"
Choose a date in the calendar. If there are no green dates available, it means that there are no available dates to choose from. Usually, you can get back to it later to see if new dates are released.
When you have chosen an available date, the chosen date will appear next to "Fecha Seleccionada" and you choose "Horario". Eg. Todo el Dia.
Type in the number of hikers including yourself in the field "Nº Visitantes".
Under the tab "Datos del Titular de la reserva" you need to fill out your contact info before clicking Siguiente.
You will receive an email with a link to confirm your reservation. Without doing so, the permit isn't valid.
Once you have received the actual permit, I suggest you take a screenshot of it so that you have it available offline on your phone in case you need to show it on the trail.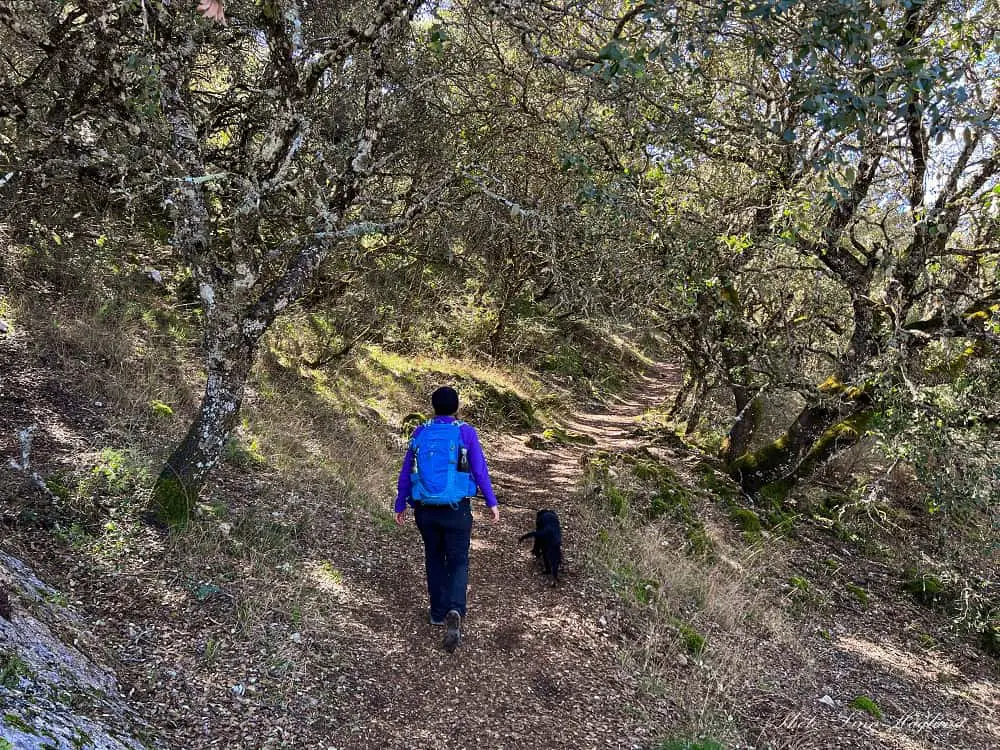 OTHER HIKES IN CORDOBA
How to get to Zuheros
The best way to get to Zuheros is by car. As with most mountain villages in Andalucia, there are only a few buses passing through, and Zuheros is no exception.
There are 3 buses from Cordoba on the weekdays and the journey takes 1 hour and 45 minutes.
On weekends, there is one bus a day from Cordoba that reaches Zuheros in the evening, so you will have to stay at least one night in the village (preferably two) to do the hike. However, this is not necessarily a bad thing, Zuheros is one of the most picturesque villages in the Sierras Subbeticas and there is a lot to do besides hiking.
You can see the updated bus times here.
If you travel to Zuheros by car, it is easy to follow the GPS. Once you enter the village, passing the "Bienvenidos a Zuheros" sign, there are 3 free parking areas. The first one (in the curve) is where the trailhead is – you will see a sign of the beginning of the route and a reminder that you need a permit to hike.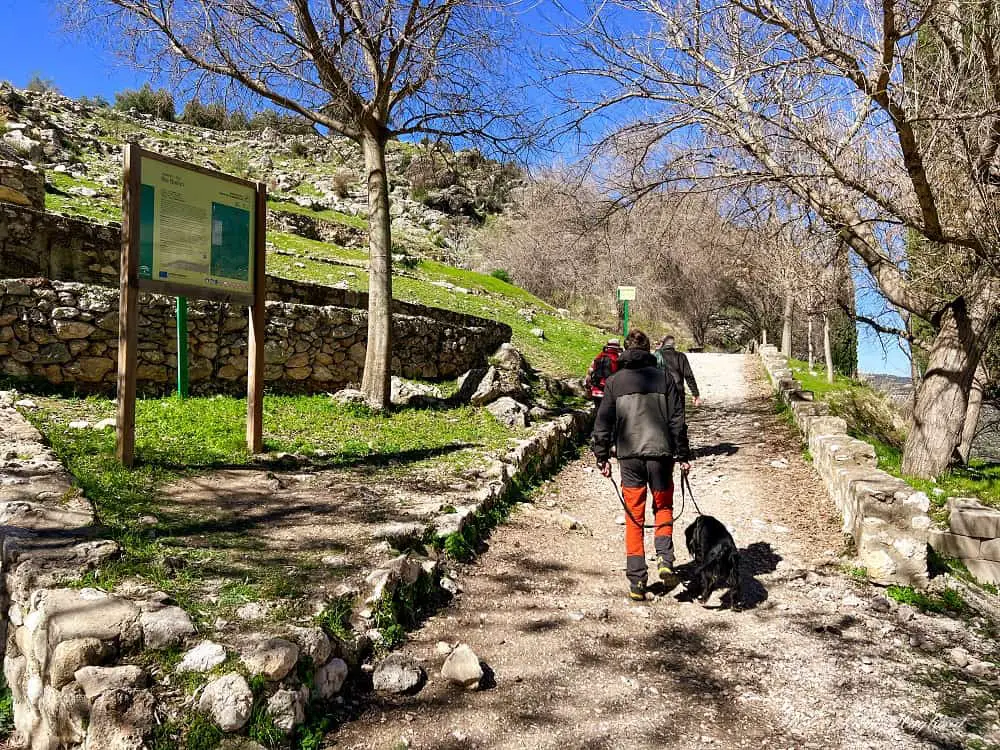 When is the best time to hike Cañon del Rio Bailón
The Sierras Subbéticas become extremely hot in the summer months, so I highly recommend avoiding the hottest months. Nevertheless, here are some tips for hiking in hot weather. You should also read up on what to wear when hiking in the summer.
However, from mid-September to May, the weather usually cools down slightly and it is possible to do the hike. I did the hike to Rio Bailón two times from Cabra and from Zuheros. Both times, the waterfalls were dry.
So I highly recommend going after heavy rainfall, so that you can see the waterfalls flushing water. I found the first waterfall completely dry and just a tiny drizzle from the second waterfall.
For this reason, the winter/spring season is probably nicer than the fall season, as it will likely be dry after the hot summer months.
Nonetheless, I think this hike is well worth it no matter if there is water or not in the waterfalls as the entire route is so incredibly picturesque and varied.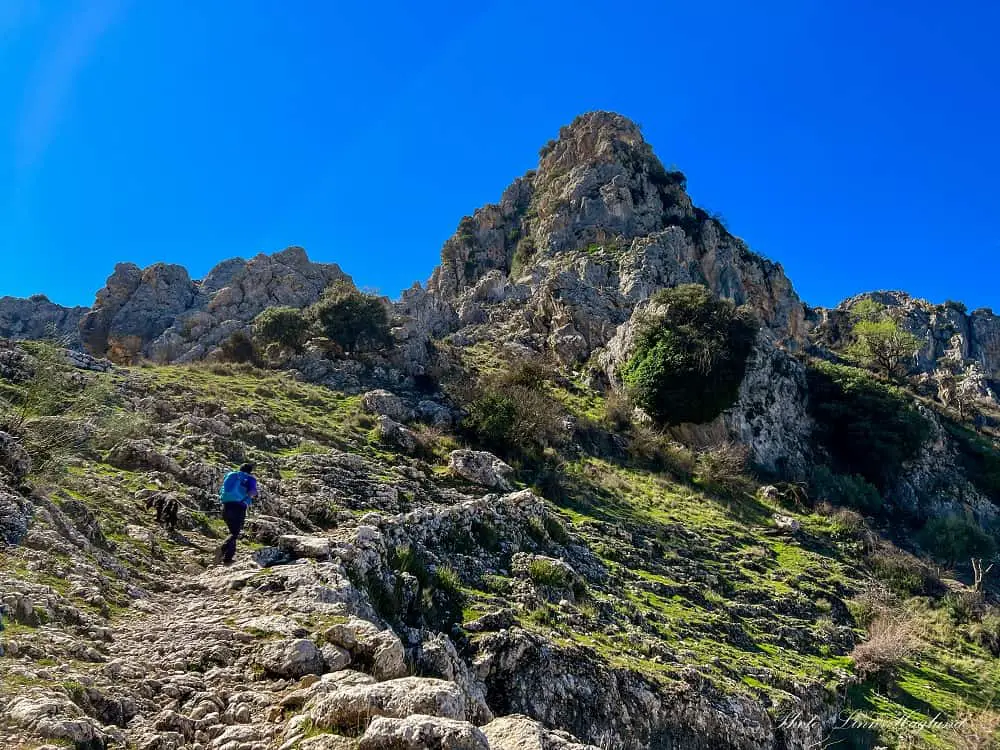 What to bring on the Cañon del Rio Bailón hike
Hiking to Rio Bailón on this loop trail offers extremely varied terrain and good hiking shoes are a must. I did it without hiking poles, but you can bring them for support in the rougher terrain if you like the extra support.
I did struggle a little with my knee on the way back down and wish I brought at least a hiking knee brace for support.
If you are looking for a pair of good quality budget poles, check out my review of the Hiker Hunger trekking poles.
A good quality day hiking backpack is also a must as it is a long hike and you don't want the weight to harm your back and shoulders. I use the Osprey Sirrus 24L day pack. You can read my review here.
Finally, some sections are full of tight vegetation, including spiky bushes. So on this hike, I suggest wearing a sturdy pair of leggings for hiking even in summer, or hot weather hiking pants to protect your legs from scratches. You might also want to wear a shirt for hiking in hot weather.
Other than that, make sure you protect yourself from the sun and bring a windbreaker in your pack in case it gets windy on the return as you will cross vast open spaces.
On a hot day, make sure you bring extra water.
THINGS TO BRING:
lunch
fruit or other snack
water
hat/caps
sunscreen
Other useful guides: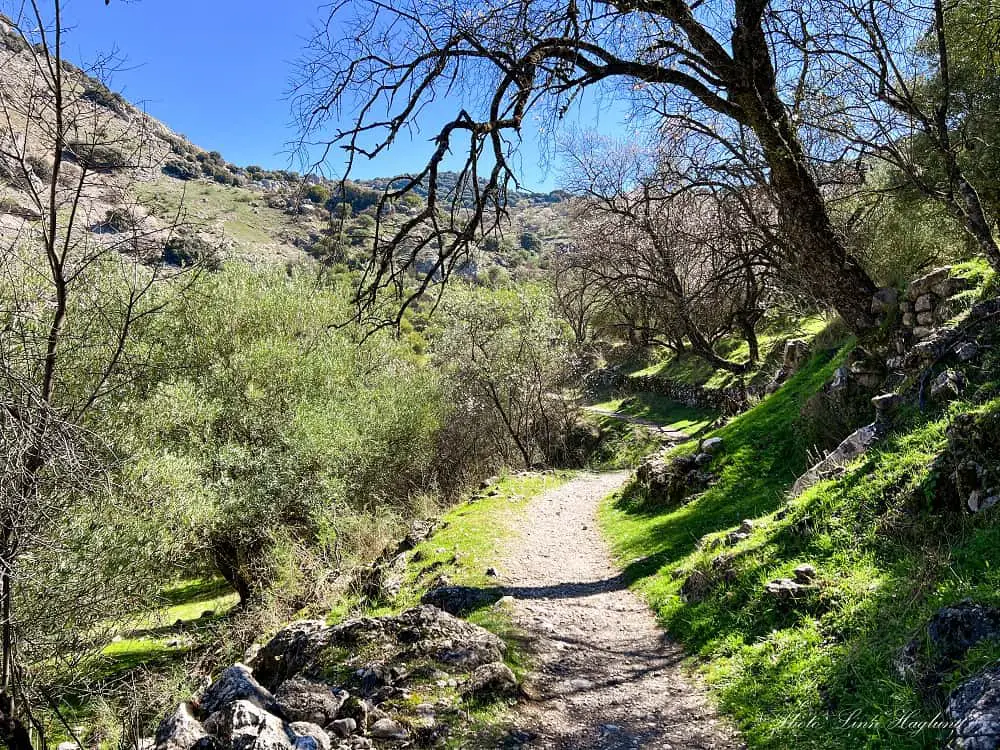 Where to stay in Zuheros
The best places to stay in Zuheros, in my opinion, are to rent apartments/houses. This way you can experience a typical Andalusian home and prepare your hiking food in the kitchen before you go. Here are a couple of great options.
El Hechizo Del Bailón – This is a great option if you travel without a car and plan to set your vacation to Zuheros alone as they have a paid airport shuttle service. There is also free parking if you drive. The holiday home has a modern and spacious interior with dreamy views of the surrounding mountains.
Casa Rural La Nave – This is a lovely place to stay with a traditional Andalusian feel to it. It has free parking and is perfect for those of you traveling with your pooch as they allow pets (Ayla loved it there!) It is a short walk from the village and with a car, you can drive to the trailhead.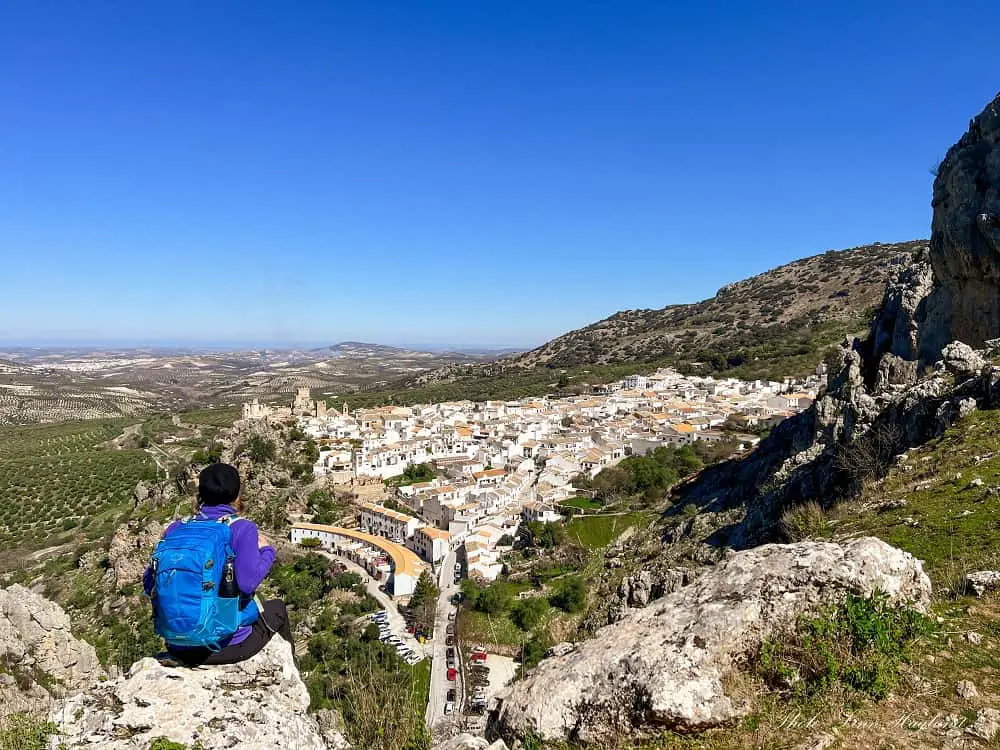 Hiking Cañon del Rio Bailón
Starting the hike at the lower car park and picnic area in Zuheros, it is clearly marked with a hiking sign and a sign stating that you need to bring your permit. A screenshot of your permit is enough in case there should be checks on the route.
It is easy to follow the trail to the waterfall, but a little bit more complicated to find the trail back down, so I have divided the hike into two sections hoping that I will manage to guide you correctly down again.
I also suggest that you follow a Wikiloc map on your phone for the loop trail, which will help you not get lost. Especially if you are hiking solo.
I recorded the trail which you can find here. However, I did get lost at one point on the way back, which I have explained in the description, so you should be able to walk it without the detour.
Basically, if you reach the below view, you gotta turn around!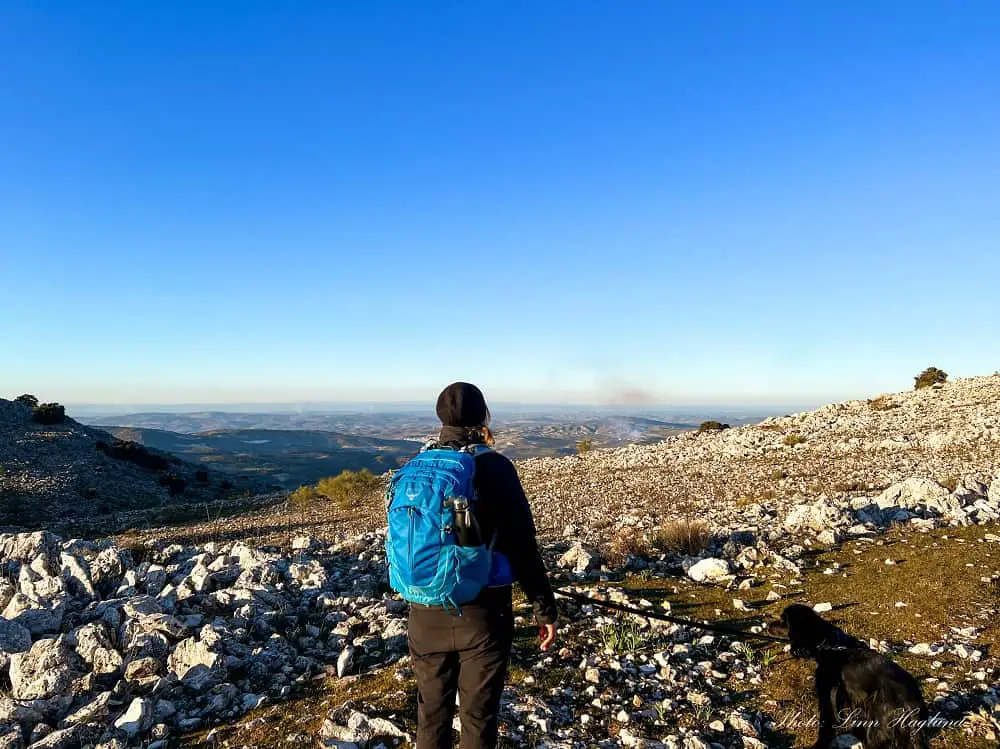 Zuheros to Río Bailón
The first half of the hike is fairly easy and well-marked. First, you will climb up the hill overlooking Zuheros village, so take your time taking in the incredible views. There is one divination on the way up, where you can either go straight (you will come back down here on your return) or turn left and continue the climb.
You must go left following the sign saying "Fuenfría 4.4 km".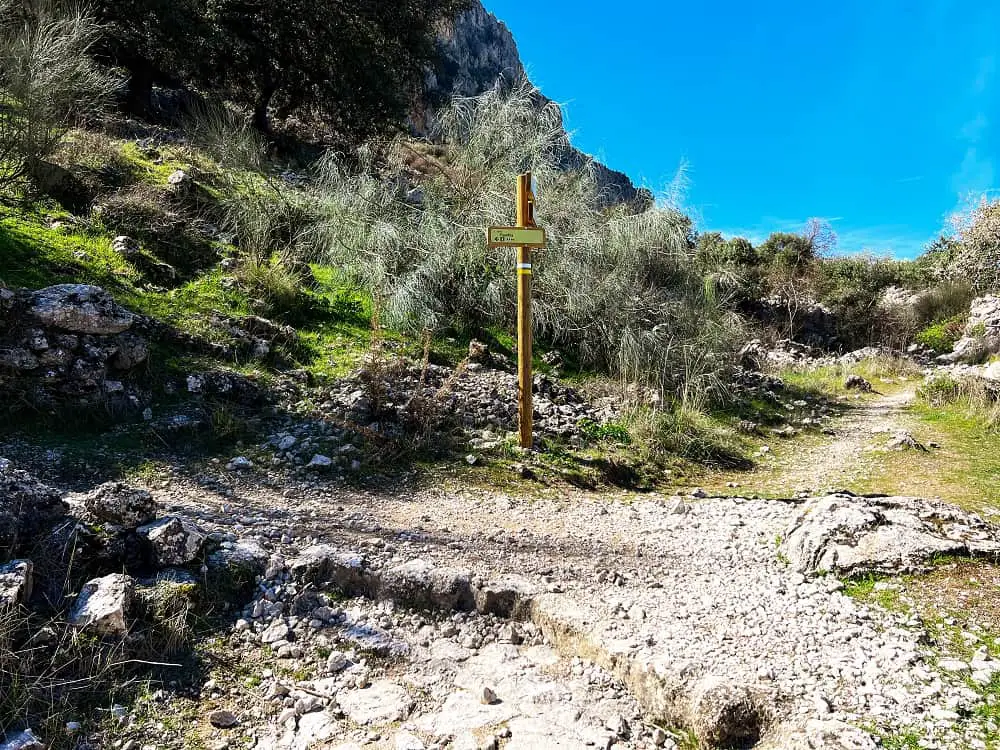 Once on the top, the trail will steer to the right and continue inland in the dreamy Cañon del Río Bailón. Followed by a beautiful landscape, multiple caves, and fresh air, keep going until you reach a fork continuing straight or slightly left up the hill.
Both trails lead to the same place and meet up a little higher up. We walked straight and zig-zagged up to meet the other path while another group of hikers took the left trail and we met them after the paths met. I think they take more or less the same time to walk.
The path will take you through a mossy fairytale forest and past ruined stone buildings before crossing a little stream. Just after the river crossing, the landscape opens up and the path divides – you need to follow the path to the right.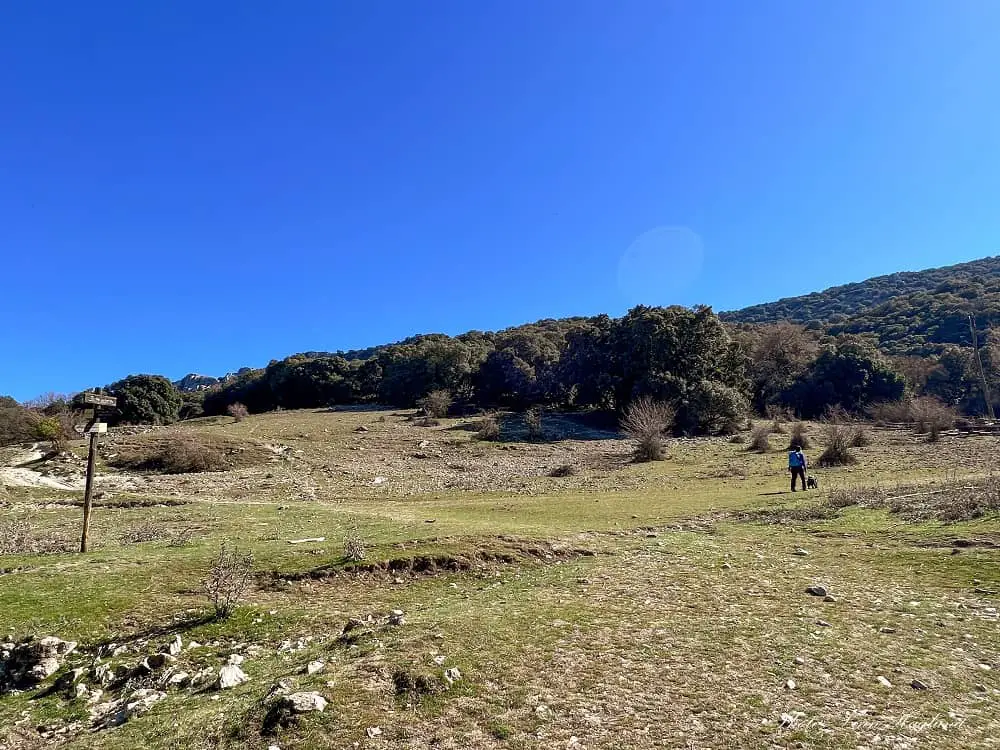 This will take you across a more open area with a unique landscape that reminds you that the land you walk on used to be at the bottom of the ocean millions of years ago.
In the middle of the plains, you will cross a (possibly dry) stream next to a wooden hiking sign pointing you to "Las Chorreras" to the left. Walk up to the woods and follow the trail until you reach a waterfall at the end of the walk.
This was dry when I was there the first time and the second time it had traces of ice from previous running water from a couple of days of rain, so I expect this to be wonderful after a good rainy period.
From there, turn to the left, slightly back again to scramble up the mossy rock wall to reach the trail that is on top of the socky section. (Not above the waterfall, but about 10-20 meters back again sliding up the rocks which will be on your right when you walk back – see picture below.)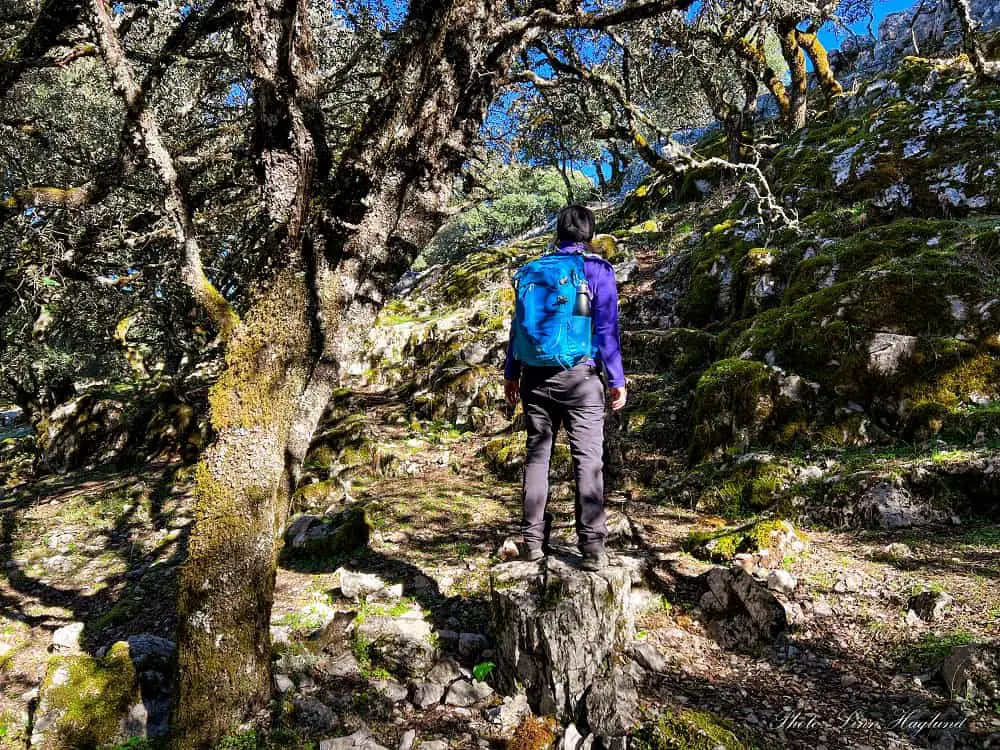 Climbing up the mossy rocks (you can slightly see a path zig-zagging up) and you will eventually reach a path. Turn onto the path towards the right (the left is leading back down and you will use it on your return.)
Once you reach the river, follow it up to the left until you reach the second waterfall.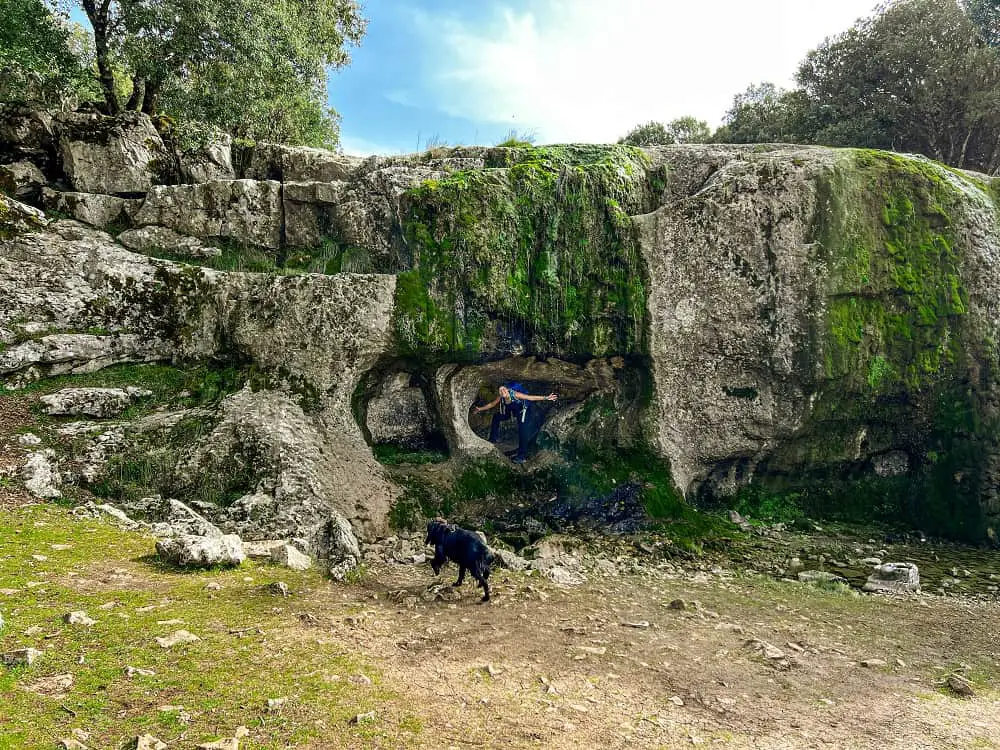 On your return, continue on the path (you don't have to scramble down the rocks you came up) until you meet the (possibly dry) stream and cross it to reach the same trail you came from. Continue until you reach the plain with the wooden hiking sign saying "Las Chorreras". The sign towards the right says "Zuheros" and that is where you came from. The route to the left is to Cabra.
In this crossing, you will take the only route that can't really be recognized. Straight ahead across the rocky terrain dotted with trees.
If you prefer to play it safe and walk back the same way you came from, just turn right and take the same way back.
Río Bailón to Zuheros
If you're still with me, I assume you're adventurous and want to do the full loop trail, and you're not gonna regret it!
While it is a little bit difficult to follow the trail from now on, it is not impossible and I'll guide you as best as I can. There are some small paths to follow through the rocky terrain, but in some places, they multiply somewhat and you must assure that you don't slide too much toward the left side.
Walking straight uphill you will eventually reach some human-made rock walls. You will see a depression in one of the walls under a tree. Cross it there. This is an area with livestock walking free.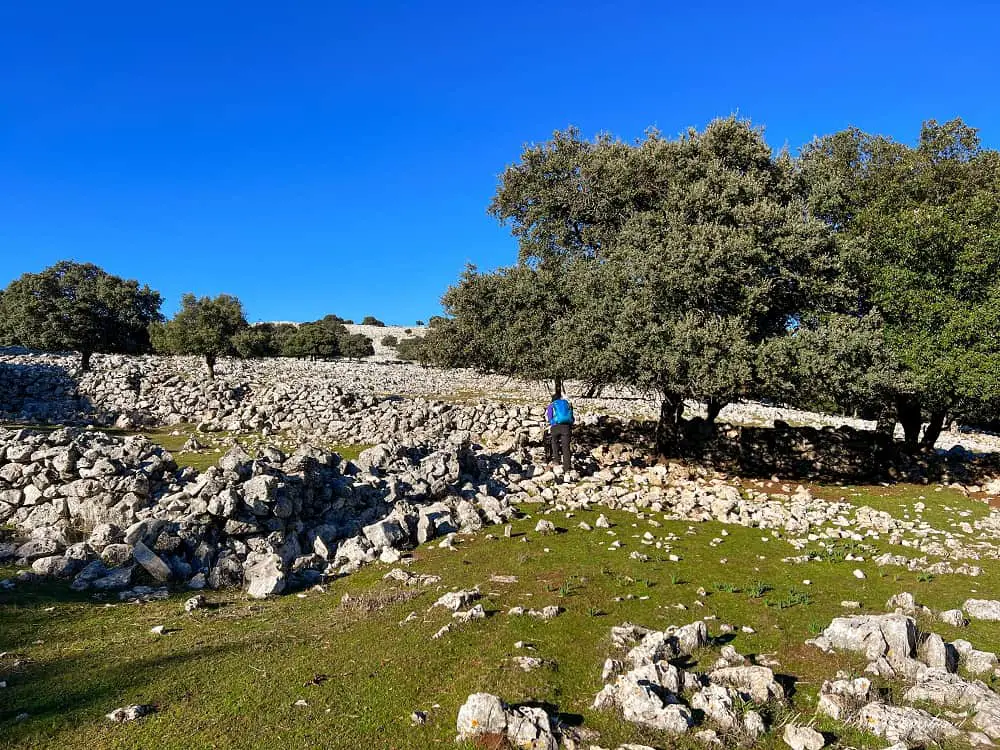 Continue up the hill, making sure you don't slide toward the left. This area is a little bit hard to navigate. If you follow my Wikiloc track, you will notice that I slide left at one point and turn strictly right to find a different trail.
I got caught up with some super cute goats and walked straight toward them – and surprisingly, they were not on the correct path.
You will eventually come across a broader path that you can distinguish in the landscape. Follow this towards the right. It will wind left up the hill. Follow this wide path for a while.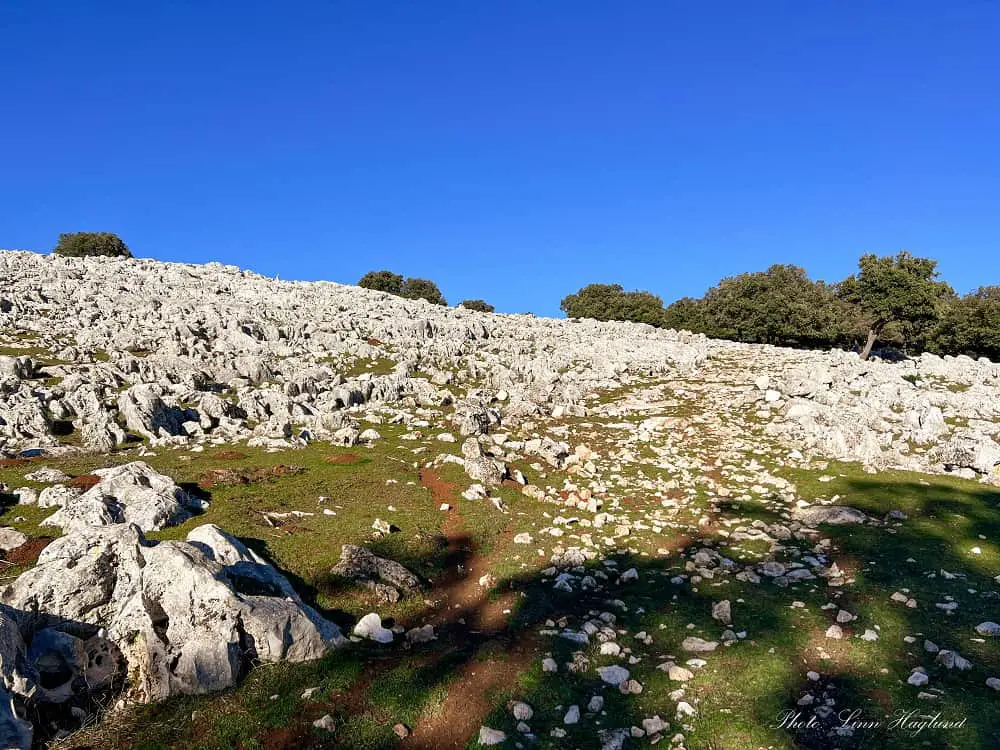 Continue uphill, the path will wind left and right for a while, but you are going to slightly move towards the right as you walk up the hill. You are not going to the top of the hill.
You will reach a small area that is shaded by trees where you will leave the wide path and walk out on a narrow trail again with an open area leading to mountain views, see the below picture.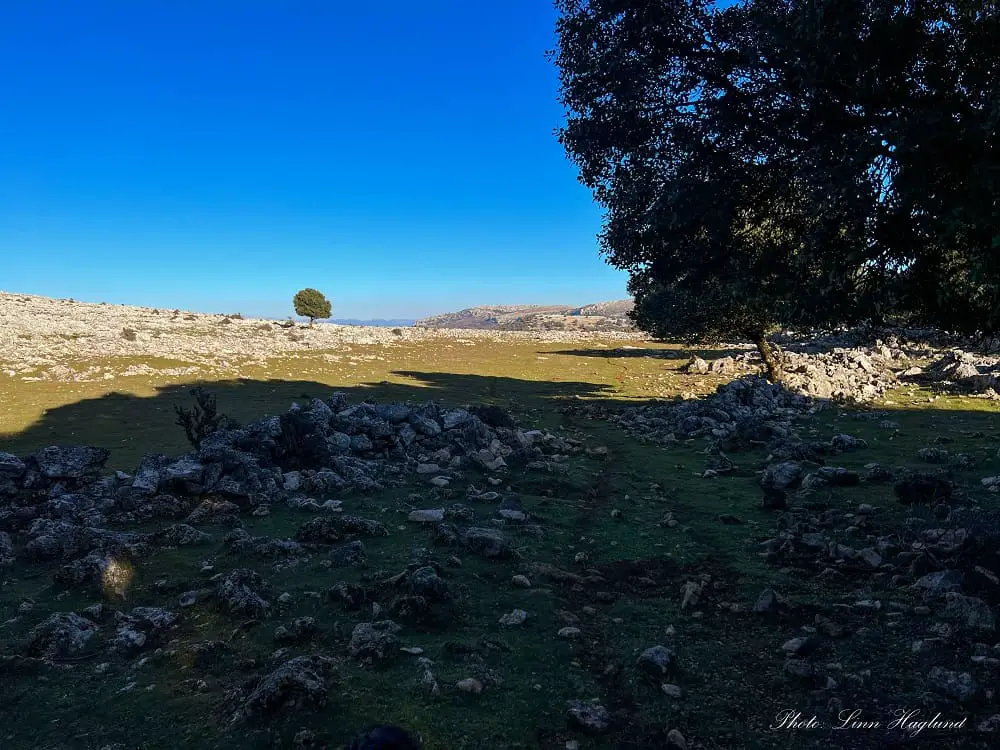 After following the path with the mountains in front of you for a while, the path turns towards the left up the hill. There are a couple of iron poles along the path that will guide you in the right direction here, see the picture below.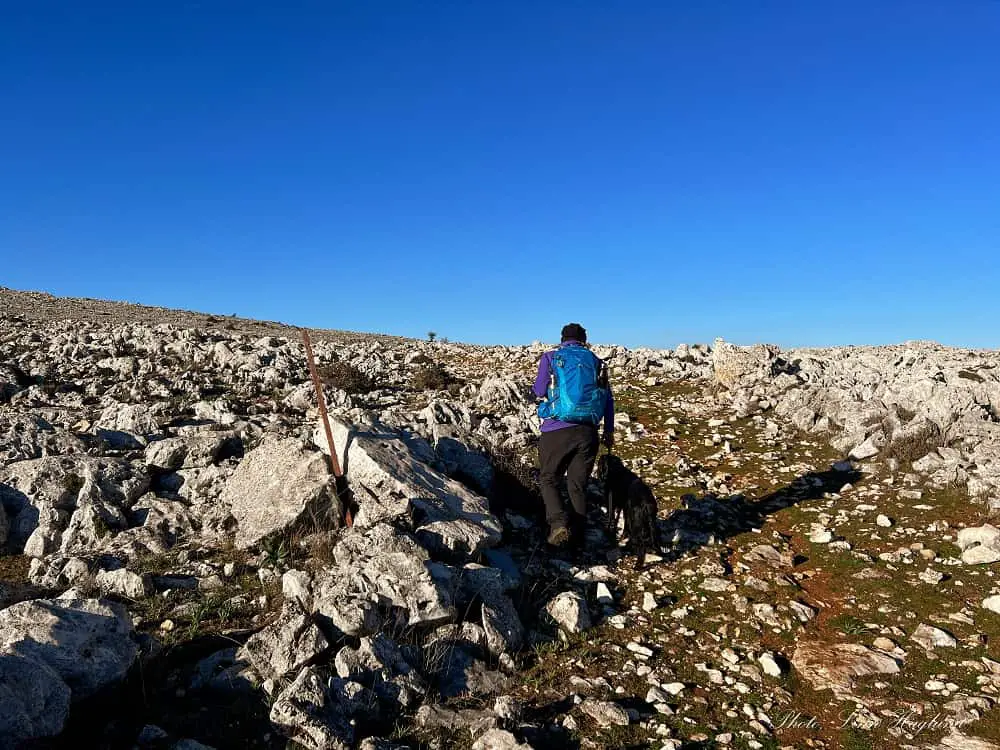 You will come across an old gate that you must cross. Remember to always close the gates you come across so animals can't run away, though when we crossed this, there was a big hole in the door that Ayla walked straight through.
After the gate, there is a small detour to the right before continuing to the left. You will soon come across some man-made stone walls, and this is where we continued straight ahead and came to the view I showed above.
Just in front of these stone walls, there is a narrow trail to the left and you must navigate it slightly to the left and downhill in front of you.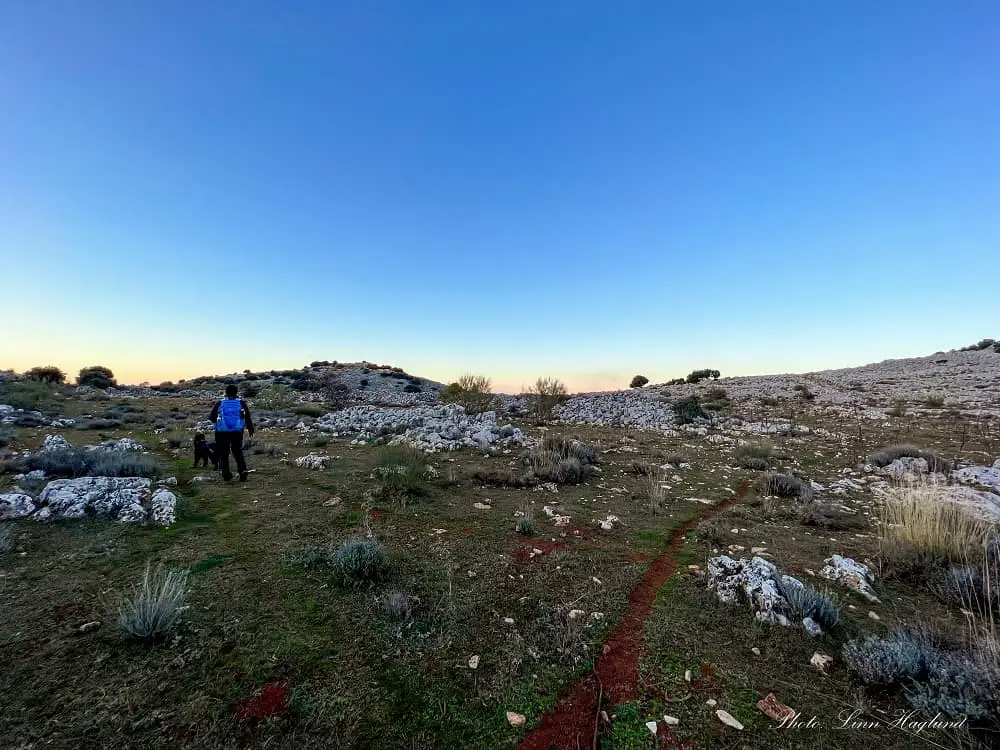 In between the maze of stone walls and small trails, you will eventually find wooden hiking signs/poles indicating you're on the PR-A 422. Follow them down until you get on a clearly marked hiking trail.
The rest of the way down to the village of Zuheros is easy to follow and you can't go wrong, which is a relief as the views open up and you'll enjoy focusing on what's around you and not trying to figure out the right path.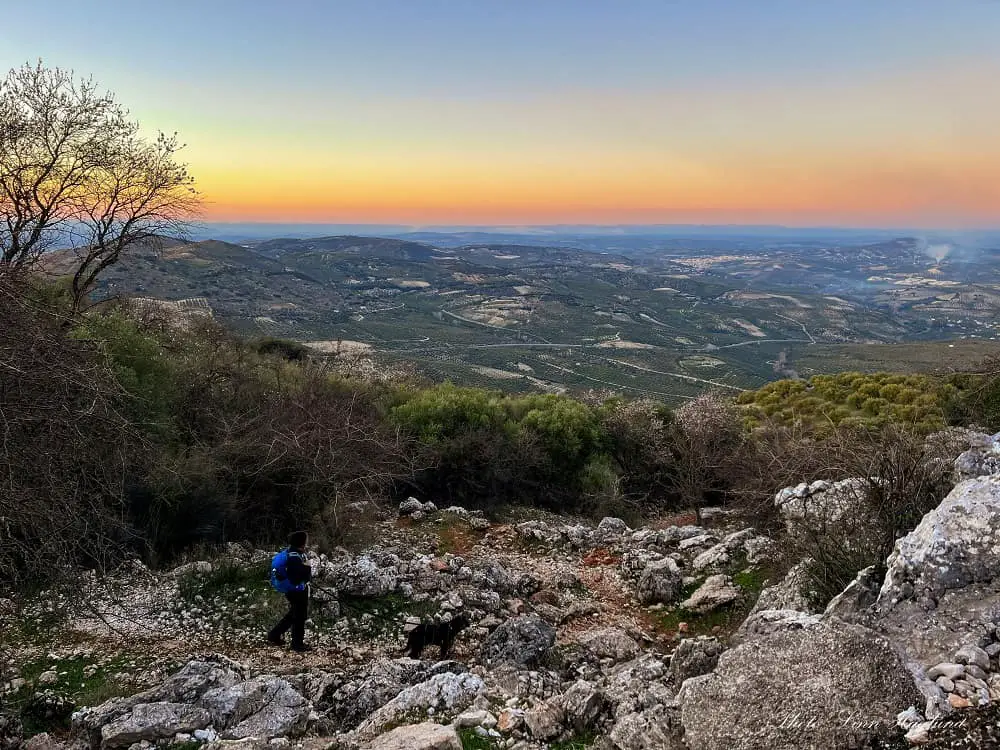 OTHER EPIC WATERFALL HIKES IN ANDALUCIA
Reflections on hiking to Chorreras del Rio Bailón from Zuheros
There is no doubt hiking to Chorreras del Rio Bailón from Zuheros is an amazing experience. We did hike to the waterfalls from Cabra too, but this hike was so much nicer.
Besides being a little bit complicated to find the way across the farmland across the mountain on the way back, it is an easy-to-follow route that you can easily bring children that are used to hiking on too.
The variety in the landscape makes it all worthwhile and I couldn't stop being in awe the whole time (though it doesn't take much to make me excited in nature, hiking in Cordoba hasn't been my favorite province so far – but with this hike that is starting to change.)
Remember to get your permit and happy hiking!