What to wear hiking in hot weather can vary from person to person. Depending on how easily you get a sunburn and whether you prefer wearing shorts and a tank top over full-coverage sleeves protecting against UV rays, mosquitos, and ticks.
Luckily, there is a wide range of hiking clothes for hot weather to choose from so that we can all be comfortable when the summer heat hits.
After living in Andalucia for a decade and hiking in extreme heat, I've found my favorite summer hiking clothing. But I've also hit the trail with the completely wrong outfits, so I know how important it is to choose the right clothes.
While enough water is a must when hiking in hot weather, the clothes you wear play a huge role too. So in this post, I'll share with you the best hiking clothes for hot weather so that you can get the most out of your hiking adventure.
Disclosure: This post may contain affiliate links. That means that if you make a purchase through one of those links, I will get a small commission at no extra cost to you.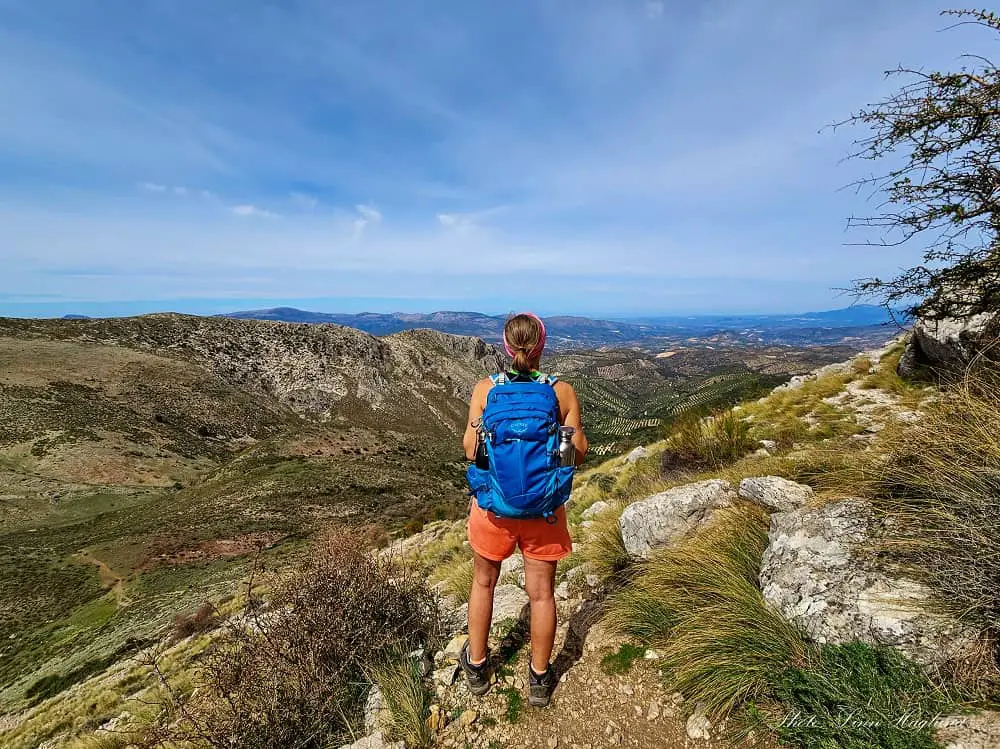 What to wear when hiking in hot weather
First of all, let's have a look at what you need to think of when choosing what to wear hiking in hot weather. You need to know what kind of trail you are about to go on first of all.
Personally, I prefer to wear as little as possible. I'm definitely the shorts and tank top kinda girl. But for some trails, I will go with a sturdy pair of breathable leggings for hiking because the trail is overgrown and spiky bushes might scratch my legs.
Or there might be a lot of nettles that might burn or maybe the area is full of ticks.
You don't want that sh*t on your legs, so then it is better to wear full coverage. I also have friends that have very sensitive skin. It is safer for them to wear UV-filtered long sleeves than a tank top.
Personally, I get very uncomfortable hiking in a t-shirt or anything covering my armpits, that's where I sweat the most, so I will avoid that when I choose what to wear when hiking in the summer.
For you, that might not be a problem, so I've added t-shirts and long-sleeve tops for hiking in the list below so that you can choose what you feel the most comfortable in.
The material you choose for your warm-weather hiking clothes also matters a lot!
Think lightweight synthetical, fast-drying, and moisture-wicking materials that breathe. Light colors also stay cooler than dark colors.
Finally, I recommend clothes that are not too tight, yet not too loose. Just enough to get some airflow through without tangling up in any bush you walk past.
Now that you know the basics of choosing hot weather hiking clothes, let's have a look at the best clothes for hiking in summer or tropical areas.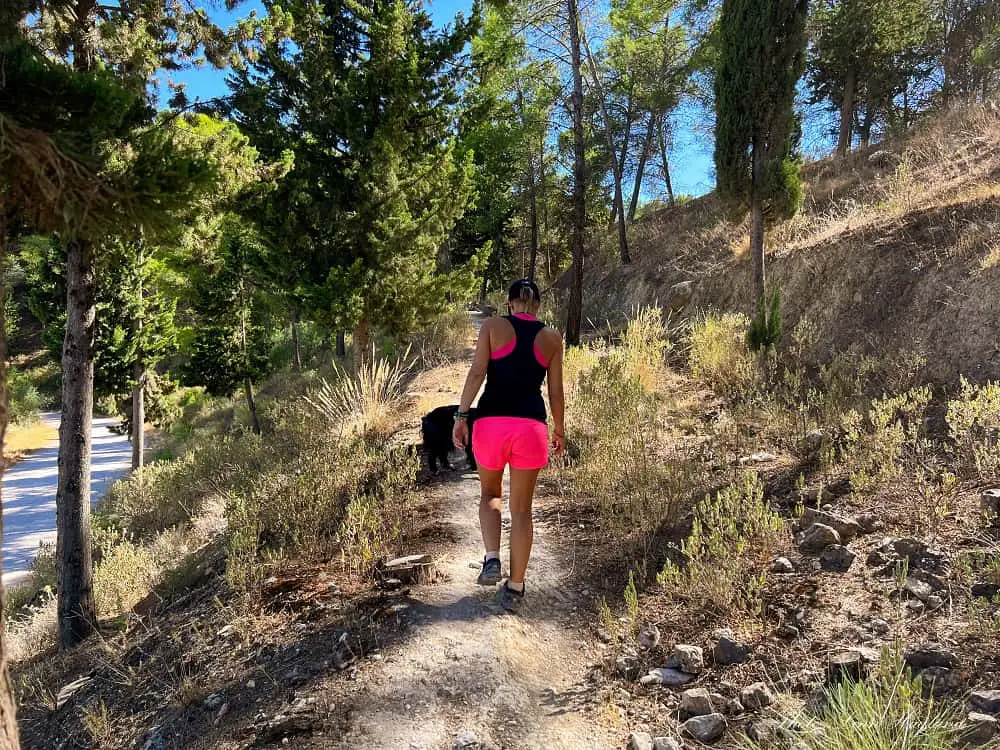 Best hiking clothes for hot weather
Shorts
First of all, let's have a look at the best hot-weather hiking shorts. These are breathable options for men and women with enough pockets (personally, I love pockets – it makes it easier to reach items like your phone or lip balm during the hike.)
These are loose fit which lets the airflow cool you down. They are also lightweight and dry quickly. My favorite feature is the pockets. The two front pockets have zippers and besides, you have a back pocket and a side pocket.
Further, the shorts have UV protection, so the sun's harmful rays won't penetrate through the fabric.
They are really comfortable and let you move freely whether you are hiking or trail running. I'm curvy and it fits perfectly with the drawstring in the waist.
The men's version is also comfortable shorts to move in that are moisture-wicking and quick-drying. If you go for a short hike and are not carrying a big backpack, you can stash keys and a phone in your pockets.
Just like the women's version, you have two front pockets with zippers. It also has two side pockets and two back pockets with hook & loop fasteners.
The water-resistant fabric has 50+ UPF protection and an elastic waist for comfort.
Hiking pants
If you prefer clothing for hiking in hot weather that covers your skin, you might want to look into hiking pants or leggings. Here are a few excellent options for hot and humid weather that are lightweight and breathable.
Outdoor Research Women's Ferrosi Convertible Pants
For the last few years, I have used zip-off hiking pants and if your summer hiking clothes need to include pants, I highly recommend this option.
Especially if you go on longer hikes or backpacking adventures where it might get colder at night, you have pants and shorts in one. There is no doubt some of the best clothing for hiking in hot weather are versatile items like this.
One of the minuses of zip-off hiking pants is that you feel the zipper on your legs, which can be uncomfortable, so if you don't think you will use the zip-off option, I suggest you get the version without zip-off.
They are both lightweight, breathable, and quick-dry, so you won't feel as sweaty as when the fabric becomes wet on your skin. The stretchy material makes them comfortable to hike in challenging terrain too.
Outdoor Research Mens Ferrosi Convert Pants
The men's version is also amazingly comfortable even when scrambling. The lightweight material is wind and water-resistant, breathable, and dries quickly which makes it some of the best clothing for hot weather.
The pants are also Bluesign made of 46% recycled Nylon and UPF 50+ sun protection. You can fit a belt on them if needed and they look as good as they feel.
If you prefer pants without zip-off, Mohammed's favorites are these Willit Men's Lightweight Joggers. They are lightweight with zipper pockets, an adjustable waistband, and cuffed ankles.
Under Armour Women's Motion Leggings
If you're looking for leggings, these ones are nice and soft, and wonderful to move around in. I love that they are breathable which makes them perfect for any warm-weather hiking outfit.
You find them in many different colors, and it's always nice to find hiking gear in bright colors that pop on pictures when you're out hiking.
The minus with these is that they don't have any UV protection. Therefore, I have added another option below that I also love.
Fjällräven Womens Abisko Trek Tights
If you're looking for a high-quality, sturdy pair of hiking leggings, these ones from Fjällräven are about as good as it gets. They cost a little extra, but they are super and will last you a long time.
The Abisko Trek Tights are reinforced on the knees and seat so that you can scramble and sit down on the rock without worrying about your clothes. I especially love the quality of these ones, when you put them on the first time, you just know they will last.
With UPF 50 protection in the fabric, you don't have to worry about the sun, and it is both moisture-wicking and quick-drying.
Among my favorite hiking clothes for summer are tank tops. I sweat a lot under my arms so it is so comfortable to wear a lightweight tank top that dries quickly and doesn't reach up to my armpits.
There are many great alternatives for your hot weather hiking outfit, but I particularly like these simple ones from Magcomsen as they also provide a UFP 50+ protection against the sun's dangerous rays.
While I might not prefer wearing t-shorts while hiking a lot of people do. So what to wear hiking in the summer is very individual.
However, there are many pros to wearing a T-shirt in hot weather.
It is particularly useful on long hikes where you carry a heavy backpack It is not comfortable to get that rubbing straight onto your shoulders. Especially on hot days, it gets easily sore with sweating under your shoulder straps.
A T-shirt will protect your shoulders against this but also against sunburn which a tank top will fail to do.
These T-shirts are comfortable, lightweight, and dry quickly. I've used them at times when the weather hasn't been too hot for me (as I said, I sweat a lot and just can't deal with T-shirts when it's hot!) Friends have also been happy with these which is why I include them in my list of best hot weather hiking clothes.
Among the men's best summer hiking clothes I can recommend this T-shirt. It is lightweight, moisture-wicking, and dries quickly. Besides, it protects you from the sun with its UPF 50+ protection.
This is a versatile T-shirt that can be used at home, at the gym, and hiking. It is also great to wear if you go on a hiking date with its odor-resistant polyester.
A long sleeve top is the best way to protect yourself from the scorching sun and from the annoying bugs that you can meet on a summer hike.
With UPF 50+ sun protection, lightweight, and moisture-wicking fabric, this is among the top hiking clothes hot weather hikers can invest in.
So if you are looking for what to wear when hiking in hot weather to cover you up, this is a great alternative! In fact, this is one of my favorite long-sleeve shirts for hiking in summer.
Whether you prefer using a baseball cap or a full-coverage sun hat, you should definitely wear some kind of head protection.
While what to wear when hiking in summer depends on your preferences, note that I prefer wearing a baseball cap, the best option is a hat with sun protection, and that gives shade both in your face and neck.
It's not necessarily about how cool you look, but how well you can protect yourself.
This is a great option from Tilley. It looks good for being a hiking hat and it is made of 100% recycled nylon. It has UPF 50+ sun protection, is water repellent, and is moisture-wicking. On top of that, it comes with a lifetime warranty.
When looking into what to wear when hiking in the summer, you should not underestimate what backpack you choose.
I have hiked with many different hiking backpacks and there is a huge difference once you find a good one.
I'm currently using the Osprey Sirrus 24L backpack for day hikes and love the mesh back which assures air flow on hot days so that it doesn't make your back all sweaty like other backpacks do.
This is the women's version, the male version is Osprey Stratos 24L.
Reflections on what to wear when hiking in the summer
As you can tell, there are a lot of great hot weather hiking clothes to choose from that both look good and are comfortable on hot summer days.
Still, make sure you check the weather forecast before heading out and if you can choose a day without a heat wave over another day, you will do yourself a huge favor – I'm talking of experience.
Last but not least, make sure you bring enough water and do not underestimate bringing a water purifier as you will need to drink a lot more water than you might expect, and sometimes you must pour water over your neck and head if you feel it's getting overheated.
I hope you have figured out what to wear hiking in hot weather and are ready for your next hike. Happy hiking!