If you're looking for a short hike with exceptional views that makes for the perfect sunrise and sunset hike, look no further than Antenas de Aguadulce, Almeria.
Taking you up a steep trail overlooking Aguadulce, it only takes you an hour to get up to the antennas where you have the whole town at your feet. There is nowhere to get lost, so it's easy to strap on the headlamp and walk in the dark to catch the sunrise on the top.
Yes, it's a strenuous hike, but it's well worth the views, so if you're staying in either Almeria or Roquetas de Mar, there is no excuse not to do this hike.
In this guide, I'll let you in on everything you need to know to hike the Antenas de Aguadulce in Almeria so that you can take in those epic views too!
Disclosure: This post may contain affiliate links. That means that if you make a purchase through one of those links, I will get a small commission at no extra cost to you.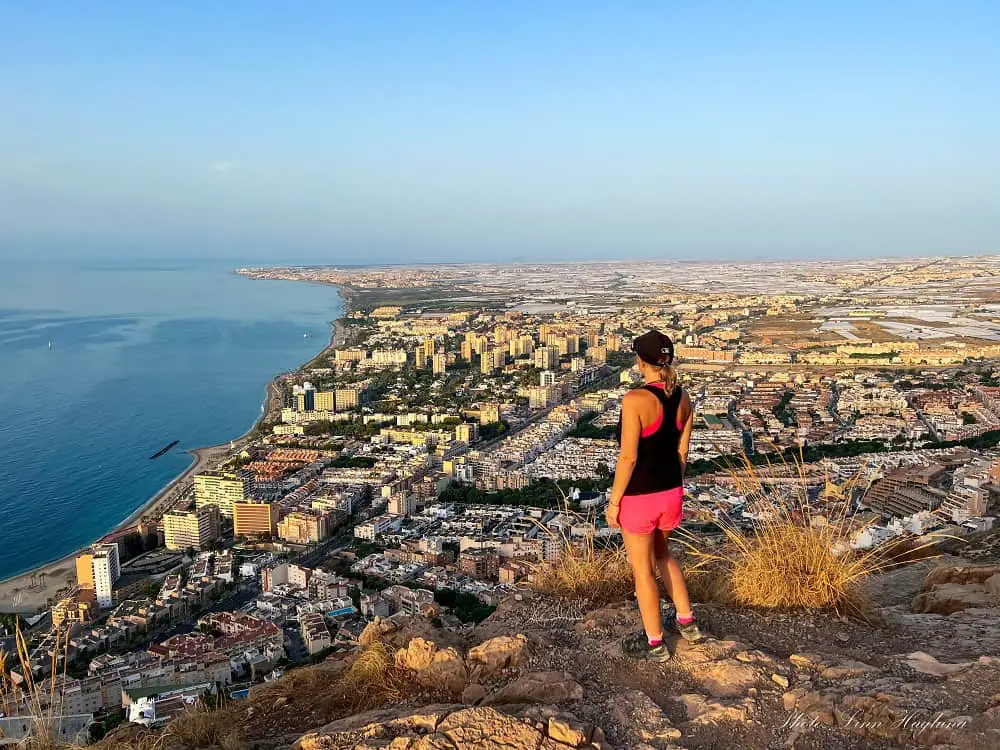 Practical information
Province: Almeria
Length: 5 km
Time: 2 hours
Elevation: 289 meters
Altitude: 300 meters
Route: Linear return
Difficulty: Moderate
Hiking season: mid-September to mid-June
Hiking with dogs: Hiking with dogs is allowed. There are no pine trees on this hike, so your dog is safe even in the pine processionary caterpillar season.
How to get to Antenas de Aguadulce trailhead
Aguadulce Trailhead is close to the Aguadulce Cemetery. On the side of the cemetery, you will find an open space leading up to the motorway and there are a few parking spaces at the beginning of the dirt track. You might find a few more parking spots a few meters further up the dirt track.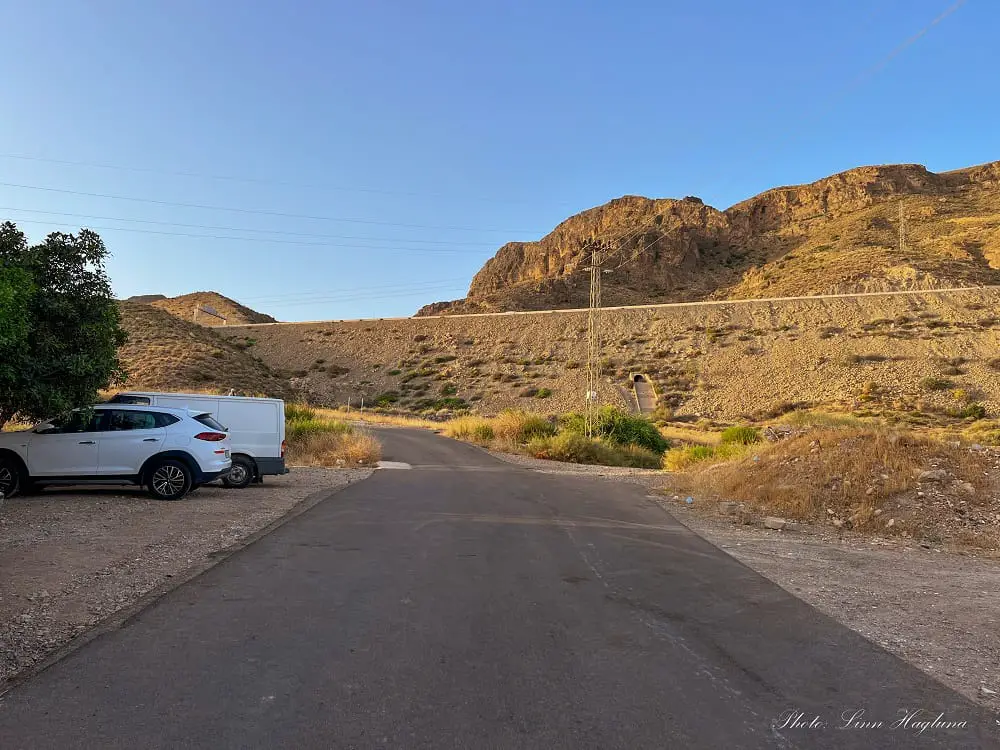 After parking, you just keep walking the same track until you reach the tunnel under the motorway that takes you to the other side and the ascend starts.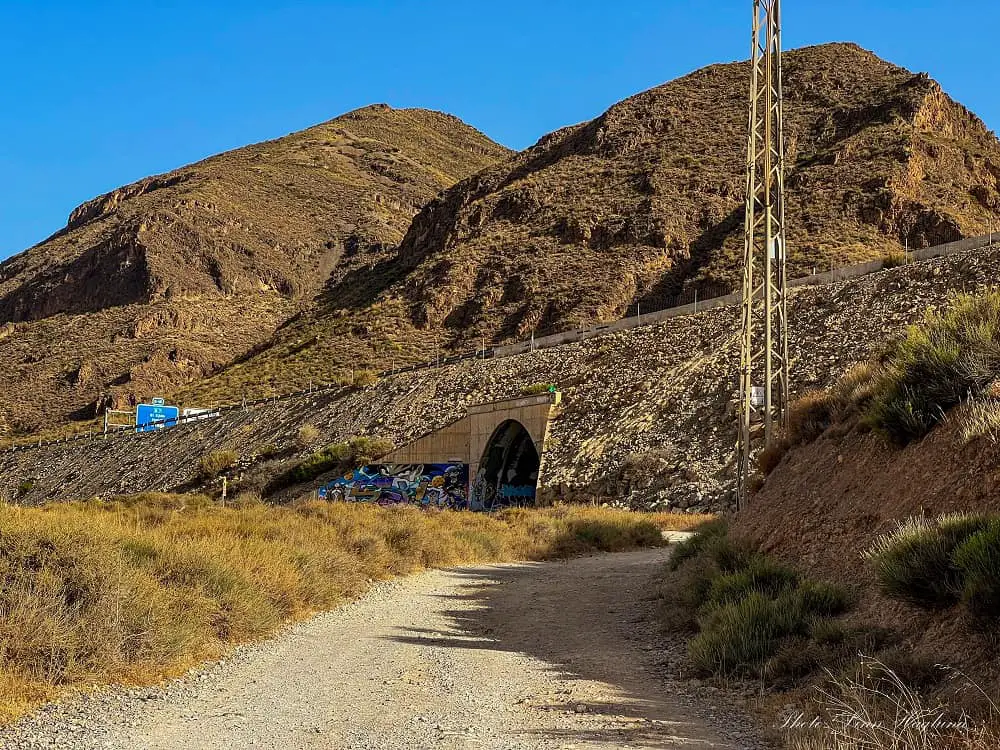 When is the best time to hike Antenas de Aguadulce
The best time to hike Antenas de Aguadulce, Almeria, is outside the summer months, as it is too hot. However, if you are in Aguadulce in the summer and want to hike in the heat to the viewpoint, you can go on a sunrise or sunset hike.
Bring a headlamp and walk up before the sun rises or walk down after the sun sets. It is mesmerizing from the top when it is dark and the whole coastline is lit up.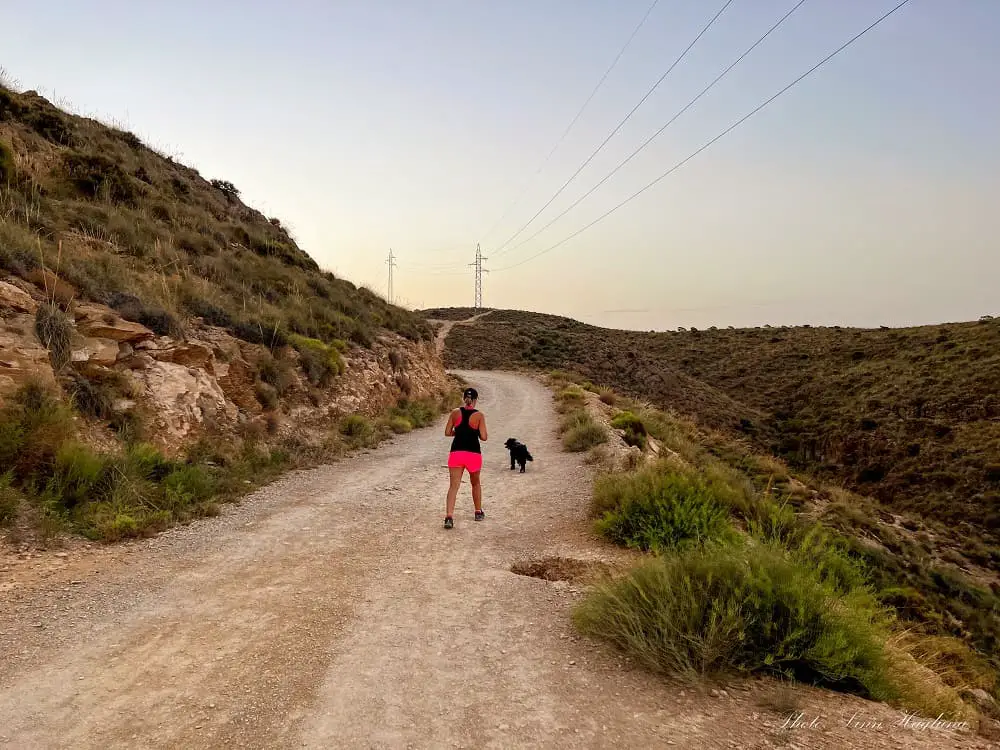 What to bring when hiking Antenas de Aguadulce
Hiking Antenas de Aguadulce is a sweet but steep hike. It does not require a whole lot of hiking gear, but if you struggle with your knees, I will suggest hiking poles or even knee braces for hiking.
However, you should definitely have a good pair of hiking shoes to avoid slipping on the gravel. Whether you wear shorts or leggings for hiking, you will be fine. Since the top is open, bring a windbreaker in case it gets windy.
If you hike in the summer, make sure you read my guide to what to wear when hiking in hot weather conditions.
Here are some more posts that you might find useful:
THINGS TO BRING:
lunch
fruit or other snacks
water
camera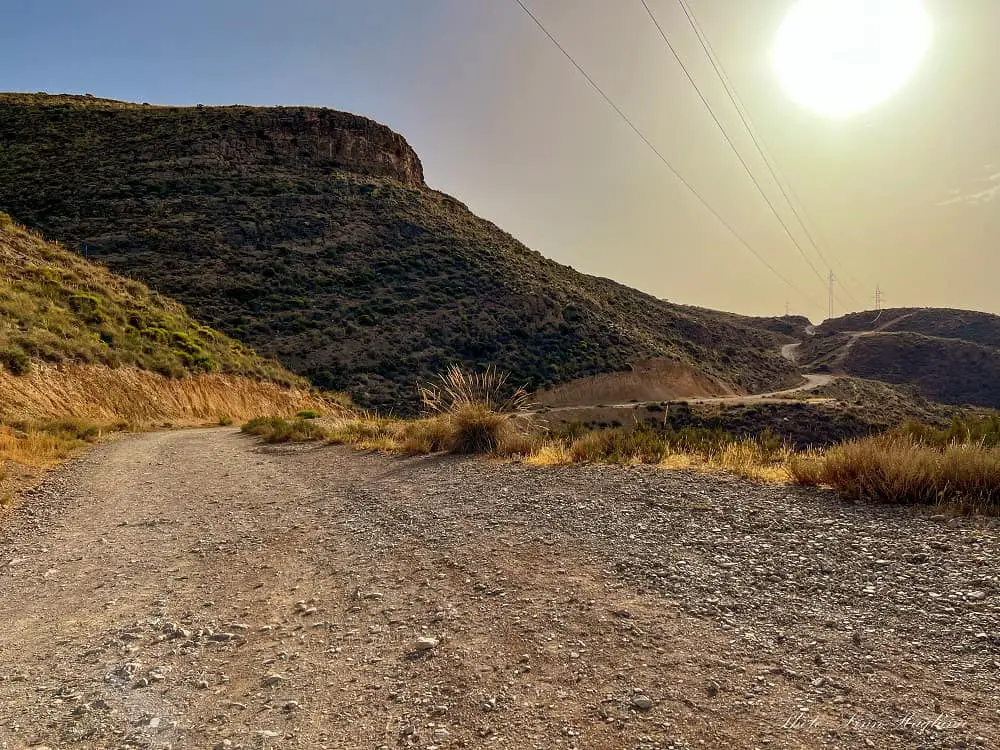 Where to stay
The best place to stay when hiking Antenas de Aguadulce in Almeria is in Aguadulce. Here are a couple of hotel recommendations.
Moon Hotel & SPA – An excellent hotel with parking and pool and spa facilities. Perfect for softening up those stiff leg muscles after the hike. It is also situated right on the beach which makes it super handy in the summer months.
Apartahotel Aguadulce – If you prefer to have an apartment with a kitchen available, this is a great alternative close to the beach and with rooms with a view. They also have parking on site.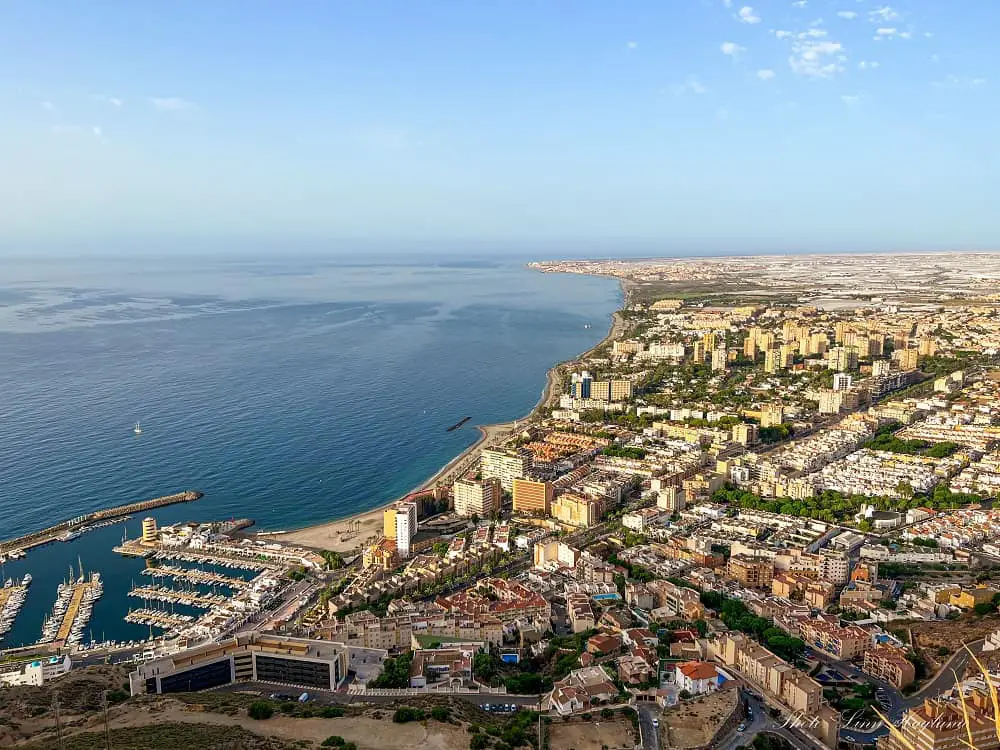 BE A GREEN HIKER!
Hiking Antenas de Aguadulce Almeria
From the parking, continue up the track and through the tunnel under the motorway. Right on the other side, the trail steepens dramatically to your right.
Hiking Antenas de Aguadulce is good exercise for the first half an hour as the ascent is steep, but with breathtaking coastal views on your right side, it is well worth it.
About halfway to the end, you get to a natural viewpoint on the right which makes for a great stop to catch your breath, drink some water, and take in the views.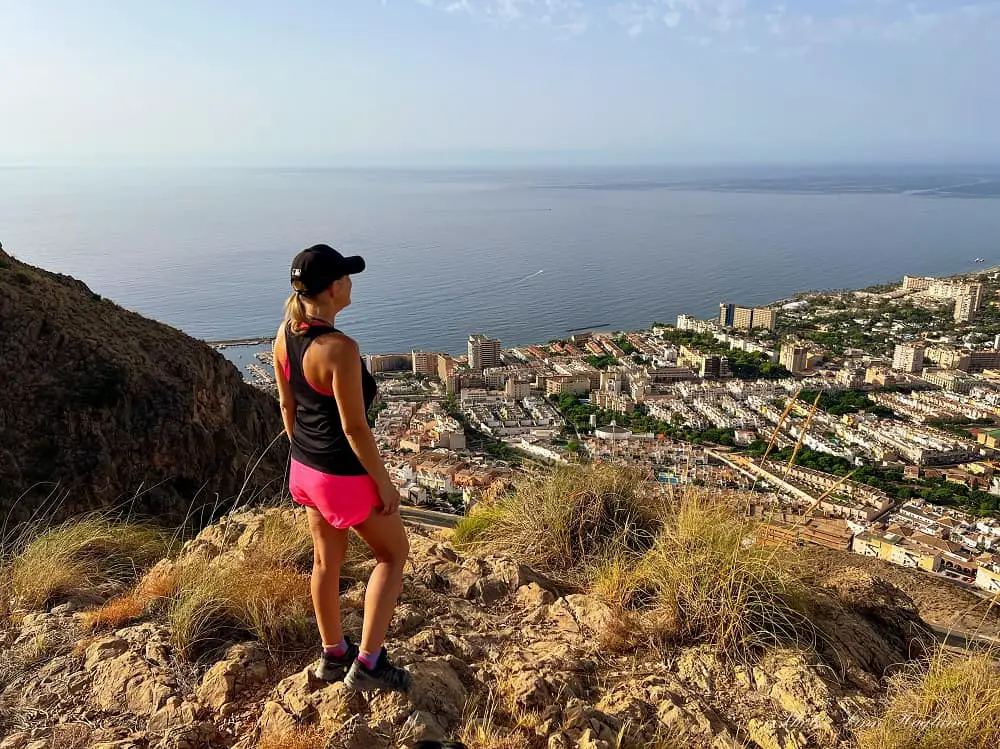 From there, the trail flattens out and you are looking at a few ups and downs but nothing steep. The trail is easy to follow all the way and once it opens up in front of you (towards the east side of the coast) there is a small hill to climb on your right and you will see the antennas.
The viewpoint is right past the antennas where you get the most epic views of Aguadulce and Roquetas de Mar.
The return hike is the same way back.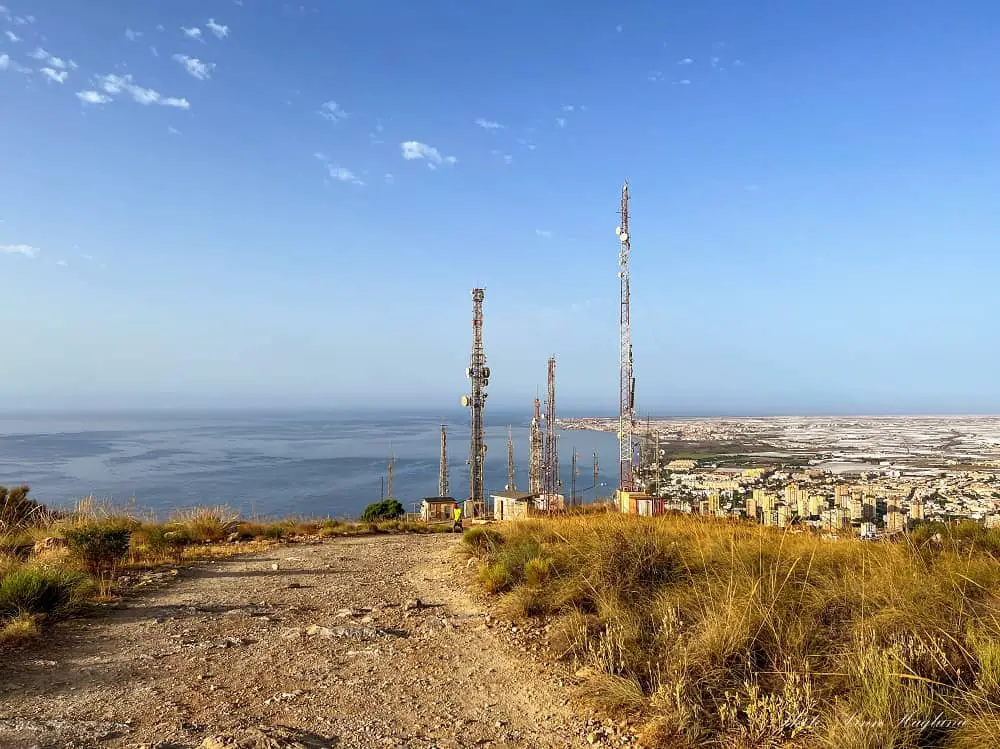 OTHER HIKES IN ALMERIA
Reflections on Antenas de Aguadulce hike
The Antenas de Aguadulce hike has been on my bucket list for a long time and I was not disappointed. I did it in the summer, so I did one sunrise hike and a sunset hike.
If you plan on going in the summer, I highly recommend bringing a headlamp and walking one way in the dark – otherwise, it will get darn hot!
Other than that, it is a lovely hike where you reach cool views in a short time. However, don't underestimate the steep beginning, especially if you haven't been hiking for a while.
In my opinion, one of the nicer hikes in Andalucia for sure.
Happy Hiking!