The dramatic coastline of Cabo de Gata-Níjar Natural Park in Almeria is lined with hiking trails that take you from beach to beach with captivating views along the way. One of the most impressive, yet easy to walk, is the Loma Pelada trail from Cala Higuera, east of San Jose, to Cala Escondida in Los Escullos.
Apart from staggering coastal views the whole way, you'll see a watchtower, a collapsed house, and a short walk past Cala Escondida you reach the fortress of Castillo San Felipe. You can also have a cold drink at the Chaman bar before heading back, though prices reflect that there isn't much competition in the area.
If you want to discover the underwater world, make sure you bring a snorkel. These waters are beautiful!
Being an easy hike with large parts of the path being dirt track and nowhere to get lost, this is a great hike for beginners, including for a hiking date, as well as a good place to start as a new solo hiker. You might also read up on the 7 leave no trace principles before you get started.
In this hiking guide, I'll go through everything you need to know to hike Loma Pelada in Cabo de Gata, Almeria.
Disclosure: This post may contain affiliate links. That means that if you make a purchase through one of those links, I will get a small commission at no extra cost to you. As an Amazon Associate, I earn from qualifying purchases.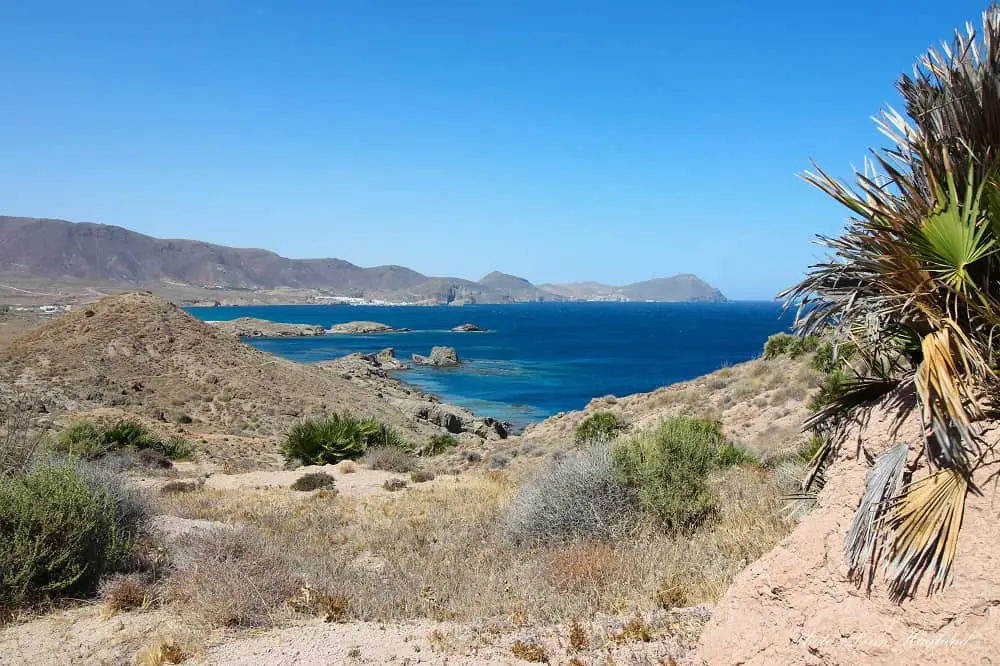 ---
Practical information
Province: Almería
Length: 13,5 km
Time: 3-4 hours
Elevation: 350 meters
Route: Linear return
Difficulty: Easy
Hiking season: All year round
Hiking with dogs: You can hike with dogs all year round. Make sure you bring enough water, especially during the summer months, as there are no natural water sources and far between beaches. There are no pine trees, so there are no pine processionary caterpillars in the season.
---
How to get to Loma Pelada hike
This hiking guide describes the hike done from Cala Higuera, next to San Jose, to Cala Escondida and back. If you're based in Los Escullos, you can do it the opposite way instead. There is a small restaurant there too where you can buy refreshments before turning back.
From Los Escullos, walk the dirt road along the cliffs past Castillo San Felipe towards San Jose (with the seaside on your left). You'll see the sign for the hike as you pass Cala Escondida, but you're actually just going to continue on this track until it turns into a more rocky trail where cars can't pass.
As mentioned, the trail I'll describe starts in Cala Higuera just outside San Jose. Driving into San Jose, you'll see a sign to the hike and the beach in the roundabout before entering the village. Turn left in the roundabout and continue straight onto a dirt track. Keep driving straight here until you see the coast and finally you'll see a few buildings and a parking lot by the cliff where you're heading.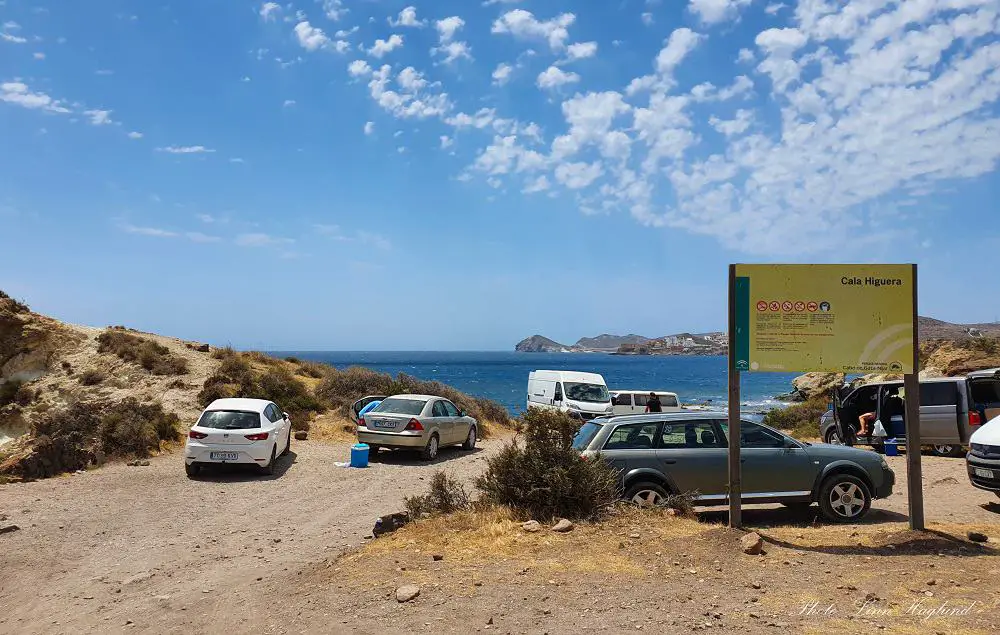 Just before you get to the parking lot, you'll see the sign to the trail to your left. You can park along the track here too. But if you want to go for a swim at the beach before you start walking, go down to the parking lot and walk down to the beach to cool down.
There's also a small trail taking you from the beach that meets the path a little farther up. You can keep walking this straight until you get to a small open space beside a building. The trail is marked towards the right up the mountain here. It's also possible to park here and start from this point.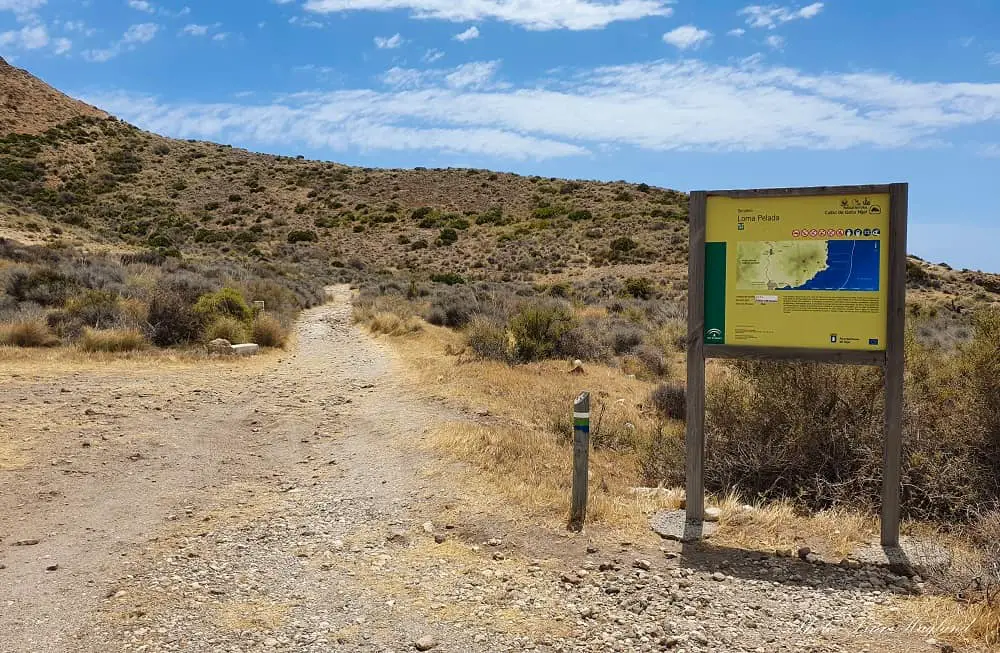 When is the best time to hike Loma Pelada
Loma Pelada hike can be done all year round. However, be warned that hiking in the hottest summer months it can get extremely hot as there are no beaches with easy access before you get to the end of the trail.
The best time to hike Loma Pelada is probably during late spring or autumn as you can still go swimming at the beaches but you avoid the scorching hot days that July and August can bring.
Nonetheless, the winter is perfect for this hike too. You might not go for a swim, but on the other hand, you won't struggle as much with the heat.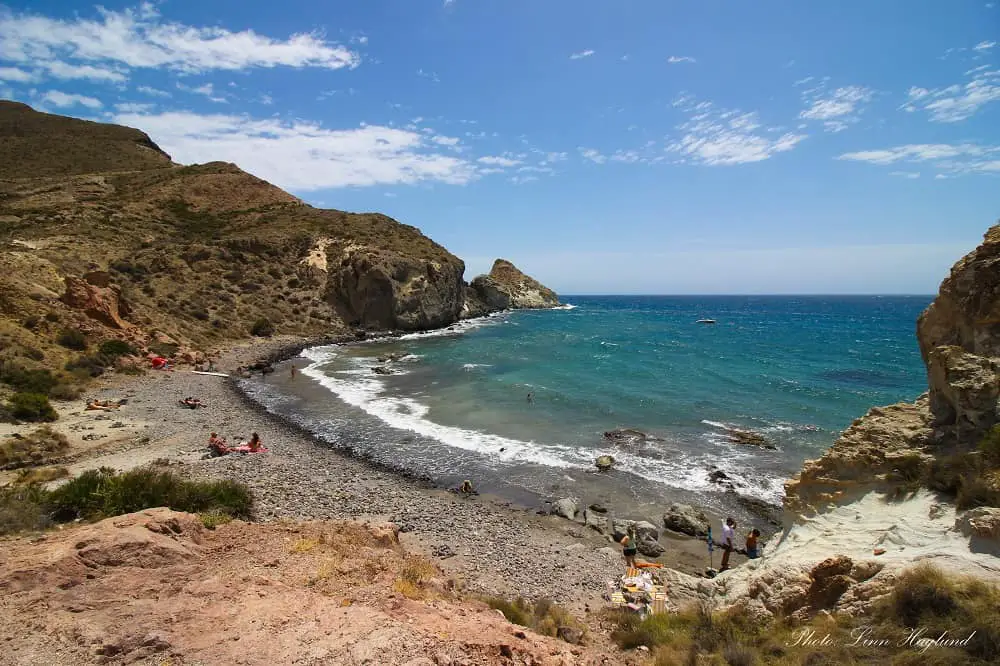 What to bring when hiking Loma Pelada
Loma Pelada hike is a fairly easy hike, so you won't need a whole lot of hiking gear. That said, I do see a few people opting for hiking poles – even though I don't see the need for them.
What you do need are good walking shoes and socks. You can check out my favorite vegan hiking socks here. Also, make sure you bring a good backpack for day hikes so that you can walk comfortably and carry the stash you do need.
My top pick is the Osprey Sirrus for women or the Osprey Stratos for men.
Make sure you bring the following:
Hat/caps (there's no shade!)
Water (there are no natural water sources)
Lunch
Snack (nuts, dates, fruit, etc.)
Camera
Swimwear
Towel
Snorkel
Where to stay
The best place to stay when hiking Loma Pelada is San Jose. As an alternative, you can stay at Camping Los Escullos and start the hike from the opposite end.
Here are a couple of hotels I can recommend in San Jose:
Pensión Aloha is a nice family-run guest house in the heart of San Jose where you can enjoy an outdoor pool on hot days and relax with your morning coffee on the private terrace that comes with your room. The guest house also has a restaurant that serves breakfast every morning. You can book here.
Hostal Puerto Genovés is another centrally located family-run guest house just a short walk from the beach. Also here, you can enjoy a cool down in the small outdoor swimming pool. Book your stay here.
There are also a lot of excellent apartments for rent in and around the village.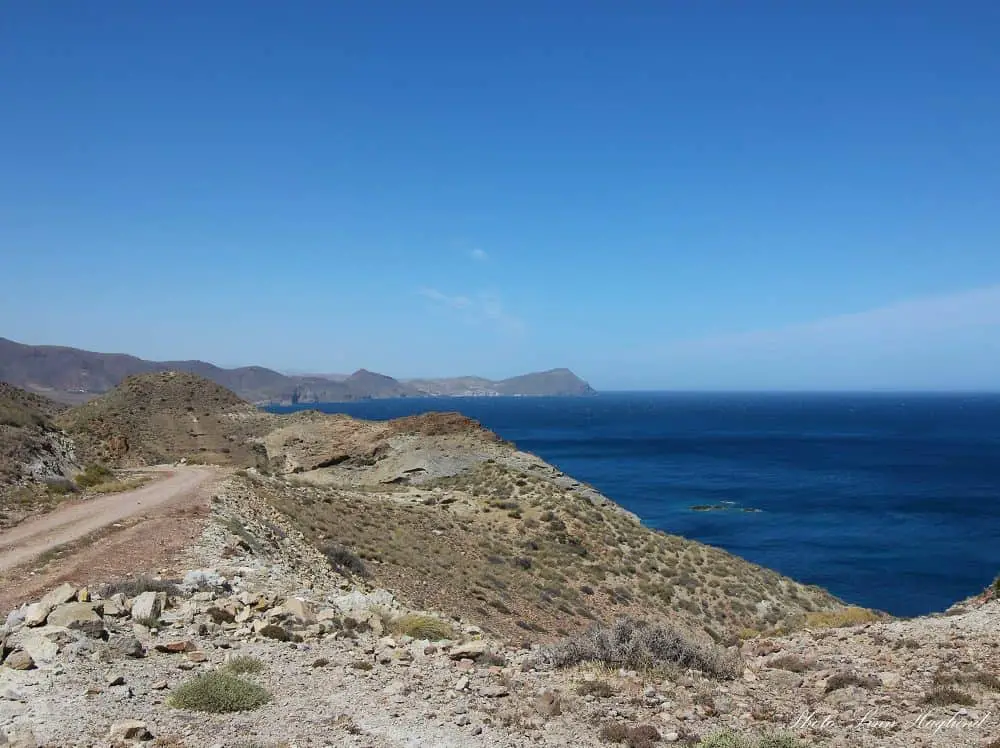 Hiking Loma Pelada in Cabo de Gata, Almeria
Starting at the trailhead right before the parking space at Cala Higuera, you'll walk left towards the hill with the watchtower on top. Only a short walk up, you need to turn left at the junction. Shortly after, you get to a small open space by a white building where there's space to leave a couple of cars. Follow the trail poles up to the right.
From there, the rest of the trail is easy to follow with no deviations. You'll soon get to the seaside of the hill where the path continues along the coast. The side is steep, but the trail is wide enough to feel safe. And the beauty is indisputable.
The path becomes wider and after a while, you'll get to the ruins of an abandoned building with a path passing to yet other stunning views. While the ruins are intriguing to enter and walk around, it seems pretty dangerous and it might collapse more than it already has. So I highly recommend staying on the outside.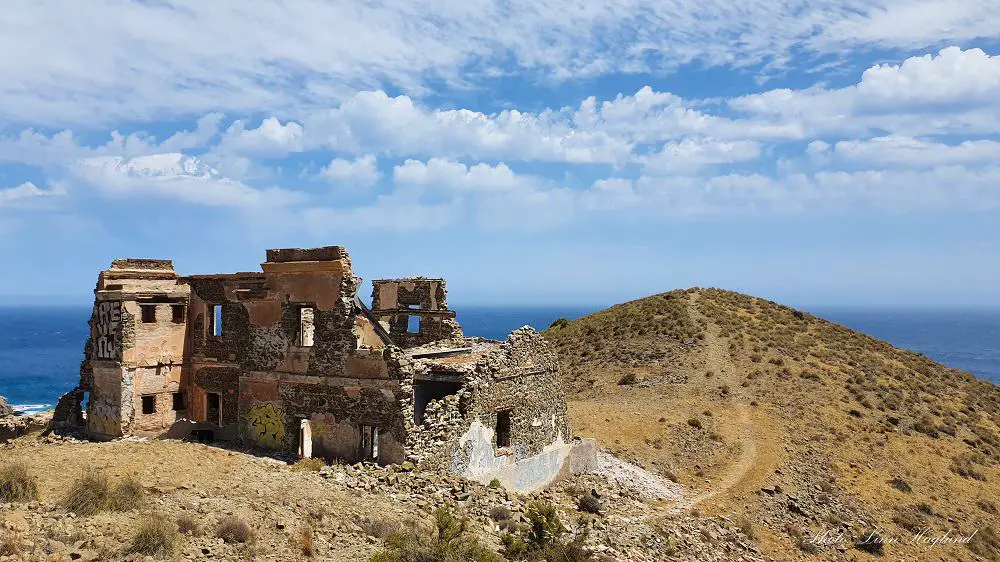 Of course, I didn't, I'm way too curious, but I stopped halfway up the stairs worried that I would fall through the floor if I continued up. The building is already quite collapsed, so it's better to be safe than sorry.
Passed the ruins, you'll continue on a dirt track until you get to Cala Escondida. You'll see the beach and in high season there will be cars parked at the little parking place by the beach.
This is a pebbled beach that's also nice for snorkeling. If you continue past Castillo de San Felipe and the cliffs, you'll get to Los Escullos beach, which is sandy if you prefer that. It's worth going all the way down to see the fortress but also to walk on the cliffs.
Return the same way back.
Reflections on Loma Pelada hike
There's no doubt Loma Pelada is worth hiking, especially when the weather is good for swimming at the beaches. There's nothing better than cooling down during a sweaty hike.
While there are a lot of different trails along the Cabo de Gata coast, Loma Pelada is easy to walk the whole way and there are not many steep drops to be worried about. This is a hike that can be done by anyone without much training and still is a nice half or full-day excursion combined with the beaches.
Happy hiking!
Other awesome hikes in Almeria: