If you are looking for an epic summer hike to cool down in the heat, Barranco de la Luna, Salares in Granada is a fantastic hiking route for the entire family.
Following the narrow ravine, you will be walking in the river parts of the trail. Be prepared for some scrambling. This might not be the right trek for toddlers, but a little older kids will love it.
The shade of the ravine gives a pleasant and cooling effect making it the perfect activity during Andalusian summers.
In this post, I will go through everything you need to know to have a successful Barranco de la Luna hike, which is truly one of the best hikes in Granada.
Disclosure: This post may contain affiliate links. That means that if you make a purchase through one of those links, I will get a small commission at no extra cost to you.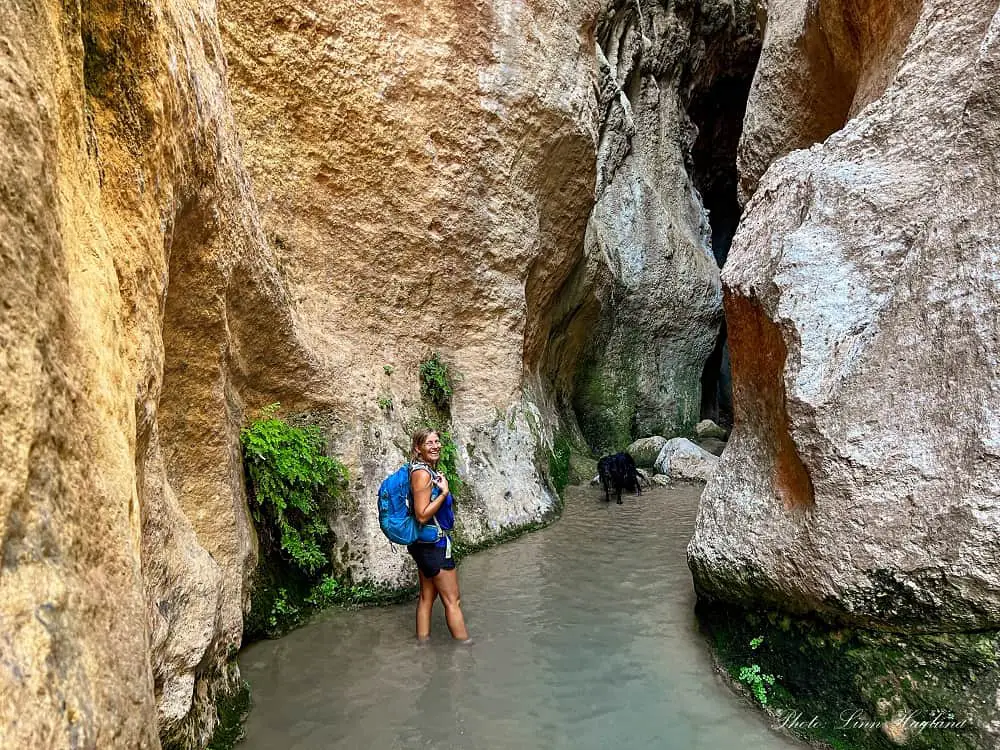 Practical information
Province: Granada
Length: 3.4 kilometers
Time: 2-3 hours
Elevation: 92 meters
Route: Circular
Difficulty: Moderate
Hiking season: Summer
Hiking with dogs: Yes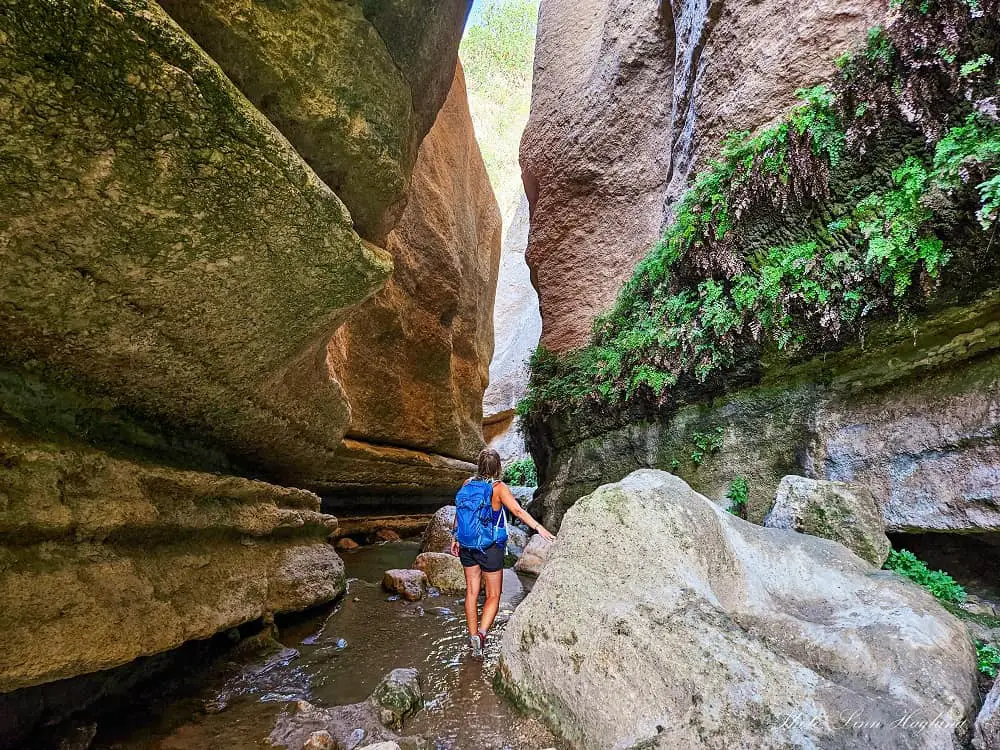 BE A GREEN HIKER…
Read up on the 7 Leave No Trace Principles before you go!
How to get to Barranco de la Luna Granada
The best way to get to Barranco de la Luna is by car. The hike starts right outside the cemetery of Saleres and there is a car park there too.
On the weekends, especially in August, expect it to fill up quickly. I do recommend going early, not only because of the parking but also to get into the shade before the heat gets too rough.
If you are considering getting a rental car, make sure you book early to secure the best prices.
👉Check prices and availability here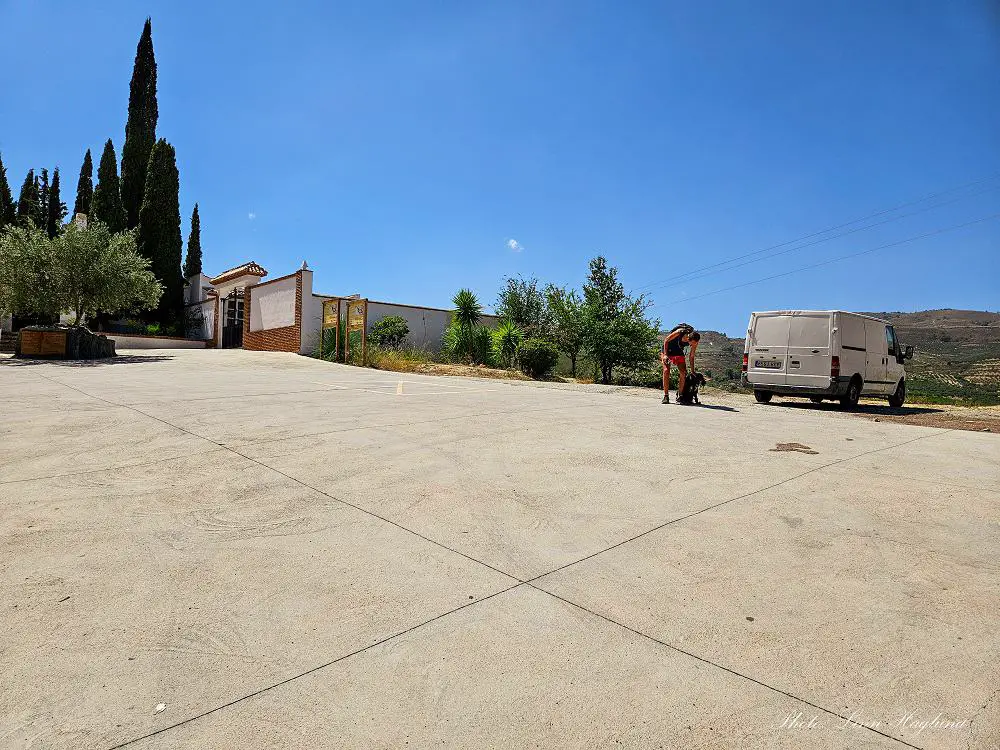 However, there are some buses you can take. Alsa runs between Granada and Saleres with a handful of departures a day, so you are actually able to get there without a car, as opposed to many of the other remote hikes in the region.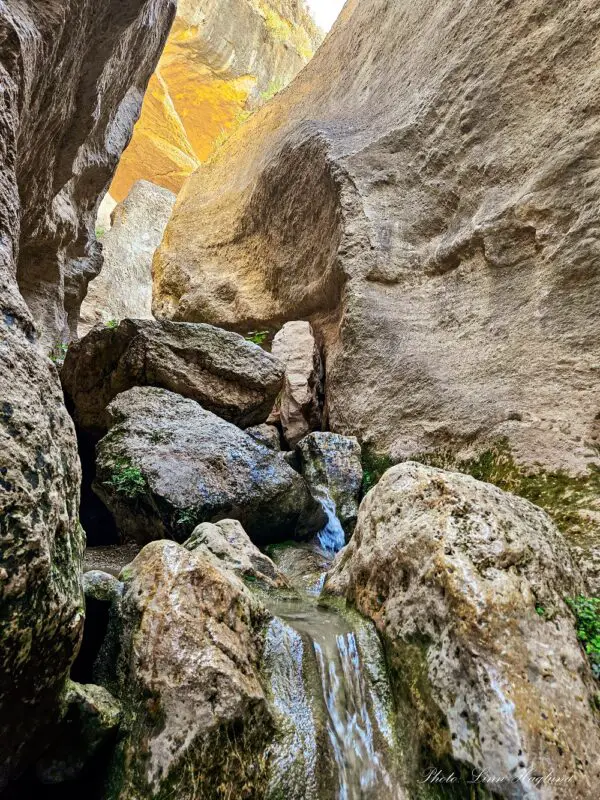 When is the best time to hike Barranco de la Luna
Barranco de la Luna is a straight-out summer hike. Since you will be walking in the water for a fairly long section, it is only pleasant when the temperatures are high.
The best months are from June to the end of September. If the heat drags out, you can also enjoy it in October, but that depends on the year.
Note that you should never take on this hike when it rains. Water levels and flow can increase dramatically creating dangerous areas inside the ravine.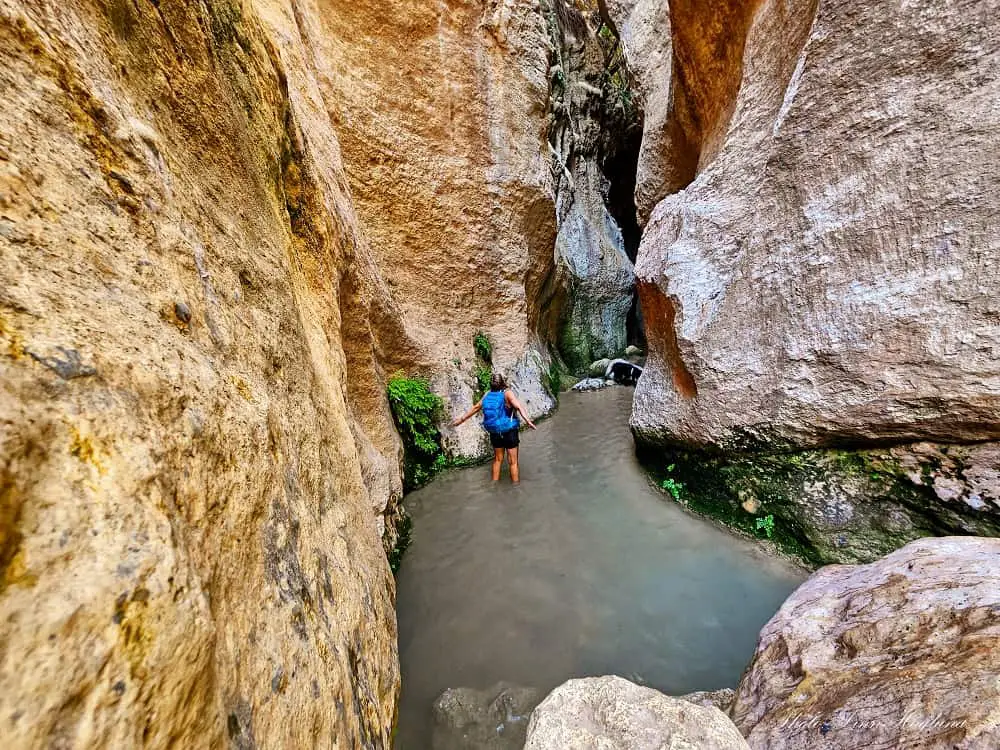 What to bring
When hiking Barranco de la Luna in Saleres, the most important thing to wear is the right footwear. You will be walking in the water for large parts of the hike, so you need a pair of shoes that filters in and out the water quickly.
I recommend wearing a sturdy pair of river hiking shoes, like my Salomon Crossamphibian Swift 2 which have held up for a large number of river hikes.
I did not bring a dry bag for hiking on this route as the water goes maximum knee-deep. However, if you are worried about slipping and keeping your pack dry, it can come in handy.
I used my Osprey Sirrus 24 with a water bladder for this hike and it stayed dry the whole time, although I was close to falling ass-first into a knee-deep water pool.
Besides this, I suggest wearing comfortable swimwear under your hiking clothes if you accidentally want to go for a dip while you are there.
Finally, even though it is a fairly short hike and you walk in the water, do not underestimate the amount of water you will need on a hot day. Bring at least 2 liters per person.
I was hiking in shorts and a light top, however, there are forest sections where the vegetation gets tight and lianas with thorns brush to your skin. If you are sensitive to this, I suggest wearing a shirt for hiking in hot weather, and a pair of hiking leggings or light hot-weather hiking pants that you can roll up when walking in the water.
THINGS TO BRING:
lunch
fruit or other snacks
water
Swimwear
Camera
I have also compiled a list of what to take on a day hike that you might find useful.
Other useful guides: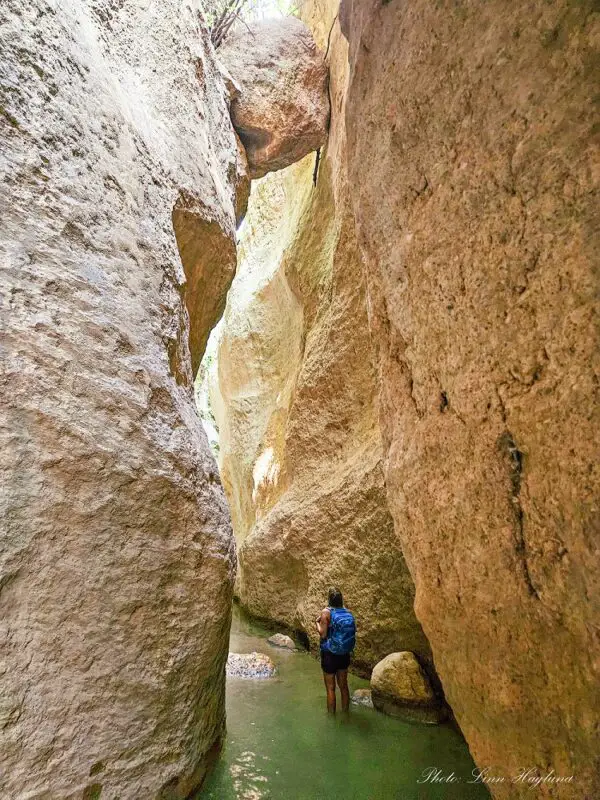 Where to stay near Saleres
There are plenty of places to stay around Saleres including a wealth of apartments and holiday homes for rent.
Here are some of my top picks for a comfortable stay.
MID-RANGE: El Violin Experiencia – a comfortable adults-only hotel with an outdoor pool and nice outdoor space including a barbeque. The hotel also has a nice restaurant and bar on-site. It is located just past Melegís, about 3.5 kilometers from Saleres.

BUDGET: La Despensa del Valle – a fabulous budget option with an outdoor pool right outside Restábal, which is a 5-minute drive from Saleres.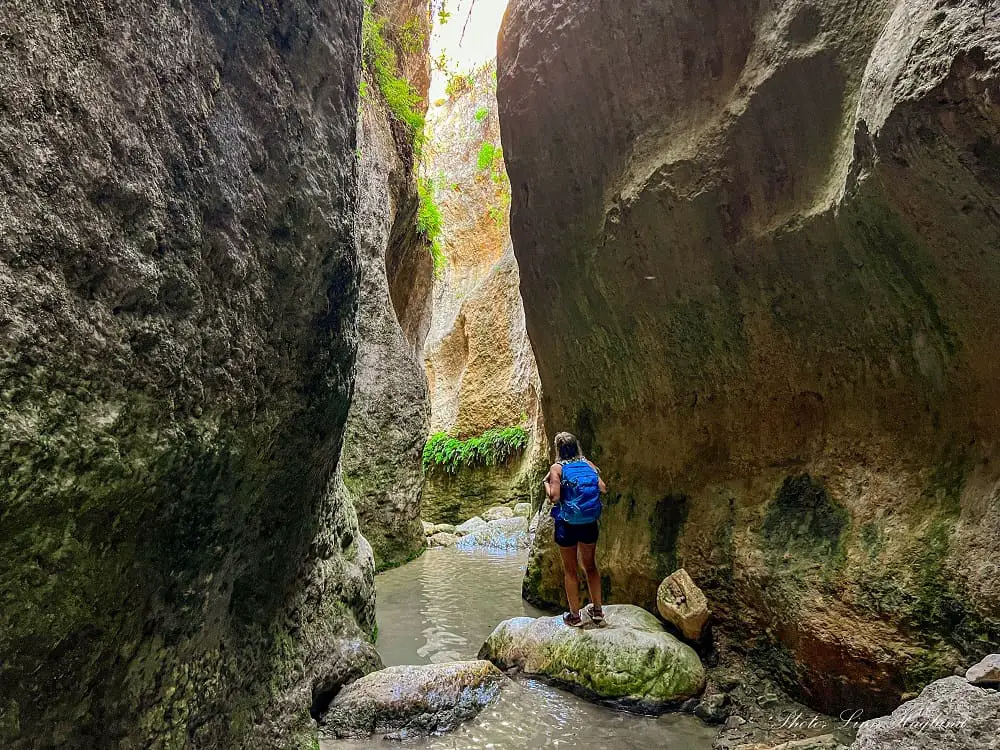 Hiking Barranco de la Luna Saleres
From the parking lot of the cemetery, you need to continue up the road for a few meters before you turn right onto a dirt path.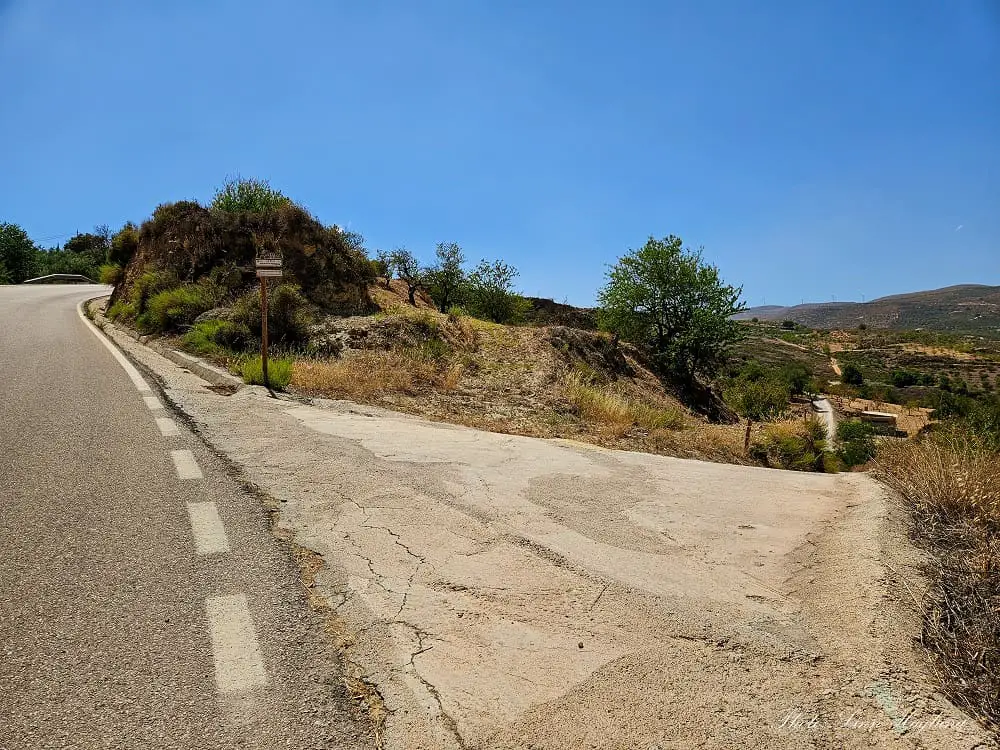 It is well signposted.
Continue on the dirt road and you will see the ravine below you on the right. A steep descent turning sharply to the right leads to a fork where you need to turn right to get onto a forest trail.
Continue on this trail through lush vegetation for a while. You will walk past open cleared-out ground where you can have a nice break in the shade of the canopies above you.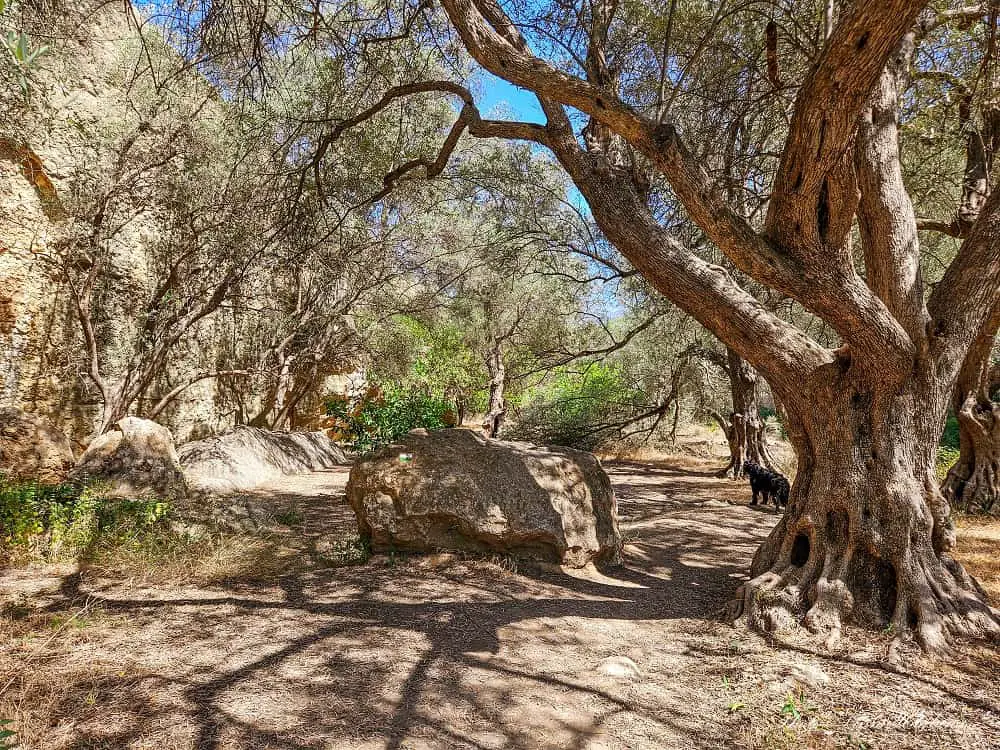 Down a set of stairs carved into nature, you will see the massive canyon wall carved in a half-moon shape on your left side and the steps continue down to the river on your right.
There is a sign saying "Final de Sendero" Barranco Luna (Entrada) – this is the end of the first part of the trail.
You are now entering the second part of the trail which is named Barranco Luna Salida (meaning exit of the Luna gorge.)
From there, it is easy to follow the river. There will be more water further down. And from being easy to walk in the water, you will encounter more and more sections where you must climb over rocks to continue down the river.
As the imposing ravine walls close more and more up on you, the scenery becomes more impressive with every turn.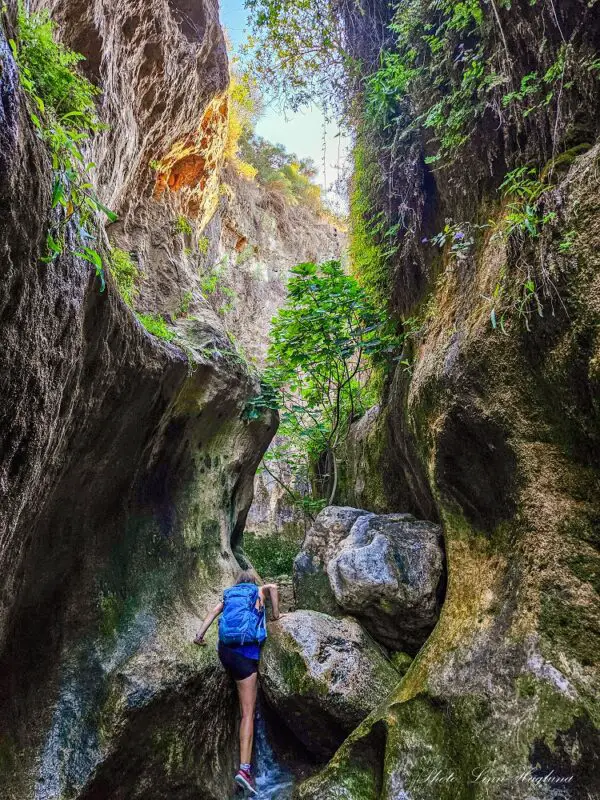 If you hike with dogs, make sure you have a good harness so you easily can help them up and down complicated sections.
I highly recommend this Ruffwear dog harness as it is easy to lift and assist your dog in difficult sections of the hike.
Once you get out of the water section, you part with the river keeping straight/right in the first fork and turning left up the hill shortly after.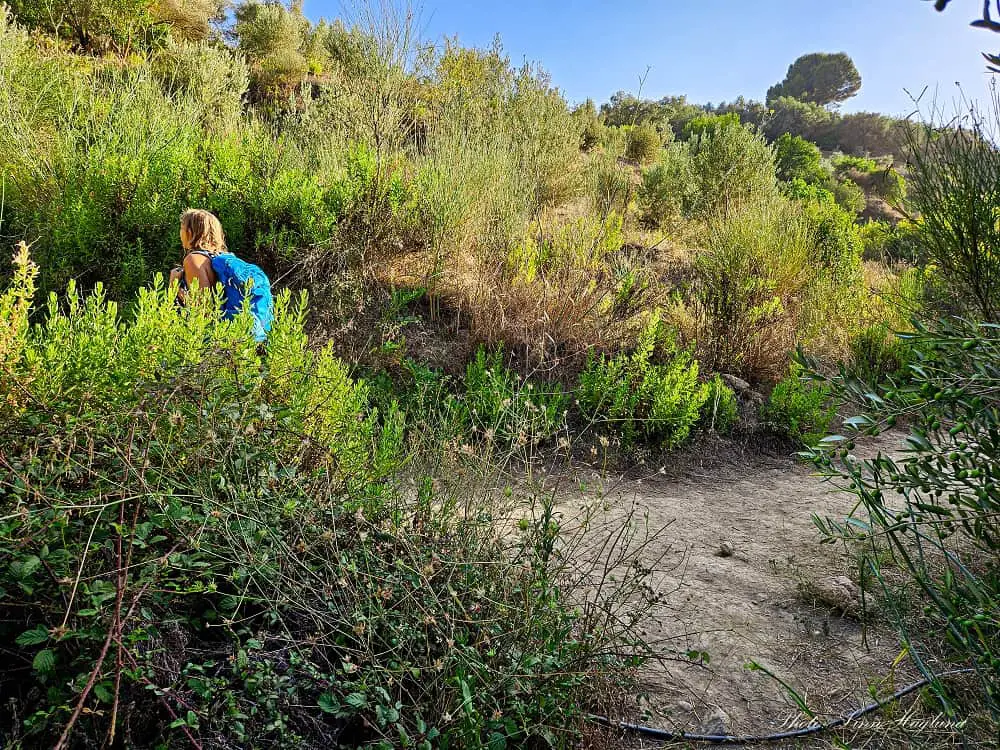 Once you reach a road, turn left and walk down for a bit before turning up a steep hill to the right past fields of lemon and orange trees.
You eventually reach the road where you must walk a few meters to the right to return to the cemetery where you started your hike.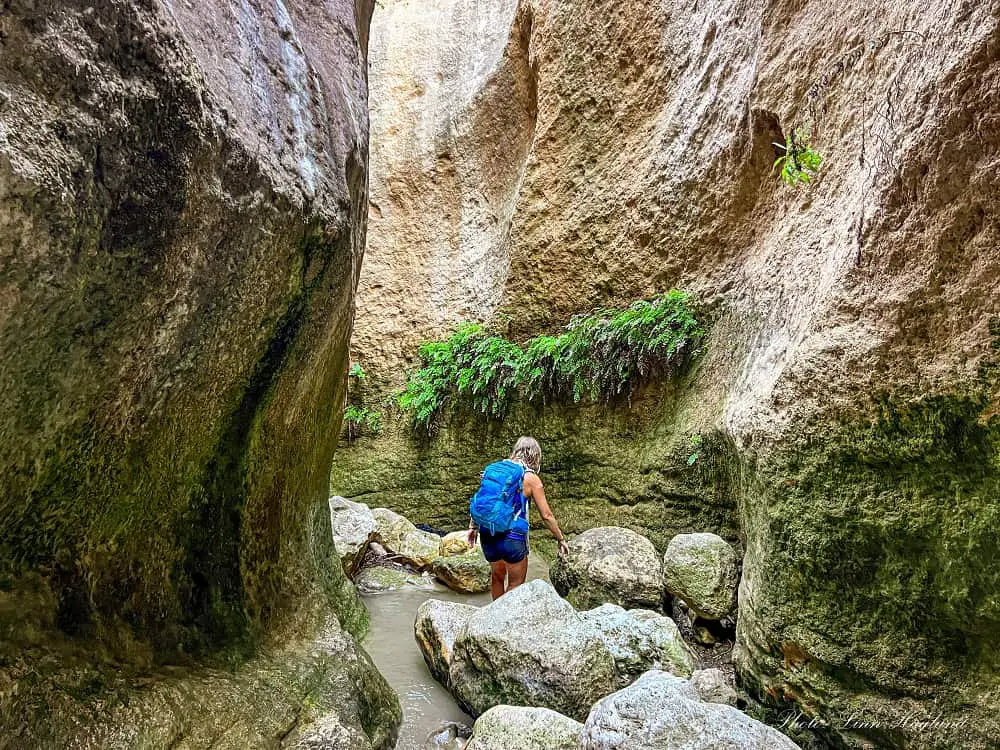 CHECK OUT OUR HIKING ADVENTURE IN BARRANCO LUNA ON YOUTUBE
OTHER RIVER HIKES IN ANDALUCIA
Reflections on Barranco de la Luna hike
There is no doubt that hiking Ruta Barranco de la Luna, Granada is an adventure of a lifetime. The hike was on my bucket list for way too long before I finally made it to this little slice of paradise.
I am sure you will enjoy it just as much, just be prepared for some difficult sections where you must use your hands and be careful of slippery stones as you slide down the steepest sections.
Summed up, this is by far one of the best hikes in Andalucia for summer.
Happy hiking!