Home to one of Andalucia's two national parks and quite a few of the highest peaks on the peninsula, Granada is jam-packed with hiking trails from easy to demanding.
Hiking in Granada, Spain, is a must for any outdoor enthusiast whether it's climbing the highest peak in mainland Spain, Mulhacen (3479 masl), or exploring the river walks and captivating waterfalls the province has to offer.
After living in Andalucia for over 10 years and hiking a lot, I've hand-picked what I find are the best hikes in Granada.
Some of these are perfect family hikes and easy for solo hikers, while others are more demanding both in physical challenge and in navigation. There are winter hikes and others that are only possible to hike in the summer.
Disclosure: This post may contain affiliate links. That means that if you make a purchase through one of those links, I will get a small commission at no extra cost to you.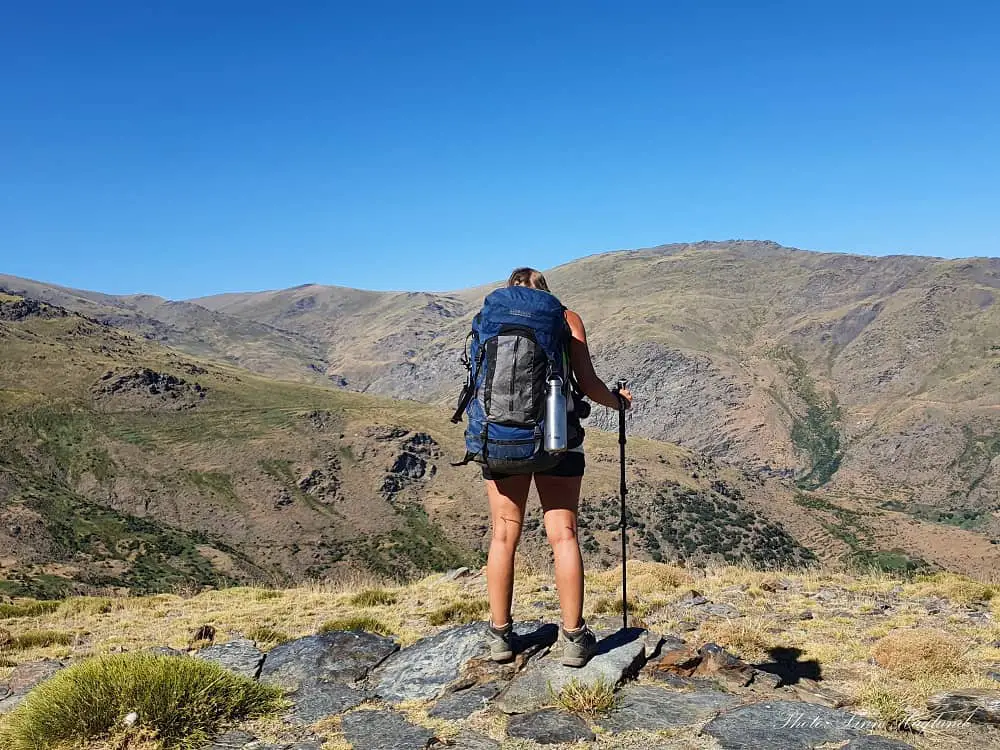 Hikes in Granada, Spain
Ruta de Los Cahorros, Monachil
Hiking in Granada can be a lot of fun, and Ruta de Los Cahorros in Monachil is a golden example of this! Crossing the river and its glittering waterholes on hanging bridges, exploring waterfalls, and navigating through a narrow canyon where you have to crawl under the mountain and hold on to metal handles to steer around the mountain wall, this trail is awesome for the whole family.
Starting in Monachil, only 20 minutes from Granada, it's a well-marked and highly trafficked route. If you can avoid weekends, you'll have a much more comfortable hike as you won't experience the long queues that form before the hanging bridges. Especially the longest one that is 63 meters long and one of the longest in the country.
You can expect to spend around 4 hours hiking this trail but I warn you, if you're not very fond of heights you might reconsider it due to the hanging bridges and the canyon part. If you're up for hiking near Granada Spain, this is a winner!
Read my complete guide to one of my favorite walks in Granada, Ruta de Los Cahorros de Monachil here.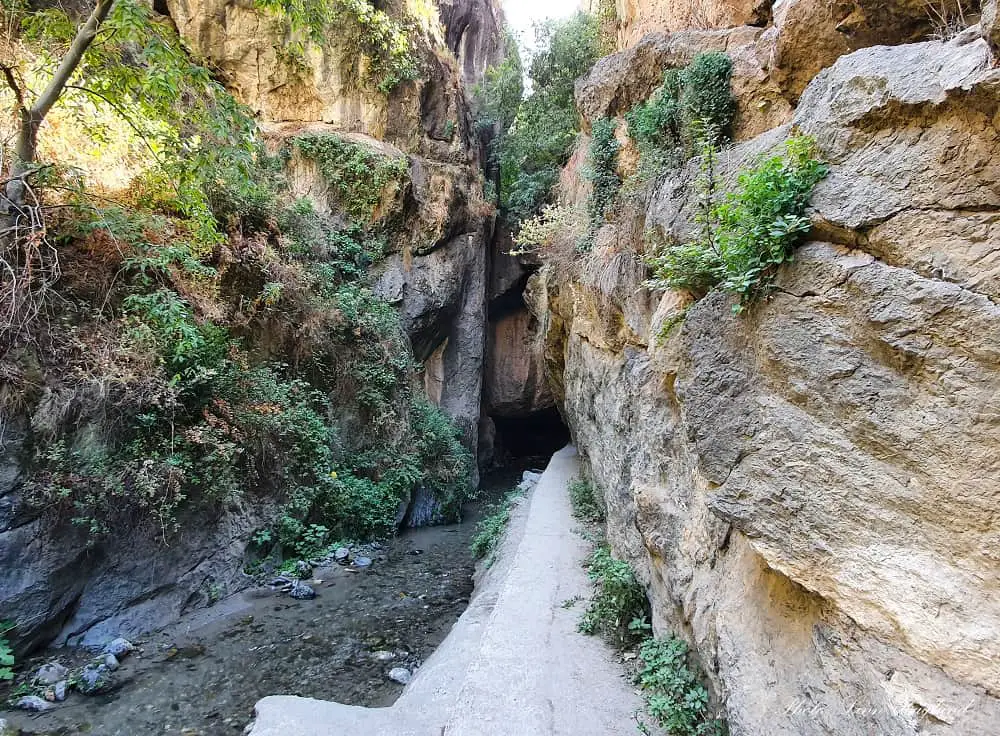 Rio Verde (Otívar)
Another fun place to go hiking in Granada is the mesmerizing Rio Verde. The popular river hike is only half an hour from Almuñecar and receives more and more visitors every year.
The property is private, so you have to pay an entrance fee of 5 Euros per person and 5 Euros per vehicle. If you're wondering if it's worth it – absolutely Yes!
The glittering, green river is jam-packed with natural pools and waterfalls where you can cool down on a hot summer day. The color of the water is unreal and the waterfalls are taken straight out of a fairy tale scene.
The entire hike takes about 4 hours return, but if you include several stops for swimming, it can easily turn into a long and refreshing day. You should wear good river hiking shoes for this route as you'll be spending time walking in the water.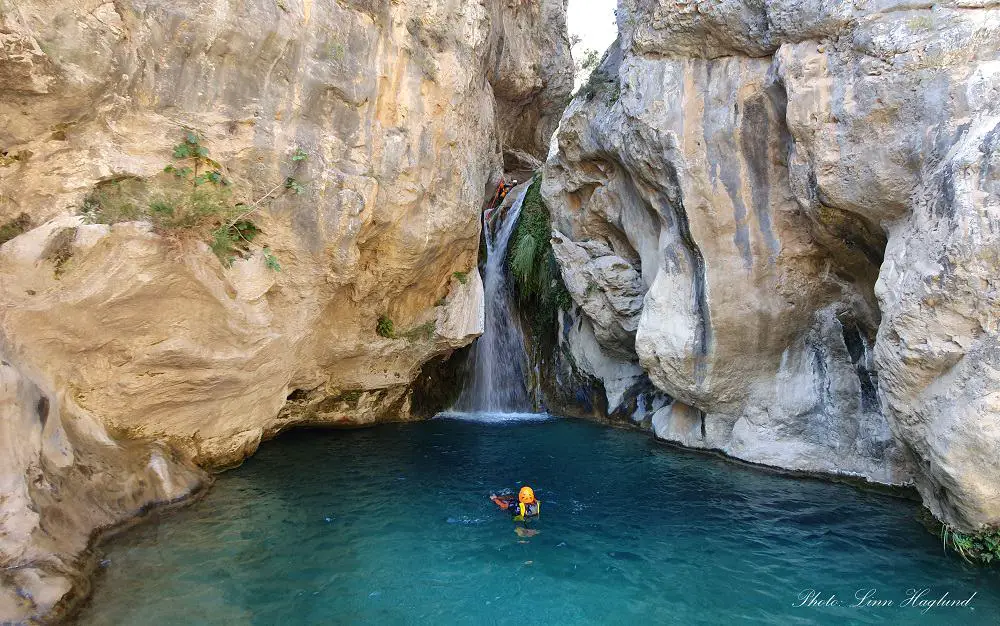 Mulhacen
If you're looking for the most epic Granada hiking opportunities, head to Sierra Nevada where you'll be able to reach the highest summit in mainland Spain in just a day during the summer months.
Mulhacen (3479 masl) is an amazing experience that you should consider. There's a shuttle bus in the summer from Capileira village that takes you as far as a vehicle is allowed (private vehicles are not allowed that far up,) and picks you up 6 hours later.
But for the more adventurous, you can opt for a multi-day hike either from Capileira, Trevelez, Hoya del Portillo (highest point reached by private vehicle,) or Hoya de la Mora.
There are various refuges where you can stay for free if you reach them before they fill up, there's also a guarded refuge in Poqueira you can book in advance to stay at.
There's also the option to wild camp in Sierra Nevada, but then you need to read up on the rules and let the park authorities know at least 10 days in advance.
You can read my complete hiking guide to Mulhacen here.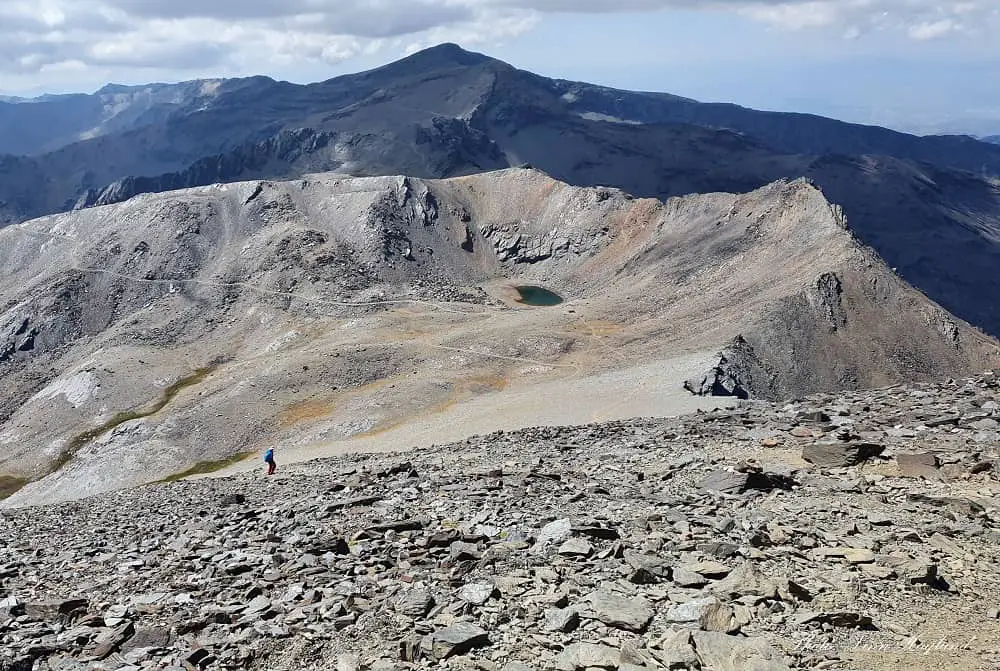 Barranco de La Luna
Barranco de La Luna is a lush and narrow ravine with thick vegetation, magnificent caves, and a vivid river flowing through it.
This is a great family hike, as long as the kids are older than toddlers as there is some scrambling involved.
Get ready to duck down under wild vegetation and climb up and down rocks. These can be slippery as they are wet, so walk with care.
The walk is partly in the water, reaching knee-high, which is super refreshing when hiking in hot weather and so is the cooling shade that the ravine provides.
That said, make sure you know what to wear when hiking in hot weather, and put on shoes that you can walk in water with. Check my top picks here.
This is by far one of the best hikes in Granada that you should add to your Andalucia hiking bucket list.
Located in the tiny villages of Saleres near Dúrcal (south of Granada,) it is easiest to reach by car, but there are some buses from Granada to Saleres. The trailhead is at the cemetery where you can park easily.
Read my complete hiking guide to Barranco de La Luna here.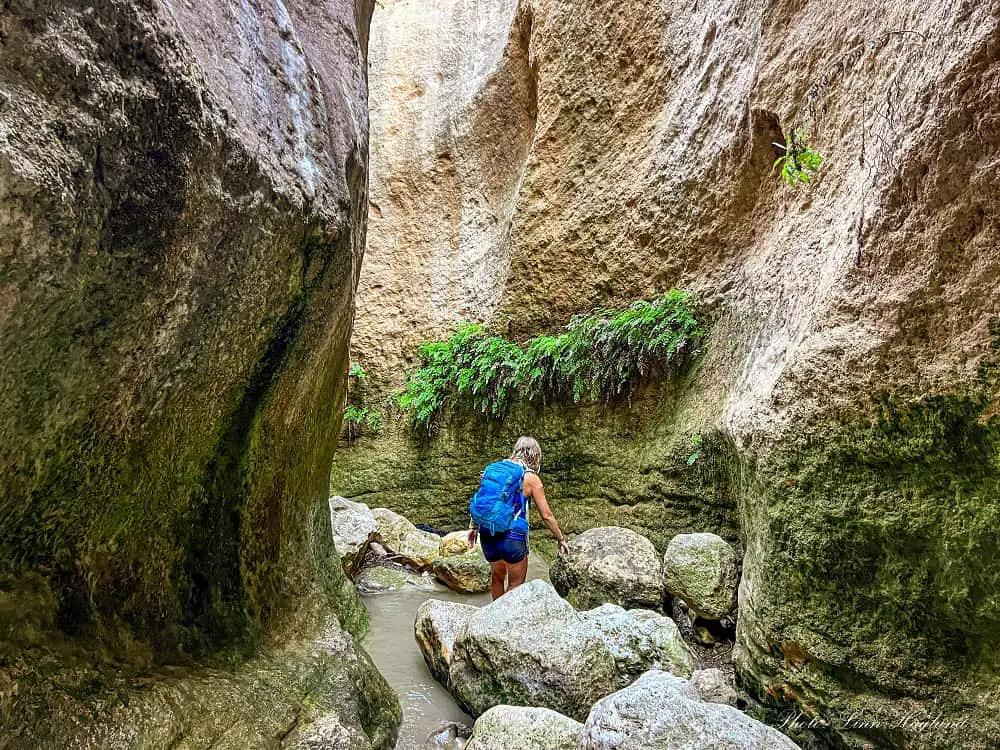 Veleta
Veleta Peak is the second-highest summit in Sierra Nevada with its 3398 meters of altitude with excellent views of Mulhacen on one side and even over to Africa on a clear day.
This is a hike that can easily be done in 4-6 hours from Hoya de la Mora. There's actually a road leading almost up to the top, but most hikers cut across the hairpin road following a much steeper trail up.
Veleta is the mountain where Sierra Nevada's skiing slopes run down in the winter months, thus there's a ski lift reaching almost to the top and in the summer months, it's open for tourists.
This makes the peak the most accessible in the whole national park as even families with small kids can walk the last 15 minutes up from the ski lift.
But be aware that the peak is vertical on one side and you need to be cautious with the edges, this is not one of the Granada walks where you should take the youngest even though it's a short walk. As an alternative, you could stay near the drop-off of the ski lift and enjoy the impeccable views from there.
Read my complete guide to hiking Veleta here.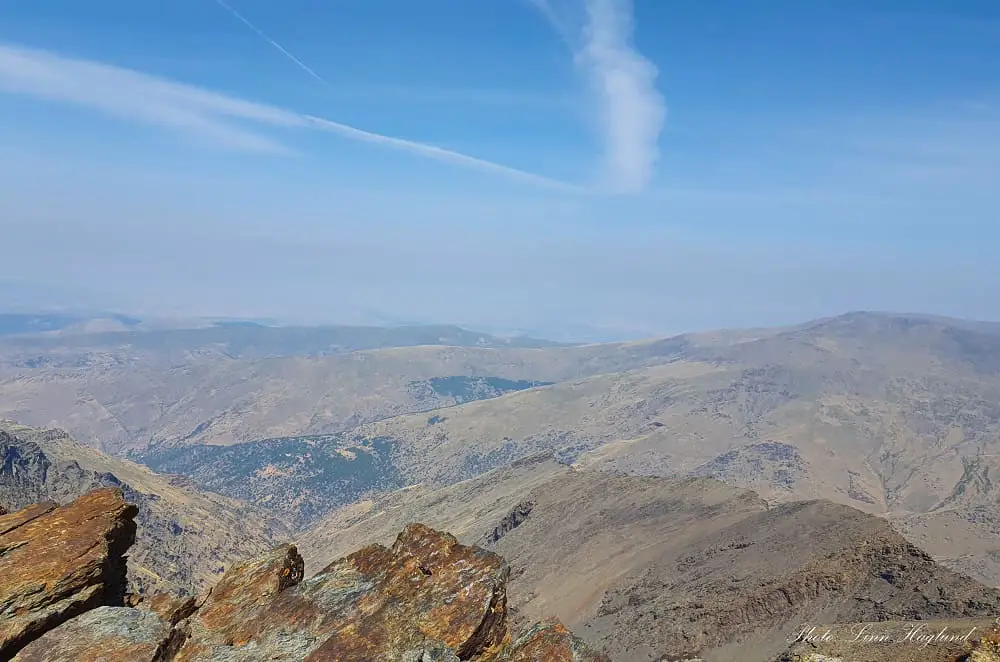 Lavaderos de la Reina
Hiking the Granada mountains in Sierra Nevada, an amazing spring walk is the Lavaderos de La Reina hike. Passing the village of Güejar Sierra with about 20 kilometers up a mountain road, the trailhead to Lavaderos de La Reina has to be reached by car.
The trail starts on the track past the point where you can't drive any longer. Continue on the track until you get to a right U-turn where there's a trail continuing straight (and a sign prohibiting bikes to enter.) This trail continues all the way until the meadows where you most likely will meet a heap of cows chilling and chewing.
From there and on, you follow the river until you reach the waterfalls. The path continues up along the right side of the never-ending, refreshing falls. The earlier in spring/summer you go, the more water flows down after the melting snow from the high sierra.
The return is a little more difficult to track down, but pretty much where you reach three similar falls in a row, turn right and keep walking straight (the trail is and is not there… so just walk) until you reach the hill on the other side. There you'll see a trail going up towards the right. from there, you won't get lost.
Lavaderos de La Reina is one of the most impressive hikes in Granada, Spain.
Read my complete hiking guide to Lavaderos de la Reina here.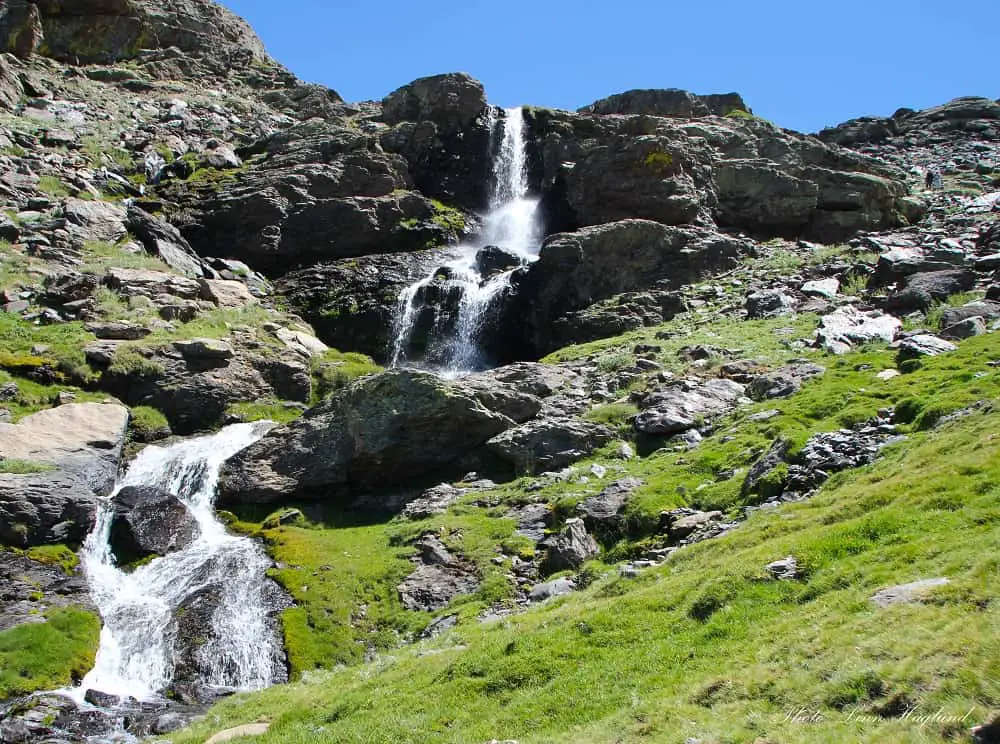 Vereda de la Estrella
Maybe one of the most famous hikes in Granada, known as the most beautiful in the entire national park of Sierra Nevada, is Vereda de la Estrella. Taking you 10.5 kilometers each way, along a deep ravine followed by the trickling sound of the Rio Garnón below you, it surprises you with mesmerizing views around every corner.
Along the trail, you'll find old mines and dark tunnels leading into the unknown darkness of the mountains. The views of some of the 3000-meter peaks of Sierra Nevada will follow you for a while and you can make out both the Alcazaba and Mulhacen peaks.
The trail crosses the river where vivid cascades rush down the rocky riverbed before it slowly winds up to a lesser trodden path with thick vegetation. Most hikers turn around when they get to the bridge, which is one of the most astounding parts of the hike. But a couple of tall waterfalls still await a little farther ahead. When you come to a small picnic area by another plain wooden bridge, you're at the end of the trail and can turn around, or continue a few more kilometers to look for the Cueva Escondida (hidden cave).
There is no doubt this is a top hike in Granada, but even though the elevation goes slowly, you shouldn't underestimate the length of this trail. It's also important to have the right footwear, adequate clothes, and enough water and food.
Read my complete hiking guide for Vereda de la Estrella here.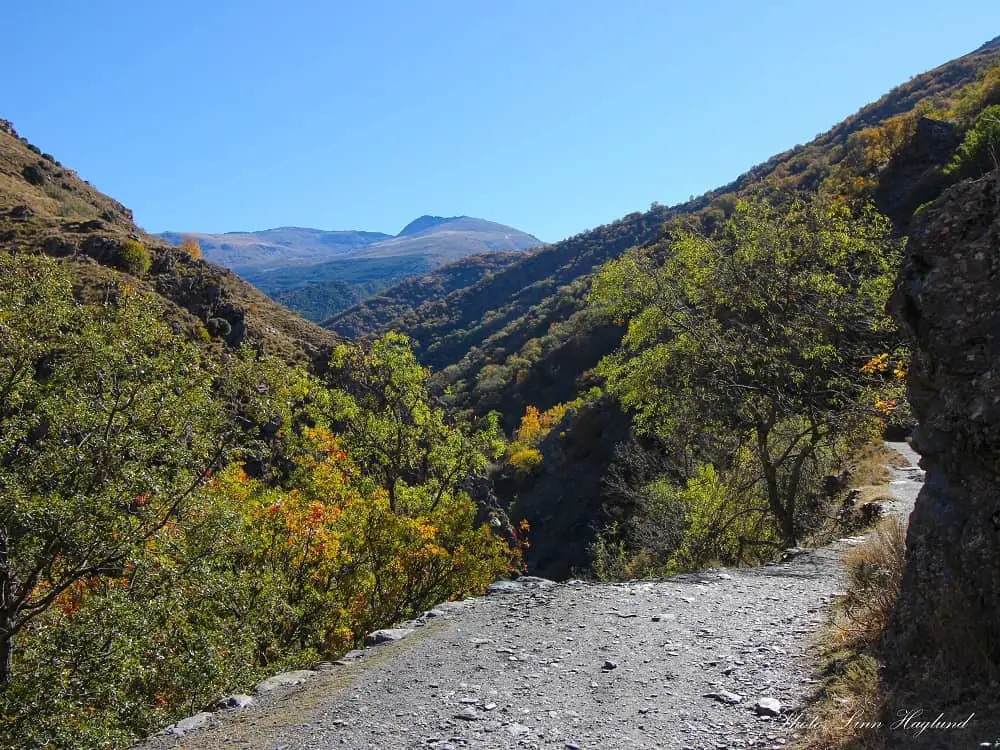 Siete Lagunas
Hiking Granada's Siete Lagunas is mesmerizing and rewarding. The nearly 9 kilometers from Trevelez village to the Siete Lagunas (seven lakes) ascends 1500 meters, so you should be in a good physical state before you start on this climb.
It can be done in 8-10 hours return. The trail is well marked the whole way as you get higher and higher, passing the tree line, reaching wonderful, green meadows in the middle of the gray, rocky landscape.
After about 3 hours or so, you'll reach a river that you'll follow for a bit before you later climb the last unclear trail through rocky, steep terrain alongside the mesmerizing Cascada de Chorreras Negras waterfall.
The first lagoon is the biggest one and the best way to get a good look at all of them is to climb up one of the rock walls surrounding the lagoons. Be aware that some of the lagoons might be dried up, especially towards the end of summer.
Read my complete hiking guide for Siete Lagunas here.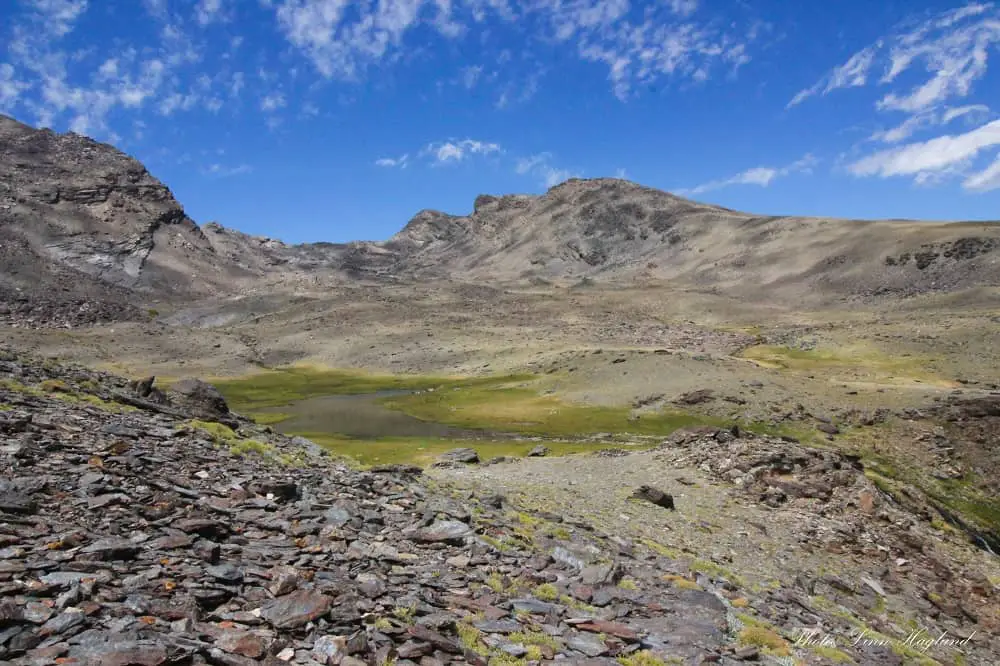 Cascada del Goterón
Not so famous as other hikes in Granada's Sierra Nevada, Cascada del Goterón is one to leave you spellbound. Starting in Trevelez, you take the trail to Siete Lagunas (described above.) Once you reach the lakes, follow the trail to the right.
It can be hard to follow at times, but once you cross the green meadow, your reference point should be the bid rock looking like a diamond or mushroom. Or whatever your mind makes it look like. It's huge and you can't miss it.
Passing the diamond rock, follow the cairns straight until they turn left and you'll be mesmerized by a raw, somewhat hostile landscape taken straight out of The Lord of The Rings.
Steep, rocky slopes are cut through by green lines where water runs or has been running. To the far left, you'll see the waterfall of El Goterón. The trail there goes along the rocky slope of the mountain to your left. It's mostly easy to follow but gets steep and sometimes it's covered by rock slides.
This part of the trail is not for the faint-hearted, but if you can handle the adventure, it's one of the most rewarding and underrated hikes in Granada.
Once you reach the top of the waterfall, the lush, green oasis makes the perfect place to have your lunch or a snack to gain energy for the return the same way back. The trail takes at least 10-12 hours and is a demanding day hike, so I do recommend that you bring a tent and camp either at the top of the falls or at Siete Lagunas. Read up on wild camping here before you set out.
Read my complete hiking guide to Cascada del Goterón here.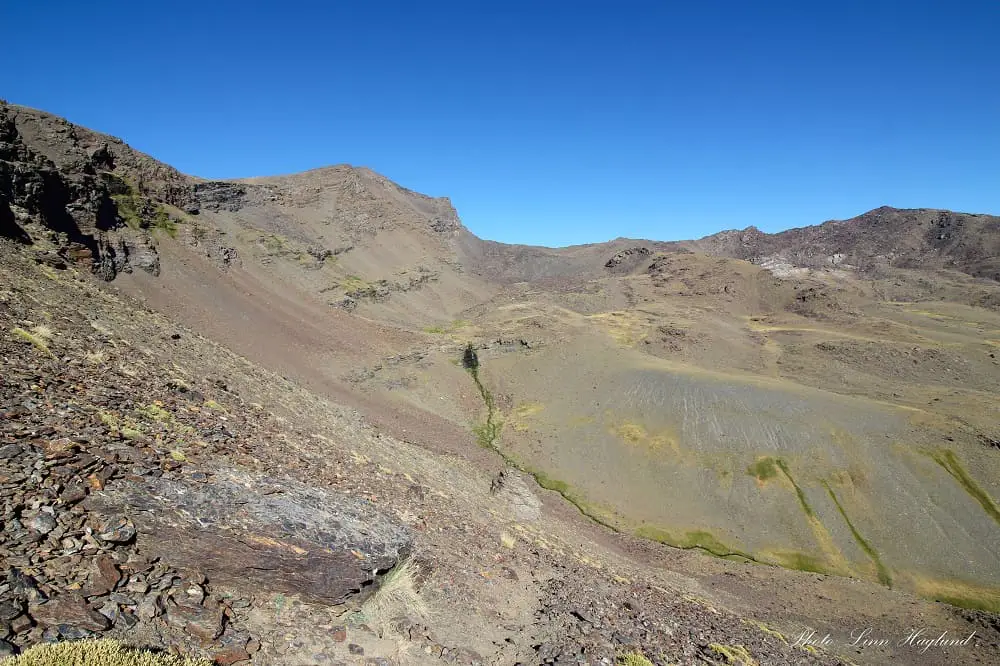 Reflections on hiking in Granada
If you love the outdoors and visit Granada, Spain, hiking is a must on your bucket list and I hope you found inspiration to discover some of the best hikes in Granada in this roundup.
Many people travel every year to Granada Spain, hiking the rough terrain of the high sierra and enjoying the lush rivers and glittering cascades this part of the country can be so proud of.
Happy hiking!