If you are in search of a refreshing river hike in the scorching summer heat, Ruta de Los Bolos, Durcal is a delightful surprise in Granada's lower Sierra Nevada Natural Park.
With multiple water holes to dip into freezing cold mountain water before continuing through the glittering river, there are so many beautiful spots that you can easily spend a whole day in the river.
Besides, you can head up to the Acequía to challenge your vertigo and take in the gorge from above before descending to the river again until you reach the mesmerizing waterfall at the end of the trail.
This is a lightly challenging hike, yet easy to follow as long as you are in good physical health and have the right footwear. I would list it as one of the best hikes in Granada without a doubt.
In this hiking guide, I will go through everything you need to know to successfully hike Ruta de Los Bolos, Granada.
Disclosure: This post may contain affiliate links. That means that if you make a purchase through one of those links, I will get a small commission at no extra cost to you. As an Amazon Associate, I earn from qualifying purchases.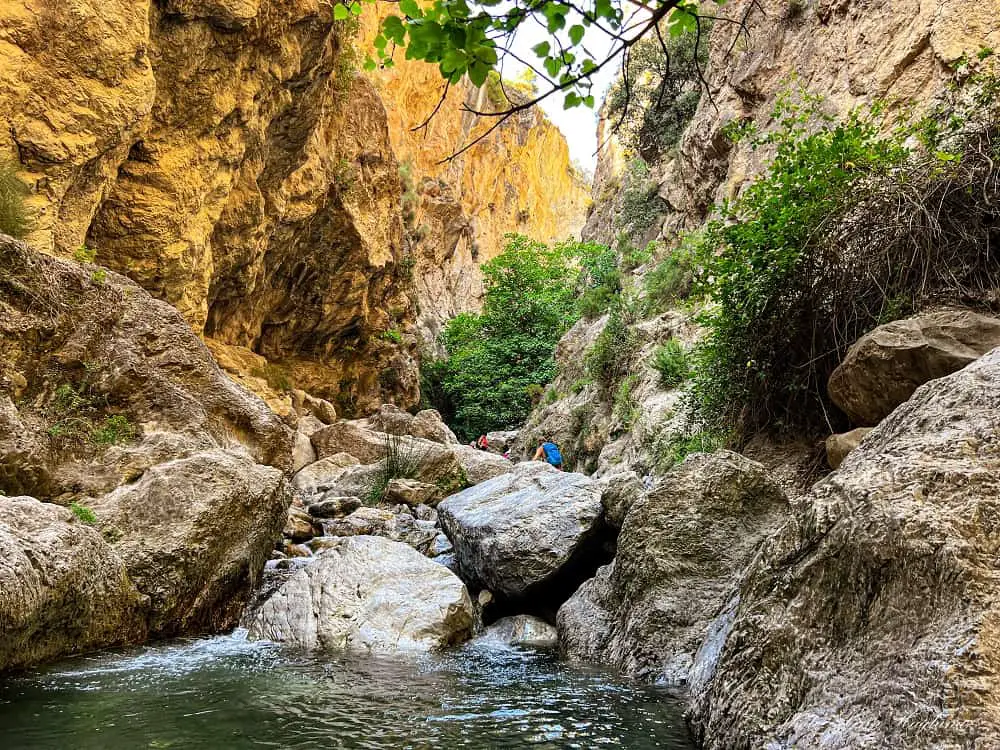 Practical information
Province: Granada
Length: 10 kilometers
Time: 4-6 hours
Elevation: 165 meters
Route: Linear (with an option of a different way back the last bit)
Difficulty: Moderate
Hiking season: summer
Hiking with dogs: You can hike with dogs, but be aware of pine processionary caterpillars in the spring season.
How to get to Ruta Los Bolos Dúrcal trailhead
Getting to the trailhead of Ruta de Los Bolos is fairly easy from the village. If you drive, you can follow the road towards the Puente de Lata.
Before reaching the bridge (which is pedestrian) you can park along the road, there is plenty of free parking.
Continue on foot in the direction of Puente de Lata, but instead of following the path leading to the bridge, continue on the road you drove on.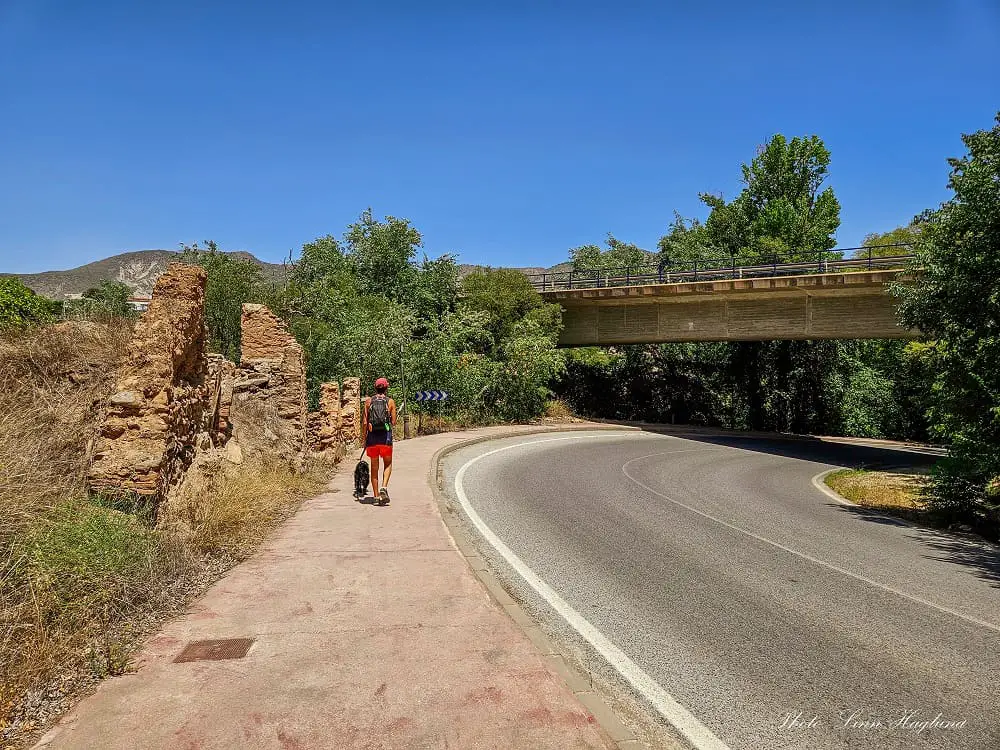 Not long down the road, you get to a right turn taking the road under a bridge (and you'll see Puente de Lata on the left through the trees.)
In this turn, you'll see hiking signs on your left hand taking you down a steep path into the forest. This is where the trail starts.
It is also possible to go on a day trip from Granada by bus if you leave early in the morning. The bus journey takes around one hour each way. Here is the bus timetable.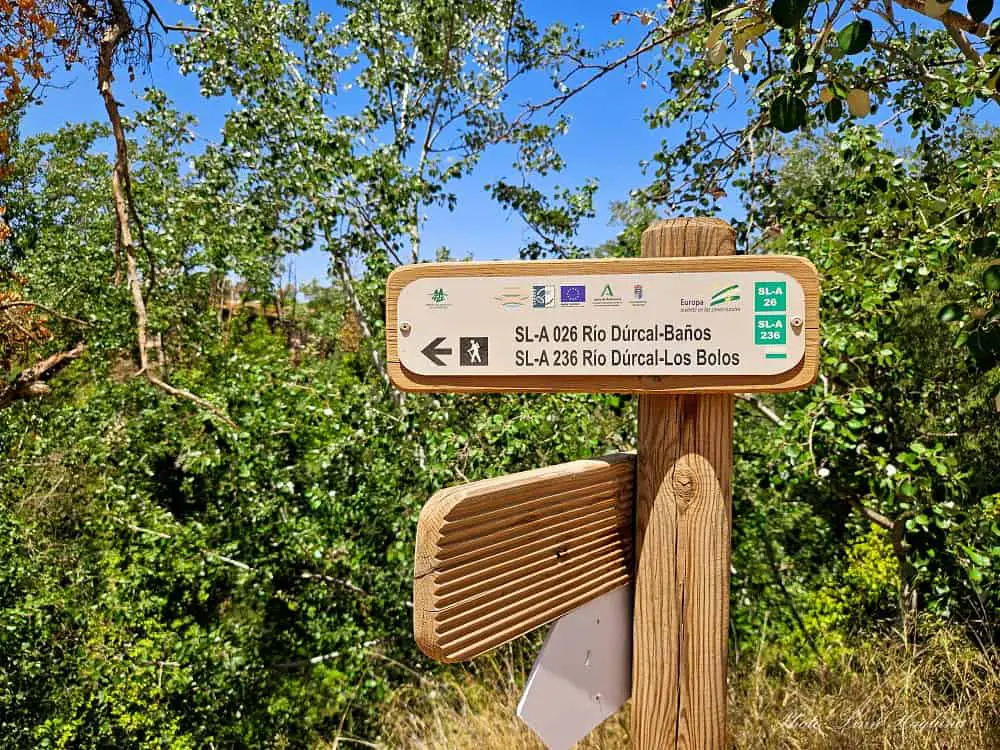 When is the best time to hike Ruta de Los Bolos
The best time to hike Ruta de Los Bolos, Dúrcal, is during the summer season as you must walk long stretches in the water which is cold.
Whenever the air is hot, which could last from June to mid-October you will enjoy the cool water, but remember that in the shoulder seasons, you might experience that it's hot in the sun but cold in the shade.
Since you'll be walking in a gorge and the waterfall at the end creates a very cool "room" in the gorge, I don't recommend going if it feels cold in the shade.
Note that August normally is the busiest month for the Spanish to have time off and go hiking and the weekends get busy too.
However, this is not a commercial hike like Rio Chillar, so I don't think you'll experience long queuing and hordes of people at any time of the summer. It's by far one of the best hikes in Sierra Nevada for summer.
What to bring
This is a long hike so you need a good backpack for day hikes and comfortable water hiking shoes. You'll be walking in water during large parts of the hike and be scrambling rocks, so make sure they have a good grip.
There are no places with high water, so while it's always good to have a waterproof hiking backpack in case you slip and fall in the water, I don't see it necessary for this hike.
However, there are several swimming holes so make sure to bring your swimwear for this hike!
I didn't feel that I needed hiking poles, yet, there are a couple of sections – especially when climbing up to the asequía it would come in VERY handy.
I also recommend bringing a jacket or something to cover up with if you get easily cold. I was freezing after spending time in the waterfall and having food there as the cool air circles around the waterfall.
Once I got back on the trail, the warm air came back and I got back my body temperature quickly.
Finally, make sure that you bring enough food, snacks, and water for this hike. If you have a water purifier, you can fill up water throughout the trail.
Since it's such a long hike with rocky and steep sections, I also recommend bringing a first aid kit, especially if you hike solo. Though it should really be something that's always included in your day hiking packing list.
THINGS TO BRING
lunch
fruit or other snack
water
first aid kit
water purifier
swimwear
towel
OTHER COOL RIVER HIKES IN ANDALUCIA
Where to stay in Dúrcal
Dúrcal is a quaint little town with a lovely main square where the locals get together for drinks and tapas.
It's a great town to stay for a few nights while exploring different hikes like Ruta de Los Bolos and Baños de Urquizar.
Here are a couple of accommodation options:
La Casa De Almocita – offers one and two bedroom apartments where you can cook your own trail food and kick back after a long day in nature.
Casa Rural Eralta – an excellent option if you're a large group of friends or family looking for a rural house in picturesque surroundings. This villa sleeps up to 16 people and has an exceptional outdoor space with a pool.
Hiking Ruta de Los Bolos, Durcal
The hike starts walking down the steep forest trail from the trailhead. At the bottom, you will see a sign pointing you to "Río Dúrcal – Los Bolos" to the right.
Follow this path and you can't get lost. You will cross under Puente de Piedra, which is one of the 5 bridges crossing the Dúrcal River. It was built at the end of the 19th century to connect Granada and Motril.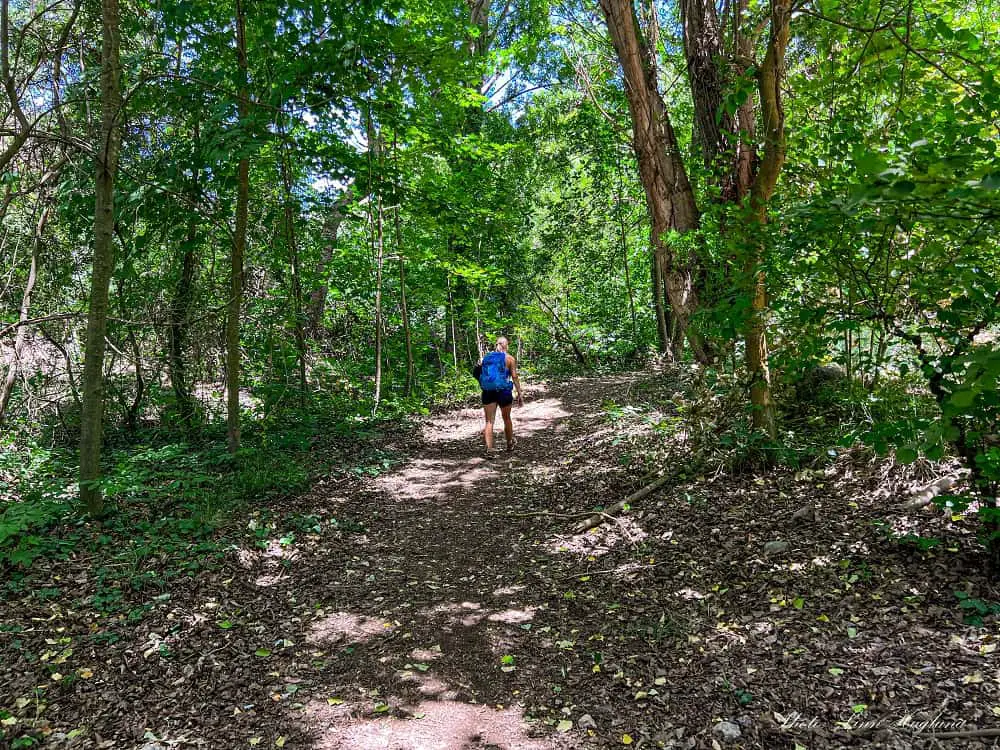 The trail continues in the forest for a while before you reach a picnic area. There you cross the river and continue on a dirt track for a while.
The next section is a mix of crossing bridges, walking in the river, walking on trails, and rocky terrain. Eventually, you reach the first waterfall.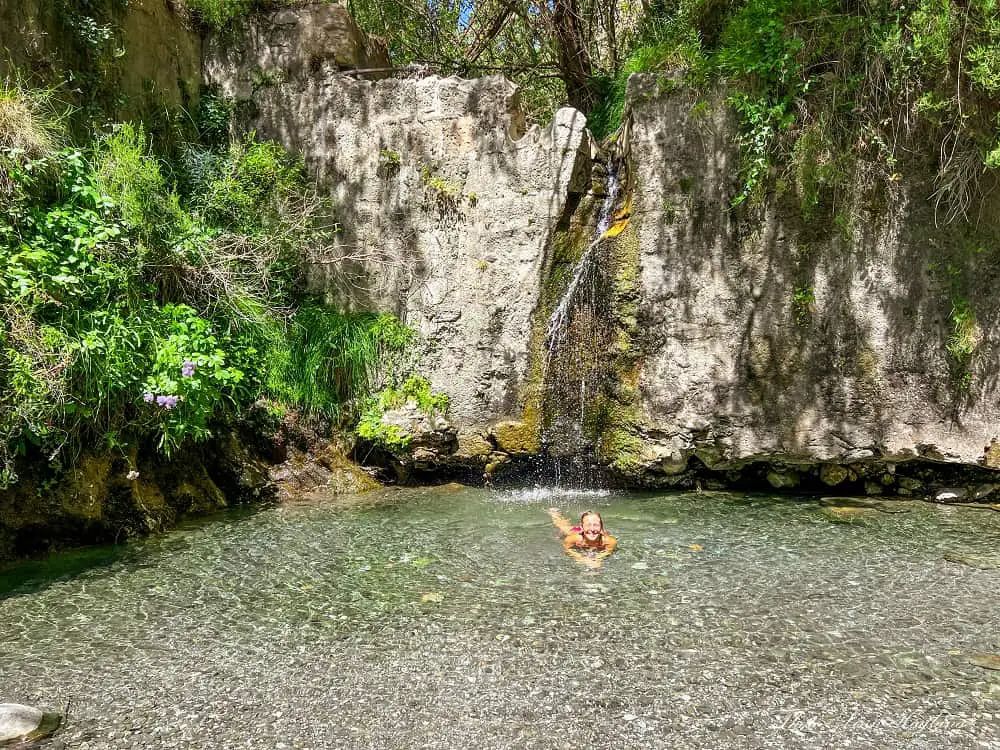 From there, we followed a steep trail uphill on the right side to get to the Asequia (irrigation ditch.) I'm not sure if you can continue on the left side, but if you want an adventure, I highly recommend climbing up that steep hill!
Note that once on the asequía you'll have to walk through a VERY narrow passageway which is going to be challenging if you're overweight. I had to take off my backpack because I couldn't fit in there with the side pockets of my Osprey Sirrus 24 backpack.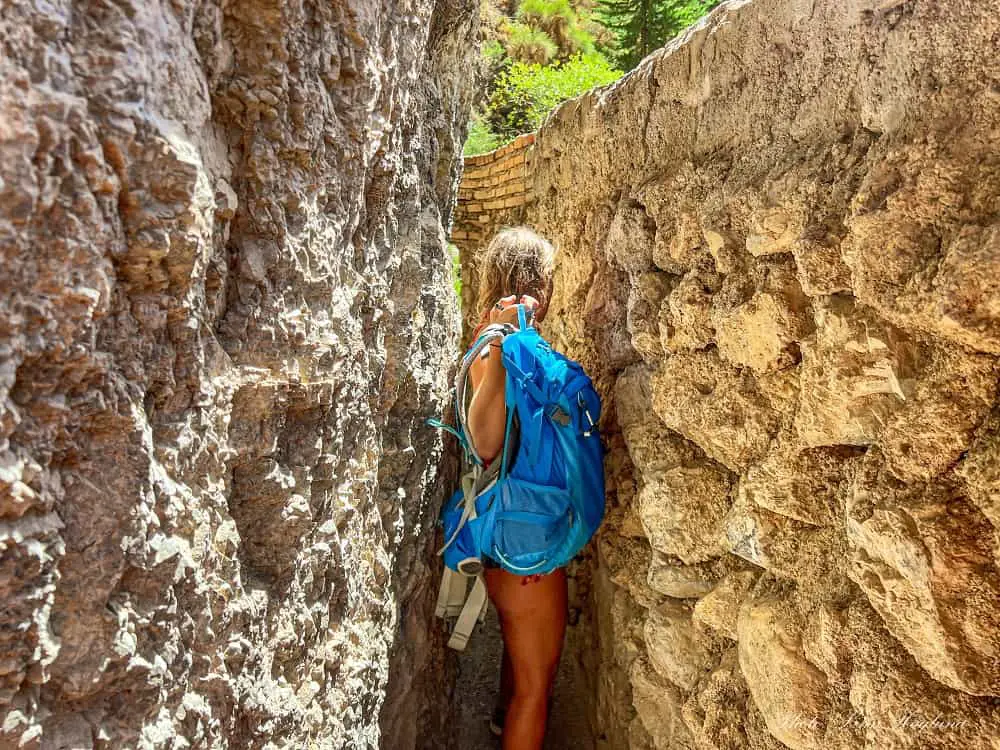 When you get off the Asequia, the trail will continue along and in the river and you must walk in the water most of the way. The further up the river you get, the more challenging it gets with large boulders leading up to the final waterfall.
Which is breathtaking.
It has 3 waterholes following the waterfall and is wrapped in rocky terrain. The air and water is very cold there, but super refreshing after a long hike.
After a nice break enjoying the waterfall and maybe some food or snacks, head back the same way you came from.
Alternatively, you can keep walking on top of the Acequia (or walk down a bit further ahead) – it eventually encounters a dirt track that you can follow, but note that you will come back to Dúrcal.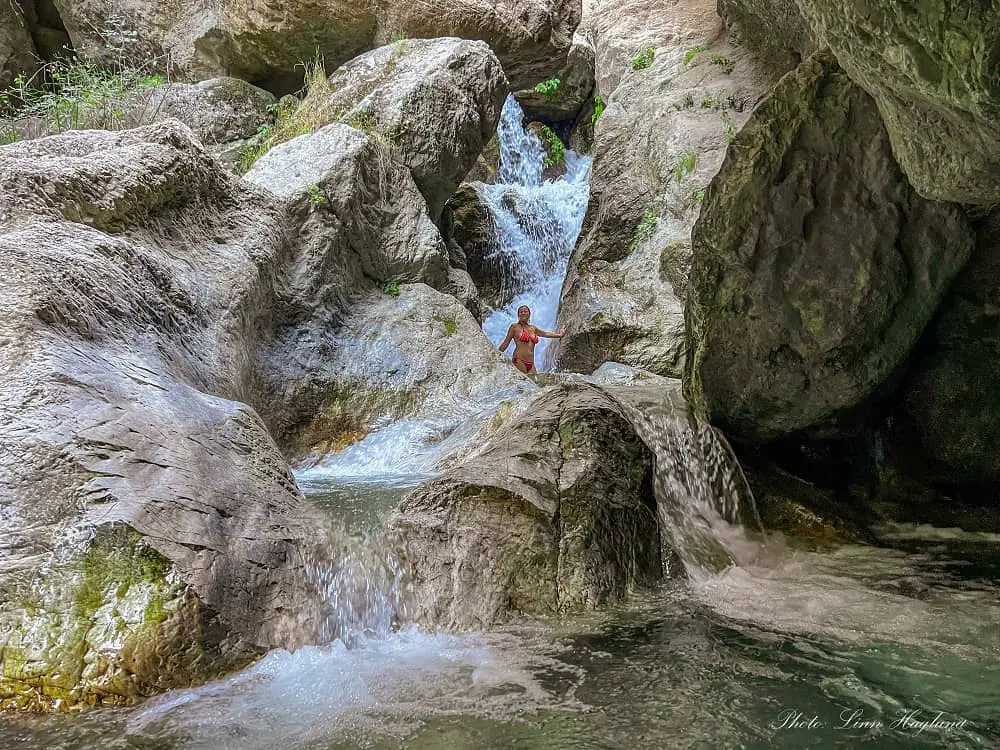 CHECK OUT OUR HIKE TO RUTA DE LOS BOLOS ON YOUTUBE
MORE HIKES IN GRANADA
Reflections on Ruta de Los Bolos Granada
Summing up, Ruta de Los Bolos, Granada, is one of the most spectacular hikes in Andalucia and totally blew us away as we proceeded through the gorge.
It is long, but there is so much variety along the route and you'll likely spend time splashing in the water holes along the route. So make sure you leave early so you have plenty of time to enjoy without stressing to get back before dark.
Happy hiking!